"Tempo Smart Button" and pre-filled disposable pen Tempo Pen slated to launch in "several international markets" "following [CE] certification"; myDiabby is the largest remote monitoring program in France
This morning, Lilly announced non-exclusive international agreements to integrate its connected pen products with Glooko, Roche, Dexcom, and myDiabby platforms (Roche and Glooko made separate announcements, as well). The partnerships aim to give Lilly connected pen users flexibility and choice in the platform they use to view, analyze, and share their insulin data, as well as to help "facilitate the integration of personalized data and actionable insights." Per Lilly's announcement, these initial partner platforms were selected because they are "widely used" and  "compatible." Lilly's announcement also makes clear that "future collaborations" are coming. As part of the announcements, Lilly also offered detail and timeline updates on its connected pen pipeline (see more below), which at this point, includes the Tempo Smart Button, a "data transfer module" (i.e., smart pen attachment) that attaches to Lilly's already approved Tempo Pen (a disposable, prefilled pen).
Updates on Lilly's Connected Pen Pipeline: CE-Mark for Tempo Smart Button smart pen cap slated for "later in 2021" with international launch of Tempo Pen + Tempo Smart Button "following certification"
Today's partnerships announcement also came with updates and details on Lilly's connected pen pipeline, and for the first time, we've heard the brand names for Lilly's connected pen products:
Lilly's Tempo Pen is a "modified" and "enhanced" version of Lilly's existing prefilled, disposable pen (Kwik Pen) and is already approved in "several global markets." Based on previous commentary, we believe that Tempo Pen has already received FDA clearance in the US.

Lilly's Tempo Smart Button, a "data transfer module" (i.e., smart pen cap), will attach to the Tempo Pen. When paired with a partner's app, Tempo Smart Button will "automatically" send insulin data to the app and platform. Based on today's announcements, it is unclear what kind of insulin data (timing, dose, etc.) the smart cap will log and will send to the partner's app. Based on the language of "automatically" in the press release, we would guess that the data will be transferred via Bluetooth in real-time (versus NFC-based "scanning" like FreeStyle Libre), although we have yet to confirm that.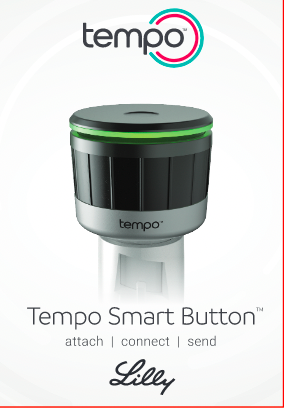 On timeline, Lilly is aiming to receive CE-Marking for the Tempo Smart Button "later in 2021"; the smart pen attachment is currently in "late-stage development." After CE-Marking, Lilly will launch Tempo Smart Button with Tempo Pen (already received its CE-Mark) in "several [undisclosed] international markets." In the US, we anticipate that Lilly will have a new smart pen filing for Tempo Smart Button in 2021 based on commentary in February; however, we haven't received recent confirmation on that, nor was there an update today for US clearance and launch.
The last few months have seen significant diabetes tech updates from Lilly as the company prepares to enter the digital health world. In November 2020, Lilly obtained exclusive US commercialization rights for Ypsomed's YpsoPump and the future mylife AID system. As part of this announcement, we also learned that Lilly had halted its internal pump development efforts. Later, in February, Lilly signed a collaboration and licensing agreement with Welldoc to develop a new platform that integrates Welldoc's software with Lilly's connected insulin delivery devices. While some around the diabetes ecosystem emphasized to us today that Lilly's announcement signaled greater commitment to smartpens by Lilly, we had primarily assumed that different work was ongoing but simply not disclosed. We still believe this, along with the sentiment that there is still probably a lot that has not been disclosed. It's favorable to see more detail on development that includes Tempo Pen and Tempo Smart Button products and we look forward to hearing more from HCPs and PWD about their experience with the pens.
Collaborations with Roche, Glooko, Dexcom, and myDiabby & Competitive Implications
Although limited details were offered on the specifics of Lilly's partnerships with Roche, Glooko, Dexcom, and myDiabby, the following appears clear:
Roche. Insulin data from Lilly's connected pen solutions will be integrated into the mySugr app "in several [OUS] countries" (which countries was not disclosed). Users will be able to view their insulin data alongside other diabetes-related data and will be able to use mySugr's report function to share data with providers "seamlessly." In the future, providers will be able to see patients' Tempo Pen pen data directly in the RocheDiabetes Care Platform (provider facing part of Roche's open ecosystem). For Roche, this integration with Lilly is a part of its effort to expand its open ecosystem and its integrated Personalized Diabetes Management (iPDM) strategy. Most recently, in April, Roche launched the integration of Novo Nordisk's recently launched NovoPen 6 and NovoPen Echo Plus smart pens with the mySugr Logbook via NFC connectivity. With today's announcement, Roche will eventually (following CE-Mark and launch of Lilly's Tempo solution) have another smart pen integration in its offerings.
Glooko. Lilly's Tempo Smart Button will pair with Glooko's software to facilitate integration of data from Lilly's Tempo Pen. This will allow Glooko users to view their Tempo Pen data alongside their data from other devices, fitness trackers, and food logs. Although not specified in the Lilly and Glooko announcements, we presume this will also allow providers to view Tempo Pen data through the Glooko system alongside other relevant diabetes data. For Glooko, its data integration agreement with Lilly expands its already expansive list of partnerships and compatible diabetes devices and gives patients and providers using the platform even more "freedom of choice for managing their care."

Dexcom.  Lilly and Dexcom already signed a previous agreement to integrate Dexcom CGMs with Lilly's Connected Pens and AID systems in December 2019. While Dexcom did not issue its own announcement and Lilly's press release offers limited details on today's updated agreement and how it fits into the context of the previous agreement, we'd presume that Lilly will now integrate its smart pen insulin data into Dexcom's remote monitoring and data logging platforms (e.g., Dexcom Clarity) based on the context of the announcement.
myDiabby. For context, myDiabby is a French platform that allows for the logging of diabetes-related data and the transfer of data to providers. It is the largest diabetes-related remote monitoring program in France and is used by 90% of women with gestational diabetes in France to share data remotely with their care teams. While we don't know as much about this platform and company, we'd say the integration agreement is a smart move for Lilly if Lilly eventually intends to enter the French market.
Taking a step back, these partnerships and today's updates on Lilly's pipeline hold valuable insights into Lilly's smart pen strategy and the smart pen space as a whole. Based on Lilly's recent movements, it seems that Lilly's strategy is to integrate its connected pen products into the platforms and digital health offerings of other companies with expertise in data management, remote monitoring, and digital health. Given Lilly's many partnerships, along with Lilly's collaboration with Welldoc to develop a Welldoc-based Lilly app for Lilly's connected pens, Lilly is well poised to benefit from the expertise of other companies as it build out its connected ecosystem. As a reminder, the Lilly x Welldoc partnership (announced in February) aims to co-develop a new platform that integrates Welldoc's software with Lilly's connected insulin delivery devices and is intended for US launch once Lilly's Tempo Smart Button receives FDA clearance, with subsequent international launches potentially in the pipeline.
Looking at the broader connected pen space, it seems that companies are following multiple general strategies, including though not necessarily limited to these two: (i) leverage other companies' platforms and apps through partnerships, or (ii) develop a data management/remote monitoring/app platform in-house. Like Lilly, Novo Nordisk appears to be leveraging other companies' expertise in its connected pen efforts with its recent launch of Novo Pen 6 and EchoPlus in Sweden with integrations with Glooko's diaSend in March and subsequently in April, with Roche's mySugr. On the other hand, Biocorp has a designated app for its smart pen Mallya, which launched in Europe in November, and Bigfoot Biomedical also appears to be building its own app and platform in-house.
Close Concerns' Q&A with Lilly
How is data transferred from the smart pen cap to apps/digital platforms (i.e., Bluetooth or NFC)?

Lilly: Data will be transferred from the Tempo Smart Button to a compatible app via Bluetooth connectivity. Bluetooth connectivity will be a universal function across all compatible systems, but exact steps to sync the Tempo Smart Button to the app may differ based on each app's framework. App users will also have the option to share their data with their healthcare provider

Where will Lilly first launch its connected pen solutions? Where will these integration partnerships first be launched?

Lilly: We are looking forward to working with Dexcom, Glooko, myDiabby Healthcare and Roche (through their mySugr app) to integrate Tempo into their respective product offerings in several international markets outside the United States. Launch rollout will vary by region and is dependent on local regulatory requirements.

How might these partnerships be impacted if/when Lilly and Welldoc's integrated custom-built app is launched internationally?

Lilly: We are focusing our immediate efforts with Welldoc on developing a connected pen platform for people living with diabetes in the U.S. The agreement with Welldoc is global and we will work with them to evaluate potential opportunities to launch the platform in other geographies. We are committed to working with Dexcom, Glooko, myDiabby Healthcare and Roche to integrate the Tempo Pen and Tempo Smart Button into their respective product offerings in markets outside the United States.

Beyond its partnership with Welldoc, does Lilly have any intentions of building its own app/platform for data management and remote monitoring?

Lilly: Yes, we did consider developing our own app. As we evaluated the current international environment, we recognized that many healthcare providers and people with diabetes are already using existing diabetes management platforms in these markets. We want to provide automated data collection for insulin dose tracking as quickly as possible and ensure we're supporting people with diabetes where they are today.
Close Concerns' Questions
What insulin data does Tempo Smart Button capture and transmit to partners' platforms?

How does today's announcement, fit within Lilly's already established agreement with Dexcom?

What are the financial details of these agreements, if any?
--by Katie Mahoney, Albert Cai, and Kelly Close