Executive Highlights
On the CES main keynote stage, IBM CEO Ms. Ginni Rometty briefly mentioned the Sugar.IQ hypoglycemia prediction feature, IQcast – launched last week. There were no new details, but this was great visibility for diabetes tech and AI.

In the exhibit hall, Diabeloop showed off its hybrid closed loop system (our first in-person look) and confirmed an early 2019 launch in France, ahead of broader scaling in 2Q19. We got to see the qualitative meal bolusing (small, medium, large), and the team also shared plans for a 6-12 year-old trial starting early this year.

Also in diabetes, we heard from Abbott and Verily: (i) Joel Goldsmith discussed FreeStyle Libre and predicted "near real-time" personalized treatment recommendations in the future; and (ii) Verily's Dr. Michael McConnell excitingly highlighted Onduo's onboarding process and blending of high tech and human coaching.

Notably, both Aetna and Cigna highlighted diabetes! Cigna CMO Ms. Lisa Bacus underscored the need for prevention, pointing to Omada as an "absolutely wonderful partner." Aetna had a large booth section on diabetes, and a CVS Health video depicted a recently diagnosed patient visiting a MinuteClinic and getting connected to a care manager. It was great to see this major payer emphasis on diabetes – at a tech conference no less! How might payers become an enabler and advocate of diabetes technology?

We include coverage of several exhibits below: a non-invasive, breath-based BGM called Aerbetic (lots to prove); Neurometrix (Quell 2.0 – looks great); smart pill box devices (Medipense, P-Heal, Pillo); and Withings' ECG Watch (medically accurate analog smartwatch that records ECG/heart rate with a one-year battery life).
Greetings from Las Vegas, where the digital health portion of CES has wrapped up. Below, find our top 12 highlights from Days #2-3 of the meeting, including exhibits.
Our Day #1 coverage includes highlights from Verily's Dr. Jessica Mega (Dexcom partnership mention), Kaiser's remote diabetes monitoring program, and Fitbit's long-term plan for coaching.
Top 12 Highlights
1. IBM CEO Ms. Ginni Rometty Mentions Medtronic-partnered Sugar.IQ IQcast Hypo Prediction in Packed Keynote; Fantastic AI Primer, Very Fun Big Data Facts!
IBM CEO Ms. Ginni Rometty's (and friends) keynote featured an allusion to the Sugar.IQ hypoglycemia prediction feature, IQcast (launched last week): "In my last visit at CES (2016), I was joined onstage by Medtronic. So everyone knows someone with diabetes. Together, we built a product called "Sugar.IQ," it was for diabetes management. And Watson, our AI, would monitor your continuous flow, and your blood, all coming through this. Just last week, Sugar.IQcast, you add everything from food, from sleep, with more AI, and it's a forecast for your diabetes," she said. "And, in fact, we now, for the first time ever, through the FDA, through this project, hypoglycemia can be diagnosed and predicted actually four hours in advance so you can do something about it." [skip to 35:20 in this video.] Her remarks came within days of Medtronic CEO Mr. Omar Ishrak's JPM presentation, during which he boldly called IQcast a "gamechanger." Contrary to Ms. Rometty's comments today, we note that IQcast did not need FDA 510(k) clearance or PMA approval – the Sugar.IQ companion app is regulated under enforcement discretion. Overall, it was great to see this discussed on the main keynote stage of CES, and we'll have to see if IQcast drives better outcomes, strong engagement, and Guardian Connect update – as we've noted, most of the CGM's key features lag Dexcom and Abbott (seven-day wear, adjunctive labeling, 14+ years, two calibrations/day, Apple iOS only), though this decision support feature is ahead of both G6 and Libre. We are especially eager to see how accurate IQcast's hypoglycemia predictions can be 1-4 hours in advance, especially if food/insulin data is entered inconsistently (it is manual input). At ADA, Dr. Huzefa Neemuchwala's talk pinned accuracy at an impressive 90% for predictions two hours in advance and 84% for four hours in advance, based on CGM data from 10,000 type 1 users (measured as ROC AUC). It was at CES 2016 three years ago where Ms. Rometty stood beside Mr. Ishak as the two announced Sugar.IQ as the first product to come out of the companies' partnership. At that time, they expected a summer 2016 launch of hypoglycemia prediction, so this has been a long journey indeed (2.5 years delayed). The center-stage recognition is certainly a good sign for IBM's investment in the Medtronic partnership as well as for diabetes visibility as a whole. IQcast was the only diabetes mention, and the only other healthcare mention came in the form of an IBM research sensor that measures fingernail "movement, bend, vibration, pressure" in order to diagnose schizophrenia and Parkinson's Disease – whoa. We also picked up a number of other fascinating quotes/facts from live conversations she had with client partners (Delta, Walmart execs) as well as with Dr. Gil, IBM Research COO. Scroll down for a list of these pearls! Her full keynote address can be watched here.

Rometty Keynote Pearls and Fast Facts
Dr. Dario Gil (IBM Research COO): There's a narrow form of AI, a broad form of AI, and a general form of AI. Narrow AI has become really good about learning one task in one domain. The broad form can learn many tasks within a domain. And a general form of AI is a human-like type of intelligence. A narrow AI is the type we've seen with deep learning, it's able to achieve superhuman accuracy performance in its predictive power if you give it enough supervised learning examples. Typically, we'd require to have tens of thousands, millions, of labeled examples. But the power of it is it can learn the rules of whatever system we're trying to predict automatically. That's a big contrast from the handwritten rules system we've created with software – works much better. With general AI – we're really intelligent across many tasks, many domains. We have autonomy, reasoning, agency. So, this is the type of AI we see in science fiction movies. The reality is we're likely decades away. If we have narrow AI today, what's next is broad AI. It's going to be built on 3 foundations: (i) It recognizes that learning is not enough. We have to bring learning and reasoning together. We can learn from fewer examples, and across more tasks in a domain; (ii) It has to be scalable AI. We're going to bring in non-deterministic models into our applications and workflows so we need to be able to scale it and make it more automatic. That'll be driven by automated programming and specialized AI hardware; and (iii) It's not just about accuracy. It's about making it trusted AI. Built on the foundations of making it explainable, it has lineage (see how decisions made over time), it's fair, and it's secure."

Ms. Rometty: "People think everything can be modeled today, but that's not the case…To model a molecule of caffeine would take a computer that is 1/10th of the volume of the earth. That's if you were really going to do it, and not have an approximation."

Ms. Rometty: "There are 2.5 quadrillion bytes of data [note: that's 15 zeros], but <1% of the data the world is emitting is actually collected and analyzed."

Delta CEO Mr. Ed Bastian: "In 2010, we had no days of the year without a cancellation. We had 5,600 maintenance cancellations that year. We set a goal to cancel cancellations. This past year, we had 251 days of year without a cancellation and just 55 maintenance cancellations. That's a 99% reduction. When you think about innovation in technology, a lot of it is improving upon the process you already have – the predictive maintenance technology, the advanced process engineering that builds that foundation."

Walmart facts: Walmart serves 256 million customers per week; has 2.2 million associates and 11,000 stores worldwide (4,700 in the US); sells $160 billion per year in groceries (including 1.5 billion pounds of bananas annually); and donated 2.5 million pounds of food last year.

IBM-owned Weather Company will begin to crowdsource data, including barometric pressure data from cellphones (100 million expected globally) and other metrics planes (new data every five seconds). This will allow models to update forecasts every hour; currently, this is the standard in the US, but many geographies in the rest of the world only see updates 1-2x per day. It will also help planes predict turbulence an hour in advance.

Mr. Charles Redfield (Walmart EVP, Food): "In 2017, we said let's look at a package of sliced mangos and track its trajectory from the shelf back to the farm. It took us seven days. In today's world, when we put it through blockchain, it took us 2.2 seconds…When a recall happens, everybody throws everything away. You're guilty until proven innocent. 2.2 seconds to trace origin vs. a week, that can change an industry."

Mr. Redfield: "We're a little strange at Walmart, we like to go into stores and watch people shop. If you ever see someone who's just watching people down the aisle, we watch how they shop. The amount of people who are reading labels today is more than I've ever seen. Watching how people shop continues to change, the amount of time they're spending educating themselves on where product came from, what it contains, it's becoming much, much more important on their list of how they make decisions."
2. Diabeloop's Adult Hybrid Closed Loop Launch in Early 2019 in France (G6, Kaleido), Broader Scaling in 2Q19; 6-12 year trial early this year
Diabeloop's booth showed off its CE Marked adult hybrid closed loop system (DBLG1), giving us a first in-person look at the controller. We confirmed Diabeloop's previous timing: an early 2019 launch in France ahead of broader European scaling in 2Q19, using Dexcom G6 CGM and Kaleido's patch pump. (A brochure in the booth confusingly implied slightly later 2019 timing, but we confirmed with the company this previous timing still stands.) See below for pictures of the Diabeloop handheld controller (locked down Sony phone), which show how a user chooses between a "small" (25g), "medium" (50g), and "large" (75g) meal – similar to Beta Bionics' approach and with an optional high-fat checkbox. Nice! Diabeloop also showcased its hybrid closed loop system for children (6-12-years-old) with type 1 diabetes. According to the booth rep, pediatric clinical trials will take place early this year in France and Belgium. Although the pediatric system includes the same hardware as the recently CE Marked adult version (Dexcom G6 CGM, Kaleido patch pump, and Diabeloop's locked-down Android controller) a new, child-friendly app interface is being adapted. A parental access feature ensures that children cannot provide insulin treatment themselves; rather, the child is only able to access hypoglycemia preventive alarms, which recommend rescue carbs. According to the booth representative, a version intended for adolescents permitting greater autonomy will come "in the future." FDA approval process is projected in 2020-2021, though presumably much will depend on what is learned in Europe and what the US market looks like next year.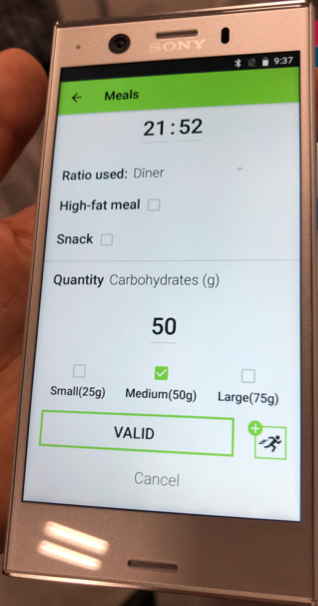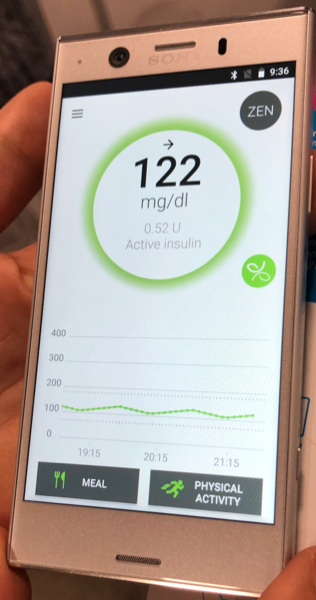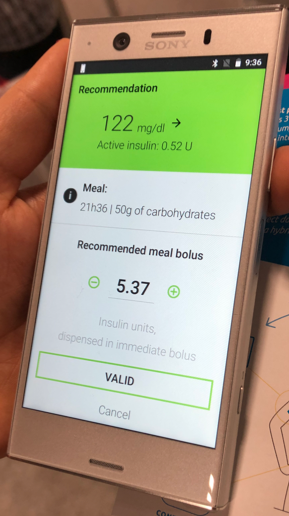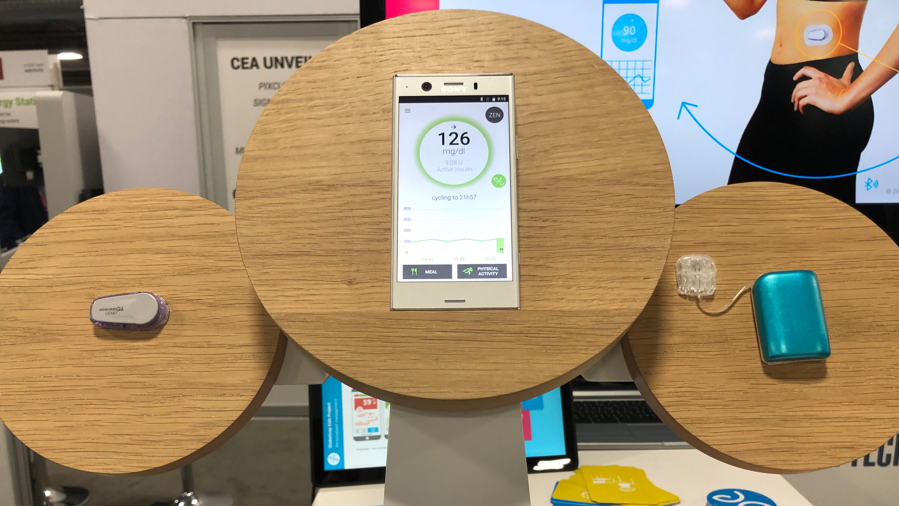 3. Abbott's Joel Goldsmith on the Future of Diabetes Management: "Near Real-Time" Personalized Treatment Recommendations
In a major win for diabetes and CGM visibility, Abbott's Mr. Joel Goldsmith hosted a Lunch and Learn during the Digital Health Summit on Wednesday. After providing an overview of FreeStyle Libre, including data from 470,643 FreeStyle Libre readers presented at ADA, Mr. Goldsmith gave his perspective on the future of diabetes management. He believes that device-derived data, specifically regarding clinical insights, will drive value in medical technology. Eventually, he predicts that data will be used by a growing set of advanced algorithms and machine learning algorithms that take the data, analyze it in "near real-time," and proactively push clinically relevant trends to offer personalized treatment recommendations. (Yes, that sounds a lot like what Bigfoot and Abbott are partnered to do, both for pumpers with Loop and pen users with Inject.) Still, he cautioned that technology alone is not enough to make the promise of personalized medicine fully realized. To this end, he believes that value-based reimbursement, software regulated as a medical device (SaMD), and new FDA regulatory pathways are converging "to make healthcare really exciting" (e.g., the Pre-Cert program had v1.0 released on Monday; interoperability, as noted in our Reflections piece). As he put it, "all facets of healthcare will have a digital component. Anything that doesn't won't be in the mainstream." We were excited to hear Mr. Goldsmith's bold vision for the future, and we look forward to more specific updates on Abbott's next-gen versions of FreeStyle Libre, its plans on decision support, and the start of Bigfoot's pivotal trials (now delayed to 2H19; launch still pegged for 2020). Abbott has not made as many public moves as Dexcom and Medtronic on CGM-based decision support – aside from Bigfoot, what else does FreeStyle Libre have in the analytics pipeline?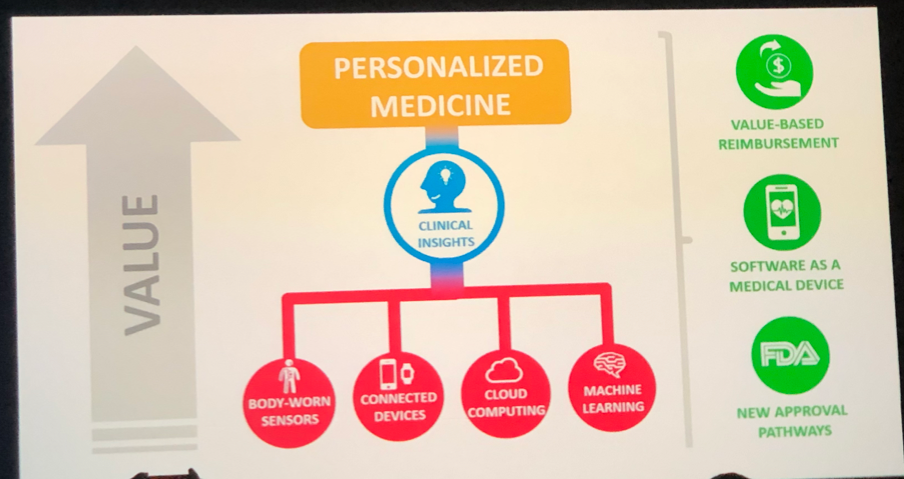 4. Verily's Dr. Michael McConnell on Onduo's Combination of Tech and Touch; Verily's Commitment to Value-Based Care
Verily's Dr. Michael McConnell pointed to Onduo, the ~$496 million Verily-Sanofi joint-venture, as an example of using technology to provide wraparound care. He explained how Onduo's virtual diabetes clinic relies heavily on data and digital health, but starts with a care team providing rigorous diabetes education. This combination of tech and the human element is critical – Dr. McConnell emphasized that the conversations between patients and their care team help patients understand how their physical activity and diet affect their blood glucose numbers – something the Onduo app does a pretty good job of, especially with meal photos overlaid with blood glucose data. Dr. McConnell also referenced Onduo's aesthetically pleasing and simple to use welcome kit as an example of one of the "transformative" effects consumer technology/marketing is having on healthcare. The goal, Dr. McConnell explained, is to emulate "the joy of opening up a product," which Apple pioneered and which many health technology companies are now following (FreeStyle Libre, G6, One Drop Chrome, Livongo, mySugr Bundle, Companion Medical InPen, etc.) . He noted that a lot of user experience and user design went into making the Onduo onboarding an appealing process – we were impressed by the sleek design and usability when it launched (read our writeup here), and look forward to seeing it reach national scale this year with payers, employers, and health systems (see DiabetesMine 2018). Dr. McConnell also reiterated Verily's commitment to value-based care. He mentioned Verily's recently announced partnership with Walgreens to make Onduo available to the 240,000 Walgreens employees and their families, acknowledging that while Verily has gone through traditional payer and employer channels to date, the team is "thinking very much about value-based care." We were thrilled to see yet another win for diabetes visibility at this broadly-focused conference and find it particularly notable that cardiologist Dr. McConnell spent the majority of his time discussing diabetes.
5. Aetna Booth Features Diabetes Statistics and Patient Experiences; Aetna Serves 1.8 Million Members with Diabetes; 1,100 MinuteClinics, A1c Testing On-Site
We were excited to see a large portion of the expansive Aetna booth devoted to diabetes, with a screen showing several sobering statistics on diabetes prevalence and cost. We were interested to learn that Aetna supports 1.8 million members with diabetes – a lower-than-expected ~5% of its 38.8 million members. In light of CVS Health's $69 billion acquisition of Aetna, the booth included a CVS Health video depicting the experience of a patient recently diagnosed with diabetes. The patient was connected with an Aetna care manager, who identified a dietician for the patient at his local pharmacy; found a local, in-network specialist for him; and helped the patient understand his health bills using the Aetna app. The patient in the video also discussed how his care manager monitors him remotely and provides recommendations accordingly. Importantly, when the patient visited the MinuteClinic in the video, the staff provided him with a care pack, complete with healthy snacks and "most" of his supplies. Healthcare providers were available to teach him how to use a BGM and to introduce him to available resources. This on-boarding step is so vital, yet so often overlooked. We like the idea of pharmacists filling some of the patient education gaps via a convenient, affordable system that delivers basic training immediately. It was not clear what devices were being used, nor what "healthy snacks" were recommended.
A MinuteClinic clinician at the Aetna booth shared that MinuteClinics are already checking A1c onsite and that diabetes is "one of the health conditions" on which Aetna and CVS are focusing. There are now over 1,100 clinics, which, according to the MinuteClinic website also provide services for minor illnesses, minor injuries, screenings and monitoring, skin conditions, travel health, vaccinations and injections, wellness and physicals, and women's services. The clinician at the booth explained that "a large majority" of visitors pay out of pocket, finding the low cost and convenience attractive. We think there is a lot of potential for MinuteClinics to serve as crucial interim touchpoints for patients with diabetes. At JPM on Tuesday, CVS CEO Mr. Larry Merlo noted that the scope of MinuteClinic services will expand to help with early identification and management of chronic disease.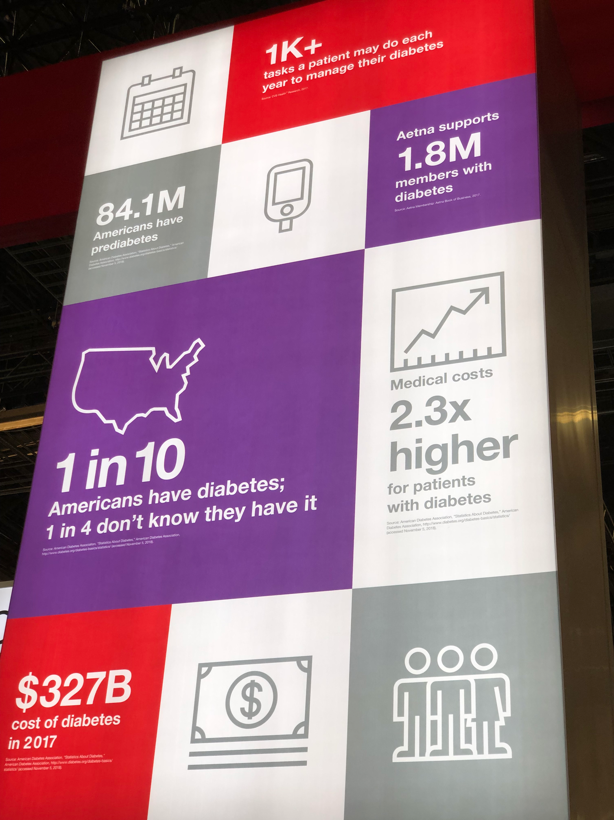 6. Cigna CMO: Omada is an "absolutely wonderful partner"; "Most" of Cigna's Employer Partners Offer Omada
In a fireside chat with STAT's Mr. Casey Ross, Cigna Chief Marketing Officer Ms. Lisa Bacus described Omada as an "absolutely wonderful partner." Ms. Bacus explained that Omada has done "great wonders" in helping Cigna connect not only with individuals who have diabetes, but also with those who are at risk of type 2 diabetes. In fact, Ms. Bacus shared that "most of [Cigna's] employer partners" have made Omada available to their employees. (Omada just shared it has enrolled over 200,000 participants to date and is adding depression/anxiety programming, in addition to diabetes prevention and type 2/hypertension management.) Refreshingly, prevention was a major theme throughout the chat – excellent to hear from a major commercial payer! She highlighted that "whole-person health is where we're focused," strongly asserting that "the way to improve affordability is by helping individuals with preventive care." She shared the sobering statistics that for the first time in 20 years, the US has seen two years of declining life expectancy. She attributes this disturbing trend in part because individuals are increasingly waiting until they are sick to seek healthcare. To this end, Ms. Bacus explained that "a lot of our messaging is about the basics" such as receiving annual checkups and biometric screenings.
Ms. Bacus also emphasized the importance of "simplifying experiences" to engage consumers and maintain adherence. As she put it: "This has to start upstream. We have to start with simplicity and prevention. In my opinion, that's how we'll drive lower costs for the individual. If you're healthy, let's keep you healthy. If you're at risk, let's address this right now. And if you're chronic, we're going to be right there with you, nudging you. It's about serving up options to the individual that are convenient to them and at the lowest cost to them."

Ms. Bacus shared one example of how Cigna is working towards improving health with greater price transparency. Cigna's Cost Estimator Tool helps patients research the total out-of-pocket costs they can expect for specific procedures and medications in their local area. The tool is available on mycigna.com and in Cigna's mobile app. As Ms. Bacus pointed out, "if individuals cannot afford a prescribed medication, they'll walk away – that's just not good." Instead, Ms. Bacus hopes patients will use the Cost Estimator Tool to be aware of costs upfront. In this way, patients can be better equipped to manage their health and work with their provider to find an affordable medication. We'd love to see what this looks like and hope it is user-friendly and not filled with too much jargon (e.g., list prices, deductibles, etc.).

In reference to Cigna's recently closed $52 billion acquisition of Express Scripts, Ms. Bacus underscored that "a series of new innovations designed for whole-person health are coming." One of these innovations, Health Connect 360, is expected to hit the market "at the end of the month." It was described in vague terms: "a new solution that is going to take a variety of solutions and systems and fully integrate them to allow the individual, employer, and provider to look at the full picture in a way that's never been done before." It sounds a bit like what Solera Health offers for finding diabetes prevention programs, but we're not sure. According to Ms. Bacus, Health Connect 360 is "something physicians and pharmacists have been asking for." Perhaps this solution would help people with diabetes more easily track multiple medications and comorbidities.
7. Neurometrix Booth Features Next-Gen Quell 2.0, 50% Smaller than Gen-One; 200,000 Quell Devices Sold; 70,000 Quell Users Uploading Data to the Cloud
Neurometrix's relatively large booth featured Quell 2.0, its next-gen wearable pain management system. The device is 50% smaller than the first-gen version and boasts a smaller battery optimized to ensure similar battery life – impressive! The other major change, the booth representatives explained, is Neurometrix's work leveraging artificial intelligence. There are now 70,000 Quell users sending data to the cloud, which can be harnessed to customize individuals' device settings. Weather data are also being used to provide users with tailored adjustments, as apparently weather can have an impact on pain. (Or perhaps weather affects perceptions of pain, due to "selective matching" – see an explanation in Adam's 42 factors article.) Quell 2.0 also includes a Therapy Coach feature, which monitors usage of the device and provides reminders to use Quell at least three times per day. Gamification in the form of badges and content are also pushed to users as a reward for consistent use. The booth representatives expect Neurometrix to continue to focus on features involving AI that improve usability. At Biotech Showcase earlier in the week, CEO Dr. Shai Gozani posited that Neurometrix probably has the largest chronic pain database in the world. We think this direction makes a lot of sense for Neurometrix – now that the Quell hardware is miniaturized, the next hurdle will be providing users with actionable insights and customized therapy to further augment their experience
During a panel on healthcare in retail, Neurometrix CEO Dr. Shai Gozani estimated that 200,000 Quell devices have been sold "in the last several years." While he acknowledged this number to be a "drop in the bucket" compared to the ~100 million people living with chronic pain, we were impressed that Neurometrix sees only a 20-25% return rate following its free 60-day trial for Quell. This return rate aligns remarkably well with what Dr. Gozani expected, given clinical data showing a similar proportion of patients do not respond to the technology (a common phenomenon for analgesics). At Biotech Showcase, Dr. Gozani noted that Quell works for about 75% of people, and 40%-50% will get a significant (often life-changing) benefit. According to Neurometrix, chronic pain is the #1 cause of long-term disability, annual direct/indirect economic costs are >$600 billion, and over 50% feel medications provide little or no control over pain – there is clearly a huge opportunity here! All this begs the question: why is Quell hitting such a slim fraction of the pain market? Dr. Gozani identified three main barriers to adoption: (i) awareness – Neurometrix is a small company; (ii) believability – pain has historically been associated with "snake oil" treatments, so consumers are understandably wary; and (iii) attitude. On this last point, Dr. Gozani explained that consumers are not accustomed to paying for their own healthcare – an inherent problem for over-the-counter solutions like Quell. The free 60-day trial has therefore been a major part of Neurometrix's efforts to establish a value proposition. In fact, Dr. Gozani noted that the 20-25% return rates have now been operationalized as part of Neurometrix's business model. We love the idea of free trials and hope to see those in pumps and CGMs too – these are expensive devices, and being able to try them in a non-committal way makes a lot of sense. How could CGM/pump companies similarly bake free trials into their business models?
8. AerBetic Non-Invasive Glucose Monitoring with Breath – Requires Manual BG Entry, We're Skeptical
AerBetic displayed a non-invasive glucose monitoring smartwatch, claiming to detect hypoglycemia and hyperglycemia from gases in users' breath. See the company's website here. While the watch form factor is stylish, we remain skeptical that this is the real deal. Users manually input glucose values in an app to train the algorithm (i.e., calibration), and then a user breathes into the watch (i.e., holds it up to the mouth) and receives an alert on the app if they are high or low. The product uses nano-gas sensors embedded in the watch, and a representative explained that the technology relies on the same process by which alert dogs detect hypoglycemia and hyperglycemia. It does not seem to be long range or passive – you must actively spot check by breathing into the watch. The representative shared that AerBetic plans to go to market as a consumer-grade device but will eventually seek FDA approval. This seems very difficult to believe, as we've said many times of consumer wellness CGM – FDA is raising the bar on CGM/BGM, so an over-the-counter product that is not that accurate with a new measurement form factor will be an extremely tough sell. The website has the typical marketing vaporware we've seen countless times for non-invasive BGM startups. When asked, the representative claimed the device had been tested, but not in clinical trials. The company is currently seeking beta testers on its website, who must be using CGM and willing to wear the device for a lengthy 6-8 months. Presumably the CGM data will be used to train the breath-based algorithms. From what we can tell, AerBetic could never serve as a replacement for CGM or even BGM, since it requires calibration. This is a novel form factor in non-invasive glucose monitoring, though we're not betting on this one – at least not at this stage.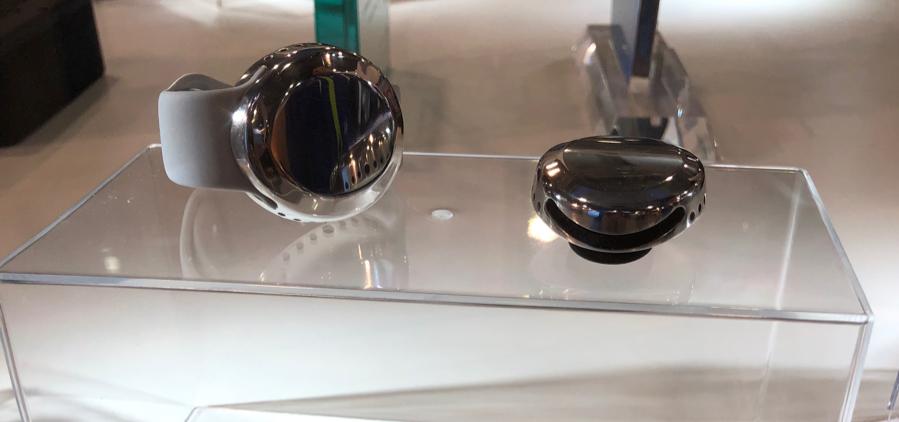 9. Five Types of Healthcare Consumers – Implications for Diabetes Device and Drug Marketing?
PatientBond's Mr. Casey Albertson described how mainstream marketing techniques can drive major outcomes in health engagement. Psychographics, which categorizes the way in which adults make decisions based on early imprinting, have been used for 30 years to segment the population for targeted commercial advertising. While this concept is new to healthcare, its application makes perfect sense – as Mr. Albertson put it: "If you don't understand the deep-seated cause of a behavior, getting people to change is almost luck." Mr. Albertson explained that traditionally, healthcare tends to take more of a one-size-fits-all approach due to the inherently black and white nature of science: a researcher proves an outcome, and patients are expected to adhere. However, as Mr. Albertson pointed out, "when we're engaging people, it's advertising. We're advertising a proposition to get someone to do something" and to do so, that proposition must be framed in distinct ways to reach distinct segments of the population. To this end, Mr. Albertson has identified five main subtypes of healthcare consumers: (i) Self-achievers – they love information and are goal-oriented. This group comprises ~19% of the US population; (ii) Balance-seekers – they like choices, options, and always ask for a second opinion. They tend to shift between HMOs frequently; (iii) Priority-jugglers – they tend not to care too much about their own health, but respond to guilt and fear. This group comprises ~18% of the population; (iv) Direction-takers – they want clear, bullet-point instructions without too much context; and (v) Willful endurers – they tend to seek healthcare as a last resort after they have already accumulated multiple diseases and conditions. This group comprises ~30% of the population. We wonder how people with diabetes would segment into these groups, and whether the percentages would be different by type 1, type 2, and prediabetes. By strategically positioning healthcare to reach these subgroups, Mr. Albertson "gets people to buy what we want them to do." He provided the example of sending digital reminders for patients to take their A1c tests. Compared to the typical uniform messaging campaign, Mr. Albertson's five-pronged method saw an eight-fold increase in click-through rates. In another example, Mr. Alberton's method applied to a diabetes management program resulted in 90% of patients (n=145) reaching their goals in four months. This approach makes a lot of sense for diabetes, which is prevalent amongst such a heterogenous population. We imagine this method could be applied to drug and device marketing, as well as diabetes prevention program marketing!
10. Exhibit Hall/Showcase Finds Related to Diabetes: iHealth BGM, Smart Pill Boxes, Withings ECG Watch and BP, Fitbit
iHealth displayed its smartphone-connected BGMs. The Align BGM has a very similar form factor to Dario's BGM, plugging directly into a headphone jack. (We do not believe it has a Lightning version for new iPhones.) The Bluetooth-enabled Smart BGM displays on-meter blood glucose readings within five seconds. The booth representative estimated ~100,000 "active users" worldwide, far more than we would have guessed. The BGMs are available for sale on iHealth's website and Amazon. iHealth Align and Smart are priced very reasonably at $16.95 and $29.99, respectively. Strips are priced at a reasonable $0.25/strip (~$25 for 50 strips); for high frequency BGM users, mySugr's Bundle and One Drop Premium offer a better deal and user experience.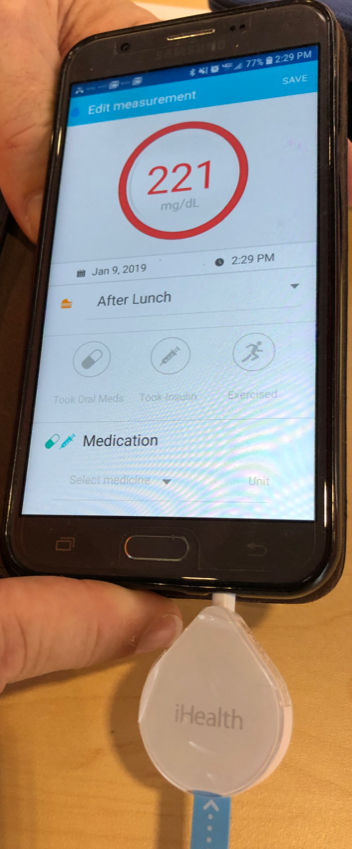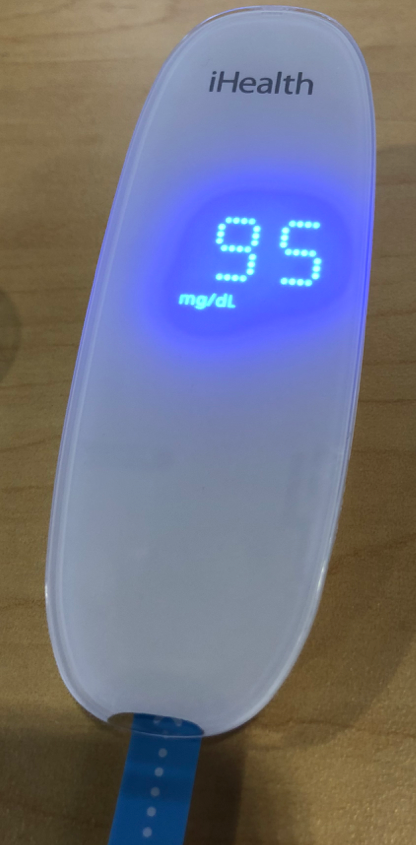 Medipense is a smart pill dispenser for seniors with chronic conditions, also shown last year at CES. Like the other smart pill dispensers below, this has obvious implications for people with diabetes on multiple medications, especially those experiencing cognitive declines. The dispenser reads a barcode on a blister pack of medications, automatically downloads the patient data, and dispenses each packet at the right time. At CES 2018, the company hoped to be commercially available in Canada in 2018; now, the booth representative shared that it will be in clinical trials until the Fall. Pricing is yet to be determined, although the representative expects it will be an extremely pricey ~$4,000/unit. At that price, it seems to be targeted for healthcare settings, including seniors in residences and long-term care facilities.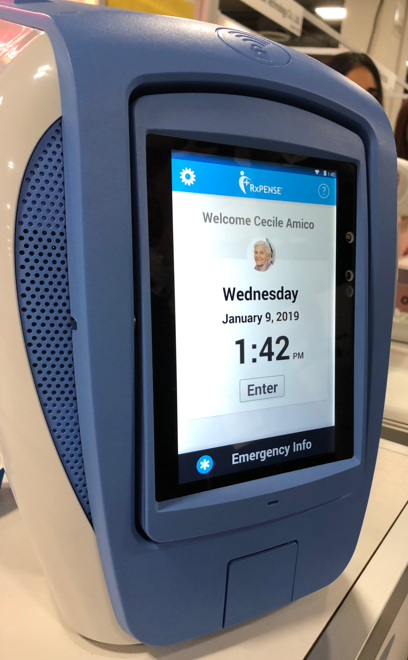 P-Heal is a simpler smart pill dispenser that includes a smart pill box and accompanying app. The user inputs their therapy regimen via the app, and places blister packs into the box. A light on the box notifies users to take their medication, and alerts are sent via the app to users and caregivers. The box records a pill being taken based on weight differences – this unfortunately means that a user could take an incorrect pill and it would go unnoticed. Still, the simpler technology means a lower price point of ~100 euros (~$116). P-Heal is currently testing the market in Belgium and France, with 70 devices in use. The company hopes to commercialize in Europe in June 2019 and eventually in the US.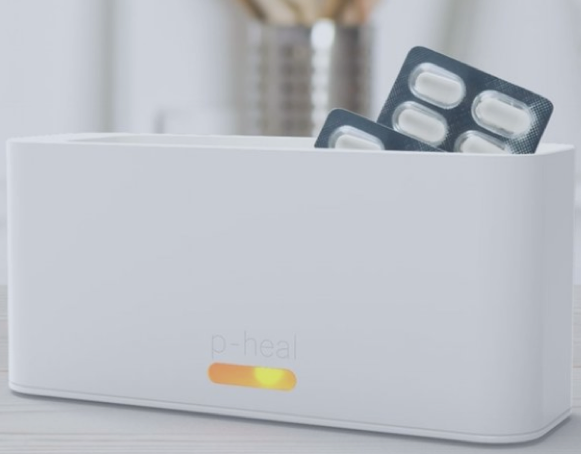 Pillo Health Companion: An in-home, voice-activated medication dispenser with face-recognition capable of delivering therapy reminders and information such as nutrition and the weather. We've been following this one since Health 2.0 2017. The eyes are either a bit creepy or friendly, depending on one's perspective.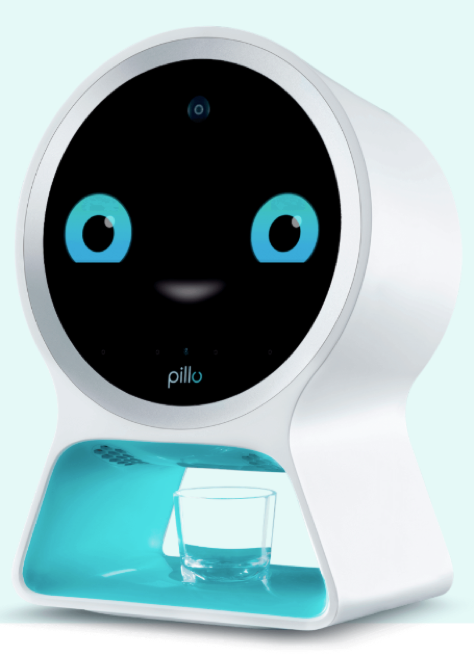 Withings ECG Watch: The world's first medically accurate analog smartwatch to record ECG and heart rate. The watch boasts a one-year battery life, automatic syncing to an accompanying app, and atrial fibrillation alerts. This seems like clear competition for the Apple Watch Series 4, which also enables users to take an ECG but requires daily charging.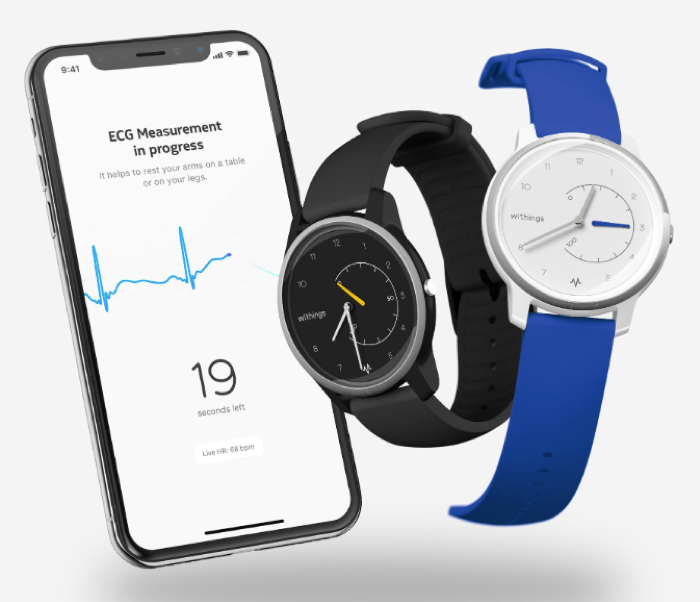 LifeinaBox: The world's smallest intelligent fridge for transport and storage of fragile medications like insulin. Accompanying app displays/controls temperature.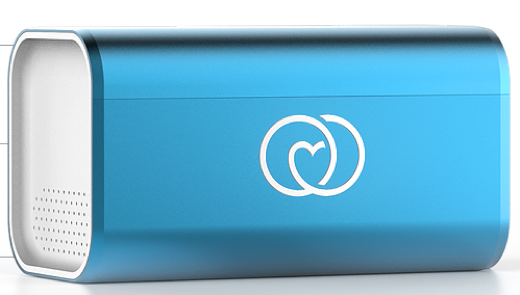 Withings BPM Core: Blood pressure monitor, ECG, and digital stethoscope that delivers blood pressure and heart rate readings, atrial fibrillation detection, and analysis of valvular heart disease risk. Data is displayed on the device and syncs to an accompanying app.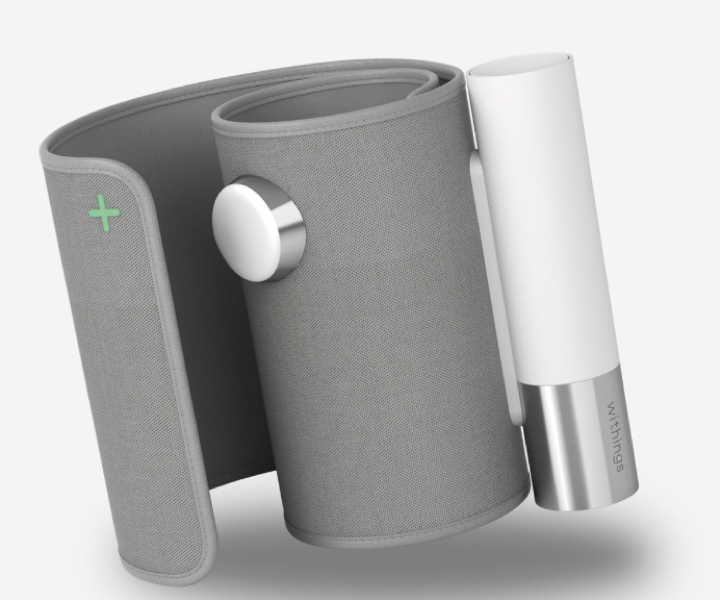 Optima Molliter's Motus Smart device: Smart boot equipped with proprietary textile sensors and microelectronics to monitor patient adherence to a prescribed offloading protocol for reducing diabetes-related foot ulcers.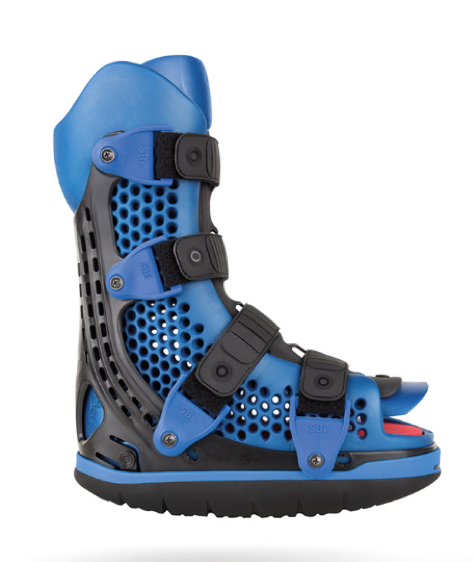 Fitbit Charge 3: Fitness tracker with swim-proof design, seven-day battery life, and goal-based exercised modes. Charge 3 also provides 24/7 heart rate tracking and an on-device dashboard for personalized guidance. The price is discounted to just $129.95 right now, down from the usual $149 – perhaps to help with volume in Fitbit's traditionally hard Q1.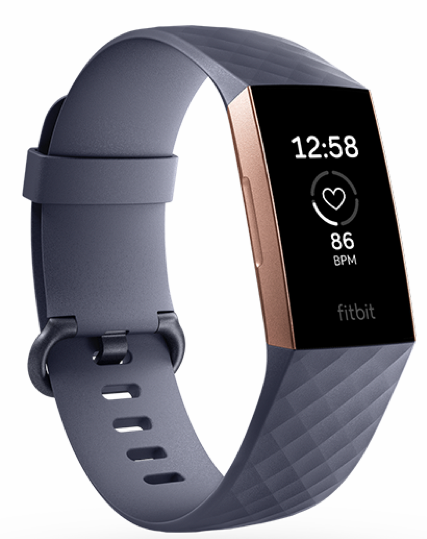 11. 2019 Expected to Be a "Very Healthy" Year for Digital Health Funding; Record-High $8.1 Billion Invested in Digital Health in 2018
Cooley's Mr. Geoff Starr expects 2019 to be a "very healthy" year for digital health funding. He believes venture funding will be driven by: (i) pharmaceutical companies continuing to go digital; (ii) healthcare harnessing technology's focus on the consumer experience; and (iii) continued integration of the industry across the spectrum of product development, commercialization, treatment, and therapy. To this end, Mr. Starr anticipates that as the field's understanding of value-based care increases, so too will smart collaborations to ensure therapies are provided to the right people at the right time and at the right cost. He was particularly confident that pharmaceutical companies will embrace digital health. In fact, he referenced a recent interview with Roche's CEO Dr. Severin Schwan, who described Roche as a pharmaceutical and data science company. Mr. Starr believes this mindset has disseminated across the industry, noting that every major pharmaceutical company in the world has a digital officer in its C-suite. (We do not see one for Novo Nordisk, though it is quite committed to digital health.) For these reasons, Mr. Starr is bullish on digital health funding in 2019.
Citing Rock Health's 2018 digital health funding report, Mr. Starr shared that a record-high $8.1 billion was invested in the sector, surpassing 2017's record total of $5.7 billion by 42%. 368 digital health deals were completed in 2018, and the average deal size rose to $21.9 million. Mr. Starr emphasized that half of all 2018 deals were seed and Series A rounds, indicating that investors are still interested in funding new players.
12. Compelling Stats from Days #2-3: Connected BGMs, Digital Health Adoption by The Numbers, Medication Adherence
Below are some of the most compelling stats we heard over the last two days at CES.
Only 9% of people with diabetes use a connected BGM. 59% of people with diabetes are not aware that connected BGMs exist. – Matt Titus (Lightspeed Health, New York, NY)

150 million people in the US are dealing with at least one chronic condition. 100 million people are dealing with more than one chronic condition. – Lisa Bacus (Cigna, St. Louis, MO)

Medical costs are 2.3-fold higher for patients with diabetes. – Aetna exhibit hall booth

72% of physicians in a survey indicated that they would only consider recommending an mHealth tool if it was FDA approved.  – Matt Titus (Lightspeed Health, New York, NY)

The digital health market is projected to exceed $379 billion by 2023. Telehealth is expected to see 27.7% compound annual growth. – Matt Titus (Lightspeed Health, New York, NY)

Among those using five or more medications, 36% say they forget doses. – Medipense exhibit hall booth

Wearable use is expected to grow 5.1% annually, driving a $3.7 billion market by 2023. (This seems like an underestimate, since CGM is already well over $2 billion with Abbott and Dexcom alone. Though some may not consider CGM a "wearable," we would.) Healthcare providers have been reluctant to embrace this technology due to concerns surrounding accuracy. – Matt Titus (Lightspeed Health, New York, NY)

30% of US adults don't have a primary care provider. 50% of millennials don't have a primary care provider. – Hill Ferguson (Doctor on Demand, San Francisco, CA)

21% of American adults own a mobile health device. 4.8 million US adults have used telemedicine. – Matt Titus (Lightspeed Health, New York, NY)

Since 2015, health-related apps have increased by 25%. Wearable use has increased by 12%. – Matt Titus (Lightspeed Health, New York, NY).
-- by Maeve Serino, Brian Levine, Adam Brown, and Kelly Close