Executive Highlights
Ypsomed reported strong F1H19 sales of CHF 259 million (~$260 million), up 21% YOY on a tough comparison to 20% growth in FY18. The accounting is a bit complicated since Insulet assumed direct EU Omnipod distribution in the middle of the reporting period (July 1st), but Ypsomed's half-year revenue takes into account remnant Omnipod revenue (from April-June), revenues from Omnipod distribution in Germany (through Ypsomed-owned DiaExpert), and an expected ~$50 million in exit fees. Excluding these one-time revenue sources, Ypsomed still saw sales of CHF 150 million (~$151 million), rising 13% YOY. Diabetes Care sales (including Omnipod) grew a strong 28% YOY; excluding Omnipod-related revenue, strong YpsoPump numbers resulted in softer but still-solid revenue of CHF 73 million (+18% YOY). Obviously, Omnipod revenue will be missed, particularly as Insulet logged $50 million in international Omnipod sales in Q3 alone. Delivery Systems sales increased 9% YOY to CHF 68.1 million (~$68 million).

Ypsomed reported the ~$50 million in compensation from Insulet in this half-year's revenue though the final number won't be settled until mid-2019. Final compensation depends on how many patients are using Insulet-provided Omnipods 12 months after the July handoff.

Ypsomed's own touchscreen, tubed, mylife YpsoPump is currently under FDA review and expected to launch in the US in summer of 2019. Canada launch timing was pushed back from October 2018, as approval is now expected in January. Management is very pleased with the pace of the launch thus far (EU, Australia), as the installed base is up to ~5,000 (~10,000 expected by March 2019) and the pump is in 17 countries (23 expected by March 2019).

There were three updates on YpsoPump interoperability on the call: (i) A CGM-integrated mylife app is still expected by March 2019 (likely Abbott or Dexcom); (ii) Remote smartphone pump control is expected by March 2020 (the "next financial year"); and (iii) an open protocol YpsoPump is expected to be available "within two years" (rapid progress on the JDRF partnership).

There was no substantive update on the semi-disposable tubeless YpsoPod patch pump. The device is now expected to launch in 2022/23 – back from 2020/2021 – by which point it will be entering a highly competitive market.

Management highlighted SmartServices – the recently-announced partnership with Philips – as a solid revenue opportunity for the Delivery Solutions business. Despite Delivery Solutions headwinds from Merck and GSK pulling Lusduna and Tanzeum respectively (both drugs are administered through Ypsomed devices), the company is confident its adherence monitoring "platform approach" will insulate it from such one-off market withdrawals.
Ypsomed recently reported F1H19 results in a call led by CEO Mr. Simon Michel. Read on for our top highlights from the call and get the press release, semiannual report, and presentation slides.
As an aside, we'd recommend reading the Q&A with Mr. Michel on sustainability on pages 10-11 of the semiannual report. It's great to see companies in diabetes taking the lead to promote environmental awareness and social responsibility!
Financial Highlights
1. F1H19 Sales of CHF 259 Million Up 21% YOY, Driven by 28% Diabetes Care Growth (mostly Omnipod/Expected Insulet Compensation); Underlying Non-Omnipod Business Up 12.6% YOY; Delivery Systems Up 9%
Overall Ypsomed sales for the first half of fiscal year 2019 totaled CHF 258.7 million (~$260 million), rising 21% YOY on a tough comparison to 20% growth in F1H18. The accounting is a bit complicated in light of Insulet assuming direct EU Omnipod distribution in the middle of the reporting period (July 1st), but the figure below best depicts the health of Ypsomed's underlying business (Diabetes Care, Delivery Solutions, and Others) which grew 12.6% YOY to CHF 150.2 million (~$151 million). Expected Insulet compensation and Omnipod revenue from April-June – fleshed out in highlight #2 below – totaled CHF 108.5 million (including revenues from the new dealer agreement between Insulet and DiaExpert in Germany as of July 1st), or ~42% of revenue. For the half year, Diabetes Care sales including Omnipod revenue totaled CHF 181.7 million (~$182 million), up 28% YOY compared to F1H18; net Omnipod compensation and sales, the segment grew 18% YOY to CHF 73.2 million. Meanwhile, the Delivery Systems (e.g., insulin pens) business climbed 8.6% YOY to CHF 68.1 million (~$68 million). All things considered, Ypsomed has its work cut out for it to replace the top-line growth afforded by its former deal with Insulet, though management sounds upbeat on the potential of YpsoPump (now in 17 countries, set to enter US and Canada in 2019) and its Diabetes Services platform business – more on both below.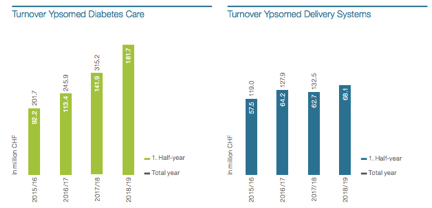 2. $50 Million Expected in Exit Fees from Insulet; CHF 51 Million in 1H19 Omnipod Revenue
As planned, Insulet assumed all Omnipod distribution sales, marketing, training, and support in Europe beginning July 1st. Ypsomed estimates that Insulet's compensation ("exit fees") for establishing EU distribution structures will bring in CHF 49.8 million (~$50 million), though the true number will ultimately depend on the number of patients using Omnipods sold by Insulet in mid-2019. Ypsomed said on its last call in June that it expects CHF 50 million (~$51 million) in revenue from Omnipod sales in the reported half-year, but did not break out this figure today. In total, Omnipod-related revenue came to ~CHF 108.5 million (including revenues from the new dealer agreement between Insulet and DiaExpert in Germany as of July 1st), which includes CHF 49.8 million in exit fees and the remainder from actual Omnipod sales in the first half of the year.
Pipeline Highlights
1. US YpsoPump Launch Expected in Summer 2019 (Under FDA Review); Current Global Installed Base of ~5,000 Expected to Double by March 2019
Ypsomed confirmed that the mylife touchscreen durable YpsoPump was filed with FDA at the end of May and is expected to enter the US market in Summer 2019 (in line with previous guidance). Clearance is now expected in May 2019; Mr. Michel said on the call that the company has fielded questions from the FDA and is now halfway through the 180-day waiting period. The company hopes to have a US sales team in place "before Christmas." Mr. Michel didn't mention an initial controlled launch, as he has in the past. The US market will no doubt be a tough nut to crack for Ypsomed from a strictly competitive standpoint, especially as the initial product will not feature CGM integration. By the time mid-2019 rolls around, Medtronic's MiniMed 670G will have continued to pick up steam (>100,000 670Gs shipped in US users as of June), Tandem could have two G6-integrated systems available to patients in Basal-IQ (PLGS; launched in August) and Control-IQ (launch slated for 2019), Insulet will have broadly launched its Dash PDM (with pharmacy distribution and the touchscreen PDM offered at no cost). Ypsomed's focus on simplicity – touchscreen YpsoPump, prefilled cartridges – will have to compete with advanced products (automation, CGM integration) from more established brands.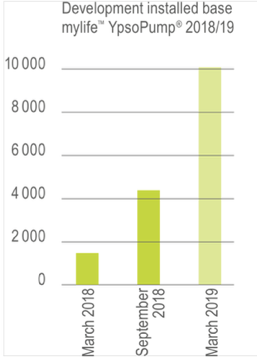 2. CGM Integration on mylife App Expected in the Next Financial Year; Remote Smartphone Pump Control "In Next Financial Year"; Open Protocol YpsoPump "Within Two Years"
Three updates on the interoperability front surfaced on the call: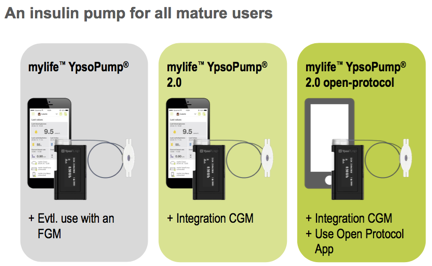 3. YpsoPod Patch Pump Now Expected to Launch in 2022/2023, Back from 2020/2021; Previously Slated for Final Conceptualization by March 2019
The semi-disposable mylife YpsoPod patch pump is now expected to launch in late 2022/2023, back from previous expectations for 2020/2021. The company said, "With MDR coming to Europe next year, we will conduct a full and extensive clinical trial before market launch which will add roughly six months to the previous stated launch year." As a reminder, the patch pump will be distinct from Insulet's Omnipod and will be "similar to [Roche's] Solo." Given the current timing, YpsoPod will be rather late to the on-body "patch pump party (with or without tubing): Insulet's Omnipod Horizon and Tandem's hybrid t:sport patch pump closed loop systems with smartphone control will be launching in the US in 2020; Lilly's AID system based on its "white disk" pump could be on the market between late 2019-late 2020; BD's Swatch type 2 patch pump is expected to launch in the US by late 2019; Roche's Solo patch pump will likely have scaled in the EU and potentially made its way to US soil (controlled EU launch underway); and Verily/Sensile Medical/Sanofi's connected, pre-filled type 2 patch pump could feasibly be available by 2020, though no timing has been shared.
4. Philips-Partnered SmartServices Adherence Monitoring Platform Highlighted as Opportunity for Delivery Solutions Business, Which Took Hits in Merck's & GSK's Decisions to Pull Lusduna and Tanzeum
Management highlighted SmartServices – the recently-announced partnership with Philips – as a solid revenue opportunity for the Delivery Solutions business. SmartServices leverages Ypsomed's connected devices and Philips' cloud platform to provide pharma clients with ongoing metrics related to user behavior and device management data. On the call, Mr. Michel rattled off a number of the "over 20" parameters that SmartServices can help clients track: Adherence, date and time of injection, whether the injection was performed to completion, drug temperature, holding time, product counterfeiting (that's a new one!), and drug expiration date. This information, he said, is key for pharma companies looking to have better negotiations with payers, support outcomes-based payments, and support adherence. SmartServices adds value on the patient end as well, as it can provide medication reminders, coach users through injections, etc. At this point, the platform has been positioned for autoinjectors, but the company told us in October that the plan is to eventually support all of Ypsomed's injection devices, including insulin pens.
-- by Brian Levine, Adam Brown, and Kelly Close