Executive Highlights
Here we bring you our full coverage of ADA 2019 in diabetes technology, including: (i) Automated Insulin Delivery, Pumps, and Pens; (ii) CGM and BGM; (iii) Digital Health and Connected Care; and (iv) Beyond A1c and Hypoglycemia.

Diabetes technology at ADA was as exciting as ever, highlighted by extremely positive results from the six-month, NIH-funded iDCL pivotal trial comparing Tandem's Control-IQ hybrid closed loop/G6 vs. sensor-augmented pump (t:slim X2/G6 without automation). Time-in-range (70-180 mg/dl) was 2.6 hours per day better with Control-IQ – 70% vs. 59% (p<0.0001) – driving a 0.33% A1c advantage at six months (baseline: 7.4%). Also in AID, we saw positive data on Beta Bionics' integrated iLet device using both Dexcom and Senseonics CGM; strong Omnipod Horizon hybrid closed loop data in 2-6 year olds; and early looks at MiniMed 780G data (adding automatic boluses). Interoperability saw continued momentum too, with both Dexcom and Medtronic signing on to integrate with Tidepool Loop.

There was also a notable uptick in discussion about Time-in-Range – it was amazing to remember that it was only at ADA 2017 where CGM outcomes standards were agreed upon. What a difference two years makes – we heard far more than ever about this CGM metric, and, it's not just small groups of traditionally engaged patients anymore. The international consensus on time-in-range received extensive attention and provided recommendations for CGM targets in a poster (2-LB) and paper published in Diabetes Care, giving CGM-derived outcomes some significant spotlight. The PDF has already been downloaded over 5,000 times and has received significant attention on social media (over 200 tweets alone). Notably, the online paper includes the new-look AGP, first introduced by Dr. Rich Bergenstal earlier in the meeting. Separately, Dr. Bergenstal presented an exciting oral on individualized A1c, which accounts for variations in red blood cell turnover between individuals. The team found that 70% of individualized A1c values differed from their lab A1c by >0.5% – giving more visibility and reason behind why A1c is perhaps necessary as a starting point but not sufficient to understand patient well-being.

We also heard striking evidence about CGM's benefits on time-in-range and A1c in diverse populations, including data from: (i) WISDM – type 1s ≥60 years  (n=203); (ii) CITY –14-25 year old type 1s (n=153); (iii) SENCE – 2-8 year old type 1s (n=143); and (iv) COMISAIR – three-year study in pump- and MDI-treated type 1s (n=94). Most companies also shared real-world data at ADA (mostly in posters), while smart pens saw only a handful of early data and partnerships – with much more to come in future years.
In this report, we provide our full coverage of diabetes technology content from the ADA's 79th Scientific Sessions. Talk titles highlighted in yellow denote the presentations and commentary that we found particularly notable. Titles highlighted in blue represent new coverage that wasn't included in our daily highlights. Note that some talks may appear in multiple sections.
Our sections proceed as follows (you can navigate through these using our table of contents below):
Themes

Automated Insulin Delivery, Pumps, and Pens

CGM and BGM

Digital Health and Connected Care

Beyond A1c and Hypoglycemia

Exhibit Hall
Themes
Diabetes Technology
Control-IQ Pivotal a "Landmark" Study, "Benchmark" for Future Trials; Pre-Pivotal Data from Insulet (Ages 2-6 years), Beta Bionics (Insulin-Only), Medtronic (780G)
The clear technology headline from ADA 2019 was strong results from the pivotal trial of Tandem's Control-IQ hybrid closed loop with automatic correction boluses and Dexcom's no-calibration G6. The six-month, NIH-funded, International Diabetes Closed Loop study compared Control-IQ (n=112) to sensor-augmented pump therapy (t:slim X2/G6 with no automation; n=56). Control-IQ drove impressive glycemic improvements: Time-in-range (70-180 mg/dl) was 2.6 hours per day better with Control-IQ – 70% vs. 59% (p<0.0001) – mostly from minimizing hyperglycemia (-2.4 hours/day spent >180 mg/dl). Control-IQ also boasted a 0.33% advantage in A1c at six months (baseline: 7.4%) and improved mean glucose as measured with CGM by 13 mg/dl. Remarkably, study retention was 100% in both arms, Control-IQ users spent 92% of the six-month period in closed loop, and users scored ease of use, usefulness, trust, and desire to continue use all between 4.5 and 4.8 out of a possible 5. In the words of the greats – Drs. Roy Beck and Boris Kovatchev – this study was "landmark" and "a new benchmark." (The typically reserved Dr. Kovatchev even proposed a "Data Awesomeness Index" – study retention rate + closed loop use + the difference between time-in-range between control and experimental. In this study, that was an 100% + 92% + 11% = 203%!) On a call following the presentation, Tandem confirmed Control-IQ will be submitted to the FDA in the "coming weeks" (14+ years), with US launch still expected this year. Given years of FDA experience with this algorithm – along with two of the three system components already cleared as interoperable devices (G6, t:slim X2) – we expect a smooth and quick FDA regulatory review. This will be the first hybrid closed loop on the market with correction boluses, a no-calibration CGM, Bluetooth, and remote software updating – significant advantages over the MiniMed 670G, which was the first hybrid closed loop approved back in 2016.

As a bonus, we saw interim results from France's Freelife Kid AP study of Control-IQ, comparing nocturnal-only use with 24-hour use of the system in children (n=30, mean age 9 years). Time-in-range (70-180 mg/dl) for the 24-hour group improved from 60% at baseline to 72% during treatment (+2.9 hours/day) vs. a smaller improvement from 63% to 68% in the nocturnal-only group (+1 hour/day). This early data confirms the system should perform equally well in the pediatric population – in that vein, an n=50 pivotal study in ages 6+ is currently recruiting in the US.

Notable pre-pivotal AID data came from Insulet, Beta Bionics, and Medtronic – all showing meaningful impact on time-in-range, better user/on-body experiences, and less burden as the field moves from "first" approvals to next-gen products. ADA 2020 could potentially bring pivotal trial data on Medtronic's next-gen 780G (pivotal underway), Insulet's Horizon (pivotal in 4Q19), and Beta Bionics (insulin-only) iLet – depending on when these wrap up. Observational DIY Loop results could also feasibly be presented at ADA next year.

We saw very positive results (+4 hours in-range/day) from Insulet's three-day Omnipod Horizon hybrid closed loop hotel study in 2-6 year olds. The data demonstrated great safety and effectiveness in kids sometimes too young to communicate when they might be feeling high or low. A pivotal is expected to start in 4Q19, and we expect this tubeless hybrid closed loop – with the algorithm built right into the pod and talking directly to the G6 CGM – will set a new bar for on-body simplicity. (A number of people are experiencing an early version of this now through DIY Loop with Omnipod, though it still requires the phone nearby and the RileyLink bridging device.) We also learned that Horizon – at least in its investigational configuration – can be set for target glucoses of 110, 120, 130, 140, and 150, allows for extended boluses, and has a "hypo protect" mode (150 mg/dl target and reduced basal delivery). 

A Beta Bionics oral showed that the integrated Gen 3 iLet insulin-only system performed very well with both Dexcom's G5 and Senseonics' Eversense CGM. Compared to usual care, the iLet Bionic Pancreas increased time-in-range by 1.9 hours/day (70% vs. 62%). A poster showed a sub-analysis of this study, suggesting that the iLet is safe to initiate directly following MDI therapy – all the system asks for is bodyweight. Curiously, a second poster showed that the same system didn't significantly alter CGM metrics in a pediatric cohort (mean age 12 years) overall, though time-in-range climbed meaningfully overnight. This kind of comparison is sometimes typical given the high-baseline time-in-range in  well-managed, early adopter clinical trial participants. Beta Bionics expects to start an insulin-only pivotal trial in 1Q20.

Medtronic's next-gen MiniMed 780G (or investigational versions thereof) was the subject of at least three posters, adding automatic boluses and a more aggressive algorithm (time-in-range goal: >80%, 100 mg/dl target). Overall results were very encouraging, though it's clear that, despite the automatic correction boluses, bolusing for meals will be very important for minimizing hyperglycemia. There were also a fair number of abstracts concerning 670G, emphasizing the solid glycemic outcomes it confers for those who continue to use it – there is some tension here as the earliest hybrid closed loop approved, nearly three years ago, and the constant improvements with other systems. Medtronic began the MiniMed 780G pivotal trial during this ADA (enrolling up to n=350 adult and pediatric participants), with primary completion now expected by January 2020. Like the precursor 670G, the 780G pivotal will be tested in a three-month safety evaluation (home study), with co-primary end points – change in A1c and change in time-in-range (70-180 mg/dl) from baseline.

On the academic side, we were impressed by a Cambridge presentation showing strong outcomes with a fully closed loop system in type 2 diabetes regardless of use of Fiasp or Novolog. OHSU's bihormonal system (with Xeris liquid-stable glucagon) maintained the same time-in-range as single-hormone system, while, notably, cutting down on time <70 mg/dl. 

It's early days for in-hospital closed loop, but there were two strong abstracts at this ADA: (i) The Bionic Pancreas algorithm was configured to be compatible with IV insulin+dextrose, Abbott's Navigator CGM, and a hospital Symbiq pump – time-in-range was an incredible 98% in type 1 diabetes and 94% in type 2 diabetes, far higher than would typically be seen in the hospital on traditional glucose management; and (ii) An Admetsys poster showed that the company's inpatient IV insulin+dextrose closed loop system successfully brings glucose into range over 24 hours without hypoglycemia. Given the growing evidence that highly-variable and consistently out-of-range glucose is a multiplier of poor inpatient, surgical, and readmission outcomes, we see it as mission critical that these systems find their way into the hospital as soon as possible.
Interoperability Momentum: Medtronic/Dexcom Sign on to Tidepool Loop, FDA Talks Possibility of Class II "iController," and Data Support DIY Efficacy
The #WeAreNotWaiting and interoperability movements received more attention at ADA 2019 when Dexcom and Medtronic signed on to integrate with Tidepool Loop. While it was not surprising to see Dexcom – which will integrate via its G6 iCGM – to join Insulet in supporting the initiative, the move from Medtronic was unexpected and the field will be watching to see how much focus Medtronic puts here. Medtronic said it will integrate with Tidepool Loop via a future Bluetooth-enabled ACE Pump and a future Guardian Sensor 3 iCGM, both yet to be submitted to FDA (timing unknown). Medtronic's move signals that it understands the importance of showing support for AID component interoperability and patient choice as key innovation drivers, and we're interested to see how fast it moves and how it impacts the organization's diabetes strategy. Dexcom has long been committed to interoperability and remains the CGM industry leader here, both in terms of number of partnerships and the only company with a public API program. We didn't hear any plans from Abbott, Senseonics, or Tandem to integrate with Tidepool Loop, though the FreeStyle Libre 2 is under FDA review as an iCGM, Senseonics plans to obtain iCGM designation, and Tandem already has the ACE Pump indication. In other news, following the DIY community's successful integration of Insulet's (non-Dash) Omnipod into the Loop armamentarium, Tidepool/Jaeb's Loop observational study now has 550 people actively sharing Loop data, with over 100 more who have enrolled in the study and have ordered a RileyLink but have not actually started to Loop yet. About 80% of the cohort of new Loopers in the study are using an Omnipod. We conservatively estimate over 2,500 people are using the DIY Loop iPhone app globally, with either an Insulet or Medtronic pump.

FDA representatives Drs. Courtney Lias and Alain Silk both discussed the potential to make the AID control algorithm class II, 510(k)-regulated software with special controls. This would bring the whole closed-loop category down from the current class III PMA level (since iCGM and ACE pumps are both class II already), allowing for quicker updates, less regulatory burden, and greater interoperability and patient choice. One of Dr. Lias' slides read, "We are evaluating whether special controls may exist to make standalone AID controller software class II," and Dr. Silk also discussed it as a possibility at DiabetesMine's D-Data. Dr. Lias has also previously shared optimism on the subject. Though we haven't heard any speculation as to what the special controls may look like, we suspect they could take a similar approach to the model that FDA has proposed for AI regulation – e.g., the manufacturer outlines anticipated modifications to the performance, inputs, or intended use of the algorithm, alongside some required in silico testing pre-clearance and when a change is made.

DIY AID systems have moved toward more scientific validation – notably, ADA 2019 featured DIY systems in an oral presentation and in several posters. The oral looked at 80 OpenAPS data donors comprising 53 years of total CGM data – an impressive 19,251 days of use. Overall, DIY users spent 78% time-in-range (70-180 mg/dl), with 18% >180 mg/dl and 4% below 70 mg/dl. CV was 36%. Mean glucose was 137 mg/dl, corresponding to an estimated A1c of 6.4%. Meanwhile, an impactful poster detailed results from a survey of 101 DIY APS users who were overwhelmingly positive about their experience with their systems. Another major takeaway from the poster was that >80% of respondents' providers encouraged them to keep using their DIY systems. At DiabetesMine's D-Data Exchange, Stanford's Dr. Rayhan Lal even discussed his experience getting patients on DIY system. It's great to hear positive healthcare provider experiences with these DIY systems – a plus as the commercial product landscape develops.
Large CGM Trials Show Benefit In Broad Age Groups: WISDM (Type 1s ≥60 Years), CITY (Type 1 Young Adults), SENCE (2-8-Year-Olds)
Evidence of CGM's benefits continued at ADA 2019, with four dedicated trials demonstrating improved glycemic metrics regardless of age or insulin delivery method. Results from the six-month WISDM study (n=203) investigating CGM in older adults (≥60 years) with type 1 were strong: CGM conferred a significant advantage over BGM in every outcome measured, including a two-hour per day advantage for CGM on time-in-range (70-180 mg/dl). On the other end of the age spectrum, the six-month SENCE study (n=143) tested CGM in 2-8 year-olds in a three-arm trial: CGM + a family behavior intervention (FBI) vs. CGM-only vs. BGM-only. CGM + FBI drove a 43 minute/day gain in time-in-range (70-180) vs. no change in the CGM-only and BGM groups. Both CGM groups saw significant improvements in time <70 mg/dl and significant reductions in severe hypoglycemia. Moving to one of the most challenging populations, type 1 adolescents and young adults (14-25 year-olds), CITY results (n=153) were also positive, showing CGM  drove a 0.4% advantage on A1c and a +1.7 hour/day benefit on time-in-range in a challenging type 1 adolescent (14-25 years) population (baseline time-in-range: 37%) over six months. Equally important, all three trials found high use of Dexcom's G5 CGM at six months (>6 days/week): 84% of WISDM participants, 92% of SENCE participants, and 59% of CITY participants. We're thrilled to see strong engagement and outcomes, in these robust six-month studies – hopefully they will be published in big-name journals, further building the case for CGM as standard of care in type 1 diabetes (and ideally removing reimbursement barriers). All of these studies used Dexcom's G5, so it's likely that the G6 and its less-intimidating insertion process, factory calibration, 10-day wear, and smaller profile would lead to even greater usage.

These trials are also a reminder of how slowly the evidence landscape moves – 11 years after the JDRF CGM trial was published in NEJM, the field is still testing if CGM provides benefit vs. fingersticks in type 1 diabetes! Of course, the sensors have improved markedly since then, so new trials make sense. We hope that in 2030 (11 years from now), the idea of testing CGM vs. BGM in any insulin user would be considered unethical!

Three-year data from COMISAIR (n=94 type 1s) found that adding CGM to MDI drove similar glycemic outcomes as adding CGM to a pump. These results were mirrored in WISDM, which similarly showed no difference in CGM-driven outcomes by insulin delivery method, as well as earlier studies DiaMonD and GOLD and oft-cited T1D Exchange data.

While CGM can provide value to everyone with diabetes (in our view), Dr. Anne Peters powerfully underscored the barriers that underserved patients face in accessing diabetes technology. Drawing from her experiences treating patients in East Lost Angeles, Dr. Peters described challenges ranging from patients' distrust of the traditional healthcare system to an inability to receive packages at home. She firmly believes that patients should be offered high quality diabetes care regardless of socioeconomic status and called for a "DIY diabetes survival kit" to help manage care for underserved communities. We'll be interested to see full data from the STEPP-UP study, which Dr. Peters referenced as evidence that tailored educational tools can be effective in helping low-literacy patients reap the benefits of diabetes devices.

We were also delighted to see a slew of posters describing small demonstration projects of CGM use in different populations and settings – groups and settings in which many have argued CGM may be too burdensome or not effective. A group of Washington (state) researchers assessed the feasibility of CGM in type 2 youth; IDC researchers implemented CGM in a primary care setting as part of a quality improvement initiative; and Stanford clinicians gave CGM to young type 1s within a month of diagnosis. All these posters showed positive to extremely positive outcomes.
Time-In-Range Movement Picks Up: CGM Targets from International Consensus, Dr. Rich Bergenstal on "Individualized A1c"
The Beyond A1c movement saw a meaningful uptick in discussion this year, highlighted by the publication of time-in-range consensus recommendations. The recommendations were presented in a late-breaking poster and published in Diabetes Care. Targets are provided for four groups: (i) Type 1 and type 2 diabetes; (ii) Older/high-risk type 1 and type 2 diabetes; (iii) Pregnancy: type 1 diabetes; and (iv) Pregnancy: gestational and type 2 diabetes. Most will fall into the first group, where the time-in-range goal is >70% within 70-180 mg/dl, with <4% below 70 mg/dl and <25% above 180 mg/dl. This landmark consensus statement will be widely used and hopefully serve to improve clinical care and give individuals something to aim for. Moreover, we'll be interested to track how these targets change clinical adoption/implementation of CGM and whether they impact payers or the research landscape. A Tidepool/T1D Exchange poster found that glycemic excursions >140 mg/dl were associated with poorer quality of life – even in well-managed patients. It's possible that future work will reveal greater significance of 140 mg/dl as a key hyperglycemia benchmark – might these targets eventually be tightened, especially as hyperglycemia-minimization? Dr. Rich Bergenstal presented an exciting oral on individualized A1c, which accounts for variations in red blood cell turnover between individuals. The team found that 70% (!) of individualized A1c values differed from their lab A1c by over 0.5%. As long as A1c is still being used on an individual level – to which someone aptly questioned: "why not just kill A1c all together?" – Dr. Bergenstal proposed that an individualized A1c be implemented, personalized by the patient's RBC turnover.

A poster from Dr. Bergenstal and Novo Nordisk researchers  presented the results of www.glucoseprofile.com, a Novo Nordisk/DTS collaboration to crowdsource the determination of what constitutes an "ideal" Ambulatory Glucose Profile (AGP). Agreement, particularly among non-experts, left something to be desired – and we'd hazard that many of the HCPs seeing people with diabetes are even less expert than many of these survey respondents. Now that the field has moved to integrate AGP into diabetes software across the board, the next step is to educate providers how to most effectively use it. IDC clinicians and researchers set out to do just that in a recent DT&T paper.
Real-World Data Grows, with 25+ Abstracts/Posters from Nearly Every Major Device and Digital Health Company
Six of our day-of highlights and nearly 20 of the posters we covered on the technology side of ADA specifically detailed real-world data. Every major device manufacturer got in on the action – see the bullets immediately below for specifics. At a high level, we expect the real-world data presentation mix at major meetings to expand, especially as every diabetes device adds connectivity/apps that enable passive data upload to the cloud – e.g., all four current standalone CGMs (Abbott, Dexcom, Medtronic, Senseonics), Insulet's Omnipod Dash, and upcoming mobile apps for Tandem and Medtronic pumps. Real-world evidence will augment randomized, controlled trials, enabling population expansions, real-world safety and efficacy monitoring, and benchmarking. As real-world data grows in quantity and quality, we're also very eager to see more studies initiated by third-party investigators, clinics, health systems, etc. Seeing how different devices fare in large populations (e.g., a clinic or registry) could give a better idea of how their head-to-head safety and effectiveness compare for various subsets of patients. For example, though discontinuation rate was minimal in 670G pivotal studies, real-world studies at MGH (ENDO 2018) and now ADA (both Barbara Davis Center and Stanford) suggested that 30%-40% of users may elect to discontinue use of Auto Mode out past six months. It is these signals – which can only be picked up through real-world observation – that can indicate to providers, other patients, and especially manufacturers when a technology is too burdensome to operate for many, and which people are more likely to be successful on a given therapy.

Abbott came to ADA with at least seven real-world posters, most notably an expanded analysis of over 590,000 FreeStyle Libre users worldwide – this is ~120,000 users larger than ATTD, remaining the largest real-world CGM data set. The data reinforced the link between higher scanning frequency and better outcomes, and separate analyses showed the utility of FreeStyle Libre in type 2s on insulin. A UK-wide audit showed FreeStyle Libre was linked to declines in hospital admissions for hyperglycemia/DKA and hypoglycemia, along with a 0.6% A1c benefit.

Insulet boasted five posters detailing Glooko-aggregated real-world glycemic results from Omnipod users. Cuts of data break out type 2 adults, older adults, type 1s, pediatric/adolescent type 1s, and type 1s with CGM data.

In addition to the two 670G orals on real-world use (from Barbara Davis and Stanford), Medtronic presented real-world glucose management indicator (GMI; formerly eA1c) and time-in-range data from ~78,000 670G users; there was also a Joslin poster examining subject-reported outcomes and A1c changes in 670G users. Medtronic also had a poster detailing real-world performance of the Guardian Connect CGM with Sugar.IQ.

Senseonics CMO Dr. Fran Kaufman presented data on the first 205 US patients to complete 90 days of Eversense wear, as well as data from a poster detailing the long-term safety of the implantable CGM in its post-market safety registry in Europe.

A Tandem poster detailed stellar real-world hypoglycemia outcomes with the Basal-IQ PLGS system, which even compare favorably to those in the pivotal PROLOG study.

A Dexcom poster showed how the G6's "Urgent Low Soon" alert decreases time in hypoglycemia.

mySugr's poster showed sustained improvements in glycemia out to four months. Data was broken down by baseline eA1c, with the only significant improvements seen in individuals with baseline eA1cs between 7.1%-10.6%.

Two of Livongo's posters delved into predictors of success in the company's diabetes management and DPP programs.

A Sanofi poster outlined results – including a near-60% discontinuation rate – from My Dose Coach in India. Of those who continued to use the basal insulin titration app, >80% had reached goal.

Omada's poster showed that its virtual DPP reduced eight-year diabetes risk in a large cohort of Quest Diagnostics employees.

DarioHealth showed greater improvements in the percentage of in-range blood glucose readings in those who engage with the app more frequently. 
Promising Digital Health Frontiers: Smart Pen Data from NN, App-Based Titration from Sanofi and iSage Rx; Forecasting BG from One Drop and Medtronic/IBM
Smart insulin pens have long been considered an important missing link in diabetes care, though data was still sparse at this ADA. The highlight was two Novo Nordisk posters demonstrating strong results from a subset of the Swedish pilot that investigated its NFC-enabled pens. In an analysis of 94 adults, the addition of smart pens (plus clinic visits) drove +1.9 hours/day in-range, a dramatic reduction in time <54 mg/dl (2% to 0.6%), and an impressive 43% fewer missed meal boluses. This positive readout follows a March Diabetes Care publication detailing results from the use of Common Sensing's Gocap. We did not see any data on Companion's InPen at this ADA (it is currently on the US market and well reimbursed), though the company announced a slew of important data partnerships with Dexcom, Glooko, and Rimidi, as well as a public API. (Companion's post-market study (n=60) is still recruiting.) Next year's ADA should have more data on smart pens, as Novo Nordisk expects 2019 launches of its reusable smart pens (NFC-enabled) and a Bluetooth-enabled disposable pen attachment, and Lilly's connected insulin pen has been filed with the FDA. Will we see both insulin players with smart pens on the market before next ADA? The commercial landscape is obviously still early here, so it will take a few years for the evidence base to build.  

Similar to smart pens, the evidence base for automated basal insulin titration apps is just beginning. This ADA, a Sanofi poster detailed results from My Dose Coach implementation in India, and an Amalgam Rx poster showed results from an iSage Rx pilot in Kansas. Both were very successful from a glycemic perspective. Aside from the fact that these apps work if you use them, we had two additional takeaways from the posters: (i) Type 2s on basal insulin are, unsurprisingly, under-insulinized – the group of My Dose Coach users who reached goal had to increase their basal dose by 20%, and the iSage users increased their dose by 38%; and (ii) there was a 58% discontinuation rate in Sanofi's cohort – a reminder that sustaining engagement with these digital titration tools may be the biggest challenge for the field. (We also saw this same takeaway at ATTD in the ongoing NN Smart Pen/Dexcom CGM/TypeZero MDI titration study.) What will improve stickiness? How will these systems drive outcomes if people don't open the app? (Bigfoot has a novel design here, as it expects to put the insulin titration algorithms directly on the Unity smart pen caps – read more here.) There are countless titration pilots around the US from a number of players, but this technology has yet to scale meaningfully. Will these demonstrations convince payers and clinics that an investment in insulin titration pays off? The new CPT codes for remote patient monitoring may also help nudge providers to give the systems a try.

One Drop and Medtronic/IBM Watson (Sugar.IQ's IQcast) both featured forward-looking blood glucose forecast features at ADA. One Drop announced eight-hour glucose forecasts for people with diabetes on basal insulin only, and shared that predictions for basal-bolus users (including type 1s) are next in line. A poster showed how One Drop has iterated to make its existing 12-hour projections for non-insulin-using type 2s more useful. This feature launched in October – we first saw it at ADA 2018 – and we'll be interested to see what kind of efficacy this can drive, especially in people taking few fingersticks. (How accurate and useful will this be for people on basal-bolus insulin?) Similarly, Medtronic/IBM discussed how the IQcast feature works, offering a hypoglycemia warning up to four hours in advance – accuracy is reportedly quite high, though there are hurdles to better performance (e.g., lack of insulin data in the model). We are eager to learn more about the benefit vs. burden balance of these prediction features – How many people are using them, and how they are using them? How does someone respond to an alert that they are expected to go low in the next four hours or high in the next eight hours? How persistent is use, given the potential for more false positives? Can 3+ hour predictive alerts improve outcomes and drive long-term behavior change?
Automated Insulin Delivery, Pumps, and Pens
Symposium: The Artificial Pancreas in 2019 – First Reports of New, Large-Scale Trials and the Path Forward
The International Diabetes Closed-Loop (iDCL) Trial – Clinical Acceptance of the Artificial Pancreas
Sue Brown, MD (UVA, Richmond, VA)
To a completely packed room, UVA's Dr. Sue Brown shared extremely positive results from the six-month, NIH-funded iDCL pivotal trial comparing Tandem's Control-IQ hybrid closed loop/Dexcom G6 CGM (n=112) vs. sensor-augmented pump (t:slim X2 pump/G6 with no automation; n=56). In participants 14-71 years old, Control-IQ drove tremendous advantages over the tough SAP comparator on every efficacy endpoint at six months: Time-in-range (70-180 mg/dl) was 2.6 hours per day better with Control-IQ – 70% vs. 59% (p<0.0001) – with most of the benefit coming from less time >180 mg/dl (-2.4 hours/day). Control-IQ had a 0.33% advantage in A1c at six months (baseline: 7.4%; p=0.0014), and mean CGM was 13 mg/dl lower with Control-IQ by the end of the study (156 vs. 170 mg/dl; p<0.001). Time <70 mg/dl was low at <2% in both groups, though still a smidgeon better with Control-IQ (-13 minutes/day). Remarkably, all 168 participants completed the randomized study, and Control-IQ users spent a remarkable 92% (!) of the full six months with closed loop active – a stunning result highlighted by both Drs. Boris Kovatchev and Roy Beck in Q&A.
The time-in-range benefits of Control-IQ were realized in the first month, sustained over six months, and extended across the spectrum of baseline A1c levels (5.4%-10.6%) – the 24/7 automated basal insulin delivery (especially overnight) and automated correction boluses drove improvements for a broad population. Notably, 20% of the Control-IQ study group was on MDI and 30% were not on CGM starting the study.
Control-IQ achieved near-perfect scores on a technology acceptance questionnaire: ease of use was 4.7/5, usefulness was 4.6/5, trust was 4.5/5, and desire to continue using was an impressive 4.8/5 – an encouraging sign of the system's simplicity (no modes to juggle), the no fingersticks G6, and limited alarms. Indeed, use of the Dexcom G6 was impressively high in this study – 96% over six months in the SAP group and 97% in the Control-IQ group – and fingersticks were just 0.37/day with SAP and 0.21/day with Control-IQ (i.e., one fingerstick every 3-5 days).
There were no severe hypoglycemia events and one DKA event in the Control-IQ group due to infusion site failure. The study even deployed a software update in March (Tandem Device Updater) to fix a minor issue, with no impact on outcomes.
All in all, this was a home run study for Tandem, Dexcom, NIH, and the entire closed loop field, especially with the robust RCT design, the real-world inclusion criteria (no entry restrictions on A1c, severe hypo or DKA, or device experience), and six-month duration. There was a real sense in hallway conversations of this study being a landmark moment for the diabetes technology field, with some investigators comparing it to the JDRF CGM trial. Key outcomes are summarized immediately below, followed by notable quotes, a deep dive on all presented study outcomes with baseline levels included, and a comparison to the 670G pivotals. Pictures were not allowed, so we've summarized the data in tabular form.
On a call after the presentation, Tandem confirmed Control-IQ will be submitted to the FDA in the "coming weeks" (14+ years), with US launch expected "this year, subject to FDA approval." This is on par with the 1Q19 call, which more specifically called for a launch in "4Q19." The ~10-minute call summarized the data in prepared remarks – see the press release – with no Q&A taken ("to maximize opportunity for future publications"). The next update will come at the end of July in Tandem 2Q19. Given the positive outcomes, we don't expect major surprises on the regulatory review, especially with two of the system's three components already FDA cleared – G6 iCGM and t:slim X2 ACE Pump. Of note, Tandem had no influence on the design of this NIH-funded study or the presentation.
Efficacy Outcome

SAP at
Six Months

Control-IQ at
Six Months

Adjusted Difference
P-value

Time-in-Range
(70-180 mg/dl)

59%

71%

+11%
+2.6 Hours/Day
p<0.0001

A1c

7.4%

7.1%

-0.33%
p=0.0014

Time >180 mg/dl

38%

27%

-10%
-2.4 Hours/Day
p<0.0001

Mean CGM

170 mg/dl

156 mg/dl

-13 mg/dl
p<0.0001

Time <70 mg/dl

1.9%

1.4%

-0.88%
-13 mins/day
p<0.0001

Time <54 mg/dl

0.24%

0.21%

-0.1%
-1 min/day
p=0.02
Dr. Roy Beck in Q&A: "I've been involved in running clinical trials for almost 35 years. We've never had a six-month trial with 100% treatment retention – both in the control and intervention groups. Time-in-closed loop exceeded what we thought – 92% over six months. Think about all the times when someone is stopping closed loop because they are ill, etc. This is amazing data. We coordinated the JDRF CGM trial, and that data set is still used a lot. I look at this as a landmark study like that. The investment by NIH, our taxpayer dollars here in the US, has been incredibly well spent."

Dr. Boris Kovatchev in Q&A: "I propose a new Data Awesomeness Index. It is study retention rate plus closed loop use plus the difference between time-in-range between control and experimental. In this study, that is 100% + 92% + 11% = 203%. That is above 200%, which is really awesome – a new benchmark for everyone who does studies from now on."

Dr. Aaron Kowalski in Q&A: "Congrats to this amazing team. I was co-organizer of that [NIH/JDRF/FDA artificial pancreas] meeting in 2005, and I'm proud of the progress in this field – the incredible efforts and Boris' leadership. The proof is in the pudding: people will benefit – you see the overnight data, the reduction in hypoglycemia and hyperglycemia. The benefit to the community will be great. I want to congratulate Tandem and Dexcom, and the competition in this space will provide more options that drive better outcomes."

Gary Scheiner in Q&A: "I can't wait to start using this personally. Your last slide, on ease of use parameters, really struck me…"
Results
Time in range with Control-IQ over six months was 71% vs. 59% with SAP alone (p<0.0001) – an 11% difference or 2.6 hours per day. The difference in time-in-range outcomes was seen immediately at one month and was sustained through the entire six-month study. The nighttime advantage on time-in-range was especially pronounced: 76% with Control-IQ vs. 59% with SAP (p<0.0001); the algorithm is designed to intensify control overnight, pushing users towards 110-120 mg/dl by morning. Indeed, Control-IQ achieved over 90% time-in-range between 4-8am, with a very narrow confidence interval. During the day, Control-IQ also consistently delivered higher time-in-range. 
Time-in-Range – 70-180 mg/dl
 

Baseline

26 Weeks

Adjusted Difference
P-value

SAP
Time-in-Range

59%

59%

+11%
+2.6 Hours/Day
P<0.0001

Control-IQ
Time-in-Range

61%

71%
Impressively, the benefits on time-in-range extended to every level of baseline A1c– a positive sign that this system can help those already at a low A1c, those around 7%, and those at >8%. Of note was the +21% time-in-range advantage in the middle (7.1%-7.5% A1c) group, a staggering five-hour/day improvement with Control-IQ vs. SAP!
Time-in-Range by Baseline A1c
 

A1c
<6.5%

A1c
6.6%-7.0%

A1c
7.1%-7.5%

A1c
7.6%-8.0%

A1c
>8.1

SAP
Time-in-Range

78%

69%

49%

56%

47%

Control-IQ
Time-in-Range

85%

76%

71%

69%

60%

Difference

+7%

+7%

+21%

+13%

+13%
Nearly all of the benefit on time-in-range came from less time spent >180 mg/dl – a 2.4 hour/day advantage for Control-IQ vs. SAP. As expected with reduced hyperglycemia, mean CGM glucose was 13 mg/dl lower with Control-IQ. Time >250 mg/dl was not reported.
Hyperglycemia
 

Baseline

26 Weeks

Adjusted Difference
p-value

SAP
Time >180

38%

38%

-10%
-2.4 Hours/Day
P<0.001

Control-IQ
Time >180

36%

27%
Average Glucose
 

Baseline

26 Weeks

Adjusted Difference
p-value

SAP
Mean CGM

169 mg/dl

170 mg/dl

 

-13 mg/dl
P<0.001

Control-IQ
Mean CGM

166 mg/dl

156 mg/dl
A1c
From a starting baseline A1c of 7.4%, Control-IQ drove a 0.3% A1c reduction, compared to no difference in the SAP group.
 

Baseline

26 Weeks

Adjusted Difference
p-value

SAP – A1c

7.4%

7.4%

-0.33%
P=0.0014

Control-IQ – A1c

7.4%

7.1%
Hypoglycemia was remarkably low in both groups in this six-month study – far below the consensus goal for <4% - highlighting how well participants were doing with G6 and t:slim X2 – with or without automation. Even still, Control-IQ did have a slight (statistically significant) advantage on both time <70 (-13 minutes per day) and time <54 (-1 minute per day).
Hypoglycemia
 

Baseline

26 Weeks

Adjusted Difference
p-value

SAP
 Time <70
            <54

2.1%
0.3%

1.9%
0.2%

Time <70: -0.88%
- 13 Mins/Day
P<0.001

Time <54: -0.1%
- 1 Min/Day
P=0.02

Control-IQ
 Time <70
            <54

2.7%
0.3%

1.4%
0.2%
Algorithm
TypeZero's Control-IQ hybrid closed loop algorithm uses basal rate modulation combined with automated correction boluses to increase time-in-range (70-180 mg/dl). It uses a combination of targets and target ranges, none of which can be changed by the user. The algorithm specifics by category are listed below. At a high level, the target is to keep people between 70-180 mg/dl as much as possible – it adjusts the basal rate when the prediction is above 160 mg/dl, boluses above 180 mg/dl, decreases insulin below 112.5 mg/dl, and turns off basal below 70 mg/dl. These adjustment ranges are lowered and narrowed when sleeping (target 112.5-120 mg/dl by morning), and raised and narrowed when exercising. Users are still expected to meal bolus. The algorithm requires all the normal pump settings: basal profile, insulin:carb ratio, insulin sensitivity factor; as we understand it, all those parameters influence the system's aggressiveness. Dr. Sue Brown mentioned that after the initial publication of results, the team does intend to write about the algorithm parameters.

Automated Basal Rate Modulation during the day (including after meals): the system targets a range of 112.5-160 mg/dl.

Automated Basal Rate Modulation at night: the algorithm becomes more aggressive and tries to arrive at 112.5-120 mg/dl by morning.

Automated Bolus Corrections: these automated corrections can occur up to once an hour during the day and are calculated to give approximately 60% of a correction bolus with a target of 110 mg/dl. These boluses occurs on top of the basal rate modulations described above.

User Corrections: when a person requests a correction bolus through the usual bolus screen, that gets calculated in the typical manner using the user-defined settings for correction factor with a target of 110 mg/dl.

Exercise Mode: there is a button that the user can push if they wish that changes the target range to be closer to 140-160 mg/dl.

In Q&A, Dr. Brown mentioned that in training MDI users on the system, the biggest piece was teaching them about the t:slim X2 pump – not the algorithm. "Once you understand the pump, the actual training for Control-IQ is to hit a button. How the individual interacts with the system is done in a very similar way to how a normal pump would be." We look forward to hearing more about the user experience of wearing the pump. 
Baseline Characteristics and Study Details
The $12.7 million NIH-funded DCLP3 study – Grant UC4 DK 108483 with P.I. Boris Kovatchev – is the first large-scale, six-month closed-loop study that included a dedicated control group. There were no exclusion criteria based on A1c, history of complications, or previous experience using an insulin pump or CGM. Following a 2-8 week run-in period, the length of which was determined based on previous pump and CGM experience, 168 patients with type 1 diabetes ages 14 and up were randomized 2:1 to Control-IQ technology (n=112; t:slim X2 with embedded TypeZero Control-IQ algorithm talking to Dexcom G6 transmitter) or sensor-augmented pump therapy (n=56; t:slim X2/G6 without automation) and followed for 26 weeks. The entry A1c for participants in the study ranged from 5.4%-10.6% with a mean of 7.4%. All participants completed the study.
 

SAP

N=56

Control-IQ

N=112

Mean age
(Range)

33 years
(14-63 years)

33 years
(14-71 years)

Gender

54% Female

48% Female

Mean A1c
(Range)

7.4%
(6.0%-9.0%)

7.4%
(5.4-10.6%)

MDI User

23%

20%

Current CGM User

71%

70%

Median T1D Duration
(Range)

15 years
(1-53 years)

17 years
(1-62 years)
Comparison to 670G Pivotal Trials
The slides below taken from ATTD 2019 nicely summarize key CGM outcomes from the MiniMed 670G pivotal trials. It's important to note that these studies were very different – Medtronic tested the MiniMed 670G by comparing two weeks of open loop (Manual Mode) to three months of Auto Mode use within the same person; Control-IQ was parallel group randomized trial comparing open loop in one group to closed loop in another group for six months each. Control-IQ showed a larger benefit on time-in-range at +11% vs. +5% for the 670G in 14+ years, though Control-IQ participants had a lower baseline time-in-range. Both systems ended up around the same overall time-in-range in 14+ years (71% vs. 72%). Control-IQ had higher time in closed loop (92%) in a study that was twice the length. The 670G drove a slightly larger 0.5% A1c reduction from a similar 7.4% baseline.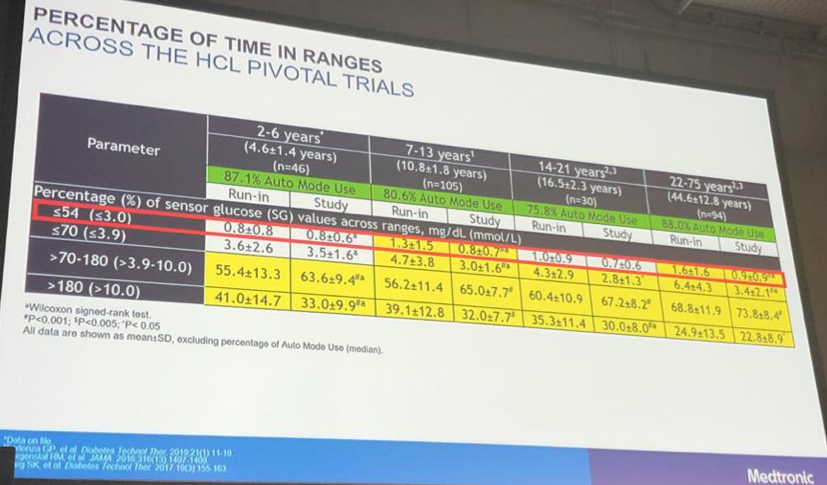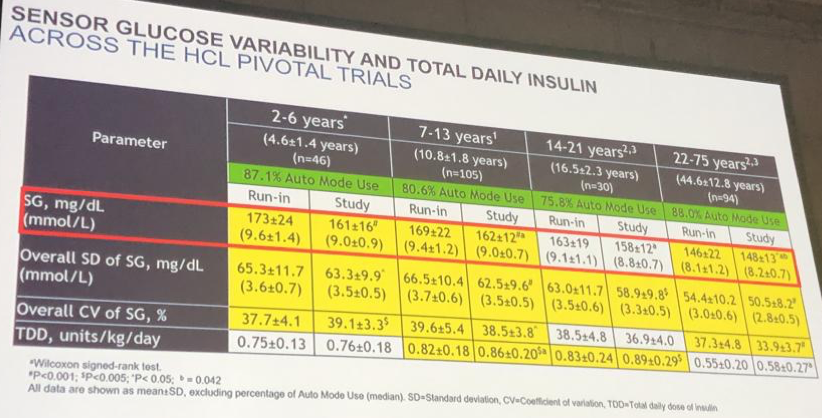 Multicenter Assessment of the Efficacy of Closed-Loop Insulin Therapy of the Control of Type 1 Diabetes in Prepubertal Children – Comparison between Nocturnal and 24-Hour Use During 18 Weeks of Home Use
Eric Renard, MD (Montpelier University Hospital, France)
Following the Control-IQ pivotal data (see above), Dr. Eric Renard (Montpelier University Hospital) presented encouraging 12-week interim results (n=30) from France's Freelife Kid AP Study. The multi-center, randomized study compares nocturnal-only (dinner and overnight) with 24-hour use of Tandem's Control-IQ hybrid closed loop and Dexcom's G6 for children in the real-world. Interim analysis was scheduled after 12 weeks from the first 30 patients included in the study. The interim study group had a mean age of 9 years old, a mean diabetes duration of 6 years, and an average A1c of 7.5%; all were previously on pumps. Impressively, the 24-hour group was in closed loop for ~98% of the 12 weeks, and the nocturnal group maintained time in closed loop of ~54% throughout the 12 weeks (i.e., they did not use during the day) – both confirming the high usability stats on this system. Time-in-range (70-180 mg/dl) for the 24-hour group improved from 60% at baseline to 72% during treatment (+2.9 hours/day) vs. a smaller improvement from 63% to 68% in the nocturnal-only group (+1 hour per day; p=0.009). Most of the increased time-in-range came from reduced time >180 mg/dl: an impressive drop from 36% to 25% in the 24-hour group (-2.6 hours per day) vs. 32% to 30% in the nocturnal-only group (-29 minutes per day; p=0.01). Overnight, the groups were (unsurprisingly) identical, with time-in-range of 82%-83%; during daytime, the open-loop group's time-in-range fell to 60%, while the 24-hour group's remained fairly high at 66% (p=0.023). Average daytime CGM reading was also 10 mg/dl lower in the 24-hour closed loop group (166 vs. 156 mg/dl). Interim analysis also demonstrated the system was safe –no DKA, severe hypoglycemic episodes, or hospital admissions occurred for either group. Based on the interim results, the full study (n=120 type 1 children) continued until week 36, with the nocturnal-only arm switching to 24-hour closed loop at week 18. These interim data show Control-IQ/G6 as configured should perform very well in the pediatric population, a plus as Tandem's Control-IQ study in 6+ years is currently underway in the US. We look forward to seeing these FreeLifeKid AP results, perhaps at EASD 2019 or ATTD 2020.
 

Nocturnal-only

24-hour

p-value

 

Baseline

Treatment

Baseline

Treatment

To Baseline

Between groups

% time between 70-180 mg/dL

63%

68%

60%

72%

<0.001

0.009

% time between 70-140 mg/dL

42%

46%

38%

49%

<0.001

0.009

% time below 70 mg/dL

4.1%

2.8%

3.9%

2.8%

0.006

>0.05

% time below 54 mg/dL

0.7%

0.6%

0.9%

0.5%

0.081

>0.05

% time above 180 mg/dL

32%

30%

36%

25%

<0.001

0.01

% time above 250 mg/dL

9%

9%

12%

6%

0.001

0.01

% time above 300 mg/dL

2.8%

2.7%

3.9%

1.7%

0.03

0.046

Average CGM [mg/dl]

158

157

165

150

0.001

0.006
Clinical Testing of Adaptation Strategies for a Personalized Artificial Pancreas
Frank Doyle, PhD (Harvard John A. Paulson School of Engineering and Applied Sciences, Cambridge, MA)
Harvard's Dr. Frank Doyle provided details on Protocol 4 of the NIH-funded International Diabetes Closed Loop (iDCL) trial, including study design and the dual-layer control scheme for the Adaptive Zone Model Predictive Control (MPC) algorithm. In terms of design, after a two-week pilot study (n=10), subjects (n=40) will be randomized 1:1 to closed loop or PLGS in the outpatient setting. The closed loop will consist of a Dexcom G6 CGM, Tandem t:slim X2 pump, and Harvard's Adaptive Zone MPC algorithm (described at ATTD). The six-month, multi-center, randomized crossover trial will be conducted at four to five US clinical sites. Primary efficacy outcomes include time-in-range (70-180 mg/dl) and time <70 mg/dl between baseline and three-months post-randomization. The algorithm will reside on the study app (iAPS) which runs on users' smartphones. Dr. Doyle emphasized that these will be common phones, meaning they are not locked-down versions. iAPS has already been tested in 43 subjects across two separate trials in 68 children and adults. The studies are ongoing at Yale (n=48 pediatrics) and Sansum Diabetes Research Institute (n=20 adults) and primarily focus on understanding patient preferences for AID systems, including dietary management and on-body placement. It's been over a year since we last received an update on Protocol 4 at ATTD 2018 – we're not sure when the pilot will commence, but we're eager to see what this system can do in vivo.
The Adaptive Zone MPC algorithm is comprised of a lower and upper layer. The lower-layer consists of real-time control algorithms, including: (i) a calculator for basal insulin delivery rate; (ii) a feedback controller dealing with real-time CGM measurements; and (iii) a feedforward controller calculating meal and correction boluses. The upper layer is a long-term parameter adaptation layer, which automatically identifies the correct parameters in the lower layer that need to be adjusted and optimizes them safely and efficiently. Long-term parameters that can be adjusted include the basal insulin rate, insulin:carb ratio, and correction factor. Essentially, it allows for adaptation of the lower layer algorithm at distinct intervals – in the case of Protocol 4, adaptation will occur weekly. The algorithm was tested in a recently published 24-week simulation study involving specific scenarios. For underestimated basal rates and overestimated insulin:carb ratio, the algorithm increased time-in-range (70-180 mg/dl) from 41% to 88% (+11.3 hours/day). For overestimated basal rates and overestimated insulin:carb ratios, the algorithm improved time-in-range (70-180 mg/dl) from 76% to 89% (+3.1 hours) and decreased time <70 mg/dl from 16% to 0% (-3.8 hours). While the algorithm has yet to be tested in humans, Dr. Doyle emphasized that these scenarios were used in previous simulation studies that have since been validated in clinical trials. The study tested the algorithm on the 111-adult cohort of the FDA-accepted UVA/Padova type 1 diabetes simulator.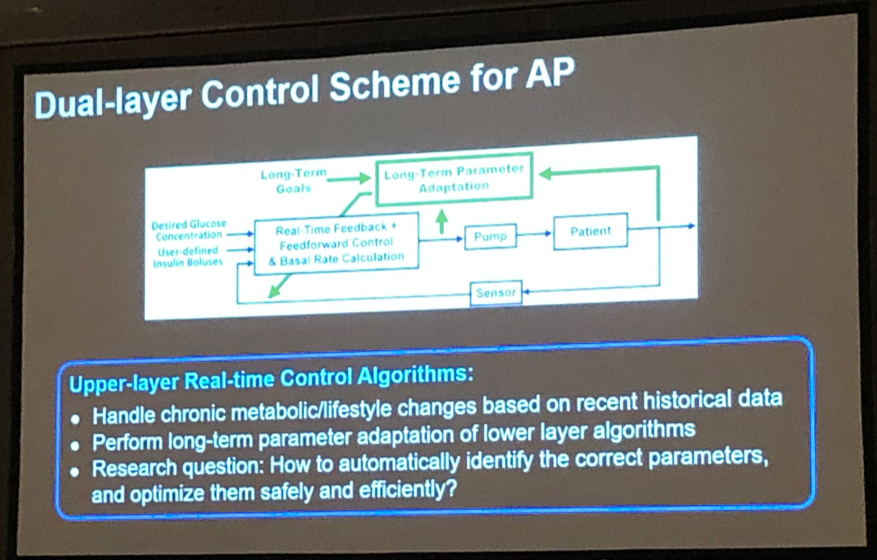 Oral Presentations: Automated Insulin Delivery Systems
670G Clinical Experience
Rayhan Lal, MD (Stanford University, Palo Alto, CA)
Stanford's Dr. Rayhan Lal presented results from a one-year, prospective observational study of type 1s who initiated the MiniMed 670G (n=79), finding that 46% were no longer using Auto Mode at 12 months. The significant predictors of the individuals who were using Auto Mode >0% of the time – a very low bar – were age (continuers mean age was 32 years vs. discontinuers at 22 years) and percent time using the Guardian Sensor 3 in the week prior to Auto Mode initiation (84% in continuers vs. 61% in discontinuers). 84 patients received a 670G at the outset of the study, and five were lost to follow-up; the remainder used the PLGS feature for one week, started Auto Mode, had weekly calls and CareLink downloads with Stanford providers for the first four weeks, and then follow-up visits at three, six, nine, and twelve months. That is quite a lot of hand-holding, and we have to imagine there is a higher discontinuation rate at a lower-resource clinic with less bandwidth for outreach. The population's mean age was 27 years (33% were under 18 years-old), average diabetes duration was 15 years, baseline A1c was 7.9%, baseline time-in-range was 60%, and the mean percent time using the Guardian Sensor 3 in the one-week prior to Auto Mode was 77%. The figure below shows percent time in Auto Mode over time, with the mean dropping from >70% at one week, to ~50% by three months, ~40% at six months, and ~35% at nine and twelve months. The effect was clearly driven by those who stopped Auto Mode altogether: one person was not using it at all at one week, 31% at three months, 40% at six months, 44% at nine months, and 46% at twelve months, suggesting that those who make it six months on Auto Mode are highly likely to make it the full year. Not surprisingly, the lower an individual's baseline A1c, the more time they spent in range at all time points (example at one week below). Dr. Lal concluded that education and adequate preparation is crucial in setting realistic expectations for closed loop systems, a focus on usability and human factors is necessary to ensure patients stay on treatment, and next-generation technology will hopefully balance safety with simplified device operation (sure to come with future AID systems from the likes of Tandem, Medtronic, Insulet, Beta Bionics, Bigfoot, etc.).
Dr. Lal reported that those who continued to use Auto Mode did so because they wanted to stay in range, though they realized that it wouldn't necessarily come with less work. On the other hand, those who stopped using Auto Mode did so because of sensor issues (60% of respondents), problems obtaining supplies (17%), fear of hypoglycemia (10%), MDI preference (7%), and sports (7%).

There were two significant product developments during the course of the study: (i) Dexcom's G6 launched in the US. Dr. Lal noted that some switched to G6 and stopped using Guardian Sensor 3 entirely, while others wore G6 and fed that information into 670G, so they were still in Auto Mode; and (ii) Medtronic updated its Guardian Sensor 3 transmitter to reduce unnecessary blood glucose calibration requests. Dr. Lal and team are looking at whether fewer requests increases those who use Auto Mode – based on the number who stopped due to sensor issues, this improvement should be beneficial. 

At ENDO 2019, Boston Children's Hospital's Dr. Gregory Goodwin presented similar results, albeit from an exclusively pediatric/adolescent (n=93). In this cohort, nearly 40% of users had ceased to use the 670G, with an average time at withdrawal of 2.5 months.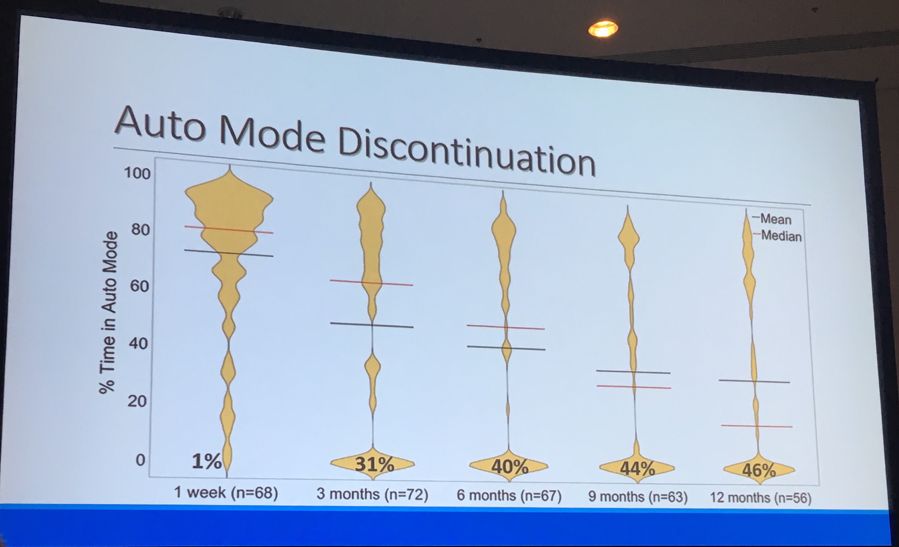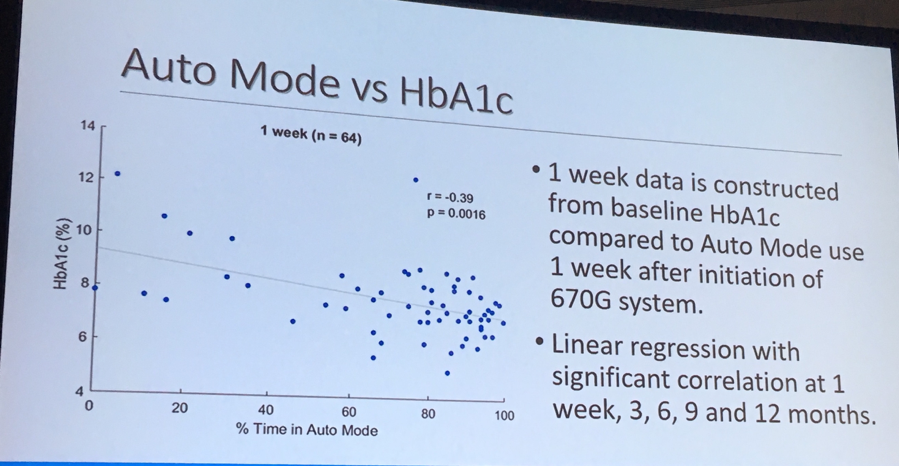 Selected Questions and Answers
Dr. Jen Sherr (Yale): Do you have information about the number of boluses per day between groups? I wonder if those who stopped were non-compliant bolusers.
A: That's a great question. The problem was, we felt that doing those metrics may make it difficult because we didn't have CareLink access for the people who discontinued Auto Mode.
Dr. Andrew Ahmann (OHSU): Take people that had the Dexcom sensor first, then changed sensors to Medtronic's. Did you do that analysis?
A: Yes, there's no difference.
Q: Did cost have anything to do with people dropping off the sensor?
A: This population actually had pretty good coverage. There was probably only one publicly-insured patient in the group. That's another limitation of the study. But most were fairly well reimbursed.
Dr. Ahmann: Are you tracking going forward with new Medtronic transmitter to see if it makes a difference?
A: Absolutely, that's part of the plan.
Dr. Roman Hovorka (Cambridge): Based on these results, are you changing your education strategy – who you're putting on the system?
A: As we gained experience with some of the issues, that trickled down to CDEs and ourselves, so when we had conversations with folks going forward, we knew these were some of the challenges people experienced and tried to share that with patients so they know the pros and cons.
Q: Do you recall how many patients, if they were unhappy with the control level, specifically commented that they couldn't get their fasting blood glucoses below 130?
A: We didn't collect direct data on that. Empirically, folks were pretty happy with their overnight control, that's one of the things they did like.
First Human Study Testing the iLet, a Purpose-Built Bionic Pancreas Platform
Rabab Jafri, MD (Massachusetts General Hospital, Boston, MA)
Beta Bionics' integrated Gen 3 iLet touchscreen device performed very well in its first human study (n=34), running in insulin-only mode for seven days with either Dexcom's G5 or Senseonics' Eversense CGM. Compared to usual care, time-in-range (70-180 mg/dl) improved by 1.9 hours per day on the iLet (70% vs. 62%; p=0.01), while mean glucose improved by 7 mg/dl (155 vs. 162 mg/dl; p=0.09) with no difference in hypoglycemia <54 mg/dl (0.6% in both arms). The random-order, crossover, home study compared seven days of usual care to seven days of insulin-only automation with the custom-built, dual-chambered iLet pump device (embedded Bionic Pancreas control algorithm); n=17 participants used the G5 CGM at Stanford and n=17 used Senseonics 90-day Eversense CGM at MGH. The study enrolled both MDI (n=12) and pump users (n=22), only used body weight to initialize the algorithm, and compared CGM outcomes on days 3-7 of the iLet vs. days 3-7 of usual care. (Days 1-2 were excluded for two key reasons: the algorithm takes one day to adapt to the person, and investigators wanted to exclude any residual basal insulin from MDI users.) Overall CGM outcomes were nearly identical to the previous iPhone-based research platform (Tandem pumps), and the ball-and-stick plot (see below) again showed a nice tightening in the population's range of average glucose while reducing hypoglycemia – a testament to how automation can level the playing field regardless of therapy or baseline outcomes. Dr. Jafri concluded that the insulin-only iLet was safe and effective in both pump and MDI users, with no need for a run-in or lengthy training – a big advantage of using body weight alone for initialization. MDI users did not have any more hypoglycemia – impressively fast algorithm adaptation! – and the study showed two different CGMs can successfully power the Beta Bionics system. The results also led to design improvements for the next-gen iLet Gen 4, which we first saw at FFL 2018 and will be used in the pivotal trials: an insulin-only pivotal is expected to start in 1Q20, with bihormonal expected in 1H20 (using Zealand dasiglucagon).
The G5 and Eversense CGMs performed similarly with the iLet: time-in-range was 72% with G5 vs. 68% on Eversense; mean glucose was 154 mg/dl with G5 vs. 155 mg/dl with Eversense; time <54 mg/dl was 0.3% with G5 vs. 0.8% with Eversense. Sensor accuracy was measured relative to the Contour Next BGM, which came in surprisingly high: 22% for G5 and 18% for Eversense. (For comparison, MARD is ~9% on both systems vs. YSI.)

This data nicely complements the iLet bihormonal vs. insulin-only home-use study shared just before ADA (n=10): In bi-hormonal mode, participants spent 79% time in range (70-180 mg/dl), nearly two hours more per day than the 71% time-in-range with insulin only (p<0.01). Time in hypoglycemia (<70 mg/dl) was 2.4% during the bi-hormonal period and 3.6% during the insulin-only period – a difference of ~17 minutes. Time <54 mg/dl was 0.3% during the bi-hormonal period and 0.6% during the insulin-only period. Participants achieved a mean glucose of 139 mg/dL during days 2-7 of bi-hormonal mode, compared to 149 mg/dL during days 2-7 of insulin-only mode (p<0.01).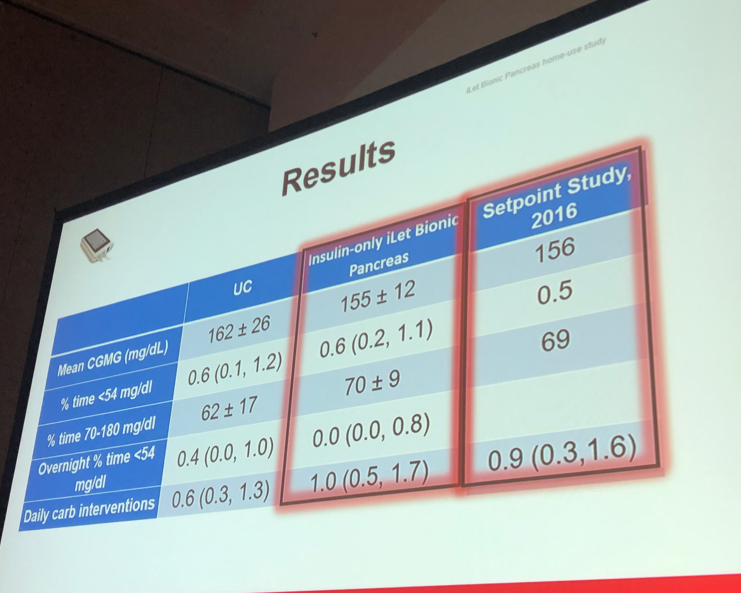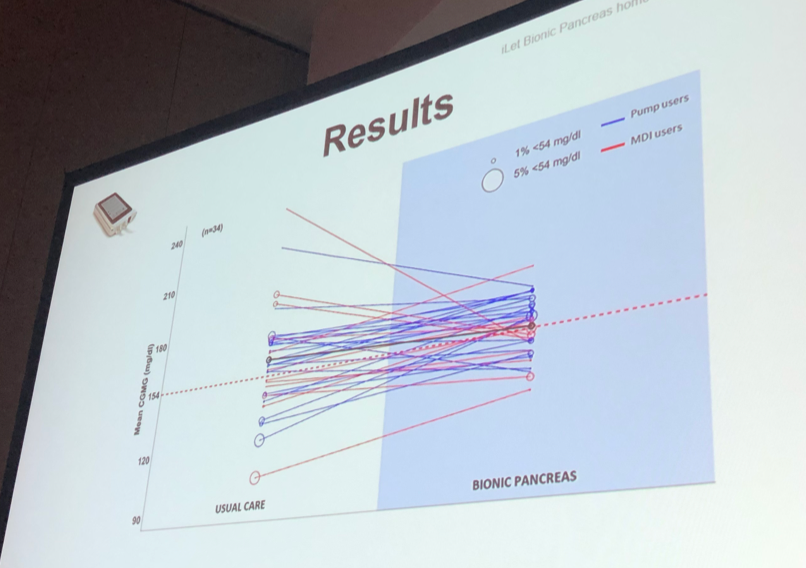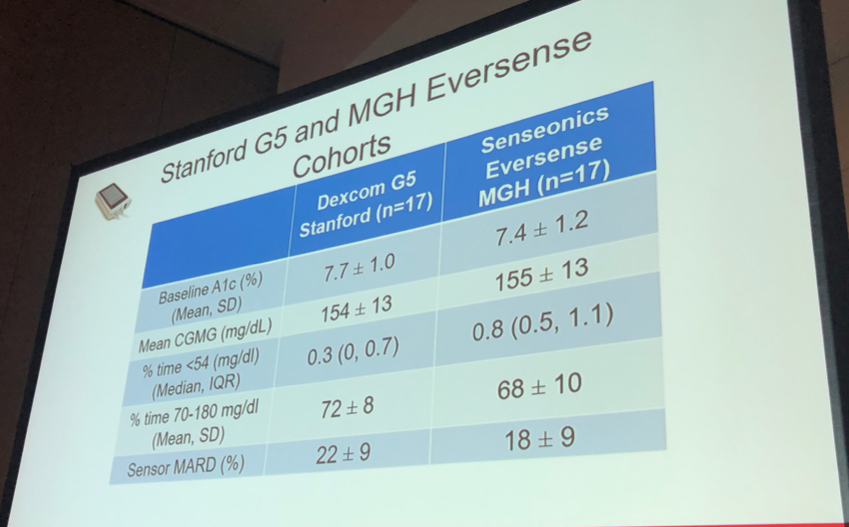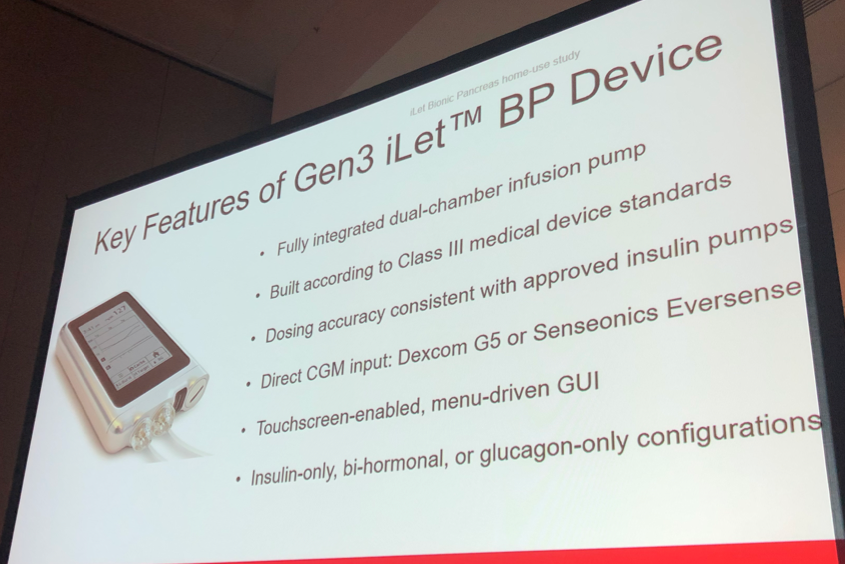 Automated Glycemic Control with a Bionic Pancreas Configured for Use in the Critical Care Setting
Jordan Sherwood, MD (Massachusetts General Hospital, Boston, MA)
MGH's Dr. Jordan Sherwood presented data on an inpatient configuration of an insulin+dextrose closed loop system, which can be used to achieve normal glycemia without severe hypoglycemia for type 1 and type 2 adults in the ICU. This configuration of the Bionic Pancreas was adjusted to use Abbott's Navigator CGM and insulin and dextrose administered intravenously via a hospital Symbiq pump. The control algorithm was located on a laptop, and the system, which did not require meal announcements, was initialized solely with body weight. Adults with type 1 diabetes (n=6) and type 2 diabetes (n=6) participated in an eight-hour study period, including an unrestricted meal and a simulated two-hour tube feeding with an abrupt stop to mimic real-world inpatient conditions. Time-in-range (70-180 mg/dl) was 98% in type 1 diabetes and 94% in type 2 diabetes, with 0%-0.5% spent <70 mg/dl. Dr. Sherwood explained that the lowest glucose reading was 66 mg/dl, occurring just when the system was initiated. Mean blood glucose was maintained from 106 mg/dl to 107 mg/dl in type 1s and decreased from 175 mg/dl to 125 mg/dl in type 2s. Dr. Sherwood noted that there was a "wide degree of glucose variability" at the study's start, but as the algorithm adapted, variability decreased. We're thrilled to see such strong results and are excited by the ongoing work in this area. Prior to this study, the Cambridge group was the main academic team researching closed loop for the inpatient setting; Admetsys is trying to build a commercial version, though we haven't heard an update in some time. We would be fascinated to see how the glycemic control afforded by closed loop impacts patients' long-term hospital outcomes.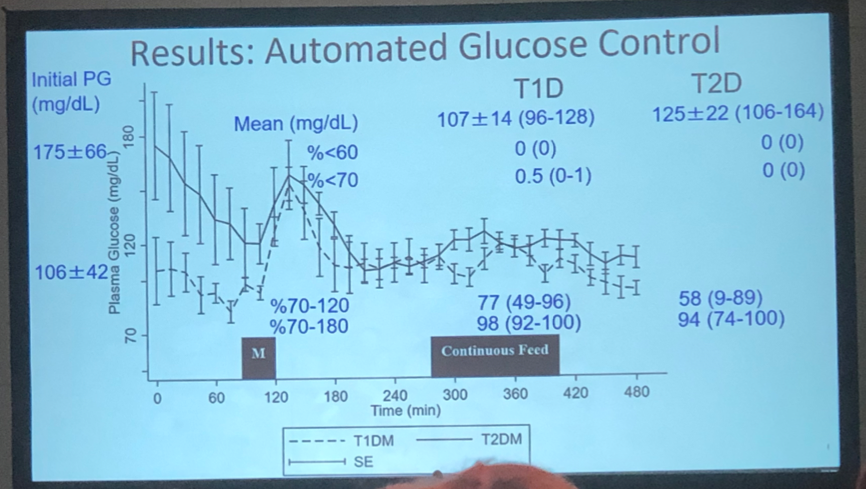 Dr. Sherwood highlighted that that type 2 patients had a nearly ten-fold higher insulin requirement as compared to type 1s. Conversely, patients with type 1 diabetes required roughly three-times as much dextrose as those with type 2 diabetes.
Fully Closed-Loop Using Faster vs. Standard Aspart in Type 2 Diabetes (T2D): A Double-Blind Randomized Crossover Trial
Lia Bally, MD, PhD (University of Bern, Switzerland)
University of Bern's Dr. Lia Bally presented results from the Cambridge group's double-blind, randomized crossover study (n=15) of Fiasp vs. Novolog in a fully closed loop system for type 2 diabetes. The system consisted of a Dana pump, Navigator II CGM, and the Cambridge MPC control algorithm, which modulated insulin delivery every 10 minutes. Over the 10-hour study period, participants received a standard breakfast and lunch and took a 20-minute walk. There were no significant differences observed for time-in-range (100-180 mg/dl), time <100 mg/dl, time <70 mg/dl, time >180 mg/dl, mean glucose, or glycemic variability. Participants spent 68% time-in-range (100-180 mg/dl) with Fiasp and 71% time-in-range (100-180 mg/dl) with Novolog, amounting to 16-17 hours. There was one hypoglycemia event (<63 mg/dl) reported with Fiasp and two with Novolog. Postprandial glucose was also equivalent for the two insulin types. Dr. Bally concluded that a fully closed loop system in type 2 patients is feasible and efficacious regardless of insulin type; however, she noted that larger and longer studies are needed to elucidate Fiasp in different target populations. We wonder what the difference would look like in type 2 diabetes closing the loop with regular insulin vs. Novolog (for cost purposes).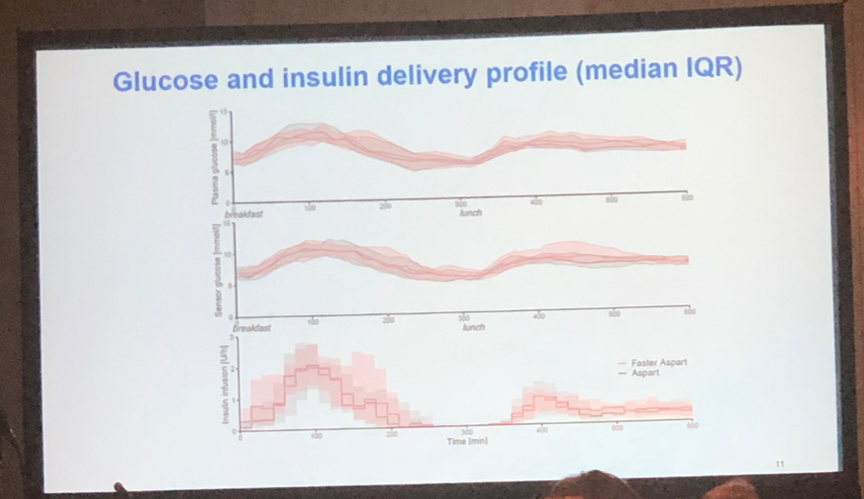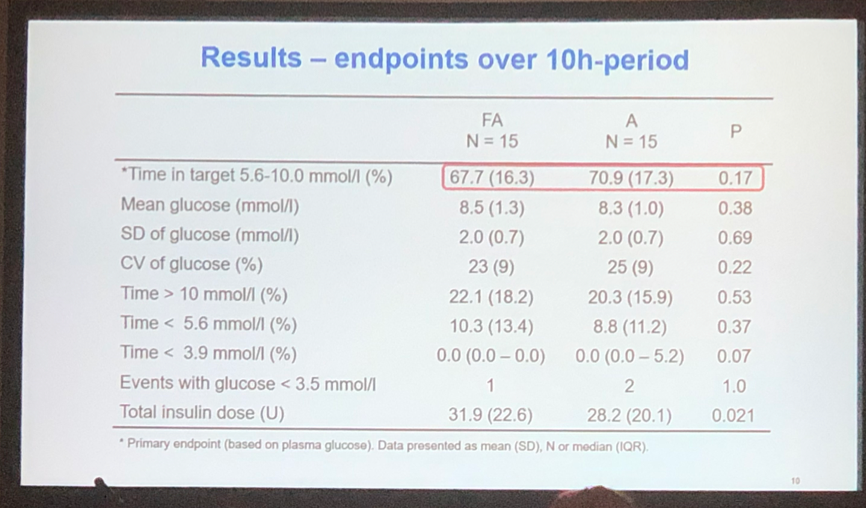 Dr. Bally emphasized that ~10% more insulin was required with Fiasp than with Novolog. In line with the higher insulin requirements, she explained that higher insulin exposure was observed with Fiasp as compared to Novolog.
Development of SteadiFlow Technology, an Advanced Insulin Delivery Cannula Featuring Extended Duration of Use, More Reliable Insulin Delivery, and Reduced Inflammatory Tissue Response
Jeffrey Joseph, DO (Thomas Jefferson University, Philadelphia, PA)
TJU's Dr. Jeffrey Joseph shared that Capillary Biomedical has received an NIH SBIR grant for additional study of the "kink-proof" SteadiSet infusion set with a soft, multi-port, flexible cannula. The group is currently planning a prospective, crossover trial comparing use of the SteadiSet for seven days vs. use of a commercial Teflon set for seven days in type 1s. Outcomes will be gauged by CGM ("safety and efficacy"), as well as by glucose clamp to assess PK/PK on days one, three, five, and seven. Per ATTD, Capillary is eyeing a 2020 launch for the seven-day-wear set. Based on the slew of preclinical swine data that Dr. Joseph et al. have accrued demonstrating less tissue damage and more consistent insulin absorption vs. current commercial sets, we have to imagine that these properties will carry over to humans. Through a hard-hitting slide (below), Dr. Joseph emphasized the important take-home message that delivery of insulin from commercially-available infusion sets is highly variable from day to day and dose to dose. The top row demonstrates progressive tissue damage – bleeding, collagen deposition – with the Teflon cannula inserted at 90 degrees, variable bolus distributions (as depicted in micro-CT images in the second row), and higher pressure in the tubing/catheter ("up to several thousand mmHg," especially on days two and four). "This is why we're getting variable PK/PD in the real world," Dr. Joseph concluded. Compare this figure to a similar study of the investigational SteadiSet: There is still some inflammation around the cannula beginning on day two, but the multiple orifices on the catheter allows the insulin to get into the tissue; there is higher pressure initially on days two and four, but this quickly comes down; and importantly, the full bolus is effectively delivered on every day. Below these two figures, we also include a striking image showing the SteadiSet delivering insulin into swine subcutaneous tissue on day six and histology showing a significantly thicker layer of inflammatory tissue around the commercial Teflon set (right) vs. SteadiSet (left).
Dr. Bruce Buckingham told an audience at CarbDM (April) that his Stanford group will study Capillary Biomedical's SteadiSet "in the near future." The group has also studied Convatec's Coated Lantern Infusion Set out to 10 day-wear. As of April, 18 of 24 subjects had completed the study: 90% of subjects had worn the set for seven days, with an average duration of 8.6 days. We'll see coated Lantern data in a poster here at ADA.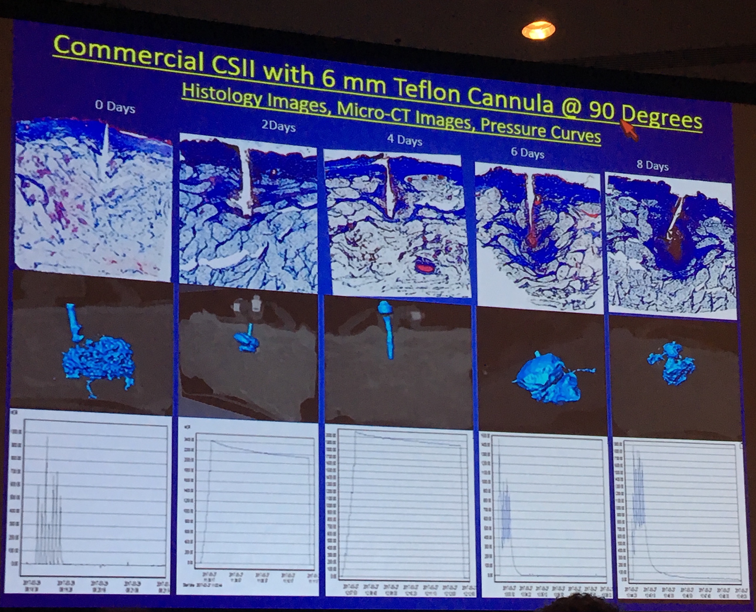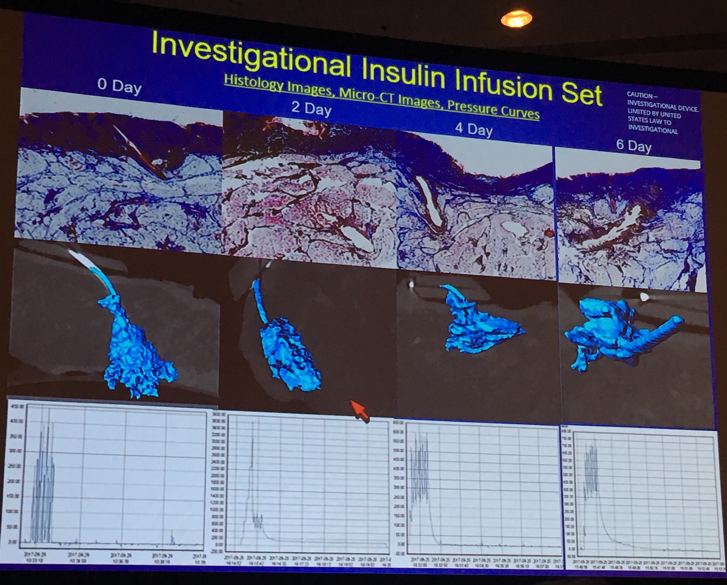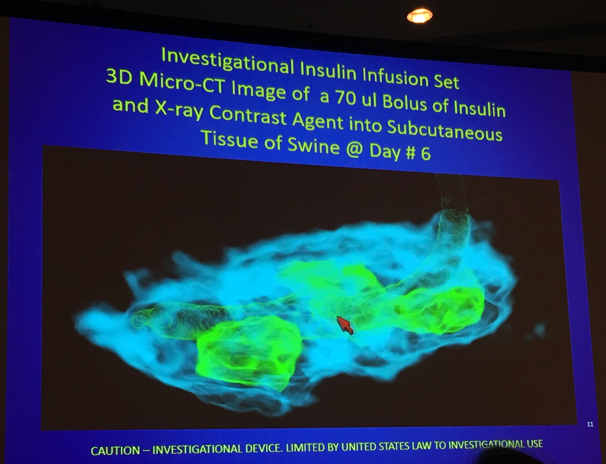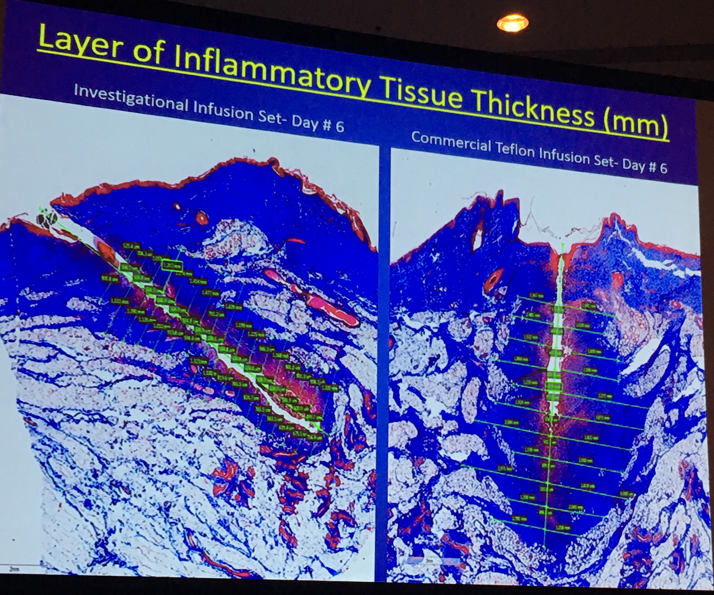 Questions and Answers
Q: Do you have any idea how the increased surface area might affect the blood insulin level?
A: We're doing that work as we move forward. It's preliminary work. If you do the calculations, greater surface area means faster absorption, more consistent deliver, but that needs to be proven.
Dr. Steve Russell (MGH): What is the material of the catheter?
A: It's a soft, flexible polymer currently used in FDA-approved products for anesthesia. It's in the body for 5-7 days, but we haven't disclosed what the material is.
Q: I didn't see data comparing the SteadiSet to a rigid steel cannula. Have you looked at that?
A: I removed the slide, but we did six swine comparing Teflon to stainless steel catheters, and it's scary how much damage there is to the subcutaneous tissue with steel. It turns dark brown from the bleeding and the hemoglobin degrades. Keep in mind that it's swine, they lay on the cannula, it's not a person with diabetes, but it's scary how much damage there is under the skin. Steel causes the most damage, Teflon at 90-degree-angle next, Teflon at 30-degree angle next, and then SteadiSet.
Dr. Ed Damiano (Beta Bionics): One thought I've been knocking around for a while is that you have retrograde flow around the catheter that could wet the adhesive on the infusion set, which could affect plausibility of 7-day wear, especially with a port closer to the surface like you have. Anything you've looked at there?
A: We have not seen that as a problem. The cannula is angled and 13.5-mm in length. It has a distal hole, and each hole is 2 mm above that. The proximal-most hole is at least 4 mm away from dermis, and we haven't seen leakage as a problem.
In-Depth Review of Glycemic Control and Glycemic Variability in People with Type 1 Diabetes Using Open Source Artificial Pancreas Systems
Andreas Melmer, PhD (Universitätsklinik für Diabetologie, Bern, Switzerland)
Dr. Andreas Melmer shared real-world data from 80 users of do-it-yourself (DIY) automated insulin delivery systems (Loop, OpenAPS, AndroidAPS), comprising 53 years of total CGM data – an impressive 19,251 days of use. Researchers used anonymized data collected from the "OpenAPS Data Commons" repository. Mean use of DIY Looping was 134 days, with a wide range of 3 days to 917 (!) days. Overall, DIY users spent 78% time-in-range (70-180 mg/dl), with 18% >180 mg/dl and 4% below 70 mg/dl. CV was 36%. Mean glucose was 137 mg/dl, corresponding to an estimated A1c of 6.4%. We note that these exceed the time-in-range consensus goals for time in 70-180 mg/dl (78% vs. goal of 70%) and meet the goal for time <70 mg/dl (4% or lower). In a sub-cohort analysis, researchers also looked at 6.5 years of pump+CGM records (n=34) in those with open loop data. Time-in-range increased by +2.2 hours per day (+9%) after getting on a DIY system, including a +2.4 hour per day gain in "time-in-tight-range" (70-140 mg/dl) (P<0.0001). Most of the gains came from less time >180 mg/dl with automation, as hypoglycemia rates were quite low in open vs. closed loop. The time-in-range benefits were pretty equal during the day and night. Dr. Melmer cautiously presented the data as a "descriptive study" that "shows potential" of DIY Looping to support glycemic control in people with type 1. Obviously, the population in this study was engaged enough to build and maintain these systems, but the data is nonetheless very encouraging – particularly with the ability to examine 50+ years of CGM outcomes and given the extent to which these systems are poised to become easier to use over time.   
Questions and Answers
Q: Is there data on the percent of time the system remained operable?
A: Yes. We saw around 2% of the time there were some sort of issues around connectivity.
Q: Were these patients doing pump settings changes on their own? What percentage of people were helped by endos? Are there metrics on time to get to perfect settings?
A: The data is all donated, and patients were on their own efforts. They were not educated, at least to our knowledge – the developers don't educate people on this. It does take some time to learn this. However, early vs. later use revealed no difference in glycemic control.
Comment: I have a couple patients using these systems, and they still need to be optimized – in terms of active insulin time, Insulin:Carb ratio. If those are not optimized correctly, you don't get optimal results.
Dr. Yogish Kudva (Mayo Clinic): Have you also run the time-in-range in other comparative data sets from the clinic or RCTs? These time-in-range data are very interesting.
A: We did not compare with other CGM records from other RCTs. What has to be said is that all data donors are likely to be very tech motivated, and were already very good prior to starting.
Dr. Kudva: Is there a framework to assess these individuals, in terms of their sophistication of use? Some kind of questionnaire in the OpenAPS community?
A: There has been survey by Dana Lewis et al. published last year. We want to evaluate the system further.
Does Insulin Delivery Method Impact Risk of Hypoglycemia in Older Adults?
Elena Toschi, MD (Joslin Diabetes Center, Boston, MA)
Dr. Toschi and the Joslin Diabetes Center team found that prevalence of hypoglycemia unawareness and cognitive dysfunction do not differ in older type 1s (≥ 65 years) by insulin delivery method, but that MDI treatment is linked to more time spent in hypoglycemia. A cohort of 32 MDI-treated patients (A1c: 7.5%) and 54 pumpers (A1c: 7.4%) underwent CGM for two weeks along with questionnaires and assessments for factors such as fear of hypoglycemia, hypoglycemia awareness, and cognitive function. Those using an insulin pump experienced significantly less time ≤54 mg/dl as compared to MDI-treated patients (48 minutes/day vs. 26 minutes/day, p<0.05). Accordingly, MDI-treated patients also experienced more episodes of hypoglycemia (<70 mg/dl and <55 mg/dl) lasting >15 minutes than those using a pump. Scores describing fear of hypoglycemia were similar in both groups, although those on MDI were more fearful of nocturnal hypoglycemia and reported being more likely to keep their blood sugar higher than usual when doing important tasks or in social situations. Coefficient of variation (CV) was slightly higher in MDI patients. Dr. Toschi opined that further studies are required to better understand the role of insulin delivery method on risk of hypoglycemia in older adults with type 1.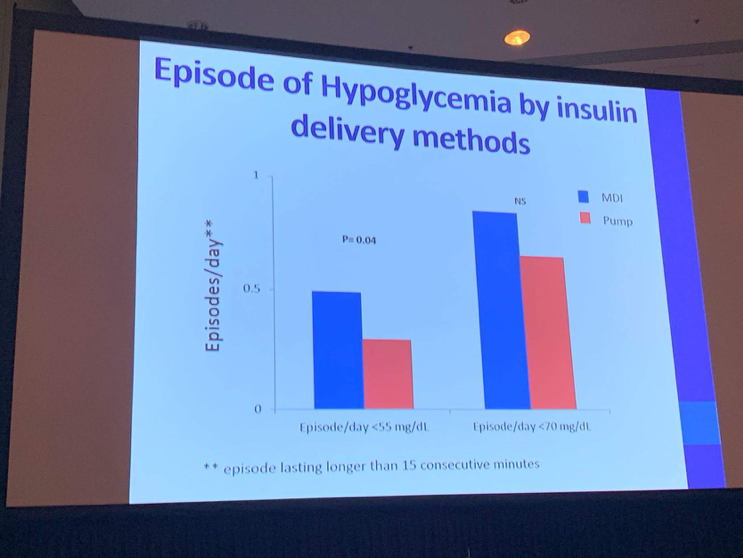 Oral Presentations: From Risk to Complications of Type 1 Diabetes Youth – What's New?
Safety and Performance of the Omnipod Hybrid Closed-Loop System in Young Children Aged 2-6 Years with Type 1 Diabetes
Bruce Buckingham, MD (Stanford University, Palo Alto, CA)
Stanford's Dr. Bruce Buckingham presented very strong data from a study of Insulet's Omnipod Horizon closed loop in very young children ages 2-6 years old (n=14; mean age 4 years; baseline A1c: 7.4%). The free-living, hotel study – including ample physical activity and meal challenges – compared 48-72 hours of hybrid closed loop with a tablet computer, Dexcom sensor (model not specified, though G4 used in studies presented to date) to seven days of patients' standard therapy.
Horizon use resulted in an incredible 4.2 hour/day increase in time in the range of 70-180 mg/dl (73% vs. 55%; p=0.0002). This effect was driven by a dramatic reduction in hyperglycemia, with 3.6 fewer hours/day spent >180 mg/dl (25% vs. 40%; p=0.005) and a remarkable 2.7 fewer hours/day spent ≥250 mg/dl (6% vs. 17%; p=0.002). This amounts to a ~65% reduction in time ≥250 mg/dl, albeit from a high baseline of four hours! Time in hypoglycemia was also reduced, albeit not significantly from a statistical perspective due to the small number of participants. Numerically, time <70 mg/dl fell by a half hour per day with Horizon (5% vs. 3%; p=0.24) and time ≤54 mg/dl was cut by ~20 minutes/day (1.8% vs. 0.4%; p=0.15), a 78% reduction.

Mean glucose with Horizon was significantly lower than that on standard care (172 mg/dl vs. 148 mg/dl; p=0.017). Overall, coefficient of variation (CV) dropped from 40% to 36% (p=0.02) – hitting the often-used CV goal of ≤36% (Monnier). Overnight, CV dropped from 37% to a remarkable 25% (p=0.0009) – wow! The modal day chart below clearly shows flatter, narrower, and more in-range glucose values with Horizon, and Dr. Buckingham commented repeatedly that the system performed very well. He shared that a parent stayed with each participant overnight, and when they woke up in the morning, a couple of the mothers were in tears because it was the first night since their child was diagnosed with type 1 that they slept through the night; and when they woke up, the child had a flat, in-range blood sugar. Impressively, though the core MPC algorithm didn't undergo any major tweaks to better fit the 2-6-year-old population, it performed essentially the same in this age group as it has in the previous studies.

Horizon – with a tubeless patch pump, G6 sensor, and algorithm running on the pod – should be very appealing in this age cohort when it comes to market. The persistent hyperglycemia and variability is tough in this population, especially with the fear of hypoglycemia (just glance at the baseline data). We imagine Horizon will be a differentiated system on ease of use that can safely keep glucoses lower without infringing significantly on a kid's ability to be a kid. We're not sure how many of the participants were on MDI/pumps at baseline or how much time they spent in closed loop. Future studies, according to Dr. Buckingham, will evaluate Horizon in the setting of truly free-living (algorithm on the Omnipod, not a tablet) and extended use – this presumably refers to the pivotal study set to begin in 4Q19 ahead of a 2H20 launch.

Insulet strove to challenge the system and emulate real-world use with ample physical activity (47 sessions total) and meals (115 total). Exercises included parks, ropes courses, laser tag, a farm visit, trampoline, and tandem bike riding ("Kids were in a bouncy house, bouncing off each other, off each other's Omnipods") with an average duration of 56 minutes. Meals were unrestricted, with an average of 31 grams of carbs (max 81 grams), and 29% of meals had ≥15 grams of fat.

Medtronic presented results from the MiniMed 670G pivotal study in 2-6 year-olds over three months of use (n=46) at ATTD. The studies are not directly comparable – e.g., due to the difference in trial length and setting – but in the 670G study, A1c declined by 0.5% (baseline: 8.0%), time-in-range increased two hours/day (from 55% to 64%), and there was no change in time <70 mg/dl (from 3.6% to 3.5%). Mean glucose declined from 173 mg/dl (run-in) to 161 mg/dl (670G), with a small increase in CV ( from 38% to 39%).

Dr. Buckingham discussed a number of Horizon closed loop features that we had not previously recalled hearing:

Setpoint (target glucose) can be set at 100, 110, 120, 130, 140, or 150 mg/dl. Parents decided to raise the setpoint to 150 mg/dl for 79% of the exercise sessions in the study. During a subsequent Insulet-sponsored dinner event, Dr. Buckingham said that the system was "tested mostly at 120 mg/dl. We also tested down to 110 mg/dl. But you can set it at 150 mg/dl, and we tested that just to see what would happen if you left it there."

It allows for extended boluses. Four participants in the study used ≥1 extended bolus for meals – mostly around lunchtime – as decided by their parents.

It has a "hypoglycemia protect" mode (we're not sure if this is commercial naming) that sets the target glucose at 150 mg/dl and cuts basal delivery either to 75%, 50%, or 25%. This feature sounds similar to Diabeloop's "Zen Mode," which "virtually ensures" hypo avoidance over a short period of time.

Dr. Ly confirmed that the U500 Omnipod is now under FDA review. This was foreshadowed during the 1Q19 call. January's JPM talk expected a launch by the "end of 2019/early 2020."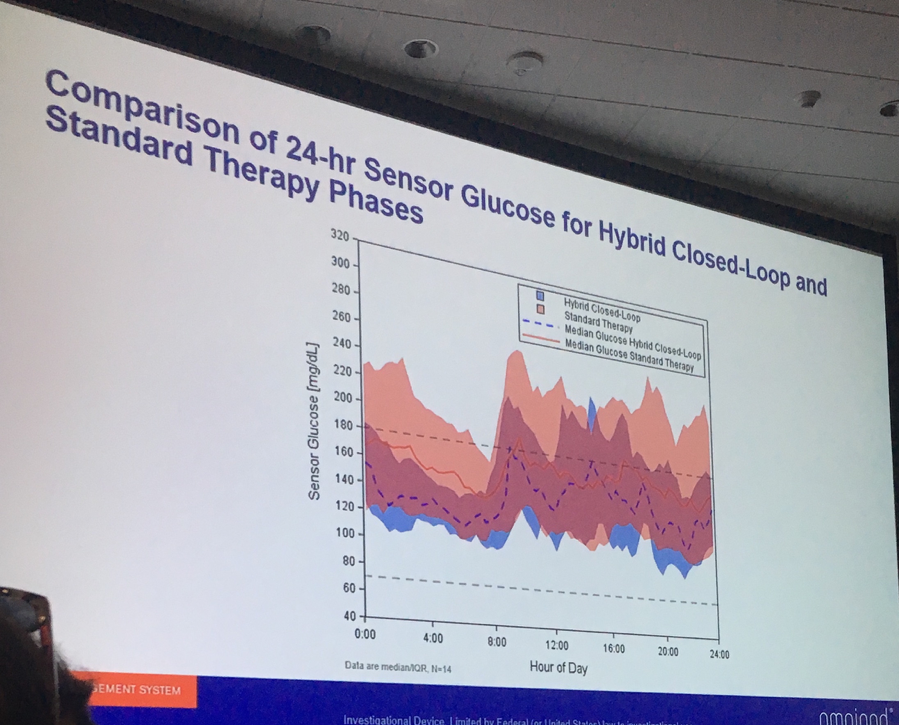 Previous Omnipod Horizon Safety and Feasibility Studies
| | | | |
| --- | --- | --- | --- |
|   | | | |
| Duration (hr) | 36 | 54 | 96 |
| Setting | Inpatient | Hotel – meal and exercise challenges | Hotel – supervised free-living conditions |
| Time in range (70-180 mg/dl) | 70%-73% | 76%-85% | 69%-79% |
| Time <70 mg/dl | ≤2% | ~1% | ≤2.5% |
Posters – AID, Pumps, and Pens
Title

Details + Takeaways

Safety and Efficacy of a Novel Basal-Bolus Insulin Delivery Device in Adults with T2D Using Rapid-Acting or Regular Human Insulin

A small (n=21 type 2s) prospective inpatient study compared glycemic outcomes with a BD-developed "basal/bolus insulin delivery device (IDD)" – we assume this is the much-delayed Swatch type 2 patch pump – vs. MDI therapy.

During the six-day in-clinic use of BD's IDD, there were significant improvements in fasting blood glucose, 24-hour mean blood glucose (121 mg/dl vs. 141 mg/dl), time-in-range (70-180 mg/dl; 88% vs. 81%), and time >180 mg/dl (9% vs. 17%) vs. the preceding 2-3-day MDI period. There was a small but non-significant increase in time <70 mg/dl (+22 mins/day) with the patch pump. There were no differences in time <50 mg/dl and no severe hypoglycemia events reported. On glycemic variability, MAGE was significantly lower with BD's IDD, but there were no significant differences in CV or MODD.

There were no significant differences based on insulin type (regular human insulin vs. insulin lispro). We wonder if BD might focus on human insulin when it brings the type 2 patch pump to market.

The IDD can be worn for up to three days, delivers a continuous basal rate over 24 hours, and includes on-demand bolus doses (1-50 units) delivered via a wireless controller or side buttons on the patch pump. The reservoir holds 300 units.

On BD's 1Q19 call, a "launch delay" for the patch pump was announced due to extensive FDA's feedback. No updated timing was shared.

Early Real-World Hypoglycemia Outcomes with Use of the Tandem Basal-IQ Technology System

De-identified data uploaded to Tandem t:connect from individuals with diabetes who had used Basal-IQ for three (n=4,082), six (n=2,370), and nine weeks (n=1,307) were analyzed to compare real-world hypoglycemia outcomes to PROLOG pivotal trial results. Three week data were shared at ATTD 2019.

At three weeks, median real-world time <70 mg/dl was just 1.0% (~14 mins/day) vs. 2.6% (~37 mins/day) for the pivotal trial. After six and nine weeks, median time <70 mg/dl remained at 1.1% (~16 mins/day). There was no increase in hyperglycemia.

It's rare to see real-world outcomes that beat those from clinical trials. The researchers believe the design of the algorithm, which quickly resumes insulin delivery after the first glucose reading past the sensor nadir, is to credit. That said, this real-world data only includes the set of people who actively upload their data to t:connect – it's probably that population is different from pivotal trial users.

Evaluation of a Medtronic Advanced Hybrid Closed-Loop System During Unannounced Meals of Medium Size

A prototype of Medtronic's "advanced hybrid closed loop (AHCL) system" with automatic correction boluses – i.e., the MiniMed 780G, or at least an investigational version thereof –was evaluated in 12 type 1s, showing statistically comparable postprandial glucose levels following meals with (at home) and without pre-meal boluses (in hotel).

Average postprandial sensor glucose peaked at 224 mg/dl without a premeal bolus and at 211 mg/dl with a premeal bolus. Mean sensor glucose in the five-hour postprandial period, as well as mean AUC >180 mg/dl during this time period, were statistically similar between the two conditions.

Meals consisted of 40 grams of carbohydrate, as estimated by the patient.

Caveats:

In the five hours post-meal, ~3x more insulin was required to attain the same glucose levels in the condition with a premeal bolus (12 units) vs. without a premeal bolus (4 units). This is counterintuitive, and we wonder if there were significant differences in carb counting, protein/fat content, or physiologic factors between the two conditions.

The poster doesn't share how soon before the meal patients were bolusing – it's possible that more optimal bolusing behavior would result in improved postprandial glucoses in the condition with premeal boluses.

These results are promising for Medtronic's next-gen 780G, suggesting the automatic boluses may offer comparable performance to premeal boluses.

Feasibility Study of a Hybrid Closed-Loop System with Automated Correction Boluses

Small feasibility study (n=12 type 1s; mean age 17 years) of Medtronic's Advanced Hybrid Closed Loop (AHCL; 780G) at Schneider Children's Medical Center. ClinicalTrials.gov. The system, in collaboration with DreaMed, incorporates auto-boluses, a target glucose of 100 mg/dl, and improved auto-basal control.

Six -day run-in period with PLGS + six days in hotel with missed bolus, late bolus, and physical activity + three-week home phase

Compared to run-in, time-in-range during Auto Mode at home improved from 69% to 74% (+1.2 hours/day); Time <70 mg/dl fell from 4.1% to 2.6% (-22 minutes). Neither change was significant.

Time-in-range was significantly higher at night during the home Auto Mode period vs. the PLGS run-in period (83% vs. 66%).

With missed meal boluses in the hotel setting, average peak post-prandial glucose level was 224 mg/dl.

A1c dropped from 7.1% to 6.8% by end of four weeks (p=0.0027)

Glucose Control Following Missed and Late Meal Boluses with a Medtronic Enhanced-Hybrid Closed Loop System

A single-arm, feasibility study (n=12 type 1s) of a prototype of the "Medtronic Enhanced-HCL (E-HCL)" with a lower target glucose and automated correction boluses – i.e., MiniMed 780G, or an investigational version – found E-HCL drove greater time-in-range vs. the open-loop run in (85% vs. 75%) and a lower mean sensor glucose (123 mg/dl vs. 144 mg/dl). Time spent <70 mg/dl was greater with E-HCL (4.4% vs. 3.0%) but there was no difference in time <54 mg/dl.

Despite automated correction boluses, a missed bolus for a meal still resulted in hyperglycemia, with users spending 47% time >180 mg/dl in the four hours following a meal. When meals were accompanied with a bolus, participants spent 0% time >180 mg/dl in the same time period.

Time in Auto Mode was 100% nearly the entire time (with the exception of an overnight sensor miscalibration challenge).

This is strong pilot data ahead of the MiniMed 780G pivotal study, which kicked off during ADA.

Five Insulet posters detailed real-world results from Omnipod users aggregated through Glooko. Cuts of data break out type 2 adults, older adults, type 1s, pediatric/adolescent type 1s, and type 1s with CGM data.

Overall, the data includes a maximum of ~26,000 users, though there is certainly some overlap between posters.

Mean GMI (estimated A1c) in type 2 adult Omnipod users was 7.7%; mean % in 70-180 mg/dl was 58%

Mean GMI in Medicare-eligible older adults: 7.3%. Mean % in 70-180 mg/dl: 57%.

Mean GMI in type 1 adults: 7.6%. Mean % in 70-180 mg/dl: 50%.

Mean GMI in young type 1s: 8.1%. Mean % in 70-180 mg/dl: 43%.

Mean GMI in type 1s with CGM: 7.0%-7.8%, depending on age group. Mean % in 70-180 mg/dl: 49%-66%, depending on age group.

Assessment of Longevity of the Coated ConvaTec Infusion Set with Lantern Technology

 Stanford study (n=24; 2 excluded from analysis) testing up to 10-day wear with the coated Lantern set that includes slits along the sides and a coating to reduce foreign body response, prevent occlusion, and extend wear.

Of the 22 participants included, 10 made it the full 10 days. Mean wear time was 8 days.

Hyperglycemia unresponsive to correction (6) and adhesive failures (4) were the most common reasons for premature failure.

A follow-on, larger crossover study (masked, randomized, 7-day-wear) will compare the coated Lantern catheter against commercially available infusion sets.

Results of a Randomized Cross-Over Study in T1D of a Dual-Hormone Closed-Loop System with XeriSol Glucagon vs. Insulin-Only Closed-Loop System vs. a Predictive Low Glucose Suspend System

The Oregon Artificial Pancreas system (OHSU) using XeriSol glucagon in dual-hormone mode was found to confer similar time-in-range (70-180 mg/dl) as the insulin-only mode, but with significantly less time in hypoglycemia (<70 mg/dl).

Both systems detect exercise based on heart rate and energy expenditure estimates from a wearable. If hypoglycemia is predicted with exercise, 73 mcg of glucagon is dosed proactively. Meals were announced to the algorithm, which tailored its mealtime dosing factor by adapting aggressiveness based on previous post-prandial glycemic responses. 

Time-in-range during dual-hormone use (71%) and single-hormone use (73%) were significantly greater than during predictive low glucose suspend (63%).

During exercise and four-hours post-exercise, time <70 mg/dl was 2.9% for dual-hormone use and 8.2% for single-hormone use (-1.3 hours). While in dual-hormone mode, participants required fewer carbohydrate treatments/day in dual-hormone mode (0.6) as compared to single-hormone mode (1.7) and predictive low glucose suspend (1.4).

This study is one of the first to evaluate pumpable glucagon in a dual-hormone closed loop system, following Beta Bionics' positive results from its home use study of the dual-hormone iLet system with Zealand's dasiglucagon.

Time-In-Target Glucose Range and the Glucose Management Indicator During Real-World MiniMed 670G System Use

Real-world data from 77,668 MiniMed 670G users (6.8 million patient-days). Time-in-range and glucose management indicator (GMI) were presented in this poster.

Across all users, time-in-range was 72% (GMI: 7.1%) and time <70 mg/dl was 1.9% in Auto Mode. Time in Auto Mode was 78%. In manual mode, time-in-range fell to 62% and GMI was 7.3%.

In longitudinal data (≥1 year) from young adults ages 14-21 years, time-in-range was 64% (GMI: 7.3%) and time <70 mg/dl was 2.8% in Auto Mode. Time in Auto Mode was 61%. In manual mode, time-in-range was 57% and GMI was 7.5%. 

In longitudinal data (≥1 year) from adults >21 years, time-in-range was 74% (GMI: 6.9%) and time <70 mg/dl was 2.8% in Auto Mode. Time in Auto Mode was 77%. In manual mode, time-in-range was 67% and GMI was 7.1%.

These data are in line with the larger data set announced before ADA in ~120,000 users on 670G.

Patients' Experiences with a DIY Artificial Pancreas and Their Perspectives of the Provider's Role in Supporting Their Use

101 DIY APS users surveyed about their experience

>90% of respondents rated DIY looping as better clinically than other therapies for hyperglycemia frequency, hypoglycemia frequency, sleep interruptions, and time in range.

A majority of respondents perceive DIY APS as safer than a pump + CGM combo.

79% said their providers don't understand the system well, but >80% say their providers encourage them to keep using it.

People rated social media and DIY APS official documentation as the most important resource for maintaining their systems.

Early Independent View of Quality of Life in Patients with Type 1 Diabetes Using Hybrid Closed-Loop Insulin Delivery System in Real-World Clinical Practice

Subject-reported outcomes (SROs) from n=54 type 1 670G users at Joslin clinic: Short-Form Health Survey (SF-36), Pittsburgh Sleep Quality Index (PSQI), and Hypoglycemia Fear Survey/Worry Scale (HFS_W).

Patients reported significant improvements in social functioning (+4.5%, p=0.018), fear/worry (-13.4%; p=0.025), and A1c (-0.4%; p=0.003) after three months on 670G.

Overall time in Auto Mode was 64%, and time in Auto Mode was not significantly associated with any outcomes.

The study is continuing for a year.

First Test of the iLet in Children and Adolescents with Type 1 Diabetes in "Insulin-Only" Mode

In this multi-center, randomized crossover study (n=20) in type 1 youth (7-17 years), Beta Bionics' Gen 3 iLet closed loop system in insulin-only mode showed comparable glycemic outcomes vs. standard care. Mean glucose increased slightly during iLet use from 160 mg/dl to 163 mg/dl. Time-in-range (70-180 mg/dl) remained the same at 65% and time <70 mg/dl decreased slightly from 3.2% to 2.2% (-14 mins).

There were three hyperglycemic events associated with iLet "malfunction" (Cartridge leakage, alarms not heard). None resulted in a serious adverse event for the study participants.

During the day, participants were supervised by staff and engaged in vigorous physical activity. During the night, participants returned home and were monitored remotely.

We were surprised not to see stronger outcomes given the positive Gen 3 iLet home use study in adults. The investigators conclude that testing of the improved Gen 4 iLet is warranted. These data may suggest Beta Bionics needs more work on the pediatric side, especially to ensure strong pump hardware performance.

Automated Adaptation of the Bionic Pancreas While Transitioning from MDI Insulin Regimens

A sub-analysis of Beta Bionics' iLet insulin-only home study revealed that previous MDI-users did not achieve significant differences in mean glucose and time-in-range between the first 24 hours of use and days 3-7; previous pump-users did.

iLet increased previous pump-users' (n=22) time-in-range (70-180 mg/dl) by 1.9 hrs/day (60% to 68%) and decreased mean glucose from 167 mg/dl to 158 mg/dl on days 3-7 compared to day one. Previous MDI-users' (n=12) time-in-range (68% to 73%) and mean blood glucose (154 mg/dl to 150 mg/dl) did not significantly change from day one to days 3-7. Surprisingly, there was also no difference in total daily dose of insulin for either group.

The results indicate that iLet is safe to initiate directly following MDI therapy – a major win, considering the system only requires bodyweight to initialize.

Closed-Loop Glucose Control System for In-Hospital Use: Extended Control Trials

Analysis of the Admetsys inpatient AID system with insulin/dextrose dosing (n= 10 type 1s, 2 type 2s) with an IV glucose sensor.

The system's therapeutic target was set to 80-125 mg/dl for 24 hours.

Blood glucoses began at 150-300 mg/dl; mean time to reach target range (80-125 mg/dl) was just 2.4 hours. After target range was entered, average blood glucose was 107 mg/dl. There was no hypoglycemia (<70 mg/dl) during the trial.

We wonder if the system could be used with a subcutaneous glucose sensor.

Overnight vs. Continuous Long-Term Closed-Loop Control: Patient-Reported Experiences

Patient reported experiences from eight weeks of overnight closed loop and eight weeks of continuous closed loop use in 10 adults with type 1 diabetes (Tandem's Control-IQ hybrid closed loop system with Dexcom G6).

All participants reported that Control-IQ made their diabetes easier to manage during both overnight and continuous wear.

All participants preferred continuous use of the system over overnight-only use.

Difficulty and complexity of the system were rated at 1.1 on a 5-point Likert scale, while trust and probability of long-term use were rated at 4.5 and 5, respectively.

In line with the Control-IQ pivotal trial, these data bode very well for adoption of the system once Tandem launches it. 

Towards Prolongation of Insulin Pump Catheters Wearing Time Using a Mixture of Insulin and a Non-Steroidal Anti-Inflammatory Drug

Double-blinded RCT studying use of an injectable NSAID at the infusion set site to prolong wear in 14 type 1 pumpers.

Participants injected either insulin lispro 90 units/mL + ketorolac (NSAID) 3 mg/mL or lispro 100 units/mL

There was no significant difference in length of catheter wear between groups (7.4 days with lispro only vs. 7.8 days with lispro + NSAID; p=0.51).

In the 7 "responders," wear time increased by two days with addition of the NSAID (p=0.02).

This work was funded in part by JDRF.
Symposium: Shared Decision Making When Choosing Pumps and Sensors
Hybrid Closed-Loop Systems – What Have We Learned So Far?
Cari Berget (Barbara Davis Center for Diabetes, Aurora, CO)
Barbara Davis Center's Ms. Cari Berget presented intriguing real-world, observational data on use of Medtronic's MiniMed 670G in pediatric (n=92) and adult (n=34) patients. After six-months of use, pediatric patients (average age 15 years-old) saw time-in-range increase from 51% to 57% (+1.4 hours). A1c declined by an average of 0.8% (baseline A1c: 8.8%); however, there was no significant change in A1c for patients with baseline A1c <9%. Despite these overall improvements, time in Auto Mode decreased from 65% to 51% and sensor wear dropped from 80% to just 68%. Ms. Berget did not offer up a potential explanation for the apparent contradiction – it is possible that patients were naïve to pump therapy and would have reaped these benefits from initiating any pump. A similar story was observed in the adult population at three months: time-in-range increased from 67% to 71% (up nearly one hour) while time in Auto Mode decreased from 79% to 72%. A1c decreased by 0.5% (no baseline given) but there was no significant change for those with baseline A1c <7%. Relative to time-in-range in the 670G pivotal trials (64%-74%, depending on age group) and real-world data (71%; n=119,724), the younger BDC users seem to be having a more challenging time with the system, adults are similar.
The pediatric group demonstrated a "pretty high" discontinuation rate of 30% at six months. As Ms. Berget pointed out, this rate is close to the 38% discontinuation rate that Dr. Gregory Goodwin presented at ENDO from a separate real-world observational study (n=93) of the 670G in children and adolescents. At the time, Dr. Goodwin noted that this rate stands in significant contrast to clinical trials finding withdrawal rates closer to 5% – there could be several factors at play here, including demographics, degree of follow-up/support, and patient expectations. Either way, Ms. Berget rightly called for future hybrid closed loop systems to focus on reducing system burden to increase sustainability. We expect factory-calibrated systems from Dexcom and Abbott – along with lower alarm burden systems – will be big winners in the pediatric population.

Ms. Berget highlighted her team's new clinical training program for implementing hybrid closed loop therapy in a pediatric clinic. The protocol, published earlier this year in the Journal of Diabetes Science and Technology, leverages a quality improvement process called the Plan-Do-Study-Act model and consists of: (i) A 2-3-hour group class for Manual Mode training, emphasizing CGM education and diabetes self-care techniques; (ii) A 1-1.5-hour remote class to initiate Auto Mode after one week of Manual Mode; and (iii) Three short phone calls during the first month, targeting re-education and insulin adjustments based on the patient's CareLink upload. Ms. Berget shared that the 72 patients who participated in the program achieved 72% time in Auto Mode and 83% sensor wear-time. She noted that follow-up during the first few weeks of 670G use were vital to patient success – phone calls lasted on average just 16 minutes, and the most common topics discussed were pre-meal bolusing, correction boluses, and responding to system alerts (patients experienced ~6 Auto Mode exits/week, mostly related to hypoglycemia). Insulin adjustments were also common, with insulin:carb ratios strengthened by 24% in three-fourths of participants.
Current Issues: Indication for Pancreas Transplantation in the Era of Glucose Sensor and Insulin Pump
Pro-Pancreas Transplantation
Silke Niederhaus, MD (University of Maryland School of Medicine, Baltimore, MD)
Dr. Silke Niederhaus emphasized that performing a pancreas plus kidney transplantation is the best option for most patients with diabetes with end-stage renal disease (ESRD). When patients have ESRD and diabetes, the statistics after a simultaneous pancreas-kidney (SPK) transplant show that 35% of patients are insulin-independent 20 years after surgery. In addition, SPK recipients have an expected 20-year survival of 57%. Live donors with pancreas after kidney (PAK) procedures are also a good option. Patients that are able to receive kidneys from live donors typically have a greater chance of survival as compared to those that receive kidneys from deceased donors. Kidneys from live donors tend to have a low kidney donor profile index (KDPI); donor kidneys with a high KDPI can last five years, while a normal KDPI indicates nine-year survival, and low KDPI indicates 11-year survival.
Dr. Niederhaus described three groups of patients: (i) diabetes with ESRD; (ii) diabetes with fully functioning kidneys; and (iii) diabetes with neuropathy. As a surgeon, Dr. Niederhaus explained, it is vital to "cherry pick" the right patients, including patients with ERSD and diabetes. Notably, people with diabetes on dialysis have a mortality similar or worse than colon cancer (less than 30%). Dr. Niederhaus mentioned that it is typical for 90% of patients to have a positive experience post-transplant; however, 10% of patients have a challenging experience. The 10% of patients that encounter post-operative difficulties are often the same patients that return to the endocrine clinic. There are approximately 1,000 pancreas transplants performed per year in the US, while there are ~23 million people with diabetes and ~84 million people with pre-diabetes. Reasons for people to consider a pancreas transplant include not only a diabetes diagnosis, but also exocrine insufficiency and a need for a multiorgan transplant. Surgeons are often willing to take on the risk of people with type 2 diabetes only after considering insulin use and weight loss capabilities along with age, antibodies, donor availability, GFR, insulin intolerance, symptomatic hypoglycemia, complications, and cardiovascular health. Physicians must also consider whether or not patients can survive a large coronary event if one arises after surgery.
Industry Announcements
Medtronic Initiates Two Pivotal Trials: MiniMed 780G Advanced HCL (Automatic Bolus, Bluetooth) and Next-Gen CGM with Day-1-Only Calibration
Medtronic announced that it has begun enrolling participants in two major pivotal studies: (i) the MiniMed 780G advanced hybrid closed loop with automatic correction boluses, Bluetooth, remote software updating, an >80% time-in-range goal, and an adjustable target down to 100 mg/dl; and (ii) a next-gen Guardian CGM with fingerstick calibration only on day one and seven-day wear. Both trials are up on ClinicalTrials.gov (here and here), and both were announced in company press releases (here and here). These are large studies – up to n=350 for the 780G and n=460 for the next-gen CGM – with primary completion of both expected in early 2020 (January-February). Given the size of the CGM study and primary endpoints (% within 20/20, % within 15 mg/dl for <70 mg/dl), we'd guess it will be used to support an iCGM filing for the next-gen Guardian CGM. The 780G study is enrolling users 7+ years, while the CGM study has a broader enrollment of 2+ years; this implies both products could also launch with pediatric labeling. Like the precursor 670G, the 780G pivotal will be tested in a three-month safety evaluation (home study), with co-primary end points – change in A1c and change in time-in-range (70-180 mg/dl) from baseline. That should enable a fast study and time to market, piggybacking off all the 670G experience and moving much faster than Tandem's six-month Control-IQ pivotal (reporting data tomorrow). Medtronic has recently forecasted a launch of the MiniMed 780G by April 2020 (see 1Q19 call), which seems doable with this pivotal trial now starting enrollment. We expect the 780G will use a version of the current Guardian Sensor 3 requiring at least two daily fingersticks. The on-body form factor does not look different with the next-gen Guardian CGM (that will wait until the next-next-gen Synergy sensor).
These are key pipeline moves for Medtronic as Control-IQ looks to launch in 4Q19, leapfrogging the 670G with automatic boluses, the no-fingersticks G6 CGM, remote software updates, Bluetooth, and a simpler user experience. Assuming Medtronic hits the April 2020 timing, it may come out with a competitive product only a few months behind Control-IQ. It's been a very exciting pipeline meeting for Medtronic, as it announced plans on Day #1 to integrate with Tidepool Loop as an interoperable ACE pump and iCGM. See below for summary of study details, a picture of the 780G from Medtronic's booth video, and 780G poster highlights.
Eight sites are currently listed for the 780G study: SoCal Diabetes, Diablo Clinical Research, Barbara Davis Center (adults and pediatrics), Southeastern Endocrine, Rocky Mountain Diabetes Center, IDC, and Ranier. No locations are yet listed for the CGM study; this will obviously expand as the year progresses.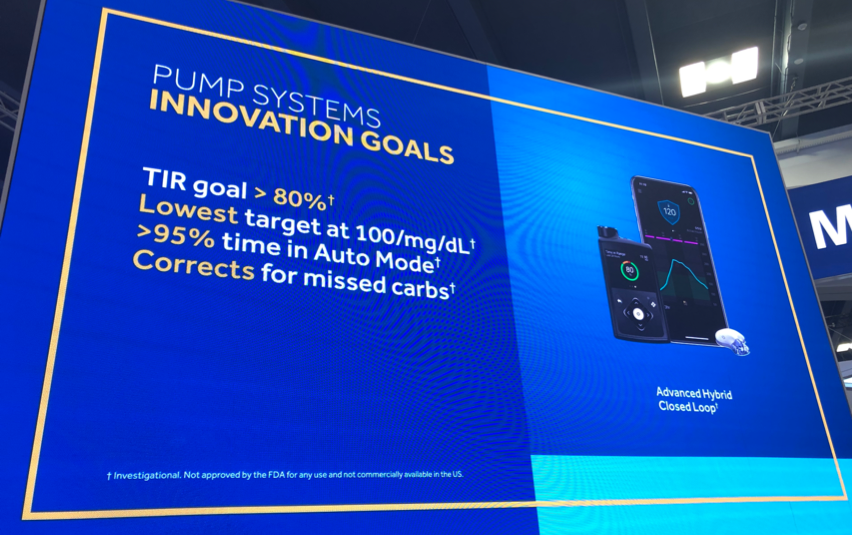 The press release gave an early look at two MiniMed 780G posters (1040-P and 1041-P). Notably, 100% of participants in a feasibility study rated the MiniMed 780G system as the best therapy they have ever used, reporting overall satisfaction as extremely satisfied or very satisfied. All participants stated that they trusted the system to take care of their glucose and that it significantly increased their flexibility and confidence in taking care of their diabetes. The 780G was safe, improved glycemia, and simplified diabetes management, even when users forgot to administer a bolus of insulin at mealtime or carb counting was inaccurate. Hypoglycemia (<70mg/dL) dropped by 27% and hyperglycemia (>180 mg/dL) was reduced by 14% with no serious adverse events reported; the baseline comparator was not given in the press release, but we'll be back to report what the posters say.
Medtronic ADA Analyst Day – Pipeline Overview: MiniMed 780G, Non-Adjunctive CGM Launch in Next 12 Months
Medtronic held a one-hour Diabetes investor briefing during ADA, covering its AID and CGM pipeline for the next 24 months – download the slides here and listen to the webcast here. Overall, the Tidepool Loop news and the start of the MiniMed 780G advanced hybrid closed loop and next-gen iCGM pivotal trial were the major items of interest, even though they had been reported earlier at the ADA. The slides did bring more details on timing and product features on what seems to be a clearer Medtronic pipeline. The MiniMed 780G and non-adjunctive labeling were positioned for launch in the "next 12 months," roughly in line with the previous "FY20" window to launch in April 2019-April 2020. (Though technically, extending it to June 2020.) Both should hit that goal, as 780G has now started its three-month pivotal and non-adjunctive labeling will be filed this month. The comparator slide to Tandem's Control-IQ was very interesting, showing that the 780G will be quite a competitive product head-to-head. We found the CGM discussion was not very convincing, despite management's best efforts – Medtronic's offering in 24 months still won't match the current feature sets of Abbott and Dexcom in terms of factory calibration and 10-14 day wear – that said, the company is clearly working to improve its offerings and to move from the pump-hardware-focused company that it has been historically. Launches in the next 24 months will include a seven-day iCGM Zeus sensor with day 1 calibration only (pivotal trial started during ADA 2019; FDA submission in April-October 2020), the Synergy fully disposable seven-day iCGM sensor (FDA submission in November 2020-April 2021), Personalized Closed Loop (FDA submission in November 2020-April 2021). We found it odd not to hear Tidepool Loop mentioned a single time in prepared remarks; it only came up in Q&A. Will interoperability truly be a major focus for Medtronic? That said, there was commitment in Q&A to building an ACE pump and iCGM – from an investor perspective, these will bring faster paths to market for Medtronic's own systems, and give it ability to integrate with other systems. Note that in the slides below, "FY21" runs from April 2020-April 2021. See product details and pictures below, and get the full slide deck here.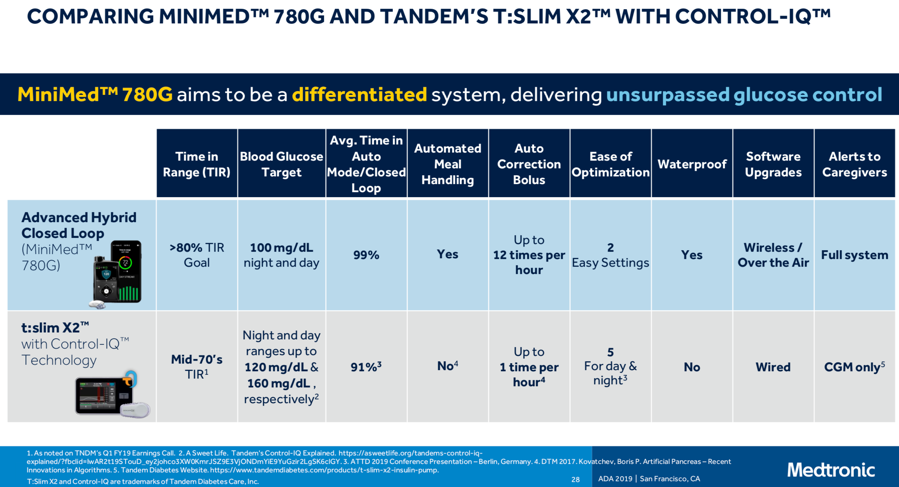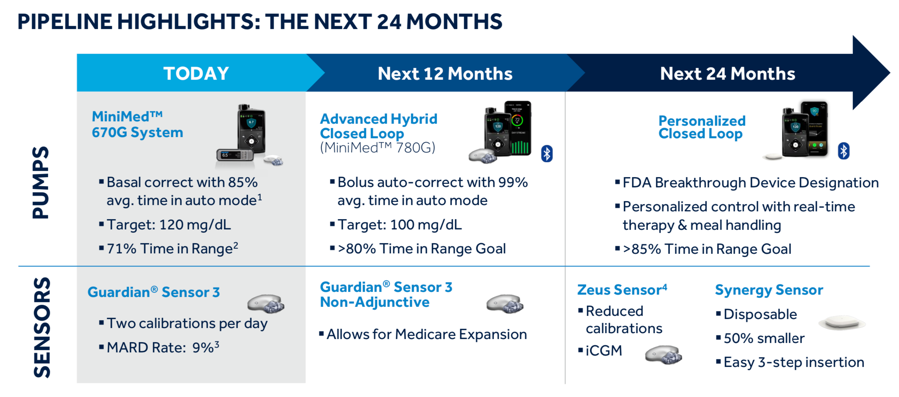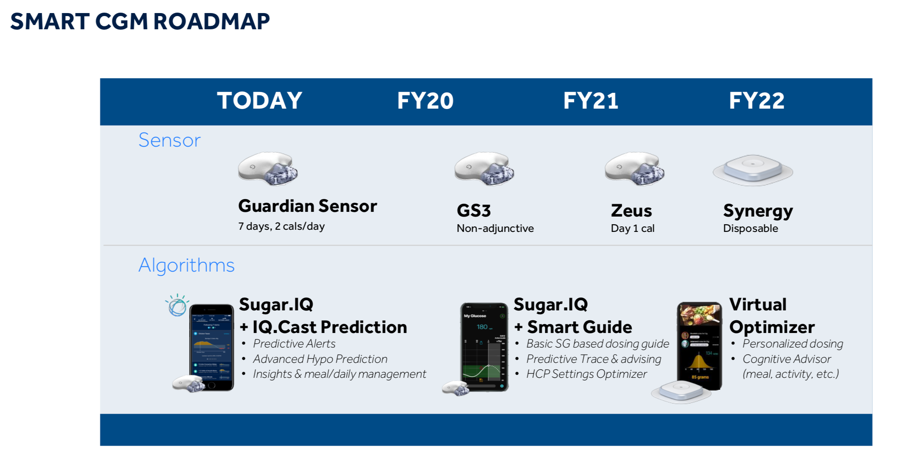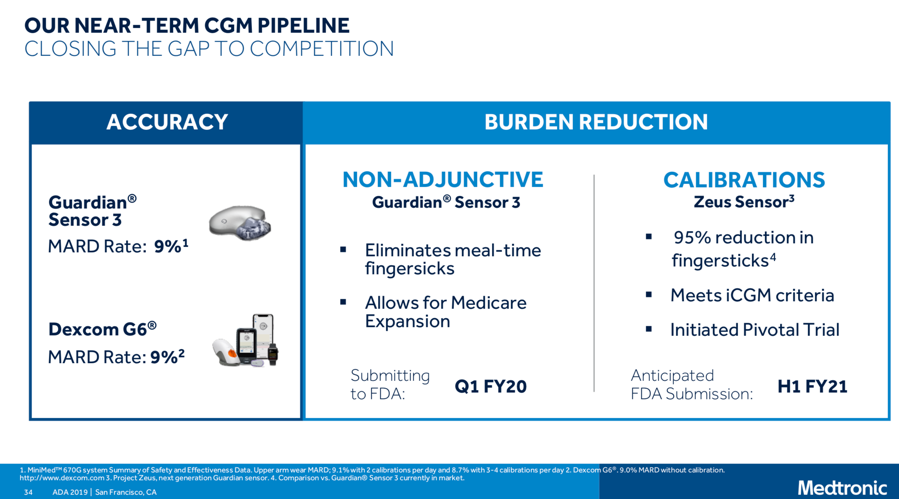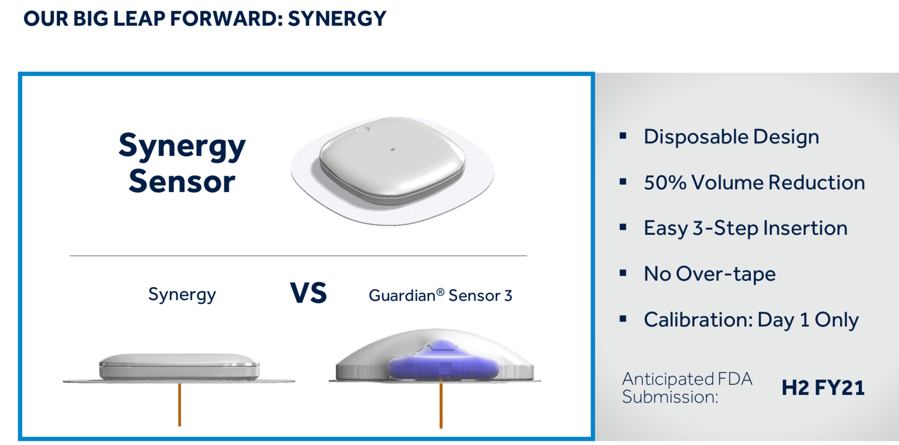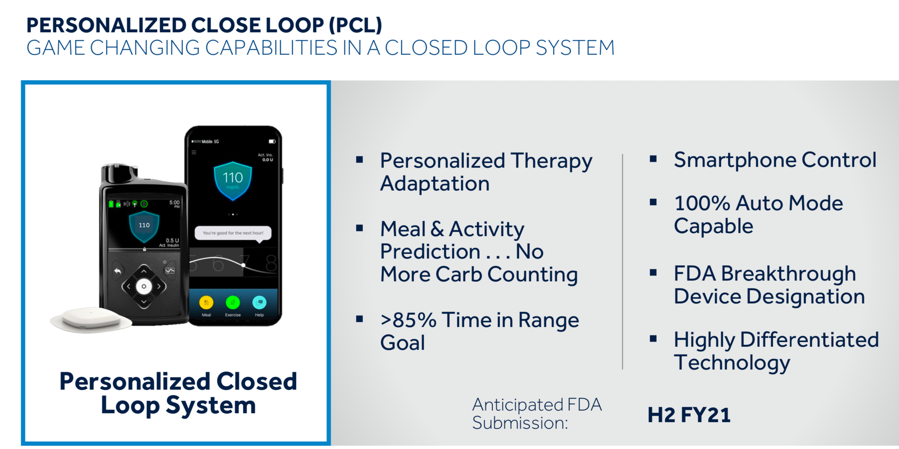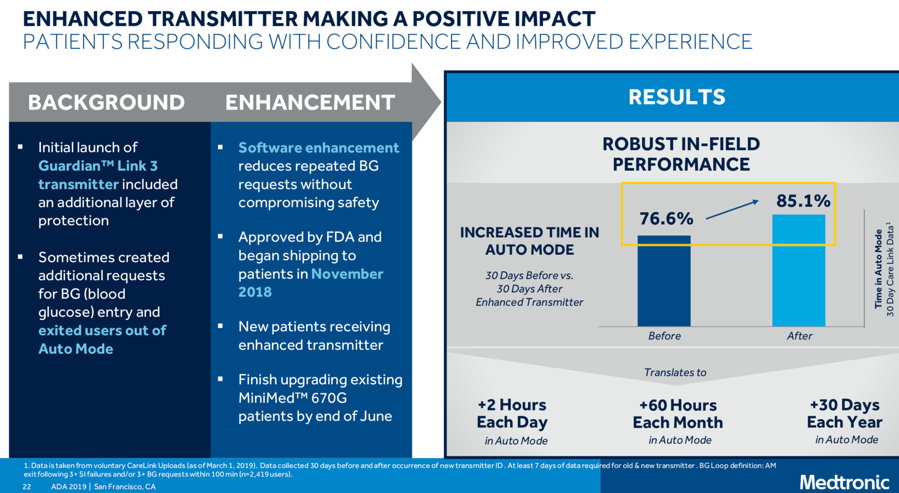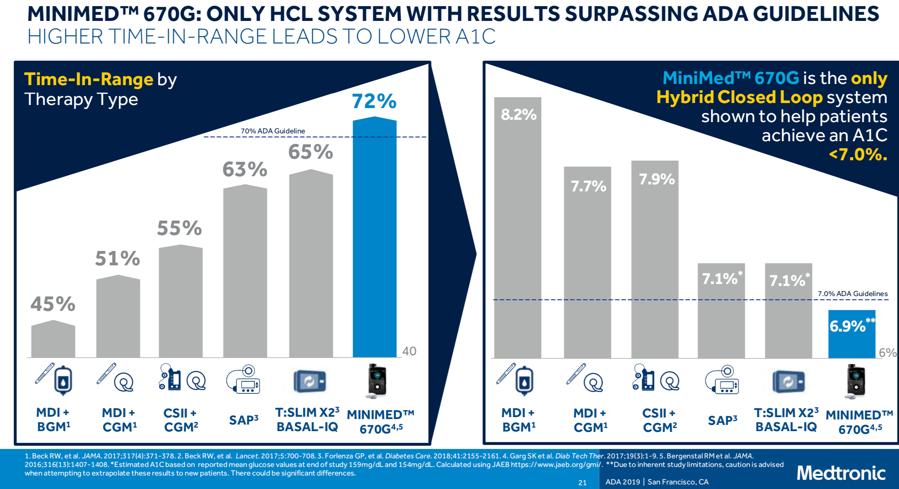 Product Theaters
Beyond Omnipod DASH – The Future of Insulin Delivery Technology (Presented by Insulet)
Trang Ly, MBBS, PhD (Insulet Corporation, Boston, MA), Gregory Forlenza, MD (Barbara Davis Center, Aurora, CO)
During an Insulet product theater, Medical Director Dr. Trang Ly highlighted real-world Omnipod outcomes data from Glooko, separated by diabetes type and age. Among the 1,427 adult Omnipod users (1042-P) who self-identified as type 2s, the average GMI (glucose management indicator; formerly "eA1c") was 7.5%, and 75% of them have A1c <8%. Said Dr. Ly, "I think most adult endocrinologists would be pretty happy having a clinic where three of four patients have an A1c under 8%." (We hope this is not the case forever as we believe behavioral and financial support alongside AID should help far more patients achieve A1c and TIR targets.) Among the 20,243 Omnipod users with type 1 diabetes (1043-P and 1357-P), mean GMI is 7.8%, and 63% have A1c <8%. Insulet intentionally plotted its users' data on the same axis as the infamous T1D Exchange Registry A1c plot. Based on a direct comparison, which has some obvious limitations (e.g., the type 1 Omnipod users not in this analysis are those who do not download), it would appear that Omnipod users may have lower A1cs (particularly in the adolescent 'hump') than the rest of the population. Dr. Ly also shared some granular data about the age of Insulet's base in this data set: 28%-30% are under 18 years old, 25% are >50 years old, and 14% of adults on Omnipod are type 2s (most are in the 50-70 age range). Before handing the podium over to Dr. Forlenza, Dr. Ly closed with an overview of the Dash portfolio: Insulet is busy filling the "thousands of pre-orders" for Dash in the just-started full market release, patients are "flying through training" for the product, Display and View secondary display apps are "coming soon," the Lilly-partnered U500 pump is under FDA review, Dash was the first pump partner of Tidepool Loop, and the Horizon AID system will launch with the option of direct phone control (only on Samsung devices at first).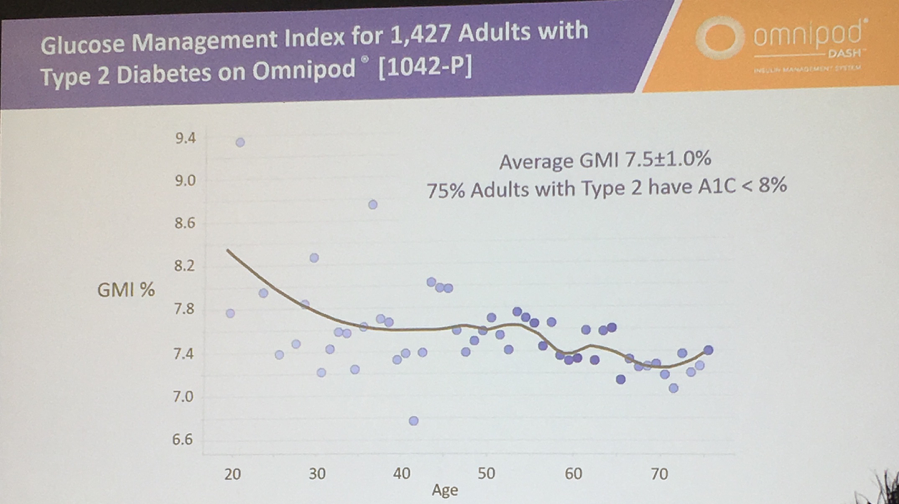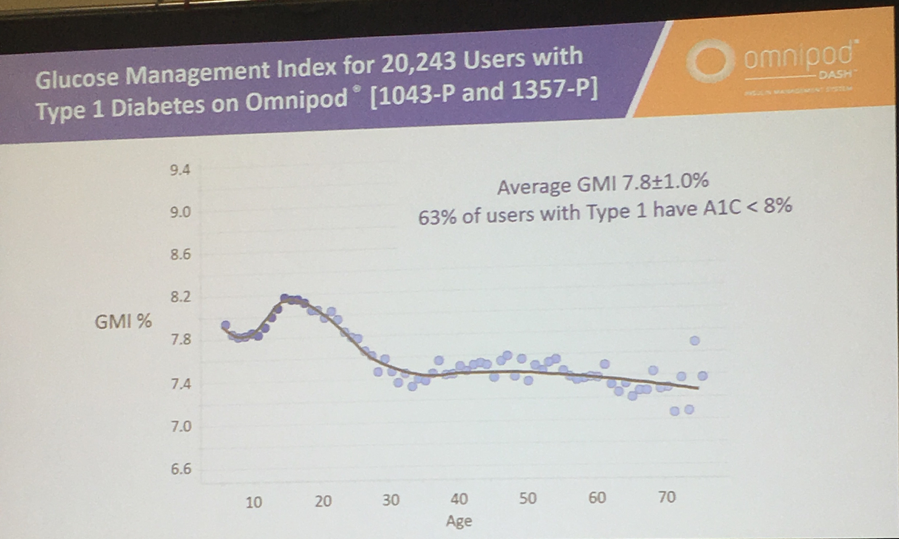 BDC's Dr. Greg Forlenza, who has been running studies and working with Insulet on Omnipod Horizon for the past four years, reviewed the body of evidence to date – see the IDE3 toddler study writeup for a tabular summary. Dr. Forlenza confirmed that the pivotal trial will take place later this year (4Q19, per Insulet's last update). Throughout the talk, his excitement regarding the system was palpable (and at times explicit). He specifically called out the system's stellar overnight control ("I can't wait to deploy this at diabetes camps"), ability to handle missed meal boluses ("Those of us that take care of adolescents and young adults, we know they're going to do this experiment in real life at least a few times a week"), and ability to handle exercise ("I get so excited about these results every time I show them. Every single patient was 0% hypoglycemia overnight").
Corporate Symposium: Patient-Driven Innovation and the Journey to Better Automated Insulin Delivery (Sponsored by Insulet)
Panel Discussion
Bruce Buckingham, MD (Stanford University, Palo Alto, CA), Daniel DeSalvo, MD (Baylor College of Medicine, Houston, TX), Ashlea Hill (Diabetes Care Center, Ruston, LA), Howard Look (Tidepool, Palo Alto, CA), and Trang Ly, MBBS, PhD (Insulet, Acton, MA)
We were treated to a fantastic panel discussion at Insulet's dinner symposium, which focused not only on Insulet's new Dash and Horizon closed loop system, but also on providing attendees with an oral history of the development of diabetes technology. See our favorite quotes below!
"Oral histories" on remote monitoring and AID
"It was at a diabetes camp where we did the first Dexcom G4 platinum study, remotely monitored participants at camp – this was before Dexcom Share. You know camp, these kids were playing capture the flag, dancing, lots of activity. The protocol was to wait until they drop to 70 mg/dl and then treat them with carbohydrate or mini-dose glucagon. It was very impactful being able to treat them in an expedited manner compared to control nights when they weren't on remote monitoring. Thanks to that study and Bruce's leadership, that's when remote monitoring came along and NightScout helped." – Dr. DeSalvo

"NightScout hadn't started yet at that time, but remote monitoring was on the back burner at Dexcom. But [Dexcom's] Andy Balo came to camp with me and put it on the front burner. We had a kid who kept dropping every 1.5 hours, he just couldn't stay up. We had to prop him up in bed and pour food down his throat. If not for that, I imagine he would've had a seizure." – Dr. Buckingham

"Closed loop studies – we've been doing it a long time and worked with everyone. Camp is a great place to study them. There are a lot of activities to stress the system – lots of lows overnight, a great way to stress system overnight. The problem is doing the study without interrupting camp activities and being disruptive. We tested UVA's DiAs system, now they've moved on to Control-IQ. But we tested the PLGS systems, now called Basal-IQ, and we were the first in the world to test the 670G system. At all these camps, we've gotten the company's engineers there. They would normally be sitting at their computers, doing algorithms, wires, things that aren't really with the people, and they have mutually learned so much by being at the camp. For each Insulet study, there's always been engineering support, and being able to interact with them has been really important." – Dr. Buckingham
On Omnipod Horizon and Dash
"When closed loop started out, one of the ways it got going was in silico modeling. Then we'd take them to camp, an in carbon model, and it turned out differently. Trang is a strong believer that you need to be testing in carbon. It was September 2016, we began doing Horizon studies: 36-hour inpatient, then 2.5-day Airbnb studies, now four-to-five-day Airbnb studies. She really has tested this system. She started with adults, then adolescents, then 7-14-year-olds, and she has moved down to age two. They've tested meal over-bolus, missed-meal bolus. One of the great things with testing is we do something, then the next round, the next week, they tweak it – "we can do this just a little bit better," and it's just moved over time. Missed-meal, really high-fat meal at bedtime where insulin needs to work for six-to-eight hours… it's a test of the system. We did exercise. Every study has at least 30 minutes of activity….Kids were in a bouncy house, bouncing off each other, off each other's Omnipods. All the kids get up in the morning and jump on the trampoline, and that doesn't even count as activity. It is real life. With this system,  importantly, you can give an extended bolus. You have 110, 120, 130, 140, 150 mg/dl setpoints. We tested mostly at 120 mg/dl. We also tested down to 110 mg/dl. You can set it at 150 mg/dl, so we tested that just to see what would happen if you left it there. It's just been amazing. There's a reverse correction you can turn on and off. It's a nice system and really looks at what someone wants to do when managing diabetes. Some systems can't give an extended bolus. The best thing about it is it is so amazing at night. It just flattens – a wonderful nice flatness – and you have great morning glucose. Now you can handle missed meal bolus. We just did the adolescent group, and we took them to Safeway to get food. They got six boxes of Pop Tarts for their bedtime snack…and turns out for their afternoon snack, and for dinner. The system handled missed meal boluses so well that a kid said, 'God, that's better than when I give a bolus!'" – Dr. Buckingham

"I have a patient on OptumRx, and they have Omnipods available for $10 for three months. It's really neat to see that available through pharmacy. Such a great product at a better price than they could get for their basal insulin." – Ms. Hill

"We started with Dash two months ago as part of the limited market release…It's been a seamless process for patients. Now that Dash is commercially available, it's so simple with pharmacy benefit. You just e-scribe through Epic for those with coverage – they go get it, and they can start within a few days of us prescribing. It's really simple for us and our flow. I'm looking forward to the cloud-to-cloud Glooko integration. Over 90% of my patients are on CGM so I can see that data before they step into the clinic, but I'm missing the insulin data. With that Glooko integration, I'll have the insulin data too." – Dr. DeSalvo

"Regionally, coverage is different in the US. It's not particularly good for the Medicaid population in California. But now we have >50% of Medicaid lives covered, which is pretty amazing." – Dr. Ly

"[Dash] Experience in type 2 diabetes? We got it for a lady for $10. We lowered her A1c and lowered her basal consumption by 30%. Weight loss, A1c, insulin – all lowered." – Ms. Hill

"Even though it's off label, we know U200 and U500 insulin is great in these devices. And same for gestational diabetes – some people are so insulin-resistant, we need to go from two- to four-unit boluses. The youngest person we have on Dash in our clinic is 15 months and the oldest we have is 87 years." – Ms. Hill
On Tidepool
"You came to me and asked me if you should do this and I told you that you were nuts. You tried to integrate all the data and there were such corporate pillars preventing that. Everyone had their own software, and I told you that you were crazy. I don't think anyone except you could've made this happen. It's amazing that Insulet has bought into this. I think we're really seeing the community that needs to be served really be served by the people that provide the services. It's heartwarming. We have a  lot of people on Loop. The staff has put 250 people on them. We're very supportive." – Dr. Buckingham to Mr. Look on the founding of Tidepool

"We're collaborating with the Jaeb Center for Health Research on a Helmsley-funded observational study of current DIY Loopers. We met with FDA early and often. They said they love real-world evidence. While the typical progression is in silico, then hospital, then Airbnb, then home trial, because all of these people are enrolling in the Jaeb study, FDA said they would support us using evidence from this study. That study started in January. We have a pre-submission meeting with FDA a week from tomorrow where we'll talk about enrollment, statistics, what we're hoping for in terms of exposure time. Kudos to FDA. We're very thankful…I believe it will cap out at ~1,000 patients, and the last time I looked at patients, we had >500 enrolled, >300 active, and growing very, very quickly." – Mr. Look
Dr. Buckingham wisdom
 "670G was the first hybrid closed loop system through, several years ago. And each one is going to get better. Sensors are getting better. We may get some interoperability where you can pick which sensor you want. Systems will all have unique features. The real move I think is to decrease the burden of the carb counting, get to the point of the full closed loop. Hybrids will be around, but the innovation will be if you didn't count carbs quite right, it'll cover you so you're not in trouble. It'll work with your activities and schedule, and more and more, things will work in the background. For some people that are real control freaks, it'll take them a while to learn to back off a bit…The closed loop system will allow people to live a much freer lifestyle. A lot of things we've done in technology have increased burden – probably not at night, but during day. It'll get to the point where burden during the day is minimal." – Dr. Buckingham
[Advice for young doctors] "I think you have to have a passion for it, and there are people that do and there are people that don't. If you are passionate, enjoy working with people, meeting with them, seeing what their needs are…You can't start a visit just looking at numbers. You need to see what's going on in their life, what they want, trying to meet their needs. A lot of times parents are watching CGM value, they see the glucose go up while the kid is at school. What I've told adolescents is, if they can get the pump data there, then they can show they've bolused. It really does complete the loop to have insulin on board on the Dash. This is an amazing time, lots of new innovations coming out – it'll be a really exciting time for type 1 diabetes. It's been around a really long time, with the treatment being a drug with a low therapeutic margin. We'll see that get lifted, and to be a part of it, to see that happen, help guide people, it's great." – Dr. Buckingham
Special Event: JDRF/NIH Closed-Loop Research Night
Reimbursement & Access
Irl Hirsch, MD (University of Washington, Seattle, WA)
In his first time attending the JDRF Closed-Loop Research Night, UW's Dr. Irl Hirsch gave attendees a sobering "reality check" – "None of the engineering matters if we don't figure out how to work in this horrible bureaucracy." Dr. Hirsch candidly discussed the day-to-day realities and enormous challenges of being an adult endocrinologist in the US – institutional incentives (RVUs) still focused on volume and seeing patients in 15-20 minutes; wasted clinic time on low-value, administrative/reimbursement tasks, which add up to ~1,500 hours per year in uncompensated clinic time (e.g., "We spent three hours a couple weeks ago getting a Medicare patient glucose test strips!); and the higher time demands that pump and CGM patients still currently require – although this will presumably change over time, it's a major issue currently (Hirsch et al., Endocrine Practice 2018). "As we get ready to close the loop, we have to figure out how to get it through our dysfunctional system." Unfortunately, HCP trends are also going in the wrong direction - the clinical endocrinology workforce is seeing a decline in fellows ("We cannot fill our positions"), when it needs to see an increase just to keep up with diabetes demand (Vigersky et al., J Clin Endocriol Metab 2014). In Dr. Hirsch's experience, many young endos have decided to stop caring for type 1 diabetes (too many bureaucratic challenges), and many med school grads (median debt: ~$200,000) are going into other fields – "even general internists now make more money than endos." This was an extremely concerning talk that begs a lot of questions for the field: Can products be truly time saving for HCPs, including seamless, low hassle reimbursement? Who will fill in the gaps in diabetes care and education? Will companies take on more direct patient care? Can pumps/CGMs scale with a dwindling endocrinology workforce?
"We need to quantify the problem better." How may endos stop seeing type 1s? How many never see them? How many endos stop seeing Medicare patients? ("Most of them do.") How many refuse to look at device download data, or even passive downloads on a phone app because they don't have time? "Typical return visits in templates have moved from 20 minutes to 15 minutes, using an EMR requiring 25-30 minutes of information to be entered!" Presumably this is possible to change but there are lots of complaints about EMRs and how the companies are not necessarily responsive, given the "stickiness" of the EMRs (once a system is chosen, a hospital is unlikely to move away from the system, as we understand it).

Dr. Hirsch noted the new 2019 CPT codes for remote patient monitoring and digital medicine, but they are "not sufficient" in his experience. He also noted slower progress on value-based healthcare; most academic institutions (his included) still make more money if HCPs see more patients per unit of time – rather than delivering higher quality care across fewer patients. Quality metrics are still based on A1c, yearly labs, and eye exams, without attention paid to other critical aspects of the patient experience. We'd love to see all patients using at least intermittent CGM once a year in order to help assess whether they are on the right therapy.

"One patient I saw last week was a 62-year-old lawyer with type 1 diabetes for five years. He was going through a divorce and had severe hypoglycemia hiking up Mt. Ranier. He wanted to talk about going on Jardiance. This is my life." With only a handful of minutes to get through the visit, fill in the EMR, and get on to the next patient, how much could Dr. Hirsch do? (And, we think it's reasonable that this type 1 is curious about cardio-protective therapies even if there is no data in type 1 at this stage.)  
Overview of Advances in the Field in the Past Year
John Lum (Jaeb Center for Health Research, Tampa, FL)
Jaeb Center's John Lum kicked off the JDRF/NIH Closed Loop Night with an overview of the most exciting developments in the field over the past year. Mr. Lum started with a look at the rapid changes in the regulatory landscape, noting the shift towards more device interoperability –Dexcom G6's iCGM designation, Tandem's ACE pump, and companies like Insulet, Dexcom, and Medtronic all partnering to integrate with Tidepool Loop. Even as options grow, Mr. Lum pressed  for continued innovation and academic research (e.g., smarter algorithms, covering meals, fault detection, and additional sensor signals). The second theme of the past year was bigger, longer-duration closed loop trials. He pointed to large-scale studies like the multi-protocol International Diabetes Closed Loop study (protocol 3, testing Tandem/Dexcom's Control-IQ, reported earlier in the day to great enthusiasm), DAN05 (to test Cambridge's commercial system), and FLAIR (testing the MiniMed 780G vs. 670G; separate from Medtronic's just-started 780G pivotal trial). Last, Mr. Lum touched on the growing importance of usability: As one example, he pointed to the dramatic difference in closed-loop system use between Control-IQ running on a phone vs. the embedded in the Tandem-t:slim X2 pump: 70% for phone-based vs. 92% for embedded (a point we first heard from Dr. Boris Kovatchev at ATTD). Mr. Lum praised Control-IQ's results, which stemmed from a simpler closed-loop algorithm experience (e.g., no modes to juggle) and the Dexcom G6's great usability (no fingersticks). As more systems start to appear, he encouraged device manufacturers to think about usability early and often.
Real World Aspects of Devices
Kellee Miller, PhD (Jaeb Center for Health Research, Tampa, FL)
Dr. Kellee Miller showed some sobering data on racial and socio-economic disparities in CGM and pump adoption in the US T1D Exchange, building on the new data published in DT&T in February. For children from families with income ≤$50,000, 71% of black children, 56% of Hispanic children, and 40% of white (non-Hispanic) children used neither CGM nor insulin pumps. In contrast, for children from families with income ≥$100,000, 35% of black children, 18% of Hispanic children, and 19% of white, non-Hispanic children were on neither CGM nor pumps. This racial disparity was seen more in CGM use than insulin pump use. CGM adoption for black children was about one-third of the rate for white (non-Hispanic) children for those making ≤$50,000 a year vs. those making ≥$100,000 a year. Dr. Miller emphasized that closing racial and socioeconomic disparities in diabetes technology adoption will be a critical next frontier. Of course in the "real world" (non-T1D Exchange), we imagine disparities are even worse.
Reviewing the DT&T data, Dr. Miller noted rapidly increasing CGM adoption in both children and adults in the T1D Exchange, with overall CGM penetration in the Exchange up to 30% in 2016-2018, a four-fold rise from 7% in 2010-2012. Over that time, CGM use rose more than ten-fold in children <12 years old – from 4% to 51%! The same trend was seen in the DPV Registry (Germany and Austria) in children with type 1 diabetes. We imagine the slope the trend has increased more rapidly in 2018-2019, given the availability of two no-calibration systems in the US (G6 and FreeStyle Libre). We'd love to see percentages mirror this outside the T1D Exchange.
Patient and Healthcare Provider Education and Engagement
Laurel Messer (Barbara Davis Center, Aurora, CO)
Barbara Davis Center's Laurel Messer discussed the importance of usability as a driver of clinician and patient adoption of diabetes technology. While these new devices may improve glycemic outcomes, she emphasized that they must also improve patient-reported outcomes (PROs) – tech that isn't used cannot increase time-in-range! She pointed to a 30%-40% discontinuation rate for the MiniMed 670G in some studies, including experience at BDC, a study from Stanford at this ADA, and a Boston Children's Hospital study presented at ENDO 2019. Ms. Messer showed a slide of a "tech acceptance model," emphasizing that usefulness (improved glycemic outcomes) and ease of use are requirements for intention to use – which then flows into actual use. Sometimes, ease of use and usefulness go hand-in-hand. Ms. Messer used CGM as an example: as accuracy improved (useful), they obtained non-adjunctive labeling and no longer needed calibrations, both of which made the devices easier to use. For clinicians, Ms. Messer emphasized the need to eagerly engage with technology. Surveys suggest that clinicians are more likely to have positive attitudes towards technology if they are younger and more educated. She discussed the need for a better educational infrastructure for clinicians, especially as more variations and options for devices come to market. Ms. Messer proposed the development of new paradigms to educate clinicians on different classes of devices and their advantages and disadvantages – but without needing to know all the details of a particular device.
Panel Discussion
Roy Beck, MD, PhD (Jaeb Center for Health Research, Tampa, FL), B. Wayne Bequette, PhD (RPI, Troy, NY), Ed Nykaza, PhD (Tidepool, Palo Alto, CA), Claudia Graham, PhD (Former SVP, Dexcom, San Diego, CA), Laurel Messer, RN, MPH, CCRP, CDE (Barbara Davis Center, Aurora, CO), Irl Hirsch, MD (University of Washington, Seattle, WA)
Dr. Beck: Ed, can you talk a bit about Tidepool's Big Data project? What are the objectives and what do you want to see in the future?
Dr. Nykaza: Tidepool launched the Big Data Donation Project in 2017, giving users a chance to donate their data to research. We have several data partners, and right now we have 10,000 data donors, including 2,500 clean data sets with at least 30 days of clean data, a variety of ages, and open and closed loop data. JDRF has been a key supporter, and as of July, eight research groups will get a large number of data sets from us to see what they can find in that data.
Dr. Beck: We heard Irl's perspective on the provider challenges. Claudia, what about from a reimbursement perspective?
Dr. Graham: I'm so glad I just got a preview of next January's rant. What you talked about is very serious – especially reimbursement for cognitive services. For device reimbursement, there are three pieces: coverage, coding, and payment. Coverage: is a payer going to cover that product? Coding, is there a code to describe that product? Payment is where the headache is. Today's world of CGM and pump is coded, covered, and paid for. It is lousy, however, and it is done in a hodgepodge way. We have a cludgy, horrible system, and we have to think about the outcomes. Sitting through all these presentations about time-in-range, I was thinking – payers don't give one iota about time-in-range. They care about A1c. We're starting to see small incremental benefit in A1c. But is that improvement going to be better than a smart pen and CGM? Is a $10,000 delta going to be worth it? As we talk about time-in-range, we need to be making the link to A1c. We have to quantify it in economic terms, and speak in the language they understand.
My mom is 93. She called me and asked, "What are you doing in SF. Aren't you retired?" I told her: "I've been asked to talk on a panel about the artificial pancreas." She said, "You've been talking about the artificial pancreas for 20 years." [Laughter] The good news is my mother is really with it. The bad news is that she totally busted us. I'm happy to see we have made more progress now than ever. But we have to figure out – if this product is worth it, we must demonstrate it consistently with outcomes that will move the needle with payers. That's going to be our biggest challenge.
Dr. Beck: Usability is important – one theme from today is that simpler is often better. I loved Wayne's analogy to the car radio. Why, now, is CGM really taking off? Burden vs. benefit. For some people back in, say 2008, the benefit was greater, but not for most people. We see the same thing for some people with the 670G. I think when CGM first came out, there were just false expectations. We've seen the uptake in CGM recently because the benefit has now overtaken the burden for most people. Wayne, you talked about simplicity, and it's true of electronics in general. When you showed us that slide of all these inputs (into a closed loop algorithm), how does that go with the idea of simplicity and usability?
Dr. Bequette: That's the dichotomy for me as an engineer. I want as many degrees of freedom as possible, but it adds complexity to the problem. Ultimately, it depends on who the individual is and what their desires and expectations are. On one hand, I want the simplest possible thing. On the other, I want to use all these additional sensors and data to tell me when someone's eating or exercising or doing other things.
Dr. Beck: A question about the endocrinology shortage. More endocrinologists is probably not going to happen. Can these systems be simplified enough that they can be prescribed outside of endo? Laurel hit on educators; it doesn't sound to me like endocrinologists are going to be the answer.
Dr. Hirsch: Even endos in practice try to minimize their type 1 diabetes burden. Endos have training, and most of them have some infrastructure and access to educators with some expertise. Once you get out into primary care, there may not be any expertise. I have a friend who is a family practice physician in Fairbanks, Alaska. He has three daughters with type 1 diabetes. In Fairbanks, he is the diabetes expert. He is four years ahead of me, and we went to the same high school. It's the same issue – he doesn't have the educators. There isn't an endo in Fairbanks Alaska.
Dr. Beck: Maybe there are aspects of this that can be done remotely. We're doing a CGM study where we're remotely starting CGM in areas where the people with type 1 don't see an endo. An educator is involved, and it's all done remotely via Skype. But that's more of a challenge when talking about a pump.
Dr. Paul Wadwa (Barbara Davis Center): We've developed a program over the last few years, where we're now seeing patients through telemedicine. There's a couple things we need to see in order to grow that. Reimbursement is state dependent. In Colorado and Wyoming, people are spread out and they realize they need for telemedicine reimbursement. Other states – not so much. I think we need federal level policy. The other thing is getting the data to be seamless. Is it just seeing patients differently, or do we need to see providers differently, so that we don't need a provider out in Fairbanks, Alaska?
Ms. Messer: I think there are 100 ways to fix this. We have a resource of experts who think you just can't reimburse telemedicine. What we're doing is specialized enough, but it's not just being an endocrinologist that gives the expertise to work with people with diabetes and diabetes technology. We are underutilizing a specialized workforce – diabetes educators – that can be trained up to handle technology and should be a reimbursable professional consult via telemedicine and in person. Seeing patients over telemedicine requires a different skillset. We need to reimburse that. As technology becomes more sophisticated, we'll need to completely remodel the system.
Dr. Hirsch: If the provider in Fairbanks wants to learn to be an expert in type 1 diabetes, that's the portal from the patient to the physicians. Until we make it so that there's more reimbursement for the provider, we won't have any providers interested in diabetes.
Dr. Yogish Kudva (Mayo Clinic): Irl, what are your thoughts on educating at a distance and using digital medicine and reimbursement? What about endo visits at a distance with Skype?
Dr. Hirsch: Kaiser a couple years ago, thought that by 2020, 50% of their E&M visits would be on telemedicine. They got that wrong. Even though there have been incremental improvements in telemedicine, we're not even close to where we'd like to be. The only way I can get reimbursed is by me having face-to-face contact with something. I can get a little credit for e-consults, but I think for most of what I do, I don't need to see the patient in person. If I have a FaceTime or Skype, I can be much more efficient and have more impact and see much more patients. At Microsoft, they have a very mature telemedicine situation. If you get sick, you do the whole thing online. I don't know why we all can't be doing that.
Dr. Kudva: So many of these new initiatives just take time to move to the next level – like digital health at an institutional level. Like Kaiser, at Mayo Clinic we thought about, but it's gone slow. Now with the maturation of devices and tech, we should push it forward. In terms of assessing individuals, in the fellows you've surveyed, perhaps they might do the virtual visits better?
Dr. Hirsch: We haven't done anything formally. Most of these people are passionate when they come, but we need to catch them long before fellowship. The awkward thing to discuss is the quality of fellows are not the same as they were 20 years ago. At our institution, we have research positions paid by NIH. We cannot fill them. Our entire institution has turned into a clinical institution. The quality of fellows is at the point where – if they have a heartbeat, they are eligible. [Laughter]
Dr. Kudva: On the more optimistic side, if we could survey those endo fellows, perhaps we could get more insight – and do something more about that 2014 JCEM paper.
Dr Hirsch: When they interview for a private practice job, they are told they have 15 minutes with patients – they simply cannot do their job. It's the system, and we cannot change the system by dealing with the fellows.
Yogish: Ok, give me a break Irl. We'll do it.
Dr. Hirsch: We'll get 'em.
Q: We're talking about expanding the provider side. Is it fine to expand the number of players getting into the team of diabetes care – e.g., technology specialists, since physicians have no time? CDEs are lacking in technology knowledge sometimes, and more technology will probably require more expertise. Can something like this be done or is it too early? Is it possible to change the landscape so that clinicians and CDEs and nutritionists won't need to provide technology support?
Dr. Beck: It's an excellent idea, but a lot of it comes back to reimbursement. Some people are already trying to do that for remotely starting CGM, like with the Geek Squad (funded by the Helmsley Charitable Trust). But we need to see how that gets paid for.
Brandon Arbiter: As we've gone from 670G to the upcoming Control-IQ, are you optimistic that we're getting to an inflection point – from more provider time to less provider time? Do you think Control-IQ requires less time? If so, will that trend continue?
Ms. Laurel Messer: I worked with the 670G for years, and for Control-IQ for a year. Sure, there are some things that make one device potentially easier. But when you think about it, the device landscape is getting bigger – meaning you are managing more landscape. The usability piece for user is drastically different. But for an HCP managing a much larger landscape, there is more inability to differentiate 670G from PLGS from Tidepool Loop. So we're solving one problem and creating another. Standardization of nomenclature, standardization of reports will help, instead of device by device. But HCPs don't have the tools. We need to create tools for clinicians.
Dr. Hirsch: The gamechanger that would make it 200% easier for every clinician? Upload directly into the EMR. Then I don't have to do all the crazy stuff I have to do now. That is killing us, as the NYT article today put – and the NEJM did a year ago. The #1 reason for physician burnout is the EMR. As tech comes through, we're making it harder – and it's turning off the provider. At BDC, Joslin, we're going to continue to do it. But the people in practice won't.
Dr. Graham: It takes a lot longer than any of us ever think. I've been at this game for 20 years. I went to MiniMed to close the loop 20 years ago. We're in rareified air here – all the early adopters in the world. We need to impact all of type 1, and we need to get to all of type 2. BGMs, when they first came out in the early 80s, you had to sit down with a nurse and spend an hour to learn BGM. They got a lot easier, but we still hear about people who don't know how to use a BGM. There are the early adopters, the innovators, the majority – it's always going to be a continuum. It's never going to be that easy to slap it on and walk away. People with type 2 may not even know what to do with the number.
Special Event: DiabetesMine D-Data Exchange
Medtronic and Dexcom Sign on to Tidepool Loop, Joining Insulet in Major Move to AID Component Interoperability via iCGM and ACE Pump!
In major automated insulin delivery (AID) and interoperability news, Howard Look announced that both Medtronic and Dexcom have become official Tidepool Loop partners. Medtronic will integrate with Tidepool Loop via an in-development Bluetooth-enabled ACE Pump and Guardian Sensor 3 iCGM (both yet to be submitted to FDA), and Dexcom will integrate via its already-available, FDA-cleared G6 iCGM. While Dexcom's participation was a near-certainty (it's already being used by many Loopers already using Insulet), Medtronic's partnership was more of a question mark, although it was clear that many in the diabetes community, broadly speaking, were waiting for this and have been encouraging Medtronic to move toward interoperability for some time – the degree to which Medtronic will invest in encouraging patients to choose this remains to be seen. In the best case, this represents a welcome, strategic embrace of interoperability and patient choice as key innovation drivers by Medtronic, who has previously discouraged interoperability. Medtronic sent out a corporate press release sharing this news that indicates at least some public commitment to the program. Dexcom has long emphasized interoperability and data partnerships as a core strategy, and Tidepool's blog posted on both partnerships – here and here. Medtronic and Dexcom join Tidepool Loop's first partner, Insulet's Omnipod (November 2018), leaving Tandem, Abbott, and Senseonics as US players not yet on board. Indeed, all three could join at some point – Tandem obtained the ACE Pump indication in February, FreeStyle Libre 2 is under FDA review as an iCGM, and Senseonics has plans to submit for iCGM designation. The Loop momentum has been fast: Tidepool announced plans to make a commercial, FDA-regulated version of the DIY Loop app in October – compatible with multiple, in-warranty, Bluetooth-enabled devices, available via the iOS App Store, and eliminating the RileyLink – and eight months later there are now three major players on board. Certainly the new FDA pathways (iCGM, ACE Pump) have been major enablers here. Of note, Dexcom, Insulet, and Medtronic have their own in-house/partnered AID efforts, and integration with Tidepool Loop will be meaningfully additive to those efforts. Tidepool continues to work on an iController de novo algorithm submission to FDA, the third critical component of the mix-and-match AID ecosystem. In his D-Data talk, FDA's Dr. Alain Silk (see below) suggested potential to make the AID controller class II, 510(k)-regulated software with special controls – bringing the whole closed-loop category down from its current class III PMA level, regulating the components separately, and allowing them to be stitched together and updated quickly. This would be exciting, once safety is ensured. The DIY Loop observational study remains underway; we're not sure when that data will be submitted to the FDA to support approval of Tidepool Loop. If we had to guess, an initial launch of Tidepool Loop with the G6 iCGM seems possible later in 2020, though that is complete speculation and depends on regulatory progress and ACE Pump clearances for Insulet and/or Medtronic.
Medtronic could not share specific timing on when its ACE Pump or iCGM designations will be filed, but did confirm these submissions will be separate from its planned Bluetooth-enabled MiniMed 780G advanced hybrid closed loop (expected launch by April 2020). Medtronic has not given iCGM FDA submission timing of late, but we assume it will come after the non-adjunctive FDA filing expected soon. We wonder if Medtronic would choose to make a no-screen tubed pump for the Tidepool Loop app, which could reduce the pump's size and cost. 

Tidepool characterized the response to this news as "overwhelmingly positive" across social media and via email, with many happy messages and many "when is Tandem joining?" questions. Tandem is certainly the next obvious candidate to join Tidepool Loop, given its status as an ACE Pump with built-in Bluetooth. We assume it is a matter or internal resources and getting the business relationship in place; perhaps Dexcom joining will accelerate Tandem – overall, we see this as a "when" not "if".

We estimate over 2,500 people are using the DIY Loop iPhone app globally, up from Tidepool's October estimate of 1,000-1,500. The recent addition of DIY Loop compatibility with Omnipod offers in-warranty Insulet pump users (non-Dash) the ability to Loop, dramatically expanding the funnel beyond old Medtronic pump users. As we understand it, there were already nearly 2,000 users using old Medtronic pumps alone, and nearly 1,500 additional orders have already gone out since the Omnipod compatibility emerged, with new orders coming in at a fast pace. The Loop study has ~550 participants actively sharing Loop data, with over 100 more who have enrolled in the study and have ordered a RileyLink but have not actually started to Loop yet. Jaeb/Tidepool are very near the recruitment goals now, and a week ago restricted new enrollment to only those individuals who are new Loopers and are 18 years old or younger. About 80% of the cohort of new Loopers in the study are using an Omnipod.

Kelly has (n=1) been using Omnipod Loop for about six weeks and loves it ("I love reviewing my carb estimates – it shows me when I've estimated 15 carbs and I've actually absorbed twice as many carbs …") although she does acknowledge she didn't set it up; fellow type 1s Amy Tenderich and Cherise Shockley have also expressed enthusiasm for Omnipod Loop and also some growing pains for at least some Omnipod Loopers, as would be expected in the early days.

Bringing the Tidepool story full circle, this also means Tidepool Loop users will be able to use a Medtronic pump (if all goes as planned) and Dexcom CGM to automate insulin delivery from an iPhone. (Or any other such iCGM/ACE Pump combination, once the components have received the interoperable clearances, the companies have the business terms in place, and labels have been updated.) Those who have followed Tidepool's story will remember that combining Medtronic pump and Dexcom CGM data was a major motivation that prompted the initial diabetes data hub; now, these two competitors' devices will be combinable in a single AID system! 

Tidepool confirmed with us that Loop will need a prescription. All CGM currently needs a prescription – we hope to see progress and change here since this isn't the case throughout Europe. Other questions on our mind: When will data be submitted to FDA from the ongoing Jaeb/Tidepool observational study? When will Tidepool Loop obtain FDA clearance/approval – and will it be under a new category of device? Will users be able to modify Tidepool Loop's glycemic target (and within what bounds)? Will Tandem and Abbott and Senseonics integrate with Tidepool Loop? How will Tidepool support customer service and training? What will Loop's business model look like? How will users weigh the pros/cons of component AID with Tidepool Loop (mix-and-match companies' devices) vs. traditional AID (e.g., Medtronic's MiniMed 670G/780G, Tandem's Control-IQ, Insulet Horizon).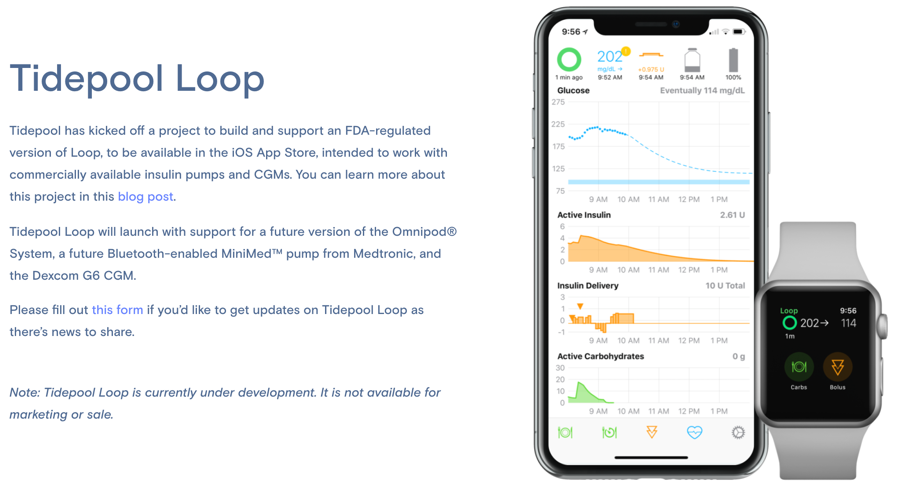 FDA Diabetes Innovation Update
Alain Silk, PhD (FDA, Silver Spring, MD)
FDA's Dr. Alain Silk (Acting Branch Chief, Diabetes Diagnostic Devices) provided a valuable, thoughtful Agency update on two key topics at DiabetesMine's D-Data Exchange: (i) streamlining automated insulin delivery regulation via new regulatory frameworks (iCGM, ACE Pump, a potential iController/iAlgorithm pathway); and (ii) optimizing interaction between device companies and the FDA (fantastic recommendations and a reminder of how hard FDA's job is). In line with FDA talks over the past year (ATTD 2019, JDRF/HCT Interoperability Meeting, ADA 2018), the focus was on enabling devices to come to market faster, reducing wasted effort, enabling faster AID component updates and innovation, and propelling more patient choice.
Dr. Silk emphasized the regulatory advantages of the new interoperable iCGM and ACE Pump device frameworks, contrasting them with the previous class III PMA world. As we've heard from Dr. Lias, the class III path for AID (first graphic in the slide below) carried a "heavy regulatory burden," evaluating the complete "system" and making it hard to update individual components – especially when different manufacturers were involved. Updating a CGM in the old framework, for instance, required three separate PMA submissions, creating a lot of work (for both FDA and companies) and time delays. The entry barrier for small companies was also high in the PMA model, and FDA was seeing "too much regulatory and contractual burden" as far back as the MiniMed 530G. "We don't want manufacturers spending time on things that don't add value. [At FDA] we also have limited resources, and we wanted more efficient ways to deal with this." The graphic below shows how much better the iCGM path alone is in this model, reducing three PMA submissions down to one 510(k)! (The relevant real-world example here is when Dexcom moved from G4 to G5 (one PMA), followed by Animas and Tandem updating their G4-integrated pumps to add G5 (two more PMAs).)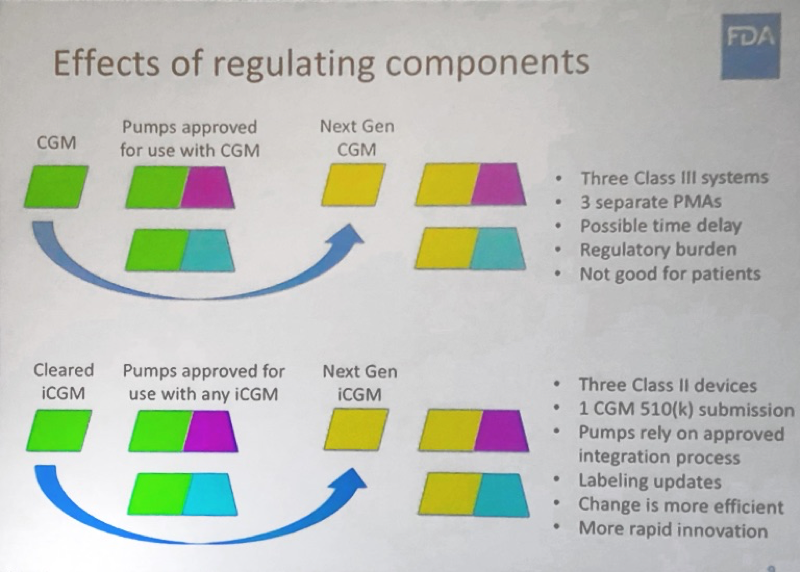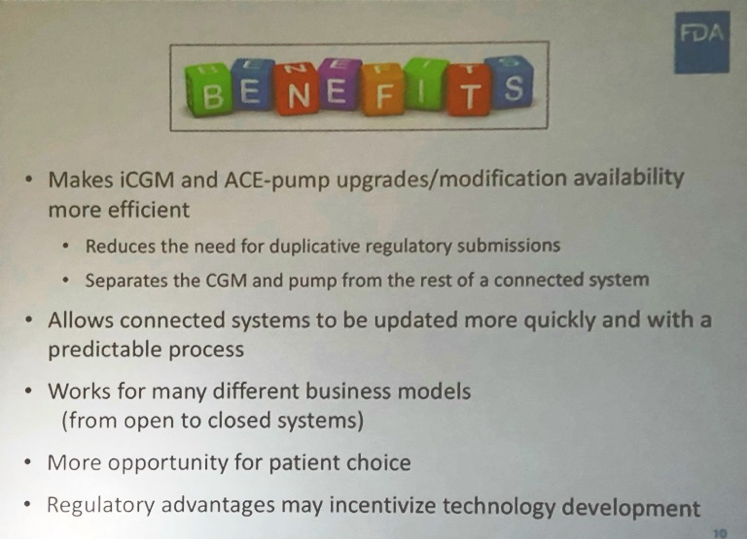 Dr. Silk used a new analogy – a men's suit – to illustrate the difference between system vs. component regulation and the necessary pre-defined integration plans. There is flexibility in combining different suit components (e.g., jacket, pants, shoes), as long as rules are laid out and followed in terms of how the components can be combined. For instance, to match with these pants, a suit jacket has to be blue or black and it cannot have elbow stripes, and the shoes must be black, etc. In this framework, only compatible components that meet certain pre-defined criteria can be mixed-and-matched into a complete suit. Component-based regulation also requires clearly defined separation of responsibilities. When different companies are involved in an interoperable system (e.g., Dexcom, Tandem), there must be processes in place when someone calls with a problem about the system. "If someone calls with a complaint about the outfit, and you are the pants maker, is it that the pants are baggy? Is the jacket cut too high?" We thought this analogy worked really well, illustrating that business relationships and clearly defined integration plans will be critical in the interoperable AID world – it won't be true mix-and-match. Still, the regulatory and product innovation advantages are going to be huge, and we imagine most pump and CGM companies will move to this model over time (given the speed and component-update advantages).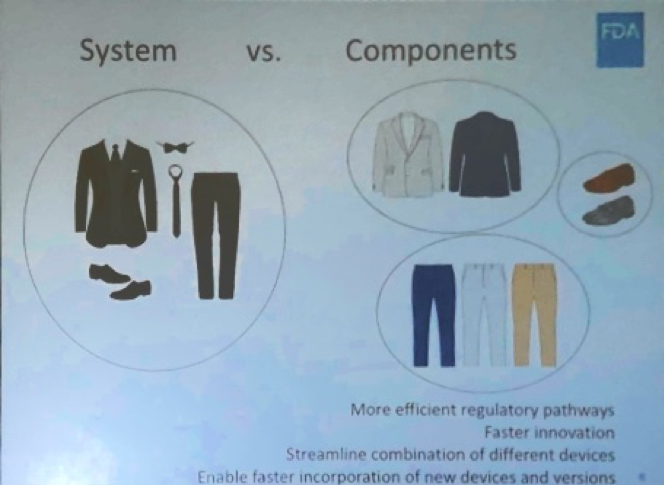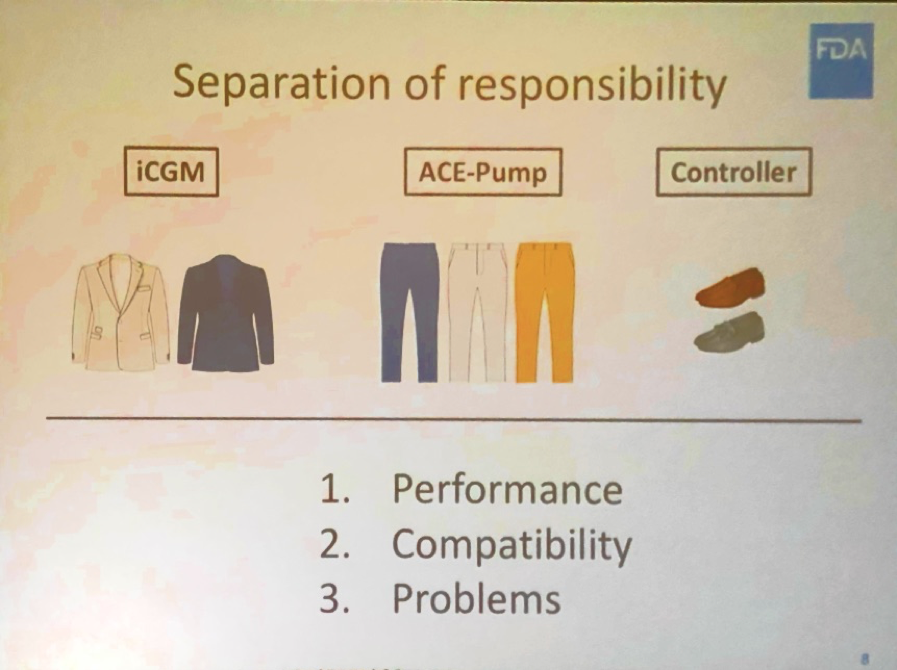 "We're 2/3 of the way there... the third part that is absent is the controller. We do think that a class II, 510(k) pathway with Special Controls may be a way to get to regulation of the software controller as a medical device. We are looking for input on this and would like to tap into your collective wisdom. Do you have thoughts on what the Special Controls would look like?" To us, an iController designation seems like a matter of when, rather than if. Who will be first? We also wonder what the Special Controls will be on a class II, 510(k)-regulated AID control algorithm – it is arguably more nuanced than iCGM accuracy benchmarks or ACE pump communication. What parameters will an algorithm have to meet? Will iControllers only be approved to work with iCGMs and ACE Pumps? Will minimum CGM accuracy be required? What algorithm parameters will have to be specified, especially if the algorithm is complicated or a learning algorithm? When will a clinical trial be required for an iController? What sort of algorithm updates would require a new trial vs. a label update/communication plan? What algorithm updates would be FDA reviewed?

We know Tidepool is working with the FDA to get Tidepool Loop classified as an iController, and we'll be interested to see if Tandem/Dexcom go this route with TypeZero's Control-IQ algorithm. An FDA submission of Control-IQ expected in the coming weeks, following pivotal data at ADA. Abbott's FreeStyle Libre 2 remains under FDA review and seems likely to be the second iCGM on the US market, assuming FDA clears it under the new category.

Dr. Silk also gave recommendations on optimizing interaction between companies and the FDA, which can also enable faster time to market.

"Raise awareness; it is good for us to know about what you're doing." Dr. Silk recommended companies take advantage of informational meetings with FDA, pointing towards the Q-submission program. "We show up at the meeting, you tell us about your product, regulatory strategy, and plans. We don't even need to meet in person; we can do it by teleconference and we can share slides. These meetings can help us help you look longer term, avoiding things that might be coming from FDA or things that you might not have thought of."

"Interact early and often." Dr. Silk urged industry to think of interactions with the FDA as part of the iterative product development process – "Build FDA interaction into that iterative process. People come and talk to us when they are at the completion point. They think they are done, but we often have more things for people to think about. If you approach us with a finalization mindset, it can be harder for you. Presenting options is something we don't get a lot of, but it can give us a suite of things you are thinking about, what you want to/don't want to do, etc."

"Share with us." In general, FDA information is confidential, including trade secrets that are provided as part of a submission. "This is critical for the work that we do, and we're surprised when people don't share things. When we don't understand what your device is, it makes it hard to give feedback. We spend a lot of time trying to figure out what people are doing. Share as much as possible."

"Know your audience. We are experts on what we do – regulation, various fields of biology, engineering, stats, and medicine. But we are not experts on your device. Help us understand from a non-expert perspective what your device is and how it works. We need detail, but we also need clarity. An executive summary can help bring us along the way. FDA is more focused on pre-market submission and total time to decision. Time burn on our end is often from getting the information we need to do our review. For example, 'How was the study even done?' If we can eliminate those things, that can lead to some big efficiencies."

"Explain the barriers and challenges you are facing, even if they are not regulatory challenges. That can help us understand why you made certain decisions. We might see a study or timeline that doesn't make sense, and we may not be clear why that is the case. That might be because the device is not available, or the study is not for regulatory but for funding purposes. Or, there is a backlog on biocompatibility testing. When we can understand those things, that can help us think more creatively and find solutions to those problems."

"Be professional. People can get defensive, refuse to provide information, or stonewall us; that is absolutely not efficient. We're going to need certain information if we're asking about it."

"Call me (maybe)." Dr. Silk concluded with the Carly Rae Jepsen song lyric and urged attendees to call/email with questions: Alain.Silk@fda.hhs.gov
Questions and Answers
Howard Look (CEO, Tidepool): We took the advice to meet early and often. I cannot emphasize enough to the room how awesome the FDA has been. We have never ever once felt like FDA was impediment. Meeting early and often has made us go faster. PreSubs are easy, and all of our pre-subs are public on Tidepool's website. If you want to see how to format and submit them; it's super easy. One thing I wanted to bring up is the difference between regulation vs. guidance – I think that is another thing that slows down industry. Guidance documents are not the law; if you have a better way, you can propose it.
Dr. Silk: I would echo that, Howard – our early and frequent interactions have been very productive. Yes, on guidance and regulation, we hear that – even in the way people talk about it. Guidance documents are what we're thinking on a topic, and the best recommendation for what to do. But every guidance has a disclaimer – in essence, you can propose a different way and we will absolutely consider that. Regulations are different – you have to meet the regulation, such as Special Controls on iCGM and ACE Pump. But there is a good amount of flexibility in how we approach things. We are willing to think about regulations too, and we don't want them to be barriers.
Q: What about MDI and interoperability for smart pens – especially for bolusing and use with CGM?
Dr. Silk: That is a good question. iCGM has potential to feed out into those devices. I have not put a lot of thought into new regulations into the connected ecosystem for pens. For devices outside of automated insulin delivery, if you think there are barriers – or if specific things are slowing you down – it would be great to hear about those.
Q: I live in London. What are your thoughts on the OUS landscape and how other countries might adopt some of FDA's thinking?
Dr. Silk: For things like the iCGM Special Controls, that might be a performance standard that some regulators might take up. I don't interface with other countries directly, but that could be something people might take on. If that inspires others, we are happy to work with them.
Q: What about collaboration between companies – what do you recommend on pre-sub meetings when different companies are involved? Or when different branches of FDA are involved?
Dr. Silk: To any presub meeting, you can invite whomever you like. If people have reimbursement related issues, you can invite payers as well. You can also invite people from any company. If there is potential to involve other groups from FDA, just give us a heads up.
Q: Does that include CDER?
Dr. Silk: Yes, absolutely.
Helmsley's "Geek Squad" Pilot Study: successfully starting 36 patients on CGM (mostly MDI users); Bigger Study Coming in 2019-2020
Sean Sullivan, PhD (Helmsley Charitable Trust, New York, NY)
Dr. Sean Sullivan presented some promising stories from a pilot study (n=36) of the "Geek Squad," a virtual, specialty clinic first focused on getting patients initiated on CGM. This partnership – between HCT, Jaeb, and Cecilia Health – was announced at JPM in January – we're very excited to see investment here, particularly given the depressed nature of the continued conversation about the shortage of endos and the quality of younger fellows, particularly those without personal connections to diabetes (see Dr. Irl Hirsch's comments from the JDRF Closed Loop meeting above). Dr. Sullivan outlined the massive need for a diabetes tech "Geek Squad," showing a blue and white map of the US (see below). The map was dominated by white, representing the vast majority of US counties that do not have a single adult or pediatric endocrinologist. Given the number of people with diabetes that get care from a primary care physician, a specialized Geek Squad could help increase adoption of diabetes technology – especially CGM. A trial run for "Geek Squad" was run in Wisconsin, with letters sent to n=36 type 1 and type 2 patients – 81% of whom were on injections, and 53% of whom had less than a bachelor's degree. About 80% of letter recipients went online and registered for the study without a follow-up phone call, demonstrating a desire for a service like "Geek Squad." From there, patients were onboarded with "Geek Squad" providing support on CGM choices (options were limited to Dexcom's G6 and Abbott's Freestyle Libre in this study), then writing the prescription, shipping the device, and also training patients on how to use the device. Over three months, "Geek Squad" made 14 check-ins with participants, helping review CGM data and provide actionable insights, along with mental health support. (This was the first study HCT/Jaeb have done to remotely onboard and support people with CGM, so the team erred on the side of too many touchpoints.) Dr. Sullivan didn't share any aggregate outcomes yet, but he did talk about individual patients, whose experiences mirror those of many starting CGM for the first time. With CGM and the help of the "Geek Squad," one patient discovered the impact salad dressing was having on her glucose; for another participant, putting peanut butter on his toast in the mornings made a huge difference. Perhaps most importantly, one participant expressed that he'd never even "had the idea of someone just focusing on me." With promising pilot results, "Geek Squad" is planning to run a bigger study with 200-300 people in 5+ states in late 2019 or early 2020. The team wants to optimize the touchpoints moving forward, giving this a better chance to scale.
Dr. Sullivan emphasized the need for a group like "Geek Squad" to demonstrate value to all stakeholders in diabetes technology. For patients, the value proposition is straightforward. With healthcare providers, especially primary care physicians, "Geek Squad" would handle the burden of prescription and initiation of CGM for patients while also improving patient outcomes. For device manufacturers, a device-agnostic group like "Geek Squad" would be able to increase sales of devices without manufacturers having to manage large clinical teams – especially in more remote areas. Continuing a theme throughout the day, the hardest player to convince might be payers, according to Dr. Sullivan. We're hopeful that a larger, lengthier "Geek Squad" study could provide the evidence. Assuming it drives outcomes and drives CGM adoption, we imagine the financial model of this could go in many directions (non-profit, philanthropy-supported, company-supported, payer-supported).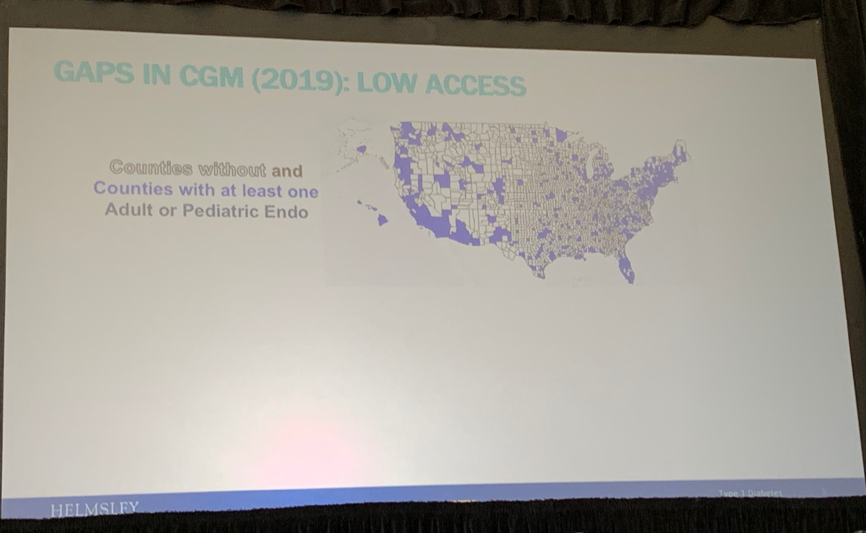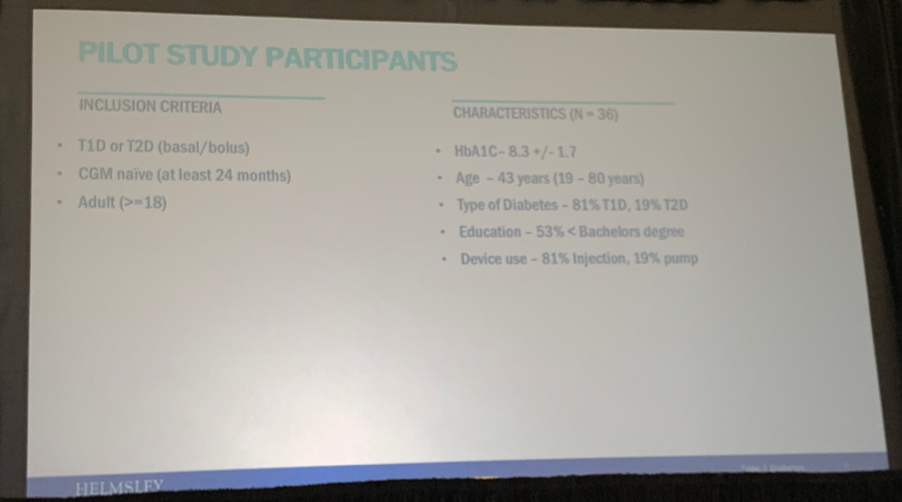 Steady Health Clinic Launches for T1D, Leveraging CGM and Modern Clinic – Convenient App, Membership Model ($59/Month)
Henrik Berggren (Steady Health, San Francisco, CA)
Also at DiabetesMine's D-Data Exchange, Henrik Berggren announced the launch of San Francisco-based Steady Health, a new full stack type 1 diabetes care provider built around CGM data, a simple app (Apple, Android) with continuous coaching, an in-person location, and a monthly membership model ($59/month). Mr. Berggren, who was first diagnosed with type 1 diabetes at age 19, explained how CGM revolutionized his experience of living with diabetes. (His post on Medium on CGMs was widely circulated in 2018). As a self-described "data nerd," Berggren immediately exported his CGM data into an Excel sheet and began recording as much information as possible. Steady Health aims to build a modern clinic leveraging digital tools to drive more continuous care with less hassle. Steady Health's website has a good description of the flow: two initial visits within the first month; an in-depth CGM data analysis every 6-12 months (the app has simple lifestyle logging and currently pulls Dexcom CGM data from Apple Health); continuous, text-based coaching to answer questions, refill prescriptions, and get labs done; and video visits as needed. Steady has in-house medical providers, taking a "full stack" continuous care approach sort of similar to Virta or the Medtronic-owned Dutch clinic Diabeter. According to its Meet the Team page, the company already has two doctors (Dr. Calvin Wu, Dr. Björn Hansell), one CDE (Aimee Jose), and two other staff, in addition to the engineering team. Mr. Berggren shared a slide on 11 patients who have used Steady Health for five months: two patients saw a time-in-range increase of >15% (i.e., >3 hours/day), three saw an increase between 5%-15%, five saw an increase of 0.1%-5%, and one patient had no change. (Baseline time-in-range was not given.) The clinic is now open in San Francisco's Financial District and currently taking consultation requests both virtually and in-site. We love the whole approach to rethink the care delivery model and are eager to learn more – What kind of outcomes can it drive? How much will satisfaction improve – among patients and in-house HCPs working with optimally designed digital tools? Mr. Berggren brings impressive experience in tech startups; his company Readmill was acquired by Dropbox in 2014.
On the pricing front, patients pay $59/month for unlimited virtual access to the care team, use of the app, and help from member guides to assist with administrative tasks related to care. Steady bills insurance companies for in-person visits, with patients paying a copay similar to their usual endo/specialty doctor. We assume the copay would be out-of-network for many, but aren't sure. The out-of-pocket price per visit is $300.

New members get (and must commit to) two visits within the first month of joining Steady: an on-boarding initial visit and a "deep dive" appointment. During the latter, the clinical team spends time analyzing CGM data in relation to lifestyle and tracking in the app (e.g., meal photos). Members then can expect at least one yearly visit. Steady will require an annual in-person visit, but members can visit the team in lieu of a regular endocrinologist.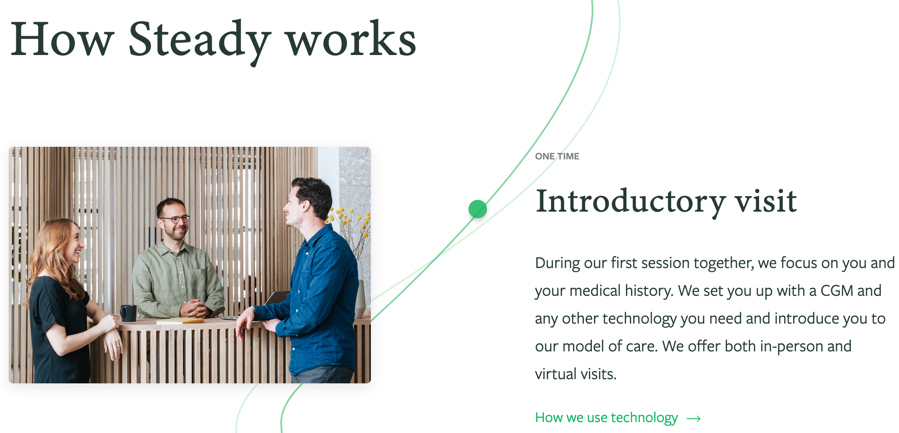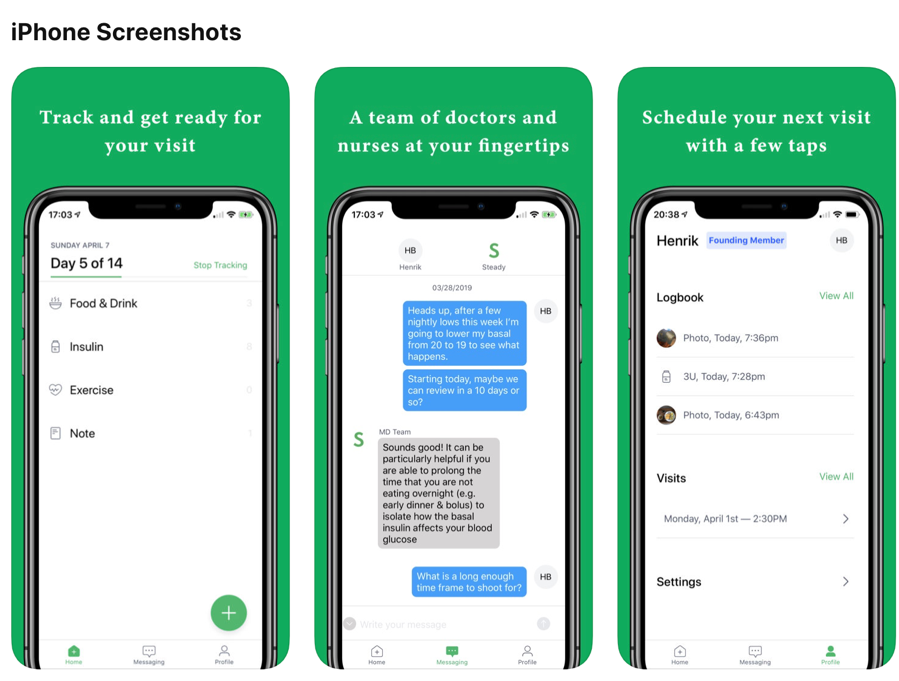 The Beyond A1c Marathon: JDRF CEO Aaron Kowalski – "We're At Mile 20" – FDA's Dr. Alain Silk, Close Concerns' Adam Brown
Adam Brown (Close Concerns, The diaTribe Foundation, Sa