"All results" in accuracy trial fall in Zone A of Clarke Error Grid; two more trials planned in Israel and the US, to be funded by just completed Series C round of $5 million
On Wednesday, Israel-based HAGAR, the developer of GWave, announced preliminary data from its clinical study with Professor Ami Navon (Weizmann Institute of Science, Israel). For background, GWave is a non-invasive glucose sensor that uses radio frequency waves to continuously measure glucose levels in blood[1]. Of particular interest with this product is potential for scalability, given expectations that pricing per day will be lower than commercially available CGMs. Following this ongoing trial, HAGAR is looking to initiate two additional clinical trials, one in Israel, and one in the US, led by the Jaeb Center's Dr. Roy Beck. HAGAR has recently closed a Series C funding round to fund these two clinical trials – the investors have not been disclosed.
HAGAR also announced news for both its scientific advisory board and manufacturing prospects yesterday. On the clinical front, HAGAR shared that Professor Moshe Phillip (Schneider Children's Hospital, Israel and co-chairman of ATTD) is joining HAGAR's advisory board as a medical advisor. We are very happy for the company on this front – so many companies historically have benefited from Professor Phillip's generosity and we are very impressed by his willingness to help the field so much. On manufacturing, HAGAR announced a partnership with a Taiwanese-based chip manufacturer that, according to HAGAR, improves the reproducibility of GWave. It's very clear the degree to which the field is looking for both the first working, easy-to-use non-invasive sensor, as well as the first of these that is continuous. It will be interesting to see which reaches the finish line and commercialization first – clearly, the business model (one-time payment less than $100 and no disposable products necessary to purchase thereafter) that HAGAR envisions is a very attractive piece of the vision from a public health perspective. 
GWave sensor accuracy in the clinical trial shows a MARD of 7.1 (n=120 measurements) and all results (glucose levels in 70-140 mg/dL range) fell in Zone A of Clarke Error Grid
HAGAR announced that an ongoing clinical study has demonstrated promising GWave accuracy data. In our separate correspondence with the company, HAGAR shared that this clinical trial included 120 measurements from 20 participants on two different GWave devices along with capillary blood as a benchmark value (n=20 with six data points each). HAGAR said that "all results" fell within the Zone A of the Clarke Error Grid Analysis, and blood glucose levels ranged from 70-140 mg/dL. HAGAR shared the Clarke Error Grid for this preliminary data analysis with the Close Concerns team – see the graph below. All results falling within Zone A is an encouraging preliminary result, and HAGAR also shared that the overall MARD was 7.1 (across 120 measurements for two GWave devices). Of note, HAGAR compared GWave measurements to capillary blood glucose levels rather than in-clinic YSI measurements in this accuracy analysis. Recall that at ATTD 2022, Dr. Hirsch presented accuracy data (n=5 with 45 data points each) demonstrating that 96% of readings were in Zone A compared to venous glucose measurements. This pilot trial (NCT04658082) was completed in May 2022, per Clinicaltrials.gov. At ATTD 2022, Dr. Hirsch also shared that data from the first nine participants enrolled in HAGAR's larger GWave trial (which we presume is the trial HAGAR is referring to in today's press release) followed a similar pattern to the company's initial trial, with 89% of capillary glucose comparators falling in Zone A and 100% of venous glucose comparators falling within Zone A on the Clarke error grid. As of April 2022, GWave had been assessed in 53 people with 97% of values in Zone A compared to BGM and 96% of values on Zone A compared to venous blood glucose.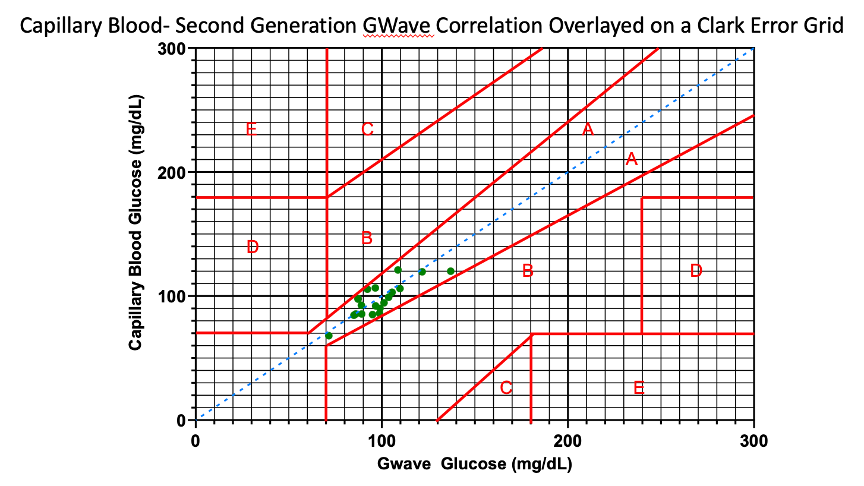 In the press announcement, HAGAR noted that the ongoing accuracy study will focus on continued data collection at higher blood glucose levels. A HAGAR representative also said that the company plans to double the number of measurements in this trial (currently n=120 measurements) over "the next few months." It is not yet known if this accuracy trial will include glucose manipulation to prove accuracy during hypoglycemia as well as hyperglycemia. HAGAR highlighted that this clinical trial is part of the company's ongoing efforts to demonstrate how GWave can help people manage their health and reduce the risk of long-term complications. While traditionally, showing reduced long term complication risk requires monitoring of outcomes such as heart disease and kidney disease, which can be quite time consuming, we look forward to learning if the company has other ideas for demonstrating long-term value associated with this novel technology. 
Two additional clinical trials to be initiated in US and Israel, following Series C funding of $5 million
Notably, HAGAR announced that it plans to conduct two additional studies:
One at Schneider Children's Medical Center of Israel, which we presume will be led in part by Prof. Phillip, as he has now joined the advisory board, and
A second trial led by Dr. Roy Beck, Founder and Director of the Jaeb Center for Health Research in Tampa, Florida.
To fund these upcoming studies in Israel and the US, HAGAR has completed a Series C funding round following its $11.7 million Series B in August 2021. To deconstruct the funding, so far:
HAGAR said that it has raised $22 million to date, including the current Series C funding round;

HAGAR'

s Series B press release indicat

es that the company had raised $17.1 million to date, at that time - $11.7 million Series B, $4.4 million Series A, $0.9 million in seed funding;

HAGAR's Series C funding round totals $5 million, by our calculations.
HAGAR said in its final form, they plan to integrate GWave's technology into a smartwatch, which the company said will add to its accessibility and affordability for patients worldwide. No details were available about how a smartwatch-based sensor would be priced or when this would be built. Given the importance of affordability, we look forward to hearing volume requirements associated with lower-promised pricing – we imagine a watch would be at a considerably higher price point but that is speculation on our part. We're curious about the range of applications given the company's stated interest in low- and middle-income countries (LMICs) - see our report on the state of diabetes in LMICs, where it is obvious many people with diabetes do not have ready access even to traditional glucose monitoring. 
Professor Moshe Phillip joins HAGAR's advisory board as a medical advisor
In addition to his positions as Director of the Institute of Endocrinology at Schneider Children's Hospital, Israel and co-chairman of ATTD, Prof. Moshe Phillip will join HAGAR's advisory board as a medical advisor. As a pediatric endocrinologist, Prof. Phillip will bring expertise on how non-invasive glucose monitoring can benefit people with diabetes, particularly children with diabetes. Not having to insert a needle into one's skin to measure glucose is sure to be a popular feature for children, as well as adults with diabetes, and it's not a surprise to hear that many PWD are interested in being in the clinical trial – we await more news in the reproducibility and manufacturability in both small batches and at scale. 
In separate correspondence with Close Concerns, Prof. Phillip shared that he has been involved in studies related to non-invasive glucose monitoring since 1989, but none had succeeded in developing a reliable tool to measure glucose until now. Prof. Phillip also said that developing new technologies in the ethically correct way and designing studies with the correct research design will be important steps toward making a reliable and accurate non-invasive glucose sensor. So far, HAGAR has a small advisory board that includes Dr. Irl Hirsch (University of Washington), Dr. Moshe Rubin (Weill-Cornell), and Dr. Alexander Fleming (Founder and Executive Chairman, Kinexum). 
Dr. Hirsch has presented accuracy data from GWave's initial clinical trial on behalf of HAGAR, and at CHMC 2022, noted that he believes that the "future looks bright" for diabetes technology, with a shoutout to noninvasive CGM. Dr. Hirsch highlighted recent progress from three players in particular: (i) Israel-based Cnoga; (ii) Seattle-based Know Labs; and (iii) Israel-based HAGAR. At ATTD 2023, where Dr. Hirsch was bestowed with the CWD President's Award for Innovation, representatives from HAGAR performed a live demonstration of GWave. Attendees witnessed the device's first use outside of Israel. After the demo, in broad remarks on the field, we were moved to hear Dr. Hirsch's closing perspective: "What I do know, is that we are not far away from non-invasive glucose monitoring, and we are a long way from urine glucose testing." 
HAGAR announces partnership with Taiwanese-based chip manufacturer
In interesting news for GWave's manufacturing prospects, HAGAR also announced that it has partnered with an undisclosed multinational chip manufacturer specializing in radio frequency (the type of technology GWave uses to measure blood glucose) to mass-produce its chips. HAGAR was quite bullish about this news, noting that the partnership will enable it "to deliver a complete 360-degree product." Per the company, partnering with this Taiwanese-based manufacturer will bring a "significant breakthrough" when it comes to the reproducibility of GWave. This partnership is one step toward expanding HAGAR's manufacturing capacity for the future, depending on size and scope of the deal.
Close Concerns' Q&A from HAGAR
Talia Pikounis, Close Concerns: In the press release, Dr. Hirsch is quoted stating, "GWave looks to bridge the growing healthcare divide between individuals who can afford sophisticated glucose monitoring devices and those who lack the resources to use them with its own device that allows for a price point at a far more affordable cost than anything currently on the market" – how much will GWave cost? Will it be cheaper than commercially available CGMs such as Dexcom's G7, Abbott's FreeStyle Libre 3, Medtronic's Guardian 4, and Senseonics' Eversense E3? 
HAGAR: GWave's planned manufacturing costs are low. This was one of our main goals when founding the company and developing the technology. Partnering with the chip manufacturer in Taiwan (who specializes in RF) enables us to cut costs even more so by mass producing our customized chip design. We imagine the final price of the product to the user will be a one-time cost (under $100) – there is no razor-blade model here. The user will just need to charge the battery.
Katie Lingen, Close Concerns: Are there other learnings about the financial or strategic impact of this manufacturing partnership? What proportion of the total manufacturing cost of GWave is represented by the chips? 
HAGAR: The chip manufacturer will be able to mass produce our chips, which is a large component of our technology. For us, this was a big milestone. We wanted to demonstrate that this technology is reproducible.
Talia: Thank you! We'd love to know how many participants are in the ongoing clinical trial, if possible? If you could let us know how many paired points there are, that would be so helpful. 
HAGAR: We will continue the current study for the next few months both to collect data and to enhance the development of the second-generation devices which have the new integrated chips. 
April Hopcroft, Close Concerns: Will the next data be presented at ADA 2023, or at some other upcoming conference?
HAGAR: We plan to present this data at ADA. We hope to gather as much data as possible with a variety of BG ranges including those low BG numbers which are very significant.
Kelly Close, Close Concerns: Thank you – we so look forward to hearing about the when and where about this data, and if that will be part of the formal Sci Sessions. Thank you dearly for all your work on behalf of people with diabetes globally and the people that care for them. 
--by Talia Pikounis, Katie Lingen, April Hopcroft, and Kelly Close
---
[1] In contrast to many of the commercially available CGMs (Dexcom's G-series, Abbott's FreeStyle Libre, Medtronic's Guardian, Senseonics' Eversense), which measure glucose via the interstitial fluid, GWave's technology measures glucose in the blood. Measuring glucose in the blood rather than the interstitial fluid means that this non-invasive technology may not have the same lag time in blood glucose level measurements that traditional CGMs have.