Executive Highlights
Overall diabetes portfolio sales totaled $1.3 billion, up 7% YOY and 10% sequentially. Flagship product Humalog (insulin lispro) sales were flat YOY at $705 million and up 8% sequentially.
Jardiance (empagliflozin) sales saw a bit of a bump from the positive EMPA-REG OUTCOME results, up 39% sequentially to $15 million. New-to-brand (NBRx) market share increased from 15% to 21%, and from 21% to 31% among endocrinologists. Trulicity (dulaglutide) and Tradjenta (linagliptin) both performed well.
Lilly provided its 3Q15 update this morning in a call led by CEO Mr. John Lechleiter. Total sales for the company's diabetes portfolio rose 7% year over year (YOY) as reported to $1.26 billion. Sales of  flagship rapid-acting insulin Humalog (insulin lispro) were flat YOY as reported (up 6% in constant currencies) at $705 million. Combined sales of Lilly/BI's SGLT-2 inhibitor Jardiance (empagliflozin) and SGLT-2 inhibitor/DPP-4 inhibitor combination Glyxambi (empagliflozin/linagliptin) rose 39% sequentially to $15 million. New to brand share (NBRx) has increased following the positive EMPA-REG OUTCOME results. Biosimilar insulin glargine Basaglar/Abasaglar is off to a modest but promising start with $3.8 million in ex-US sales. While not the focus of the call, GLP-1 agonist Trulicity (dulaglutide) and DPP-4 inhibitor (Tradjenta) both posted fairly strong sales. Trulicity sales rose 66% sequentially to $74 million, continuing an impressive streak of growth. Tradjenta sales rose 16% sequentially to $15 million after a sequential decline in 2Q15.
This quarter also featured plenty of action on the regulatory and pipeline front. Lilly highlighted the acquisition of Locemia's intranasal glucagon as a key recent event. Management stated that the company is "very excited" about this opportunity and emphasized the product's status as the first needle-free rescue treatment for severe hypoglycemia. Lilly hopes to submit the product for regulatory approval in the next 18 months. The company also highlighted the recent US approval and launch of Synjardy (empagliflozin/metformin) and FDA submissions of Jentadueto XR(linagliptin/metformin XR) and a Humulin U500 KwikPen. Progress for basal insulin peglispro appears to be on hold as Lilly engages in ongoing discussions with regulators on further trials to evaluate liver safety. Development for Adocia-partnered ultra-rapid-acting BioChaperone Lispro is "progressing extremely well." In the earlier stages of its pipeline, Lilly advanced an undisclosed new biologic for diabetes into phase 1 and discontinued a phase 1 candidate for chronic kidney disease. Read on below for an item-by-item overview of highlights from the call, followed by relevant Q&A.
Table 1: Financial Results for Lilly's Major Diabetes Products
| | | | |
| --- | --- | --- | --- |
| Product | 3Q15 Revenue (millions) | Year-Over-Year Reported (Operational) Growth | Sequential Reported Growth |
| Humalog | $705 | 0% (6%) | 8% |
| Humulin | $317 | -6% (-1%) | 0% |
| Tradjenta | $93 | 18% (30%) | 16% |
| Jardiance/Glyxambi | $15 | 242% | 39% |
| Trulicity | $74 | - | 66% |
| Glucagon | $44 | 35% (36%) | 66%  |
| Actos | $7 | -42% (-29%) | -3% |
| Total Diabetes | $1,258 | 7% | 10% |
Financial Highlights
Total sales for Lilly's diabetes portfolio increased 7% year-over-year (YOY) as reported to $1.26 billion in 3Q15. This was against a fairly challenging comparison of 10% growth in 3Q14. By product, new GLP-1 agonist Trulicity (dulaglutide) accounted for the majority (65%) of growth. Tradjenta (linagliptin) contributed 12%, Jardiance (empagliflozin) and Lilly's glucagon formulation each contributed 10%, and Basaglar (biosimilar insulin glargine) contributed 3%. Performance was significantly stronger in the US (22% growth) than ex-US (11% decline). The relatively weaker international performance was likely due to the effects of foreign exchange rates, as management noted in the call. Sequentially, sales for the portfolio rose 10% as reported against a relatively easy comparison (2Q15 sales declined 1% sequentially). This is the first quarter Lilly's diabetes portfolio has experienced sequential growth in 2015 and the first quarter with double-digit sequential growth since 2013. See the table above for an overview of financial results for Lilly's major diabetes products.
During Q&A, CEO Mr. John Lechleiter offered commentary on how the pharmaceutical industry should respond to the increasing public and political outcry over drug prices. This issue has been a recurrent topic of discussion this earnings season, particularly during updates for large US-based drug companies. This partly reflects its emergence as an issue in the presidential race, particularly on the Democratic side, where candidates have proposed measures including requiring most drug companies to spend a certain percentage of their profits on R&D, ending tax breaks for the industry, and allowing Medicare to negotiate with pharmaceutical companies over prices. Given the fairly anti-industry political discourse, Lilly management was asked what actions the industry should take to change public opinion. Mr. Lechleiter emphasized that merely spending money in an attempt to change people's minds would not be effective, but he stood by the "story" industry has to tell. In particular, he noted that the net effective price increase for medicines in the US was only 0.7% in 2Q15. He attributed this to many medications becoming generic and the large rebates companies provide to payers. He also highlighted the advances in the diabetes, hepatitis C, and cancer fields in recent years and expressed optimism about the industry's ability to help people. While there's no doubt that the R&D generated by industry creates great – often life-saving – treatment options for patients, it seems clear that the US is moving toward a greater focus on cost-effectiveness. Within the diabetes field, we've heard growing frustration from patients and providers over the rising costs of insulin and even recently heard commentary that rising diabetic ketoacidosis rates in children could be tied to an inability to afford insulin. The 2014 Express Scripts Drug Trend report cited increased costs for Lilly's Humalog (insulin lispro), Sanofi's Lantus (insulin glargine) and Novo Nordisk's Levemir (insulin detemir) as key contributors to increased diabetes spend in 2014.


Lilly is not the only company that has used its 3Q15 update to defend itself against public frustration with the industry. Pfizer's 3Q15 update also included commentary on the industry's efficiency and value during prepared remarks. In J&J's update, management stressed that the industry intends to be a "constructive partner" in the policy debates over drug pricing and suggested that the US healthcare system is moving toward a focus on value and outcomes rather than price alone. Roche management similarly predicted in that company's update that increased pricing pressure will force pharmaceutical companies to double down on either highly innovative products or low-cost generics, with those in the middle getting squeezed out.
Humalog and Humulin
Humalog (insulin lispro) sales were flat as reported and rose 6% in constant currencies to $705 million in 3Q15. This was a challenging comparison as sales rose 15% YOY in 3Q14. As with the diabetes portfolio as a whole, US sales (up 6%) were significantly stronger than ex-US sales (down 9%). Sequentially, sales rose 8% overall (11% in the US and 4% ex-US). This was against a fairly easy comparison as sales fell 4% sequentially in 2Q15 (-5% in the US and -3% ex-US). Management noted that Humalog's performance was particularly strong in emerging markets. In addition, the company's press release attributed the product's particularly strong US performance to price increases. We're surprised that Lilly was able to increase prices for Humalog in the US given the challenging payer environment and recent outcry over rising insulin costs. We assume the company has also had to agree to increased rebates, particularly in order to win an exclusive 2014 Express Scripts formulary contract at Novo Nordisk's expense.
Figure 1: Humalog Sales (1Q12-3Q15)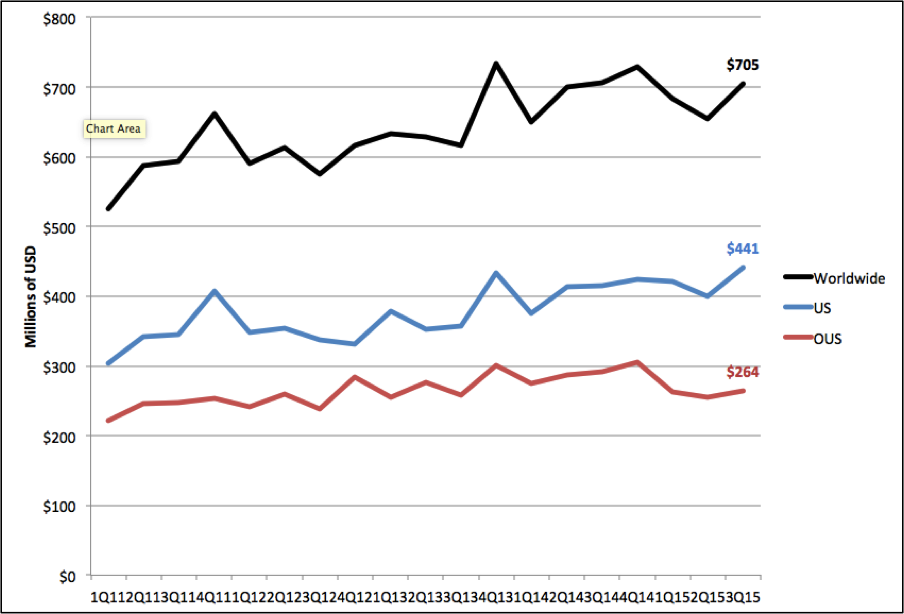 The call also highlighted this quarter's US launch of the Humalog 200 units/ml KwikPen (U200 insulin lispro). The product launched in August and, as expected, is priced roughly the same per unit compared to Humalog U100. The U200 KwikPen holds the same volume of insulin as the U100 pen (3 ml) but it holds the equivalent of 600 units instead of 300 units. The higher concentration and larger number of units per pen offers advantages such as lower injection volume, easier "push" of the insulin pen when injecting, and less frequent pen changes compared to Humalog U100. There is also no need for dose conversions (unlike with Lilly's concentrated human insulin Humulin R U500), which should enhance the product's appeal and reduce the risk of dosing errors. The U200 KwikPen is the first concentrated rapid-acting insulin to reach US patients. Other candidates in the pipeline include Biodel's BIOD-531 (U400 ultra-rapid-acting human insulin), Lilly/Adocia's BioChaperone Lispro U200 (preclinical; ultra-rapid-acting insulin lispro), Adocia's HinsBet U500 (preclinical; rapid-acting human insulin), and Thermalin's Fluorolog (preclinical; U500 rapid-acting insulin analog).
Sales of Lilly's human insulin Humulin were down 6% YOY as reported and 1% in constant currencies to $317 million in 3Q15. Sales were flat sequentially. Once again, there was a substantial discrepancy between US (12% growth) and ex-US (23% decline) performance. The company attributed Humulin's strong US performance to higher prices and success of the concentrated U500 form. Management pointed to the loss of a Humulin tender in Brazil as a major factor behind the weaker ex-US sales.
Figure 2: Humulin Sales (1Q11-3Q15)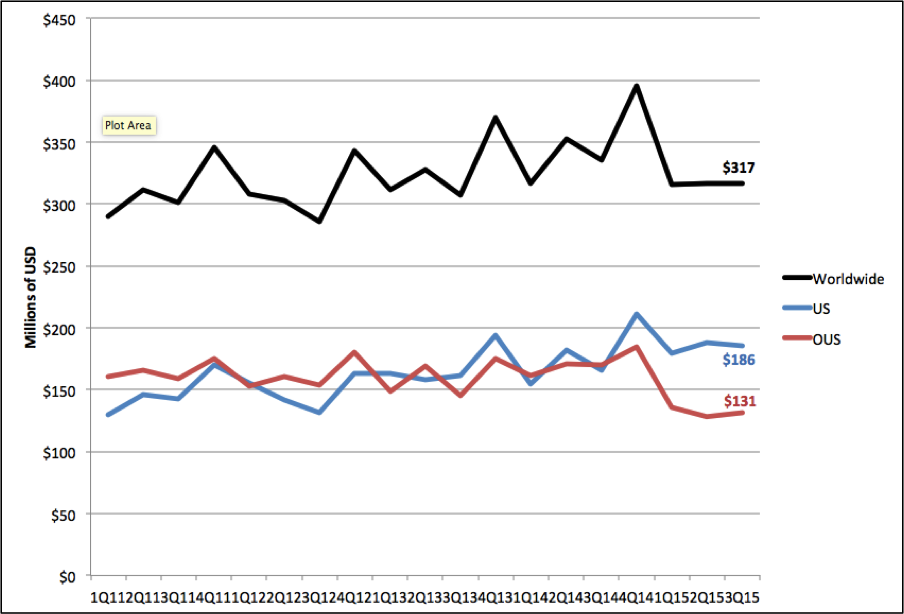 Lilly also revealed that it has submitted a Humulin U500 KwikPen for FDA approval. For patients with high insulin dose requirements, a KwikPen delivery system would be a significant improvement over the current vial-syringe system in terms of convenience and ease-of-dosing. Given Humulin U500's popularity in the US, we imagine a more patient-friendly product would do quite well. However, we wonder if the improved delivery system would come with a less positive price increase as well.
Lilly Diabetes head Mr. Enrique Conterno noted in Q&A that overall growth in the mealtime insulin market has slowed, which he attributed in part to the impact of increasing GLP-1 agonist and SGLT-2 inhibitor popularity. Dr. Robert Henry (University of California, San Diego, CA) commented at EASD 2015 that he prefers GLP-1 agonists over rapid-acting insulin due to head-to-head studies that demonstrated non-inferior A1c reductions, superior postprandial glucose changes, weight loss instead of weight gain, and less hypoglycemia with GLP-1 agonists. We assume the oral dosing, benign safety and tolerability profile, and potential for cardioprotection are huge pluses for patients and providers on the SGLT-2 inhibitor front. Overall, we see the shift away from mealtime insulin as a net positive from a public health perspective, and we suspect that many of these patients may eventually move to prandial insulin in any case, though perhaps on a delayed timeline.
Trulicity
Lilly's GLP-1 agonist Trulicity (dulaglutide) continued its strong launch trajectory with $74 million in sales this quarter, up 66% sequentially from $44 million in 2Q15. This total includes $63 million in US sales and $11 million in ex-US sales. Despite this strong performance, Trulicity very surprisingly received little mention during the call. In 2Q15, Trulicity was highlighted as a driver of overall growth of the GLP-1 agonist class. IMS Health data from Novo Nordisk's 3Q15 update showed US volume growth for the class as a whole rebounding to almost 20% as of August. This is approaching the growth rates seen in 2012-2013 and is a very strong recovery from the ~8% growth at the beginning of 2015. Moreover, the trajectory of class sales looks to be going substantially up and we believe this will be even more true as more CVOTs report.  We think this will only continue with better and better applications over time and the emergence of combinations with basal insulin.
Figure 3: Trulicity Sales (4Q14-3Q15)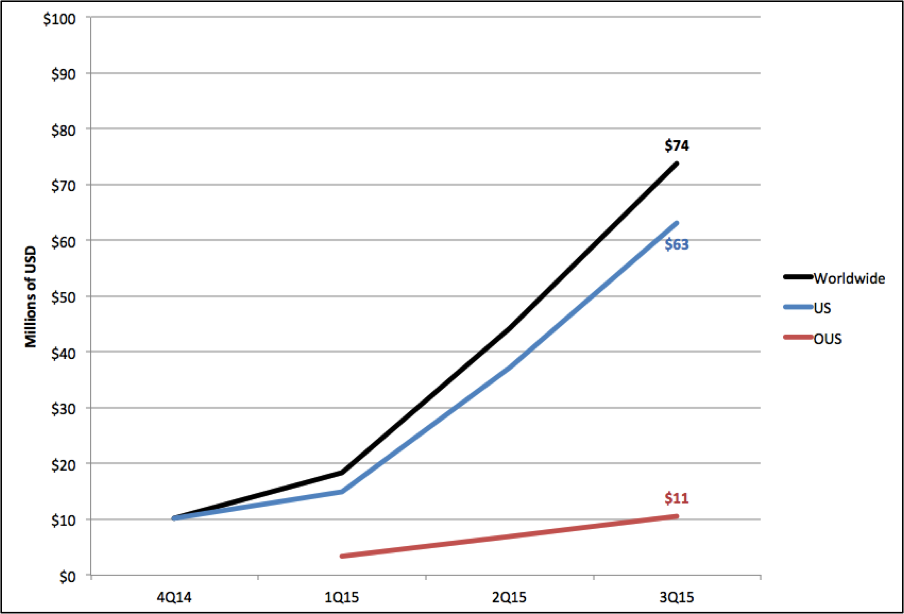 Trulicity's convenience and ease-of-use factors are likely helping it make inroads against its more established competitors. IMS data in Novo Nordisk's 3Q15 presentation slides showed Trulicity holding a 7% share of the GLP-1 agonist market based on total prescriptions. Based on revenue, Trulicity accounted for 5% of total GLP-1 agonist sales in 2Q15 (AZ has yet to report 3Q15 results). Trulicity launched two quarters later than fellow newcomer Tanzeum (albiglutide) from GSK (4Q14 for Trulicity vs. 2Q14 for Tanzeum), but Trulicity has already far surpassed Tanzeum in terms of sales revenue, likely due to its higher price. Trulicity sales were more than four times Tanzeum sales for 3Q15, but Tanzeum held an equal 7% market share within the class by volume.
In its one Trulicity-related update, Lilly management highlighted the product's recent launch in Japan. In the company's 2Q15 update, management noted that Trulicity will be marketed in partnership with Sumitomo Dainippon Pharma and emphasized the critical role that company will play in promoting Trulicity to small clinics in Japan. Lilly also noted that the GLP-1 agonist class has the lowest penetration in Japan out of any major market. We see this as both a major opportunity and a major challenge for Lilly.
While not discussed in the call, Lilly very recently launched a direct-to-consumer (DTC) campaign for Trulicity. The centerpiece of the campaign is a two-minute television ad, representing a massive financial investment. In a separate call with Lilly, the marketing team explained that the Trulicity launch strategy was focused on reaching payers first to establish formulary access, then educating providers (first endocrinologists, then PCPs) about the new product, and then targeting patients directly (or "activating patients"). The campaign strongly emphasizes that Trulicity is not insulin and uses the slogan "Activate Your Within," playing on the idea that the medication helps the body produce its own insulin. The marketing team shared that the goal is to draw patients new to injectables, not to promote switches from other GLP-1 agonists, a logical approach for a fifth-to-market, patient-friendly product. That said, we wonder whether future campaigns might target existing GLP-1 agonist users, since we think it would be possible to make a convincing case for Trulicity as a best-in-class drug.
Jardiance
Combined sales of Lilly/BI's SGLT-2 inhibitor Jardiance (empagliflozin) and SGLT-2 inhibitor/DPP-4 inhibitor combination Glyxambi (empagliflozin/linagliptin) rose 39% sequentially to $15 million, after falling 43% last quarter. US sales totaled $13 million (up from $10 million in 2Q15) and ex-US sales totaled $2 million (up from $1 million in 2Q15). This rebound suggests that last quarter's sequential decline was more likely a one-time blip than the beginning of a larger trend.
Figure 4: Jardiance Franchise Sales (3Q14-3Q15)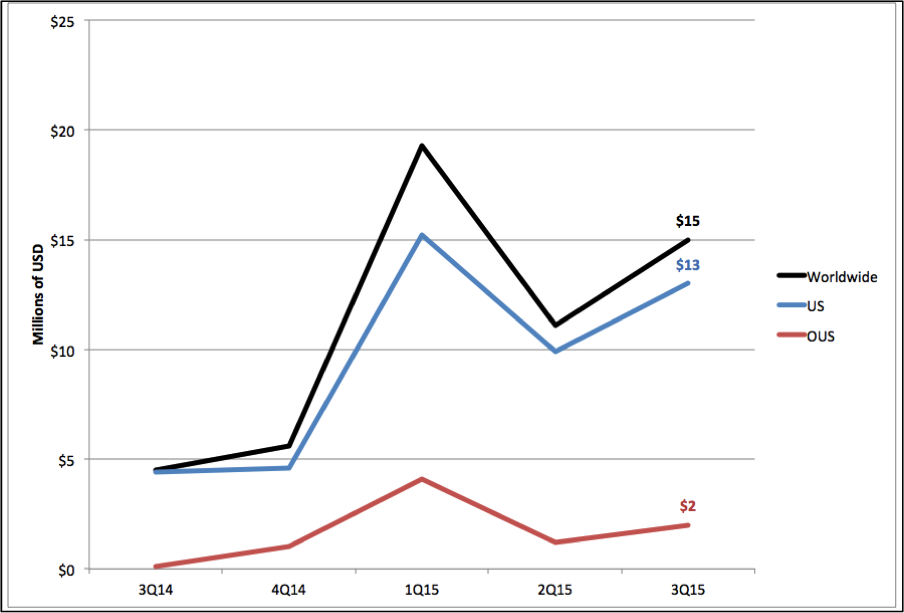 The potential impact of the recently announced positive EMPA-REG OUTCOME results received significant discussion throughout the call. Most notably, management noted that new-to-brand share (NBRx) for Jardiance increased from 15% before the release of topline results to 17% after the topline results announcement to 21% post-EASD. Among endocrinologists, NBRx jumped from 21% to 31%. While these increases are not huge, Lilly emphasized that they occurred without any direct promotion of the EMPA-REG OUTCOME results, which are not yet included in the product's label. Management noted that partner BI is expected to submit the results to regulatory authorities for label revision by the end of the year. Once in the label, Jardiance's cardioprotective benefit will likely help the product make some inroads against J&J's market leader Invokana (canagliflozin) on US formularies, though payers might want to wait for results from other SGLT-2 inhibitor CVOTs to resolve the question of a class effect. Management emphasized that Jardiance already has strong access for 2016 – over 85% in the commercial segment and over 55% in Medicare Part D – but improved "preferred" positioning would likely help swing prescribing decisions in its favor.


Lilly suggested that the results will likely inform future type 2 diabetes treatment guidelines but declined to offer more specific predictions. In response to several questions on this topic, management stated only that Lilly/BI will ensure guidelines committees have full access to the data and that they believe it is very compelling. The company also believes "there is no question that a change in the guidelines would have a huge impact on the overall performance of Jardiance." We assume guidelines committees will want to wait for other SGLT-2 inhibitor CVOTs to report results before making sweeping changes to their recommendations, but we would certainly expect some mention of the results in the next iteration of the ADA/EASD and AACE/ACE guidelines. If the benefit does turn out to be a class effect, SGLT-2 inhibitors would likely become the standard recommended second-line therapy after metformin, at least for high-risk patients.
Several speakers at last week's Cardiometabolic Health Congress said they would support switching patients from other SGLT-2 inhibitors to Jardiance based on the EMPA-REG OUTCOME results. Dr. Samuel Klein (Washington University, St. Louis, MO) and Dr. Lee Kaplan (Harvard Medical School, Boston, MA) both stated that they considered the results sufficient to consider switching. While Dr. Klein suggested that a class effect is possible, he maintained that the current limited data provide enough of a rationale to choose Jardiance over other agents at the moment. We hope Lilly will provide a detailed breakdown in future quarters on how much of Jardiance's volume growth comes from patients new to the class vs. those switching from other agents. For its part, J&J argued during its 3Q15 update that the results likely indicate a class effect and declined to comment on whether they have impacted Invokana's performance.

There was no mention of the SGLT-2 inhibitor/DKA controversy during the call. We had wondered last quarter whether concerns about DKA could be responsible for the decline in Jardiance sales, which Lilly had claimed were part of an overall class slowdown. However, the excitement over EMPA-REG OUTCOME certainly seems to have eclipsed any concerns about DKA for the moment. AACE/ACE announced earlier this week that they do not advise any changes to current recommendations for SGLT-2 inhibitor use following last weekend's meeting on the risk of DKA, stating that the risk/benefit ratio in type 2 diabetes falls overwhelmingly on the side of benefit.
Excitingly, Lilly/BI have advanced Jardiance into phase 3 for type 1 diabetes. While it was not mentioned during the call, two new trials in type 1 diabetes are listed on ClinicalTrials.gov. The 52-week EASE-2 study (n=720) is investigating two doses of empagliflozin vs. placebo as an adjunct to insulin (MDI or pumps). It is currently recruiting participants and expected to complete in April 2017. The 26-week EASE-3 study (n=960) is investigating three doses of empagliflozin vs. placebo, also as an adjunct to insulin (MDI or pumps). It is not yet recruiting participants and is expected to complete in March 2017. Both trials have a primary endpoint of change in A1c after 26 weeks. Secondary endpoints include time in range (70-180 mg/dl) measured by CGM (yes!), change in body weight, blood pressure, and total daily insulin dose, and incidence of hypoglycemia. EASE-3 is also evaluating change in interstitial glucose area under the curve (AUC) and variability using CGM. Surprisingly, ketone-related adverse events are not listed as a secondary endpoint, but we would assume they are being prospectively adjudicated given all of the recent concerns. The doses in the trials were not disclosed. We wonder if they are lower than those approved for type 2 diabetes, as this has been mentioned as one way to minimize the risk of DKA. We are very glad the companies have decided to continue studying Jardiance in this population. Studies of this magnitude should offer a much more complete picture of the drug's risk/benefit profile in these patients, which remains somewhat uncertain.


Results from the phase 2 EASE-1 trial of Jardiance in type 1 diabetes were presented at EASD. Results from that study (n=75) showed significant 0.3%-0.5% placebo-adjusted A1c reductions and significant 1.6-1.9 kg placebo-adjusted weight loss with empagliflozin after just four weeks. Weekly mean insulin dose in the fourth week dropped 12-14% in the empagliflozin groups and 1.5% in the placebo group (p<0.05). There were no cases of DKA, though the empagliflozin group had slight non-significant increases in beta-hydroxybutyrate levels and two participants had extremely high values. Both had a substantial ~30-40% reduction in insulin dose, consistent with the emerging hypothesis that this is one of the major risk factors for DKA with SGLT-2 inhibitors. 
Glyxambi
Like last quarter, Glyxambi's financial results were grouped with Jardiance (see above) and there was no commentary on the product during the call. There was a great deal of excitement around this product and AZ's saxagliptin/dapagliflozin ("saxa/dapa") combination as they progressed through clinical trials due to their strong efficacy, beneficial effects on weight and blood pressure, and the convenience of a single once-daily pill. However, Lilly has offered almost no commentary on Glyxambi since its launch in March, and the product does not appear to have had a huge impact on franchise sales in the past two quarters. We are not sure where reimbursement stands for Glyxambi, but the drug will almost certainly require robust coverage to be successful since its out-of-pocket cost ($581 for a monthly supply) will be out of reach for most patients. The FDA issued a Complete Response Letter for saxa/dapa earlier this month, meaning Glyxambi will be the only marketed agent in its class for longer than anticipated. This could work to its advantage, though we also imagine that payers might want to wait for more clarity on saxa/dapa's future before making any coverage decisions for the class.
Tradjenta
Sales of Lilly/BI's DPP-4 inhibitor Tradjenta (linagliptin) rose 18% YOY as reported and 30% in constant currencies to $93 million. The comparison is easier than previous quarters, as Tradjenta growth was slowing down from its earlier launch trajectory with 22% growth in 3Q14 (compared to 65% in 2Q14). Sequentially, Tradjenta sales were up 16% from $80 million in 2Q15. The $93 million total revenue this quarter includes $38 million in US sales and $54 million in sales outside the US. US performance for Tradjenta was significantly stronger (59% growth) compared to ex-US performance (flat sales). Part of this discrepancy may be due to the effects of foreign exchange rates. Management also noted during Q&A that Tradjenta is the fastest-growing agent in the DPP-4 inhibitor class. Merck's Januvia (sitagliptin) franchise grew 17% in constant currencies in 3Q15 and Novartis' Galvus (vildagliptin) grew 12% in constant currencies. Other DPP-4 inhibitor manufacturers have not yet reported results. That said, Tradjenta's market share held steady at 4% in 2Q15, 1Q15, and 2014.
Figure 5: Tradjenta Sales (2Q11-3Q15)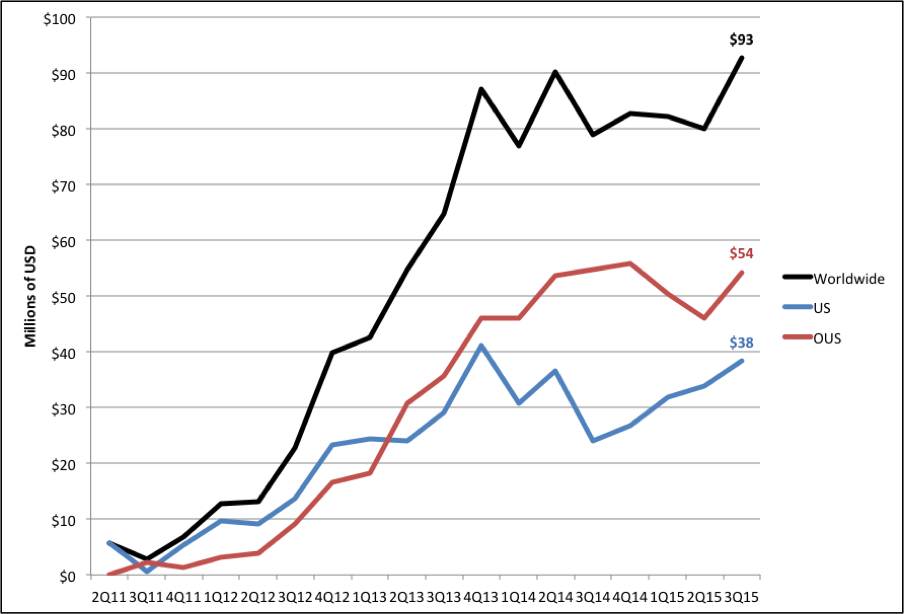 Management also asserted that Tradjenta is uniquely differentiated within the DPP-4 inhibitor class. The DPP-4 inhibitor class is generally perceived as fairly homogenous, though the uncertainty surrounding the heart failure results in the SAVOR trial for AZ's Onglyza (saxagliptin) and EXAMINE trial for Takeda's Nesina (alogliptin) may elevate market-leader Januvia even further above the others in the class. The CAROLINA cardiovascular outcomes trial for Tradjenta is expected to complete in September 2018.
Lilly noted in Q&A that it does not intend to change its messaging or strategy surrounding Tradjenta in light of the EMPA-REG OUTCOME results. This stands in contrast to Novartis and AZ, who have explicitly stated that they intend to divert resources from their DPP-4 inhibitors in past quarters. We have assumed that fixed-dose combinations like Glyxambi hold the greatest hope for future momentum for the class. If true, this will likely be further reinforced by the demonstrated cardioprotective benefits of Jardiance. However, as noted above, Glyxambi appears to be off to a somewhat underwhelming start in its first few quarters on the market.
Lilly highlighted the US submission of the once-daily DPP-4 inhibitor/metformin combination Jentadueto XR (linagliptin/metformin XR) as a key event for the quarter.
Basaglar/Abasaglar
Lilly/BI's biosimilar insulin glargine Abasaglar (Basaglar in the US) is off to a modest but promising start with $3.8 million in international sales. The product has launched in several ex-US markets, including Japan, the UK, Germany, Sweden, Poland, the Czech Republic, and Slovakia. During Q&A, management highlighted that the biosimilar has achieved 5.5%, 3%, and 11% of the total basal insulin market share in Japan, the Czech Republic, and Slovakia, respectively. Management noted that the market share in Slovakia especially is likely at least partially due to switches from Sanofi's Lantus (insulin glargine), which is not reimbursed well there. Sanofi noted in its 2Q15 update that Basaglar is priced at a 15%-20% discount relative to Lantus in the markets where it has launched, though Lilly management did not provide a specific answer to that question during this call. The looming threat of biosimilar competition received a great deal of attention during Sanofi's 3Q15 update. Management noted that European sales of Lantus eroded to some extent this quarter due to the introduction of Abasaglar but stressed that penetration remains limited.
During Q&A, management highlighted Lilly's recent US patent lawsuit settlement with Sanofi and emphasized the value of the definite launch date it provided. Under the terms of the agreement, Lilly will be able to launch Basaglar in the US on December 15, 2016 under a royalty-bearing license. The company noted that until then, Lilly can enter into contract negotiations with payers and plans to request final FDA approval for the product soon (the FDA tentatively approved the product in August 2014). We'll be watching closely to see how Basaglar is priced relative to Lantus in the US. The chief medical officer of CVS Health – the second-largest pharmacy benefits manager in the US – has previously forecasted discounts of 40%-50% with biosimilars compared to their branded counterparts. While this clearly has not been in the case in ex-US markets, pricing pressure in the US is ramping up and Sanofi accepted significant rebates for Lantus for 2015 in order to maintain broad formulary access and build a foundation for Toujeo. The call also noted that Abasaglar and Basaglar would be offered in the KwikPen delivery system.
Other Products
Sales of Lilly's glucagon formulation rose 35% YOY as reported to $44 million. Sequential growth was 66%, against an easy comparison as sales were flat last quarter. As usual, the vast majority of the product's sales were in the US ($42 million vs. 2 million in ex-US sales). Lilly was very smart to acquire Locemia's intranasal glucagon recently, as it was one of the most promising challengers to Lilly and Novo Nordisk's glucagon formulations on the horizon. See the pipeline section for more details on this very exciting new asset.
Figure 6: Glucagon Sales (1Q12-3Q15)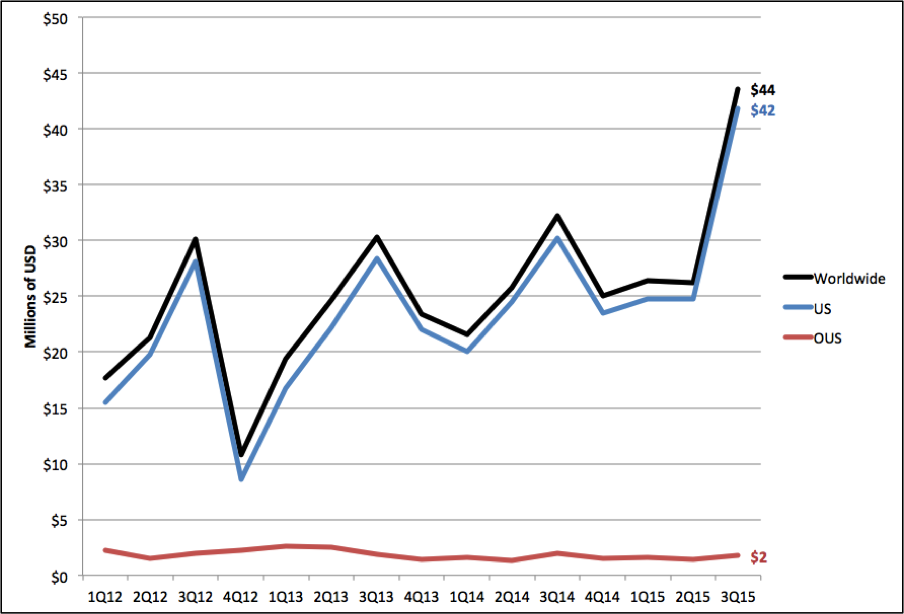 Lilly's revenue from Actos (pioglitazone) sales totaled $7 million in 3Q15, declining 42% YOY as reported. Actos sales have been declining for some time following the loss of patent exclusivity and concerns about heart failure, bone fractures, and bladder cancer. Despite a recent observational study published in JAMA that found that there was no significant increase in bladder cancer risk associated with Actos, our sense is that the damage is largely done and that Actos' performance is unlikely to turn around going forward. Takeda's decision to settle thousands of lawsuits stemming from the controversy for ~$2.4 billion will hopefully allow both Takeda and Lilly to put this behind them and move forward.
Figure 7: Actos Sales (1Q11-3Q15)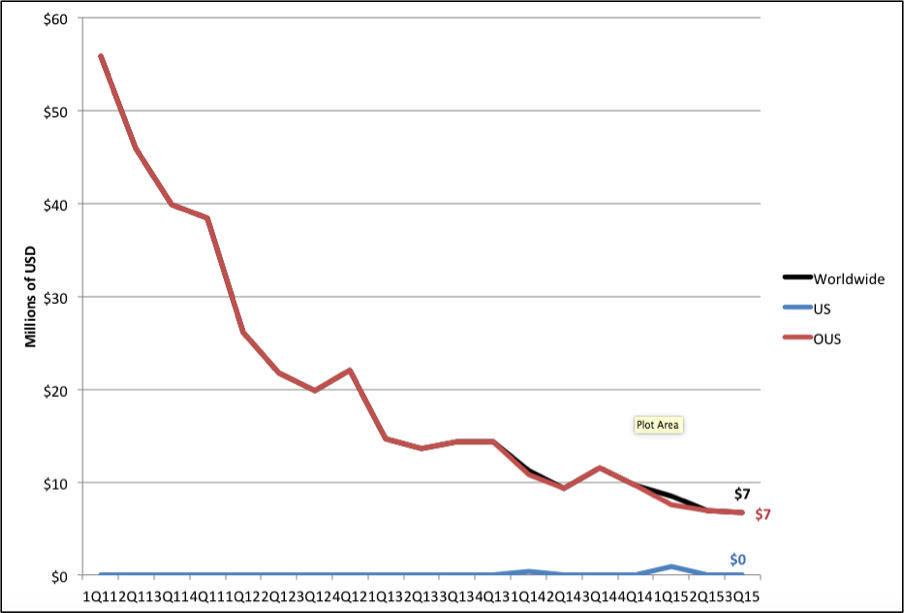 Pipeline Highlights
Intranasal Glucagon
Lilly highlighted the acquisition of Locemia's intranasal glucagon as a key recent event. Management stated that the company is "very excited" about this opportunity and emphasized the product's status as the first needle-free rescue treatment for severe hypoglycemia. Lilly hopes to submit the product for regulatory approval in the next 18 months. Locemia has completed phase 3 studies in adults (ATTD 2015) and children (EASD 2015) showing equivalent effects on blood glucose compared to injected glucagon. An impressive real-world human factors study presented at EASD demonstrated the advantages of Locemia's simple device compared to current glucagon injection kits. We see this as a fairly low-risk product with huge potential to improve patient outcomes and provide peace of mind for patients, caregivers, and emergency responders. While there is always room for surprises during regulatory review and commercialization, Lilly should be as well equipped as anyone to ensure a smooth path forward.


Lilly will likely be first to market with a "next-generation" glucagon rescue device. Xeris' auto-injector was expected to enter phase 3 this year, though it does not look like it has yet according to the company's pipeline. Submission of Biodel's auto-reconstitution device, previously expected in mid-2016, has been delayed until at least early 2017 due to manufacturing delays and contract discussions with partner Unilife. Zosano has a microneedle patch for severe hypoglycemia in phase 2, and results were expected in 3Q15. Zealand has completed phase 1 for a liquid glucagon analog for severe hypoglycemia. We assume most patients and caregivers will perceive the intranasal device as more user-friendly than even these next-generation injectors, though the disappointing debut for Sanofi/MannKind's inhaled insulin Afrezza perhaps offers some cause for tempered expectations.
Synjardy
Management cited the recent US approval and launch of Synjardy (empagliflozin/metformin) as another highlight of the quarter. Synjardy is the third SGLT-2 inhibitor/metformin combination to reach the market after J&J's Invokamet/Vokanamet (canagliflozin/metformin) and AZ's Xigduo (dapagliflozin/metformin). It was also approved in Europe in May. The list price at our local Walgreens is $412 for a monthly supply of the lowest dose, comparable to the cost for standalone Jardiance and significantly cheaper than the cost for Glyxambi. Lilly/BI also have a fixed-dose combination of empagliflozin and extended release metformin in phase 3 according to their pipeline. AZ already markets an extended-release metformin FDC (Xigduo XR) and J&J has a canagliflozin/metformin XR combination in its pipeline as well. 
Peglispro
Progress for novel basal insulin peglispro appears to be on hold as Lilly engages in ongoing discussions with regulators. In response to a question on the product during Q&A, management emphasized the unprecedented efficacy seen with peglispro in phase 3 trials and stated that discussions with the FDA and EMA over the product's future remain ongoing. Lilly announced in February that it would delay the submission timeline for peglispro until at least 2017 in order to conduct additional studies evaluating the liver safety signals seen in phase 3. Since that announcement, we have heard perhaps surprisingly positive commentary on peglispro on the conference circuit. At AADE in particular, several speakers described the compound as very promising, citing its impressive efficacy (equal if not greater to Lantus) and hypoglycemia and weight advantages. We expect that the FDA's take will be more conservative and are frankly skeptical about the prospects for approval. However, the fact that Lilly is clearly working closely with the FDA to design the correct studies makes us somewhat more optimistic that there will be a path forward.
Other Pipeline Updates
The program for ultra-rapid-acting BioChaperone Lispro (partnered with Adocia) is "progressing extremely well." The product is now in phase 2 according to Lilly's pipeline, though Adocia characterized the ongoing trials as phase 1b studies in its 3Q15 update. The companies have launched three trials of the compound since 2Q15: (i) a 14-day crossover trial (n=36) evaluating postprandial control vs. Humalog in type 1 diabetes; (ii) a 14-day crossover trial (n=50) evaluating postprandial control vs. Humalog in type 2 diabetes; and (iii) a 14-day crossover trial (n=36) evaluating postprandial control and a variety of PK/PD parameters vs. Humalog in pumps in patients with type 1 diabetes. The studies are all recruiting participants and are expected to complete in December 2015-January 2016.
Lilly advanced an undisclosed new biologic for diabetes into phase 1 and discontinued a phase 1 candidate for chronic kidney disease. We were disappointed by the latter news given the huge remaining unmet need in this area. It is reassuring to see continued early-stage movement from Lilly in diabetes, particularly following the 2Q15 announcement that it had discontinued its phase 2 glucagon receptor antagonist. Lilly's phase 1 pipeline also includes another undisclosed candidate for diabetes, one for diabetic nephropathy, and one for hypoglycemia. We wonder whether Lilly will continue developing the hypoglycemia candidate, which we assume is a stable glucagon formulation, after the Locemia acquisition. The company also has a GLP-1/glucagon dual agonist in phase 2 and is investigating its rheumatoid arthritis drug baricitinib and the TGF alpha-epiregulin monoclonal antibody LY3016859 in phase 2 for diabetic nephropathy/chronic kidney disease.
Lilly is still evaluating its options for the phase 2 PCSK9 inhibitor LY301501. Management stated that the company believes there are "key elements of differentiation" for the product, which would be at least fourth in its class to market, but that as of yet there is no final decision on its future. There are signs that there will be room in this exciting class for multiple agents. Most recently, Express Scripts announced that it will include both approved PCSK9 inhibitors – Sanofi/Regeneron's Praluent (alirocumab) and Amgen's Repatha (evolocumab) – on its National Preferred Formulary for 2016. However, we understand why Lilly might be cautious, particularly in light of the recent decision to discontinue the CETP inhibitor evacetrapib due to lackluster phase 3 results.
Questions and Answers
Q: I know you're very involved in Washington and what goes on there with the bio and the pharma lobbying groups and industry. I'd love to hear your thoughts on drug pricing and when you think the industry is just going to begin defending itself to the public more aggressively, which is going to cost some money. When is the industry going to begin to spend the money to try to change the image and teach Americans that it's probably worth it?
A: I think if you go back through successive presidential campaigns, with some bit of variability, drug pricing tends to rear its head, because I think it's something that politicians have found resonates with voters. Having said that, I think the facts tell a different story. Someone showed me some information the other day – in the second quarter of this year, the net effective price increase for the market basket of medicines in this country rose 0.7%. That reflects not necessarily these things that get called out in the media, these individual huge drug price increases. It reflects the fact that many of our medicines are going generic still. It reflects the deep discount that we're mandated by the government to provide but increasingly must provide to commercial insurers and payers in order to get onto formularies and to be able to compete for the business.
With respect to telling the story, I think you can expect to see more coming from the industry. I think we've got to be careful and thoughtful here. I don't think there's a way you can spend enough money to all of a sudden change people's minds, because so much of the criticism comes in the form of earned media. No one's out there spending money, per se; they're just picking up quotes and amplifying those. We've got a great story to tell. We have had huge advances in recent years, and obviously lots of risks. At the same time, I've never been as optimistic as I am about the chances we have as an industry to really make a difference for patients. We've got to keep telling the story, reminding people that the medicines as a percentage of total healthcare spending have remained remarkably constant for a long period of time, which suggests that our medicines are helping to hold the line or even reduce other costs in the system that none of us want to incur: hospital stays, being off of work, disability, etc.
Q: On EMPA-REG OUTCOME, is it possible that those results will trigger price competition as J&J tries to hold onto its market-leading formulary positioning with Invokana? And Lilly, like most other sellers of SGLT2s, also sells a DPP-4. What's your messaging to physicians on how they should think about those two different classes of drugs?
A: It's difficult to speculate when it comes to price competition. If anything, the EMPA-REG OUTCOME results create differentiation in the marketplace. So, from that perspective, we feel very confident in the value proposition that Jardiance offers today, which is very significant. I would point out that the access that we already have with Jardiance for 2016 is indeed very strong. We will have over 85% commercial access and over 55% Part D access. Could those numbers improve a bit with some of these results? It is likely, but as you know that takes time, and there's a process when it comes to formularies.
At this point in time, there's no promotion of these data. We are clearly seeing an uptick when it comes to new-to-brand prescriptions. Just to frame, before the topline results our new-to-brand share was 15%, including both Jardiance and Glyxambi. That creeped up to 17% by EASD. And now we're at 21%. Probably most relevant is the share shift that we've seen post-EASD with new-to-brand share among endocrinologists going from 21% to 31% despite the fact that there's no promotion. We are planning to have the submission before the end of the year. Now, in terms of our positioning and promotion, that's something that we do not discuss prior to launching our promotion campaign.
Nothing really changes when it comes to Tradjenta. We have, I think, a unique product that is uniquely differentiated in the DPP-4 class. Tradjenta, I think it's important to note, is the fastest grower in that class. So growth is very, very strong. We are planning no changes at this stage.
Q: What is Lilly doing to help shape the diabetes treatment guidelines post-EMPA results? Could you share what you think is a realistic, responsible goal for Lilly in terms of how to frame the importance of the outcomes benefit for physicians?
A: We have the great fortune that we count within our ranks a number of people that have either participated in developing and writing some of these guidelines in the past both in Europe and in the US. We have to understand that those committees act in an independent manner. For us, I think our role is to ensure that these bodies, whether it's the ADA or others, have full access to all of our data. And we believe that data speaks by itself. I think it's very compelling. When it comes to the overall benefit, we do expect that the data is such that it would trigger some of these reviews.
Q: Enrique, can you talk to us a little bit about the importance of Basaglar and the decision to settle on this? Was the settlement specifically applied only to the device, or does it apply more broadly such that other competitors seeking to enter the market would have to go through the same legal process that Lilly would?
A: Clearly, this is a very important product for us. I'm pleased to report that so far our launches are going well. Uptake is very good, maybe slightly ahead of our expectations, whether it's Japan or Slovakia or the Czech Republic, which are the first three markets where we launched the product. When we look at our performance with Basaglar, we look at the entire basal market. We don't only look at Lantus. In Japan, when we look at the entire basal analog market, we are now at 5.5% two months post-launch. So we are very pleased in particular with that performance in very important markets.
Now clearly, the settlement that we have with Sanofi gives us certainty, which we value very highly. Under the settlement, we won't be able to sell the product until December 15, 2016. That means basically placing our product with a third party from a commercial perspective. But in the meantime, we can indeed contract, and we are of course submitting in order to be able to get final approval for this.
You asked specifically about the settlement. And yes, the settlement allows us to basically market and commercialize Basaglar in the KwikPen on a global basis. Just to remind you, the KwikPen is the product that we utilize for Humalog as well, and there is a royalty-bearing license specific to the U.S. when it comes to Basaglar sales in this particular device. At this point and time, we've settled and we now have a certainty when it comes to the launch date.
Q: As we think about the guidelines and timing of guidelines around EMPA-REG, can you update us on which guidelines are the most important? As we've talked to payers, the feedback that they have provided is that guidelines could be what really changes their willingness to place Jardiance in a preferred position onto formularies.
Of course, the American Diabetes Association is a key organization and is one that has issued these types of guidelines. AACE, which is comprised of endocrinologists, also issues guidelines. I'm not going to comment on the most important guidelines other than to say that we expect that a number of different bodies will be conducting some of these reviews. There's no question that a change in the guidelines would have a huge impact on the overall performance of Jardiance.
Q: The performance of the insulin business looks really challenged internationally. Can you talk in a little bit more detail about that trend and how you see that going forward?
A: On insulin overall, there is a trend that has not been discussed much. One of the impacts that we see broadly when we look at the macro diabetes market is that insulin growth has basically slowed down. We see that, of course, for mealtime insulins. We believe that both SGLT-2 growth and GLP-1 growth is partly the cause of that. Having said that, when we look at our own performance, we grew Humalog 6% in the US and also 6% outside of the US. Different regions had different growth. In emerging markets it was of course much higher than that. When we look at our human insulin, Humulin, we were basically flat. We were at minus 1%. The US did have positive growth, driven by the Humulin U500. But we did have a decline in emerging markets as a result of no longer participating in the Brazil tender. So, there are not big changes when it comes to our overall performance, but we do see a slowdown when it comes to the overall insulin market.
Q: Could you comment on the pricing for Basaglar relative to Lantus in the launch territories? And, acknowledging that it is early, are you seeing any switching from Lantus patients, or is this purely new patient acquisition?
A: For Abasaglar or Basaglar, when we look at the entire market, in Japan we are at 5.5%, in the Czech Republic at 3%, and in Slovakia – it's a small market but I bring it up because we are at 11%. We've also launched in Germany, the UK, Sweden, Poland, so we are really in full launch mode. I think it's fair to say that the pricing dynamics vary from country to country. In some cases, there is a very formulaic path in terms of what's going to be the pricing that we will receive as a result of launching a biosimilar. And that determines the pricing. In some cases we have discretion in terms of where we price. It is likely that in Slovakia, some of these patients are switches, because the reimbursement level in Slovakia was lowered when we launched. And, in this particular case, for patients that are on Lantus, my understanding is that they have to pay the out-of-pocket on some of the difference relative to the Lantus price. We have to see this story evolve, but I think it's fair to say that so far we are pleased with our launch.
Q: On your PCSK9, can you talk about potential points of differentiation versus the competition and when we would expect any updates on phase 3 progression?
A: We have our Phase 2 program complete. We believe there are key elements of differentiation for the molecule, but as we've evaluated our options as a company, we've said we're looking at our strategic options for further development of the product. We haven't completed that review, and so there's no real update on progression or other alternatives at this point. Also, this antibody has a longer durability of the LDL-lowering effect compared to competitors.
Q: What is going on with peglispro and potential further studies? It seems as though we are on a path toward Lilly dropping the drug, but maybe you can tell us why that is not the case.
A: We had, of course, unprecedented efficacy when it comes to basal insulin peglispro, but we had some risks that we felt needed to be discharged with additional clinical trials prior to us being able to make a submission. What we have shared is that we're engaged in discussion with regulatory authorities, as well as our advisers. Those discussions are ongoing. We've had some of those discussions with both the FDA and EMEA and are still having some of the discussions with our advisers.
Q: Could you give us a little bit more detail on the diabetes product that moved in the pipeline there, the URI?
A: Yes, the BioChaperone that we licensed from Adocia is listed on the pipeline. So far, I think the program is progressing extremely well. We're very pleased with the results, and will continue sharing them as we get more.
-- by Helen Gao, Emily Regier, and Kelly Close