Executive Highlights
In this report, we provide our full coverage of the "Keystone 2015" meeting – more formally known as the Barbara Davis Center Keystone Conference: Practical Ways to Achieve Targets in Diabetes Care (ATDC). This once-small conference continues to grow in popularity and prominence, with the event sold out weeks in advance – over 600 attendees came this year, 25% more than last year and its largest attendance ever. The program featured ~46 talks, patient/provider panels, and industry-sponsored technology workshops and dinners, on par with 44 a year ago.
As always, Keystone's timing (approximately one month after ADA) and more intimate format provided us with a valuable opportunity to hear experts' up close and personal thoughts on the latest topics, trends, and controversies in diabetes. On the tech front, animated discussions were highlighted by a first-ever look at Roche's new Accu-Chek Connect system (BGM and paired smartphone app with an integrated bolus calculator) that will launch on August 7 in Walgreens nationwide (at a price of $29.99). We also saw new 90-day data from a Senseonics pilot study of its implantable CGM, heard about the real-world challenges of closing the loop, and received a striking reminder – from none other than the entertaining Dr. Irl Hirsch – that, "we are STILL not as smart as we think we are" when it comes to interpreting A1c.
On the drug side, we heard Dr. Allison Goldfine discuss the current CVOT landscape, raising the provocative question of whether trials are asking the right questions. We were also treated to a comprehensive review of non-insulin treatment options in type 2 diabetes from Dr. Bruce Bode, thoughts on the Affordable Care Act from the charismatic Dr. David Schade, and reflections on the ADA standards of medical care from the Dr. Robert Ratner. We are already looking forward to next year's conference, which will take place July 14-17, 2016 again in Keystone, CO!
This report organizes our comprehensive coverage into three topic areas: (i) Diabetes Technology; (ii) Diabetes Drugs; and (iii) Additional Topics. To help guide you through the report, titles of some of the most memorable presentations are highlighted in yellow, while write-ups that were not included in our daily coverage are highlighted in blue.
Diabetes Technology
Workshop: Digital Health (Sponsored by Roche)
Introduction of the Accu-Chek Connect System
Jeremy Mangelson (Area Business Manager, Roche Diabetes Care, Indianapolis, US)
Roche's hands-on workshop debuted the Accu-Chek Connect BGM and paired smartphone app (with a bolus calculator!) in the US, sharing the planned August 7 launch date and reasonable $29.99 pricing. Regional Business Manager Jeremy Mangelson ran us through the system, highlighting that the nationwide launch during AADE will come to market through an exclusive distribution agreement with Walgreens – a bold move indeed! The meter is priced reasonably at $29.99, roughly the same as the cost of LifeScan's OneTouch Verio Sync (the only other Big Four smartphone-connected BGM), and the app is already available for free on Apple and Android devices [though you cannot do much with it without the meter]. The next-generation system is based on the Aviva Plus strip platform and features wireless Bluetooth compatibility with the paired apps. Most notably, the Connect app is the first FDA-approved mobile platform that offers insulin-dosing recommendations – a tremendous win for MDI users (who do not have access to bolus calculators on an insulin pump) and for Roche (first-to-market status with a bolus calculator mobile app). Roche confirmed that the insulin bolus feature will only be available to patients who purchase the Connect meter; those with other meters will be able to enter glucose values, but will be unable to use the Bolus Advisor function. We understand this from a competitive perspective, though it would be an amazing win for patients (and tremendous legacy for Roche) if the app was available to all meter users. Though the app is a free download, it is a "prescription" product (not the meter, just the app!), as patients must receive an HCP code to activate the Bolus Advisor software. The Connect also sends readings automatically to the cloud and can notify caregivers of values, a nice feature for parents. Our full report below features our first in-depth look at the meter, app, and web portal including pictures and an overview of the smartphone/cloud-connected market.
The Accu-Chek Connect is an important move toward more seamless, automatic, and hassle-free transfer of blood glucose data. Roche's laudable aim is to reduce the patient and provider hassle in the downloading process by removing the need for manual data entry. The Connect builds on a trend of smartphone/cloud-connected meters – see below for a competitive landscape of the industry. Notably, the launch of the Connect marks the second smartphone-connected BGM commercialized by a Big Four company (LifeScan's OneTouch VerioSync). We believe much of the diabetes device industry is moving in this direction, and it will only be a matter of time before most devices (BGM, CGM, pumps) are cloud/smartphone app connected. (Google's 2Q15 earnings call today reminded us of the power of mobile: More Google searches now take place on mobile devices than on computers in 10 countries, including the US and Japan.)
The biggest highlight of the Connect system is undoubtedly the app – see pictures below – which provides the convenience of insulin bolus advice on a smartphone based on blood glucose results and entered carbohydrates. The FDA clearance marks the software as the first mobile platform cleared for insulin-dosing recommendations. The app is a "prescription" product, as patients must consult with a provider to receive an HCP code that activates the Bolus Advisor software. It's interesting that this is required, since there are many free bolus calculator apps on the app store right now that are unapproved by the FDA. There's certainly a danger in the wrong settings, but there's also a danger in not using a bolus calculator app at all. We wonder if Roche proposed the HCP code, or if the Agency required this. HCP involvement is of course critical for proper bolus calculator setup, so the requirement is understandable. 
The app stands as big win for US insulin users on MDI (the vast majority of type 1s and 2s) who do not have access to bolus calculators on an insulin pump, and a big win for Roche (first-to-market status with a mobile bolus calculator). We have yet to see rigorous data that such an advisor can improve glycemic control, though anecdotally this seems like a no-brainer (and Roche is reportedly working to get these data published). Dosing insulin – even with the best technology today – is still a guessing game at best, and the math is hard even with ratios that end in "0" and "5." Down the road, perhaps Roche and others will build algorithms to better optimize bolus calculator settings – certainly, Medtronic is thinking about this with the IBM Watson partnership.


Roche confirmed that the insulin bolus feature will only be available to patients who purchase the Connect meter. Those with other meters will be able to enter glucose values, but will be unable to use the Bolus Advisor function. We were disappointed to hear this, though not surprised as it makes a lot of sense from a competitive advantage point of view. We wonder if patients on other meters would be interested in using the app, and whether Roche would reconsider this stance – certainly, it would be an amazing legacy for the company.  Bolus calculators are tremendous tools and MDIs only have access to unapproved – and frankly not very good – free versions on the app store.

Glucose readings can automatically be sent (via text) to up to ten additional mobile devices – a huge patient and caregiver convenience that enables remote monitoring and peace of mind. Roche is coming out with strong marketing towards the pediatric population, positioning the monitoring as a way to reduce the burden of pediatric diabetes management and to enable kids to live a more normal life (e.g., attending sleepovers).


Additional tabs within the mobile app offer insight into time-in-range, average number of tests per day as well as pages for viewing results. Among these is a convenient page to summarize paired points (e.g., before vs. after breakfast) that offers a great way for patients to connect the dots between behavior change and clinical results (e.g., a 15-minute walk actually reduces blood sugar!). Roche has done some outstanding work on the BGM education front, and we salute the company for going beyond simply display of glucose values.

Upon testing, the Connect app also prompts users to enter the bolus advisor page. This tab offers the chance to log carbs and take a picture of the meal. We are particular fans of this latter feature, which can create "teachable moments" – after all, carb counting is hard and this enables providers/caregivers to compare the carbs logged with a picture of the actual meal. The following tab provides the patient with the bolus advice, showing graphically the amount of insulin on board and amount of insulin to be injected. Data is automatically sent to the online portal.
We were also provided a short demo of the online web portal, which comes in both provider- and patient-facing versions. The provider-facing side enables population management in a notable way, showing all of a provider's patients on one screen including a symbol to indicate hypoglycemia risk (we like this being front and center!). Following pages in the portal enable providers to see the number of times patients are overriding bolus advice, to change a patient's insulin factors and ratios, to view a color-coded logbook, or to view a graphical display of a patients' average blood glucose over time.
It's not clear how Roche is thinking about interoperability (e.g., Apple's Health Kit, Glooko, Tidepool, diasend). Ideally, the glucose results should flow freely between apps, enabling the ecosystem that many in diabetes technology hope for. Our test drive of Meal Memory and the Dexcom Share receiver has given us a lot of optimism over targeted apps that leverage passively collected data to drive meaningful therapeutic change – let us know if you are interested in a sneak preview of this article. We hope Roche is strongly considering data interoperability with these growing platforms.
We were also intrigued to learn more about the timeline over which various functionalities of the Accu-Chek Connect System received clearance: (i) the Connect BGM was cleared in March 2015; (ii) the Connect app for Android platforms was cleared in late March; and (iii) the Connect app for iOS systems was cleared in early June. Notably though, the Android version of the app was recalled in April (before being launched in the US) after clearance due to problems with inaccurate bolus advice associated with changes of the screen orientation (e.g., from portrait to landscape or vice versa) during calculations. The app had been downloaded a total of 644 times (Italy: 219, South Africa: 24, Germany: 401). As we understand it, the software bug was fixed "within a few days." Both the Apple and Android apps are currently available on the Apple and Android stores.
The Accu-Chek Connect App – Bolus Advisor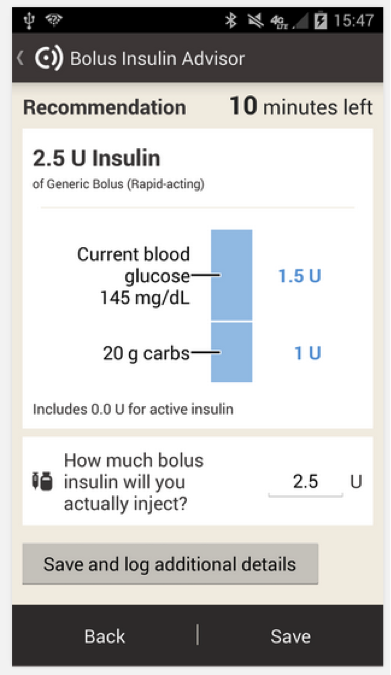 Workshop: Sensor-Augmented Pump Therapy (Sponsored by Medtronic)
Sensor-Augmented Pump Therapy
Robert Mucic, PhD (Medtronic, Los Angeles)
Medtronic's Dr. Robert Mucic provided an introduction to MiniMed Connect, which generated a lengthy Q&A on the product details and cost. This remote monitoring keychain device – slated to launch this fall for $199 – was unveiled at ADA 2015 and subsequently shown last week in the FFL exhibit hall. Notably, we heard attendees raise concerns regarding cost, specifically of patients who may not afford an iPhone or computer, to which the Medtronic team responded by noting their efforts looking at various financial aid and payment plan options. We thought this was a valid but somewhat unfair criticism, given the device's reasonable price, no ongoing cost, and target at existing pump/CGM users. Medtronic's Ms. Kim Larson importantly stressed MiniMed Connect's advantage in its opportunity for providers to be reimbursed on a monthly basis for reviewing CGM data (the device uploads data automatically to CareLink). We believe cloud-based technology like MiniMed Connect and Dexcom's Share/Gen 5 can help drive better outcomes, especially as reimbursement structures shift towards remote population management.
Plenary: Recent Advances and Challenges in Diabetes
New CGMs on the Horizons
Guido Freckmann, MD (University of Ulm, Germany)
Dr. Guido Freckmann's comprehensive overview of CGM featured just-published 90-day data from a small Senseonics pilot study of its implantable CGM (fluorescence-based subcutaneous sensor) (Wang et al., JDST 2015). The small study enrolled 12 patients with type 1 diabetes that were implanted with Senseonics' CGM in the upper arm for up to 90 days. Sensor accuracy was very much in line with previous data from Senseonics' system – an MARD of 12.3% against SMBG reference over a glucose range of 40-400 mg/dl. Findings indicated that the implanted CGM showed reasonable nocturnal hypoglycemia detection – sensitivity (true positive rate) and specificity (true negative rate) were 77% and 96%, respectively. This is promising for an implantable CGM, though not as good as Dexcom's Software 505 ("G4AP"), which has a hypoglycemia detection rate of 91% when the alarm is set at 70 mg/dl (see page 163 here) (though admittedly, the 24-hour vs. Senseonics' nocturnal data are not entirely comparable). Alarms enabled recovery into euglycemia within 30 minutes in 74% of all episodes, suggesting that Senseonics' CGM can provide valuable feedback when appropriately triggered. Ultimately, Dr. Freckmann suggested that sensor accuracy remains a challenge for Senseonics, though he expects commercialization "soon." As a reminder, an EU pivotal trial (n=82) in both type 1 and type 2 patients started in November 2014 (the ClinicalTrials.gov posting has not been updated), and 90-day interim data is expected by this summer (which will support a CE Mark submission). We have not heard much on the US timeline, though management has previously said that a US pivotal trial would begin in 2015.
Aside from accuracy, our biggest question for the Senseonics system is form factor – does the need to wear the on-body transmitter device (for sensor power and communication) negate the advantage of the implantable sensor? Of course, the long implant time is an asset vs. subcutaneous sensors that need to be replaced once a week (Medtronic, Dexcom) or every 14 days (Abbott). Further, the ability to remove the transmitter– but leave the sensor intact– is definitely an advantage over combined sensor/transmitter patches from Dexcom, Medtronic, and Abbott (where removing the patch removes the sensor) along with the on-body vibe alerts that have anecdotally received rave reviews. Ultimately, it will be the composite profile that counts for Senseonics, as patients will tradeoff the long-term implanted sensor, arm-worn transmitter, and paired smartphone app with what is also available at the time of commercialization (i.e., Abbott's FreeStyle Libre, Dexcom's G4 Platinum in Europe and Gen 5 in the US, and Medtronic's Enlite 2 or Enlite 3 in Europe, and potentially Guardian Mobile in the US). And as always, cost is a big unanswered question, and a critical one for successful European commercialization.
Dr. Freckmann's review also included notable commentary on the promise of non-invasive CGM options, as such Novartis/Google's Smart Lens – "I'm not sure how quickly such system will become available." He suggested that non-invasive CGM has been promised for 30 years and that it's hard to know when and if this will come to fruition.
Besides non-invasive technology, Dr. Freckmann highlighted a number of factors that would improve CGM moving forwards: (i) reduced calibration burden; (ii) minimize time lag; (iii) redundant sensors; (iv) improved algorithms; and (v) an insulin-dosing claim.
Challenges in Type 1 Diabetes Care
David Maahs, MD (University of Colorado, Denver, CO)
Dr. David Maahs presented a broad overview of the path to an artificial pancreas, speaking specifically about how to reduce the burden of technology on pediatric and adolescent patients. He began by presenting current data on insulin pump and CGM penetration, noting that usage of both has increased in recent years (though CGM use is still incredibly low at 12%). In a multi-country comparison, Dr. Maahs highlighted that the US, Germany, and Austria have a much higher rate of CGM use in children and adolescents relative to adults, but commented that the US tends to see lower usage rates in younger children and increased usage in adolescents while the other countries showed the opposite pattern. In providing an overview of artificial pancreas development, Dr. Maahs called out a number of needed improvements to drive toward feasibility: (i) more accurate CGMs; (ii) ultra-rapid insulin; (iii) algorithm refinement; and (iv) improved user interfaces. Unsurprisingly, Dr. Maahs shared his belief that insulin-only closed-loop systems will arrive to market sooner than a multi-hormone artificial pancreas.
Dr. Maahs underscored the need for technology to demonstrate a clear value to patients, payers, and healthcare professionals. We certainly agree – his commentary echoed many of Ms. Kelly Close's (The diaTribe Foundation, San Francisco, CA) remarks from earlier this year at the EASD Diabetes Technology Meeting.
Dr. Maahs provided a compelling analogy, comparing the current state of the artificial pancreas technology to the original "brick" cell phones. He reflected on the huge enthusiasm that surrounded early cell phones in the mid-1980s, drawing similarities to the excitement surrounding first-generation artificial pancreas systems. On the latter, he noted that excitement is merited, but stressed that we are far from the "iPhone 6-esque" quality many expect off the bat. Gen 1 AP devices will still have their hassles (e.g., announcement of meals and exercise, connectivity, devices to carry, early user interfaces), and we're not sure if the average patient appreciates those as much as researchers do.
Diabetes in Special Circumstances: Adult
How Best to Implement Artificial Pancreas in Clinical Care
Mary Voelmle (Barbara Davis Center, Aurora, CO
The real-world challenges of closing the loop, especially setting patient expectations, emerged as a theme in a presentation from Ms. Mary Voelmle. She noted that identifying patients that are optimal for closed-loop systems will pose a significant challenge – we certainly agree! With levity, she broke down the spectrum of patients from those that would be ideal for closed-loop (e.g., those who experience nocturnal hypoglycemia; those willing to calibrate the device) to those who would be less-than-ideal (e.g., meticulous patients who are used to managing every aspect of their diabetes). Indeed, her words served as a strong reminder that confidence in closed-loop systems is going to be built over time and that there will not be one-size-fits-all (e.g., some patients are going to be optimal/suboptimal for overnight vs. fully closed-loop vs. no closed-loop).
Panel Discussion
Dr. Irl Hirsch (University of Washington, Seattle, WA): We heard earlier that we can't get patients to download meters at home, but you're telling me they'll do a DIY fecal transplant?
Dr. Ratner: You know, Irl, we need to take some of this very seriously. We will hear people complain constantly about the cost of medicine and healthcare but not the cost of veterinary care – they will do anything for their pets. They will say medicine too expensive, but spend hundreds perm month on macro and probiotics.
Dr Hirsch: Patients say they can't afford insulin, but are literally spending 100s a month on this stuff. Do you understand specifically about probiotics and what they do in diabetes?
Dr. Ratner: There's an NIH center in Louisiana that looks at it. The difficulty with probiotics is you never know what's in them. If you go to GNC or other health food stores, what's on the label is seldom what's in package. Beginning to test that is hard because have to manufacture the probiotics so you know what you're giving and the effects. To date, there is very little data on probiotics.
Q: Could you go over the steps you go over with patients to improve accuracy between blood and sensor glucose?
Ms. Voelmle: I start with calibration initially with both devices and spend a lot more time focusing on calibration process, depending on device. I have the patient come in and talk about expectations so they can look at difference between blood glucose monitor and the sensor. Have them come in for insertion practice and look at if they're inserting the device properly, taping properly.
Q: I'm curious if you've considered celiac disease with the microbiome?
Dr. Ratner: There appears to be altered autoimmunity with changes in the microbiome. In animal studies, can generate all sorts of autoimmune diseases. Celiac disease is autoimmune. I wouldn't be the least bit surprised if it is found to be associated.
Q: I wanted to know the compliance rates in Dexcom and Medtronic.
Ms. Voelmle: We looked at data to look at Enlite patients and compliance with continued use and established that it's 50% in adult patients and less in pediatric patients. It's hard to look at Dexcom data because of the shift in sensors. Patients use sensor for few weeks at a time, so if you're looking at sensor reorder rates it's hard to compare between the two.
Plenary: Ways to Improve Diabetes Outcomes
Progress Towards Development of an Artificial Pancreas for Type 1 Diabetes
William Tamborlane, MD (Yale University, New Haven, CT)
Dr. William Tamborlane discussed the landscape of artificial pancreas technologies, introducing closed-loop systems to the audience as a kind of "holy grail" that will reduce complications in the future. Dr. Tamborlane did not present any new data, but his talk served as a solid overview for the many providers in the audience. He opened by discussing Medtronic's 2006 proof-of-concept study (Steil et al. Diabetes, 2006), taking attendees all the way through current work on dual-hormonal systems from the Boston/MGH Bionic Pancreas team. Ultimately, we found his high-level thinking on the field most notable, especially his thoughts on the major obstacles that remain: (i) hardware and software improvements; (ii) more reliable and accurate sensors; (iii) dual sensors; (iv) the integrity of RF transmission; (v) failing more safely; and (vi) making systems easier for patients to operate. Indeed, on the latter, we continue to hear that human factors need to be top of mind, though were glad to hear Dr. Tamborlane's reiteration of this point. Overall, we loved his enthusiasm for the field and optimism for the future – judging from his words and tone, he clearly believes closed-loop systems are right around the corner.
Industry Sponsored Dinner: BD
Thinking About Exogenous Insulin and the Skin: Lipohypertrophy
Irl Hirsch, MD (University of Washington, Seattle, WA)
Dr. Irl Hirsch provided a comprehensive overview of lipohypertrophy and insulin injection. He opened with a persuasive case that lipohypertrophy is dramatically underappreciated. Unsurprisingly, Dr. Hirsch's informal poll of the audience showed that 100% of providers working with patients had challenges with lipohypertrophy – "Everyone sees this!" Unfortunately, Dr. Hirsch stressed that the problem with this area of research is that lipohypertrophy has historically not been rigorously examined – studies are often uncontrolled or anecdotal, resulting in many unanswered fundamental questions: Can lipohypertrophy tissue regress? Does needle change frequency matter? What is the ideal site change frequency? What sort of intervention can shift behaviors toward more optimal injection techniques? Fortunately, Dr. Hirsch believes that the quality of the research on lipohypertrophy is improving. Indeed, he closed his presentation by sharing new data from two recent BD studies from ADA 2015 to illustrate that the body of evidence is growing – we summarize those studies below. On a very interesting note, Dr. Hirsch closed his presentation by advocating for a change in the way physicians examine newly diagnosed patients – listening for heart murmurs, since they affect A1c readouts.
Hovelmann et al. (ADA 2015): This BD study compared the effects of subcutaneous insulin injection into lipohypertrophy and normal adipose tissue regions on postprandial glucose control and insulin absorption in 13 patients with type 1 diabetes and lipohypertrophy. Patients received two identical mixed meals (75 g carbohydrates) separated by at least 6 hours, and each covered with 0.15 U/kg insulin lispro. Insulin injection into lipohypertrophy regions had a pronounced negative effect on insulin absorption and postprandial blood glucose control compared with injection into normal tissue –

mean postprandial glucose levels were significantly increased (17% higher in the first two hours, 58% higher from 2-5 hours, 39% higher > 5 hours, all p<0.05)

and postprandial hypoglycemia (glucose ≤ 50 mg/dl) occurred slightly less frequently with lipohypertrophy injection (2 vs. 6 patients, p=0.20).


Though unsurprising, Dr. Hirsch stressed that this is the FIRST scientific evidence we've had that insulin injection into regions with lipohypertrophy worsens postprandial glucose control vs. injections into normal adipose tissue. "We've sort of known this for decades, but we've never had real data to show it until now. This to me is really important."

Famulla et al. (ADA 2015): This follow-up study to Hovelmann et al. investigated the pharmacodynamics of insulin lispro injected into abdominal areas with lipohypertrophy or normal adipose tissue in the same 13 patients. Dr. Hirsch stressed that this was the first-ever euglycemic clamp study to look at glycemic control in lipohypertrophy patients. Patients received single doses of 0.15 U/kg lispro every ~6 hours, twice into a region with lipohypertrophy and twice into normal tissue region in random order, under clamp conditions (blood glucose target: 100 mg/dl). Ultimately, findings confirmed the clinical experience that both insulin absorption and action are substantially blunted and considerably more variable when insulin is injected into areas with lipohypertrophy – results indicated that the variability in insulin pharmacodynamics was 4.5x higher with lipohypertrophy vs. normal adipose issue.
We were intrigued to hear Dr. Hirsch's commentary that lipohypertrophy does not affect CGM accuracy. Dr. Bruce Buckingham reportedly presented this data in an abstract at ADA 2015 though we – and Dr. Hirsch, himself – have been unable to track down the hard data. In Dr. Hirsch's words, the poster showed "that lipohypertrophy had zero impact on CGM accuracy and lag time … I don't have the data but I know what I saw!" WE are following with Dr. Buckingham on this front.
Dr. Hirsch presented a compelling analysis of the economic costs of lipohypertrophy: ~$2 billion/year (conservative estimate) vs. ~$4.6 billion (a "realistic" estimate, in his words). Dr. Hirsch's model drew from statistics from the literature. Assumptions came from both the CDC National Diabetes Statistics Report (2014) and multiple published studies.
Table 1: Economic Burden of Lipohypertrophy
 

Conservative Estimate

"Realistic" Estimate

Population w/ diagnosed diabetes

21 million

Insulin-requiring

31%

% with Lipohypertrophy

33%

~50%

Cost of insulin

$0.26/unit

Waste associated with lipohypertorphy – i.e., how much extra insulin do patients need with LH?

+10 units/day

+15 units/day

Cost

~$2 billion/year

~$4.6 billion/year
On a very interesting note, Dr. Hirsch closed his presentation by advocating for an adjunct to the way physicians examine newly diagnosed diabetes patients – of course, examining injection sites for proper rotation but also listening for heart murmurs. He suggested that patients with heart murmurs will have A1c values that read low! Indeed, his claim drew many murmurs ("oohs" and "aahs" … not heart murmurs) from the audience. He shared that heart murmurs indicate the sheering of red blood cells as they pass through valves. As a result, these cells do not live the presumed 90 days and lead A1c values to underreport glycemia. He will be presenting additional data to support his claims on Sunday (see our Keystone Preview here), and we will looked forward to hearing more about this notable phenomenon.
The Past, Present, and Future OF Insulin InJection / Infusion Therapy
Larry Hirsch, MD (BD Diabetes Care, Franklin Lakes, NJ)
The highlight of this comprehensive review of insulin delivery was commentary on BD's new set, expected to launch in 2016 in the US, Canada, and the EU – as stated in the BD-Medtronic collaboration agreement announced at ADA in Boston. Dr. Hirsch did not share any other major new details on the set, though we appreciated expanded results from BD's pilot study first presented in oral form at ATTD 2015.
Dr. Larry Hirsch presented encouraging data from an expanded study comparing BD's new infusion set to Medtronic's Quick-set in 60 healthy participants (ADA 2015 Poster: 1071-P) – the previous pilot study shown at ATTD was only in 25 participants. As a reminder, the study had each participant wear two of each set; diluent was used and pressure was tracked for basal and bolus infusion; it was powered to show at least a 50% reduction in pressure rise events. Consistent with results from BD's pilot study, the findings were impressive – the BD set significantly reduce the amount of time with flow interruptions (p=0.002) and reduced the risk of pressure events by ~75%. There were no observed statistical differences in set site leakage upon removal compared to the Quick-set (1 vs. 0 events, respectively).
Preclinical in vivo tests against the Medtronic Quickset, the Animas Inset, and the Roche UltraFlex also showed large, significant reductions (~75-80%) in pressure events. BD conducted a first-of-its-kind MRI imaging study (a poster at ADA) showing increased subcutaneous diffusion of diluent vs. other marketed infusion sets. 
Dr. Hirsch reminded us of the set's design and features, including the side-ported 6 mm, 28 gauge polymer catheter (allowing insulin to flow out of both the bottom and side) and the 30 gauge introducer needle (the smallest available). For a close-up experience with this set at BD's headquarters, read Closer Look coverage here.
Similar to his ATTD talk, Dr. Hirsch also summarized previous studies showing approximately 2/3 of CSII patients experienced at least one episode of unexplained hyperglycemia over 13 weeks, with most of such events not triggering the pump occlusion alarm ("Silent Occlusions").
Dr. Hirsch began with an inspiring photo-illustrated story of his journey with diabetes, starting nearly 58 years ago with U-40 glass syringes, a 25-gauge/16 mm needle, a sharpening stone, and a boiling case for sterilization – "good control was an oxymoron for the first 30 years." When Dr. Hirsch graduated high school, his "severe disability" (type 1 diabetes) earned him a full merit scholarship from the state of New York for college and medical school. In contrast, he noted, "We would laugh now if someone suggested a scholarship for diabetes." Indeed, how far we have come!
Dr. Hirsch presented unpublished data from BD – an international survey of > 13,000 patients from 41 countries at > 400 centers – to make the highly persuasive case that "there has been a true 'shift to short' [needles]." He shared new data indicating that a substantial portion of current insulin-injectors on pens use 4 mm and 5 mm needles, emphasizing that there has been a drastic shift from five years ago when 50% of patients were on 8mm needles and none on 4mm. The preliminary data are still in processing and cannot yet be published in detail. This is an impressive testament to BD's work to use hard science to develop and support its products, which have ultimately benefitted patients through less pain and a less intimidating injection experience.


"Needles that we call 'short' are actually the right length." Dr. Hirsch reviewed several studies of skin and subcutaneous fat thickness at injection sites and of studies comparing different length pen needles and glycemic control. The latter have all demonstrated consistent findings: (i) 4 or 5 mm pen needles deliver insulin reliably to subcutaneous tissue, including obese patients; (ii) short pen needles provide equal glycemic control as do long needles, even in obese patients; (iii) patients prefer shorter, finer gauge needles; (iv) injection site anatomy matters, with almost no one having skin thickness over 3.5 mm; and (v) the risk of intramuscular injection is higher with longer needles and 2-4 times higher in the thigh vs. the abdomen (the two most commonly-used injection sites), in males vs. females (the latter have more SC adipose thickness), and in patients with lower BMI. As a reminder, IM injection results in more rapid and potentially unpredictable insulin absorption, especially with mild exercise of the muscle site.
Industry Sponsored Dinner: Medtronic
The Artificial Pancreas is Within Sight
Robert Vigersky, MD (Medtronic Diabetes, Los Angeles, CA)
Medtronic's Dr. Robert Vigersky presented recently published (Gehlaut et al., JDST 2015) data on the prevalence of hypoglycemia in type 2 diabetes as measured by blinded CGM. The trial enrolled 108 patients with type 2 diabetes that wore Medtronic's iPro blinded CGM for five days. Hypoglycemia was frequently documented and unrecognized by the patients in this study – 49% had at least one hypoglycemic episode and 75% of those patients experienced at least one asymptomatic hypoglycemic episode. As expected, hypoglycemia was seen frequently in individuals on insulin (66%) and those on oral hypoglycemic agents (81%; sulfonylureas). However, hypoglycemia was also observed in patients on non-hypoglycemia causing agents like DPP-4 inhibitors and metformin – we wonder if this stemmed from CGM inaccuracy at lower glucose values (e.g., 70-90 mg/dl) that read as hypoglycemia, but actually weren't. Dr. Vigerksy stressed that the mechanism behind this hypoglycemia remains unknown, but is an active area of interest for Medtronic. Ultimately, he noted that the findings resulted in treatment modification in 64% of patients, leading Dr. Vigersky to conclude that retrospective CGM data can provide valuable feedback in this population. We agree that both blinded CGM and real-time CGM have lots of potential in type 2 diabetes, though there are many keys to get right: (i) making it cost-effective enough; (ii) reducing provider burden; (iii) building meaningful data output to drive changes in type 2 diabetes medications. Certainly, Medtronic needs to think about this in a big way as Abbott comes to the US with FreeStyle Libre and presumably the blinded version, FreeStyle Libre Pro – both offer meaningful improvements on the three aforementioned criteria. Dr. Vigersky did provide a brief overview – but did not provide any updates – on the status of Medtronic's closed-loop efforts (the MiniMed 670G pivotal study began during ADA), the new insulin infusion partnership with BD (commercialization in early 2016), and the coming Fall 2015 launch of MiniMed Connect.
Industry Sponsored Dinner: Dexcom
Moving to Mobile – Dexcom CGM in the World of Mobile Technology
Jorge Valdes (CTO, Dexcom, San Diego, CA)
Mr. Jorges Valdes opened Dexcom's corporate dinner by contextualizing the recent explosion of mobile health – "The web is dying. Apps are killing it." Citing the Wall Street Journal, Mr. Vales noted that 86% of our time on phones is spent on apps, while just 14% is spent on the actual internet. Given the 500 million current users of healthcare apps and 1.7 billion estimated users by 2018, he suggested that it is no wonder that Dexcom is laser-focused on the mHealth scene. As expected, Mr. Valdes introduced the audience to Dexcom Share and its Gen 5 technology, lauding the company's effort to accelerate the pace of innovation, provide cost-effective solutions, and reduce the burden of diabetes management. He acknowledged that the company continues to work to have "the best CGM sensor in the world," but noted that the mobile ecosystem is what is ultimately going to make patient lives better. In this vein, he provided an overview of Dexcom's integration with Databetes and Training Peaks that aim to make data more accessible, simpler, and seamless – more on this below. Mr. Valdes also alluded to coming integrations with Epic to ease the burden on the clinician front. Ultimately, given estimates the US will spend ~$3 trillion on healthcare in 2015, Mr. Valdes noted that cost-efficient and smarter solutions are Dexcom's current goal.
Mr. Valdes provided an overview of both Databetes and Training Peaks. Databetes makes a meal-tracking app, Meal Memory, available on both Apple and Android devices. The app was developed by type 1 patient Doug Kantor and centers on taking a picture of a meal and automatically tracking pre/post-meal glucose values via the seamless integration of Dexcom data. Training Peaks is an exercise training and tracking platform used by elite athletes/coaches. The company was co-founded by type 1 father Gear Fisher. The addition of Dexcom data would add more context to data collected during workouts, such as heart rate, speed, power, etc. We're very excited to see progress on both and it's terrific to see Dexcom moving into the wellness arena (of sorts!) – we'll be interested to watch patient opinions form on both.
Meet the Peers Session
Pediatric Providers
This panel discussion among pediatric providers focused largely on the practical considerations involved in initiating pump therapy in children, including the right age to do so and the somewhat archaic criteria (paper logs of four blood glucose values per day) required by insurers in some states. Panelists also briefly discussed whether the field is at an inflection point in terms of greater use of CGM; Dr. William Tamborlane (Yale University, New Haven, CT) expressed optimism that this is the case and that "healthy competition" leading to better systems should enable further progress. Other topics on providers' minds included the landmine of discussing safe driving with teenagers and Dr. David Schade's (University of New Mexico, Albuquerque, NM) controversial talk from earlier in the day about aggressive lipid-lowering therapy in young patients. A provider in the audience stated that several of her patients had inquired about Sanofi/MannKind's Afrezza, particularly as a tool for more rapid glucose-lowering during exercise. Dr. Paul Wadwa (University of Colorado, Aurora, CO) concurred that families had been asking about the product but strongly encouraged providers to wait for pediatric studies to better understand if the pharmacokinetics and dosing regimens are the same as in adults. Other panelists also pointed out that many parents are used to making very specific insulin dose adjustments and may find it frustrating to have to dose Afrezza in such defined increments. As a reminder, the FDA mandated a pediatric study of Afrezza at the time of approval; in MannKind's 1Q15 update, management shared that all post-marketing studies were "progressing as planned" but did not provide more specifics.
Diabetes Drugs
Plenary: Ways to Improve Diabetes Outcomes
Non-Insulin Treatment Options for T1D
Bruce Bode, MD (Atlanta Diabetes Associates, Atlanta, GA)
Dr. Bruce Bode reviewed the pros and cons of non-insulin therapies for type 1 diabetes, expressing the greatest optimism for GLP-1 agonists. He took a fairly dim view of pramlintide, the only currently approved adjunctive therapy for type 1 diabetes, as very few people remain on the drug long-term due to side effects and the need for frequent injections and challenging dosing. Perhaps more surprisingly, he also offered a fairly skeptical take on metformin, stating that the risk of GI side effects overwhelms the modest benefits on weight and insulin dose in most cases. That said, he acknowledged that if the University of Glasgow/JDRF-funded REMOVAL study, scheduled to complete in 2016, is able to demonstrate cardiovascular benefit with metformin in type 1 diabetes, it could absolutely become standard of care. Dr. Bode expressed greater optimism about the potential of GLP-1 agonists, highlighting promising results from a study presented at AACE 2014 demonstrating improvements in a number of parameters with Novo Nordisk's Victoza (liraglutide) in type 1 diabetes. Excitingly, he shared that Novo Nordisk's phase 3 ADJUNCT ONE and ADJUNCT TWO studies on Victoza in type 1 diabetes have completed data collection and should hopefully report results later this year – as of the company's 1Q15 update, results should be available by the end of October. On the "hot topic" of SGLT-2 inhibitors in type 1 diabetes, Dr. Bode reviewed the promising data from phase 2 trials but acknowledged that the risk of euglycemic DKA needs to be further investigated. On the whole, while acknowledging that these drugs can "do wonders," he ultimately recommended a fairly conservative approach, stating that he would not prescribe these drugs off-label until their efficacy and safety are better understood. However, he also presented T1D Exchange data showing that some patients and providers are clearly taking matters into their own hands: off-label use of non-insulin therapies has risen across the board from 2010-2012 to 2014-2015.
Rationale for 2015 ADA Guidelines
Robert Ratner, MD (Chief Medical Officer, ADA, Alexandria, VA)
Dr. Robert Ratner walked attendees through the ADA 2015 Standards of Medical Care, highlighting the growth and trends of the guidelines' evidence as well as the field's needs to move recommendations forward. Dr. Ratner opened his presentation by showing that the Standards of Medical Care have had a "remarkable increase in the quality of evidence" as over half of the current guidelines' evidence are now graded at either the "A" or "B" levels. Specifically, he touched on the broad influence of the guidelines' recommendations for testing diabetes, as both the US and Community Preventive Services Task Forces have recently followed these guidelines. However, he noted that understanding the rapid development of type 2 diabetes in children remains a significant unmet need, as the minimal evidence in this area leaves its guidelines at only an "E" grade level. In addition, he stressed the importance of diabetes self-management education, commenting that it has been challenging to conduct randomized controlled trials in this area but that expert opinion agrees that such education should be paid for by insurance companies. Regarding pharmacotherapy treatment, Dr. Ratner highlighted that we are "truly moving toward a patient-centered approach" in the context of glycemic goals, but noted that the data behind the individualization of anti-hyperglycemic therapies are "woefully inadequate." On the technology front, Dr. Ratner pointed out that evidence surrounding glucose monitoring is strong but that data on hypoglycemia unawareness continues to be sparse and that CGM's biggest limitation today is its adjunctive requirement of SMBG. Additionally, he touched on the guidelines' discussion of dyslipidemia and lipid management, pointing to the recent changes on statin recommendations – he believes that these will evolve as they are "highly problematic" for patients who lie on the guidelines' boundaries. Ultimately, we applaud the ADA's leadership in providing such a comprehensive set of guidelines that address diabetes' many multifactorial factors from comorbidities to racial differences – for more on how these recommendations have most recently evolved, please see our coverage of this year's changes.
Changes in Diabetes Treatment Over the Past 50 Years
Sir George Alberti, MD (Imperial College, London, UK)
Sir George Alberti's overview of the last 50 years in diabetes treatment concluded with the striking assertion that the incorporation of self-management and patient empowerment into therapy has been the most significant development in the past 50 years. Dr. Alberti introduced his lecture as a counterpoint to coming talks that would delve deep into cutting-edge treatment, drugs, and devices. Instead, he provided a comprehensive overview of how the diabetes landscape has changed, highlighting in particular the sheer difference in number of patients: fewer than 100 million in 1980 vs. an estimated 385 million in 2013. He then reviewed progress in glucose monitoring – from urine glucose in the 1600s to the introduction of A1c in 1977 to sensors and CGMs today. Next up were developments in treatment, from diet and oral agents to insulin and insulin delivery. Dr. Alberti did mention that he is not completely convinced by the viability of stem cells as a type 1 diabetes treatment or cure. He concluded by suggesting that the most tremendous change in the past half-decade has been an increasingly patient-centered approach to care. We certainly appreciated his patient-centered spirit, especially amidst all the biomedical innovations he reviewed. We couldn't agree more!
Panel Discussion
Dr. Robert Ratner (ADA, Alexandria, VA) argued that outcomes trials in diabetes are unrealistic due to low event rates and instead recommended the use of surrogate outcomes across the board. After Dr. Satish Garg (University of Colorado, Aurora, CO) stressed that most trials are too short or too solely focused on safety parameters to identify hard cardiovascular outcomes, Dr. Ratner pointed to the low event rate of major cardiovascular events in diabetes. Citing the low event rate of 3% to 3.5% in the ELIXA trial's high-risk population, he questioned how outcomes trials can provide clinically relevant information and specifically suggested that Dr. Irl Hirsch (University of Washington, Seattle, WA) pursue surrogate outcomes in his follow-up study to FLAT-SUGAR. We are encouraged to hear continuing discussion around the limitations of the current CVOT paradigm and believe this is an important perspective to consider, though we realize there are plenty of data purists at the FDA and elsewhere who are unlikely to agree that outcomes trials should be abandoned entirely.
Plenary: Cardiovascular Disease and Diabetes
Cardiovascular Outcome Trials, Are they Really Needed?
Allison Goldfine, MD (Joslin Diabetes Center, Boston, MA)
In a talk reminiscent of her ADA presentation as the discussant for TECOS (CVOT for Merck's Januvia [sitagliptin]), Dr. Allison Goldfine addressed the benefits and limitations of the current CVOT paradigm for diabetes drugs and called for greater discussion among the scientific community about whether these trials are asking the most important clinical questions. She devoted a significant portion of the talk to explaining why these trials as currently designed are very unlikely to demonstrate CV benefit. She stressed that while they are well designed to evaluate the cardiovascular safety of diabetes drugs in high-risk patients, the trials would only be able to show superiority in the event of a direct non-glycemic effect that is strong enough to manifest within 1.5-3 years in the setting of standard therapy for diabetes, blood pressure, and lipids. Even if the trials were able to assess the effect of glycemic control on CV outcomes, any benefit would likely only accrue over many years, well beyond the duration of current trials. Given these limitations, Dr. Goldfine encouraged greater discussion about whether the scientific community is satisfied with the information gained from CVOTs relative to their costs. While she did not come down firmly on one side or the other, she suggested during Q&A that clinicians might eventually be willing to accept data from long-term, large-scale observational studies in lieu of RCTs, though this would necessitate a higher risk tolerance for newly approved drugs. We see this as an appealing compromise that could allow collection of potentially more applicable real-world data in a more cost-effective way, though a full switch away from randomized outcomes trials would likely be a hard sell with the FDA – passive observational follow-up at the end of trials is another possible alternative.
Dr. Goldfine feels that the jury is still out on the DPP-4 inhibitor/heart failure controversy. She believes that a class effect, different drug-specific effects, or chance findings in some studies are all plausible explanations for the divergent results in the three DPP-4 inhibitor CVOTs. While the issue remains unresolved, the general early consensus seems to be that the reassuring results from TECOS (the largest and longest of the three trials) should largely rule out the hypothesis of a class effect. To date, there are no clear mechanisms to explain different drug-specific effects, but we do imagine that the FDA will evaluate the products on an individual basis when considering potential label changes.
We were dismayed to hear that a number of providers have interpreted neutral CVOT results to mean that the drug in question is equivalent to placebo in terms of efficacy. Dr. Goldfine explained that TECOS (which concluded with minimal difference in A1c between the two groups) really demonstrated that Januvia was equivalent to "placebo plus," as the goal was to maintain glycemic equipoise in order to evaluate non-glycemic effects on CV outcomes. We assume that Merck's efforts to use the TECOS results to promote Januvia, as discussed in the company's 2Q15 update, should help counter that perception to some extent.
Panel Discussion
Dr. Robert Ratner (ADA, Alexandria, VA): In ACCORD, they were unable to correlate hypoglycemia with death because they didn't have CGM. When you look at who died, in the intensive group it was the group with higher A1cs, which meant the investigators by protocol were continually intensifying therapy. We saw individuals on combinations of metformin, a sulfonylurea, rapid-acting insulin, and meglitinides at the same time. The presumption is that when you're giving that many medications, the patients are probably not taking them or you would have seen a benefit. Invariably, one day they do take them. What do you think of the possibility of a poorly controlled cohort dying at a higher rate because they finally took their meds?
Dr. Elizabeth Seaquist (University of Minnesota, Minneapolis, MN): You never know. Other studies didn't push as hard and still found a relationship between severe hypoglycemia and mortality. We have to find out. Now that we have CGM, we can get new data.
Dr. Ratner: What would it take to find that given the incidence of severe hypoglycemia?
Dr. Seaquist: We would need a large trial of patients who we were treating and monitoring. It would be a very complicated, expensive study. We'll get a lot further with smaller studies testing therapies to mediate the effect.
Q: The CVOT issue has been discussed so many times, and I hear lots of complaints from both sides. Industry says they're held to a standard that the sulfonylureas weren't and that it's onerous to do and they pass the cost on to consumers. On the clinician side, I see great studies but when I look at the exclusion criteria, they're so selected that they don't reflect the patients we see. I would say we are learning things, such as on the pancreatitis issue. That is really big and useful to clinicians. Where is the balance?
Dr. Allison Goldfine (Joslin Diabetes Center, Boston, MA): There's no easy answer. It's actually time to open a discussion. On the one hand, it's very reassuring as a clinician to know that it's safe to prescribe a drug or a class to patients with more advanced disease and more complications than were studied in the original trials. We don't want to use drugs with unrecognized untoward effects. That's the advantage of the current approach. The expectations that drugs will be proven to be miraculously beneficial are problematic. I hear a lot of, "why would we give drug with a little nausea because it's no different than placebo?" I hear that repeatedly. If we simply want to know is each drug safe from a cardiovascular perspective in high-risk patients, even if we're given a definition of who those patients are and have a good paradigm, patients will always come in who are outside of it. We have to use our best judgment. There's never a trial for every circumstance. If we really don't have a big signal of harm, is what is being revealed really something of value, or are we spending money to conduct 16 trials in 140,000 patients where we're not asking the right questions? Resources are limited, and there may be other questions that are scientifically more important. Are we willing to accept a different risk tolerance when a drug comes to market? There is no answer. We have to discuss as a scientific community what our risk tolerance is. It's time to open a discussion.
Dr. Stephanie Amiel (King's College, London, UK): These drugs have been proven to be safe and could theoretically be better over the long term. Could we use our large, well-collected clinical databases to study this? We can't frequently do 20-year trials.
Dr. Goldfine: None of these trials have prolonged follow-up. There are concerns when you do studies based on observational cohorts. You always can control for propensity scores and 50 other things, but there are always things we don't think about. If enough line up with what's seen in randomized trials, maybe it would begin to feel reasonably sufficient for us to feel comfortable using that kind of data that is not considered level one now. That's something we need to determine. If we require this level of data, we will remain on the current path. If we can accept different amounts of knowledge, other studies using large databases may be sufficient.
Plenary: The Gut and Diabetes
Mechanisms of Action of Metformin Revisited
Ralph DeFronzo, MD (University of Texas Health Science Center, San Antonio, TX)
Dr. Ralph DeFronzo delivered a characteristically opinionated talk on the somewhat controversial topic of metformin's mechanisms of action. After an informal poll, he praised the audience for not falling for the common misconception that metformin acts directly on the muscle and/or the beta cell. He reviewed data demonstrating that the drug's primary mechanism of action is suppression of hepatic glucose production, explaining that this means it does not address two of the three major physiological disturbances at work in type 2 diabetes –insulin sensitivity or beta cell function. Based on this and on data from UKPDS and other trials showing waning efficacy after a few years, Dr. DeFronzo argued that metformin is destined to fail as a standalone therapy and therefore does not deserve its current status as the standard first-line option. As he put it, "if I said I'll put you on metformin, and when you fail I'll add a sulfonylurea, and when you fail I'll add insulin, you'd have to be a fool to want that therapy,"  yet he guessed that 90% of the audience takes just that approach, primarily due to cost. Dr. DeFronzo offered similar comments at GTC Bio in April, when he placed metformin "at least fourth on the list" of type 2 diabetes drugs in terms of efficacy. While there is some evidence that earlier, more aggressive combination therapy may be more effective than the current sequential model, we feel that metformin is unlikely to lose its status as the standard first-line agent anytime soon due to its low cost and well-established safety and efficacy profile.
Regarding the debate over the drug's specific mechanism(s), Dr. DeFronzo praised the high-profile study published in Nature last year identifying inhibition of mitochondrial glycerophosphate dehydrogenase as the central mechanism in mice but cautioned that the situation in humans may be more complex, likely involving gut-specific mechanisms as well. He highlighted Elcelyx's NewMet, a delayed-release formulation of metformin that targets the gut, as a promising future option that could allow use of the drug in patients who cannot currently tolerate it due to renal impairment. 
Use of Incretins in Children with T1D
Phil Zeitler, MD, PhD (Children's Hospital Colorado, Aurora, CO)
Dr. Phil Zeitler presented on the current available data (or lack thereof) on incretin use in children with type 1 diabetes. He began by reviewing the major glucose lowering effects of GLP-1 agonists in patients with type 1 diabetes: lower postprandial glucagon and slower gastric emptying, both of which have been shown to be abnormal in adults with type 1 diabetes. Dr. Zeitler then presented data (showcased at AACE 2014) from the first clinical trial of a GLP-1 agonist in patients with type 1 diabetes demonstrating a significant effect of liraglutide (Novo Nordisk's Victoza) on postprandial glucagon, gastric emptying, fasting glucose, postprandial glucose, A1c, hypoglycemia, body weight, insulin dose, time in range, and glycemic excursions. Novo Nordisk's ADJUNCT ONE and ADJUNCT TWO studies on liraglutide in type 1 diabetes are expected to report results in October and should provide a more robust indication of the product's profile in this population. However, Dr. Zeitler also highlighted the lack of similar studies on incretin use in children with type 1 diabetes and advocated for future trials to address this gap. In particular, Dr. Zeitler raised the possibility of GLP-1 agonist use in obese children with type 1 diabetes. Dr. Paul Wadwa (University of Colorado, Aurora, CO) echoed these comments during his talk the next day, noting that obese adolescents with type 1 diabetes could be particularly good candidates for adjunct therapies like GLP-1 agonists, assuming safety and efficacy are proven. 
Prevention and Reversing CVD in our Diabetic Patients
David Schade, MD (University of New Mexico, Albuquerque, NM)
In his talk on cardiovascular disease (CVD) prevention and reversal, the always-entertaining Dr. David Schade opened with the promise that "in 25 minutes I'm going to try to change your practice of treating diabetic patients." He boldly asserted that CVD and congestive heart failure (CHF) are completely preventable conditions and should never occur. The presentation began with a review of current practices behind atherosclerosis detection and treatment before advocating for less frequently used "dynamite" diagnostic tools and drugs to lower LDL levels., Dr. Schade made the controversial argument that the ADA's guidelines for target LDL levels below 70 mg/dl are too high. Instead, he believes everyone's target LDL should be below 60 mg/dl and the threshold should be adjusted by 5 mg/dl for each cardioprotective or cardiovascular risk factor the patient has. He also asserted that diet changes alone are not a realistic means of slowing the progression of cardiovascular disease in the American population. Instead, Dr. Schade promoted the use of Zetia (ezetimibe), a cholesterol blocker that inhibits cholesterol absorption in the gut, in addition to a statin. He focused in particular on Zetia's lack of side effects and low price (though the price point is significantly higher than that of the generic statins). We wonder if and how Dr. Schade would incorporate PCSK9 inhibitors, which recently received their first US approval, into this treatment algorithm. Dr. Schade also discussed his goal to promote wider use of coronary artery calcium scores as a diagnostic tool, though we have heard other speakers express skepticism about their widespread usefulness and the AHA/ACC do not recommend their routine use. Dr. Schade's passionate remarks were the subject of significant controversy and debate throughout the rest of the conference. He concluded his talk with the statement, "If any of our diabetic patients have a heart attack, we have not done all we could have done to prevent this catastrophe. This disease should never be."
Panel Discussion
Q: Can you comment on the AHA/ACC guidelines from a couple years ago?
Dr. David Schade (University of New Mexico, Albuquerque, NM): The AHA guidelines are the most worthless things ever published. They were very controversial to begin with. The AHA guidelines don't recognize a specific LDL level, they just recognize that people at high risk should be treated with a high-dose statin and leave at that. The problem is that if you look at the data, 50% of people (diabetic or not) at two years do not take statins. If you don't monitor LDL, how do you know whether someone is taking statins? It needs to be reinforced. Those guidelines should be totally ignored and we should monitor LDL because all the data shows it's one of the most important parameters to measure relative to reversal of atherosclerosis.
Dr. Larry Hirsch (BD Diabetes Care, Franklin Lakes, NJ): I'm going to be purposefully provocative here: someone once declared ezetimibe "an expensive placebo" – what's your response to that?
Dr. Schade: That's a mistake. In a trial in the New England Journal of medicine, treatment with ezetimibe definitely showed improvement, though it only decreases LDL by 20%. Add it to a statin, it definitely works.
Dr. Irl Hirsch (University of Washington, Seattle, WA): We've all been impressed by what we've seen after gastric bypass with blood glucose but I'm concerned with the rare cases of nesidioblastosis. I've always thought that was potentially from increased GLP-1, yet I don't know if that's proven. I personally don't use incretin therapy in patients who still have diabetes. I've recently seen unpublished data about IGF2. What are your thoughts and do you use GLP-1?
Dr. David D'Alessio (Duke University, Durham, NC): I don't, but it's not a big part of my practice. We did a small study in patients with profound hypoglycemia, and when we gave them a meal test they all dipped and got symptomatic. The comparator group with no suggestive history had normal meal tolerance. We repeated it with a GLP-1 blocker and all ten of the hypoglycemia patients had a normal meal tolerance test. In extreme cases high GLP-1 levels can dysregulate glucose. Is that the whole story? I'm not sure. It's a continuum. Some people who are really symptomatic stand out. High GLP-1 after bariatric surgery contributes to high insulin. Is it nesidioblastosis all the time? There's some controversy. The first paper suggested yes, but others said maybe it's not a hard diagnosis. Hypoglycemia exists for sure. It seems to endocrinologists that damn near everyone that gets a bypass has hypoglycemia. It's a devilish problem to treat. People are talking about making long-acting GLP-1 receptor blockers to use but that seems like a long shot.
Industry Sponsored Dinner: Lilly
Serial Treatment Failure Paradigm in the Management of Type 2: Diabetes Requires More Than Just New Treatment Options
Dr. Robert Heine, MD, PhD (Lilly, Indianapolis, IN)
During a Lilly-sponsored dinner, several attendees spoke passionately about their concerns over the rising cost of insulin. One audience member in particular expressed enormous frustration about skyrocketing insulin prices, explaining how her patients are being forced to forgo vacations or are unable to save for their children's college educations in order to pay for insulin. Other providers concurred, with some recommending a switch back to regular insulin or NPH for patients who cannot afford analog insulin (though the price of non-analog insulin has risen in recent years as well). Speaker Dr. Robert Heine sympathized with these concerns, acknowledging that insulin's status as a lifesaving drug for type 1 diabetes is a good argument to "take a closer look at access," but he essentially pleaded ignorance as to why prices have increased to this extent. Dr. Irl Hirsch (University of Washington, Seattle, WA) has tackled this topic head-on at a number of conferences, most recently at ADA, where he proposed a few potential solutions, from clinical guidelines that incorporate cost-benefit analyses to value-based pricing based on panel decisions to greater advocacy by organizations like the ADA and JDRF. Our sense is that public frustration with rising insulin costs is nearing a breaking point, and we would not be surprised to see payers and/or companies begin to take more aggressive stances during pricing negotiations – Sanofi's acceptance of significantly increased rebates for Lantus (insulin glargine) for 2015 in the face of pricing pressure from competitors offers one fairly dramatic recent example.
Questions and Answers
Q: Rosiglitazone kind of got killed off, and it and pioglitazone are really the only agents we've had available that may slow deterioration but for medical legal reasons most of us don't use it. It's still an excellent medication, though there are disadvantages on weight and things like that.
A: I agree. I vividly remember since I was doing a study with rosiglitazone and it was pulled from the market. At the time I thought the reasons were valid. The Nissen paper caused lots of concern. My concern now is that we're doing 20-30 cardiovascular outcomes trials with 300,000 patients and they all have been extremely boring with a hazard ratio of 1.0. We really need to rethink that. A meta-analysis of phase 2 or 3 data can be extremely misleading. If you compare the hazard ratio to real outcomes, there can be a huge discrepancy. Don't do those meta-analyses. Look at other trials like PROactive where one secondary endpoint was positive. If you look at outcomes for diabetes drugs, it's the only one that has something to show for itself. Of course there's baggage like bone effects which we shouldn't ignore. It's not an ideal drug but it's the only one that shows some sustainability. We need to be careful and not kill good drugs too early. We want to get rid of bad drugs as soon as possible.
Q: A lot of the inertia that happens with advancing medications is our approach to patients, the medical system's approach of failure. We say "you fail, you're bad, so we're going to punish you with another drug." The patient wants to try harder before starting the drug. This inertia is universal; it's not just our country. Besides the fact that the algorithms don't support what you're proposing to stop that serial failure, all our insurance companies with their prior authorizations for anything beyond metformin and a sulfonylurea require failure for us to get them paid for. It will take us all working together and a paradigm shift. Drugs cost so much that patients can't afford just to buy them because they want to stay healthy. We have to show failure, even with the more enlightened insurance companies and with Medicare for sure.
A: Lots of dynamics work against this. That's why we need to generate data. I would prefer to do that with payers rather than just academically or as an industry. It should be a joint effort. They should appreciate that we're not doing a good job. Companies are paying for the damage occurring as a result. It should be an incentive for them long term. Some payers take care of patients for many years, so they have a high incentive to take on that risk and do studies. If we're politically smart, we should be able with all stakeholders to do something. If we all agree it's an issue, we should all agree on doing something together. Is that very naïve?
Q: No it's a good idea. Classically companies will say I'm not paying for that because the ROI is years later and they'll be in someone else's insurance. With consolidation and localization that's not true anymore.
Q: We've got people technically getting stuff paid for but we may need to go to a lower cost level. Regular insulin and NPH still work. We shouldn't forget how to use those and make sure patients can do that. That cost burden is really significant, and if we can help with that, that's something we need to remember. We have all the latest and greatest now, the analogs and the analog's analog and the closed loop, but not everyone can afford them.
A: Lots of EU countries have taken that approach. First use the cheaper options, then if there's a medical reason to go more expensive, do so.
Q: One colleague, with new type 1 diabetes patients in the hospital, would intentionally cause hypoglycemia so it was in a controlled situation and the patient knew it was coming so they could experience it and know how to handle it. It's that fear. Some people get the sensation and they go wild and they've never had it before.
Q: It's the cost of pharma everywhere. Opthalmic, cancer, pain medications. The new hepatitis C products are $1,000 a pill. It's not unique to insulin.
A: I appreciate that with insulin it is a lifesaving drug for type 1 diabetes, so that is an argument to take a closer look at access. I agree the newer specialty biologics are very expensive
Additional Topics
Keynote Address
Obamacare: What You Don't Know
David Schade, MD (University of New Mexico, Albuquerque, NM)
Dr. David Schade's keynote address distilled the Affordable Care Act (ACA or "Obamacare") down to what physicians need to know to answer their patients' questions and the benefits of specific provisions to people with diabetes. However, Dr. Schade made the point that the increased premiums are due to a number of new health insurance requirements that make it more expensive for insurance companies to provide coverage but are ultimately highly beneficial for people with diabetes. He noted that such benefits include: (i) the requirement that all health plans cover (with a copay) at least one drug in every category in the US pharmacopeia; (ii) emergency care benefits must be in the same for both in and out-of-network services; (iii) closing of the Medicare "donut hole;" (iv) non-exclusion of pre-existing conditions; (v) prohibition on limiting lifetime or annual benefits; (vi) permission for young adults to stay on their parents' insurance plans until they are 26; and (vii) free preventive services. He emphasized that people with diabetes are often on multiple therapies and have high healthcare costs, so ACA provisions that make it easier for patients to get coverage, stay on coverage, and have their costs covered are particularly helpful in this community. Overall, Dr. Schade presented a positive view of the ACA in terms of its enormous advantages to patients, which he seemed to ultimately conclude justified the costs. We appreciated this simple, concise overview of the aspects of the ACA that healthcare professionals in the diabetes field should be aware of. We hope that this will equip providers to be another resource for patients navigating the health coverage arena.
Dr. Schade began with a review of the basics of the ACA's effect on individual patients including: (i) the individual mandate for health coverage; (ii) populations exempt from coverage; (iii) types of insurance plans available on the exchanges; (iv) available tax credits to assist with the cost of coverage; (v) Medicaid expansion; (vi) and the enormous cost of the law to both the federal government and to the public in the form of increased premiums.
He expressed clear concern for pharmaceutical drug costs and praised ACA provisions that will help mitigate them. The requirement that health plans cover at least one drug in every category has a huge effect on diabetes where, as Dr. Schade puts it, "medications are our specialty and that's what we do to try and control diabetes." He pointed out that in diabetes, new drugs in various classes are developed all the time and it is comforting to know that you can at least get one of them with a copay. Dr. Schade also recognized that many people with diabetes are on multiple therapies and commended the progress to closing the $4,000 patients must pay out-of-pocket for medications due to the Medicare "donut hole." However, during Q&A, Dr. Irl Hirsch (University of Washington Seattle, WA) brought up the important point that copays are not always the solution, referring to the expensive copays of GLP-1 agonists and of course, insulin.


Dr. Schade pointed to industry and its costly drug development processes, rather than insurance companies, as the culprit behind expensive copays. In Q&A, he labeled TECOS as "worthless" and stressed that pharma companies' role in paying for such huge studies is what is passing down such giant costs on down to patients. Indeed, specifically within CVOTs, we believe some rethinking needs to take place on how to better redesign this guidance by the FDA as well as how we can use surrogate markers or other trial designs to gather clinically relevant data more efficiently.

Dr. Schade raised a controversial point that while he personally believes that everyone deserves guaranteed healthcare, there is no line in the Constitution or other document backing this claim. We question this statement considering that the Article 25 of the UN Declaration of Human Rights and the US-signed International Covenant on Economic, Social, and Cultural Rights both explicitly guarantee a right to medical care.
In addition, Dr. Schade encouraged healthcare professionals to read "The Affordable Care Act for Dummies" and visit healthcare.gov for further information. Dr. Schade repeatedly praised the book for simplifying the 980-page legislation into the information most relevant to providers. We agree that more education and awareness efforts targeted at providers regarding this black box is important to help provide patients with additional resources within the evolving healthcare marketplace.
Questions and Answers
Dr. Robert Ratner (American Diabetes Association, Alexandria, VA): This was an excellent description of all benefits patients with diabetes can get under the Affordable Care Act. One natural experiment came from this on the benefit for patients with diabetes. Twenty five states expanded Medicaid and 25 didn't. We know from the CDC that 3% of individuals with diabetes are undiagnosed. If you look at diagnosis since Medicaid expansion, in states that expanded, the diagnosis rate increased by 20%. We are finding and starting to treat more people due to access to care. In other states that didn't expand Medicaid, there was absolutely no change in the undiagnosed rate.
A: Screening for diabetes is one of the free preventive services covered by Obamacare. Now, patients get screened because they don't have to pay a lot to get screened.
Dr. Ratner: I also wanted to raise a minor correction: the ACA didn't give states the option to not expand Medicaid, the Supreme Court did.
A: You're absolutely right.
Q: Health insurance companies pride themselves on reducing their healthcare loss ratio. I'm still having a hard time after working for decades and being insured as to what benefits I'm getting from my employer-funded health insurance. It's estimated that insurance adds 30%-35% to cost of delivery in the US. What would happen if companies went bye-bye [applause] and healthcare was administered à la Medicare, which I understand has single digit admin costs? My understanding is Medicare runs at one-tenth of the cost of the system of insurance companies.
A: I was hard on insurance companies. The data is this: insurance companies are not doing well. Their annual profits are 2% to 2.5% return to stockholders. If you have stock in Apple, the return is 21%. There are a lot of mergers in the news. All big companies are merging because the more lives you cover, the cheaper it is. You have a bigger base. It turns out the companies are making very little money right now on healthcare. Their stocks are way down. But that doesn't mean it won't change. The nice thing about the ACA is that the competition in the Marketplace – at least according to Mr. Obama – is reducing costs. They can't just double their rates. At least in my state, you had a choice of three policies and what Obamacare has done is put on an easy-to-see sheet so you can easily compare all three policies. If you go to healthcare.gov, it will give all available coverage in a state in an easy format. You can see coverage, the ER copay… they have to do that to get on the exchange. The competition is intense and insurance companies are not making any money. I don't believe government is ever more efficient than private industry. They're just not. Look at the VA system. I'm not for having government take over the whole thing. It's a moot point anyway because in our society, that's not going to happen. Insurance companies are way too powerful. I'm not convinced it's a good thing either. It's nice to have choice. If we go with government, we'll only have one choice. It's nice to have choice because needs are individualized. I think choice is good. In Canada, they don't have choice.
Dr. Irl Hirsch (University of Washington, Seattle, WA): David, as you know, I almost always agree with you. One point you glossed over as positive I want to take issue with and that's copays. I don't know how much copays are. My patients complain about them but I don't know numbers. But for GLP-1 agonists, it's true that usually there's one covered, but most can't even afford the copay. The price for a month's worth of GLP-1 agonists may be $600 and the copay may be $300. Even more important is the copay of insulin due to the rising cost of insulin over the last few years. I had two patients – for three months of insulin, their copays were over $1,000. What's good about that? Just because they have a copay doesn't mean they can afford it.
A: You're right, copays are astronomical [applause]. But I'm not blaming the insurance companies. The drug companies are charging astronomical costs. To get a drug approved, it costs $400 million to get it through the FDA. TECOS was a multicenter study that cost millions of dollars. I think it was worthless. Who's going to pay for the studies? The drug companies are going to pay for it. They have to get their money back so they charge a lot. The insurance companies aren't making any money so they're passing it on to you with copays.
Dr. Hirsch: Certain life-saving drugs like insulin should be taken off this. Everyone should be able to afford insulin. [Applause]
Plenary: Glucose Variability and Hypoglycemia in Diabetes
Lessons Learned from FLAT Sugar
Irl Hirsch, MD (University of Washington, Seattle, WA)
Dr. Hirsch defended the success of his FLAT-SUGAR study and raised a number of important follow-up questions. As a reminder, results from the study (n=102 patients with type 2 diabetes) presented at ADA demonstrated that it is possible to achieve a modest but significant difference in glycemic variability between two groups (exenatide + glargine + metformin vs. rapid-acting insulin + glargine + metformin) while maintaining a similar A1c. During this talk, Dr. Hirsch reviewed the results and emphasized that the trial successfully met its primary endpoint, even if it could not achieve a "whopping difference" in variability. He was also "delighted" that all secondary variability endpoints and hypoglycemia trended in the right direction, though they were not statistically significant – he attributed this to lack of power since fewer patients than expected completed the trial. Dr. Hirsch closed by raising several key questions for his group moving forward, including whether effects of exenatide itself (independent of reduced variability) could have confounded the results, why there was so little hypoglycemia in the rapid-acting insulin group, and ultimately whether such a modest difference in variability is sufficient to support a definitive trial examining the effect of variability on long-term outcomes – we believe the latter is the $200 million question! These questions illustrate some of the tension inherent in clinical trials between the desire for clearly interpretable data vs. applicable "real-world" results. For example, Dr. Hirsch rhetorically asked whether it ultimately would matter from a clinical perspective whether outcomes were improved due to reduced glycemic variability or another effect of a GLP-1 agonist. On hypoglycemia as well, the results could very well have been different with another comparator group. While it is clear that designing a sufficiently simple, well-powered trial to examine the effect of glycemic variability on outcomes will be challenging, we are certainly rooting for Dr. Hirsch's team!
Presenting the Dawn Phenomenon
David Schade, MD (University of New Mexico, Albuquerque, NM)
Dr. David Schade delivered a tremendous overview of the dawn phenomenon, the tendency for blood glucose to rise in the early morning. He opened his lecture by addressing one of the biggest misconceptions in the field – the notion that the dawn phenomenon (e.g., the rise in blood glucose) "stops" at breakfast. Instead, he stressed that this rise typically stretches from 4-10 AM, noting that the studies that have examined smaller windows of time are oft cited (mistakenly, we would add) despite this serious design flaw. Due to the lack of data, he suggested that what can most concretely be said about the phenomenon is that "it occurs unpredictably in everyone" (both people with and without diabetes!). Notably, he drew from the literature to demonstrate that the phenomenon occurs on ~50% of nights (Bouchonville et al. Endocrine Practice, 2014), though the mechanism behind this "random" rise remains unknown. Dr. Schade dispelled the notion that adrenergic blockade was involved, though acknowledged the fact that cortisol and growth hormone – certainly, combined with other factors – have been linked, in part, to the rise. Ultimately, Dr. Schade stressed that the dawn phenomenon is a significant contributor to poor glucose control that, he believes, can only be addressed by automatic feedback loops. Though pump companies often suggest that their pumps can prevent the dawn phenomenon, Dr. Schade refuted this notion entirely – as he emphatically noted, "they have NO data!" In sum, we loved seeing Keystone organizers make room for the dawn phenomenon on the agenda – especially considering how chronically-understudied this field is – and applaud this effort to raise the level of conversation on the field. We'll hope to learn more next year!
Panel Discussion
An afternoon panel discussion sparked debate on the cost of diabetes therapies and a bit of international rivalry. Dr. George Alberti (Imperial College, London, UK) suggested that his preferred approach to treating type 2 diabetes would be a stronger initial emphasis on education, followed by metformin and a sulfonylurea if needed, with newer, more expensive drugs used only with caution or in situations where the benefits are very clear (such as GLP-1 agonists for very overweight patients). Dr. Robert Ratner (ADA, Alexandria, VA) countered by citing recent ADA cost analyses demonstrating that prescription drugs account for a very small share of total spending on diabetes compared to hospitalizations for complications. The discussion got a bit heated as attendees from the US and the UK debated the methods and consequences of the UK's National Institute of Health and Care Excellence's (NICE) cost-effectiveness analyses for diabetes therapies. The US and many European countries have clearly taken divergent paths in recent years in terms of cost and access to newer therapies, with (as a generalization) US patients often gaining quicker access to a wider range of new treatment options but at substantially higher cost (to the healthcare system and to individual patients who lack coverage). Ultimately, we do not see this gap as sustainable over the long term, particularly given the increasing focus on reducing costs within the American healthcare system. We bring you highlights from the panel below.
Panel Discussion
Dr. Irl Hirsch (University of Washington, Seattle, WA): Here's my problem: I'm seeing these patients and as we're developing these new tools, our patients can't afford our old tools. George, I think you come from a better perspective than any of us. In the UK, you've really focused on the cost efficacy better than we have in the United States. I think GLP-1 agonists are fabulous drugs, but we don't see as many using them as I think could benefit from them and I think the main reason is not the nausea but the cost. I'm involved in these clinical trials and I'm amazed at what I see with the research, but how are we going to afford these new tools to treat type 1 and type 2 diabetes when right now we can't even afford what we're using even with insulin? George, I think your perspective is maybe a little more mature than the rest of us because you've been dealing with this longer than we have.
Dr. George Alberti (Imperial College, London, UK): I think by "more mature" you just mean I'm older. [Laughter] It is insane and I have reflected on the cost and whether in fact we shouldn't be spending money we do have, certainly in the UK, on more patient education and nurse educators and saying, "Ok that comes first." Then metformin, which is cheap, comes next. And my European colleagues would probably not agree with this but sulfonylureas are still there and still can give a good effect. Be cautious about the further drugs you need. In the very overweight, once you've done your education program, then I think there is a very strong case for the GLP-1-type compounds because of the beneficial effects on weight.
Dr. Robert Ratner (ADA, Alexandria, VA): We do a cost of diabetes analysis every five years. This is exclusive to the United States. It's a very in-depth look at what society spends on diabetes, both direct and indirect costs. We published in 2013 the survey that was done in 2012. The previous one had been done in 2007. We found that the cost of diabetes in United States had gone up 42%. The cost per person went up less than medical inflation. So it was all driven by the increase in the number of people developing diabetes. When you break down the cost of diabetes in this country, over 40% comes from hospitalizations. Physician office visits are about 10%. Glucose lowering agents and glucose monitoring supplies? Not even 11%. So in fact, we're not spending the money on all these expensive drugs; we're spending the money on the people coming into the hospital with heart attacks and amputations and strokes. Remember the old commercial: pay me now or pay me later? If we really look at the data in both type 1 and type 2 diabetes on controlling complications, if we are aggressive in outpatient management and utilize the drugs we have available in a cost-effective manner, we will cut down on hospitalizations. How many months of GLP-1 therapy do you think a 10-day stay in the CCU will cover?
Dr. Alberti: I still think you need to be sensible. I don't think you need very expensive insulin analogs at all.
Dr. William Tamborlane (Yale University, New Haven, CT): It is a slippery slope, this cost-effectiveness analysis. First of all, it is the most unscientific way of trying to assess value. I could call it voodoo medicine. In the UK, they have a committee called NICE – which, by the way, always means the opposite of what it sounds like – it is not nice. It tries not to approve new drugs and devices because they cost more money. Every government program wants to reduce costs. Cost-effectiveness analysis ultimately revolves around quality-adjusted life-years gained. You have to say that with this intervention, the diabetic patient is not only going to live a year longer, but a year of good quality. The NICE committee, to assess quality of life changes with a drug, uses what's called the EQ-5D. It's five questions, three of which are: I can dress myself, I'm not bedridden, and I'm not anxious or depressed. At least two of those are not going to change over six months of using a GLP-1 agonist or a new rapid-acting analog.
Dr. Alberti: I think you're showing profound ignorance of what NICE does. We have the chair of the NICE type 1 diabetes committee here. Perhaps she can put things right.
Dr. Stephanie Amiel (King's College London, UK): It is one of the measures, but I'm sorry, you are wrong about how it works. If I went into great detail about it, it would take us quite a long time. Like you, I approach my task with deep skepticism, but they do the best they can with the available evidence and they look at a range of things including hypoglycemia, HbA1c, and quality of life. They go to extreme effort to get patient input as well as healthcare professional input.
Dr. Tamborlane: I talked to someone on the NICE committee and she said it was safety that gets some of the type 2 drugs approved. We know that certainly in type 2, safety related to hypoglycemia is a very soft outcome. As we pointed out in our two talks, Guys Hospital was one of the leading CSII centers late 70s and early 80s – they were our rivals at Yale. In 2000, there were more children on pumps in our clinic at Yale than there were pumps in entire United Kingdom. And that was because it was felt that there was not enough evidence to support the use of pumps.
Dr. Amiel: The NICE guideline on pumps in the UK, were it to be implemented, would have 20% of adult patients and most of our children on pumps. The problem's not NICE, it's the people who are trying to implement their recommendations.
Question: I'd like to ask a more philosophical question that has to do with where we're putting our resources as diabetes experts and professionals. I see anybody who comes in and I do best to get that person to the best control safely. But the patients I most enjoy seeing are those that are doing worst, who I can make a small intervention and make an enormous difference in terms of outcome. The frustration I have is that as an endocrinologist, I spend a disproportionate amount of time on people whose A1c's are in the 7% range who want to do better and I try to help them to do better. I see relatively few people who are in the 9, 10, 11% and above, where I think I could have greatest impact with the smallest number of drugs at the least cost. How do you try to get to this extremely vulnerable group where evidence extremely strong that with an intervention you could make an enormous difference?
Dr. Bruce Bode (Atlanta Diabetes Associates, Atlanta, GA): In US, as you see patients, you keep them as a chronic condition and you don't discharge. In the UK, I think it's probably different. Their primary care takes care of everybody and if they aren't in control they get referred. Theoretically, the only way you could do that is to see a lot more new patients and be open to say, "Give me your people above 8 to 9 and anybody below that go back to the primary care."
Dr. Tamborlane: For pediatrics, we have weekly clinic meeting of all providers. We spend 90% of time in that meeting talking about patients with A1c's over 9%. We never move anywhere with those patients, it's often the same relatively small group. I think that the hypothesis that you can have a bigger impact on the really poorly controlled patients is not always the case. The problem is that we have challenges in pediatrics in improving parenting and getting kids to take medicines that they don't want to take. It is really not so easy. And poverty. Many studies point out that low socioeconomic status, with all things that contribute to poverty, is an important factor in overwhelming control.
Dr. Alberti: I think one of the advantages we do have in the UK is a total care system. One program we're been involved with is a team who goes for the hard to reach groups, the homeless etc. They're having a really dramatic impact on the 20s, 30s, and 40s of patients – not hundreds of patients – that they can get at and field their cardiovascular risk factors and improve their diabetes quite dramatically.
Dr. Hirsch: It's a generalization, it's not always the case, but at least where I live people are willing to drive up to 3 hours to come to our clinic if they have type 1 diabetes. The type 2 population won't drive across our lake. It's a problem, absolutely. What we're doing – and I haven't seen data yet, I hope to in the next few weeks – is sending a junior endocrinologist to work in a primary care clinic. It's not such a novel idea, but they don't have expertise or more importantly the infrastructure in primary care. If we bring that to them, we will improve the care. Because you're right, there are too many people with double digit A1c's in those clinics.
Dr. Ratner: The smartest providers I've ever known are the ones who know what they don't know. Essentially what that means if they hit their limit of capability and then they refer. Any of you who heard David Marrero's presidential lecture at ADA will recognize that one area where we are least capable of dealing with our patients is the behavioral and mental health component. Depression is so common in diabetes. The inability to cope with everything we're asking them to do and yet how often do we actually make the referral. When you look at all the clinical trials, they all have an upper limit of A1c. You don't want people with A1cs in 11% and 12% because that's not a medical problem, that's a behavioral and mental health problem. I think we need to shift our attention to mental health issues and then we can get to those folks with A1c's of 9 and above.
Dr. Hirsch: There are a lot of exceptions to that though, especially in type 2 patients in rural communities. They have little access to medical care. There are still a lot of places like that. The big thing that I see is the misdiagnosis – these patients come in almost catatonic because they have type 1 diabetes.
Dr. Ratner: That's the knowing what you don't know and when to refer.
Dr. Hirsch: That's right, and we see that a lot.
Dr. Satish Garg (University of Colorado, Denver, CO): So Bruce, you talked about DKA with SGLT-2, what is your hypothesis for this combo product? With SGLT-1 and SGLT-2, do you anticipate a different response to glucagon and thus an outcome for DKA?
Dr. Bode: I probably don't see a marked difference in glucagon levels. But you're right, we didn't measure glucagon levels – were they down?
Dr. Garg: Yes, they were down.
Dr. Tamborlane: I think the obvious gorilla in the room with SGLT-2 is with type 1, with our pump patients. As opposed to type 2, it's really the type 1 patient on a pump who is regularly going to have infusion site problems.
Dr. Tamborlane: Dr. Ratner has just told us you can't depend on randomized controlled trials either because you don't accept patients with A1c over 10 or renal failure or on 10 other drugs. I love randomized trials, we do randomized trials all the time, but it's not rocket science.
Dr. Ratner: Guidelines are suggestions.
Q: I'm from Hawaii and I work with a lot of Medicaid patients. I feel like I'm in my own little world because we have managed Medicaid. We have five plans and every plan – except Kaiser – covers GLP-1 agonists with some rules. Someone got the message that people in poverty tend to be more obese and will benefit from these drugs. I'm curious if anyone else has generous similar Medicaid coverage?
Dr. Hirsch: Let me ask, raise your hands if you are able to get GLP-1 agonists for your patients on Medicaid. [Decent number of raised hands] Wow that's impressive.
Comment: I've had more problems with Medicare patients with poor Part D coverage and exorbitant copays. Now that everyone knows that insulin prices are ridiculous, I have drug representatives supplying patients with pens. These patients are a few thousand dollars over the cutoff Medicaid. They're too rich for assistance, but not rich.
Dr. Hirsch: All of us deal differently. There are a lot of local and regional differences – where you live it's easier to get GLP-1, where I live it's easier to get marijuana.
Plenary: Controversies in Diabetes Management
A1c: Understanding the Value
Irl Hirsch (University of Washington, Seattle, WA)
In one Keystone's most entertaining lectures, Dr. Irl Hirsch discussed a number of ways in which A1c insufficiently captures the quality of glycemic control. He opened his presentation by providing a look at well-appreciated ways in which this metric deviates from reality – e.g., hemoglobin variants, decreased red blood cell survival, drug interference. In his view, these are reasons for A1c to read falsely low that we have understood for the greater part of 30 years – the kicker, though, is that "we are STILL not as smart as we think we are." Dr. Hirsch ran through a gamut of underappreciated conditions and circumstances – many new to us! – that interfere with the accuracy of A1c (e.g., glycemic variability, aortic stenosis). Below, we summarize our major takeaways along with Dr. Hirsch's thoughts on how "the system is NUTS!"
In Dr. Hirsch's view, understanding the precision of A1c is vital for clinical practice – indeed, the total allowable imprecision is 3%. This means that an A1c of 7% can vary by 0.2% (6.8%-7.2%), while an A1c of 10% can vary by 0.3% (9.7%-10.3%). He acknowledged that precision is improving over time, but that acknowledging these differences is crucial to clinical practice. Indeed, his words served as a forceful reminder that A1c can be valuable as an indicator of health, but that it is reductionist to use precise values as justification for therapeutic decision-making (e.g., treating an A1c of 9.7% and 10.3% dramatically differently). Still, this is tough in practice, since guidelines must draw cutoffs or else they become too vague to be meaningful.


"You can have an A1c of 8%, but have a LOWER blood glucose than someone with an A1c of 7%!" Drawing from the literature (Nathan et al. Diabetes Care, 2008), Dr. Hirsch acknowledged that average glucose is well correlated with A1c – however, the problem is that the 95% confidence intervals for associated CGM measurements are impractically wide. See the table below or note the dispersion in the plot here. [We'd note that this study used older CGM, and we hope to see it repeated with more accurate devices; perhaps some of the noise in average glucose stemmed from less reliable CGM.]
Because individuals vary in their rates of glycation and hemoglobin structure, Dr. Hirsch stressed that A1c measurements cannot be relied on for clinical decision-making in all patients and certainly should not be compared between individuals. He was as animated as we've ever seen him in addressing the clinicians in the audience (which is saying something!): "Did you know that? This is incredibly important! You NEED to know that."
Table 1: Average Glucose vs. A1c (Nathan et al. Diabetes Care, 2008)
| | | |
| --- | --- | --- |
| A1c (%) | Average Glucose (mg/dl) | 95% CI (mg/dl) |
| 5 | 97 | 76-120 |
| 6 | 126 | 100-152 |
| 7 | 154 | 123-185 |
| 8 | 183 | 147-217 |
| 9 | 212 | 170-249 |
| 10 | 249 | 192-282 |
| 11 | 269 | 217-314 |
| 12 | 298 | 240-347 |
Dr. Hirsch also reviewed the impact on drug interference on A1c. As example, he raised the issue of treating patients with kidney disease with epoetin alpha, a medication that increases bone marrow red cell turnover. As a result, the medication causes A1c to read falsely low. As Dr. Hirsch noted jokingly, "all those providers who treat patients with kidney disease think that their diabetes is not a problem."
"Iron cures diabetes," joked Dr. Hirsch. Of course, it doesn't – but Dr. Hirsch noted that iron deficiency anemia leads A1c to overestimate glycemia. He shared findings from the literature indicating that iron treatment in patients with and without diabetes lowers A1c independent of blood glucose as measured by CGM. Indeed, it was fascinating to hear him review anecdotal cases of patients presenting with diabetes based on A1c only to be "cured" by iron treatment.
Despite acknowledging the above factors, Dr. Hirsch stressed that "we are STILL not as smart as we think we are" – in particular, he pointed to a lack of appreciation for the fact that aortic stenosis can significantly affect A1c. He noted that this narrowing of aortic valve surface area results directly in the shearing of red blood cells as they pass through valves. Dr. Hirsch shared data (new to us despite being over 50 years old!) that aortic disease, aortic prosthesis, and multiple valve prosthesis all lead to 25% reductions in red blood cell survival (Brodeur et al., Circulation, 1963). "You have to know that. You HAVE to know that," Dr. Hirsch emphatically noted. Indeed, he encouraged physicians to examine newly diagnosed diabetes patients by listening for heart murmurs for indications that A1c may be reading falsely low.
On an even more interesting note, Dr. Hirsch noted that glycemic variability impacts A1c (Kuenen et al. Diabetes Care, 2011). He shared data indicating that type 1 patients with the same plasma glucose but different standard deviations showed different A1cs. See table below. Said Dr. Hirsch, "Why is that? I have no idea. But it is fascinating to me."
Table 2: Impact of Low vs. High Standard Deviation in Type 1 Diabetes
| | | |
| --- | --- | --- |
| Mean Plasma Glucose (mg/dl) | A1c for patients with low standard deviation (%) | A1c for patients with high standard deviation (%) |
| 140 | 6.53 | 6.80 |
| 160 | 6.96 | 7.41 |
| 180 | 7.38 | 8.02 |
| 200 | 7.83 | 8.62 |
| 220 | 8.26 | 9.23 |
| 240 | 8.69 | 9.84 |
For those with type 2 diabetes who perform little (if any) SMBG, Dr. Hirsch noted that it will not be possible to identify these glycation gaps (where A1c does not reflect mean glucose). Scarily, Dr. Hirsch reminded the audience that clinicians are making therapeutic dosing decisions based on A1c values alone that could be misaligned with reality. That too, given pressure from payers to use fewer and fewer strips, there is an argument to be made that saving money leads to improper decision-making. Indeed, Dr. Hirsch suggested that providers are led to a false sense of security with some patients, who perhaps need to be on insulin, but A1cs suggest that metformin is sufficient. Said Dr. Hirsch, "The system is NUTS. We have to understand the science."


Dr. Hirsch shared additional frustration that A1c is so misunderstood – "I have to measure A1cs or I get dinged by the University of Washington. So I intentionally waste money because of this protocol." He noted that A1c does remain the best and only biomarker that provides a history of glycemic control and has been documented to show strong relationships between glucose and complications. Still, for some patients, A1c does not reflect mean glucose and it strikes him (and us!) as inefficient and careless for payers to overlook the nuanced science.

Dr. Hirsch closed by suggesting that clinicians have a responsibility to understand A1c and, in certain situations, depend more heavily on fructosamine and SMBG data to make treatment decisions. That said, he was quick to point out that fructosamine also has its share of problems: (i) it provides only a 21-day history of glycemia; (ii) the relationship between glycemia and fructosamine is not a straight line; (iii) fructosamine is influenced by bilirubin, uric acid, and high protein turnover (as seen in dialysis); and (iv) it needs to be corrected by serum albumin, which can rarely be performed by clinical labs.
Plenary: Recent Advances and Challenges in Diabetes
New Markers for Diabetic Retinopathy
Naresh Mandava, MD (University of Colorado, Aurora, CO)
Dr. Naresh Mandava reviewed the pathophysiology, current treatment options, and future needs in diabetic retinopathy, which he noted remains a leading cause of preventable blindness. He celebrated the development of anti-VEGF therapies like Bayer/Regeneron's Eylea (aflibercept) and Roche/Genentech/Novartis' Lucentis (ranibizumab) that allow greater gains in visual acuity compared to laser photocoagulation, though he acknowledged that laser treatment still remains the standard of care. He frankly acknowledged the dilemmas surrounding off-label prescribing, estimating that Genentech's Avastin (bevacizumab), which offers a tremendous discount compared to the two approved therapies, remains the number one treatment for diabetic macular edema (DME) despite a recent comparative effectiveness study showing greater gains with Eylea in patients with worse baseline visual acuity. Looking to the future, Dr. Mandava pointed to better imaging (as current techniques can only visualize ~10% of the retina), new assays like Somalogics' SOMAscan platform to identify novel therapeutic targets, more sustained drug delivery devices to replace monthly injections, and identification of better biomarkers as key areas for continued efforts.
Immune-Modulation for T1D Going Forward
Kevan Herold, MD (Yale University, New Haven, CT)
Dr. Kevan Herold discussed potential solutions to the "type 1 diabetes problem": the history of initially promising therapies failing to produce sustainable effects on beta cell function. He believes the key question is whether this is due to failure to fully modulate the pathogenic immune response or to a preprogrammed pathway for beta cell death. On the immune side, he presented data showing that patients with type 1 diabetes treated with immune therapies like rituximab still retain autoreactive B cells, which he suggested is likely due to genetic factors that would be very difficult to alter. To overcome this, Dr. Herold listed combination therapies (such as an anti-CD3/GLP-1 agonist combination) or treatments that target regulatory T cells (such as autologous Treg transplants or low-dose IL-2) as potentially promising options. In terms of beta cell death, he noted that there seems to be a window of time right around diagnosis when the greatest destruction occurs and the opportunity to intervene may be the highest. He described his group's research to develop an assay to measure beta cell death based on the level of demethylated insulin DNA and presented data showing that in both NOD mice and humans, levels of demethylated DNA do not rise until very soon before hyperglycemia develops. If true, this would contradict the conventional wisdom that beta cell destruction is a gradual process that begins to occur long before diabetes is diagnosed. Toward the end of his talk, Dr. Herold discussed the importance of identifying markers to predict which patients are most likely to respond to a given therapy, pointing out that the greatest determinants of success in past studies have been lower A1c, less insulin use, and age (with children responding better than adults in almost every immunologic study).
Panel Discussion
Q: You showed the DCCT data about how intensive diabetes management can lead to an increase in diabetic eye disease. The last time I looked into the literature, the mechanism through which this occurs was not clear. There were a number of hypotheses, but no consensus. What's your opinion? I didn't see any protocols or data stating the rapidity at which we can intensify treatment to quickly decrease A1c without increasing progression of diabetic eye disease.
Dr. Mandava: Our feeling is it's okay for you to proceed the way you would normally, but keep in mind to monitor the patient closely and look for signs of vascular permeability. What is the driver and pathophysiology of retinopathy? I think it's this increased vascular permeability, probably a combination of alpha reductase or PKC pathway.
Q: I'm saying when you quickly reduce A1c – starting at 11% and go to 7% in 4 months. Why can that increase diabetic eye disease?
Dr. Mandava: That critical period with lots of metabolic change happening is poorly understood. I can't speak to specific pathway because we don't know, we only know the end result. Can't predict who will do what. Renal disease seems to fare worse, so I can postulate it has something to do with the hemodynamic state.
Dr. Larry Hirsch (BD Diabetes Care, Franklin Lakes, NJ): Is the defect in alpha cell function in type 1 diabetes a primary defect or is it related to lack of paracrine insulin in the islet bathing the alpha cells? Why don't we ever get restoration of alpha cell function when we treat patients well for a good period of time and they're receiving insulin?
Dr. Alan Cherrington (Vanderbilt University, Nashville, TN): I think it's a primary defect in the alpha cell. True paracrine regulation occurs, so that requires very high levels, much higher than those given therapeutically. I don't think you can reach the level of insulin that would normally suppress the alpha cell. I think there's more going on. It's not just the secretory mechanisms that are dysfunctional. It's a glucose-specific defect. The paracrine environment can influence it but I think it's more than that.
Q: If the maximum killing for beta cells is occurring when people have two antibodies and we find better A1c and hemoglobin production is a better factor, what's stopping us from going to high risk family where someone has type 1 and looking at that group specifically?
Dr. Herold: I think people are at risk in the group I showed, but there are progressers and non-progressers. My interpretation of the data is there is some sort of catastrophic event that then drives the whole thing forward. That seems to be identified by presence of some dysglycemia. I don't know if you were to go to double antibody positive people a year earlier you would see much killing. Another thing happens that pushes everybody over the edge.
Plenary: Obesity and Hyperglycemia
Obesity and Type 1 Diabetes
Paul Wadwa, MD (University of Colorado, Aurora, CO)
Dr. Paul Wadwa discussed the potential of adjunct therapies to address the rising rates of obesity in type 1 diabetes, focusing mainly on GLP-1 agonists and SGLT-1/SGLT-2 dual inhibitors. Standing in for Dr. Robert Slover (University of Colorado, Aurora, CO), Dr. Wadwa shared data from the T1D Exchange that he described as indicating very low use of adjunct therapies in type 1 diabetes (3% of all patients, with metformin the most common choice) – interestingly, Dr. Bruce Bode (Atlanta Diabetes Associates, Atlanta, GA) used similar data in his talk the previous day to support his point that the use of such therapies is increasing. He reviewed the promising results from a study of Novo Nordisk's Victoza (liraglutide) in type 1 diabetes presented at AACE 2014 and highlighted Novo Nordisk's more robust ADJUNCT ONE and ADJUNCT TWO trials, which have been completed and should report results within the next few months. He also reviewed the recently published data showing significant improvements in weight, A1c, glucose variability, and other parameters with Lexicon's sotagliflozin in type 1 diabetes. He expressed hope that the risk of DKA might be lower with sotagliflozin compared to SGLT-2 selective inhibitors but stressed that much more data is needed to fully understand the safety profile. We were somewhat surprised that he did not mention any of the ongoing trials of SGLT-2 inhibitors in type 1 diabetes; while the risk of DKA is certainly a concern, we have heard many speakers suggest that the benefits could still potentially outweigh the risks for at least some patients once further data is available. With all of these options, Dr. Wadwa stressed that safety and efficacy must be proven in adults first but suggested that obese adolescents could eventually be particularly good candidates for therapy.
Plenary: The Gut and Diabetes
Gut Hormones and Diabetes
David D'Alessio, MD (Duke University, Durham, NC)
Dr. David D'Alessio delivered an engaging talk on the main benefits, common misconceptions, and future potential of incretin-based therapies. He began by challenging some of the conventional wisdom about incretins and diabetes, stating that two common assumptions – (i) that patients with diabetes have impaired GLP-1 secretion and (ii) that long-acting and short-acting GLP-1 agonists have clearly differential effects on fasting vs. postprandial glucose – are often overstated and need to be more rigorously evaluated. Dr. D'Alessio also cautioned providers against overstating the effects of GLP-1 agonists on weight loss, as patients often develop unrealistic expectations when the drugs are portrayed as weight loss agents – we are curious whether that view also applies to Novo Nordisk's Saxenda (liraglutide 3.0 mg), which is intended as a weight loss drug. Dr. D'Alessio suggested that the best place for GLP-1 agonists in the type 2 diabetes treatment algorithm is between oral agents and insulin. Dr. Ralph DeFronzo (University of Texas Health Science Center, San Antonio, TX) disagreed during his talk later in the session, suggesting that the class should be a first-line therapy. However, Dr. D'Alessio's concerns about cost, complexity, and the desire to avoid injections likely resonate with many patients. We strongly agree with Dr. D'Alessio's prediction that combinations with basal insulin represent the future of GLP-1 agonist therapy – the DUAL V results for Novo Nordisk's Xultophy (insulin degludec/liraglutide) presented at ADA reinforced the excitement around this combination class. Looking further into the future, Dr. D'Alessio highlighted several promising options for the class, including a type 1 diabetes indication, oral formulations, and co-formulation with other peptides (e.g., GLP-1/GIP and GLP-1/glucagon dual agonists), and ultimately concluded that "the GLP-1 receptor as a target has not been fully utilized." 
Dr. D'Alessio spoke briefly about DPP-4 inhibitors as well, characterizing them as a very homogenous class with tolerability as the main selling point. He characterized DPP-4 inhibitors as one of "the most similar of all drug classes" and jokingly suggested that they will have to compete on "who has a better glossy brochure" since there are so few clinical differentiating factors. He did suggest that they make "nice additions" to oral fixed-dose combinations due to the ability to consolidate copays – we agree that these combinations, particularly with SGLT-2 inhibitors, likely hold the greatest promise for the class going forward. Regarding the DPP-4 inhibitor/heart failure controversy, he suggested that the neutral results from TECOS (the CVOT for Merck's Januvia [sitagliptin]) have led most people to feel "a little more relieved" that there is no real signal for the class. We do think that the divergent heart failure results from the three DPP-4 inhibitor CVOTs could provide some advantage for Januvia over others in the class, particularly if the FDA requires label changes for AZ's Onglyza (saxagliptin) and/or Takeda's Nesina (alogliptin) based on the potential for increased risk.
Panel Discussion
In a panel discussion, Dr. David D'Alessio (Duke University, Durham, NC) noted that obesity pharmacotherapies remain a "long way off," noting that combinations are the way forward. In response to a question on appetite suppressants and drug therapy in weight loss, he labeled the currently available drugs as only modest, noting clinical trials' ~5% weight loss as comparable to outcomes of a lifestyle intervention program. Although Dr. D'Alessio pointed out the greater weight loss of Vivus' Qsymia (phentermine/topiramate) of 7%-9%, he highlighted that "these phase 3 populations are not our populations," sharing that he typically divides the outcomes of clinical trials by two for more realistic expectations within his clinical practice. While he remained unimpressed by current obesity dugs, Dr. D'Alessio commented that the advance of using drugs in combination has potential. We agree that combination therapies are all the rage now both in diabetes and obesity. Specifically, we see combinations with weight-neutral or weight-beneficial diabetes drugs as promising approaches that could also potentially revive the slumping obesity drug market. For one example of this, please see our coverage of Orexigen's considerations of developing of a fixed-dose combination of Contrave (naltrexone/bupropion) and a diabetes drug.
Plenary: The Brain and Diabetes
Brain in Children with Type 1 Diabetes; DKA & Hypoglycemia
Darrell Wilson, MD (Stanford University, Stanford, CA)
In a comprehensive overview of the preadolescent brain, Dr. Darrell Wilson argued that there is growing evidence that hyperglycemia plays a distinctly adverse role in brain development. Dr. Wilson reminded the audience that historically, hypoglycemia has been thought to be the critical factor in diabetes complications – coupled with a lack of technology, this fear has led pediatric providers to run their patients at a high blood sugar target. Scarily though, he juxtaposed this clinical recommendation with the growing body of research that hyperglycemia may be just as detrimental to health. He drew from the literature, sharing results from recent studies indicating a relationship between preadolescent hyperglycemic exposure and deficits in neurocognition (Aye et al., Diabetes Care 2011; Aye et al., Diabetes Care 2012). He also shared recently published findings from Stanford and the Jaeb Center for Health Research, who conducted a longitudinal assessment of neurocognitive performance in children with type 1 diabetes (Mauras et al. 2015). The study enrolled children (ages 4-10) with (n=144) and without (n=72) type 1 diabetes, who had high-resolution structural MRI and comprehensive neurocognitive tests performed at baseline and 18 months. Children with diabetes had slower total gray and white matter growth than control subjects, which were associated with higher cumulative hyperglycemia and glucose variability but NOT with hypoglycemia.
Ultimately, Dr. Wilson concluded that hypoglycemia, seizures, DKA, glycemic variability, and hyperglycemia all play a role in brain development – though the latter to an extent far greater than we have previously appreciated. He advocated for more research clarifying the "sweet spot" in glycemic control and stressed the importance of avoiding both hypoglycemia and hyperglycemia – a very tough task by his own admission that may only prove possible with closed-loop systems. Indeed, in what may prove relevant to the development of the artificial pancreas, Dr. Wilson closed by suggesting that closed-loop control holds the solution to mitigating the neurocognitive deficits we see in children with type 1 diabetes. "Closed-loop control is the future. I don't think we'll get there until we get closed loop!"
Plenary: Controversies in Diabetes Management
Role of SMBG: Inpatient
Steven Clement, MD (Georgetown University, Washington DC)
Dr. Steve Clement highlighted that he now recommends ketone testing in all patients who have had exposure to SGLT-2 inhibitors in the hospital. In his discussion on inpatient care, he shared that he has seen three recent DKA cases in his hospital (one in type 1 diabetes, two in type 2 diabetes) in patients on SGLT-2 inhibitors, compared to zero cases in the last year. Upon asking if any other attendees have seen cases within their hospitals, a few members of the audience raised their hands. Indeed, while the magnitude of this issue remains controversial, we would guess that no one would disagree with ketone monitoring efforts in such high-risk patients within the hospital setting. We were overall surprised to hear so little commentary on euglycemic DKA with SGLT-2 inhibitors at this meeting – for more on the field's insights on this recent safety concern, please read our coverage of Diabetes Care's case series.
Meet the Peers
Pediatrics
Dr. William Tamborlane (Yale University, New Haven, CT) pointed out the challenges of enrolling participants in pediatric trials for approving drugs for youth with type 2 diabetes. After Dr. Philip Zeitler (University of Colorado, Aurora, CO) pointed out that insulin treatment is challenging within this patient population, Dr. Tamborlane stressed the very limited treatment options for type 2 diabetes in youth. Referring to Dr. Zeitler's work, Dr. Tamborlane highlighted enrollment challenges in moving drugs forward for this patient population, as he noted that the population is currently relatively small and needs a proportionally large number of participants for successful clinical trials. Acknowledging that "we basically have metformin and insulin and we just said insulin doesn't work well in this population," Dr. Tamborlane stressed that we "need to think of a novel way to get these drugs approved" for youth. We find it notable that type 2 diabetes in youth has received a decent amount of attention at this year's meeting, indicating the growing magnitude of this looming public health concern. As early intervention in the youth and adolescent time periods may be critical in preventing further compounding of the diabetes epidemic, we agree that more resources should be shifted to rethinking how we can better control type 2 diabetes in this growing patient population.
Educators
In this casual, intimate, and very enlightening session, diabetes educators gathered to share tips and frustrations related to reimbursement, alternative methods of hypoglycemia detection, and patient and provider engagement with diabetes technology. A highlight of the session was Ms. Mara Schwartz's (Barbra Davis Center for Childhood Diabetes, Denver, CO) introduction of her diabetes dog, Frank, and explanation of the process she went through to train him. Ms. Schwartz explained that a diabetes dog was a good alternative to CGM for her, because technology didn't always catch her lows in time. However, fully trained diabetes dogs are expensive at $12,000-$30,000 and are not covered by insurance. As an alternative, Ms. Schwartz used the online resource Diabetic Alert Dog University to train her own dog. She provided an overview of the fascinating process, involving using saliva samples from low periods for scent imprinting, and positioned diabetes dogs as a potential alternative for Medicare patients who cannot get coverage for CGM. Tech fatigue was also a major discussion topic, with educators sharing their frustrations and tips on managing multiple sensors, monitors, and pumps, all with different software. Educators also felt that reimbursement for time spent engaging with patient data is not adequate – as one educator put it, "We may be the only practice that gives as much care away for free as we do." Lack of adequate reimbursement for diabetes educators has certainly been a theme in recent years, and so it was at the recent AADE.
-- by Melissa An, Adam Brown, Helen Gao, Varun Iyengar, Emily Regier, and Kelly Close