Executive Highlights
Gelesis announced earlier this week that FDA has approved its prescription device Plenity for weight management in adults with BMIs of 25-40 kg/m2 (a notably broad range), as an adjunct to diet and exercise. Plenity (previously called Gelesis100) is a "non-systemic hydrogel capsule" taken orally with lunch and dinner, that rapidly absorbs water in the stomach and mixes with food, expanding ~100x to give a feeling of satiety. Approval comes after positive results from Plenity's pivotal phase 3 GLOW trial – see our full coverage from Obesity Week 2018.

We note that 25 is a pretty low BMI – this is definitely opening a new potential intervention to a number of people that would like help on weight management but have not been able to try other interventions like medical therapy. We note enthusiasm for this approach as well from KOLs that appreciate that express appreciation for a medical device rather than therapy, particularly "scheduled" therapy.

See below for a Q&A with Gelesis management. Notably, Gelesis has not yet divulged a list price for Plenity but expressed a commitment to enabling out-of-pocket affordability for most patients, regardless of insurance coverage (given the heterogeneity of socioeconomic status, we felt that was quite a positive as well as bold thing to assert).

KOLs appear enthusiastic about Plenity's potential. Scripps' Dr. Ken Fujioka highlighted the impressive safety profile of Plenity and its potential in prediabetes. Boston University's Dr. Caroline Apovian noted that Plenity has "the potential to fill a crucial gap in the treatment of overweight and obesity." See below for full quotes.
Gelesis announced earlier this week that FDA has approved its prescription device Plenity (previously called Gelesis100) as an aid for weight management in adults with a BMI of 25-40 kg/m2, as an adjunct to diet and exercise.
Plenity is a non-systemic hydrogel capsule taken orally with lunch and dinner that rapidly absorbs water in the stomach and mixes with food, expanding ~100x to give a feeling of satiety. The product is classified as a Class 2 medical device and will only be available via prescription. For further background on how Plenity works, check out this video.
Notably, FDA granted Plenity clearance for use in adults with a BMI as low as 25 kg/m2, giving it the broadest indication of any available FDA-approved weight management option. To our understanding, all obesity pharmacotherapies are currently approved for those with a BMI of ≥27 kg/m2. We're curious as to how this broad indication may help Plenity differentiate itself as it competes in a branded obesity market that continues to face issues of poor reimbursement, under-diagnosis, and a general reluctance to adopt treatments past lifestyle interventions. We'll be interested to see where Plenity fits on the spectrum between pharmacotherapy and devices (i.e., gastric balloons).
FDA approval comes after positive phase 3 results for Plenity in its pivotal GLOW trial (n=436). In the study, 58% of participants randomized to Plenity after six months achieved ≥5% weight loss from baseline compared to 42% in the placebo arm (p=0.0028). That's a pretty high responder rate for placebo in our view and we're more focused on those who lost over 10% of their weight, since weight loss expectations are always so high with patients. Importantly, there were no significant safety signals in the trial, and dropout rate was lower in the Plenity arm than in the placebo arm. For a deeper dive on these results, see our coverage from Obesity Week 2018, where Gelesis presented full results from the study. There, investigators highlighted a clear separation between responders and non-responders in the study, with those achieving at least 3% weight loss by the end of eight weeks with Gelesis100 going on to lose ~10% at six months compared 2% for non-responders (no p-value given). How to identify likely responders remains a question – management said this should be possible within eight weeks but we doubt most would continue with a treatment that long if it were not likely to work well.
Excitingly, thought leader reception of Plenity has been enthusiastic. Noted obesity KOL Dr. Donna Ryan (President, World Obesity Federation) extolled Plenity's innovative mechanism at Obesity Week 2018, along with Dr. Louis Aronne (Weill Cornell Medicine), who expressed optimism regarding Plenity's potential to positively influence the gut microbiome.
Q&A with Gelesis Management
Q: How will the treatment be priced? How are payers responding to data from the GLOW trial? Given the growing prevalence of obesity, does Gelesis intend for this treatment to have a broad effect on a population level, or will it be targeted more specifically to select individuals? 
A: We intend to reach a broad audience with PLENITY; we are initially targeting adults in the 25-35 BMI range. We have not yet announced a price, but we are committed to ensuring that most prospective patients can pay for PLENITY out of pocket, whether or not their insurance covers it. We recognize that obesity is a major public health threat and we are hopeful that PLENITY will be part of the solution.
Q: Our understanding is that the GLOW study pointed toward a clear separation in responders and non-responders to Gelesis100 treatment. How will Gelesis help healthcare providers identify which of their patients might respond best to this treatment?
A: You're absolutely right. Our retrospective analysis suggests that we can predict – with 85% accuracy -- who will respond to Gelesis based on their weight loss as early as after eight weeks of treatment. (Those who lose at least 3% of their body weight after eight weeks are highly likely to achieve clinically meaningful weight loss at six months.)
We plan to share this information with clinicians prescribing PLENITY. We hope they will use these data to assess where patients stand after eight weeks of treatment and discuss their options. If they have not responded by that point, they may try increasing diet or exercise, they may choose to continue on PLENITY, or they may opt to take another path. It's important to note that PLENITY has an excellent safety profile – it was comparable to placebo in our pivotal study -- so those who do not respond to PLENITY are not at any significant clinical risk.
Q: Where do you think Gelesis100 fits in within the current obesity pharmacotherapy paradigm? How might this treatment impact treatment algorithms? What does Gelesis see as the best-case scenario for how this product is received?
A: We see this product as a groundbreaking option for the tens of millions of people with overweight and obesity. As you note, the label is quite broad; it's indicated for BMI 25-40 kg/m2, when used in conjunction with diet and exercise. Tens of millions of those individuals have never before had prescription options. They have been struggling to lose weight on their own – or have turned to supplements and diet plans that have not been clinically validated. We believe PLENITY will appeal to many adults in this group because it's non-systemic, non-stimulant, naturally derived and has a strong safety profile.
Adults who have co-morbidities or higher BMIs have had prescription and surgical options available, but as you know, these therapies are typically prescribed only to those with the highest BMIs because they carry the risk of serious side effects. The risk/benefit profile of these options has not been appealing for many adults with BMIs at or under 35 kg/m2 who are looking to lose just 5-10% of their body weight to improve their overall health. We believe PLENITY can fill the gap for these adults.
In terms of how we hope PLENITY will be received: Our market research shows that there's a real desire for new, clinically validated options to aid in weight management. People with overweight and obesity often feel that their only options are rooted in deprivation. And no wonder -- it's hard to give up food you love, draining to walk through each day feeling hungry, and frustrating to count calories or points at every meal. PLENITY offers a convenient, safe, clinically validated way to feel fuller and manage your weight without systemic drugs, stimulants, or surgical intervention. We believe the packaging, in convenient single-use pods, will make it easy to integrate PLENITY into daily life.
Based on large-scale quantitative market research, including detailed surveys of consumers and physicians, we expect considerable long-term demand for PLENITY.
Q: Are there plans for Gelesis to conduct additional studies looking mechanistically at how Gelesis100 drives weight loss? We've heard some thought leaders speculate in the past that the mechanical stimulus of Gelesis100 to the gut might promote tissue repair that promotes healthy microbiome changes. 
A: The mechanobiological properties of our hydrogel are truly exciting, and we're currently conducting additional research to learn more. We were very excited to present a poster earlier this month at the International Liver Congress in Vienna showing that a prototype of our GS300 product prevents the harmful effects of a high-fat diet on the liver in mouse models.  We also recently presented intriguing preclinical data at ENDO suggesting that the hydrogel restores gut barrier function after damage. Additionally, we are conducting an ongoing clinical study of Gelesis200, which is optimized for glycemic control and weight loss in people with type 2 diabetes, with results anticipated in 2020. We are looking forward to presenting additional findings as our research advances.
Q: Can you give any more color on how discussions with FDA concerning approval went? We're excited about the approval down to a BMI of 25 and wonder whether there were any other hurdles that Gelesis had to overcome during these discussions. 
A: The process went fairly smoothly! Like you, we're delighted with the broad label, in particular, the approval down to BMI of 25 and no restrictions on the length of time an individual can take PLENITY. We believe this broad label is reflective of the product's strong safety and efficacy profile.
Q: Are there plans for approval in Europe, Asia, and other areas of the world?
A: We have submitted PLENITY for marketing clearance in the European Union and expect to obtain a CE mark later this year. We are also in discussions with both global and regional strategic partners to enable a successful international launch of PLENITY.
Quotes from Key Opinion Leaders
"Several factors keep HCPs from prescribing obesity pharmacotherapies, and Plenity addresses many of these issues:

Both among HCPs and patients, safety is always a concern; on this point, Plenity is clearly safe. It is food grade and non-systemic – that is about as good as it gets.

Cost: Right now, about a third of my patients have coverage for weight-loss medications. Believe it or not we are seeing an increase in coverage of some weight loss medications because employers are opting in to cover weight loss treatment. Many big employers see the value in treating weight and this translating into more coverage. In addition, Gelesis states it will have an out of pocket cash option for patients. In our practice (we see over 1,000 patients per month for insurance-based weight loss) we see most patients (over 60%) are willing to pay out of pocket for weight loss meds (again, we are seeing a shift here).

There is a group of patients that have not had much in the way of pharmacologic treatment options and that is the patient with a BMI of 25 to 30 with insulin resistance usually presenting as having prediabetes This is very common in the Asian population and particularly for the BMI group of 25 to 26.9, as we no medications are approved in the US for BMIs below 27. Plenity's broad indication is huge for this group. 

It should also be noted that Plenity has data showing that it works particularly well in prediabetes (and insulin resistance) and may have other mechanisms of action that work directly on insulin resistance.

Patient directed weight loss is very common in that patients will go to their HCP and ask for a particular weight loss medication. Plenity is very safe and understanding how it works is very simple. I would predict that patients will find this very appealing and ask for this by name. 

Lastly, this is not a scheduled medication. Many HCPs are reluctant to prescribe a "scheduled" medication, so this will not be an issue for Plenity." – Dr. Ken Fujioka (Director of Nutrition and Metabolic Research Center, Scripps Health)

"This new device which is actually swallowed has the potential to fill a crucial gap in the treatment of overweight and obesity. Specifically, it is indicated from those BMIs above 25 which meets the need for those patients who do not meet criteria for other antiobesity agents (BMI over 30 or over 27 with a comorbidity). In addition, this device is eliminated via the GI tract and does not enter the bloodstream and for this reason does not have the side effects and safety concerns of the other prescription antiobesity agents. I absolutely cannot wait to use in combo with our appetite suppressants." – Dr. Caroline Apovian (Boston University School of Medicine)
Key Data from Pivotal Phase 3 GLOW Trial of PLENITY (Gelesis100)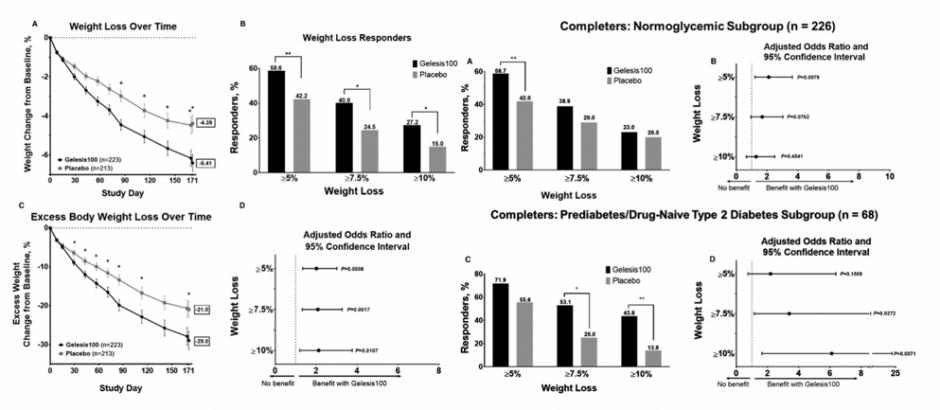 --by Martin Kurian, Ann Carracher, and Kelly Close