Read on below for Q&A from the call, a summary of Gilead's entire NASH pipeline, and the phase 3 NASH competitive landscape. 
ATLAS Trial Design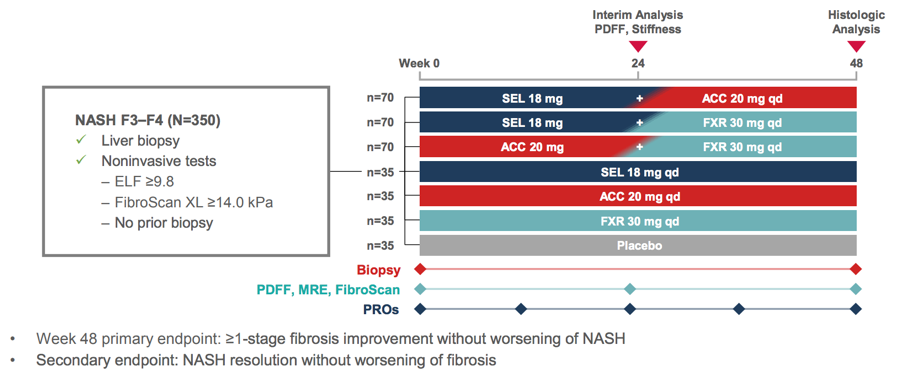 Gilead NASH Pipeline Summary
Candidate

Product Details

Status

Timeline/Notes

Selonsertib

ASK-1 inhibitor

Phase 3

 

Selonsertib missed primary endpoint in STELLAR 3 and STELLAR 4 trials in F3 fibrosis and cirrhosis

Firsocostat (GS-0976)

ACC inhibitor

Phase 2

Phase 2 resultspresented October 2017 (trial completed July 2017); Positive proof-of-concept data presented at EASL 2017

Cilofexor (GS-9674)

FXR agonist

Phase 2

Phase 2 trial completed January 2018, presented at The Liver Meeting 2018

Combination regimens

Nine cohorts, each receiving a different combination of selonsertib, GS-0976, and GS-9674

Phase 2a

Data presented at ICL 2019, showing proof-of-concept for firsocostat+cilofexor at 12 weeks; Phase 2 trial of combinations expected to complete July 2019(delayed from May 2018); Data presented at EASLin April 2018

ATLAS: combination regimens

Selonsertib/GS-9674; selonsertib/GS-0976; GS-9476/GS-0976; monotherapies

Phase 2b

Screening closed 3Q18; Expected to complete October 2019, moved up from April 2020; 24-week data expected 4Q19; Targeting 2023 combination regimen approval
Competitive Landscape: Phase 3 NASH Pipeline Summary
Sponsor

Drug Name

Class

Status

Other Remarks

(completion = primary completion date)

Genfit

Elafibranor (GFT505)

Dual PPAR alpha/gamma agonist

Phase 3

RESOLVE-ITtrial in F1-F3 fibrosis recruiting with completion expected December 2021; Interim results expected in 2019; Phase 2a results reported March 2015

Intercept Pharmaceuticals

Obeticholic acid

FXR agonist

Phase 3

Positive interim results in F2-F3 fibrosis announced February 2019, expected to support 2H19 regulatory filing; REGNERATEand REVERSEtrials in F1-F3 fibrosis and cirrhosis recruiting and expected to fully complete October 2022 and July 2020, respectively

Allergan

Cenicriviroc (CVC)

CCR2/CCR5 inhibitor 

Phase 3

AURORA trial in F2-F3 fibrosis recruiting with primary completion expected October 2021 (pushed back from July 2019 and Sept. 2020); Acquired from Tobira Therapeutics September 2016

Gilead

Selonsertib (GS-4997)

ASK-1 inhibitor

Phase 3

Selonsertib missed primary endpoint in STELLAR 3 and STELLAR 4 trials in F3 fibrosis and cirrhosis 
Select Questions and Answers
Q:At this point, how much of a strategic priority would you say the NASH portfolio or the HIV portfolio is, and if the answer is high, how aggressive do you think you want to be on the meeting front to add assets to these two categories?
A:Specifically related to NASH, although the results in the first quarter this year didn't turn out as we had expected, it's very clear that this disease needs scientific advancement. It's a heterogeneous disease, there are challenges with diagnosis, and at the same time, Gilead's expertise in liver disease makes it an area of continued interest for us. I'm particularly interested in the fact that a disease like this with the challenges associated with it may very well require combination therapies, and of course we will have some readouts on our combination approaches in the second half of this year. You heard already from John some of the partnerships that we have on that front. 
Q:You decided to have a collaboration with Novo Nordisk on NASH. How does it compare to the others in that market today are in development today if you look at some glue, data in Nash? Thank you.
A:GLP-1 agonism is a compelling mechanism of action, and Novo Nordisk is clearly a leader in the pharmaceutical development of products for patients with diabetes and metabolic syndrome. The mechanism of action is not necessarily directly related to NASH, but has many of the effects you would want to see in patients with NASH, and additionally and importantly has other metabolic benefits in terms of glucose control, insulin secretion, and a weight-loss component. There is a significant weight-loss component, and we think that is very compelling for us to explore with other mechanisms of action that are really focusing on separate drivers of NASH pathogenesis. So we believe it's a very exciting and a very important collaboration. Novo Nordisk brings a lot of people and a lot of depth of knowledge about metabolic syndrome to the table while we bring a lot of expertise in liver disease. So it's a wonderful collaboration that we are just starting looking forward to. So we will combine semaglutide with our FXR agonist and our ACC drug as well, and that will be the initial collaboration.
--by Ann Carracher and Kelly Close