Executive Highlights
Senseonics reported record global sales of $5.2 million, climbing an impressive 44% sequentially from the previous record of $3.6 million in 2Q18. Revenue more than doubled YOY (+148%) from $2.1 million in 3Q17. US sales were surprisingly not provided for 3Q18, even though Eversense has been on the market for ~three months after FDA approval in June. However, management expects to see 10% of Q4 revenue to come from the US.

Management expressed high optimism regarding the US launch of the 90-day implantable Eversense CGM. In just three months, over 600 patients have been added to the Eversense Ordering System, the database in which clinicians enter patients seeking payer approval. US VP Mr. Mike Gill shared that the majority of US Eversense users are existing CGM patients. Mr. Gill reiterated Senseonics' strategy to reach the top 300 endocrinologists in the US, highlighting training conducted at the Barbara Davis Center, Atlanta Diabetes Associates, and the Grunberger Diabetes Institute. In addition to Horizon BCBS of NJ and Aetna, Senseonics has reimbursement from BCBS of Minnesota.

CEO Dr. Tim Goodnow provided several exciting expectations for Eversense in the US: (i) An increase in the US salesforce from 15 representatives in Q3 to 25 in Q4; (ii) over 500 HCPs certified by the end of 2019, growing gradually in the first 6-9 months of 2019 with "more meaningful acceleration" in 2H19; (iii) ~10,000 Eversense US users by the end of 2019, also ramping more meaningfully in 2H19; (iv) reinsertion rates in the "upper 70% range" in 2019; and (v) reimbursement for 100 million covered lives by the end of 2019 and over 200 million in 2020. Dr. Goodnow explained that much of this guidance is based off of EU performance, particularly the non-linear ramp in userbase.

Dr. Goodnow expects the EU installed base to reach 5,500 users by the end of 2018. He noted a shift in patient demographics, explaining that "about half" of new users are CGM-naïve, whereas previously, new Eversense patients were primarily existing CGM patients. During Q&A, VP of Global Sales and Marketing Ms. Mirasol Panlilio noted that of the ~50% new Eversense users switching from a different CGM, ~75% come from Abbott's FreeStyle Libre. We were delighted to hear that there is a healthy mix of pumpers and MDI patients – Dr. Goodnow estimates a 60/40 split between the two. These metrics are very similar to Tandem (where ~50% come from MDI), and suggest Senseonics will be able to build a nice business.

Senseonics continues to forge ahead on its US pipeline. Dr. Goodnow announced that a PMA supplement for non-adjunctive dosing and calibration reduction will be "in front of the FDA in the coming weeks." He also shared that the FDA has approved the IDE for a 180-day Eversense XL trial, with the first insertions expected within "the next couple of months." The trial is slated to enroll 125 participants. A PMA supplement for an MRI indication has also been submitted.

Regarding automated insulin delivery, Dr. Goodnow shared that Beta Bionics has completed the first phase of its iLet trial with Eversense. Data collection/analysis is underway, with publication of results expected next year. We also learned that the EU pivotal trial of the Roche-Senseonics-TypeZero 180-day hybrid closed loop system is currently under review by ethics committees in France and Italy and is expected to begin by the end of 2018 – a delay from ADA timing anticipating trial initiation in 3Q18.

Dr. Goodnow briefly mentioned "favorable review" of human data for Senseonics' 365-day sensor. Intriguingly, he referenced the potential for this version to "open up product concepts for people with type 2 diabetes not on insulin." Wow!

In response to a question regarding Senseonics' previously stated interest in pursuing iCGM indication for Eversense, Dr. Goodnow acknowledged that iCGM is an "opportunity for the space and for ourselves." While he underscored that given Eversense's "strong accuracy," the company "feels very good" about iCGM, Senseonics will prioritize FDA approval of the 180-day Eversense XL, as well as the calibration reduction and non-adjunctive dosing claim. This pathway makes sense, as the 180-day version will likely substantially expand interest. Incredibly, Senseonics' regulatory team is just two people, necessitating careful allocation of resources.

While not mentioned during prepared remarks, management shared that Senseonics remains in "good, healthy conversations" with EU Eversense distribution partner Roche. As a reminder, Senseonics' distribution contract with Roche is set to expire at the end of the year.
Senseonics Quarterly Sales (1Q16-3Q18)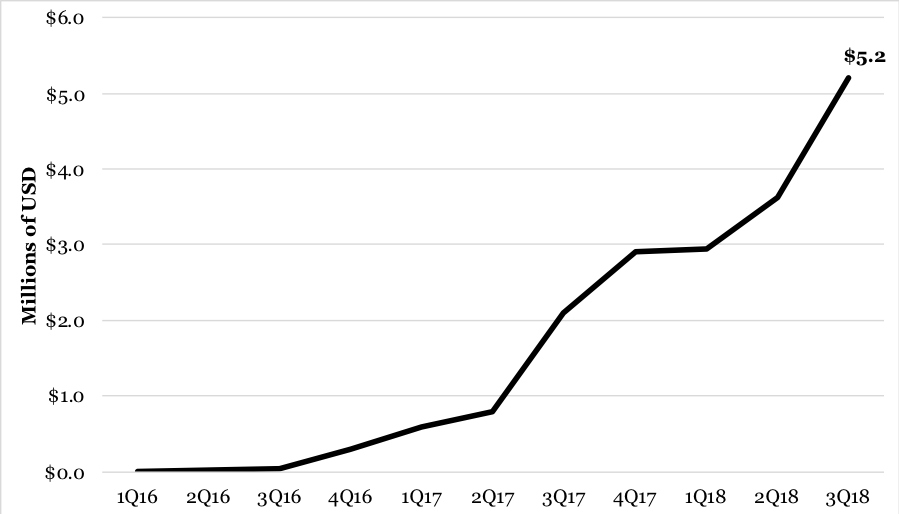 --by Maeve Serino, Adam Brown, and Kelly Close