Porcine models demonstrate feasibility of infusion through endoscopic ultrasound; follows positive preclinical data from WCIRDC 2022 showing improvements in insulin and GLP-1 production and glycemic control in mice models
Fractyl Health presented positive proof-of-concept preclinical data on Rejuva, its GLP-1 based gene therapy in type 2 diabetes (T2D) at the 2023 American Society of Gene & Cell Therapy (ASGCT) Congress. See the company's associated press release here.
In rodent models with diabetes, Rejuva induced GLP-1 receptor agonist expression within pancreatic islets and improved glycemic control. Additionally, Fractyl demonstrated the feasibility of endoscopic ultrasound administration to the pancreas in a porcine model. The results build upon preclinical data in mice models presented at WCIRDC 2022 and support the potential of Rejuva to treat and prevent the progression of T2D. 
Rejuva is a GLP-1 gene therapy that Fractyl Health is developing to enable long-term remission of T2D. Rejuva includes a device that delivers an adeno-associated virus (AAV) to the pancreas through the mouth, via an endoscopic ultrasound (EUS). The AAV carries a GLP-1 gene that is only active within beta cells due to a beta-cell specific promoter sequence. Beta cells do not normally secrete GLP-1, which is secreted by intestinal L-cells. However, this treatment aims to facilitate endogenous GLP-1 secretion in response to rising glucose levels. Since beta cells respond to changes in glucose concentration, this gene therapy can enable glucose-dependent GLP-1 secretion, which is impaired in T2D. 
CEO and Co-founder Dr. Harith Rajagopalan expressed that the findings "show for the first time the potential that gene therapy has to protect the pancreas in T2D," emphasizing that the company's goal is to eradicate T2D. 
Presentation highlights the feasibility of EUS-guided administration of AAV
The company's presentation explains that an endoscopic ultrasound through the mouth and stomach provides direct access to the pancreas and is a relatively common procedure, with about 300 thousand cases per year. Additionally, GLP-1 gene therapy may address limitations of current injectable GLP-1 options, which see high discontinuation rates. Today's presentation demonstrated that EUS-guided administration of AAV to the pancreas was effective and safe in porcine models, as shown by the maintenance of normal serum and lipase levels after infusion.
The results build on preclinical data presented at WCIRDC 2022, which are shown in the graphs below. Summarizing the proof-of-concept results in mice with diabetes, Dr. Rajagopalan said that a single dose of this GLP-1 gene therapy induced sustained production of the GLP-1 gene in pancreatic islets, delayed disease progression, improved insulin production, and reduced blood glucose levels for up to ten weeks of follow-up. Specifically, mice given high doses of the GLP-1 gene therapy had significantly more GLP-1 expression compared to those given low dose, who in turn had significantly greater GLP-1 expression than control mice who weren't given the GLP-1 gene therapy. Additionally, in human beta cell lines, the GLP-1 gene therapy led to increased glucose-stimulated insulin secretion due to increased GLP-1 receptor activation.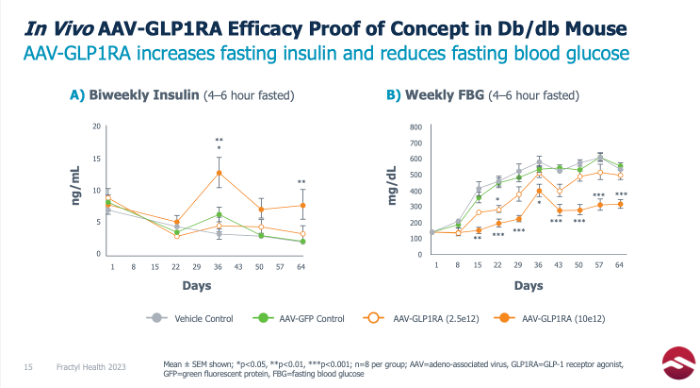 Close Concerns' Questions + Answers from CEO Dr. Harith Rajagopalan
1. What is the company's timeline for advancing to clinical studies?  
We do not yet have a timeline for clinical studies. To bring gene therapy to humans with T2D will take tremendous care to ensure safety, so we will proceed methodically to reassure ourselves and others on safety before proposing human studies.
2. What might the process of administering this gene therapy look like in patients, and are the AAV vectors delivered just once? 
Rejuva would be designed to be a 20-minute, outpatient, upper endoscopic procedure, conducted by a gastroenterologist who is trained in endoscopic ultrasound. Specific steps are as follows: Patients would undergo light sedation for this procedure, an endoscope that is outfitted with an ultrasound probe would be inserted through the mouth and into the stomach. A needle would be inserted from the scope and directed into the tail of the pancreas and would deliver gene therapy vectors in an automated procedure that would closely monitor the pressure, volume, and flow rate of the delivery to ensure safety. Patients would then leave the endoscopy suite and go home. There will be specific medical care in the immediate post-procedure period, as is common for other gene therapies.
3. Will the company investigate this therapy in obesity as well? 
YES. We will present data on this at ADA this year. 
--by Mahima Chillakanti, Ashwin Chetty, and Kelly Close