Executive Highlights
Animas and Tidepool just announced an agreement to give Animas pumpers access to their insulin pump data on Tidepool's open software platform. The compatibility is expected to launch in the coming months, enabling Vibe and Ping users to upload to Tidepool's platform and Blip application (Tidepool's web-based hub for diabetes data) using the existing Animas IR cable and the Tidepool Uploader (a Google Chrome app).
This builds on Tidepool's compatibility with Dexcom, Insulet, Tandem, Abbott, and Bayer. Medtronic and Roche have still not officially authorized Tidepool to read data from their devices, though Tidepool can import data from Medtronic's CareLink Personal.
Our interview with Tidepool CEO Howard Look and J&J's Worldwide VP of Insulin Delivery John Wilson emphasized the need to open up diabetes device data to foster an ecosystem of useful, personalized apps. The world is going only one direction …
This morning, Animas and Tidepool announced an agreement to give Animas pumpers access to Tidepool's open software platform. The compatibility is expected to launch in the coming months ("hopefully a small number of months," said CEO Howard Look), enabling Vibe and Ping users to upload their pumps to Tidepool's platform and Blip application (a web-based hub for diabetes data; see screenshots below) using the existing Animas IR cable and the Tidepool Uploader (a Google Chrome app). This expands access to Animas pump data beyond diasend and J&J's proprietary software (ezManagerMax).
For context, Tidepool's Blip and Uploader are currently in a private beta with over 100 users, are being used in a UCSF pilot study with more than 50 patients, and are a critical part of the 250-patient, 15-center Replace BG study (testing insulin dosing off the Dexcom G4 Platinum without a confirmatory fingerstick). Right now, the Tidepool team is laser focused on making the free Blip software secure and scalable, so the previous expectation to launch this summer is now pushed back a bit. CEO Howard Look assured us that the small nine-person team is going as fast as it possibly can, but given how often the community has been let down by timing expectations, he is being more conservative on the timing front, which seems smart. This seems the way to go, particularly as patients' expectations for technology have never been higher and as software seems to take always longer than envisioned.
This marks another victory for the impressive Tidepool team, who has done a lot since announcing its first integration in January 2014 with Asante: Dexcom's G4 Platinum and Insulet's OmniPod currently download to Tidepool's platform directly; Medtronic pumps/CGM download indirectly through a CareLink export; and Tandem, Abbott, Bayer, and Animas device integrations are in the works. Medtronic and Roche are the major players that have not officially signed to integrate with Tidepool, though we imagine patients and providers will demand these (more strongly) over time. As a reminder, the brainy Tidepool team also designed the new Bionic Pancreas iLet interface, unveiled earlier this month at FFL (see the detailed Tidepool blog for the design process).
See below for more perspective on Tidepool and diabetes data; our interview with Tidepool CEO Howard Look and J&J's Worldwide VP of Insulin Delivery John Wilson; and updated screenshots of blip.
Interview with Tidepool CEO Howard Look and J&J's Worldwide VP of Insulin Delivery John Wilson
ADAM: John, what gave Animas the confidence to finally sign with Tidepool?
JOHN WILSON: I think you can look at the White House Champion of Change award that Howard just won. Tidepool is tremendously innovative. They have had the courage, speed, and diligence to pull this along. I saw every bit of that in my initial meeting with Howard and the team and in their telling of Tidepool's vision – it made it very easy to partner with them. Where to go next is not a mystery. Companies must be committed to delivering on the needs of the community. There is a broad spectrum of both needs and preferences, and it is critical that we give Animas pump users control over their own pump data and the ability to choose who sees it, as well as the tools and devices they use to manage it. Johnson & Johnson Diabetes Solutions is committed to this long-term.
KELLY: Howard, what has it been like working with Animas?
HOWARD LOOK: It's been incredible to see how John and the team at Animas have embraced open data. They are seeking the best possible solution for their customers – a wonderful way for patients and providers to visualize data. John gets a huge amount of credit; he is a fabulous leader to be in charge of the insulin delivery business.
ADAM: How are Animas and Tidepool thinking about clinical decision support, especially on optimizing pump settings and going beyond just pattern recognition?
HOWARD: We're thrilled to be making apps that people find useful, and that can help achieve better therapy. But it's not about us – it's about enabling an ecosystem of diabetes apps. We don't know what the next innovative killer app for diabetes will be. It might be Blip, it might be Nutshell, it could be something that hasn't been developed yet. What's important to us is that patients, providers, researchers and developers have access to the data so that innovation can occur.
JOHN: At Animas, we believe in that too. We want to make data available to whatever apps are out there. We will start seeing incredible innovation. Once data is liberated, people will start doing things that we simply couldn't have imagined. We have to listen to the needs of the diabetes community. Gone are the days when you work on something in isolation. Patients and HCPs want access to their pump data. They need choice in the available tools to see their data.
KELLY: What about the patients who are not engaged? What about the costliest patients? How can we help them?
HOWARD: A lot of times, data and devices tend to revolve around the highly engaged. What you're bringing up is that there are a lot of people that don't have access to devices, and lots of folks who don't have any desire to engage with their data. And there's a whole population of underserved people with no endocrinologist access. In our early days, we're focused on the tech savvy. But we totally see the need to help the underserved community. We are focusing more and more on that. Like any technological innovation, the early adopters will show up first. The question is how do you cross the chasm between the early adopters and later majority? That's where easier to use devices, easier to use software, and ultimately automated insulin delivery will make a difference. I know Animas is being very aggressive in this area. I think things will get better over time.
JOHN: Sometimes, the people that are not as inquisitive are in bigger need of therapeutic change vs. someone with lots of choice. How do you reach those interested in technology and open to change vs. those that are not engaged? We take a global perspective in terms of listening to patients. We want to provide a range of offerings. The key is to understand the patient journey and the moments that truly matter. It's not one-size-fits-all. That's why we're so excited about Tidepool. The open architecture includes all-comers. We can only make that more successful.
ADAM: Describe the dream digital diabetes device? What is the end game that you hope to see one day?
JOHN: The dream is something that is universally available and overcomes the privacy concerns that continue to swirl. But it must be intuitive and really have an impact on disease management. Data for data's sake is not going to be effective. Are those data actionable? Can they be used not only by patients but also by their surrounding network? That helps them maintain control that they need.
HOWARD: My metric is always, "What are we doing to help people living with diabetes reduce the burden of management?" I have that chart of reduction in burden vs. time. A cure is the ultimate reduction in burden. That will happen, and I know lots of stem cell researchers, biologists, and chemists are working on that. In the more immediate term, we have a vision of making it easier for people to achieve effective therapy. That means not having to upload my data – devices that are all Bluetooth and cloud connected; the data automatically flows to the cloud. It's intuitive and actionable. In the medium-term, effective therapy with minimal intervention is automated insulin delivery. Many companies are working really hard to take all that decision making away, where ultimately the data is working for you.
ADAM: Is making data intuitive and actionable the hardest part? 
HOWARD: It's certainly hard, but I'm quite hopeful. Prior to a fully automated closed loop, we can do a really good job of that stuff with computers and software – pattern recognition, statistical analysis, and machine learning. For example, 'Hey, it looks like your nighttime basal rates need adjusting', or 'Your lunchtime insulin:carb ratio looks off.'
JOHN: You are talking to an optimist. I too don't think that it's that far away. I'm also encouraged by the work on a closed-loop solution. We can make algorithms as predictive as possible. We can also make the data more intuitive and user friendly.
KELLY: Thanks so much to both of you! From a patient perspective, we are so glad to see device data increasingly opening up – it has so much potential to drive therapeutic change faster and more efficiently.
HOWARD: Thank you!
JOHN: We appreciate it!
Screenshots of Blip
Daily View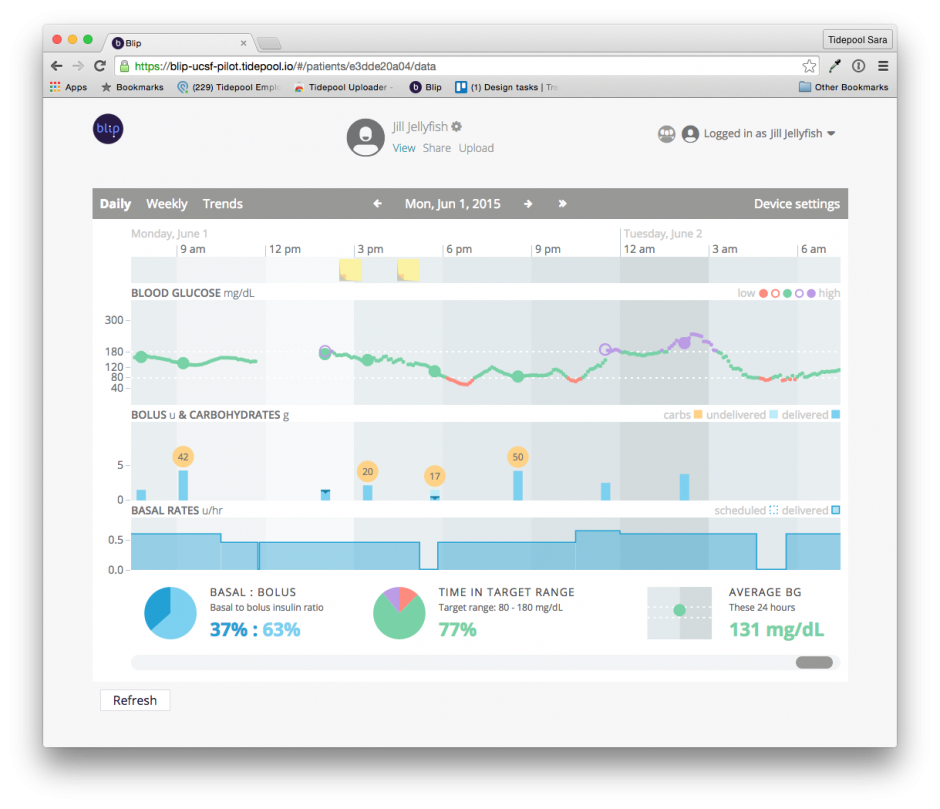 Trends View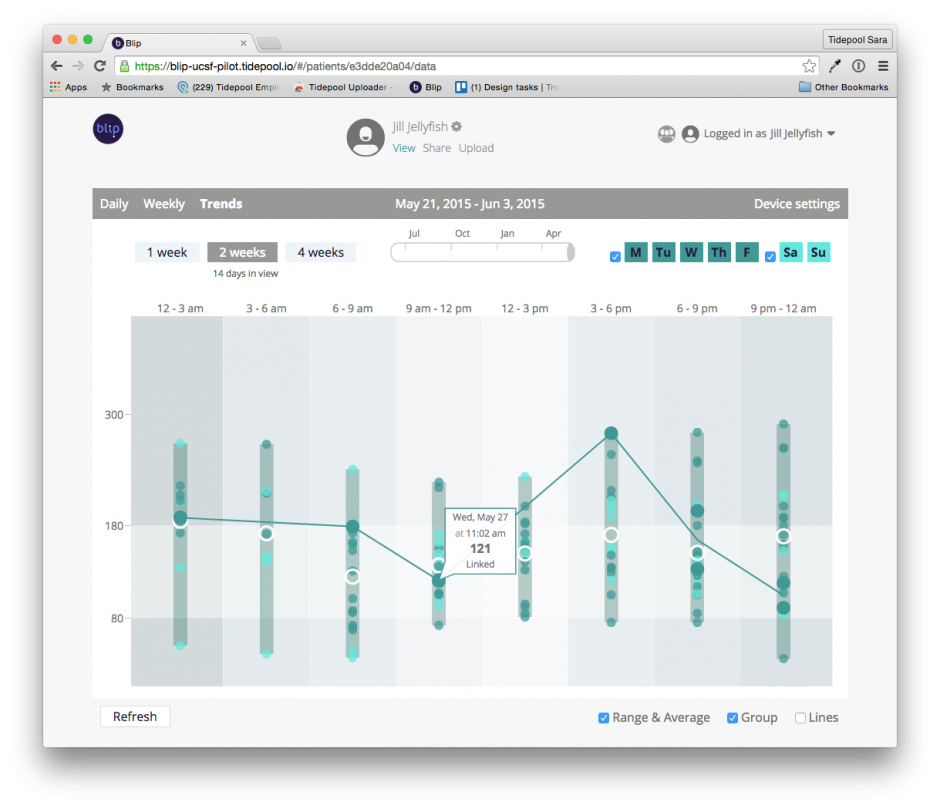 -- by Adam Brown and Kelly Close