Executive Highlights
Diabetes Technology highlights today came from Abbott, Medtronic, and J&J LifeScan. JPM's Mike Weinstein grilled Abbott's Medical Device very highly regarded head, Mr. Robert Ford, in the breakout, where we learned that FreeStyle Libre has some private payer contracts in the US and expects a steady ramp of reimbursement from "significant" payers over the year. Abbott is working with the FDA on a pediatric indication for FreeStyle Libre, which could be approved this year. Medtronic CEO Omar Ishrak gave diabetes growth the most focus we've ever heard in his JPM remarks, reiterating confidence for double-digit growth in FY19, while loosening the timelines on Guardian Connect (US), 670G (OUS), and iPro3 (launching sometime between now and April 2019). Last, J&J sounded lukewarm on the LifeScan business (though a decision has yet to be made … more on the 4Q17 call in a couple weeks?) and shared confidence in the decision to abandon Animas.
Diabetes Therapy highlights cover presentations from Merck, J&J, Regeneron, Novartis, Pfizer, Bayer, and Ionis. Merck CEO Mr. Ken Frazier positioned newly-approved Steglujan (ertugliflozin/sitagliptin) as a way to sustain the Januvia business after sitagliptin loses market exclusivity (the first of Merck's patents on the DPP-4 agent expired in April 2017) – we would've loved to have heard more about how the combo can help patients, a better reason for investment in our view. He also shared some rare optimism on pricing pressure, suggesting that we may have seen the worst of it by now (we were extremely impressed by Merck and Pfizer's decision to price the combo at the same price at the SGLT-2 alone). J&J CEO Mr. Alex Gorsky made only vague comments on SGLT-2 inhibitor Invokana (canagliflozin). Some say the company's commitment to diabetes seems tenuous, although Invokana has potential tailwinds ahead and the drug side is certainly far more profitable than the device side since CMS decimated the BGM business – a CV indication could be granted by end of 2018 for Invokana (we would hope so!), and the drug is preferred over Lilly/BI's Jardiance on the CVS Health formulary this year. Regeneron, Novartis, and Bayer each discussed their investments in diabetes-related retinopathy/DME. Competition between Lucentis and Eylea seems tougher than ever. Regeneron's priority is obtaining a retinopathy without DME indication for Eylea in the US, like Lucentis received from FDA last April. All the major pharma CEOs also shared their perspective on tax reform and what it means for capital allocation going forward – we certainly expect to see more investment in M&A and R&D.
Mr. Bill Gates delivered an incredibly compelling keynote at lunch to a standing-room-only crowd (people began standing in line to hear him speak as early as 9:30 am! The priority of the Foundation, beyond public health, is helping poor people in developing countries, and Mr. Gates described various ways in which the Gates Foundation partners with various stakeholders; leaders from The Bill & Melinda Gates Foundation spoke later in the day on this as well. Notably, Mr. Gates expressed distinct excitement for the microbiome research funded by the Bill & Melinda Gates Foundation. The great Dr. Sanjay Gupta interviewed Mr. Gates following his keynote, asking fascinating questions on healthcare and resource allocation. There were several references to diabetes and obesity and Alzheimer's Disease that gave more insight to how the Foundation makes decisions on funding – overall, it was a major honor to hear this business and philanthropic leader.
Also in big picture highlights, the very impressive Geisinger CEO Dr. David Feinberg discussed the positive effects of Fresh Food Farmacies in areas of food insecurity: Access to a Fresh Food Farmacy is associated with a mean ~2% A1c decline for people with diabetes within Geisinger's PA/NJ health system. We had a chance to visit this organization recently, in Shamoken PA, where a startling 20%-25% of the city is said to have diabetes. This is a very impressive and scalable organization – requirement in Shamoken to use the Fresh Food Farmacy include having type 2 diabetes, an A1c over 8%, and living below the poverty line (hundreds of people qualify).
Rain or shine, it's time for JPM 2018! The conference kicked-off yesterday at the Westin St. Francis in downtown San Francisco. See below for 12 highlights spanning diabetes technology, diabetes therapy, and big picture.
Diabetes Technology Highlights
1. Abbott Expects Steady Build of "Significant" Payers Reimbursing Libre in 2018, Already Has Contracts; US Pediatric Indication "Hopefully" Sometime This Year
In Abbott's breakout session, JPM's Mr. Mike Weinstein grilled EVP of Medical Devices Mr. Robert Ford (a very highly regarded leader whom we've never seen break a sweat – yesterday was no exception) on US commercial reimbursement ­for FreeStyle Libre. Mr. Ford noted that Abbott already has contracts and expects a steady build of "significant" payers over the year. He indicated that payer conversations in the US have largely resembled those the company has had outside of the US – this was very positive news from our view since although Libre costs less than "traditional" CGM, it costs multiples more than traditional BGM. With national reimbursement achieved in France, Switzerland, the UK, and Japan in the past year, any comparison to international coverage decisions sound positive although it's hard to know exactly the status and timing without more details. In both international and in the US, Mr. Ford said that payers "believe in the benefits of sensor-based technology, but needed to have it at a price point that makes sense to them in order to make it widely available." Pricing and distribution dynamics should have a major influence on payer, provider, and patient choice between the various CGMs in the US market. Specifically, Mr. Ford said that payer conversations are going very well concerning patients who use insulin multiple times per day and check three-to-four times per day, while it's a different conversation for "type 2" (not on insulin implied), "which requires more data and outcomes." We are not aware of any FreeStyle Libre outcomes studies in patients not on intensive insulin therapy, though the real-world data set comprised of ~238,000 readers could hold some answers to payer questions. (However, we don't believe Abbott has data on which therapies these patients are using – while it seems like it would not be too hard to figure out who is not on insulin, we aren't sure that's the case. We continue to believe CGM should be reimbursed for patients on SFUs as well as insulin.) Abbott is not yet ready to announce the payer contracts it already has under its belt, waiting to ensure that providers within the plans are up to speed prior to roll out. Lest anyone doubt Abbott's progress on this front, Mr. Ford did say he expects other US payer decisions to come in "much faster" than they did outside of the US, where it took one to one-and-a-half years to secure positive reimbursement decisions, attributing the speed to greater adoption and awareness of CGM at baseline in the US. Time will tell and we look forward to hearing more on this front. Even without disclosed payer deals and many presumably to come, Mr. Ford said prescriptions are on pace with "internal targets", and "we'll see a ramp as the year progresses." Indeed, CEO Miles White didn't rule out $50-$100 million in 2018 US FreeStyle Libre on the 3Q17 call. As noted last week, Abbott's US FreeStyle Libre website indicates encouraging private payer coverage: "most patients pay no more than $75 per month on eligible FreeStyle Libre prescriptions at major retail pharmacies" – that is saying a lot since traditional co-pays have become very high for many patients. Meanwhile, Medicare will reimburse FreeStyle Libre at ~$250/month, the same rate as Dexcom's G5. This will undoubtedly change longer-term. Mr. Ford talked about connectivity in response to one of Mr. Weinstein's many incisive questions and we'll be very eager to hear more here since less has been announced relative to Dexcom.
Mr. Ford said he hopes to see a pediatric indication for FreeStyle Libre sometime this year – many will likely use it off label in the meantime. The company is currently working with FDA and putting data together, which makes it sound like a new study in the US may not be necessary. This is great to hear, as we imagine many parents will love the smaller FreeStyle Libre form factor, simpler/less painful insertion, and factory calibration. Results from the SELFY study of Libre in children and adolescents (ages 4-17) after eight weeks of wear showed safety and efficacy (more time in range, lower A1c, less time >180 mg/dl). Though the study didn't have a formal control group (comparing Libre metrics to a 14-day run-in), we assume it and other similar data would be sufficient to meet FDA's bar. We're not sure what age cutoff Abbott is pursuing in the US.
Unsurprisingly, the Abbott device R&D division is hard at work trying to improve Libre (e.g., through minimization and extended wear), and the company is seeking additional partners. Mr. Ford reiterated that Abbott views Libre as a platform, specifically calling out the Bigfoot partnership as "part of that strategy." He did not elaborate on the second-gen Libre with continuous communication that will integrate into the Bigfoot ecosystem. We're still not sure if next-gen Libre will also launch as a standalone CGM system to compete more directly with Dexcom and Medtronic but we can't imagine that this isn't part of the grander plan.
When asked about Medicare DME economics vs. Dexcom, Mr. Ford only said that he doesn't know Dexcom's policies, but Abbott's strategy is to ensure consistent FreeStyle Libre pricing around the globe. Mr. Weinstein seemed to imply that because margins will be different – Abbott has lower costs, but the systems are reimbursed the same – DME supplier dynamics may be different for the two companies. Mr. Ford didn't directly respond to this inquiry. We don't fully know the dynamics of pricing in the Medicare DME channel, but see our comparative analysis here – we imagine over time Medicare pricing would come down.
Selected Questions and Answers
Mike Weinstein (JP Morgan, New York, NY): On Libre, where are you with the US launch – how's it going in conversations with commercial payers?
Mr. Robert Ford (EVP, Medical Devices, Abbott): The objective of Libre was always to fulfill the promise of what CGM was always meant to be: ultimately to substitute for fingerstick testing. We had a product back in 2008, Navigator, a traditional CGM, and we realized it needed to be changed to fulfill that vision. Libre is the outcome. You've seen that uptake in EU. We weren't surprised by [FDA] approval or by CMS timing, and we're not surprised by some conversations we're currently having with payers in the US. They are similar to those we're having outside of the US – they believe in the benefits of sensor-based technology, but needed to have it at a price point that makes sense to them in order to make it widely available. We're seeing the same things here. How are we doing? Well we got approval, and distribution in beginning of December. We're making it available in pharmacies, so that's a little different. Based on prescriptions, we're on target to where we set ourselves. We'll see a ramp as we progress through the year. Conversations are productive with payers.
Mr. Weinstein: Say I'm a payer with millions of patients … I spend $0.50-$0.75 per day on fingersticks. On Libre, its $4-$5 per day.
Mr. Ford: $0.50-$0.75 cents – that depends on the patient segment. Type 2, that's a different conversation, which requires more data and outcomes. For patients using insulin multiple times per day, testing three to four times per day, those conversations are going very well.
Mr. Weinstein: When do you think commercial reimbursement in the US will come online?
Mr. Ford: Outside of the US, it took us about a year, one-and-a-half years for all of these conversations to come through – last year we saw positive reimbursement decisions in France, the UK, and even Japan – I expect that to be much faster in the US. Adoption and awareness of CGM are greater. Expect a steady build. We have contracts as of today – we're not announcing them, we're working with our field team to make sure physicians within the plans are aware, but we'll see a steady build of significant payers over the year.
Mr. Weinstein: Talk about your Medicare strategy. You said you have a strategy and relationships in place to go after that market …What's your DME strategy?
Mr. Ford: Our strategy is ultimately linked to the overall goal to make Libre available and accessible, and to ensure that adoption is done at rapid pace. There has been CMS reimbursement for quite some time for other systems, so our view was always to ensure we could get rapid adoption. The strategy doesn't change from what we did in the EU to what we're doing with commercial payers. It's not any kind of different strategy. With DME, we don't have our own, so we have to negotiate, make available to those DMEs, but it's similar to what we've been doing across the world.
Mr. Weinstein: What are the economics with DME between Libre vs Dexcom?
Mr. Ford: I don't know Dexcom's economics. We try to stay consistent with our strategy so there's no difference across the world.
Mr. Weinstein: I mean that reimbursement is the same, so is the DME making more money. Is that relevant?
Mr. Ford: I don't know what Dexcom's policies are. Our focus is to make consistent, global pricing.
Mr. Weinstein: Libre is currently indicated for ages 18+, how long will it take for pediatric approval?
Ford: We're working on putting data together, working with FDA, we have approval outside of the US. Hopefully sometime this year.
Mr. Weinstein: You've had your hands full with launching Libre, but it's not like your R&D team is standing still. 
Mr. Ford: You're actually the first person to acknowledge that … We've been working on iterations of Libre since it launched in Europe in 2014. We've said it's a platform product – you saw part of that strategy in the Bigfoot Biomedical announcement, with a new system that integrates pumps and pens. All I can say is we'll continue to build on that, whether it's wear-time extension, size … we're continuously innovating, and we're not going to be still with the platform we have.
Mr. David Kliff (Diabetic Investor): Medtronic said it's entering the standalone CGM market, using price as a weapon to get there. How will that all play out?
Ford: That's an interesting question. Just because it's a lower price doesn't mean you're necessarily trying to buy share by sacrificing profitability. Our platform makes for a stable sensor, no need for calibration or transmitters, all those add up for cost. Our sensor provides similar benefit to other systems at a fraction of the cost, and that's what's resonating with payers. It's not just them; patients are interested too. Libre is much easier to use, much easier to apply.
Q: It sounds like connected health is a big theme – how are you implementing it?
Mr. Ford: Yes, it's definitely a trend, something we're being intentional about. It's difficult to do all across the board – Libre is definitely an area of focus. How do you take that information, make it more accessible, easier to digest? A product we launched in Europe was the Link app – you can use your phone to scan sensors, and also the LinkUp app to share data with followers. We've done work with data in the cloud for physicians, so you can send that swipe information straight to the cloud – we're working on that. It's important that while there's a lot of data on connectivity, the real clinical and economic benefit, there are risks associated with that – be it cyber or something else – so we have in place a broad comprehensive system. We have a product group that looks at security … We're exploring connectivity, it's super-important, and we're making sure that as we're developing, the benefits of connectivity don't come with unintended consequences. 
2. Medtronic Diabetes is "a big opportunity," double-digit growth expected in FY19; Guardian Connect (US), 670G OUS, iPro 3 to launch between Now-April 2019
Medtronic CEO Omar Ishrak pointed to diabetes as one of two high-growth drivers for all of Medtronic (the other being emerging markets), maintaining 3Q17 expectations for double-digit diabetes growth in FY19 (May 2018-April 2019). This growth will be easier to achieve, of course, for Medtronic to achieve, coming off a disappointment FY18. Consistent with 3Q17, 2H FY18 diabetes growth is expected to accelerate, bringing "mid-to-high single digit" growth for all of FY18 (May 2017-April 2018) – this implies ~10% YOY growth in the current and upcoming quarter. This was the largest focus on diabetes growth we've ever seen in a Medtronic-wide JPM presentation, allaying investor concerns about very challenging performance in the first half of FY18 (see slide below) – that challenging performance is enabling more success in FY19 as the comparison is not as challenging. Notably, the diabetes pipeline timing was far less specific than that shared in the 3Q17 call. Three launches are now positioned for "FY18/FY19": the Guardian Connect standalone mobile CGM+Sugar.IQ app in the US, the MiniMed 670G outside the US, and the iPro 3 outside the US. "FY18/FY19" means anytime between now and April 2019, a very wide window. That said, Medtronic could still be on track with the more specific 3Q17 timing, which expected Guardian Connect/Sugar.IQ (US) and 670G (OUS) to launch by this April (FY18), and then iPro 3 to follow by April 2019 (FY19). Of course, the broader timing shared today also leaves more leeway, and could imply 670G (OUS) or Guardian Connect (US) have slipped beyond the launch-by-April 2018 plan shared in November. Regarding the CGM sensor manufacturing constraints, Mr. Ishrak noted "incredibly strong demand" for the 670G, and though Medtronic has been "struggling" to keep up with manufacturing sensors, the team is "on the cusp of turning that around." From our view, it is difficult to know whether higher-than-expected sensor demand is the only challenge or whether other manufacturing issues beyond demand are resulting in lower than expected yield. He confirmed that in F4Q18 (February-April 2018), sensor manufacturing "will not be supply constrained" (in line with 3Q17 comments). In Q&A, CFO Karen Parkhill mentioned that Medtronic is already seeing some revenue benefit from the Animas exit, with more expected over time. This does not surprise us, as Medtronic is the preferred partner and has been aggressive in email and phone communication with Animas users – we continue to believe this was quite poor decision-making in terms of helping patients since patients cannot access the 670G and should have at least information about other products enabled by J&J and Medtronic in our view, particularly since the average patient who chose Animas in the first place likely considered and rejected Medtronic to begin with. As he has in the past, Mr. Ishrak characterized the MiniMed 670G a "revolutionary" product that is "way ahead of the competition." He clarified in Q&A that the team is "very confident" diabetes is going to make a "big difference" for the company's accelerated growth in 2H FY18 – a notable statement, as diabetes is still only ~6%-7% of Medtronic's total company-wide revenue. Can Medtronic deliver on the expectations? Growing on a lower-than-expected FY18 base will help.
Medtronic remains disappointingly quiet about its next-gen pipeline. A section labeled "beyond" (i.e., after April 2019) mentioned five products: a redesigned next-gen sensor (a flat square-patch design), the Mio Advance all-in-one-set (which Unomedical showed at ATTD 2017), Sugar.IQ's glucose prediction feature, next-gen CareLink, and advanced closed loop algorithms/new insulin delivery system. We'd guess Mio Advance, Sugar.IQ glucose prediction, and next-gen CareLink are the closest to market. One thing is clear, however: Medtronic is going to continue playing catchup on the CGM front – behind Abbott's FreeStyle Libre and Dexcom's G5/G6. Depending on when it gets a next-gen closed-loop out, however, it could be launching its advanced system right as others are coming to market (e.g., Tandem, Insulet, Bigfoot).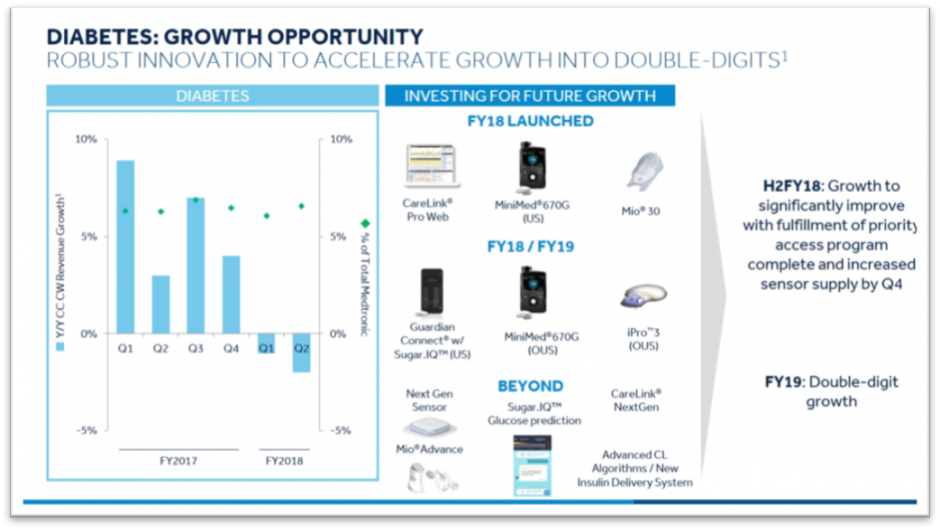 In Q&A, one analyst wondered how Medtronic will compete with Abbott and Dexcom in the standalone US CGM market. Mr. Ishrak had two answers: a "competitive" product and "strong relationships with payers." It will be fascinating to see how Medtronic does with Guardian Connect, once it is approved in the US and launched. On a feature-by-feature basis, it will be at parity or lag behind Abbott and Dexcom on most meaningful parameters – fingerstick calibration, sensor wear time, Android/Apple iOS/watch compatibility, on-body form factor, transmitter, ease of insertion, etc. However, the paired Sugar.IQ could be a differentiator, as could Medtronic's payer relationships. Medtronic is still learning how to be a CGM company (e.g., manufacturing delays), so execution will need to be strong and success in the competitive US market is not a given.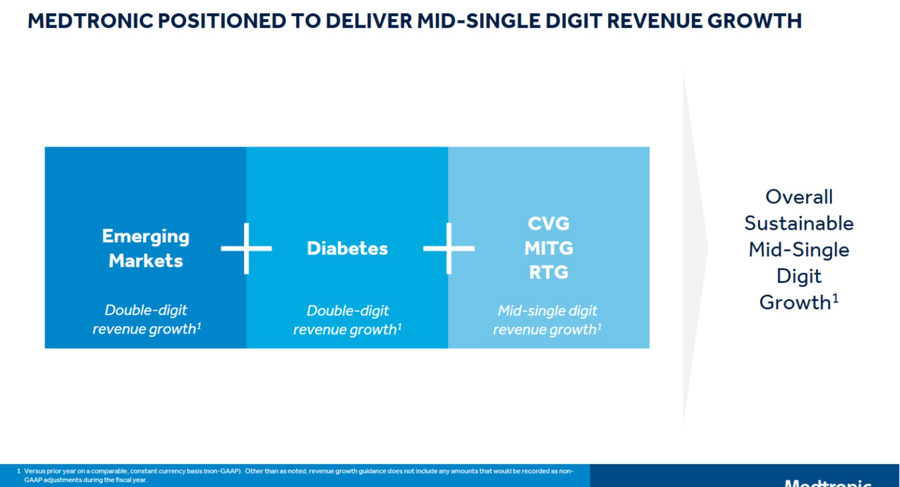 Diabetes-Related Q&A
Mike Weinstein (JP Morgan): Your reiterated guidance implies an acceleration in the back half of the fiscal year … Everybody sees the diabetes business is going to turn. How do you think about accelerating the company's growth to 4-6%?
Mr. Ishrak: We're very confident diabetes is going to make a big difference. [As a company], we saw acceleration in Q2, quite a bit over Q1. Some of that is from acquisitions. For instance, Heartware was inorganic, now it's organic – we're growing that business. We've had some real successes in the last year in new product introductions, which are only beginning to get traction.
Mr. Weinstein: If there is a business that we have the toughest time forecasting, it is diabetes. It's hard to forecast what played out in the last few quarters, since we can't see what's going on inside the upgrade program, which caused some issues. Where are you on working down the upgrade program, especially since new patients means new pump sales? And how do you think about double digit growth in diabetes? I think diabetes is going to be well in double digits in that April quarter.
Mr. Ishrak: It will be well into the double digits. Exactly what we cannot say. But you're right. We have all those priority access programs, but now it's a more stable environment. There are fewer unknowns. We have demand, but we have been unable to supply it. But we're not searching for demand. We're ramping up manufacturing. By Q4, we will not be supply constrained. [Editor's note – Medtronic will benefit from "upgrades" from J&J customers – they are giving them only basic products and will primarily benefit from having them in the system when they are ready to upsell them.]
Q: Over the last six months, J&J (Animas) has gotten out of the business. Can you talk about the transition program for those pump patients? You've tried to make it as easy as possible. When will you start to get some real revenue benefit and uptick from the installed base?
Karen Parkill (CFO): We're already starting to see some of that benefit, and we'll see more over time.
Q: In the CGM standalone market [in the US], Dexcom and Abbott Libre are ahead of you. How are you going to compete?
Mr. Ishrak: How do you compete? Products that are competitive or with features that are superior. And then relationships with patients and the paying entity. We have strong relationships with payers, and we can enter into many different arrangements. We'll leverage that. We have a broad footprint in the US and we'll leverage that. In the center, we have a competitive product. That together with added management tools, like Sugar.IQ, is a position we can work from.
3. No Decision Yet on LifeScan, Though J&J Management Sounded Lukewarm on the Business
The big news from J&J's breakout session was no news as far as LifeScan goes – Group Worldwide Chair Ms. Sandra Peterson told attendees that management is still in the process of deciding what to do with the business. In hallway chatter, we heard her say "we'll see" when asked if there would be an update on the January 23rd 4Q17 call, not ruling out the possibility – we believe on the call that management will avoid the topic unless specifically asked. CEO Mr. Alex Gorsky didn't sound so neutral, calling Diabetes Care a "slower-moving" business and implying that SMBG and insulin pumps fall into the category of "areas where we don't think we can make a meaningful difference … That doesn't mean it's a bad business, and it doesn't mean it can't be successful, but perhaps it would not be a priority in our hands." This positioning doesn't sound very encouraging for the fate of LifeScan as a J&J company, since its counterpart Animas closed last year – e.g., LifeScan is in the slower growth SMBG market with less upside than automated insulin delivery. Indeed, though J&J has previously expressed commitment to diabetes, it sounds like it is mainly committed to profitable patients, which there are fewer of with LifeScan by the day as more profitable patients (those who use a higher number of strips) move to CGM. In October, an unexpected J&J press release seemed to indicate more commitment to LifeScan, emphasizing that the OneTouch Reveal mobile app is "central" piece of One Touch and the #1 downloaded diabetes app in three countries. On the other hand, that announcement may have been a move to bid up the value of LifeScan prior to a sale – and indeed, though Reveal is certainly central to One Touch, J&J's moves to date imply that it does not want to stay in this business. We have thought for some time that having the business P&L part of Medical Devices but having the management in Consumer did not demonstrate major commitment from J&J overall.
On Animas, Ms. Peterson expressed that she was happy with patient transitions to "other providers in the marketplace," and exiting was the right decision given the investments other pump manufacturers will continue to make. The use of plural "providers" was an easy way for J&J to imply it is helping patients more than it is; J&J designated Medtronic as the only alternative for patients and patients can only get old pumps, not the latest 670G (outside the US, of course, the 670G is not a choice for anyone as it is not yet approved – see above). They are also not able to get the latest sensors, and the older sensors compared to Dexcom have been quite trying to many patients. While Insulet and Tandem stepped up with their own upgrade programs, J&J didn't present customers with an option to transition to multiple pumps as its Credo may have implied it would. Instead, Animas handed over the customer base to Medtronic (some have wondered if this would be a privacy problem), who then pursued an aggressive campaign (in our view) to move patients quickly onto the outdated MiniMed 630G. We would've found a pump-company-agnostic approach much more responsible and better for Animas' ~90,000 customers. In line with the overall negative tone on the diabetes technology business, management didn't mention the promising OneTouch Via bolus insulin delivery device, and Mr. Gorsky commented that diabetes is "still a space with a lot of unmet need" and that J&J will "continue to look for ways to contribute to diabetes," though it has to be "differentiated" and "something we think will ultimately make a big difference for people with diabetes." We hope that his many talented executives and team will be asked to contribute to this conversation since the ways in which J&J could address the unmet need are countless, which the right investments. We continue to hold out hope for One Touch Via, given the significant need for discreet and convenient insulin delivery – in the US alone, nearly 50% of people with diabetes are not in good control and fewer than 30% take insulin, and many of those only basal insulin.
In his fireside chat with JPM's Mr. Mike Weinstein, Mr. Gorsky had a number of interesting quotes on running a healthcare company and the general state of healthcare:


"Moving forward, we won't necessarily consider ourselves healthcare/bio-pharmaceutical company, but a healthcare/bio-pharmaceutical/technology company. We're using data to better understand the genome, biology, physiology; it's informing minimally-invasive surgery, robotic surgery, even how we talk to consumers. Being digital, understanding how to use those tools, it's hard to imagine a more exciting time." We wonder if the right digital investment in LifeScan, including the WellDoc partnership, could help the brand return to growth – since it is divesting its technology businesses in diabetes since they are not profitable enough, becoming a "healthcare/bio-pharmaceutical/technology company" may be more challenging than it appears.

"How do you provide meaningful, value-add, data driven healthcare? It's a challenge.

I don't think any of us in here should sit still for a moment thinking the pressures that payers and providers are going to experience have receded. They will only accelerate going forward.

"
"Because of pressures, we should expect to see new players coming forward. Customers and providers coming together in unique ways. Everyone should be creating a crisis, then worry about how Amazon will disrupt our businesses. If we're not, we run the risk of becoming too complacent.

We should be driving that kind of change in a way that will ultimately help patients."
Questions and Answers
Mr. David Kliff (The Diabetic Investor): I have a three-part question on diabetes. First, can you share a status update on the LifeScan divestiture? Second, can you explain the decision to shut Animas instead of sell? And then in light of these decisions, what are your future plans for Invokana?
Ms. Sandra Peterson (Group Worldwide Chair, J&J): I'll speak to the decision around Animas. We decided the best thing for patients was to manage their transition to other providers in the marketplace, and we feel good about how we've handled that transition to other people in the industry. It was a decision we needed to make. It was the right thing for us to do given the kinds of investments others continue to make in that space. We're still in the process of rolling this out, and we're not ready to announce a decision on the rest of the portfolio. We'll keep you posted as we move forward.
Mr. Alex Gorsky (CEO, J&J): Diabetes is still a space with a lot of unmet need. We're trying to be more discerning: Where are the places in the portfolio where we should invest and can make a difference? Where are the areas where we don't think we can make a meaningful difference? That doesn't mean it's a bad business, or that it can't be successful, but perhaps it wouldn't be a priority in our hands. SMBG is an example, as is the insulin pump business. Invokana – we still think it fills a very critical unmet need in diabetes treatment. That said, we had a label change in the past year, but we've continued to invest and we have other data showing clinical efficacy. We'll continue to look for ways to make a difference in diabetes, but it's got to be very highly differentiated.
Diabetes Therapy Highlights
1. Merck CEO Mr. Ken Frazier: Ertugliflozin/Sitagliptin Fixed-Dose Combination Will Mitigate Januvia's Loss of Patent Exclusivity
Merck CEO Mr. Ken Frazier assured investors that the company is prepared for Januvia's (sitagliptin) patent expiry, because the fixed-dose combination of sitagliptin with recently-approved SGLT-2 ertugliflozin will sustain this business. Januvia leads the DPP-4 inhibitor class in sales, capturing 61% of the market by value in 3Q17 and generating >$6 billion in annual revenue. It also happens to be the highest-prescribed branded diabetes drug today – but the first of Merck's patents on sitagliptin expired in April 2017, which means that generic Januvia is around the corner, likely coming to market in the next ~four years or sooner. From this view, the Pfizer-partnered ertugliflozin franchise seems to be arriving in perfect time – although from our view, the fact that it will likely be a better medicine for many patients is an equal if not bigger reason to express excitement about it. We are thrilled with the pricing decisions on Steglatro (standalone ertugliflozin) and Steglujan (ertugliflozin/sitagliptin),, which will both be launched in US pharmacies this month, following FDA approval last month. Segluromet (ertugliflozin/metformin) was also FDA-approved and is scheduled to launch in February. If Merck/Pfizer follow through on their plans to invest heavily in commercializing these new products, the drugs could gain traction in the next ~four years, reimbursement will improve, ertugliflozin will become a more familiar agent in the diabetes community, and HCPs will become more comfortable prescribing the SGLT-2 inhibitor and its combinations, particularly since the DPP-4/SGLT-2 inhibitor Steglujan will be priced the same as other SGLT-2 standalones. All this will coincide with new generic competition for Januvia and Janumet (sitagliptin/metformin), but ertugliflozin will still be branded and we expect it could bring in substantial revenue for Merck Diabetes if combination therapy begins to be marketed more aggressively, using the impressive data.
"Januvia is going off-patent. That's an important issue for us, but the combination with ertugliflozin will mitigate loss of exclusivity." This was interesting word choice – "mitigate" – and Mr. Frazier's optimism was somewhat measured. Notably, his outlook didn't include major sales growth for Merck's diabetes business but rather a balancing of the Januvia patent expiry. We won't read too much into this for now, as we still see significant potential for ertugliflozin to grow the SGLT-2 class and to expand Merck's diabetes portfolio, making the company an even bigger player in diabetes. We believe Merck/Pfizer can grow the class and help more patients over time, as DPP-4 inhibitors alone won't show the same results as the combo. Mr. Frazier acknowledged that a lot rides on CV outcomes data. The bar continues to rise for new diabetes therapies, and this is especially true in the SGLT-2 class, where Jardiance and Invokana have already demonstrated significant CV benefit. To this end, the VERTIS CV trial for ertugliflozin is expected to complete in October 2019.


Mr. Frazier didn't comment on pricing. We imagine Merck/Pfizer's pricing strategy could boost early uptake, since Steglatro is priced much lower than existing SGLT-2 inhibitors ($8.94/day vs. ~$17/day) and Steglujan is also priced at a meaningful discount to Lilly/BI's Glyxambi ($17.45/day vs. ~$22/day). List price only means so much without considering patient discounts, formulary status, and insurance coverage, but lower list prices could definitely play to Merck/Pfizer's advantage in payer negotiations and marketing to patients/HCPs. We'll be curious to see how ertugliflozin affects market dynamics for the SGLT-2 inhibitor class in 2018 and beyond. We wonder how formularies will change in the next cycle (2019) and if other SGLT-2 manufacturers will respond with list price changes.

Most CEOs of major pharmaceutical companies addressed tax reform in their JPM remarks, and Mr. Frazier was no exception. He emphasized greater financial flexibility, but suggested that the reform won't change Merck's capital allocation strategy all that much, since the company has always had sufficient cash and resources to design ideal clinical/commercial development programs.
In response to a question on pricing pressure, Mr. Frazier shared some rare optimism. Approximately 30% of profit on every branded pharmaceutical is "rebated back into the supply chain," according to Mr. Frazier. Per a JAMA article published last year, 27% of pharmaceutical sales in 2015 were returned to payers/PBMs in the form of rebates – this amounted to $115 billion in total. But Mr. Frazier pointed to a small silver lining in that policymakers are well-aware of this issue by now. He argued that slowly but surely, pricing pressure will abate. "The good news is, though incremental pressure will continue on price, I don't think we're going to see any significant jump in that pressure through public or private payers."
Of note, Merck did not host a breakout session because the presentation itself was structured as a fireside chat with Q&A. Mr. Frazier spoke to specific products and provided a level of detail in line with a traditional JPM company presentation. That said, we do wish we'd had an opportunity to find out more about Steglatro and Steglujan pricing during a breakout…
2. J&J CEO Mr. Alex Gorsky Says Next to Nothing on Invokana or Diabetes; Vague, Broad-Sweeping Commentary on Healthcare Landscape
Like last year, J&J CEO Mr. Alex Gorsky participated in a fireside chat in lieu of a traditional JPM company presentation, and once again, he shared no concrete updates. SGLT-2 inhibitor Invokana (canagliflozin) came up once during the breakout session, in response to a three-part question on diabetes: (i) Can you share a status update on the LifeScan divestiture? (ii) Can you explain the decision to shut Animas instead of sell? (iii) In light of these decisions, what are your future plans for Invokana? Indeed, the SGLT-2 inhibitor was once a saving grace for J&J Diabetes, a bright spot to balance out sluggish sales on the device side, but Invokana franchise revenue fell steeply in 2017 (-13% YOY in 1Q17, -23% YOY in 2Q17, -19% YOY in 3Q17). Mr. Gorsky acknowledged the unfavorable effect of the FDA label update adding a black box warning for lower limb amputations to all canagliflozin products. "We've continued to invest despite this, and we have other data showing clinical efficacy," he stated, alluding to positive CV outcomes data from CANVAS (J&J filed with the FDA for Invokana's CV indication in October, but there was no mention of this at JPM). We were glad to hear a passing mention of Invokana and possible growth opportunities, however vague. Management's general commentary on diabetes (which was extremely limited to begin with) was lukewarm at best – in Mr. Gorsky's words, "we'll continue to look for ways to make a difference in diabetes, but it's got to be very highly differentiated." This doesn't inspire much confidence for near-term movement in Janssen's diabetes pipeline, which includes a phase 1 glucagon/GLP-1 dual agonist, canagliflozin for type 1 (phase 2 results reported at ADA 2016), and canagliflozin/phentermine co-administration for obesity (phase 2 results reported at ADA 2016). We also suspect that the planned CVOT of Invokana in prediabetes has been put on hold (perhaps until the company's SGLT-2 revenue stabilizes in the wake of amputation-related concerns – we do hope this project moves forward eventually, as a prediabetes CVOT could be game-changing in how we approach and manage hyperglycemia). To be sure, there are potential tailwinds ahead for the Invokana business: An FDA decision on the CV indication is expected in late 3Q18 or early 4Q18, and Invokana is preferred over Lilly/BI's Jardiance (empagliflozin) on the CVS Health national formulary in 2018. That said, we continue to be disappointed in J&J's commitment to diabetes as a therapeutic area overall. Ultimately, diabetes received little air time, even as management skirted specific questions and didn't offer substantive discussion of any J&J division.
CFO Mr. Dominic Caruso expressed a positive view on corporate tax reform in the big picture, but didn't comment explicitly on how this will affect J&J or company strategy. New policy has decreased the tax companies must pay on ex-US sales and assets, thereby freeing up "previously untapped OUS cash" (approximately $16 million for J&J). Mr. Caruso elaborated that this allows for more financial flexibility, it incentivizes doing business in the US, and it creates more jobs in the US. "This reform will make us more competitive on a global scale," he claimed, though when pressed, he provided no specific details on how J&J's capital allocation may change as a result.
Questions and Answers
Mr. David Kliff (The Diabetic Investor): I have a three-part question on diabetes. First, can you share a status update on the LifeScan divestiture? Second, can you explain the decision to shut Animas instead of sell? And then in light of these decisions, what are your future plans for Invokana? (Editor's note – we also show the answer in our tech section above.)
Ms. Sandra Peterson (Group Worldwide Chair, J&J): I'll speak to the decision around Animas. We decided the best thing for patients was to manage their transition to other providers in the marketplace, and we feel good about how we've handled that transition to other people in the industry. It was a decision we needed to make. It was the right thing for us to do given the kinds of investments others continue to make in that space. We're still in the process of rolling this out, and we're not ready to announce a decision on the rest of the portfolio. We'll keep you posted as we move forward.
Mr. Alex Gorsky (CEO, J&J): Diabetes is still a space with a lot of unmet need. We're trying to be more discerning: Where are the places in the portfolio where we should invest and can make a difference? Where are the areas where we don't think we can make a meaningful difference? That doesn't mean it's a bad business, or that it can't be successful, but perhaps it wouldn't be a priority in our hands. SMBG is an example, as is the insulin pump business. Invokana – we still think it fills a very critical unmet need in diabetes treatment. That said, we had a label change in the past year, but we've continued to invest and we have other data showing clinical efficacy. We'll continue to look for ways to make a difference in diabetes, but it's got to be very highly differentiated.
3. Regeneron Focused on Retinopathy w/o DME Indication for Eylea (to Compete with Roche's Lucentis); Commentary on Praluent + ODYSSEY Outcomes Results Expected 1Q18
PCSK9 inhibitor Praluent (alirocumab), Eylea (intravitreal aflibercept), and tax reform were three major talking points during Regeneron's presentation and breakout. Results from the ODYSSEY Outcomes CVOT are expected in 1Q18. This data is very highly-anticipated, as positive findings would make Sanofi-partnered Praluent the second PCSK9 inhibitor with demonstrated cardioprotection (Amgen's Repatha now has a CV indication on its label, on the basis of FOURIER). Regeneron President and CEO Mr. Leonard Schleifer declined to comment on the company's commercial plans for Praluent post-ODYSSEY Outcomes readout. Humorously, he remarked, "so your question is, based on our data, would we be willing to share our strategy with Amgen?" Then he added more seriously, "we'll be looking closely at the data with Sanofi, and we'll be working with HCPs and payers to see how ODYSSEY Outcomes should impact our strategy." Following the recent approval of Praluent in Japan, Mr. Schleifer affirmed that Regeneron is committed to exploring all Asian markets with Sanofi, investing its own financial resources where appropriate. Amgen presents tomorrow (Tuesday) at 8:30 AM in the Grand Ballroom, and we certainly expect commentary on Repatha, the new CV indication, and progress in the PCSK9 class as a whole (including Praluent and ODYSSEY Outcomes, which have been mentioned on all of Amgen's recent earnings calls). We were slightly disappointed not to hear more concrete updates on PCSK9 from Regeneron, and we'll have our ears peeled for any news on Praluent during Sanofi's presentation tomorrow as well, at 9:30 AM in the Grand Ballroom. Poor reimbursement remains a huge barrier to uptake for PCSK9 inhibitors, and we're eager to learn Amgen's, Sanofi's, and Regeneron's plans to improve payer coverage of these highly-effective (albeit expensive) lipid-lowering therapies.
Regeneron markets Eylea in the US, and getting the drug indicated for diabetes-related retinopathy without DME is a key company priority. Roche received this new indication for Lucentis (intravitreal ranibizumab) in April 2017, and Mr. Schleifer suggested that a similar label update could be critical for Eylea in order to compete. Regeneron initiated the PANORAMA trial aimed at this indication in April 2016, and the study is expected to complete in January 2019 according to ClinicalTrials.gov. Retinopathy without macular edema is a common diabetes complication, and retinopathy/blindness are among the most commonly-cited fears for people with diabetes. Given this, we're pleased to note Regeneron's efforts to expand the Eylea business within the diabetes patient population (Eylea is also prescribed for other eye-related indications, outside the context of diabetes).
Mr. Schleifer called US tax reform "a positive message" for Regeneron. He used Eylea as an illustrative example: The product is owned exclusively by Regeneron in the US, and it's highly-profitable for the company, but those earnings have been taxed at a very high rate until the policy changes went into effect on January 1, 2018. Tax reform is going to reflect in higher earnings on Eylea – Mr. Schleifer suggested this is something to look out for in Regeneron's next earnings call, and in the 4Q17/full-year 2017 earnings season in general. We'll be most interested to figure out how cost on pharmaceuticals is shifting toward or away from patients – it may take some time for these effects to show up in full, but we'll certainly be monitoring these dynamics throughout 2018.
Questions and Answers
Q: What are the barriers to treatment with Eylea?
A: I think DME is a more natural market to penetrate. For patients with clinically-significant DME (i.e. vision impairment), treatment with anti-VEFG therapy makes perfect sense. There's still under-use, mostly driven by the bias against wanting to get injections in the eye. Notably, we've given millions of injections, so there's a pretty good track record there for safety. In the population with diabetic retinopathy without DME, there's two types of people: Those with proliferative disease – that means you're on the cusp of vision-threatening events – feel a need to treat that, and the standard of care has been laser up until now, but Eylea has out-performed laser head-to-head on many critical endpoints including the primary vision endpoint. In those without proliferative disease, there may be more hesitation to Eylea. That's harder to penetrate, so we need more education there, helping people feel more comfortable with this approach to eye care. We need to show that early treatment is better than late treatment in terms of your overall vision outcomes.
Q: You've mentioned Roche's Lucentis, but can you comment on competition from Avastin (Genentech)?
A: Yes. In the Protocol T study, Avastin was inferior to Eylea in DME (diabetic macular edema). That was pretty solid evidence, and keep in mind that it was sponsored by the government, so independently-conducted. Eylea should be preferable to Avastin. The most important outcome was best-corrected visual acuity, and the results showed almost a double improvement with Eylea vs. Avastin – that's almost two lines on an eye chart. Vision is so precious, I think it's not good medical practice to treat people with Avastin instead of Eylea based on the head-to-head data we have.
Q: Praluent was recently approved in Japan. On the heels of that, are there any future plans for establishing or investing in Japan?
A: I'll expand your question to include the rest of Asia as well. We have a global partnership with Sanofi, and we're looking carefully at various ways to optimize that in Asia. You'll see us investing in those geographies with Sanofi, either having them do it or partnering and investing ourselves if it's appropriate. We view those markets as very important.
Q: On Praluent, since you have CV outcomes data coming up, would you consider a relaunch of the product or a change in pricing based on what you experienced in the past launch?
A: So your question is, based on our data, would we be willing to share our strategy with Amgen on what we're going to do? No, we're not going to share our strategy here. But, we'll be looking closely at the data with Sanofi, and we'll be working with HCPs and payers to see how ODYSSEY Outcomes should impact our strategy.
4. Novartis Pharma CEO Mr. Paul Hudson Highlights Entresto & Lucentis
Mr. Paul Hudson, CEO of Novartis' pharmaceutical division, positioned heart failure drug Entresto as a leading priority for the company. He described Entresto as the "backbone" for the cardiometabolic business: Because Novartis can rely on Entresto sales growth (as reported, revenue more than doubled YOY in 3Q17 to $128 million), management can confidently invest in new medicines. "Marginal investment will decline, and we'll become increasingly more profitable while breaking new ground for patients, payers, and stakeholders." We started to track Entresto sales following a post-hoc analysis of PARADIGM-HF focused on participants with diabetes: The drug showed a statistically significant A1c benefit vs. enalapril and also reduced risk for new initiation of insulin therapy over three years (Dr. Jelena Seferovic presented these findings at ACC 2016). We'll be curious to see if Novartis considers a dedicated investigation of Entresto in diabetes, a sort of reverse move to Lilly/BI and AZ investigating their SGLT-2 inhibitors in heart failure, but this is only our speculation, as there hasn't been any signal from management that a diabetes study is on the table.
During the breakout, Mr. Hudson emphasized Novartis' commitment to Lucentis and to continued innovation in eye disease despite intense commercial competition from Eylea (marketed by Regeneron in the US and by Bayer ex-US). He recognized that Eylea's launch has had an adverse effect on the Lucentis business ex-US (Roche markets Lucentis in the US), and acknowledged that regaining market share will be critical, particularly in Europe. Novartis is collecting real-world evidence to show superior efficacy with Lucentis (intravitreal ranibizumab) vs. Eylea (intravitreal aflibercept) at the same injection frequency. The company also has brolucizumab (RTH258) in phase 3 for neovascular age-related macular degeneration, and management has stated previously that Novartis will further investigate the drug in DME (diabetic macular edema) and other indications. Mr. Hudson shared a very positive outlook on RTH258 based on results announced to-date. He outlined Novartis' goal – that brolucizumab will compete with Eylea and will swiftly become the market leader.
Both the CEO's presentation and the breakout were jam-packed for Novartis. We're left wondering about the NASH pipeline (which received a lot of attention at JPM 2017), about the status of Novartis' partnership with Verily to develop a glucose-sensing contact lens (both companies are always tight-lipped about this, and we haven't heard any real updates since 2015), and about Novartis' other partnerships with Parvus (nanotechnology-based treatment for type 1 diabetes) and Qualcomm (digital medicine). Of course, we understand the vast size and scope of this company, and the limited amount of time to cover it all.
Questions and Answers
Q: There are essentially three large distributors and two large retailers in the US right now. Do you expect to see a new entrant into the US distribution model for drugs? Will that change how you deal with distribution? Have you had any discussions with potential new entrants?
A: Like most pharmaceutical organizations, yes, we've had conversations with potential new entrants. There's a lot of talk about Amazon's plans and what that could mean. Clearly, their ability to distribute and manage big data is exciting, so we have to be open-minded about it. They're not a PBM and they're not an insurer, so you wonder where vertical integration could go – are they only going to be a distributor or online specialty pharmacy? You saw the recent CVS play – is that to drive foot traffic into CVS stores, or to offer instant prescriptions on basic, low-cost medicines? I don't think any of us know yet. We're not worried at Novartis, because we have great medicines and we offer great value propositions. We're open to talk to distributors – that's one of the things we do at meetings like this. We're a big business globally, and it's hard for new entrants to do anything without considering having us at the table.
Q: Can you talk a little more about commercial competition from Eylea?
A: We were caught by surprise with the speed of the Eylea launch. Even though both Lucentis and Eylea require four-five injections/year, the perception is that you can use Eylea less frequently, and that suggests better efficacy. People have taken a leap of faith around that suggestion, and we lost share too fast. Now, we're correcting that with new data and real-world evidence. We're showing that Lucentis can be more effective with the same number of injections as Eylea. It's important for that team to get back decent market share, particularly in Europe, because with RTH258 we plan to go after Eylea. With Lucentis, keep in mind that it's indicated for retinopathy without DME in the US, which the other drugs don't have. When we bring RTH258 to market in the US, we'll also be bold. All bets are off. We're committed to be the market leader.
5. Pfizer R&D President Mr. Mikael Dolsten Makes No Mention of Merck-Partnered, Recently-Approved SGLT-2 Inhibitor Steglatro (Ertugliflozin); Briefly Touches on NASH Candidates
Pfizer's presentation and breakout featured no mention of diabetes, not even of the recent FDA-approval of Merck-partnered SGLT-2 inhibitor Steglatro (ertugliflozin). R&D President Mr. Mikael Dolsten focused his remarks on the company's pipeline and cancer portfolio. This is understandable, given that ertugliflozin is Pfizer's only current foray into diabetes (a partnered one at that). Still, we can't help but be a bit disappointed at the lack of air time for the new franchise, which also includes fixed-dose combinations with Merck's DPP-4 inhibitor Januvia (branded Steglujan) and with metformin (branded Segluromet). Merck/Pfizer have listed a price on Steglatro of $8.94/day, compared to ~$17/day for existing SGLT-2 inhibitor options, and we were certainly hoping that management from both companies would provide a strategic explanation for this decision at JPM (see our coverage of Merck above). Although list price only means so much without considering patient discounts and payer coverage, the Steglatro discount vs. other SGLT-2s (and Steglujan is also listed at a discount vs. Lilly/BI's Glyxambi) could be great news for patients. Further, we hope Pfizer's limited discussion of Steglatro/diabetes has no bearing on how the company will prioritize its new SGLT-2 inhibitor business going forward.
Mr. Dolsten did briefly mention the company's ACC inhibitor candidate for NASH, advanced into phase 2 in 3Q17. In his slides, Mr. Dolsten also alluded to an oral small molecule GLP-1 agonist for NASH, but no such molecule is yet listed on the company's pipeline page.
6. Bayer's Mr. Dieter Weinand on Eylea & Glucobay as Staples of the Pharmaceutical Business
In a packed fireside chat-style session, Bayer's Head of Pharmaceuticals Mr. Dieter Weinand briefly touched on the company's staple diabetes products, Glucobay (alpha-glucosidase inhibitor acarbose) and Eylea (intravitreal aflibercept), marketed by the company ex-US . Both drugs have shown solid growth recently, and make up a solid chunk of Bayer's overall pharmaceutical business. Eylea is the company's second best-selling drug, and that's only OUS sales (Regeneron markets Eylea in the US). Mr. Weinand estimated that one-third of Bayer's global revenue comes from emerging markets, with growth driven by products including Glucobay (especially in China, the leading market for acarbose), though he predicted a shift toward more innovative products, especially as China reforms its regulatory processes. JPM's Mr. Richard Vosser pointed out that Eylea is driving significant margin expansion within Bayer's pharmaceutical business while the company is also increasing R&D from a higher base. Bayer's pipeline includes phase 3 finerenone, a mineralocorticoid receptor antagonist for diabetes-related nephropathy, as well as a phase 2 Regeneron-partnered co-formulation of Eylea with anti-angiopoietin2 antibody nesvacumab for DME (diabetic macular edema).
7. Ionis CEO Dr. Stanley Crooke Briefly Mentions Two NASH Candidates; Company Stagnant & Silent on Glucagon Receptor Antagonist
Ionis was noticeably upgraded to a much larger room at JPM this year (the Grand Ballroom, from California West), but CEO Dr. Stanley Crooke devoted very little air time to the company's diabetes and NASH candidates, focusing instead on the late-stage pipeline and recently-accepted NDAs. Dr. Crooke did briefly highlight IONIS-DGAT2Rx, a DGAT2 inhibitor in phase 1, which he described as an "interesting entry" into the NASH landscape. A phase 1 dose escalation study wrapped up in November 2016, and Dr. Crooke listed a phase 2 readout as an expected milestone in 2018. His slides also noted the expected completion and readout of a phase 1/2 study for ANGPTL3-LRx, an angiopoietin-like protein 3 inhibitor under investigation for dyslipidemia. On ClinicalTrials.gov, expected completion is listed as August 2017, even though the study is still actively recruiting, but the page hasn't been updated since May 2017 – we'll thus be on the lookout for this data in 2018 per Dr. Crooke's JPM presentation. Interestingly, we also found a new phase 2 trial (n=144) of ANGPTL3-LRx in patients with type 2 diabetes, hypertriglyceridemia, and NASH posted on ClinicalTrials.gov in December 2017. This study is expected to complete in May 2019, and we'll have our ears peeled for any mention of it on Ionis' 4Q17 earnings call.
There was no mention of glucagon receptor antagonist IONIS-GCGRRx during the presentation or breakout. Most recently (back in 2Q16), Ionis announced positive interim data from a phase 2 dose-ranging study, which now appears to be delayed (ongoing according to ClinicalTrials.gov, despite an expected completion date of March 2017).
Big Picture Highlights
1. In Powerful Keynote, Mr. Bill Gates Argues for More Investment in Diabetes & Alzheimer's, Shares Excitement for Microbiome Research (and What It Could Mean for Understanding Obesity); Interview with Dr. Sanjay Gupta on Investment+Philanthropy Model of Bill & Melinda Gates Foundation
Mr. Bill Gates drew overwhelming and impressive crowds to his lunchtime keynote, though the real highlight for us came when Dr. Sanjay Gupta joined onstage and Mr. Gates discussed the disappointing state of funding for diabetes. Dr. Gupta questioned whether all diseases should have a cure, as death is inevitable. He called out Mr. Gates' personal commitment of >$100 million to Alzheimer's research, and asked how he chooses where to focus his efforts. "There's been a huge emphasis on orphan diseases and you can argue that diabetes and Alzheimer's should have even more of the research dollars than they do," Mr. Gates said in response. "Through an economic lens, the cost to the US taxpayer of diabetes and Alzheimer's are growing over time and it's fairly dramatic: The person at CMS who spends that money should make sure more money is going into these areas." The disconnect between diabetes-related healthcare costs and investment is not exactly news to us (according to IDF's 2017 Atlas, one in eight global healthcare dollars is spent on diabetes – that's $727 billion in direct costs alone). Nevertheless, it's so crucial for this message to spread, and we were so glad to hear it from such a respected voice in healthcare on such a prominent stage. The connection between diabetes and Alzheimer's disease is also receiving more attention of-late (GLP-1 agonist liraglutide is currently being investigated in Alzheimer's). Still, Mr. Gates emphasized that as long as HIV, malaria, and TB exist (infectious diseases), he won't be satisfied. He explained how the returns are much higher when you focus on the health of the global poor (while diabetes/obesity also disproportionately affect low income populations, it is the view of the Gates Foundation that the current players invested in diabetes should be able to address these areas and that other diseases are more appropriate for Gates Foundation investments).
The Bill & Melinda Gates Foundation is funding work to better understand the microbiome, and this could definitely have implications for next-gen diabetes/obesity treatments. Mr. Gates highlighted microbiome research during his keynote, suggesting that this could be the Foundation's most impactful area. As he put it, "there's almost no disease someone isn't trying to help with the microbiome," so unraveling answers here could have far-reaching benefits to health, across diverse diseases states. Mr. Gates discussed the microbiome's interplay with both over-nutrition and malnourishment.

"Scientific insights that help solve the problems of obesity and malnutrition are likely to have a lot in common"

– we were intrigued by this assessment from Mr. Gates. Microbiome research can sometimes feel slow in the diabetes/obesity world, with lots of talk around basic science but few developments that will directly benefit patients. On the contrary, this keynote offered inspiration that real progress and new therapies are indeed coming from a sharp scientific focus on the microbiome.
Mr. Gates outlined the Foundation's philosophy of simultaneously targeting areas of greatest need and areas of greatest potential impact – the "low-hanging fruit" – by directing innovation and product development toward global health. He underscored that great progress has been made in improving global health, but that there's still a long way to go. Since 1990, global under-five mortality has been cut in half, but Mr. Gates aspires to halve the remaining five million deaths per year again in the next 15 years – to a 2% mortality rate. As all population growth to 2050 is projected to occur in Asia and Africa – and as poverty is concentrated on those continents – the Foundation has focused efforts on stabilizing these markets, promoting health, but also sanitation and better agriculture. Meanwhile, the largest Foundation initiative in the US is focused on education. Interestingly, Mr. Gates characterized some progress as precarious: While governments stepped up to confront the HIV epidemic, he argued that we're only holding the line with prophylaxis and good treatment, but without continued breakthroughs and generosity, infection levels and mortality could spike again. In this vein, Mr. Gates characterized vaccines as the Foundation's greatest area of success. He noted progress in new vaccines (e.g. pneumonia) as well as progress made in establishing infrastructure to distribute vaccines; moreover, the Foundation has incentivized vaccine manufacturing by promoting new technologies (e.g. mRNA vaccines) that drastically shorten development time and reduce cost.
In a panel later that evening, the Foundation's Director of Life Science Partnerships Mr. Andrew Farnum shared more color on this work. He described how the organization both provides grants (85% of funds) and acts as an investor to make cutting-edge innovation at private companies work for the poor, on the global health front – an intriguing model, and one that's demonstrated remarkable success, in our view. The Foundation looks to advance technologies through "win-win" partnerships: For example, the science behind cancer research could be applied in fighting HIV, TB, or other immune-mediated diseases that might not normally spark investments from industry. Partnering with the Foundation pushes innovation into new areas that positively impact global health, in one way or another. We also learned that Intarcia's Medici platform, the same used in ITCA 650, is being developed to provide PrEP to those at risk for contracting HIV – just one of dozens of partnerships the Foundation has forged. Moreover, the Foundation incentivizes certain projects through volume guarantees – that is, guaranteeing a market for a certain product, like a vaccine, to justify investment in larger facilities, and even providing low-interest loans. We think this hybrid model of investment and philanthropy is so incredibly innovative in itself, and we're truly stunned by the worldwide impact of the Bill & Melinda Gates Foundation. Now our mental wheels are turning… what more could this model do in diabetes?
2. Geisinger's Fresh Food Farmacies Spur ~2% Mean A1c Decline; Average A1c for Type 2 Patients Facing Food Insecurity is All-Too-High at 13%
Access to a Fresh Food Farmacy is associated with a ~2% A1c drop for patients within the Geisinger Health System (13 hospital campuses in Pennsylvania and New Jersey, serving ~560,000 people). For comparison, Geisinger CEO Dr. David Feinberg explained that taking two FDA-approved diabetes drugs leads to a mean ~1% A1c decline. Geisinger presented on the top floor of the Westin St. Francis as part of the non-profit track at JPM, and the session was standing-room-only. Diabetes and food insecurity are two massive, overlapping public health problems, and both are unavoidable for Geisinger HCPs. According to Dr. Feinberg, the average A1c for a Geisinger patient with diabetes facing food insecurity is 13%. A prescription for healthy eating goes a long way: For this particular patient population, it has double the glucose-lowering effect of pharmacotherapy and reduces monthly healthcare expenditures by 78%, from $18,000 down to $4,000. These numbers make a compelling case for the value of healthy food access and education on healthy diet and lifestyle. We hope that policymakers and city planners are paying attention to figures like this. Eliminating food insecurity and food deserts should be high on the policy agenda at the local, state, and national level, as this could have a dramatic beneficial impact on diabetes, prediabetes, and obesity rates, also cutting down healthcare spending. We'd also love to see more health systems incorporate healthy food stores to ensure access – Geisinger has shown this to be cost-saving, and given that most diabetes therapies are indicated as adjunct to diet/lifestyle modification, healthy food access seems critical to optimize diabetes care. Dr. Feinberg shared three stories to show that patients and families are at the center of all of Geisinger's health services. He underscored that quality of life is one of the most crucial outcomes in healthcare, and his presentation was a fantastic overview to Geisinger's integrated health services model.
-- by Adam Brown, Ann Carracher, Brian Levine, Payal Marathe, and Kelly Close