Executive Highlights
Abbott just announced that it has received a CE Mark for FreeStyle Libre 2, a second-generation FreeStyle Libre that adds Bluetooth and optional, customizable hypoglycemia (60-100 mg/dl) and hyperglycemia (120-400 mg/dl) threshold alarms. The new blue reader will notify users with sound or vibration alerts, prompting users to manually scan for a real-time reading – i.e., FreeStyle Libre 2 adds alarms with Bluetooth, but does not send real-time glucose data to the reader. The on-body size and disposable form factor are identical to the first-generation.

Remarkably, sensor/reader pricing is the same for FreeStyle Libre 2 – indicative of a huge access investment from Abbott, since adding Bluetooth certainly adds cost. We salute Abbott for adding meaningful functionality at pricing parity and for clearly hearing patient needs on pricing. While obviously CGM is still out of reach for many patients (particularly those on Medicare who do not take insulin), this is clearly a significant step for Abbott to move to a clearly less profitable product in order to improve the experience for patients who experience hypoglycemia and will benefit from alarms.

FreeStyle Libre 2 will first launch in Germany, followed by gradual European rollout. Both first and second generations of the FreeStyle Libre will continue to be offered within each market, offering patient choice and suggesting the entire installed base will not be moved over to FreeStyle Libre 2. Abbott plans to submit FreeStyle Libre 2 for FDA approval, although no timeline was provided.

FreeStyle Libre 2 is a key competitive move and a stepping stone to a future goal of continuous real-time glucose communication via Bluetooth. FreeStyle Libre 2 will likely not be the device used in the Bigfoot Loop AID system (pivotal in 2Q19), meaning that a standalone Libre "3" CGM is still to come.

Like gen one in Europe, FreeStyle Libre 2 is approved for 14-day wear, one-hour warmup, and non-adjunctive use without fingersticks in patients 4+ years. Accuracy is slightly improved over the current EU version, with a 9.5% MARD vs. YSI – we'll be interested to see MARD broken down by glucose range, as FreeStyle Libre's labeled accuracy in hypoglycemia has lagged behind other systems.

Who would benefit from FreeStyle Libre 2? Presumably the vast majority of type 1s and many people with type 2 diabetes including those on sulfonylureas, insulin, those who experience hypoglycemia, and those who are working to minimize hyperglycemia).

FreeStyle Libre 2 is initially compatible with the reader only, though Abbott told us that FreeStyle LibreLink app integration to add alarms is expected in roughly six months in Europe. For more on Abbott's future directions, FreeStyle Libre 2 pricing and reimbursement, and the competitive implications, see below.
In an exciting development just in time for its EASD symposia, Abbott announced this afternoon that it has received a CE Mark for FreeStyle Libre 2, a second-generation Bluetooth-enabled FreeStyle Libre sensor equipped with optional hypoglycemia and hyperglycemia alarms – a long requested improvement and key competitive move.
Users can now get low, high, and lost signal alarms on the FreeStyle Libre 2 reader, but will still scan over the sensor to retrieve a real-time glucose, trend arrow, and eight-hour history. This clever method maintains the FreeStyle Libre scanning experience, adds alarms, and presumably allows for battery- and cost-savings over traditional CGM – preserving Libre's slim form factor, fully disposable design, and excellent pricing, a win for the system's 800,000+ users globally (we look forward to a user base update in 3Q18, as the press release still says "over 800,000").
FreeStyle Libre 2 will launch initially in Germany with plans for subsequent rollout in Europe "over the coming months." The system comes with a new blue reader (pictures below), where patients can set threshold hypoglycemia alerts ranging from 60-100 mg/dl and hyperglycemia alerts ranging from 120-400 mg/dl, as well as when the signal between the sensor and the reader is lost. In any of these cases, the reader will emit a sound or vibrate (user preference), prompting a manual sensor scan to observe the real-time glucose and trend. The sensor still reads glucose every minute, but as we understand it, the Bluetooth signal is only turned on in the case of an alarm – e.g., sensor detects a high glucose. FreeStyle Libre 2 users will be guided through the optional alarm setup on the new reader and it looks very easy.
Strikingly, FreeStyle Libre 2 will be offered at the same cash-pay price as the first-gen system – ~60 euros per 14-day sensor and ~60 euros for the reader. Given the addition of Bluetooth, Abbott is obviously making a significant investment by going with price parity, a decision we enthusiastically applaud and that will serve it well relative to Dexcom's more expensive G6.
Notably, both FreeStyle Libre generations will be offered within each market as the new system becomes available. In other words, patients will now have the option of alarms, but won't be forced to upgrade to the new system if alarms are not of interest. We imagine that many type 1s will go for the new system with optional alarms, with perhaps some waiting until FreeStyle LibreLink app integration is available. There may be pent-up demand for FreeStyle Libre 2, as DIY add-on solutions to Libre – e.g., Ambrosia BluCon, Miao Miao – have come onto the market.
Like gen one, the 14-day wear, 1-hour warmup FreeStyle Libre 2 requires no fingersticks and is approved for non-adjunctive use in those four-years and up. Notably, it has improved accuracy: a 9.5% MARD vs. YSI and 100% of the results within Zone A and B of the Consensus Error Grid. To compare, the FDA SSED for the just-FDA-approved 14-day FreeStyle Libre reports an MARD of 10.1% vs. YSI (label says 9.4%), while the EU pivotal trial for FreeStyle Libre gen one demonstrated an 11.4% MARD vs. BGM. We'll be interested to see FreeStyle Libre 2's MARD broken down by glucose range, especially for accuracy in hypoglycemia – the 14-day Libre in the US is currently reported at ~38%-53% of points within ±15 mg/dl for <80 mg/dl (below the iCGM special controls benchmark of >85% of points within ±15 mg/dl for <70 mg/dl), and FDA reports a false hypoglycemia notification rate of 72% (Abbott's methods finds a reduced value of 53%).
Like gen one in Europe, the FreeStyle Libre 2 reader in Europe includes a BG and ketone meter; the latter is not included in the US version. If SGLT-2s come to market in type 1 (pending approval), FreeStyle Libre's all-in-one CGM/BG/ketone monitoring could make it a go-to device. 
FreeStyle Libre 2 will be featured at EASD during Abbott's corporate symposium, taking place today from 2:30-5:00 PM, as well as at the Abbott exhibit hall booth. The symposium will focus on FreeStyle Libre 2's improved accuracy and the importance of optional alarms. We'll return with more insights from that.
FreeStyle Libre 2 should fill a critical need for users at high risk of hypoglycemia, who will obviously benefit from low alarms. We are reminded of the IMPACT study in type 1, where FreeStyle Libre users were still spending ~2 hours per day in hypoglycemia by the end of the study (down from over three hours per day at baseline). We like the iterative approach here with FreeStyle Libre 2 – by initially adding alarms alone, rather than waiting for full continuous communication, Abbott gets a meaningful product enhancement to market quickly, while saving investment on device cost, redesign complexity, and power consumption. In line with recent earnings calls, Abbott emphasized that FreeStyle Libre 2 represents "one more step in the evolution of the product."

Abbott management also noted that research shows that patients appreciate scanning the sensor, giving them a sense of control. To this end, Abbott is staying true to the unique FreeStyle Libre experience by still requiring users to scan with FreeStyle Libre and adding the option of toggling alarms on/off. This move is smart competitively – Dexcom, Medtronic, and Senseonics can all market against FreeStyle Libre gen one's lack of alarms – and we assume that the new feature will help continue to expand the CGM segment as a whole (more below).
Abbott's Next Steps and Future Directions
While FreeStyle Libre 2 will initially launch with alarms on the new reader only, Abbott told us that FreeStyle LibreLink app compatibility (Android and iOS) should be available in the next six months. We imagine that caregivers will also be able to receive low/high alerts via LibreLinkUp once this next iteration rolls out. Allowing for enhanced remote monitoring would certainly be an attractive option for many, especially parents of young children who may be weighing the merits of other CGMs.
FreeStyle Libre 2 will likely not be the sensor ultimately used with the Bigfoot AID systems – we suspect that version of FreeStyle Libre product will be a full-on CGM with continuous real-time glucose/trend communication to the Bigfoot pump via Bluetooth. Given that Bigfoot's pivotal is expected to start in 2Q19, we imagine that next-next-gen version of FreeStyle Libre ("3"?) is pretty far along in development.  


Abbott plans to eventually submit FreeStyle Libre 2 to the FDA as a standalone device, though no timing was provided. Hopefully the lag time will be shorter than for FreeStyle Libre gen one, which took over three years to secure FDA approval (last September) following the original CE Mark. The cadence here will be interesting, as we imagine FreeStyle Libre "3" with Bigfoot is moving along. Might Abbott skip Libre 2 in the US if FreeStyle Libre 3 will be ready next year (assuming Bigfoot hits its timelines)?

We'd be interested to see head-to-head studies comparing glycemic outcomes with FreeStyle Libre vs. FreeStyle Libre 2. In other words, Abbott could run its own version of the iHart CGM study, where Dexcom's G5 bested FreeStyle Libre on hypoglycemia in type 1s with impaired awareness. Management shared that Abbott is running a couple of smaller studies with FreeStyle Libre 2 (no details provided) but plans to wait for the product to rollout before initiating any other potential trials. Real-world evidence will be collected. We would assume that all other things equal, adding high/low alarms would further reduce time in hypoglycemia and hyperglycemia. Of course, if those alarms become a nuisance and negatively impact the user experience, outcomes could go in the other direction, though we highly doubt that would happen. We'll be listening to the alarms in the exhibit hall! Either way, alarms will be safer for those that experience hypoglycemia frequently and are at major risk of severe hypoglycemia, which is most type 1s and a meaningful number of type 2s on SFUs or prandial insulin.

It isn't clear if FreeStyle Libre 2 now meets one of the FDA's iCGM special controls related to data transmission, which states: "Design verification and validation must include a detailed strategy to ensure secure and reliable means of iCGM data transmission to provide real-time glucose readings at clinically meaningful time intervals to devices intended to receive the iCGM glucose data.." If we had to guess, FreeStyle Libre 2 may not hit the requirement, since its real-time communication is only triggered by a low or high alert – i.e., a scan is still required to obtain a real-time glucose value. Beyond transmission, FreeStyle Libre 2's hypoglycemia accuracy would also need to meet the high hypoglycemia bar, which it may still fall short on – while the MARD has improved, we are not sure that hypoglycemia accuracy has improved enough. We would not be surprised to see Abbott stick to the PMA path, which has already allowed it to go from 10-day wear/12-hour warmup to 14-day wear/1-hour warmup in less than a calendar year.
Pricing and Reimbursement
Although specifics were not provided, we can safely assume that FreeStyle Libre 2 was a meaningful investment on Abbott's part. The added manufacturing cost of inserting a Bluetooth chip alone certainly adds cost to low-priced system. The fact that FreeStyle Libre 2 will still be offered at the same price point is significant and speaks to Abbott's outstanding commitment to global access and responsiveness to patient (and perhaps payer) input. Moreover, management shared that the new generation device required additional modifications to the sensor chemistry and manufacturing, adding further investment and potentially increasing short-term production cost.
Abbott management explained that the goal is to achieve the same reimbursement for FreeStyle Libre 2 as the first-generation device. We wonder if payers will view FreeStyle Libre 2 as meaningfully different and whether that might improve reimbursement – presumably since it's the same price, reimbursement would stay the same even in the worst case. Dexcom has long positioned its G5/G6 as a "premium" product relative to FreeStyle Libre, and now with FreeStyle Libre 2's alarms it will be interesting to see how payers view the systems. FreeStyle Libre 2 has not crossed over into fully traditional, real-time CGM, but it is pretty darn close. We would be surprised if reimbursement were to change meaningfully, though it may be altered on the margins. Certainly, the great success seen with the first-generation FreeStyle Libre should help to convince payers of FreeStyle Libre 2's incremental value. Still, each market in the EU is different, so we may see different approaches.
Competitive Implications and Positioning
How will FreeStyle Libre 2 change the CGM competitive landscape? The head-to-head, investigator-initiated iHart CGM study (n=40) found Dexcom's G5 to be superior to FreeStyle Libre in reducing time in hypoglycemia (<60 mg/dl) in a higher-risk, CGM-naïve study population (type 1s with impaired hypoglycemia awareness or at least one severe hypoglycemia event in the preceding year). The decision to add alarms has certainly been long requested by some users and healthcare providers, and perhaps the iHart results played a role too. Alarms are obviously beneficial for those on mealtime insulin and sulfonylureas, where hypoglycemia and severe hypoglycemia are common and so preventable.
We'd be surprised if FreeStyle Libre 2 pulls away any meaningful number of current Dexcom users. However, for those already on FreeStyle Libre, those considering a new system, or those naïve to CGM, FreeStyle Libre 2 now becomes more attractive with alarms for some patients. For those already content with the Dexcom G5/G6, FreeStyle Libre 2 does not have app integration or continuous real-time glucose transmission, which makes a shift feel considerably less likely for those patients. However, FreeStyle Libre 2 should help expand the CGM segment more broadly, help Abbott retain existing FreeStyle Libre users, and likely pull many new-to-CGM patients onto Abbott, particularly those who are trying CGM for the first time. And of course, there's lots of market to go! 99% of people with diagnosed diabetes globally are on SMBG (or nothing) and this is going to be a very important (and increasingly competitive) market for some time. We like seeing patients who are at major risk of severe hypoglycemia having another option, and particularly a less expensive option, for CGM with alarms.

We see FreeStyle Libre 2 as an attractive stepping stone for those contemplating real-time CGM, serving to expand the CGM segment. The first-generation has already demonstrated this to be true – Abbott CEO Mr. Miles White has shared in the past that there is a "nice balance" of previously CGM-naïve patients on FreeStyle Libre. Now that FreeStyle Libre 2 is equipped with alarms, we could imagine providers prescribing this latest version especially to their high-risk patients who need a lower cost system and still greatly benefit from alerts. We could also see FreeStyle Libre 2 patients being those already on the FreeStyle Libre who are looking for a little more support but not quite the amount of data supplied by continuous communication. The actionable data will keep getting better and better from Dexcom and that's where we keep our eyes on the prize – improving short- and long-term outcomes for patients. Over time, the battleground in CGM is likely to shift from hardware/sensor design to software/apps, and the latter could really drive outcomes via titration, coaching, decision support, etc.

Who will choose to stay on the current FreeStyle Libre if given the option to use the second-gen version? The price point will remain the same, so cost won't be a factor, and since alarms can be toggled on/off, we'll be interested to hear what uptake looks like for FreeStyle Libre 2. We think that many people with diabetes can benefit enormously from alerts, and while some patients may find the alarms a frustrating disruption, presumably customization of alarms for either system minimizes this. Allowing for customization and easy enabling/disabling seems to be a solid middle ground. In terms of profitability, FreeStyle Libre 2 is less profitable short-term, since it's more expensive to make and the same price; however, it certainly should expand CGM volume longer-term. From Abbott's perspective, we understand the decision to continue offering the first-generation device and watch how much of the installed base moves over. From a health outcomes perspective, we can imagine having low and high alarms will result in better results for patients.

Notably, FreeStyle Libre 2 is approved in those down to four-years-old, and it's great to see the pediatric population be able to benefit, particularly families who cannot afford Dexcom. Giving patients and their caregivers peace of mind during the night hours is a major selling point of CGM, and we imagine the addition of FreeStyle LibreLink will be very welcome once that is ready. As a reminder, Dexcom G6 is approved for kids down to 2 years old, the Medtronic MiniMed 670G is approved for kids 7 years and older (Guardian Connect is 14+ years in the US), and the Senseonics Eversense is approved for 18+ years.
FreeStyle Libre 2 Pictures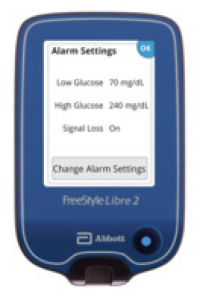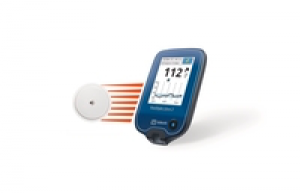 -- by Maeve Serino, Brian Levine, Adam Brown, and Kelly Close