Executive Highlights
On February 16, our team took off from San Francisco International Airport for ATTD 2020. Though we didn't know it at the time, that would be our final in-person conference for the rest of the year. The COVID-19 pandemic dominated headlines in 2020, heavily impacting the way we work, live, socialize, learn, and deliver and receive healthcare. In addition to all this, we also know that diabetes did not stop in 2020. The number of people with diabetes and/or obesity globally continues to rise. Big picture, the field is approaching $60 billion annually just around treatments and technologies. The pandemic highlighted and made even more clear so many different kinds of inequities that can be addressed. Still, 2020 also gave us a lot to be optimistic about. Over the last 12 months, we've had diabetes therapies position themselves as valuable for improving glycemic management and beyond (e.g., CKD, HR, neuropathy, etc.). The type 1 cures field continued to advance quickly and insulin once again became an exciting area to watch with Novo's once-weekly insulin icodec, Lilly's ultra-rapid Lyumjev, and Oramed's oral insulin. On the tech side, telemedicine and remote patient monitoring tools stepped up to meet the challenge of delivering care during a pandemic. CGM continued to prove its value in virtual care, type 1s, type 2s, athletes, and more. With Control-IQ added to the mix, the number of people on AID is now well into the hundreds of thousands. Exiting 2020, as Kelly would say, "Rome is [still] burning" – at a population level, outcomes are not significantly improving, while costs and rates of diabetes continues to rise. But, with the promise around new devices, software, and therapies, there is so much potential to do better and so we look towards 2021 with more energy and resolve.

Diabetes Therapy: It was a bustling year for diabetes therapies – from early-stage candidates like NN's glucose responsive insulin, which advanced into the first-ever "smart" insulin clinical trial, to well-established commercial products like AZ's Farxiga (dapagliflozin), poised to become the first SGLT-2 inhibitor approved for CKD (to follow heart disease!) with or without diabetes. Beyond glycemic management, we saw rapid expansions in multiple comorbid conditions and complications, such as CKD, HF, neuropathy, and eye disease. 

Diabetes Technology: Not surprising to anyone who's been awake in the last nine months, the COVID-19 pandemic drove a number of noteworthy trends in diabetes technology. In many ways, digital health and medical technologies have been there to help HCPs meet the challenge of providing care during a pandemic. In some ways, those technologies have actually made diabetes care more efficient and convenient. Combined with the continued momentum behind CGM, AID, and smart pens, there's never been a more exciting time for diabetes technology.

Big Picture: In 2020, COVID-19 and its impacts on people with diabetes, healthcare delivery, the publication process, and scientific conferences dominated big picture news. Rapidly evolving data on elevated risk of severe illness with COVID-19 and expert recommendations for patients with diabetes and COVID-19 kept the field on their toes throughout the year. As a silver lining to conferences shifting to a virtual format, we saw attendance skyrocket: over 100,000 individuals attended day #1 of ESC 2020, and many meetings saw a broader array of countries in attendance. Spurred by COVID-19, industry players like Novo Nordisk, Lilly, Sanofi, Dexcom, Medtronic, and Insulet moved to create or enhance their patient assistance programs for those impacted by the pandemic and we'd love to see them be more transparent about the outcomes of this work and how, in particular, they can convey how many people that have participated in the progress. Companies similarly took a variety of approaches to address the long-standing racism and racial inequity issues plaguing the US.

Obesity: Obesity care was recontextualized in 2020. In the obesity therapy market, many companies and medications were taken off the market due to safety concerns and lack of a stable customer base. However, drugs like semaglutide and liraglutide prospered relatively due to new youth FDA approval and publication of positive STEP 1 and STEP 4 efficacy results. The national age-adjusted prevalence of obesity is 42%, up from ~31% in 1999-2000. Unfortunately, racial and ethnic disparities remain profound in obesity. As shown the 2019 State of Obesity report, Black adults had the highest rate of obesity (49.6%; driven by the 56.9% prevalence in Black women), followed by Latinx adults (44.8%), white adults (42.4%), and Asian adults (17.4%). With the onset of COVID-19, many conditions, including obesity, were conceptualized as more multi-factorial. This led to a call to action to approach obesity with a "syndemic framework," and take social determinants of health into account more when researching and treating obesity.

Literature Shared in 2020: This year we shared a total of 131 pieces of literature. Breaking that number down, we shared four pieces in December, six in November, seventeen in October, thirteen in September, five in August, eleven in July, four in June, thirteen in May, ten in April, twenty-three in March, eight in February, and seventeen in January.
Diabetes Therapy
Themes
1. New Hope for CKD: AZ's Farxiga Granted Breakthrough Therapy Designation by FDA Off of DAPA-CKD, Bayer's Finerenone Submitted to FDA/EMA for DKD
While advances in HFrEF stole the show in 2019, chronic kidney disease took center stage in 2020 with not one but two drug classes (SGLT-2 inhibitors and novel, non-steroidal MRAs) demonstrating positive data in this area of high unmet need. Mirroring Farxiga's (dapagliflozin) benefits in patients with HFrEF with or without type 2 diabetes from DAPA-HF, the drug demonstrated efficacy in patients with CKD with or without type 2 diabetes in the landmark DAPA-CKD trial (presented at ESC 2020) – further expanding the SGLT-2 inhibitor class beyond diabetes. In the trial, dapagliflozin delivered a whopping 39% relative risk reduction on the primary endpoint of composite sustained ≥50% eGFR decline, end stage kidney disease (ESKD), renal or CV death (HR = 0.61; 95% CI: 0.51 to 0.72; p=0.000000028; NNT = 19).
Since the trial's presentation in August 2020 – and publication in the NEJM in October 2020 – countless KOLs have shared enthusiasm for these results, citing the potential for dapagliflozin in high-risk CKD patients and the merits of DAPA-CKD's study design. At EASD 2020, Prof. Chantal Mathieu (KU Leuven) lauded the investigators for enrolling patients with eGFR as low as 25 mL/min/1.73 m2, the tremendous statistical significance obtained on the primary outcome (p-value = 0.000000028), and the diversity of the patient population (albeit with unsatisfactory representation of Black or African American patients – a demographic known to have high prevalence of CKD). There, Prof. Mathieu advocated for the use of SGLT-2 inhibitors in patients with eGFRs down to 25, and encouraged endocrinologists, nephrologists, and cardiologists to develop actionable guidelines for PCPs regarding "when and how to use these agents."

At WCIRDC 2020, Dr. Katherine Tuttle (University of Washington) reflected on how truly paradigm-shifting SGLT-2 inhibitors are from the nephrologist's perspective, sharing, "We've never had a Breakthrough Therapy Designation in the field of nephrology before, and CREDENCE and DAPA-CKD were the first clinical trials in our field ever stopped for overwhelming efficacy. This class of agents is truly a win for patients." Dr. Tuttle's commentary referenced dapagliflozin's Breakthrough Therapy Designation (BTD) granted by FDA in October 2020. Importantly, BTD is typically reserved for agents that have shown superior efficacy over available treatments on similar clinical endpoints, hinting at dapagliflozin's potential to revolutionize CKD management.

Ongoing post-hoc analyses have also proven dapagliflozin's benefits to be consistent across a wide-range of patients with CKD – see consistent benefits across baseline CVD status and underlying causes of kidney disease.

Excitingly, dapagliflozin was not the only drug to deliver positive data on the renal front. In July 2020, Bayer announced positive topline results for the phase 3 FIDELIO-DKD trial, assessing novel, non-steroidal mineralocorticoid receptor antagonist (MRA) finerenone in patients with type 2 diabetes and CKD. Full results were then presented at ASN 2020, with simultaneous publication and an accompanying editorial by Drs. Julie Ingelfinger and Clifford Rosen in NEJM, followed by submission to the FDA and EMA in November 2020. Finerenone is also being studied in the phase 2 FIGARO-DKD trial, investigating the drug's CV effects in the same patient population; given the positive secondary CV endpoints from FIDELIO-DKD, we are optimistic that this trial will deliver a similar benefit.

Looking ahead, the two biggest clinical trial on our radar are Lilly/BI's EMPA-KIDNEY for SGLT-2 inhibitor Jardiance (empagliflozin), slated to complete in June 2022, and Novo Nordisk's much anticipated FLOW trial for oral GLP-1 Rybelsus (semaglutide), anticipated to complete in August 2024. Notably, the latter trial will provide a more definitive picture of the true benefits of the GLP-1 class in CKD. See our table below for a bird's eye view on diabetes-related CKD news from years past.
Diabetes-Related CKD News Flow
| | |
| --- | --- |
| Date | Title |
| | Bayer announces FDA and EMA submissions for finerenone in chronic kidney disease and type 2 diabetes |
| | Bayer's Finerenone Demonstrates Compelling Renal & CV Benefit in FIDELIO-DKD (18% RRR for Renal Composite, 14% for CV Composite) |
| | FDA grants Breakthrough Therapy Designation to AZ's Farxiga in chronic kidney disease |
| | DAPA-CKD Full Results Show 39% Risk Reduction on Primary Renal Endpoint in Patients With CKD, With or Without Type Diabetes |
| | AZ's Farxiga meets all primary and secondary endpoints in DAPA-CKD trial |
| | Bayer announces positive topline results for phase 3 trial of MR antagonist finerenone in type 2 and chronic kidney disease  |
| | Janssen's SGLT-2 inhibitor Invokana nabs renal indication in EU |
| | AZ announces early stop for DAPA-CKD due to "overwhelming efficacy" |
| | Lilly/BI's Jardiance receives Fast Track designation in CKD from FDA |
| | Health Canada approves renal indication for Janssen's SGLT-2 Invokana |
| | Daiichi Sankyo releases positive phase 3 topline results for mineralocorticoid receptor agonist esaxerenone to treat diabetic nephropathy |
| | FDA grants Fast Track designation for Farxiga in CKD |
| | FDA approves novel renal indication for J&J's SGLT-2 inhibitor Invokana |
| | Trump Administration announces executive order to advance kidney care |
| | ADA updates 2019 Standards of Care with A-level recommendation for SGLT-2 inhibitors in CKD with CREDENCE (J&J's Invokana) data  |
| | FDA grants priority review to J&J's CKD sNDA for Invokana |
| | J&J Pharmaceutical Business Review Day 2019 – Invokana to pivot toward CKD in attempt to reinvigorate franchise; EU CKD indication + pediatric filing before 2023 |
| | Landmark CREDENCE full results: J&J's Invokana confers 30% risk reduction on primary renal endpoint without amputation signal |
| | J&J submits Invokana sNDA for novel renal indication in type 2 diabetes with CKD |
| | JAMA study identifies increased burden of CKD driven by diabetes, outpacing the impact of other noninfectious diseases |
| | J&J's Invokana CREDENCE study stopped one year early given disease-modifying renal-protection - major positive, meets primary efficacy endpoint |
| | CANVAS post-hoc highlights Invokana's renal benefits in patients with and without kidney disease |
| | New phase 3 starts for Farxiga in HF and CKD |
| | Janssen initiates CREDENCE study testing canagliflozin's effect on diabetic nephropathy; Interview with Dr. Norman Rosenthal (Canagliflozin Compound Development Team Leader, Janssen Research & Development) |
2. SGLT-2 Inhibitors Emerge as a New "Cornerstone" Therapy for HFrEF; Growing Interest for the Drug Class in Post-MI and HFpEF
Along with steps forward in CKD, the SGLT-2 inhibitor class made tremendous continued progress in heart failure this year, with AZ's Farxiga (dapagliflozin) at the forefront. In May 2020, Farxiga became the first SGLT-2 inhibitor to receive a dedicated indication for heart failure with reduced ejection fraction (HFrEF) – irrespective of type 2 diabetes status – by FDA. This game-changing decision was made on the basis of DAPA-HF at ESC 2019, which earned Farxiga Priority Review for its supplemental new drug application (sNDA) in HFrEF back in January 2020. Farxiga also received a positive CHMP opinion in HFrEF in October 2020, with approval by EMA surely on the horizon, and was approved in Japan for HFrEF in November 2020. At ESC 2020, the full results from Lilly/BI's EMPEROR-Reduced – which evaluated Jardiance (empagliflozin) in HFrEF – further clarified a class effect for SGLT-2 inhibitors in HFrEF. The similarities between EMPEROR-Reduced and DAPA-HF were profound, with Dr. Faiez Zannad (University of Lorraine) calling the results "nearly superimposable" in his meta-analysis presented at EASD 2020. These rapid expansions were reflected financially with SGLT-2 inhibitors taking the top spot for fastest growing class in diabetes (+31% YOY to $1.8 billion in 3Q20).
2020 also brought the much anticipated readout of VERTIS CV at ADA 2020, which evaluated Merck/Pfizer's Steglatro (ertugliflozin) in patients with diabetes and established cardiovascular disease. While the SGLT-2 inhibitor showed neutrality vs. placebo on the primary outcome of three-point MACE, it still demonstrated a heart failure benefit consistent with the drug class overall: on the pre-specified endpoint of hospitalization for heart failure (hHF), ertugliflozin delivered a striking 30% risk reduction relative to placebo (HR=0.70; 95% CI: 0.54-0.90). A pre-specified exploratory analysis at EASD 2020 also confirmed the drug's consistent renal benefit. 
3. GLP-1 Agonists Extend Beyond Diabetes Care in CVD, CKD, NASH, and Alzheimer's Disease
Over the course of 2020, the GLP-1 agonist class saw expanded use in not only diabetes, but also obesity, cardiovascular disease, NASH, and even neurological conditions. With this newly realized diversified profile, current and upcoming GLP-1 candidates hold promise across multiple, potentially co-morbid, metabolic conditions. Financially, the GLP-1 class again contributed the largest share of growth across the entire diabetes therapy and technology ecosystem (36%), jumping +20% YOY to $2.4 billion as of 3Q20.
Along with significant growth in new prescriptions, GLP-1s saw expansions into higher dose formulations for type 2 diabetes. Lilly's blockbuster GLP-1 Trulicity (dulaglutide) nabbed FDA approval for its 3.0 mg and 4.5 mg doses in September, backed by data from AWARD-11. Not far behind, Novo Nordisk's Ozempic (injectable semaglutide) debuted positive topline results from SUSTAIN FORTE for its 2.0 mg dose, though the drug has not yet received FDA approval. In 2021, we will be on the lookout for updates in the use and applicability of these high dose therapies, as well as the journey to approval for mid-stage candidates like Lilly's high profile dual GLP-1/GIP receptor agonist tirzepatide in type 2.
Beyond positive high-dose data in type 2 diabetes, semaglutide is looking to gain ground in the cardiovascular, NASH, and neurologic fields. With positive cardiovascular data outlined in the foundational CVOTs that defined 2019, much of 2020 was spent on follow-up studies, sub-analyses, and new discoveries. Notably, the use of semaglutide expanded greatly at the beginning of 2020 when the FDA approved a CV risk reduction indication for Novo Nordisk's Ozempic (injectable semaglutide). Supported by data from SUSTAIN 6, this indication states that Ozempic "reduces the risk of major adverse cardiovascular events in adults with type 2 diabetes mellitus and established cardiovascular disease." At the same time as this indication's approval, Novo Nordisk announced the inclusion of data from PIONEER 6, which showed non-inferiority to placebo on CV safety, onto Rybelsus's (oral semaglutide) drug label. Both these steps show not only the promise of this therapy, but the flexibility the FDA has in revisiting datasets for new applications. As Ozempic's indication was supported by pooled data from SUSTAIN 6 and PIONEER 6, as opposed to a new, large-scale CVOT, it is possible that creative thinking will lead to large studies only being initiated if absolutely necessary.

During the company's 3Q20 update, Novo Nordisk also announced that high-dose oral semaglutide (25 mg and 50 mg) will be studied in a phase 3 trial of patients with type 2 diabetes. This new trial will be structured similarly to SUSTAIN FORTE, which showed that 2.0 mg once-weekly injectable semaglutide conferred superior A1c and weight reductions at 40 weeks vs. the 1.0 mg dose. Results of these trials offer promise for people with type 2 who may have been taking GLP-1s for years but still struggle with glycemic management. Positive high-dose results for Novo Nordisk's GLP-1 push it toward top competitor Lilly's Trulicity (dulaglutide), which was also approved at higher doses in fall 2020. To note, the standard dose of oral semaglutide also received EU approval in April 2020 and launched in the region in 2H20

At the start of 2020, Novo Nordisk highlighted their goals for studying GLP-1 agonists in Alzheimer's Disease, panning out to a phase 3 study of oral semaglutide by year's end. In line with the movement to conceptualize Alzheimer's as "type 3 diabetes" at JPM 2020, Novo Nordisk's CSO Dr. Mads Thomsen highlighted the phase 2b ELAD study of Victoza (liraglutide) in Alzheimer's Disease, which has since shown lackluster results in cognitive outcomes. While Novo Nordisk was taking steps to deprioritize investigation of liraglutide in Alzheimer's, they spent the year preparing for the buzzworthy December 2020 announcement of oral semaglutide's phase 3 Alzheimer's trial. Two trials (n=3,700), beginning in 1H21, will investigate oral semaglutide in people with early Alzheimer's Disease. Novo Nordisk specifically selected oral semaglutide over a once-weekly injectable due to patient preference, oral semaglutide's better glucose and weight-related benefits compared to liraglutide in PIONEER 4, and better positioning in terms of patent protection. Novo Nordisk is especially hopeful for the results of this trial, as post-hoc analyses from trials like LEADER, SUSTAIN 6, and PIONEER 6 (totaling 15,820 people with type 2 diabetes) revealed a 53% lower risk of dementia with liraglutide, subcutaneous semaglutide, or oral semaglutide vs. placebo (HR = 0.47; 95% CI: 0.25 to 0.86). It is believed that the GLP-1 agonist class's anti-inflammatory and anti-atherosclerotic effects will likely relate to the primary mechanism of action, if the trial is successful.

Semaglutide also remains under investigation in other trials related to CVD, NASH, CKD, and other complications. Most recently, Novo Nordisk initiated the phase 3 STRIDE trial for 1.0 mg semaglutide in patients with peripheral artery disease (PAD) and type 2 diabetes. PAD is present in about one in three people with diabetes over age 50 per Mayo Clinic, and positive results have the potential to not only increase quality of life, but also help promote exercise. Increased mobility will in turn lead to a cascade of positive effects for diabetes and weight management, making this trial particularly interesting. This investigation will go on as oral semaglutide is studied in CVD and CKD in the SOUL and FLOW trials, respectively. Positive results from the SOUL trial will support a CV superiority indication for Rybelsus, potentially making achieving cardioprotection in diabetes care even less invasive than taking an injection. Though completion of FLOW is not expected until 2024, results will answer the much-debated question regarding whether GLP-1s are truly renal protective. If results are positive, semaglutide is poised to become the first GLP-1 agonist that shows renal benefit, further aligning with the AHA's September 2020 consensus statement calling for a paradigm shift in GLP-1s and SGLT-2 inhibitors in patients with type 2 diabetes and CKD. Notably, management also announced that semaglutide received FDA Breakthrough Therapy designation in August for NASH, off of positive phase 2 data published in the NEJM; a phase 3 NASH trial is expected to initiate in 2021.

Lilly's dulaglutide is also under similar investigations. In early 2020, Lilly's Trulicity was approved for a novel CV indication of reduction in MACE in adults with type 2 and either established CVD or multiple risk factors. Supported by data from REWIND, this approval made dulaglutide the first GLP-1, and type 2 drug more broadly, to garner an indication in patients without established CVD. It remains a toss-up if the CV benefits of the GLP-1 agonist class extend to lower risk patients in primary prevention settings, but as put aptly by Dr. Mikhail Kosiborod at AACE 2018, it "doesn't make sense physiologically" for GLP-1 benefits to be limited to secondary CV prevention. We believe that the continued study of GLP-1s is pushing toward the therapy's earlier introduction in treatment paradigms to promote prevention. In 2020, dulaglutide was also approved at higher 3.0 mg and 4.5 mg doses based on results from the AWARD-11 trial.

While this approval means expanded treatment options for different stages of type 2 diabetes, higher doses could link dulaglutide to upcoming dual GIP/GLP-1 receptor agonist candidate tirzepatide. Toward the end of the year, topline results of the phase 3 SURPASS-1 trial showed GIP/GLP-1 dual agonist tirzepatide's efficacy in conferring reductions in A1c and weight. Excitingly, this trial is among 11 in the SURPASS umbrella- with nine in type 2 diabetes, one in obesity, and one in NASH. Positive results build on those first shared at EASD 2018, which supported the candidate's safety and tolerability. The majority of trials in SURPASS-2 through 5 are set to complete by 2021, making it highly likely that results will also be shared next year if positive, only increasing the likelihood that a new therapy class will enter markets with a diverse effect profile.

Along with a multitude of wins for GLP-1s, 2020 came with several setbacks. In line with the company's broader divestment from diabetes/CVD in December 2019, Sanofi announced in May that it intended to return all rights for phase 3 GLP-1 candidate efpelenatide to Hanmi, and the two companies entered a 120 day period of negotiations. While Sanofi had previously voiced that it would continue to fund the candidate's ongoing clinical program as it sought an external partner to commercialize the product, in September, Sanofi announced only one trial would be carried out to completion (likely AMPLITUDE-M). As of late, it is unclear whether or not Hanmi will continue to pursue the candidate in diabetes or other metabolic conditions. That being said, Hanmi remains in the incretin space – the company grabbed FDA Fast Track designation for their LAPsTriple Agonist (glucagon/GLP-1/GIP) in NASH in July and announced plans to develop GLP-1/glucagon dual receptor agonist efinopegduatide in NASH in August.
4. Changes to Clinical Guidelines in 2020: Continued Emphasis for SGLT-2 Inhibitors and GLP-1 Receptor Agonists in HF and CKD
ESC was the first association of its kind to recommend SGLT-2 inhibitors and GLP-1 receptor agonists as first-line therapy in its 2019 guidance. While no association in the US has gone so far to recommend either class for usage completely without metformin, updates made in 2020 seem to signal we are moving in that direction. Over the course of this past year, FDA, American College of Cardiology (ACC), American Heart Association (AHA), and the American Diabetes Association (ADA) released several important updates to previous guidance relating to diabetes. All recommendations touted the benefits of SGLT-2 inhibitors and GLP-1s for patients with type 2 diabetes – especially those with comorbid heart failure (HF) or chronic kidney disease (CKD). See below for major changes from each report. 
On the regulatory front, FDA released updated draft guidance on safety trials for type 2 diabetes drugs back in March. In a notable reversal of 2008 guidelines, FDA stated it would no longer recommend a cardiovascular outcomes trial (CVOT) requirement for new type 2 diabetes drugs. As a reminder, this rule was put in place in order to rule out a specific degree of risk for adverse ischemic cardiovascular outcomes. While FDA retains the authority to mandate post-marketing CVOTs if safety concerns arise, this change may enable smaller companies to gain a presence in the type 2 drug development space – the tremendous cost of longitudinal CVOTs is no longer a barrier, after all. In place of this change, FDA broadened safety evaluations and requirements to address other at-risk populations, particularly elderly individuals and/or those with chronic kidney disease.

FDA recommended that type 2 diabetes trials enroll: (i) at least 500 patients with stage 3/4 CKD; at least 600 patients with established CV disease (previous MI, documented coronary artery disease, previous stroke, peripheral vascular disease); and (ii) at least 600 patients older than 65 years of age, all exposed to the drug of interest.

To better address the chronic nature of diabetes, FDA also proposed the following guidance: trials should include (i) at least 4,000 patient-years of exposure to the new drug; (ii) at least 1,500 patients exposed to the drug for at least one year; and (iii) at least 500 patients exposed to the drug for at least two years.

For those interested, we highly recommend taking a look at the various comments (23 so far, including Pfizer, Novo Nordisk, JDRF, Novartis, AZ, BI, Lilly, and KOLs Dr. David Kerr (Sansum Diabetes Research Institute) and Daniel Einhorn (Scripps)) from stakeholders submitted over the year. 
In August 2020, ACC released a 2020 update to its first-ever consensus statement on CV risk reduction in patients with type 2 diabetes from November 2018. While 2018 guidance cited Novo Nordisk's Victoza (liraglutide) as the preferred GLP-1 receptor agonist and Lilly/BI's Jardiance (empagliflozin) as the preferred SGLT-2 inhibitor, the 2020 update included more options. Jardiance was given equal weight as AZ's Farxiga (dapagliflozin) and J&J's Invokana (canagliflozin) for SGLT-2 inhibitors, and Victoza was recommended alongside Lilly's Trulicity (dulaglutide), and Novo Nordisk's Ozempic (injectable semaglutide) for GLP-1s. ACC also took a stance on which populations would benefit most from each cutting-edge therapy: if patients have ASCVD or are at high risk of ASCVD, the ACC recommends a GLP-1. If a patient has ASCVD, HF, DKD, or is at high risk of ASCVD, an SGLT-2 inhibitor is recommended, given an eGFR >30 mL/min/1.73 m2. These recommendations are concordant with those of ADA, although the ACC chose not to address metformin usage as the ADA does. In addition, despite this emphasis on SGLT-2 inhibitors and GLP-1 receptor agonists, ACC does not go as far as ESC 2019 guidelines to recommend either as first-line therapy in patients with high-risk or established cardiovascular disease (CVD). Importantly, this was our most-read Diabetes Therapy article from 2020, signaling the growing emphasis on cardioprotection.

In September 2020, AHA released a scientific statement calling for a "paradigm shift" using SGLT-2 inhibitors and GLP-1 receptor agonists in patients with type 2 diabetes and CKD. As informed by the available evidence, AHA advised preferential use of SGLT-2s in patients with earlier stage CKD, with a transition to GLP-1s once eGFRs drop below 30 mL/min/1.73 m2. To facilitate greater use of SGLT-2s and GLP-1s in type 2 patients at high risk of kidney events, AHA advanced a "multidisciplinary care model" supported by PCPs, endos, cardiologists, nephrologists, pharmacists, advanced practitioners, and other allied health professions. The association also encouraged broader administration of eGFR and albuminuria tests to identify type 2 patients at high risk for adverse renal events.

ADA released its 2021 Standards of Care in December, with some important developments in SGLT-2 inhibitor and GLP-1 receptor agonist guidance. While heart failure (HF) and CKD were previously grouped as a single therapeutic goal in previous treatment algorithms, the conditions were split into distinct therapeutic objectives this year. SGLT-2 inhibitors were specifically recommended for type 2 diabetes patients with HF with reduced ejection fraction (HFrEF), on the basis of DAPA-HF and dapagliflozin's first-in-class HFrEF indication. SGLT-2 inhibitors were also "preferred" for the treatment of diabetic kidney disease (DKD) and albuminuria, and the association noted that GLP-1s may also be considered in particular cases of kidney disease. While metformin remained as the top of the treatment algorithm, the association recommended SGLT-2 inhibitors for cardiorenal benefit independent of "baseline A1c, individualized A1c target, or metformin use." The 2021 guidance also advocated for Time and Range and other measures beyond A1c and encouraged HCPs to "further individualize [insulin] therapy" and be cautious against overbasalization.
5. All Eyes on Teplizumab as Mid-Stage Type 1 Diabetes Interception Candidates are Pulled from Pipeline; Promising Therapies Fuel Screening Initiatives
As mentioned, it was a major year for type 1 intervention therapies, led by Provention Bio's anti-CD3 teplizumab, which formally completed its rolling BLA submission to FDA after the process was first initiated in April 2020. If approved, the treatment, which involves a 30-minute IV infusion each day over a 14-day period in an outpatient setting, is poised to become the first of its kind for patients at-risk of developing clinical stage type 1 diabetes. If granted its requested Priority Review – a potential perk of the drug's Breakthrough Therapy designation from August 2019 – an FDA decision could be expected as early as mid-2021. That being said, we (and management from Provention) expect an FDA Advisory Committee to be called in coming months, given the novelty of the treatment. While Provention's submission was based on landmark phase 2 (n=76) results presented at ADA 2019, we note that new follow-up data from ADA 2020 supported extended clinical onset delay of up to three years (previously up to two years) in high risk patients; to close the presentation, Dr. Emily Sims (Indiana University) intriguingly suggested that the early efficacy followed by stabilization of beta cell function may support repeated teplizumab treatment at key time points in clinical development to further extend delay or even prevent diagnosis. As we look to next year, we eagerly await an FDA decision, as well as Provention's plans as to how such a therapy will be priced, supported by payers, and delivered into patient hands.
The potential for a first-in-class immunotherapy pairs nicely with the major advances in type 1 diabetes screening from this year. Most prominently, JDRF in December launched the first universal at-home screening program for type 1 diabetes, dubbed "T1Detect." The program will enable all individuals – regardless of family history, age, and racial/ethnic background – to receive an at-home screening test for type 1 diabetes for $55 (or a subsidized cost of $10 for patients with a financial hardship). In an interview with JDRF's Dr. Sanjoy Dutta (VP of Research), Dr. Dutta pinpointed needing to "demonstrate that screening is cost-effective on a broader scale" as one of the biggest barriers to implementing screening more widely.

Outside of T1Detect, results from the JDRF-funded FR1DA study, screening >90,000 children in Bavaria, Germany, were also published in January. This widespread screening at pediatric primary care centers revealed pre-symptomatic type 1 diabetes in 280 children (0.31% of study population), of which 25% developed type 1 diabetes. Very positively, the prevalence of DKA in the diagnosed population was <5% -- compared to 20% in Germany and 60% (!) in the United States.

Alongside this positive momentum, 2020 also exemplified the ongoing challenges of type 1 diabetes intervention, as multiple companies pulled mid-stage candidates from their pipelines despite seemingly positive results.

Following presentation of phase 2b T1GER results at ADA 2020 and publication in the NEJM, Janssen quietly discontinued golimumab's (human monoclonal TNF-alpha antibody) type 1 program, as covered in an article from Medscape in November 2020. We later interviewed Mr. Brian Kenney (Global Therapeutic Area & Cross-Sector Oncology Leader, Janssen R&D), who confirmed the discontinuation, stating, "What we shared with MedScape is accurate as our focus is to apply insights from the phase 2 T1GER proof-of-concept study to progress what we believe are novel, immunologically targeted pipeline candidates in stage 2 disease. This approach is consistent with our mission to intercept and prevent T1D, ideally without the need for chronic therapy. Therefore, there are no current plans to further develop golimumab in T1D."

Similarly, Novo Nordisk unveiled phase 2 results for its anti-IL-21/liraglutide combination therapy in people with newly diagnosed type 1 diabetes at ADA 2020. Despite positive data, Novo Nordisk pulled the plug on the program, via its 3Q20 press release, "following an evaluation of the regulatory path word."

At WCIRDC 2020, type 1 expert Dr. Jay Skyler (University of Miami) highlighted the monetary challenges of pursuing newly-onset type 1 diabetes when asked about his views on the two discontinuations. He stated, "I disagree with their abandonment of it… Unfortunately, new onset type 1 diabetes is a relatively rare disease, and the cost of full development comes into play when you don't think you're going to recoup it…Companies make decisions for all sorts of reasons. I would have continued to pursue it, but I'm an academic and not a corporate person."

Lastly, 2020 was relatively light on data for stem cell and encapsulation technologies, though investments and acquisitions were abundant. In May, ViaCyte finalized $27 million in Series D financing to "optimiz[e] the effectiveness" of PEC-Direct and PEC-Encap, as well as further develop the PEC-QT program (an immune-evasive beta cell replacement therapy being developed in collaboration with CRISPR Therapeutics); Sernova penned a number of deals with the University of Miami, Converge Biotech, and AgeX Therapeutics to augment the company's Cell Pouch System; and Novo Nordisk and Procyon Technologies partnered to develop the U. of Arizona start-up's unique "oxygen enabled" cell encapsulation device in December. Notably, we have yet to hear from Vertex (which acquired Semma Therapeutics in one of the biggest deals in diabetes last year) on its naked islet cell transplant program, though management confirmed plans several times throughout 2019 that it plans to file an IND in late 2020; primarily these have been raised during the company's various quarterly updates, especially its uw 3Q20 update. To learn more, see our recently updated type 1 diabetes cure and prevention competitive landscape.
6. SGLT-2 Inhibitors in Type 1 Diabetes on Hold Stateside, as the Field Looks to Continuous Ketone Monitoring
2019 left the US story for SGLT-2 inhibitors in type 1 diabetes closed until there is a better and safer approach to euglycemic DKA, and 2020 has all but closed the book on this therapy class, pending significant improvements in ketone monitoring technology. As a reminder, Sanofi/Lexicon, AZ, and Lilly all sought approval for SGLT-2 inhibitors in type 1 in 2019, but none were able to meet the FDA's strict safety standards. Sanofi/Lexicon's Zynquista received a CRL in March 2019 on the heels of a deadlocked 8-8 FDA Advisory Committee vote in January 2019; AZ's Farxiga was dealt a CRL in July 2019; and Lilly/BI's Jardiance similarly ended with a CRL in March 2020 after a 14-2 FDA Advisory Committee in November 2019 for the drug's proposed 2.5 mg dosage. Following the CRLs, many in the diabetes world were left wondering whether or not companies would continue to pursue FDA approval. Indeed, a plethora of now widely available drugs received a CRL (or even multiple CRLs à la Biocon/Mylan's Semglee) before approval, including AZ's Qtern and Novo Nordisk's Tresiba and Fiasp. 2020, however, brought an end to these spectulations, as both Lilly and AZ announced during their 1Q20 updates that they would no longer pursue a type 1 diabetes indication for their respective SGLT-2 inhibitors. 
Even abroad, the usage of SGLT-2 inhibitors in type 1 diabetes has become less clear cut. During AZ's 3Q20 update, the company announced via press release (page 45) that the company withdrew its type 1 diabetes indication for Edistride (Forxiga's brand name in Spain and Portugal) during AZ's latest renewal of its marketing authorization with the EMA. Edistride was previously authorized for adults with "insufficiently controlled type 1 diabetes" on insulin alone and "with a BMI ≥27 kg/m2," as well as for adults with type 2 diabetes. While the EMA's Procedural Steps document (page 1–2) noted that the marketing authorization holder (MAH, i.e. AZ) "withdrew the indication for type 1 diabetes" as a "business decision," we do not interpret this as weak commercial performance – although it's certainly well understood that type 1 for SGLT-2 inhibitors was not a particularly large commercial opportunity anywhere globally.

Although these decisions from manufacturers are not necessarily encouraging, we see several potential bright spots for the future. Importantly, while the lack of adjunct therapies in type 1 diabetes has been a major concern for many years, limited advances have been made outside of diabetes technology, and to date, no long-term clinical outcomes trials have studied potential CV or renal benefits in patients with type 1 diabetes – for more on this subject, see Dr. David Harlan's (UMass Memorial Medical Center) presentation on type 1 adjuncts from ENDO Online 2020. Looking to the future,

Lexicon remains committed to its type 1 program for SGLT-1/2 inhibitor Zynquista (sotagliflozin) though funding is always an issue. During Lexicon's 3Q20 and 2Q20 updates, management affirmed their commitment to type 1 diabetes ("extremely strong confidence in sotagliflozin, particularly for type 1"), though the majority of company focus is now on diabetic neuropathy candidate LX9211. In 3Q20, management outlined plans to re-engage with the FDA in 4Q20 and seek "clear guidance from FDA on how to manage DKA," but we have yet to hear an update on this front.

We foresee (and hope for) significant movement on the Continuous Ketone Monitoring (CKM) front. In November 2020, PercuSense announced a $2.5 million loan from the Helmsley Charitable Trust to support ongoing development of the company's continuous glucose and ketone sensing technology. Though Abbott has not formally announced plans to add ketone monitoring to the FreeStyle Libre, the company has repeatedly called FSL a "platform product" (see Abbott 2Q20) with ketones as a seemingly logical expansion. In July, Belgium-based Indigo Diabetes also closed a ~$45 million Series B for its implantable CGM device and has previously shown data on the technology's ability to measure ketone and lactate concentrations in minipigs. In our purview, the usage of SGLT-2 inhibitors in type 1 diabetes and CKM go hand-in-hand; much like we saw interest in large-scale type 1 screening initiatives rise with the advent of potential interventional therapies, we anticipate that SGLT-2 inhibitors in type 1 may rejoin the conversation following approved technologies for CKM. In the future, we would be interested to see what partnerships could be formed between SGLT-2 inhibitor and CGM developers. Considering that SGLT-2 inhibitors have now shown benefit in patients with HFrEF and CKD irrespective of diabetes status, we think there is ample reason for further investment.

For a deep dive on how SGLT-2 inhibitors might be most safely implemented in type 1 diabetes, see our team's publication "Comparison of Protocols to Reduce Diabetic Ketoacidosis in Patients With Type 1 Diabetes Prescribed a Sodium–Glucose Cotransporter 2 Inhibitor" in Diabetes Spectrum. This review contains a thorough breakdown of recommendations from STICH, the International Consensus, STOP DKA, Dr. Anne Peters' personal protocol, EMA guidance, and NICE guidance, organized by (i) Considerations for Patient Selection; (ii) Considerations for Initiation of SGLT-2 Inhibitor Therapy; (iii) Considerations for Management of SGLT-2 Inhibitor Use; and (iv) Considerations for Management of Ketosis/DKA.

Outside of SGLT-2 inhibitors, we also note the release of positive results from part 2 of vTv's Simplici-T1 study for insulin adjunct TTP399 (glucokinase activator) in February. During vTv's 3Q20 update, management shared plans, previously formed with FDA, to conduct a six-month phase 3 trial of TTP399 with 400 participants, as well as a mechanistic study to investigate TTP399's effects on ketoacidosis. While the company has yet to announce the exact timing of either trial, a November press release on a common stock purchase agreement with Lincoln Park Capital seemed to focus solely on the upcoming mechanistic study (though the pivotal trial was previously forecasted to begin by year's end). Interestingly, it seems that vTv may pursue a hypoglycemic event benefit as their primary endpoint.
7. Insulins Move Toward a Faster, "Smarter," Longer Acting, and Orally Delivered Future
It was a bustling year for the insulin pipeline even though pricing has skyrocketed downward, along with, some believe, corporate interest in insulin. If this is correct, this is too bad - there are so many better results possible with the right insulin for the right person. Thinking back to Dr. Tim Heise's (Co-Founder and Lead Scientist, Profil) talk on the future of insulin pharmacology at DTM 2019, we saw substantial advancements in nearly all four therapeutic areas he outlined - (i) glucose-reactive "smart" insulins; (ii) hepato-preferential insulins; (iii) oral/inhalable insulins; and (iv) once-weekly basal insulins (hepato-preferential insulin was where we saw the least overt interest/movement).
8. A Big Year for "Next Generation" Glucagon Rescue Therapies as Competitors Gain Traction Alongside Lilly's Baqsimi
Last year, Lilly's Baqsimi (nasal glucagon) became the first FDA-approved, non-injection treatment for severe hypoglycemia. Baqsimi has shown tremendous uptake in its past five quarters on the market and has been cited as a key driver of US volume growth for Lilly: in 3Q20, the nasal glucagon brought in $21 million in revenue, up 237% YOY from 3Q19 and 54% Q/Q from 2Q20. 2020, however, brought signs of impending competition from two promising "next generation" glucagon options: Xeris' Gvoke and Zealand's dasiglucagon HypoPal rescue pen. Gvoke HypoPen – a liquid glucagon auto-injector for severe hypoglycemia rescue – was launched in the US in July 2020. Usability studies for Gvoke HypoPen have demonstrated that 99% of patients are able to use the device successfully, and Xeris has previously suggested that Gvoke HypoPen could lead to 8% cost savings over traditional glucagon reconstitution kits due to its comparative ease-of-use. The NDA for Zealand's HypoPal was also accepted by FDA in May 2020, following submission at the end of March. A PDUFA date has been set for March 27, 2021 (no AdComm on the horizon), and the device is on track for a potential launch in early 2021. Compared to both Baqsimi and Gvoke, Zealand's HypoPal has been lauded for its faster onset of action and differentiated clinical profile, making the product one to look out for in 2021.
9. A Year of Ups and Downs in Diabetic Eye Disease Therapy: Safety Concerns, Novel Drug Mechanisms of Action, and Frighteningly Low Screening Rates
Our team dug deeply into diabetic eye disease this year, discovering key gaps in prevention in addition to new therapeutic areas. The safety of Novartis' Beovu was a hot topic in the retina community, with significant relevance for diabetes eye complications as well. In more positive news, we followed the data on Genentech's faricimab – an investigational drug candidate that could significantly reduce the treatment burden of intravitreal injections. Despite the fluctuations in therapy, one of our key learnings in 2020 was that prevention of eye complications is dangerously lacking. 
Beovu (brolucizumab) had a rocky start to the year, with safety reports of retinal occlusive vasculitis and intraocular inflammation diminishing the drug's early excitement in 2019. Yet, regulatory authorities, the American Society of Retina Specialists, and Novartis responded promptly, approving an updated safety label in June and initiating thorough reviews of the post-marketing reports. Since then, promising phase 3 trials KITE and KESTREL have demonstrated positive topline results that validate Beovu's safety and efficacy for the treatment of DME. Beovu has marked advantages over the current anti-VEGF standard, Eylea (aflibercept), including decreased injection frequency and superior reductions in intra-retinal and/or sub-retinal fluid. Nevertheless, there is still a 0.5% risk of developing severe vision loss from occlusive vasculitis. This controversy even resulted in Beovu being named in the "Hot Topics of 2020" session at AAO 2020. Going into 2021, we expect retina specialists to use great caution when administering Beovu and our team would not be surprised to see Eylea hold its ground as the first-line therapy.

On a more encouraging note, Genentech's investigational bispecific antibody, faricimab, became the first of its kind developed for DME. In addition to its mechanism of action, faricimab's impressive durability makes it a standout candidate for reducing the treatment burden of retinal disease. In fact, in phase 3 YOSEMITE and RHINE trials, over half of participants receiving faricimab on personalized intervals were able to extend the time between treatments to 16 weeks at one year. Faricimab's durability apparently comes without sacrificing efficacy or safety, though long-term studies are ongoing. While exact dates on faricimab's regulatory next steps have not been shared yet, we imagine submission will take place in 2021.

With less than half of Americans with diabetes getting their annual eye exams, new screening methods are being targeted. Artificial intelligence has gained traction this year, with the FDA clearing Eyenuk to market EyeArt Autonomous AI for diabetic retinopathy screening in August 2020. Using AI to screen patients for retinal disease will potentially reduce the significant barriers to annual eye exams and improve screening rates. Teleophthalmology has been another successful approach, with which retinal images are taken in primary care settings and sent to external ophthalmologists for screening. This type of "store-and-forward" program allows for a higher proportion of high-risk patients to be identified, yet maintaining follow-up appointment adherence remains a problem. Regardless of the many advances in therapies, we hope to see a future where such late-stage treatment will not be necessary – to achieve this, we'll need better prevention methods and screening. 
10. NASH/NAFLD Roundup: Intercept and Gilead Struggle in Phase 3; Attention Directed Towards Phase 2 Candidates from Inventiva, Akero, and Others; FDA Will be Big News in (Early) 2021
2020 was generally not a good year for NASH/NAFLD, as there were several high-profile late-stage disappointments, including FDA rejecting Intercept's 'frontrunner' obeticholic acid (OCA, Ocaliva), which offset good clinical news from several earlier stage companies. But we are likely to get an FDA "reset" soon as the newly constituted (May 2020) Hepatology and Nutrition goes public with a just-published article in Hepatology (affirms 2018 registration endpoints, details interpretive difficulties of liver biopsies), and a "Regulatory Perspective" webinar in late January 2021.  We are currently inferring longer trials and larger trials, especially for fibrosis-focused candidates. But more important than What FDA Says is What FDA Does, particularly in the case of Intercept and OCA (which is already approved and marketed for primary biliary cholangitis). Until this year, OCA was golden in clinical development – the first NASH agent to receive Breakthrough Therapy Designation and the only one to date to meet phase 3 endpoints. Following acceptance of its NDA, it had Advisory Committee meetings scheduled by FDA in 2020 and then postponed, before receiving a Complete Response Letter in June. During Intercept's 3Q20 update, then-CEO Dr. Mark Pruzanski (to be succeeded in 2021 by Mr. Jeremy Durso) discussed a potential 2021 NDA refiling for the FXR agonist after addressing unspecified safety and efficacy concerns. However, the timeline for this resubmission is still up in the air, and how FDA views Intercept's once-compliant data package with any new guidelines will be of serious interest to any company with a NASH program.
But there was also exciting news in 2020. On the cusp of Intercept's setback, Inventiva's pan-PPAR agonist (alpha, delta, gamma) lanifibranor surprised with impressive results in the phase 2b NATIVE trial in July. Lanifibranor became the first NASH candidate to meet both primary endpoints established by the FDA and EMA for the treatment of NASH, earning the agent Breakthrough Therapy Designation by FDA in October – only the second NASH agent to earn this designation.
Other PPAR agonists have showed lackluster efficacy in NASH, which made lanifibranor's success all the more surprising. After failing interim analysis of its phase 3 trial RESOLVE-IT, Genfit's terminated its elafibranor (dual PPAR alpha/delta agonist) study in July. While the agonist is still being explored in primary biliary cholangitis (PBC), Genfit has redirected its NASH focus towards commercializing its non-invasive NASH diagnostic, NIS4. CymaBay's program for PPAR delta agonist seladelpar in NASH was also cancelled back in November 2019, after biopsies detected signs liver damage in some patients. In July 2020, however, CymaBay announced it was reviving its program for seladelpar in PBC and possibly NASH (with a partner?) after an independent panel of experts found no evidence the agonist precipitated liver injury. 

Two other NASH candidates have shown particularly encouraging results in early-stage trials: Akero's FGF21 agonist efruxifermin (EXR, formerly AKR-001) and Hanmi's GLP-GIP/glucagon triple agonist HM15211. Akero's efruxifermin presented positive histological results from the phase 2a BALANCED study in July, in which NASH benefit was seen in all three of the 28 mg, 50 mg, or 70 mg treatment arms and 48% of biopsy recipients in the treatment group (n=40) demonstrated NASH resolution with no worsening of fibrosis. HM15211 was granted Fast Track Designation in NASH by FDA also in July, on the basis of phase 1 results demonstrating that the triple agonist reduced liver fat, prevented liver fibrosis, and ameliorated liver inflammation. A phase 2 trial with HM151211 in biopsy-proven NASH patients was initiated in 2Q20.

On a related note, Hamni entered into a licensing agreement with Merck to develop/commercialize dual GLP-1/glucagon receptor agonist efinopegdutide (formerly HM12525A) in NASH in August 2020. We will keep a close watch on this program, particularly as the dual agonist had previously shown subpar phase 2 results in obesity, with or without type 2 diabetes.

Pfizer and Merck were also active "under the radar". Merck made other moves in NASH in the second half of the year, including a research partnership with Aligos and, most importantly of all, quietly starting a phase 2b trial for MK-3655. MK-3655 was licensed from NGM two years ago. MK-3655 is an "agonistic antibody selectively modulating fibroblast growth factor receptor 1c-beta-klotho" (aka FGFR1c/KLB). The study, forecast to complete in early 2023, will evaluate MK-3655 versus placebo based on the percentage of individuals with NASH resolution without worsening of fibrosis after 52 weeks. Pfizer advanced a DGAT2 inhibitor into phase 2b in June 2020, both as a monotherapy agent and in combination with an ACC inhibitor. Results are expected at the end of 2022.

Disappointingly, BI discontinued phase 2 candidate BI 14667335 in January. This agent was the last remaining amine oxidase copper-containing 3 (AOC3) inhibitor in the NASH Competitive Landscape. Although it received Fast Track designation from FDA in 2017 upon the start of a phase 2a study, phase 1 results highlighted potential risk of adverse drug interactions. The agent will still be investigated in diabetic retinopathy.

Both Madrigal and Viking have thyroid receptor agonists in development, and both expect results in 2021. Madrigal is scheduled to have a primary readout on its phase 3 trial in December, while Viking is due to report the first readout of its phase 2b study in March.

Looking ahead, it will be a quiet year in NASH for GLP-1s, with Lilly and Novo Nordisk not expecting phase 3 results until 2022 (Lilly) or later (Novo Nordisk). We would not be surprised to see either company active in deal-making this year, however.
11. Advances in Pain Relief Drugs Show Promise of New Ways to Treat Diabetic Neuropathy
This year showed significant improvements in the development of new treatments for diabetic neuropathy – an area of very high unmet need. Diabetic neuropathy currently affects 5 million Americans, and this number is only expected to increase. Many people with diabetic neuropathy turn to opioid pain relievers, but these often have serious side effects and potential for addiction. Novel pain relivers that utilize capsaicin or other chemical pathways are currently being developed and approved to effectively treat diabetic neuropathy without such adverse effects.
Grünenthal and Averitas' Qutenza's novel pain-relief patch utilizes capsaicin (8%) to treat diabetic neuropathy. It is the first and only non-opioid, non-systemic, topical patch pain reliever for people with diabetes. The exciting news of its FDA approval came in July. The patch has been approved to treat shingles since 2009, and no drug-drug interactions are known. Common side effects noted are redness, itching, and pain around the area of the patch. Treatment lasts for three months, however, challenges remain due to the COVID-19 pandemic, as the patch must be applied in a medical setting and cannot be applied at home.
On the drug front, Lexicon is moving ahead with clinical trials for its candidate drug to treat diabetic neuropathy, LX9211. LX9211 drug is an adaptor associated kinase 1 (AAK1) inhibitor whose mechanism of action is independent of the opioid pathways. Lexicon began phase 2 trials for the drug in September. Phase 1a trial results came back positive in terms of safety and efficacy. In December, the FDA granted LX9211 Fast Track designation, meaning that Lexicon will frequently communicate with the FDA regarding study design and data collection, among other research details. The designation also means that LX9211 will be eligible for Accelerated Approval, Priority Review, and Rolling Review as the phase 2 trial progresses. We look forward to the results from the trial, which Lexicon expects to complete in August 2021.
Capping off the year, Waltham, MA-based Regenacy Pharmaceuticals initiated patient enrollment in December for its phase 2 trial investigating histone deacetylase 6 (HCA6) inhibitor ricolinostat in patients with painful diabetic peripheral neuropathy. Results are expected in 2022.
12. Federal and State Governments Take Action against High Insulin Prices
Public awareness and outrage over the high prices of insulin continued to dominate conversations in 2020. In Colorado, the Attorney General's office released a report on the costly effects of high insulin prices, finding that the price of insulin in Colorado rose 262% from 2007 to 2018 (adjusted for inflation) and that around 40% of Coloradans rationed insulin due to the cost. Action to reduce the burden of high insulin costs has occurred at the county, state, and national level. Even pharmaceutical companies have begun to provide relief to those struggling to pay for insulin.
13. The FDA Recalls Extended-Release Metformin due to High Levels of a Suspected Carcinogen
In a small, but very clinically meaningful story of 2020, metformin, the drug most commonly used to treat type 2 diabetes, was investigated this year after reports that it contained NDMA (N-Nitrosodimethylamine). NDMA is a potential carcinogen, but it is found naturally in some foods. It is believed that exposure to NDMA over long periods of time (many decades) can lead to the development of cancer. In February, the FDA released a statement on lab tests that it conducted in metformin, concluding that there were very low levels of NDMA in the drug, but not enough to exceed the acceptable daily intake limit (0.096 mcg/day). The FDA reversed their decision in June and have called for the voluntary recall of many ER metformins.
In June, the FDA updated their recommendations after finding NDMA levels above the accepted limit in certain extended-release (ER) metformin tablets. They asked five manufacturers of metformin (Apotex, Amneal, Marksans, Lupin, and Teva) to voluntarily recall the drug. The recall was extended in July to include five more manufacturers (Granules Pharmaceuticals, Avkare, PD-Rx Pharmaceuticals, The Harvard Drug Group, and Preferred Pharmaceuticals). In August, yet another manufacturer (Bayshore Pharmaceuticals) also voluntarily recalled their ER metformin tablets. Marksans Pharma and Sun Pharmaceutical Industries joined the list in October, and Nostrum Laboratories also issued a voluntary recall of ER metformin in November. See the full list of recalled metformin here. The FDA recommends that patients who use ER metformin continue to take it until they consult with a health care provider and receive an alternative treatment.
To note, immediate-release (IR) metformin, the more commonly prescribed metformin, is still available and is considered safe. The FDA has not found significantly high levels of NDMA to warrant a recall of the drug.
Top Ten Most Highly Read Closer Look Reports in Therapy
Most Highly Read diaTribe Learn Reports in Therapy
Most Unexpected News/Things We Got Wrong
Key Questions for 2021
Will Lexicon file SGLT-1/2 inhibitor sotagliflozin for either worsening HF or CKD?

How will the removal of Invokana's black box amputation warning affect commercial performance?

Can the NASH field obtain its first FDA approved therapy with Intercept's OCA?

Given further expansions into CKD and HF, will SGLT-2 inhibitors begin to outpace GLP-1s?

Will Provention's teplizumab receive an FDA Advisory Committee meeting? Pending approval, how will teplizumab be priced, covered, and delivered?

How will clinical trials be affected as more and more individuals receive the COVID-19 vaccine?

How can stakeholders further encourage uptake of next-generation emergency glucagon options such as Lilly's Baqsimi and Xeris' Gvoke?

How will HCPs and patients with obesity react to approval of NN's Saxenda (liraglutide 3.0 mg) for youth aged 12-17? Considering data showing that up to 90% of adolescents with obesity will likely have obesity as adults, will HCPs feel comfortable utilizing pharmacology earlier in disease development?

What will US commercial performance for Biocon/Mylan's Semglee (biosimilar insulin glargine) look like?

Building off of data from SOLOIST-WHF and SCORED, can SGLT-2 inhibitors deliver positive results in HFpEF?

How will the DME commercial landscape evolve as new competitors like Novartis' Beovu and Genentech's faricimab are launched?

How can CGM measures like Time in Range be better incorporated into upcoming therapy clinical trials?
What's Coming in 2021
The list below covers expected 2021 milestones for phase 3 and approved products in diabetes. While this record is surely not comprehensive, it highlights some of the most significant developments we look forward to (across drug classes) in the new year!
GLP-1 Agonists
SGLT-2 Inhibitors
AZ's Farxiga (dapagliflozin) in CKD: Dapagliflozin nabbed Breakthrough Therapy Designation for CKD from FDA in October. Submission was expected in 4Q20, though the date has likely been pushed to early 1H21.

AZ's Farxiga (dapagliflozin) in HFpEF: According to AZ's 2Q20 clinical trials appendix, readout and FDA submission of data from the DELIVER trial in heart failure with preserved ejection fraction is expected in 2H21.

Lilly/BI's Jardiance (empagliflozin) in HFpEF: Neck-in-neck with AZ's Farxiga, empagliflozin's HFpEF trial is expected to complete in early 2021. Both trials have the potential to expand SGLT-2 inhibitor usage beyond diabetes to patients with HFpEF, with or without diabetes.
Glucagon
Xeris' Ongluo (ready-to-use liquid glucagon) in severe hypoglycemia: Xeris' Marketing Authorization Application (MAA) for ready-to-use (RTU) liquid glucagon remains under review by EMA. Following a positive CHMP opinion in December, Xeris expects a final decision in 1Q21, which would allow subsequent launches in several European countries in 2Q21.
Zealand's HypoPal (dasiglucagon) in severe hypoglycemia: The company's dasiglucagon HypoPal rescue pen remains on track for its projected launch in 2021, on the heels of NDA submission in March. Zealand also continues to expand its commercial presence in the US to support marketing and sales of the V-Go patch pump, as well as the upcoming launch of HypoPal.
PCSK9 Inhibitors
Novartis' Leqvio (inclisiran) in hyperlipidemia: FDA issued a CRL in December due to unresolved facility inspection issues related to COVID-19, however, we expect resubmission in 2021. Following Leqvio's final EMA approval in December, European launches are also expected in 1H21.
Type 1 Cures
NASH/NAFLD
Other
As new data often informs new therapies and treatment paradigms, we wanted to outline a few conferences we are most looking forward to. We believe that potential field-changing therapies and strategies will be shared at the following meetings in 2021. For more, be sure to reference our 2021 conference calendar.
Diabetes Technology
Themes
1. AID is hitting its stride with >300,000 users globally; encouraging progress in pediatrics, pregnancy, type 2s, and more
During Tandem's 2Q20 update, CEO John Sheridan shared that "more than 60%" of Tandem's US installed base was on AID. Given the ~249,000 people on MiniMed 670G globally (as of 1Q20), at least 300,000 people around the world are using some sort of AID system. That number is certainly rising and does not include international Control-IQ users, MiniMed 670G or 780G users added since 1Q20, those on DIY, or other less popular AID systems. At scale, there's no question AID has the potential to improve glycemic population outcomes, in addition to reducing burden and preventing hypoglycemic events. For us, all of this progress in AID culminated in a very fun panel at DTM in November, featuring patients (and/or parents of patients) using four different AID systems - Medtronic's MiniMed 670G, Tandem's Control-IQ, CamDiab's CamAPS FX, and Insulet's Omnipod 5 (not yet commercially available). Though AID is still in its early stages of adoption, even for "typical use cases" (i.e., relatively well-controlled adult type 1s), 2020 also saw a lot of exciting early work on using AID in additional populations. 
2. Moving toward a "CGM Era": Time in Range validation continues; changes in ADA 2021 Standards of Care; arguments for use as a research endpoint and in clinical space
Again this year, conversations around, validation of, and use of Time in Range (TIR) continued to accelerate. A quick PubMed search shows that "Time in Range" mentions in published studies more than doubled from 84 in 2019 to 185 in 2020. This year also saw numerous studies validating TIR's association with all-cause and CVD-related mortality (Li et al. 2020), with MACE and severe hypoglycemia (DEVOTE post-hoc analysis), with microvascular complications (RESCUE sub-analysis), and quality of life (RESCUE sub-study). Validation is so important – especially for getting CGM into primary care spaces because of some providers' concern over the absence of a long-term outcomes "DCCT-like" trial for Time in Range validating the link between Time in Range and complications. Speaking of getting TIR into clinic, 2020 also saw expanded clinical use of TIR and CGM-derived metrics due to the constraints of the COVID-19 pandemic, although many KOLs believe that we still need both TIR and A1c (more details on all of this below). The strengthening validation of Time in Range and the growing conversation around TIR both in research and between colleagues and KOLs this year culminated in changes in the ADA's 2021 Standards of Care. In the Glycemic Targets section (Section 6) of the 2021 Standards of Care, the updated standards effectively recognize CGM-derived metrics as equivalent to A1c in terms of glycemic assessment with the section "A1c Testing" renamed "Glycemic Assessment" and the section "A1c Goals" renamed "Glycemic Goals."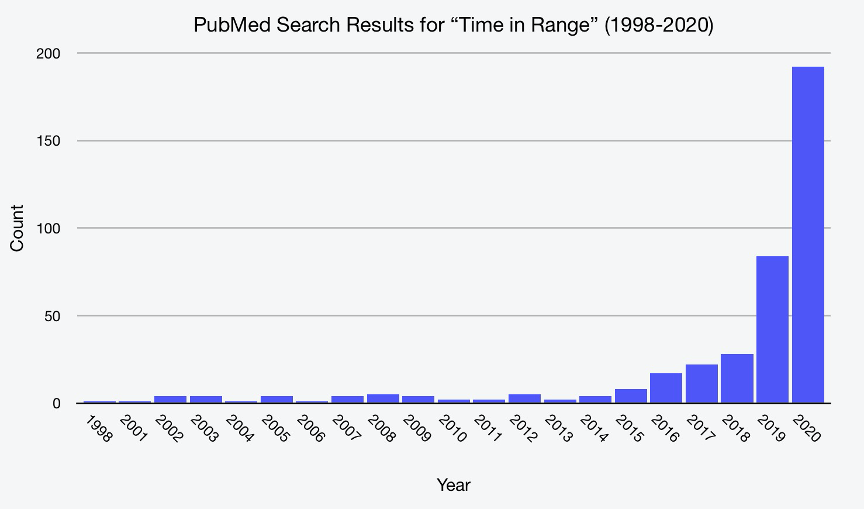 3. Interoperability in AID systems: reasons for enthusiasm, but also reasons for concern
In AID, last year ended on a high note with clearance of Tandem's Control-IQ and the creation of the interoperable automated glycemic controller ("iController") designation by the FDA. In our 2019 Reflections, we wrote that we were "cautiously optimistic" about AID interoperability in 2020. In 2020, we had reasons to be excited about interoperability, but we also had reasons to be a little more cautious. 
Reasons for excitement
Reasons for concern
Abbott's long-awaited FreeStyle Libre 2 was cleared as an iCGM in June, but it came with a surprise contraindication against use with AID systems. As we saw in the FDA's decision letter to Abbott, the contraindication (formerly a "limitation/warning") was due to FreeStyle Libre 2's interference with ascorbic acid (vitamin C). While the FDA is comfortable allowing users to manually dose insulin based off FreeStyle Libre 2 readings alone, they are not comfortable allowing FreeStyle Libre 2 to drive an AID system. CGM accuracy and reliability has certainly made massive improvements over the last few years and the creation of iCGM special controls in 2018 set a high bar. Still, driving an AID system requires a level of accuracy and reliability that, according to the FDA, for now, Dexcom is the only CGM company able to meet without fingerstick calibrations. 

In March, Insulet paused its Omnipod 5 hybrid closed loop pivotal trial due to a "software anomaly" related to its CGM integration. Fortunately, the anomaly was not associated with any adverse events. That trial was able to resume ~three months later in June, without any patient or provider drop-outs, and is now complete. Interestingly, Tandem also paused its Control-IQ pivotal trial back in March 2019 for a similar CGM-related software bug. Of course, the Control-IQ pivotal also resumed and finished without issue. Control-IQ has also been on the US market for nearly a year with no reports of major technical issues. Still, the fact that both Insulet and Tandem had to pause their pivotal trials (albeit proactively) is a strong reminder of the difficulty of testing out all edge cases for an AID system, particularly a system with components from different manufacturers. 

During Medtronic's final financial update of 2020, we heard our first notable update on Medtronic's interoperability strategy in over a year. When Medtronic signed a partnership with Tidepool (announced ADA 2019), some speculated that Medtronic might embrace interoperability. However, the lack of updates since then raised questions about Medtronic's commitment to the project. On the company's 3Q20 call, Diabetes President Sean Salmon called integration with Tidepool "really not a big focus" and expressed his belief that all things equal, most patients will prefer single-company AID systems over interoperable systems with components from multiple manufacturers. That comment suggests Medtronic doesn't have meaningful plans to participate in an interoperable ecosystem (at least in the near-term), instead placing confidence in its CGM pipeline.
4. All eyes on digital health as COVID-19 drives record patients, provider, payer, and investor interest
By the start of 2020, momentum for digital health and digital coaching was already building, and the pandemic accelerated those advancements as remote care became the pandemic-world status quo. Perhaps the biggest digital coaching news of the year was Livongo's $18.5 billion "merger" with Teladoc announced in August. The deal closed in November with Livongo effectively absorbed under Teladoc's name with Teladoc CEO Jason Gorevic and a primarily Teladoc-based executive team leading the combined company. The combined company has an estimated joint enterprise value of $37 billion, with both companies seeing massive grown during the COVID-19 pandemic. Per 3Q20 quarterly updates from both companies, Teladoc saw 109% YOY revenue growth to $289 million and Livongo saw 125% YOY revenue growth to $106 million. This followed impressive second quarters where Teladoc and Livongo revenue totaled $241 million (+85% YOY, +20% sequentially ) and $92 million (+125% YOY, +15% sequentially), respectively.
Investors flocked to digital health startups in 2020, with Virta Health just recently closing a $65 million Series D at a valuation over $1.1 billion. Across all digital health companies, Rock Health tracked $9.4 billion invested through just the first nine months of the year – that total surpasses the previous record of $8.2 billion in venture capital funding across all of 2018. Rock Health estimated ~$12 billion in total FY20 venture funding in digital health, a 62% YOY increase over the $7.4 billion in 2019. Based on Rock Health's tracking, it also appears that the massive funding wave is driven by deal size, rather than volume. In other words, venture firms aren't investing in more startups, they're just investing more money in each deal. While remote care and telemedicine startups have seen a lot of interest from investors, diabetes-related startups have seen their fair share of action, as well. In addition to Virta's Series D, the company also closed a $93 million Series C at the beginning of the year. In all, Virta has raised >$230 million in venture capital, with the most recent funding round at the aforementioned $1.1 billion valuation. Back in May, Omada announced that it had raised $57 million from Perspective Advisors and acquired musculoskeletal digital health startup Physera Health. Omada's most recent funding round was in July 2019, a $73 million Series D at a valuation of ~$600 million – given the immense growth in the field, we wouldn't be surprised if Omada's next valuation is at or above $1 billion. Adjacent to diabetes, Forbes reported that weight-loss app Noom totaled $237 million in FY19 revenue – that would almost certainly put the company's valuation above $1 billion (and probably closer to $3-$4 billion). Moving down the line, in August, Cecelia Health closed a $13 million Series B round co-led by Rittenhouse and Endo Investors. Also in August, One Drop closed a $35 million Series C led by Bayer and announced an expanded agreement with Bayer worth up to $64 million (i.e., total funding worth up to ~$100 million). One Drop also acquired CGM startup Sano in April, allowing the digital health company to develop its own in-house CGM and putting CGM assets directly in the hands of a digital health company for the first time. Finally, Lark Health closed a $55 million Series C in October. Altogether, that's over a quarter of a billion invested in just four diabetes startups. The push toward telehealth during the COVID-19 pandemic and the sudden flurry of excitement over remote monitoring and remote care have made the value of these companies' services obvious. However, questions around their abilities to deliver meaningful clinical and financial outcomes, differentiate from each other, streamline provider workflows, and incorporate CGM still remain largely unanswered.
Diabetes digital health companies continued to expand in 2020, usually into other co-morbid chronic conditions. One Drop added cholesterol and blood pressure management, personal coaching from certified health professionals, and improved data tracking. Dario Health added behavioral health coaching for stress, anxiety, and loneliness to its platform and partnered with telemedicine startup MediOrbis to provide acute, chronic, and specialty virtual care visits on the Dario app. Welldoc added behavioral health to its chronic care platform, partnered with Dexcom to use G6 CGMs, and received FDA clearance to add basal titration support to its diabetes management programming. Virta added programming for obesity reversal, prediabetes reversal, and type 2 management to its virtual clinic. A few new players also entered the digital health and diabetes coaching space in 2020: (i) Lifescan partnered with Noom on a digital diabetes and weight loss program and launched an online OneTouch store, which in addition to offering subscriptions for BGM supplies, also offered digital coaching through Cecelia Health and (ii) Nemaura "unofficially" launched "BEAT diabetes," a digital solution for weight loss and "potential" reversal of type 2 and pre-diabetes.
The partnership ecosystem around digital health continues to flourish. Early in the year, Livongo partnered with Dexcom to incorporate Dexcom G6 into its diabetes management program and was added to CVS Health Point Solutions Management. As discussed above, both Dario Health and Welldoc expanded their digital coaching options to include behavioral health, which has been of particular concern during the pandemic due to the isolation of lockdowns, stay-at-home orders, and social distancing. In March and again in May, Cecelia Health expanded its capacity to support clinics with remote care explicitly because of the pandemic. The pandemic also seemingly pushed for diabetes digital health companies to partner with telehealth companies, as seen with Dario Health and MediOrbis' partnership in May and with Livongo and Teladoc's merger that closed in November. For now, the ecosystem of digital health startups remains largely outside of the existing healthcare system, sometimes held together by partners' APIs and automatically generated PDF reports; in the long-term, we would expect to see some consolidation (e.g., Teladoc's telemedicine platform merging with Livongo's continuous coaching).
Digital health also made its first appearance ever in the ADA's 2021 Standards of Care. In the brand-new subsection "Digital Health Technology," the ADA offers a lukewarm reception to digital health technology, noting that digital diabetes programs can be helpful and are "an attractive option" for many people with diabetes, but that "for many of these interventions, there are limited RCT data and long-term follow-up is lacking." Given this critique, we'd imagine that stronger data might convince the ADA of their value. We know that Virta is working on five-year data, and we've seen one-year data from Lark, two-year data from Omada, six-month data from Onduo, and tw0-year data from Virta, although of course, these are not long-term studies or RCTs, which ADA fairly points out is a current limitation.
5. Shake ups at the FDA: continuity, despite leadership changes; COVID-19 shifts resources
In 2020, the FDA saw a number of leadership changes at multiple levels. Despite this, most of the Agency's diabetes-relevant priorities appear to remain intact. At the top level, Dr. Stephen Hahn was sworn in as new FDA Commissioner just before the year began. Long-time Diabetes Device Branch chief Dr. Courtney Lias continued to move up the ladder in 2020, transitioning from Director for the Division of Chemistry and Toxicology Devices (DCTD) to the Office level. That move put Dr. Kellie Kelm in charge of the Division, with Dr. Marianela Perez-Torres taking Dr. Kelm's former position as Deputy Director of DCTD. The Diabetes Device Branch, which is within DCTD, also saw several leadership changes. The well-respected Dr. Alain Silk left his position as Branch Chief in July, with Dr. Leslie Landree serving now as Acting Branch Chief. Dr. Landree is mostly focused on BGM and A1c-measuring devices, while Acting Diabetes Diagnostic Branch Team Lead Dr. Yiduo Wu leads the charge on AID systems, CGMs, pumps, controllers, and algorithms. It's quite a bit to keep track of, so we've tried to summarize the changes in the table below.
| | | |
| --- | --- | --- |
| Person | Role entering 2020 | Role exiting 2020 |
| Courtney Lias | Director, Division of Chemistry and Toxicology Devices | Deputy Office Director for Patient Safety and Product Quality, Office of Health Technology 7 (OIR) |
| Alain Silk | Branch Chief, Diabetes Devices | Private sector |
| Kellie Kelm | Deputy Director, Division of Chemistry and Toxicology Devices | Director, Division of Chemistry and Toxicology Devices |
| Marianela Perez-Torres | Branch Chief, Chemistry Devices | Acting Deputy Director, Division of Chemistry and Toxicology Devices |
| Leslie Landree | Team Leader, Diabetes Diagnostics | Acting Branch Chief, Diabetes Devices |
| Yiduo Wu | Team Leader, Automated Insulin Dosing Systems | Acting Team Leader, Diabetes Devices |
The FDA's vision for an interoperable AID ecosystem remains intact. This is certainly, though not surprising, as the diabetes device leadership at the FDA has been around diabetes for a long time and have worked for a long time under Drs. Stayce Beck and Courtney Lias. AID interoperability has been in the works for a long time (see Dr. Lias' presentations at Keystone 2017, ADA 2017, AADE 2016, ADA 2016, etc.). That interoperable ecosystem vision has been presented in various forms over time - Dr. Lias' presentations usually used polygons to represent AID components, while Dr. Silk's presentations used formal menswear as the components. Still, the idea remained the same and at DTM 2020, Dr. Yiduo Wu took his turn at presenting on interoperability. Reverting back to the polygon-based illustration, Dr. Wu stated, "It is our vision that you can now clear an iAGC [ "iController"] with an iCGM, and an ACE pump and if the AID developer decides there's a newer iCGM or ACE pump that comes to the market that the manufacturer wants to use, … they do not need to collect clinical data for that." 

The FDA's work around software as a medical device and the Pre-Certification program also continued. In September, the FDA established a new "Digital Health Center of Excellence" within CDRH with the goal to "empower digital health stakeholders to advance health care." The new center seems like more of a centralization move, rather than any radical change in the FDA's policy around software and digital health. As such, CDRH's Division Director for Digital Health, Mr. Bakul Patel, was appointed to lead the new center. One of the biggest projects in the Center is the PreCert program. In the 2020 update on PreCert, the FDA shared that it was able to make adequate "Excellence Appraisals" of organizations in a remote setting, an encouraging step. As a reminder, the PreCert working model involves an Excellence Appraisal, Review Determination, Streamlined Review, and Real-World Performance. In another nice milestone for PreCert, Pear Therapeutics' chronic insomnia app, Somryst, was cleared through both traditional 510(k) and PreCert pathways, the first case of PreCert being applied prospectively. While the FDA has been thinking proactively about software regulation for some time, the demand for digital health tools has never been higher. A larger influx of digital health technologies threatens to become quite burdensome for the FDA, but very helpful for patients and HCPs as long as everything proceeds safely and efficiently.

Like nearly everything in 2020, the FDA has been impacted by COVID-19 in ways both directly and indirectly affecting diabetes. In late March and April, as COVID-19 cases began to overwhelm hospitals in the US, particularly in New York, the FDA temporarily authorized the use of Abbott's FreeStyle Libre and Dexcom's G6 in hospitals to help improve inpatient glycemic control and also reduce potential exposure and personal protective equipment utilization by healthcare workers. On the digital front, the FDA has also been temporarily allowing companies to market and sell behavioral and mental health apps that would have normally required regulatory review. The FDA's Office of Health Technology 7 (OIR) has also been directly affected by the pandemic, as one of its divisions, the Division of Microbiology and Virology Devices (DMVD), has been responsible for review of COVID-19 testing hardware. Understandably, some staff and resources have been shifted from the Division of Chemistry and Toxicology Devices (DCTD), where diabetes devices are regulated, to DMVD. As of November, DMVD had issued >2,400 EUAs and >700 pre-EUAs for COVID-19 tests. As a result, DCTD Director Dr. Kellie Kelm told the audience at DiabetesMine's Innovation Days to expect delays on diabetes-related PMAs, 510(k)s, and pre-submissions for "about 90 days." Notable submissions that might be affected by this delay would include Bigfoot's Unity, Medtronic's MiniMed 780G, and Insulet's Omnipod 5.
6. CGM for type 2s: industry bullish about the size of the market; additional efficacy and cost-effectiveness data; UnitedHealthcare launches Level2 for type 2s
At conferences, in earnings calls, in research, and in interviews, CGM for type 2s is becoming an increasingly common conversation within the diabetes technology world. At conferences, International Diabetes Center's Dr. Rich Bergenstal was seemingly everywhere, offering much data on and many talks on CGM in type 2s and in primary care where he shares insights into best practices for CGM in type 2s and primary care like this one from ADA 2020, this one from DTM 2020, and this one from EASD 2020 (also, check out this debate from ADA 2020 to see the questions, concerns, and talking points on CGM in type 2s). The userbase of type 2s on CGM has also continued to expand this year. As of early December, Dexcom estimated that more than a fourth of its US userbase are type 2s. Given that its US business makes up ~80-85% of Dexcom's revenue and its global userbase is expected to hit 900,000 by the year's end, we very loosely estimate that Dexcom has ~180,000 type 2s on CGM, still far below Abbott's type 2 penetration. It's been a while since Abbott shared a breakdown of type 1s and type 2s in the FreeStyle Libre userbase (close to "50/50" on the 3Q19 call). During the company's 1Q20 update, we estimated ~one million Freestyle Libre users with type 2, which has almost certainly grown since April, demonstrating Abbott's undeniable headway into the field. Of course, Abbott's low-cost CGM, in addition to its accessibility through the pharmacy, make it a very appealing option for payers, patients, and providers alike. More generally, we believe that professional CGMs like the Dexcom G6 Pro launched in July, free starter programs like Hello Dexcom, and intermittently used CGM hold so much promise for type 2s (check on Dr. Bergenstal on these opportunities here), and we can't wait to see what 2021 brings.
7. Telemedicine is "here to stay": COVID-19 drives widespread adoption (up to 95%), but questions remain about sustainability and reimbursement; industry pivots to remote training
2020 was the year of telemedicine. In large part driven by the need for remote care during COVID-19, providers across the board shifted in-person clinical care to telemedicine platforms and found that many patients enjoyed the flexibility and ability to receive care from the comfort of their homes. Estimates for exact telemedicine utilization vary, but T1D Exchange data from 12 clinics (10 pediatric and 2 adult) recorded a peak in April with telemedicine making up 95% of all endocrinologist appointments. This started to taper off as COVID-19-related restrictions eased, but remained at 44% in August 2020. Much of the transition to telemedicine in the last nine months has been supported by increased uptake of remote monitoring technologies such as CGMs and other connected devices. Additionally, many manufacturers have switched to remote onboarding and training for their technologies to make sure patients and providers continue to have access away from the clinic. For the time being, CMS has largely supported reimbursement for telemedicine services, most notably creating a temporary exception allowing for CGM interpretation and insulin dose adjustments outside a clinical setting. The entire diabetes community has been figuring things out as they go, with numerous speakers throughout the conference circuit (see ATTD, Friends for Life, and DTM) sharing their experiences and recommendations for successfully conducting telemedicine visits.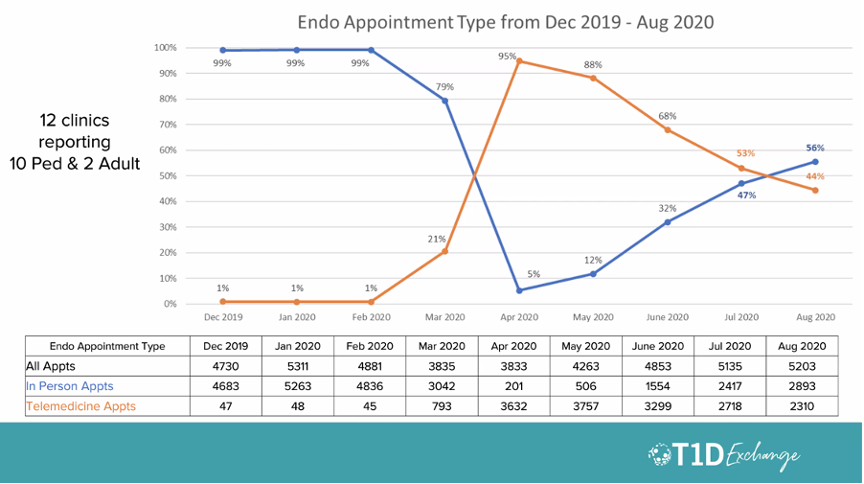 In a bright spot, Tandem, Insulet, and Medtronic have all experienced success transitioning insulin pump training to a virtual format for both health care providers and patients. During Tandem's 2Q20 update we learned that "nearly all" pump trainings for new customers took place virtually and customer confidence and Net Promoter Scores have actually increased indicating customers are responding well to the new format. We also learned that "approximately half" of new t:slim X2 customers came from MDI indicating that virtual trainings have not dissuaded pump-naïve patients from initiating pump therapy. Insulet has seen similar success with the "vast majority" of Omnipod training in 2Q20 happening virtually. Insulet trainings have been "well received" and management shared they are likely to continue offering virtual training even past the pandemic. In July we also saw encouraging data from Medtronic on virtual trainings for MiniMed 670G indicating comparable glycemic management between people trained in-person versus virtually with higher satisfaction and efficacy ratings among those trained virtually. We imagine many patients enjoy learning how to use their insulin pumps from home without the added stress that sometimes accompanies clinic visits. If Tandem, Insulet, and Medtronic continue to offer virtual trainings we expect patients will continue to utilize them potentially allowing for the expansion of the insulin pump market to more rural patients or people treated in primary care. Virtual trainings could be especially beneficial in settings where in-person training may actually be more difficult for providers less familiar with the technology, but where virtual training could easily be facilitated by endocrinologists or company representatives who would normally not travel to these more remote locations.

Though telemedicine saw a utilization spike across all fields, it's been especially successful in endocrinology. In a presentation at DTM 2020, Dr. Aaron Neinstein (UCSF) noted that endocrinology has been the second highest user of telehealth platforms behind only behavioral health since the pandemic began this spring with over 80% of all UCSF endocrinology visits taking place virtually. University of Michigan's Dr. Joyce Lee described type 1 diabetes as being "poised to succeed" with telemedicine, given the wide adoption of CGM technology. Dr. Rich Bergenstal (International Diabetes Center) shared success stories from using telehealth visits to help walk patients through their CGM Ambulatory Glucose Profiles. A key topic at both EASD and ADA this year was the ability of telemedicine to create increased "touch points'' between patients and providers via text messaging, web portals, or even digital CGM platforms like Dexcom's Clarity. With more patient contact, providers have been able to respond rapidly to changes in glycemic control and avoid the detrimental effects of clinical inertia. As evidence around the benefits of telemedicine continues to grow, we are hopeful that 2021 will see continued adoption past the pandemic with significant opportunities for learning as data on the cost-effectiveness of telemedicine continues to be evaluated.

Most providers, patients, payers, and others agree that telemedicine will, at least to some degree, be "here to stay." However, the post-pandemic future of telemedicine does have a number of unanswered questions. In a survey of 21 T1D Exchange clinics, the majority (57%) were "unsure" about an institutional goal for the overall percentage of diabetes telemedicine visits. The remainder of centers were spread fairly evenly across 0-20%, 21-40%, and 41-50% goals. The T1D Exchange survey data showed that insurance coverage for telemedicine visits was the biggest area of uncertainty. Potential fears associated with a long-term, large-scale shift towards virtual care include worse outcomes or a spike in healthcare utilization. Through the pandemic, we haven't really seen either of those fears play out. Still, many have expressed excitement about the potential for value-based reimbursement to remove the issue of visit modality (at least from a reimbursement perspective) altogether. At Virta's Beyond Telemedicine webinar, Dr. Shannon Dowler (North Carolina DHHS) outlined the state's remarkable seven-week Medicaid expansion to include reimbursement for telehealth services. Dr. Dowler explained how she and her staff went about updating reimbursement codes and accomplishing what she described as a three-year agenda over the course of only seven weeks by prioritizing reimbursement updates that made it possible for providers to continue practicing. Dr. Dowler's team also worked to collect and analyze significant quantities of data to make sure providers had access to telemedicine services and were implementing them successfully across the state. We are hopeful that Dr. Dowler's success in North Carolina can be molded to fit the needs of other states leading us to believe that 2021 will continue to be an important year in the growth of telemedicine and may mark significant changes in reimbursement policy with longstanding effects.
8. Interest in over-the-counter "wellness" CGM grows; potential divisions between CGMs for diabetes management and general health
CGM momentum continued in 2020, which saw a few major moves at bringing CGM into "wellness" settings. Compared to traditional CGM designed and marketed for people with diabetes, these "wellness" or "fitness" CGMs, headlined by Abbott's Libre Sense Glucose Sport Biosensor, have expanded the CGM market to include health and wellness minded people without diabetes. Most notably, these technologies are offered over the counter and marketed to a wide range of people from those looking to improve their metabolic health to elite athletes working to gain a competitive edge by better understanding their metabolic responses. With the growth of consumer CGM, we hope more people will recognize the value of glycemic management as well as spark conversations around the challenges associated with glycemic control, especially for people living with diabetes. Additionally, if CGM is able to successfully move into the realm of mainstream health monitoring (similar to step counters or heart rate monitors), we are hopeful it can bring awareness to diabetes and help destigmatize diabetes management. That said, the accuracy and reliability of CGM required for diabetes management and integration with AID systems is far above what would be necessary for a wellness device. For that reason, it will be important to watch this segment of the CGM market to determine if it is truly separate from the existing CGM market for patients on intensive insulin therapy or if companies will work to adapt their current CGMs to access the larger wellness market. It is also possible that some companies will initially market their devices within the wellness category as a stepping stone as they work to meet regulatory standards for use in patients with diabetes. See the bullets below for a look at the top five companies currently involved in consumer CGM efforts.
Abbott/Supersapiens Libre Sense Glucose Sport Biosensor: In September, Abbott announced CE-Marking for its new Libre Sense Glucose Sport Biosensor, "the world's first glucose sport biosensor." The CGM, referred to as Libre Sense, is built upon FreeStyle Libre CGM technology and is CE-Marked for consumer, over-the-counter purchase. The biosensor is worn on the back of the upper arm for up to 14 days (exactly like FreeStyle Libre). Notably, unlike the first two Freestyle Libre generations, which share a form factor with this sports biosensor, Libre Sense does not require scanning and instead streams continuous, real-time glucose values via Bluetooth to a tracking app or wrist-worn reader every minute. Currently, the Libre Sense hardware is almost identical to the FreeStyle Libre 2 sensor, but there are plans to eventually tailor the sensor for athletes, e.g., underwater performance, sweat-proof adhesive, etc. 

Libre Sense was developed in collaboration with Atlanta-based sports technology company Supersapiens with the goal of providing a "real-time energy management system for athletes." Supersapiens, founded by Team Novo Nordisk's Phil Sutherland, integrates Libre Sense data into the Supersapiens app to display a series of glucose insights for users including: (i) average glucose; (ii) glucose control; (iii) glucose stability; and (iv) glucose exposure. Supersapiens is currently Abbott's only commercial partner for Libre Sense with a one-month subscription (two sensors) priced at €130 (~$153).

Nemaura sugarBEAT/proBEAT: UK-based Nemaura Medical is in the process of launching its CE-marked sugarBEAT CGM under the name "proBEAT" as a "wellness device" available for over-the-counter purchase in the US. sugarBEAT is a non-invasive, 24-hour wear, disposable skin patch CGM with a rechargeable Bluetooth transmitter for use in "non-intensive medical applications" including weight management, people with prediabetes, and people with type 2 diabetes not on intensive insulin therapy. proBEAT was expected to launch in the US by the end of 2020, but that timeline appears to be at least slightly delayed. In July, Nemaura submitted its PMA application for sugarBEAT to the FDA as a class III medical device, so we are interested to follow which path proves more promising between over-the-counter sales or regulatory approval and possible reimbursement.

Levels: Levels is a New York-based start-up using commercial CGM to offer insights into the impact of lifestyle and diet on metabolic health. The Levels platform is "device agnostic" meaning it can be integrated with FreeStyle Libre or Dexcom G6 and allows users to log diet and exercise through photo tagging, in addition to activity and sleep data through Apple Health and Google Fit. Using this data, Levels provides users with a single "Metabolic Score" for each day, in addition to real-time insights on the impact of food, exercise, and lifestyle decisions on metabolic health. Currently, Levels partners with an "independent network" of telehealth providers to prescribe CGM to prospective customers with the monthly program priced at $399. "Approximately 1,000" people have completed the program, which is still in a closed beta testing phase, and Levels already has a "50,000+ person waitlist" with plans for full commercial launch in the US in "early 2021."

LifePlus Lifeleaf: At DiabetesMine D-Data Exchange in June we learned about LifeLeaf, a non-invasive watch-like wearable that uses spectroscopic technology to measure blood glucose levels. LifeLeaf will be factory calibrated and will offer real-time data on an app developed for Android and iOS. LifeLeaf will be targeted for monitoring health a pre-diabetes, not treating and managing diabetes potentially making it eligible to pursue "wellness device" status in the US. Currently, LifeLeaf is a "functioning prototype" and the company aims to have the device approved by the FDA by the end of 2021 which could be an ambitious timeline given the variety of setbacks we have seen related to non-invasive CGM in the past.

Movano: In July, Bay Area-startup Movano excited stealth mode and shared that it is working on a watch-like "wearable, non-invasive continuous glucose monitor powered by Radio Frequency." Movano is marketing it's CGM for people with diabetes, prediabetes, or people "looking to pursue a healthier lifestyle" indicating the company may pursue a more wellness-based approach to CGM technology. Movano is currently in the production phase of developing its devices and we still have questions about how the company's radio-powered device functions. No timelines have been provided at this point, which seems prudent, especially with all the challenges non-invasive CGM has faced over the years.
9. COVID-19 represents a learning opportunity for CGM in the hospital; continuing calls for research on CGM and AID systems in hospital settings
In April, spurred by COVID-19, the FDA announced it would temporarily allow the use of Abbott's FreeStyle Libre and Dexcom's G6 CGMs in hospitals for the duration of the pandemic. We were glad to see the FDA recognize CGM as an effective way to manage in-patient glycemia and save on valuable personal protective equipment during the pandemic. Of course, the value of glycemic control in the hospital became especially prominent during the pandemic as hyperglycemia seems to have association with worse COVID-19 outcomes (the exact degree of the association is somewhat uncertain). Despite the success of CGM in out-patient care, there still appears to be resistance to using CGM in in-patient settings due to potential interferences with medications and accuracy in severe hypoglycemic ranges. However, with the trend information available from both FreeStyle Libre and G6, CGM offers providers the unique opportunity to act proactively to precent severe dysglycemia among critically ill hospitalized patients. In recent guidelines published by the Diabetes Technology Society (DTS) on the use of CGM and AID systems in the hospitals, the authors also highlight the ability of CGM to alert providers to nighttime hypoglycemia which can often go untreated in hospitalized patients sleeping through the night. While it is uncertain how long current FDA allowances for hospital CGM use will continue, we feel strongly that CGM will be the standard of care for in-patient treatment of people with diabetes, especially those with type 1, in the future.
To date, Abbott and Dexcom have both reported CGM use in numerous hospitals across the country with Dexcom launching a hospital registry in September to track outcomes from in-hospital CGM use. Hospital CGM use has not been a significant revenue driver for either company, but Dexcom is taking advantage of its hospital registry to collect data that could potentially be used in a future submission to the FDA. Via email, Medtronic confirmed with us that they have "not focused on this [hospital CGM] use case during the pandemic." It is worth noting Medtronic entire business outside of Diabetes runs through the hospital, so we were somewhat surprised to learn that the company was not focused on expanding its diabetes portfolio in that direction. That said, Medtronic's current CGMs do require calibration and come with adjunctive labeling requiring confirmation fingersticks for clinical decisions, thus reducing the utility of the CGMs to mitigate COVID-19 exposure risks for health care providers in the hospital.

Guidelines on CGM and AID system use in hospitals published by DTS, though planned prior to the outbreak of COVID-19, came at an especially opportune time this fall as many hospitals began using CGM technology to treat COVID patients this spring. While the guidelines stopped short of outright recommending CGM be used for patients with diabetes in the hospital, the report did outline recommendations for initiating or continuing use of CGM systems for patients admitted to the hospital. The guidelines purposefully left room for hospitals to establish their own best practices, and our biggest takeaway from the report was the groundwork it laid for future guidelines on hospital CGM use. As Dexcom continues to collect data, we will be paying close attention for possible FDA submissions, but it is unclear if these will be on the horizon for 2021 or later.

On the AID front, we feel these systems present a more complicated circumstance in the hospital setting than CGM. Namely, AID systems have often not been tested in critically ill patients and there are legitimate concerns about the personalization of AID systems that may be needed for adequate care in in-patient settings. In DTS's published recommendations, the authors recognize the potential of AID systems in the hospital and provide recommendations on the continuation of home AID for hospitalized patients, but do not recommend initiating hospitalized patients on AID systems. It is also important to note that in-hospital CGM has received significant attention in light of the COVID-19 pandemic, but there has not been a similar mobilization around AID. That said, the population of patients using AID systems continues to grow and we would not be surprised to see further research into AID in hospital settings in the next few years. 
10. Smart pens: the market opportunity is massive, but how will cost and outcomes compare to pump-based AID?
This year we significantly updated our Smart Insulin Pens and Caps and Insulin Dosing Titration Competitive Landscapes, highlighting the growing value of smart dosing systems for patients on MDI. With the growing excitement around insulin pumps and AID systems, we are frequently reminded that the vast majority of people with diabetes, especially those with type 2, still using multiple daily injections (as well as those who should probably be on mealtime insulin, but are not). While pump-based AID certainly deserves the attention and recognition it continues to receive, the sheer size of the MDI market (estimated at 12x that of the insulin pumps) makes the hype around smart pens (from both a financial and public health perspective) easy to understand. Driven by the massive and underserved market size, Companion Medical CEO Sean Saint noted at JPM 2020 that InPen alone grew faster in 2019 than the "entire pump market combined."
The 2020 smart pen world was headlined by Medtronic's acquisition of Companion Medical and Companion's InPen, the only FDA cleared smart pen on the US market. With this acquisition, Medtronic has already taken steps to integrate InPen with its existing diabetes technology, including real-time data integration with its Guardian Connect CGM in the InPen app (InPen can also integrate Dexcom G6 data, but with a three-hour delay). We see this integration as a key step in paving the way toward a smart pen based hybrid closed-loop system that Medtronic has already expressly stated it plans to pursue. One area to watch will be how Medtronic and its sales force markets its MDI solution, InPen, to certain providers and customers and its pump/AID solutions, MiniMed 670G and 770G, to other providers and customers. Given its lower cost and easier onboarding, Medtronic might look to advertise its smart pen to those newly diagnosed or technology-naïve; as those people become more familiar with Medtronic's diabetes ecosystem (e.g., CareLink, Guardian CGMs), InPen could become a valuable sales funnel for Medtronic's AID systems.

InPen remains the only smart pen on the US market, but 2021 could see the entry of new competitors. In August, we learned another smart cap, Bigfoot's Unity system, had been submitted to the FDA for 501(k) clearance. Bigfoot's Unity system combines a Bluetooth enabled smart-cap with Freestyle Libre sensors and represents a serious contender for the development of a pen-based hybrid closed loop insulin delivery system. As of August, Bigfoot has plans to launch an automatic dose titration system for Unity in "~2022" with a hybrid closed loop system by "~2023." Perhaps a sign of impending clearance, Bigfoot recently expanded its commercial sales team, including the hiring of former Companion VP of Sales Tony Galliani. In the European market, France-based Biocorp officially launched Mallya, an insulin dose-tracking smart cap. Mallya also joined the "Roche Diabetes Ecosystem" which opens the door for future integrations and partnerships.

The three major insulin manufacturers, Sanofi, Lilly, and Novo Nordisk, remained on the sidelines of the smart pen market in 2020. Going into 2020, we were told Novo Nordisk planned to launch it's NovoPen 6 and Echo Plus smart pens in 2Q20. Both pens received CE-Mark back in 2018, but it has now been over one year since we've heard any developments putting launch timing at least six months behind schedule. In addition to Novo Nordisk's efforts, we have heard little from Lilly about progress on its "Integrated Insulin Management" system. As of 1Q19 we were told Lilly's smart pen had received FDA approval but is awaiting guidance on "component parts." In November of this year, Lilly announced a partnership with Ypsomed to develop a pump-based AID system in the future, but appears to still be committed to commercializing and developing a smart pen platform which company representatives told us is currently expected to launch in the US and "several EU countries in the second half of 2021." If this timeline is accurate, Lilly's entrance into the insulin delivery and smart pen markets in 2021 is likely to have wide reaching impacts on the speed of technology adoption and overall market growth; we will be paying close attention. Finally, Sanofi's smart pen strategy remains murky. Sanofi is paying Biocorp to develop a tracking device specifically for its pens, but whether it is directly investing in smart pens internally is unclear.

As the smart pen market matures, there will be questions, in particular, around cost and efficacy. Smart pens, by most accounts, will have a cost somewhere between traditional pens and insulin pumps. What will that look like at scale? In terms of outcomes, a number of studies over the past few years have shown significant improvements in glycemic outcomes using AID systems, with mean Time in Ranges reaching upwards of 75%-80%. Looking at smart pens, how much glycemic improvement can be achieved with automated dose titration? How much involvement from the user is needed to achieve those outcomes (e.g., meal logging, frequency of doses, etc.)? How will payers view the difference in cost and outcomes with AID vs. smart pens?
11. Partly motivated by COVID-19, Big Tech gets more serious about healthcare; Big Tech's expertise, immense resources, and huge reach are reasons for excitement
For a few years now, we've talked about "big tech" companies, formerly deemed "non-traditional healthcare players," as slowly entering the healthcare and diabetes landscape. While we didn't see too much movement on the diabetes front, many of these companies took on significant, sometimes even leading, roles in the response to COVID-19. Given these companies' immense resources and vast reach, big tech was able to do things no other players in healthcare could have done. Early on during the pandemic, Apple and Google set to work developing contact tracing capability, utilizing smartphones, while still preserving privacy and anonymity. However, as with many things in healthcare, new technologies require buy-in from multiple stakeholders; while Apple and Google built the technical capability for contact tracing, they initially relied on individual states to build out the actual smartphone apps utilizing Apple and Google's framework. As of September, only six states had built out apps using Apple and Google's contact tracing, leading the companies themselves to build the feature out themselves. It's a strong reminder of how many people these big tech companies are able to reach - as we heard last year, when Samsung incorporated the CDC's prediabetes risk assessment (validated from the ADA) into the Samsung Health application, which has a ~70 million monthly active users globally, over half a million people (!) had completed the assessment in a month. Over 30% of those who took the test were at risk for prediabetes.
Google/Alphabet/Verily: Google and its parent company, Alphabet, have the largest portfolio of diabetes-related projects of any big tech company. At the beginning of the year, Verily made quite a splash by making its first-ever appearance at JPM. To our delight, Verily head Andy Conrad spent much of his time talking about Onduo and G7, its two most prominent diabetes-related projects. Despite Sanofi withdrawing its operational involvement in Onduo, Verily remains committed to the project and with a new CEO in Dr. Vindell Washington, Onduo could be looking to grow and expand quicker than some expected. Though not strictly a "project," we'd also love to hear more about Google's efforts with its medical information box on health-related searches. Starting last year, Google began highlighting the CDC's one-minute prediabetes risk questionnaire for searches of "prediabetes" or "type 2 diabetes" - how many people have been reached through this channel? What percentage were identified as high-risk for prediabetes?

Google's $2.1 billion acquisition of Fitbit remains pending (announced back in November 2019). Just this month, the European Commission finally gave their approval of the acquisition, though Google was force to make certain commitments related to data privacy and antitrust. The US Department of Justice has also been investigating the deal for antitrust and consumer privacy concerns. These investigations, of course, make the timing and even the ultimate status of the deal difficult to predict. Regardless, Fitbit remains active. A small study out of Taiwan (n=95 type 2s) showed integrating Fitbit data with a popular diabetes app, Health2Sync, increased rates of physical activity and reduced A1c by ~0.3% in three months. Particularly given Given Google's expertise in organizing and presenting relevant data, we're optimistic about what the company could do with Fitbit's data (e.g., sleep, activity, heart rate).

Amazon: Amazon is known for its e-commerce platform - in 2020, we saw Amazon get more involved in retail pharmacy efforts. Just last month, Amazon launched "Amazon Pharmacy," a long-speculated move following its $1 billion acquisition of PillPack back in 2018. Amazon Pharmacy offers most diabetes drugs, including metformin, insulin, and SUs, as well all commercially available SGLT-2s and GLP-1s (except tanzeum); for now, there aren't any prescription diabetes devices on the platform. However, BGMs and supplies (which don't require a prescription) have long been available on Amazon's main retail site. Amazon itself has its white-labeled "Choice" brand Bluetooth BGM and test strips. To help combat counterfeit items in the store, BGM giant Lifescan also entered the Amazon platform directly this year. Of note, to our knowledge, BGMs and testing supplies purchased on Amazon can be deducted from patients' Flexible Spending Account funds.
Top Ten Most Highly Read Closer Look Reports in Technology
CGM competitive landscape – October 19, 2020 – Abbott, Dexcom, Medtronic, Senseonics pipelines: 39 products/partnerships covered! Plus, the latest updates on nearly 30 pre-market/early-stage CGMs!
AID competitive landscape – July 21, 2020 – Updated after MiniMed 780G CE-Marking, ADA 2020 (MiniMed 780G pivotal, real-world Control-IQ, Horizon pre-pivotal), FFL 2020 (Beta Bionics updates) and 1Q20 calls
Abbott announces CE-Mark for FreeStyle Libre 3, smaller, thinner, and with real-time glucose and trend arrow information – September 28, 2020 – Keeps same price as FreeStyle Libre "1" and 2; FreeStyle Libre becomes the longest-wear, smallest form factor, cheapest real-time CGM; launch in "coming months"
Medtronic acquires Companion Medical, identifying key gaps and expanding T1D + T2D insulin delivery capabilities – August 11, 2020 – Deal to close "within one to two months"; Companion employees will join Medtronic Diabetes; strengths, weaknesses, opportunities, and threats analysis and competitive implications inside
UnitedHealth Group launches Level2 type 2 diabetes remission program following successful pilot – July 15, 2020 – Offers Dexcom G6 CGMs, Fitbit trackers, AI-driven feedback, and virtual coaching through an app to 230,000 type 2 members in 27 states and Washington DC at no additional cost
Senseonics Terminates Loan Agreement; Exploring "Strategic Options," Including Potential Sale of Company – March 23, 2020 – Senseonics failed to reach agreement with creditor Solar Capital after breaching loan covenant; <$50 million cash remaining after payment; list of potential acquirers?
FDA clears Abbott's FreeStyle Libre 2 as iCGM; available in pharmacies and DME suppliers in "coming weeks" – June 12, 2020 – Follows >1 year FDA review; first-ever non-Dexcom device to meet high iCGM accuracy standards; adds Bluetooth and optional alarms at same price as FreeStyle Libre "1"
FDA Now Allowing Use of CGM for Patients in the Hospital During COVID-19 Pandemic – April 8, 2020 – Abbott and Dexcom already making CGM available in hospitals; Abbott donating 25,000 FreeStyle Libre sensors to hospitals in "outbreak hotspots," Dexcom to donate 10,000 phones and readers
FDA approves Medtronic's MiniMed 770G as the first AID system available for 2-6-year-olds in the US – September 1, 2020 – Submitted as a class III (non-interoperable) system; 700G series pump (Bluetooth connectivity) + 670G algorithm; new MiniMed app will launch when 770G shipments begin; minimum daily dose of 8 units
Dexcom 3Q20 – Record revenue of $501 million (+26% YOY), driven by 40% YOY unit volume growth and record new starts; G7 to launch in "key markets" in 2H21, but with 10-day wear – October 27, 2020
Top Five Most Highly Read diaTribe Learn Reports in Technology
Most Unexpected News/Things We Got Wrong
Glucose Monitoring
Insulin Delivery
Digital Health
Key Questions for 2021
Glucose Monitoring
Will Abbott be able to resolve the "warning/limitation" against using FreeStyle Libre 2 in AID systems?

Will the emergence of "wellness" CGM (e.g., Libre Sense) significantly alter the CGM landscape? Will we see larger non-diabetes adoption?

How will CGM continue to be used in patients with type 2? How will this change with more digital health programs combining CGM and coaching (e.g., Noom, Level2) specifically for type 2s?

What is the future of BGM as CGM continues to grow and become lower cost and better reimbursed? How has the need for remote monitoring during COVID-19 changed this?

Will Abbott submit FreeStyle Libre 3 to the FDA in 2021?

Will Senseonics' 180-day Eversense generate more interest in implantable CGM?

What are the biggest barriers in CGM adoption? To what extent would adoption accelerate with: (i) better payer coverage; (ii) more awareness; (iii) more HCP willingness to prescribe; or (iv) different products?

How will pricing for CGM evolve over the next few years? How will this affect adoption?
Insulin Delivery
How quickly will smartphone pump control hit the market?

How will the "warning/limitation" against using FreeStyle Libre 2 in AID systems affect the development of FreeStyle Libre integration into partner pumps?

When will we see Medtronic's MiniMed 780G system launch in the US? How will this change the AID landscape? Will it fuel AID adoption?

How will smart pen adoption continue to grow? How will Medtronic's strategy change with its acquisition of Companion?

Will we finally see the launch of Novo Nordisk and Lilly's smart pens? How will this impact the rapidly growing smart pen market?

What sorts of outcomes can be achieved by combining CGM and smart pen technology?

What is the future of the four-year pump warranty cycle? Will patients, providers, and payers favor the subscription/pay-as-you-go model?

Will continued advancements in AID systems accelerate uptake of insulin pumps? Is there an upper limit of Time in Range that can be achieved with AID (assuming no significant advancements in insulin technology)?

Will we see the launch of Bigfoot's Unity smart pen platform in 2021?
Digital Health
What precedent does the Teladoc and Livongo merger set for the future of the digital health market? Will we see greater consolidation of digital health startups?

Will the digital health funding boom of 2020 continue into 2021 (and beyond)?

How will software decision support continue to inform care? Will there be increased clinical adoption for decision support tools?

How can digital health continue to help drive CGM into new markets (e.g., type 2s)?

How can AI help identify higher-risk patients for more timely and appropriate interventions?

Which business models for digital health will be the most successful? Will payers favor subscription-based models (e.g., Livongo) or value-based payments (e.g., Virta Health)? Will payers build out their own programs (e.g., Level2)?

How can fitness, sleep, and other trackers become integrated with CGM (or BGM) data to improve insights? How are digital health apps looking to combine this information?

How intensive does a digital health platform need to be to achieve strong outcomes?
What's Coming in 2021
Glucose Monitoring
Abbott
Waveform/AgaMatrix
US launch of Cascade CGM in "early 2021." Timing is likely delayed due to lack of news about US trials previously expected to begin  in 1Q20 and FDA submission previously expected by 4Q20.
Ascensia
Commence US sales of Senseonics' 180-day Eversense sensor. 

Sales force expansion and digital marketing campaigns for Eversense 90-day product and 180-day product

BGM and "Abound" coaching program. Previously expected to launch in 2020 but appears to be delayed.
Dexcom
Lifescan
Additional BGM ecosystem partnerships? Expansion of coaching services in OneTouch Reveal App?
Medtronic
FDA approval of Zeus CGM as a class II iCGM (timeline unclear; submitted to the FDA in October)

FDA submission of Synergy CGM as a class II iCGM once the "manufacturing module" is complete

Synergy CGM pivotal trial read-out (completed in November)
Nemaura
FDA approval of sugarBEAT as class III CGM

Full OUS launch of sugarBEAT (CE-marked in June 2019)
Pops! Diabetes Care
Continued commercialization of all-in-one BGM smartphone case and digital platform
Roche
Senseonics Eversense CGM international distribution agreement set to expire in January 2021 and will not be renewed.

New additions to Roche's integrated personal diabetes management (iPDM) platform?
Senseonics
Insulin Delivery
BD
No major changes expected with generally steady insulin pen needle, syringe, and lancet sales; Swatch pump continued to go unmentioned throughout 2020, potentially discontinued
Beta Bionics
Insulin-only iLet pivotal to complete in 1H21 (began in "summer" 2020); test-run and RCT period complete in 1Q21, extension phase through 2Q21

Insulin-only iLet 510(k) submission in 2Q21; FDA clearance targeted for "mid-2021"

Insulin-only iLet US launch in "summer 2021" with European and Canadian launches "soon after" with CE-Mark in "2021"

12-month bi-hormonal iLet pivotal study to start in 1H21 with Zealand dasiglucagon 

Securing coverage for iLet with payers (2020, 2021 = "years of the payer")

Potentially see data from a small feasibility trial with Helmsley Charitable Trust comparing outcomes for iLet users supported by PCPs vs. pump-knowledgeable endocrinologists
Bigfoot Biomedical
Unity smart pen system expected to launch in early 2021; FDA clearance expected imminently 

Work on a later version of Unity with "automatic dose titration" which was expected to launch in "~2022" as of January 2020
Biocorp
FDA submission for Mallya in early 2021 (if not already submitted by end of 2020); approval expected in 2021 (no specific timeline offered)

Aims to scale up Mallya marketing fast in "early 2021" and to "equip several tens of thousands of patients as early as next year [2021]" 

Commercial launch of Mallya in France by early 2021; launches in undisclosed Asian markets and South Africa early in 2021
Capillary Biomedical
Read-out of initial single-arm feasibility study with SteadiFlow over several 7-day wear periods; expected for ATTD 2021 as of October, but may move given ATTD 2021 delay to June

Potential read-out of PK/PD crossover study comparing SteadiFlow cannula to traditional Teflon cannula over 7-day period

Potential read-out of head-to-head crossover comparison of Steadiset infusion set vs. control infusion sets over 14-day period or to failure (see how infusion sets fail)
ConvaTec
ConvaTec infusion sets with Medtronic, Tandem, Ypsomed, Roche, and Beta Bionics insulin pumps
Diabeloop
European launch of DBLG1 system (potentially in France and Germany given that reimbursement was underway as of November 2020)

Work toward reimbursement in Europe for Diabeloop's DBL-hu AID algorithm for patients with unstable diabetes (CE-Marked in December 2020)

Launch of DBLG1 AID algorithm with Terumo's Medisafe With insulin patch pump in Japan (Terumo's exclusive distribution rights announced in November 2020)

Un-pause Diabeloop's US pivotal for the DBLG1 system (trial was paused due to COVID-19)

Partnership with Dexcom? (algorithm already compatible with Dexcom and need a CGM partner)

Integration of AID system into Roche's iPDM strategy and Personalized Diabetes Management platform
Insulet
Omnipod Horizon expected to launch with smartphone control in 1H21 (limited launch in 1H21; ramp up through the rest of 2021); potentially already been submitted

Omnipod Horizon pivotal trial read-out (unsure when/where now that ATTD 2020 is postponed to June)

Pre-school pivotal (ages 2-6) for Omnipod Horizon to complete early in 2021

Expanded pediatric indication (ages 2+) "by end of 2021"

Type 2 feasibility trial complete; data read out?

Omnipod Dash will expand into four more new markets by "early 2021" (five including Belgium in September 2020)
Lilly
Partnership with Ypsomed: Ypsomed Pump class II "traditional" pump FDA submission in "June-ish 2021" and then ACE pump submission in "December-ish Q4"

Lilly has halted efforts to develop its own pump; unclear if Lilly will continue to develop its own AID system

Lilly's connected insulin pen platform is expected to launch in the US and "several EU countries" in 2H21
Medtronic (+ Companion Medical)
MiniMed 780G FDA approval potentially with pediatric indication (assuming submission "this quarter" (i.e., before January 31, 2020) as expected); launch in US as early as April 2021 (end of Medtronic's fiscal year)

Expanded OUS launch of MiniMed 780G (as of November 2020, in ~12 countries)

7-day extended wear infusion set rollout in "selected" European countries in "early 2021" (jumped the gun in Finland where launched in November 2020)

US pivotal completion for 7-day infusion set

Integration between Companion Medical's InPen and Nutrino and Klue, as well as future CGMs like Synergy and Zeus 

Scale-up of Companion Medical's InPen internationally (mentioned in October)

Personalized Closed Loop - no recent updates; last timeline offered expected FDA submission in by April 2021 and launch by ADA 2021, but seems ambitious now
Novo Nordisk
Might Novo Nordisk finally launch NovoPen 6 and Echo Plus in Europe, 2+ years after receiving CE-Marking? The pens have gone unmentioned since November 2019
Roche
Tidepool
510(k) FDA submission for Tidepool Loop

Readout of 12-month data from observational study of DIY Loop with Jaeb

New CGM and pump partnerships?
Tandem
Ypsomed
Two-step submission for Ypsomed's Ypsopump: first as a class II "traditional" pump in "June-ish 2021" and then as an ACE pump in "December-ish Q4" 2021 (maybe into 1Q22)

Data integration with Dexcom ("myLife Assist") was expected in the US by the end of 2020 but may launch in early 2021 if not completed in 2020; OUS in "Q1 2021"

Smartphone bolus control ("myLife Dose") US launch expected in "June 2021"; OUS in "H2 2021"
Zealand
HypoPal rescue pen (with dasiglucagon) on track for 2021 US launch

Expand commercialization, marketing, and sales of V-Go patch pump

Beta Bionics' dual-hormone iLet using Zealand's dasiglucagon will begin in 1H21
Data, Digital Health, Connected Care
ALRT
Insulin Dose Adjustment (IDA) Feature (supports basal titration) - FDA cleared; cleared by Health Canada in November 2020, will launch in Canada in 2Q21
Cecelia Health
Jaeb Center virtual clinic study will include Cecelia Health providers and coaches, trial will potentially be completed during 2021; unlikely to read out during 2021, read-out expected "within 12 months after trial conclusion" and by December 2022

Continued expansion of telehealth support for diabetes clinics

Expansion of hypertension/heart health efforts?
DreaMed
Data from Clalit Health Services studies of DreaMed's Advisor 2.0 program might be read out - perhaps the first two feasibility trials ("first year and half" of project devoted to these two studies)

Jaeb Center virtual clinic study using the DreaMed Advisor platform, trial will potentially be completed during 2021; unlikely to read out during 2021, read-out expected "within 12 months after trial conclusion" and by December 2022
Dario Health
Several new contracts with employers completed in late 2020 (still undisclosed); Dario will become available to beneficiaries at the beginning of 2021

Prediabetes and obesity programming to be added throughout 2020 and 2021

Continue transition from D2C to B2B
Glooko
No updates/changes expected for Glooko's Mobile Insulin Dosing Software (MIDS) 

Glooko's "Academy" online medical education program on diabetes technology may launch outside the UK; no timeline disclosed
Glytec
eGlycemic Management System (eGMS) will continue to expand into hospitals 
Lark Health
Continue to expand relationships with payers and telehealth providers and work on B2B channel
Livongo (now under the name Teladoc after merger)
Further integration between Livongo and Teladoc - workforce, leadership, research and development, unified interface for clients, integrated data collection and analysis

Additional cross-sales between Teladoc and Livongo clients

Might see a new platform for Livongo/Teladoc with programs branded to the Teladoc name

Might see Livongo add medication or CGM prescription to its diabetes offerings using Teladoc providers

Might see Livongo and Teladoc integrate their overlapping offerings like behavioral/mental health services and hypertension
mySugr (Roche)
More fully-featured version of Roche's Remote Patient Monitoring solution to launch "at the beginning of 2021"

mySugr smartphone control of Accu-Chek Insight pump by the end of 1Q21 (as of October 2020)
Novo Nordisk
Insulin Dose Titration (partnership with Glooko and IBM Watson; no recent updates)
Omada
Continued expansion of type 2 program (with FreeStyle Libre integration)

Potentially up for another round of venture funding
Onduo
Might Onduo expand horizontally and add complementary programming like hypertension, weight loss, and behavioral health, as other digital health companies with diabetes programs have done?
One Drop
Execution of plan to expand into cardiology, oncology, and women's health through agreement with Bayer (per website, current offerings are still diabetes, prediabetes, hypertension, high cholesterol)

Might we hear updates on One Drop's acquisition of CGM startup Sano; where is that project at?
Sanofi
My Dose Coach; FDA cleared in 2017; no recent updates
Virta
Verily
Will "expand the commercial reach" of its health programs including Onduo using $700 million funding round in December 2020
Voluntis
Partnership with Biocon: further rollout of integration of Biocon's biosimilar insulin products with Voluntis's Insulia app for type 2s
Welldoc
FDA clearance for basal/pre-mixed insulin titration support tool for BlueStar program (filed in December 2020)

Rollout of behavioral health programming (announced in December 2020) 
Big Picture
Themes
1. COVID-19's Impact on Industry: Delayed Clinical Trials and Expanded Patient Assistance Programs
Throughout 2020, COVID-19 shutdowns around the world impacted many leaders in the diabetes industry delaying clinical trials and shifting focus toward vaccines and COVID-19 treatments. However, despite these challenges, we also saw many companies expand payment assistance programs to help ensure patients had access to the medicines and technologies they needed to continue managing their diabetes. Notable clinical trial delays began in March when the FDA and NIH published specific guidance for conducting clinical trials during the pandemic. To date, the most notably delays include Dexcom's G7 CGM pivotal which was delayed "approximately six months" from its original early 2020 timeline (the trial is now underway as of Dexcom's 2020 Investor Day), and Lilly's blanket delay of "most new clinical trial starts" announced in March which we expect impacted a number of ongoing diabetes and obesity trials, including the phase 3 SURPASS program in type 2 diabetes and the phase 3 EMPA-KIDNEY program in chronic kidney disease among others. Lilly, similarly to other industry leaders like Roche, Medtronic, Novo Nordisk, BD, and Abbott have all shifted significant resources to COVID-19 related projects including treatments, tests, and vaccine supplies, and we will be following their continued efforts into 2021.
To help alleviate the financial burden of diabetes care, especially during COVID-19, many industry leaders have created and/or expanded patient assistance programs. These programs range from free insulin or pump supplies to heavy discounts and co-pay caps. Unfortunately, many of the programs limit the length of time patients can benefit from their services, but we are still pleased to see reduced prices and increased access for the time being.
2. Black Lives Matter: Industry Responses and Efforts toward Racial Equity and Health Equity
Racism and racial inequity have been long-standing problems in the United States, and certainly Close Concerns has not done anything overt to address this during its last 18 years, we were very impressed and heartened to see the Black Lives Matter work begun several years ago work into a movement and indeed a machine in the last several months. During the COVID-19 pandemic, issues of racial justice have reached mainstream media due to the Black Lives Matter protests in response to the murders of George Floyd, Breonna Taylor, Rayshard Brooks, Ahmaud Arbery, Elijah McClain, and unfortunately, so many more. As the pharmaceutical and technology fields represent financial behemoths, investments from these companies can largely advance the movement. Earlier this year, we performed a deep dive on the attention the diabetes therapy and technology companies we routinely cover have placed toward BLM or promoting diversity and equity in their companies. We now bring you an overview of our findings, which shows a range of responses to BLM and efforts toward racial equity and health equity. Below is an overview of the responses and work of diabetes therapy and diabetes technology companies organized into two groups: (i) companies with strong responses to BLM and active commitments to combating racial inequity and racism; and (ii) companies with diversity and inclusion initiatives which did not respond to BLM directly nor have strong active commitments to fighting for racial justice. A third group, companies that neither released statements on diversity and inclusion in 2020 nor responded to BLM, disappointingly include therapy companies Adocia, Amarin Corp., Avadel, Ionis, MannKind, and Zealand and tech companies DarioHealth, Neurometrix, and Senseonics. We believe that corporations have a duty to the people they serve to respond to racial injustice and to take steps to combat such injustices. We hope to see these companies share action plans to combat racism both within and outside their company in the coming months.  
Before we get to companies' responses, here are some more thoughts on efforts we see as important. While we have not previously written at any length on racial justice, there are multiple initiatives that we consider to be important steps companies can take as part of their work in addition to spoken support for BLM. We will be in touch over time as we learn more about what best-in-class public companies, private companies, and other organizations are showing in terms of progress. Multiple components of successful programs may include the following:
Increased patient diversity in R&D programs

Supporting Black, Indigenous, and POC suppliers and manufacturers


Researching and taking tangible steps to reduce race- and ethnicity-based health disparities

Partnering with BIPOC communities to include their input in company operations and initiatives


Using companies' platforms to advocate for policies that: (i) expand access to medical care, insulin, and devices for BIPOC; (ii) address food insecurity, food deserts, and food swamps that disproportionately affect marginalized communities of color; and (iii) combat environmental and socioeconomic factors that drive racial disparities in diabetes

Researching and taking tangible steps toward reducing racial and ethnic inequities and discrimination within one's company

Engaging in ongoing, multipronged diversity and inclusion training for all company members, including those at the top

Improving representation of BIPOC – and specifically women of color – on company boards and leadership teams

Investing in BIPOC organizations that work to reduce health inequities, including those working on housing inequities and education inequities that contribute to health inequities
Diabetes Therapy
In diabetes therapy, 24 of 30 companies we investigated responded to BLM and/or made commitments increasing diversity during 2020. Responses ranged from press releases supporting BLM to company-wide initiatives to donate substantial funds to the movement and reorganize executive structures to hire more BIPOC leaders. AbbVie, Amgen, Bristol Myers Squibb, Gilead, J&J, Lilly, Merck, and Novartis have made huge internal commitments to promoting diversity and inclusion in their workforce, as well as external commitments by publicly supporting BLM and pledging various amounts of money to different organizations to further BLM's mission.  While these companies above took the most initiative to support the movement and redistribute wealth, other companies like AZ, Baxter, Bayer, Biogen, Daiichi Sankyo, Eisai, GlaxoSmithKline, Novo Nordisk, Perrigo