Reductions seen in hyperglycemia, non-inferiority in hypoglycemia; participants using Basal-IQ (99%) and MiniMed 640G at baseline for the Control-IQ and MiniMed 780G studies, respectively
DT&T recently published two real-world AID studies on Tandem's Control-IQ (n=9,451) and on Medtronic's MiniMed 780G (n=52) automated insulin delivery systems. The two studies show highly promising results (more on these below) and provide further evidence that AID systems perform well in real-world settings (and not just in clinical trials). While exciting how effective the systems were in real-world settings, it's of course worth noting that early adopters of these AID systems are not representative of some/possibly "most" people with type 1 diabetes. In both studies, participants had low baseline A1c values (average of 7.3% and 7.2% for the Control-IQ and MiniMed 780G studies, respectively) and had already been using sensor-augmented pump technology at baseline (Basal-IQ or MiniMed 640G), suggesting that participants were "already comfortable with the use of technology in their diabetes management." While there will be a range of opinions on how generalizable these results are, we think "closed loop" results have a narrower range than CGM "in the wild." Of course, we do strongly believe that those who are technology-naïve may not currently be going directly to the closed loop – but we do think they will in the future as access improves. Those with higher baseline A1c values are among those that we believe can be helped the most though again, they may not have exactly the same results as the average PWD did here. This is yet another reason we are so looking forward to ATTD 2021, where we'll see a larger dataset from Omnipod 5 results in type 2 diabetes.
 

Tandem Control-IQ

Medtronic MiniMed 780G

 

Baseline

12-months

Baseline

1-month

Time in Range

64%

74%

67%

80%

Time >180 mg/dl

23%

19%

29%

17%

Time >250 mg/dl

12%

6%

7%

3%

Time <70 mg/dl

1%

1%

3%

3%

Time <54 mg/dl

0.1%

0.15%

1%

1%

GMI/A1c

7.3%

6.9%

7%

6.5%
Control-IQ: "One Year Real-World Use of Control-IQ Advanced Hybrid Closed-Loop Technology"
UVA's Dr. Marc Breton and Dr. Boris Kovatchev analyzed the 12-month outcomes of 9,451 real-world Control-IQ users (83% type 1; mean age 42 years). At baseline, virtually all (99%) participants were on Tandem's Basal-IQ predictive low glucose suspend algorithm and had fairly strong glycemic control (average GMI 7.3%). At 12 months, Time in Range improved +2.4 hours/day from 64% to 74%. This is in line with the results from the Control-IQ pivotal (ages 14-71) published in NEJM in October 2019, which showed that Time in Range increased 2.4 hours/day from 61% to 71%. In the real-world investigation, the improvement in Time in Range was "noticeable" after two weeks and maintained for the full 12-month study duration, "showing consistency of glycemic control outside any clinical trial structure." These results were consistent across all age ranges; however, adolescents and children saw the greatest Time in Range improvement with a +3.1 hour/day improvement in Time in Range from 53% at baseline to 65% at month 12. Mean glucose decreased from 167.5 mg/dl to 154.5 mg/dl, and average GMI fell from 7.3% to 6.9% (p<0.001 for both).
Type 1s saw a slightly greater Time in Range improvement than did type 2s, improving +2.5 hours/day (63% to 74%) and +1.9 hours/day (67% to 75%), respectively. As we saw in the pivotal trial, most of the Time in Range improvement for type 1s was due to improvements in glycemic control at night. It is particularly notable that this study included type 2s (n=378) given that limited data has been published about the efficacy of AID systems in type 2s. Most recently, Insulet presented preliminary data from a type 2 feasibility study for Omnipod 5 at ENDO 2021 that showed similarly promising results, although for only four participants compared to this real-world investigation's 378 type 2 participants.

Participants saw non-inferiority in time in hypoglycemia and an improvement in time in hyperglycemia at month 12. Although time below range did not change with use of Control-IQ, the 12-month results were still strong: the median time below range at 12 months was 1% (14 minutes/day). Participants saw a slight – but not statistically significant or clinically relevant – increase in time in severe hypoglycemia (<54 mg/dl) from 0.1% to 0.15%. Time above 180 mg/dl improved significantly, decreasing -1.2 hours/day from 23% at baseline to 19% at month 12 (p<0.001). Similarly, time in severe hyperglycemia (>250 mg/dl) decreased -49 minutes/day from 12% at baseline to 6% at month 12, an improvement that was primarily seen among type 1 participants.

On average, participants spent 94% of time in closed loop, slightly higher than the average time in closed loop during the RCT pivotal trial (92%). Importantly, this 90+% time in closed loop was sustained throughout the entire 12-month study period for both type 1s and type 2s. At month 12, adolescents had a "slightly lower" time in closed loop (92.5%) than did the rest of participants when grouped by age. No adverse events (severe hypoglycemia or DKA) were recorded.

Tandem presented one-month real-world Control-IQ data (n=1,659) at ADA 2020, which highlighted similarly promising results for both type 1s and type 2s. Through the first 30 days of Control-IQ use, Time in Range increased by 2.4 hours/day from 68% to 78%, and users spent a remarkable 96% of time in closed loop.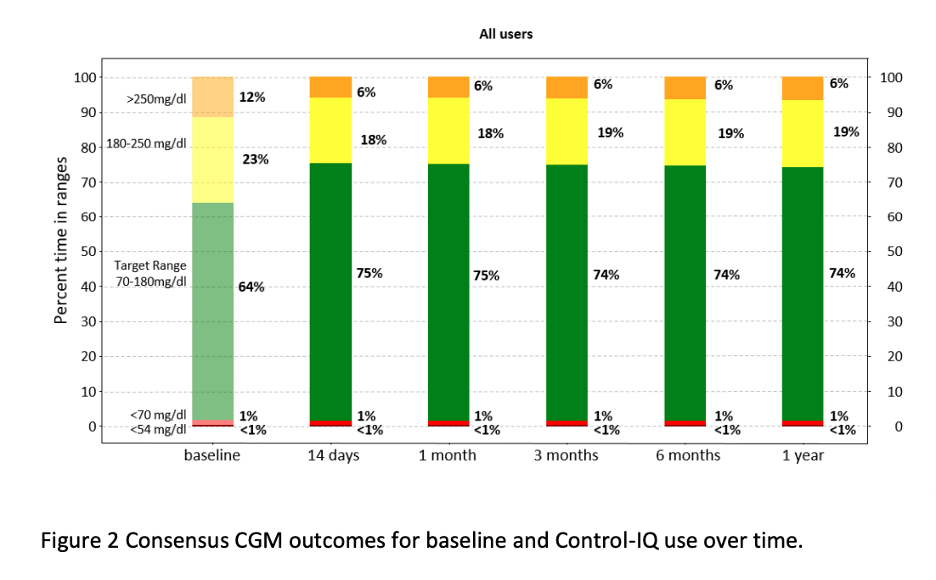 MiniMed 780G: "Rapid Improvement in Time in Range after the Implementation of an Advanced Hybrid Closed-Loop System in Adolescents and Adults with Type 1 Diabetes"
In a Spanish study of adults and adolescents using Medtronic's MiniMed 780G Advanced Hybrid Closed Loop System, Dr. Pilar Isabel Beato Víbora (University Hospital Complex Badajoz ) et al. analyzed real-world data from 52 patients with type 1 diabetes collecting data at 3 days, 2-weeks, and 1 month after initiating use of the MiniMed 780G system. All participants had formerly used Medtronic's MiniMed 640G PLGS system, had a mean baseline A1c of 7.2%, and a mean baseline TIR of 67%. During this prospective longitudinal intervention study, patients were upgraded to the Minimed 780G system and used a glucose set point of 100 mg/dl. Patients saw significant improvements in Time in Range at both 2 weeks and one month, gaining +3.6 hours/day at 2 weeks and +3.1 hours/day at one month (p=0.001) Time in Range. Additionally, the percentage of patients with GMI ≤7% increased from 62% (n=32) at baseline to 89% (n=46) at two weeks and 85% (n=44) at one month. While GMI is not a perfect stand-in for A1c, given that patients would be unlikely to see significant A1c reductions during a one-month study, it certainly provides useful information in support of the efficacy of the MiniMed 780G system. These data are again similar to data from the MiniMed 780G pivotal trial, read out at ADA 2020 by Dr. Bruce Bode, during which participants achieved 75% Time in Range after 3.5 months.
Time in Range increases were driven by significant reductions in time in hyperglycemia. At baseline, participants spent 29% time >180 mg/dl – this was reduced by 3.5 hours/day to 14.5% at 2 weeks and 2.9 hours/day to 17% at one month (p=0.001). Time in severe hyperglycemia (>250 mg/dl) was also reduced from 6.9% at baseline to 1.9% (-1.2 hours/day) at 2 weeks and 2.5% (-1 hour/day) at one month (p=0.001). These reductions in hyperglycemia drove almost all of the Time in Range improvements, as there was no difference in time in hypoglycemia and severe hypoglycemia over the course of the study.

Looking specifically at consensus guidelines for Time in Range, at baseline only 46% of participants (n=24) achieved 70% time between 70-180 mg/dl. At two weeks, this figure increased to 89% (n=46), but fell slightly to 85% by the end of one month. About one-third (31%) of participants met the combined Time in Range and time <70 mg/dl goals at baseline, compared to 50% at 2 weeks (p=0.031) and 60% at one month (p=0.003).

Participants saw significant reductions in 4-hour postprandial glucose levels from an average of 167 mg/dl at baseline to 142 mg/dl at 1 month (p=0.001). In line with these postprandial reductions, patients were taking slightly more insulin on average at one month than at baseline, with auto-correction boluses representing 31% of total bolus insulin and with an average of 29 auto-correction boluses delivered per day. The authors also found a significant negative correlation (p=0.001) between the percentage of auto-correction insulin and patients' Time in Range, indicating the more correction boluses that had to be delivered the lower patients' Time in Range. This isn't surprising as the MiniMed 780G delivers auto-correction boluses when users are in hyperglycemia.

Participants spent 97% of time in Auto Mode, which is comparable to Medtronic's pivotal trial for MiniMed 780G when patients spent 95% of time in closed loop. While this study was only one month long and may not be generalizable to a wider population of people with diabetes, the MiniMed 780G pivotal trial had a 3.5-month duration indicating a high level of technology utilization over a longer period of time.

Medtronic presented data on its MiniMed 780G Advanced Hybrid Closed Loop system at ADA 2020 with data read out from the MiniMed 780G pivotal study, the FLAIR trial in teens/young adults, and a New Zealand-based study (n=60), comparing MiniMed 780G to MiniMed 640G with PGLS. The results of the three studies were in-line with the results above and provide a strong foundation supporting the efficacy of the MiniMed 780G system. As a reminder, MiniMed 780G has launched in several countries internationally and is awaiting FDA approval in the US.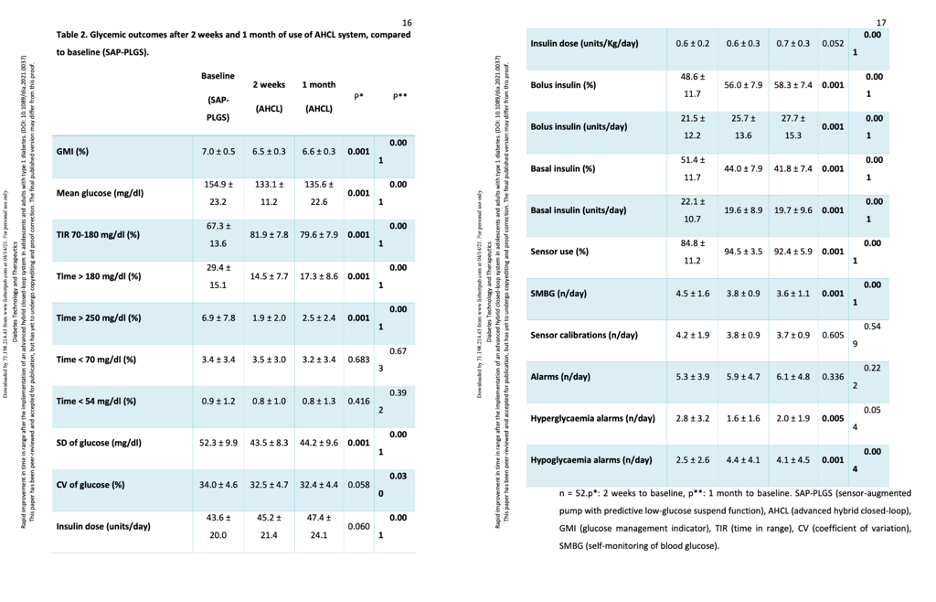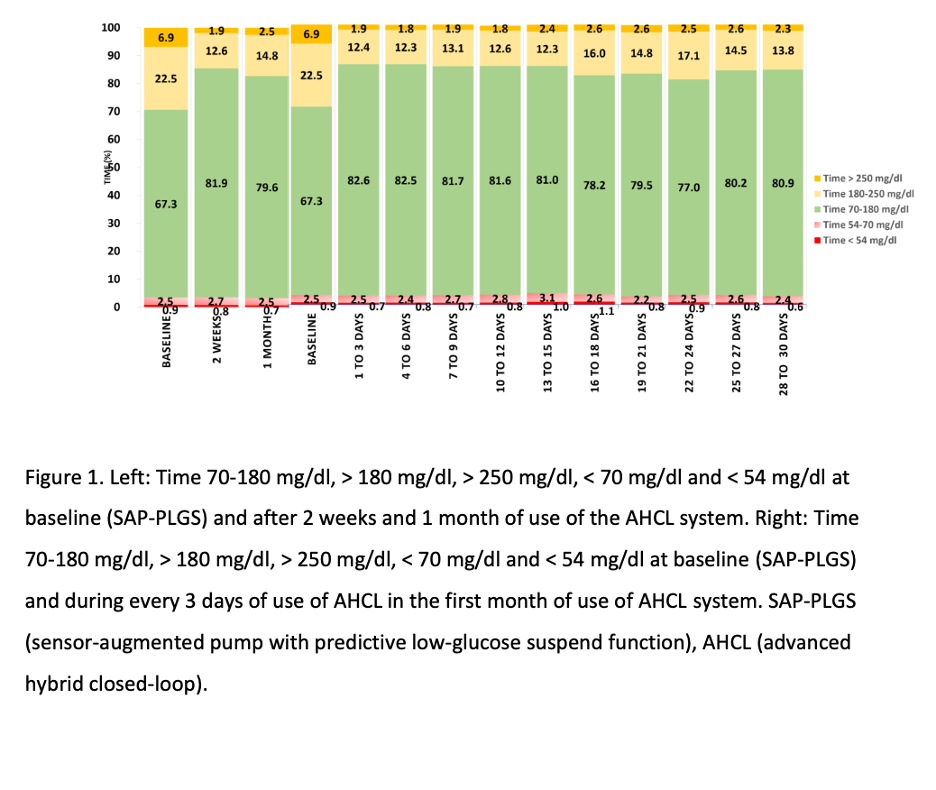 --by Hanna Gutow, Katie Mahoney, Albert Cai, and Kelly Close