Levels offers month-long program with CGM and insights to monitor metabolic health ($399); currently in closed beta with commercial launch slated for "early 2021"
This week, Levels, a biotech company that uses commercial CGM to offer insights into the impact of lifestyle and diet on metabolic health, announced a $12 million seed funding round. The seed round was led by Andreessen Horowitz, a big name VC firm in Silicon Valley whose past investments include Airbnb, Facebook, Instagram, Lyft, Pinterest, Slack, and Waymo. The firm's founders are Marc Andreessen (co-founder of Netscape) and Ben Horowitz. Interestingly, other participants in Levels' seed round include Marc Randolph (co-founder and first CEO of Netflix), Dick Costolo (former CEO of Twitter), Michael Arrington (founder of TechCrunch), and Matthew Dellavedova (NBA player for the Cleveland Cavaliers).
Founded in 2019, Levels describes itself as "the first bio-wearable system to provide real-time feedback on how your diet impacts your health." The company uses commercial CGM to "close the loop between overall health and daily choices around food, exercise, sleep, and stress management to support long-term metabolic health." Although not approved or meant for prediabetes and diabetes management, Levels is promoting its product for general health and wellness. Their mission is to "reverse the trend of metabolic dysfunction," which, given that only 10% of the US population is considered metabolically healthy (Araújo et al. 2019), is a huge percentage of the population.
Levels offers a month-long program, which comes with two 14-day CGMs and the Levels app. The app allows users to log diet and exercise through photo tagging, in addition to activity and sleep data through Apple Health and Google Fit. Using the data, Levels can provide a single "Metabolic Score" for each day, in addition to real-time insights on the impact of food, exercise, and lifestyle decisions on metabolic health. Based on screenshots, the app promotes learning and behavior change by segmenting meals by their impact on glucose, identifying meals that help keep glucose profiles flat and in-range vs. meals that cause post-prandial spikes. As the app is targeted for people without diabetes, the target glucose range appears to be 70-110 mg/dl (though this is presumably customizable), a much tighter range than the traditional 70-180 mg/dl target range for people with diabetes.

Via email, Levels told us the platform is device agnostic and can be integrated with FreeStyle Libre or Dexcom G6; however, the "primary Levels offering works with the Libre 14-day." Regardless of the CGM, Levels appears to provide a large over-patch to wear over the CGM, possibly because many of Levels' early adopters are very active. For now, Levels is using an "independent network" of telehealth providers to prescribe CGM to prospective customers, though this would not be necessary in the future if CGM becomes available over-the-counter. Ultimately we believe very experienced educators purely focused on CGM and data could be very effective in meeting people with pre-diabetes – we see this approach as "Nurx" meets pre-diabetes, which we'd love to see, given the telehealth start-ups' strength.

Currently, the program is in closed beta testing, with "approximately 1,000" people having completed the program already. Levels already has a "50,000+ person waitlist" and plans to launch the program commercially in "early 2021."

Although the program is currently priced at $399, Levels is well-aware that that pricing reductions would be very welcome and will be necessary for them to expand out of the top of the market. In their "secret Levels master plan" published in August and modeled after that of Tesla from 2006, Levels notes that while the current program is "marketed toward a premium audience, […] the people that are most at risk of metabolic dysfunction cannot afford a $399 program, so we need to get the price down as quickly as possible." The company plans to follow Tesla's roadmap: "We're in the Tesla Roadster phase of the business right now, building the high unit cost model that we can learn from and optimize to get the cost down over time." There is not an agreement with Abbott, meaning that the company is using the CGM 100% off-label.

Of course, the cost of CGM likely represents a major component of Levels' pricing. Given Levels is targeted for people without diabetes, insurance coverage for CGM is essentially nonexistent. For Dexcom G6, we estimate uninsured retail cost at ~$300-$350 per month. For Abbott's FreeStyle Libre, we estimate uninsured retail cost at a lower ~$100 per month. How Levels is sourcing the sensors is unknown and we believe is somewhat risky given that CGM isn't approved for people without diabetes.

With all the Silicon Valley backers, they should take on more clinical trials and produce the data needed for approval of CGM for pre-diabetes – while it is not necessarily known what data would be most compelling, we imagine that it exists.

In terms of competition, Supersapiens launched in September, offering an agreement with Abbott's Libre Sense Glucose Sport Biosensor sensor and an app with insights to athletes for over-the-counter purchase. Comparing the companies, Levels seems to be geared to a broader audience than Supersapiens, which is specifically for "sports use only." Supersapiens is currently focused on selling Libre Sense and its program in Europe (where Libre Sense is CE-Marked with an over-the-counter label), whereas Levels seems to be focused on the US first. Notably, Supersapiens and Levels are currently at very different price points. While both offer a month-long program with two CGMs and app-based insights, Supersapiens' program is priced at ~$153, less than half the price of Levels (~$399).
Screenshots of the Levels App and Program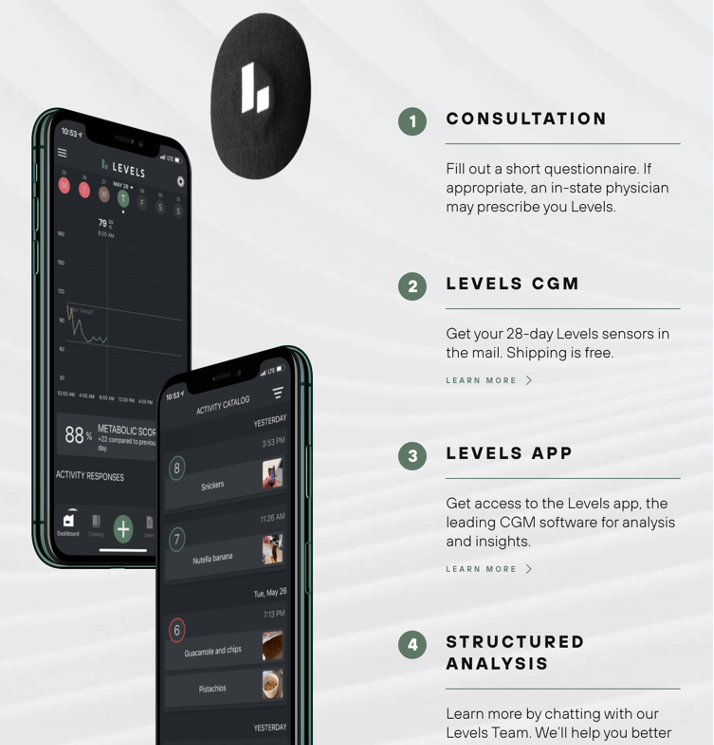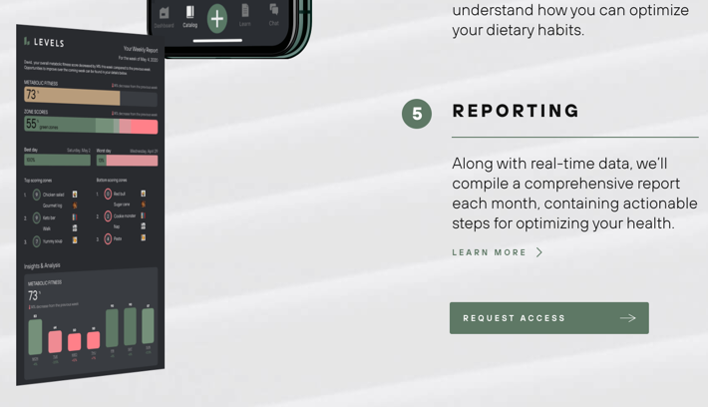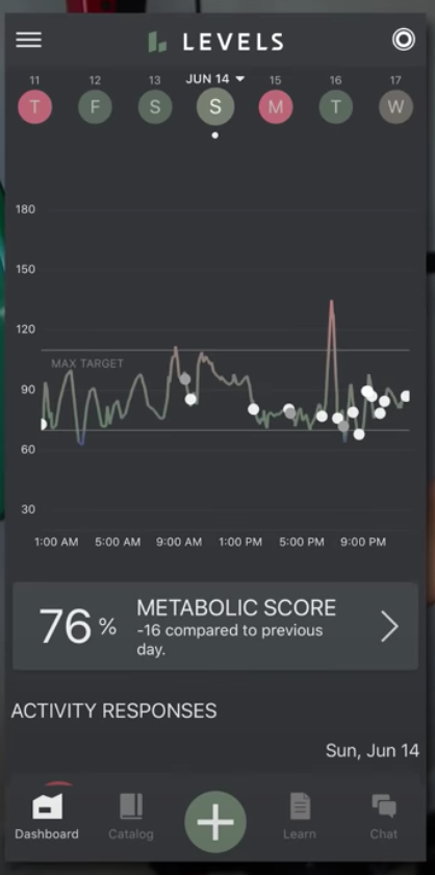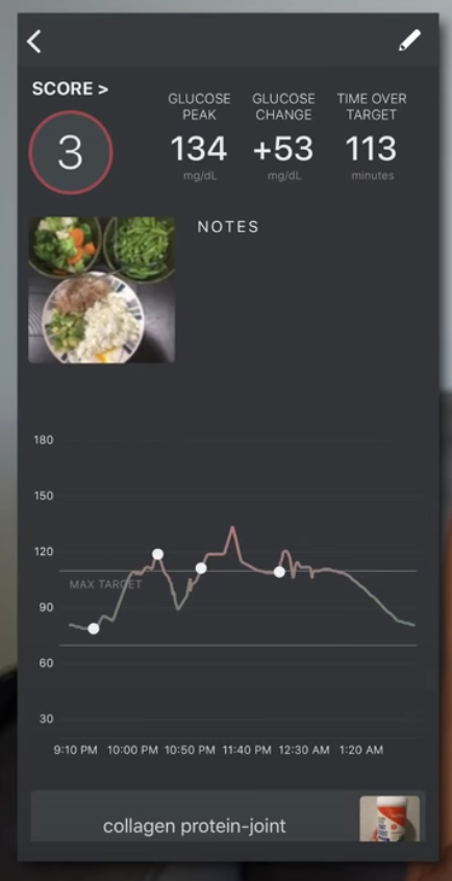 Close Concerns' Q&A With Levels
How exactly is Abbott's CGM data flowing into the Levels app? Will Dexcom data be three hours delayed?

A: Customers use the FDA approved software provided by Abbott (LibreLink) to pull and decode their data from the device, which Abbott makes available to them. The customer can opt in to sharing their data with the Levels app from within Librelink, enabling most of the functionality of our software. Customers control their own data and can opt-out at any time, and we handle their data in a compliant manner.
A: We're working closely with Dexcom to determine the best path forward in a way that provides an excellent customer experience and remains compliant. We're not able to give more detail on the Dexcom integration at this time.

How might Levels reduce its product's price to increase accessibility?

A: In short, the master plan is: (i) build premium software to quantify the effect of diet on metabolic health, (ii) use that money to expand awareness and scientific understanding of metabolic health; build a more affordable product, and (iii) use that money to build an even more affordable product.

What is the appetite for CGM in people without diabetes?

Huge! We have already amassed a 50,000+ waiting list and we've only just begun. Until now healthy individuals have been unable to close the loop between overall health and daily choices around food, exercise, sleep, and stress management to support long-term metabolic health. Levels is the first biowearable system to provide real-time feedback on how your diet impacts your health.

How much day-to-day variability is there in Levels' "Metabolic Score" for most people?

The Levels Metabolic Score can be highly variable day to day depending on the individual's choice of actions and other factors like quality of sleep and degree of metabolic fitness.

What kind of training and education is offered to support patients in getting the most learning out of their Levels program?

Levels uses machine learning to deliver targeted insights to add clarity to the user's journey. Focusing on areas of opportunity within the 4 pillars of metabolic control: nutrition, exercise, sleep, and stress management.

Additionally, we publish content through our blog and other digital platforms which is quickly becoming the most comprehensive source of information on how metabolic function and dysfunction affect our daily lives - across the metabolic spectrum. Our content team sources heavily from primary literature, making metabolic research actionable by placing it in context with our user's learnings during their CGM experience.

Is Levels collecting data to show its program's efficacy during its closed beta testing? If so, when might that data become public?

Levels has the world's largest non-diabetic CGM dataset paired with nutrition data. Findings from this dataset, along with our clinical research initiatives with Dominic D'Agostino PhD of USF, Benjamin Bikman PhD of BYU, and others, may be published as early as 2021. Levels' research endeavors will provide insight into program efficacy while simultaneously advancing the field's understanding of "normal" and optimal metabolic health.
--by Katie Mahoney, Albert Cai, and Kelly Close