Executive Highlights
The American Diabetes Association's 79th Scientific Sessions will take place June 7-11 at the Moscone Center in San Francisco, CA. The online program is now posted here, and the ADA 2019 app is available on Apple and Android. Keep an eye out for our in-depth category documents which break down all orals, posters, and key symposia by topic.

Diabetes therapy: ADA 2019 is CVOT central! The first-ever readouts of three cardiovascular outcomes trials will take place Sunday, Monday, and Tuesday, including (i) REWIND for Lilly's GLP-1 agonist Trulicity, (ii) CAROLINA for Lilly/BI's DPP-4 inhibitor Tradjenta vs. SU glimepiride, and (iii) PIONEER 6 for Novo Nordisk's oral GLP-1 agonist semaglutide – this could be a truly paradigm-shifting meeting. In no way is the meeting lacking data; ADA even added a section of "highly anticipated study announcements" to the conference website, which we haven't seen before. Tuesday will also feature new analyses from CARMELINA for Lilly/BI's Tradjenta and CREDENCE for J&J's SGLT-2 inhibitor Invokana. We'll see two key readouts in diabetes prevention, from the D2d study of vitamin D and the PREVIEW study of diet and exercise (2x2 factorial design). Other key data readouts – outside of yet-to-be-released orals and posters! – include the RISE Adult study of intensive glucose lowering with metformin/insulin/GLP-1s for beta cell recovery, and TrialNet's highly-anticipated phase 2 results for anti-CD3 agent teplizumab for type 1 diabetes prevention in those with ≥2 islet autoantibodies.

Other Diabetes Therapy sessions you won't want to miss?

Friday features a mini-symposium on translating CV and renal outcomes trials to other populations (type 1, youth type 2) and Dr. Daniel Drucker on "The Reproducibility Crisis" in diabetes research (sure to be a packed audience at the start of ADA!).

Saturday highlights include a symposium on ADA's recent Nutrition Therapy Consensus (optimal translation could be so powerful) and two debates over (i) the risk/benefit of SGLTs in type 1 (Drs. Bruce Perkins and David Nathan) and (ii) SGLT-2s vs. GLP-1s as second-line therapy (Drs. Silvio Inzucchi and Tina Vilsbøll). We hope in addition to risk/benefit, included in the discussion will also be facing the reality of type 1s taking SGLTs regardless of what is formally approved – these drugs will just continue to get easier and easier to get, in our view.

On Sunday, catch us at a morning symposium entitled "Making Insulin Affordable" (ENDO's Dr. Alvin Powers opens), the Banting Medal Award lecture (Cambridge's Professor Stephen O'Rahilly will be honored), and sessions dedicated to heart failure and language in diabetes.

Rounding things out, Monday features a glycemic target debate between Drs. Timothy Wilt (ACP) and David D'Alessio (ADA), former CDC leader Dr. Ed Gregg on recent trends in diabetes complications, and the "year in review" from Drs. Drucker (clinical developments) and Juleen Zierath (basic science).

Diabetes technology:

The most highly anticipated device data at ADA will come from the six-month pivotal trial of Tandem/Dexcom's Control-IQ/G6 hybrid closed loop – the Sunday symposium on automated insulin delivery (AID) will be a can't-miss, bringing the first pivotal trial since the MiniMed 670G's data at ADA three years ago! The same session will bring Control-IQ data from the Freelife Kid AP study in France. There aren't major oral presentations/outcomes studies in technology this year, though there are a handful of notable AID orals: Beta Bionics iLet device with Senseonics' Eversense CGM; Omnipod Horizon data in 2-6 year olds; use of the Bionic Pancreas in the hospital; and more closed loop data in type 2 diabetes (Fiasp vs. Novolog). We'll also see some DIY data from Europe and learn more about Capillary Biomedical's new infusion cannula. On Friday, FDA's Dr. Courtney Lias will discuss diabetes apps, hopefully offering updates on interoperability, iControllers, and Tidepool Loop.

In CGM, we'll see several exciting new data sets in symposia: results from the exciting WISDM study investigating real-time CGM in older adults ≥60 years with type 1 diabetes; data from the CITY study of CGM in young type 1s (14-25 years-old); and the SENCE trial examining the impact of a family behavioral intervention with CGM in <8 year-olds. Abbott has one corporate symposium and two product theaters at ADA – the most notable devoted to FreeStyle Libre 2 (under FDA review as an iCGM). Will Libre 2 be approved before ADA? Dexcom has a product theater on G6 and a corporate symposium, hopefully bringing pipeline updates on planned G6 enhancements for 2H19. In orals, we'll be closely listening to data on Sugar.IQ's hypoglycemia prediction feature and real-world FreeStyle Libre outcomes (following an impressive ATTD poster). Senseonics also has a product theater and a few data sets on its implantable Eversense CGM.

Kicking things off on the eve of ADA (Thursday, June 6) The diaTribe Foundation will host Musings Under the Moon: Easier, Better Cheaper: Where Are We In Diabetes? Buy tickets here for two stellar panels: "Supercharging Design and Delivery" and "The Future of Evidence Generation" – see below for details on the esteemed panelists.  

On Monday (June 10), TCOYD and diaTribe will host the 13th Annual Diabetes Forum from 6:00 to 8:30 pm at the W San Francisco. The panel will share candid thoughts on ADA 2019 from five highly respected key opinion leaders; register here! 
This conference preview includes a day-by-day breakdown of ADA 2019 based on the Online Itinerary. Our detailed category documents are coming soon, breaking down orals and posters by topic.
Online Itinerary | Apple App | Android App
Top Highlights
Diabetes Therapy
In an unprecedented occurence, ADA 2019 features the first-ever readouts of threecardiovascular outcomes trials: (i) REWINDfor Lilly's GLP-1 agonist Trulicity on Sunday, (ii) CAROLINAfor Lilly/BI's DPP-4 inhibitor Tradjenta vs. SU glimepiride on Monday, and (iii) PIONEER 6for Novo Nordisk's oral GLP-1 agonist semaglutide on Tuesday. Notably, Tuesday will also feature new analyses from CARMELINAfor Lilly/BI's Tradjenta and CREDENCEfor J&J's SGLT-2 inhibitor Invokana. In diabetes prevention, the D2d studyof vitamin D and the PREVIEWstudy of diet and exercise (2x2 factorial design) will both read out. Other key data includes the RISE Adult studyof intensive glucose lowering with metformin/insulin/GLP-1s for beta cell recovery, and TrialNet's highly-anticipated phase 2results for anti-CD3 agent teplizumab for type 1 diabetes prevention in those with ≥2 islet autoantibodies. 
Diabetes Technology
The most highly-anticipated device data at ADA will come from the six-month pivotal trial of Tandem/Dexcom's Control-IQ/G6 hybrid closed loop. The same session will bring Control-IQ data from the Freelife Kid AP study in France. On Friday, FDA's Dr. Courtney Lias will discuss diabetes apps, hopefully offering updates on interoperability, iControllers, and Tidepool Loop, and Saturday will include corporate symposia sponsored by Abbott and Dexcom. Also in CGM, we'll see new results from the exciting WISDMstudy investigating real-time CGM in older adults ≥60 years with type 1 diabetes; data from the CITYstudy of CGM in young type 1s (14-25 years-old); and the SENCEtrial examining the impact of a family behavioral intervention with CGM in <8 year-olds.  
Thursday, June 6
(7:00 PM – 12:00 AM) The diaTribe Foundation's annual Musings Under the Moon – Easier, Better, Cheaper: Where Are We in Diabetes? Buy tickets here! Now in its fourth year, The diaTribe Foundation has put together two stellar panels at the iconic SPiN SF that will inspire you before diving into ADA – how do we achieve better outcomes with more convenient products while costing the system less? Buy tickets here – they will go fast!

"Supercharging Design and Delivery" with:

Merck's Marketing Executive Director Mr. Conrod Kelly

BrightInsight's (a Flex Company) President Dr. Kal Patel

Dexcom's former SVP Dr. Claudia Graham

Bigfoot Biomedical's VP of Clinical and Medical Affairs Ms. Jennifer Block

Abbott's DVP of Product Development Dr. Marc Taub.

"The Future of Evidence Generation" with:

Lilly's Associate Medical Director Dr. Sherry Martin

AstraZeneca's VP of Global Medicines Development Dr. Elisabeth Björk

Novo Nordisk's Diabetes Chief Medical Officer Dr. Todd Hobbs

Sanofi's VP of Medical Affairs Chris Sorli

Insulet's Medical Director Dr. Trang Ly.
Friday, June 7
Saturday, June 8
(5:30 – 7:45 AM) Corporate Symposium: Real Time Continuous Glucose Monitoring: New Clinical Outcomes, Progress Toward Automated Insulin Delivery, and Trendsetting with Interoperability (Supported by Dexcom). While speakers have yet to be announced, topics include progress towards AID and fully closed loop systems, as well as interoperability in diabetes technology. We wonder if speakers will share updates or trial observations on Tandem's Control-IQ, slated for a launch in 4Q19 and with pivotal trial data to come on Sunday of ADA. Hopefully we'll hear more about Dexcom's decision support efforts to help MDI users with insulin dosing, perhaps including more data from the ongoing study testing Dexcom CGM with Novo Nordisk smart pens and TypeZero decision support. This session will also include outcomes from the 52-week COMISAIR study (CGM in MDI users), which was published in 2016; we'd guess this part will be review.

(8:00 – 10:00 AM) Symposium: The Big Picture on the Diabetic Foot. Dr. Frances Game (Derby Teaching Hospitals NHS) will start this session providing a macro level overview of the global burden of diabetic foot complications. Dr. Edward Jude (Tameside Hospital, UK) will then deliver a talk on diabetic foot guidelines, followed by Dr. Lawrence Harkless (Western University) on the "three-minute diabetic foot exam – high yield findings that stratify risk" and Dr. Hilde Smith-Strøm (University of Applied Science, Norway) on the role that telemedicine can play in mitigating risk. Of course, foot care has received increased attention in recent years due to concern over amputation risk with SGLT-2 inhibitors: The CANVAS study for J&J's Invokana (canagliflozin) showed a significant increase in below-the-knee amputation risk for patients taking canagliflozin. Many thought leaders, however, have emphasized that better education about foot care and more vigilant and preventative care could both help to mitigate this risk and improve amputation rates for all people with diabetes.

(8:00 – 10:00 AM) Symposia: ADA Nutrition Therapy for Adults with Diabetes – 2019 Consensus Paper. This symposium will feature a slew of nutrition experts – including Drs. Timothy Garvey (U of Alabama), William Yancy Jr. (Duke), and Christopher Gardner (Stanford) – on the newly released ADA Nutrition Therapy Consensus Report. See our coverage of the Report here. We were pleased to see a positive shift toward low-carb eating patterns in this new report (the first update since the 2014 edition), and are looking forward to additional commentary.

(8:00 – 10:00 AM) Symposia: ADA Diabetes Care Symposium – Highlights of Diabetes Care – Three Hot Topics. This symposium will highlight three individual topics of discussion in the current diabetes landscape: Dr. Struan Grant (UPenn) will speak on "TCF7L2—A Genetic Window Into the Course and Management of Type 1 and Type 2 Diabetes," Professor Philip Home (Newcastle) will highlight "Controversies for Glucose Control Targets in Type 2 Diabetes," and Dr. Juliana Chan (U of Illinois) will present a talk entitled, "From Hong Kong Diabetes Register to RAMP-DM for Data Driven Actions." We're especially excited for Prof. Home's talk, which we assume will tackle the much-debated topic of A1c targets in various guidelines. We've heard ample talk on guideline differences recently (see coverage from AACE 2019 and ENDO 2019) and hope to see novel points added to the discourse.

(8:00 – 10:00 AM) Oral Presentations: Incretins Marching On. We promise you this session is worth the early start! Florida Hospital's Dr. Richard Pratley will kick things off with a subanalysis of the phase 2 BALANCE 205 study for Sanofi's once-weekly GLP-1 agonist efpeglenatide in people with prediabetes or obesity – how well will the metabolic benefits of GLP-1 agonism transfer to this lower-risk population? Reminder: A five-study phase 3 program for the candidate, which Sanofi hopes will be best-in-class, was initiated in type 2 diabetes in 4Q17. Next, we'll hear highly-anticipated full results from Novo Nordisk's PIONEER 2 (oral semaglutide vs. SGLT-2 empagliflozin; topline results) and PIONEER 4 (oral sema vs. DPP-4 sitagliptin; topline results) trials, from University of Barcelona's Dr. Eduard Montanya and Dr. Pratley, respectively. Results for Novo Nordisk's first-gen GLP-1 Victoza (liraglutide) in type 1 diabetes, from the phase 2/3 NewLira trial, will also be presented by Steno's Dr. Thomas Dejgaard. As a reminder, liraglutide was discontinued for type 1 based on modest topline results from the ADJUNCT ONE and ADJUNCT TWO trials (after NewLira had already begun) – the outcomes didn't reflect CGM and we believe "time in range" would've been more positive – we have high hopes that once oral sema is approved, this will go back into research, and without the assumption that the type 2 doses are automatically the right ones for type 1 diabetes.

(8:00 – 10:00 AM) Oral Presentations: Synergy of the Pancreas, Liver, and Gut in the Control of Glucose Homeostasis. This session concludes with an important cut of the two-year data from the DiRECT (diabetes remission) trial given by Newcastle's Dr. Roy Taylor. According to the talk's title, two-year remission of type 2 diabetes with the DiRECT intervention was associated with full recovery of functional beta-cell mass – wow! To our understanding, these data will be based on a subset of DiRECT participants who underwent MRI scans. As presented at Diabetes UK 2019, 36% of patients in the intervention arm achieved remission at two years vs. 3% in the placebo arm.

(10:15 – 11:15 AM) Award Lecture: President, Health Care & Education Address. Ms. Gretchen Youssef will deliver this much-anticipated address on health care and education. We last heard from Ms. Youssef at ADA Postgrad 2019, where she spoke on a powerhouse panel discussing therapeutic inertia; the very inspiring Ms. Youssef was also an active participant at ADA's 2018 Summit on Therapeutic Inertia, where she extolled incentive restructuring to promote the use of telehealth and remote visits.

(10:15 – 11:00 AM) Product Theater: Improved Outcomes through Increased Patient Engagement with FreeStyle Libre 14 Day System (Sponsored by Abbott). Dr. Daniel Einhorn (Scripps Whittier Diabetes Institute, La Jolla, CA) will detail Abbott's 14-day FreeStyle Libre system and its ability to drive patient engagement. Will we see new real-world data following the impressive near-500,000 user data set at ATTD? This is the first ADA for FreeStyle Libre 14-day (real-time), as it was approved in the US last July and launched thereafter. At AACE, Dr. Einhorn extolled the benefits of FreeStyle Libre Pro in type 2, and we wonder if this product theater will touch on professional CGM.

(10:15 – 11:00 AM) Product Theater: The Journey of the First Long-Term Implantable Sensor Eversense: Our Past, Present, and Future (Sponsored by Senseonics). Senseonics' newly appointed CMO Dr. Fran Kaufman will speak in her first public appearance on behalf of the company. We can't wait to hear how this legendary figure positions the 90-day Eversense and hope that she provides updates on Senseonics' several exciting pipeline efforts. As of 1Q19's call, Senseonics aims to receive a non-adjunctive insulin dosing claim this summer and is "on track" to complete enrollment for its 180-day study of Eversense XL in 3Q19. Data from "over 3,000" real-world EU Eversense users are also slated for an ADA readout – we haven't spotted an oral presentation, so it's possible the findings will be presented here. Dr. Kaufman is working on pediatric and gestational diabetes indications for Eversense, and we'll be eager for any news on these fronts. The product theater will also feature Texas Diabetes and Endocrinology's Dr. Thomas Blevins, as well as two patient speakers.

(10:45 – 11:15 AM) Outstanding Educator in Diabetes Award Lecture – The Most Important Thing We Give to People Is Hope – Overcoming Stigma in Diabetes and Obesity. In what promises to be one of the most inspirational lectures at ADA, the venerable diabetes educator Ms. Virginia Valentine will deservedly receive the Outstanding Educator in Diabetes Award. She never fails to deliver stirring messages, a few of which can be found in this diaTribe article from 2012. One of our favorites: "Look in the mirror and tell yourself this: Diabetes is NOT your fault. You didn't do anything wrong and it is not a character flaw. But it is your responsibility and you need to get the best team you can find to help you with expert advice and support."

(1:45 – 2:40 PM) Current Issues: Challenging the Importance of Hypoglycemia in Type 2 Diabetes – Serious or Just Hype? We can't wait for this debate, which will pit Edinburgh's Prof. Brian Frier (arguing that hypoglycemia is a real and serious problem in type 2 diabetes) against WashU's Dr. Philip Cryer (arguing that hypoglycemia in type 2 is "mostly hype"). We're definitely curious to see how Dr. Cryer crafts his argument, especially considering the emphasis in today's diabetes management on minimizing hypoglycemia (while hypoglycemia incidence in the overall type 2 population in lower than in type 1 on a percentage basis, due to the large number of type 2 patients overall, it's still more people with type 2 than type 2). How might Dr. Cryer view the use of CGM in type 2s, especially those on insulin?

(1:45 – 3:45 PM) Oral Presentations: What's New in Type 1 Diabetes Epidemiology? University of Exeter's Dr. Richard Oram will discuss his genetic risk score for type 1 diabetes in a talk we predict will be very similar to that given at the JDRF/Helmsley Big Data in T1D Workshop in August 2018 – at which point the model was useful for research, but not yet ready for population screening. Benaroya Research Institute's Dr. Michelle So and Indiana University's Dr. Heba Ismail will each present on biomarkers of type 1 diabetes progression, prepping insights for the next day's session from TrialNet.

(1:45 – 2:45 PM) Oral Presentations: Automated Insulin Delivery Systems. Dr. Rabab Jafri (Massachusetts General Hospital, Boston, MA) will present important results from Beta Bionics' first in-human feasibility trial of the insulin-only iLet device (dual-chamber pump) with Senseonics' 90-day Eversense CGM. The trial monitored 18 participants in three separate seven-day algorithm control sessions. Last we heard, the iLet insulin-only pivotal trial was slated to begin in 2H19, though timing has been pushed back several times. The session also includes results from a study investigating the use of the bionic pancreas in the critical care hospital setting – excellent news and we expect strong results that parallel the Cambridge team's work. We'll also see data from Bern University Hospital's Dr. Lia Bally on a double-blind, randomized crossover trial comparing Fiasp and NovoLog in the Cambridge group's fully automated closed loop system in patients with type 2 diabetes. We saw very positive data from the system in inpatient type 2 diabetes last ADA. Separately, Bern University Hospital's Dr. Andreas Melmer will shared AID data in type 1 diabetes in those on an open source artificial pancreas system. It's been an exciting year for the DIY movement, with Tidepool committed to commercializing Loop, the ongoing Jaeb observational study to support FDA submission, and the recent update to use Insulet's Omnipod with DIY Loop. Rounding out the session is TJU's Dr. Jeffrey Joseph on Capillary Biomedical's latest infusion cannula promising extended duration of use, more reliable insulin delivery, and reduced inflammatory tissue response. We'll also hear Joslin's Dr. Elena Toschi on the potential for insulin delivery method to impact the risk of hypoglycemia in older patients.

(1:45 – 3:45 PM) Symposium: Cardiovascular and Renal Protection in Diabetes – Emphasis on SGLT-2 Inhibitors and GLP-1 Receptor Agonists. Following results from the CREDENCE trial showing canagliflozin's impressive renal risk reducing effects, we're excited to see a symposium focusing on reducing cardiovascular and renal events with SGLT-2s and GLP-1s. Enthusiasm is growing in this area, as many manufacturers have entered the fray with renal outcomes trials: Lilly/BI are investigating Jardiance (empagliflozin) in the EMPA-KIDNEY renal outcomes trial (n=5,000, with or without type 2, and including type 1) and AZ is investigating Farxiga (dapagliflozin) in the Dapa-CKD trial (n=4,000, with or without type 2). Expected completion dates are June 2022 and November 2020, respectively. Additionally, Novo Nordisk will conduct the FLOW renal and CV outcomes trial of Ozempic (semaglutide) in type 2 and CKD (n=3,120 to complete August 2024).

(1:45 – 3:45 PM) Symposium: Making a Difference in Five Minutes – Interventions in Diabetes for Anyone. BDI's Dr. Bill Polonsky will speak on overcoming psychological insulin resistance, followed UT Southwestern's Dr. Olga Gupta on improving adherence with innovative and simple interventions. Dr. Susan Guzman (BDI) will close the session with discussion of how to manage diabetes burnout. This session will also feature The Richard Rubin Award Lecture, given by Dr. Frank Snoek (VU University Medical Center Amsterdam) this year. We miss Dr. Rubin every year, but his spirit is omnipresent.

(1:45 – 3:45 PM) Symposium: Longitudinal Outcomes in Youth with Type 2 Diabetes – The TODAY2 Study. The original TODAY trial evaluated metformin monotherapy vs. metformin + rosiglitazone vs. metformin + lifestyle intervention for providing sustained glycemic control. Importantly and as outlined by ADA, the TODAY trial highlighted that type 2 diabetes in youth is a more aggressive disorder than in adults; higher medication failure rates, more rapid beta-cell decompensation, and accelerated appearance of comorbidities were seen in this population. TODAY2 is follow-up to TODAY, with the primary goal of tracking type 2 progression and related comorbidities and complications in TODAY participants as the transition to young adulthood. Results will include data on cardiovascular outcomes, renal complications, retinopathy, neuropathy, pregnancy, healthcare utilization, and more.

(1:45 – 3:45 PM) Symposium: Precision Medicine in Diabetes Mellitus. We're glad to see this sustained interest from ADA in precision medicine. ADA recently established its "Precision Medicine in Diabetes Taskforce" in collaboration with EASD and NIDDK, with the goal of formulating a consensus statement on precision diabetes medicine as well as initiating complementary activities. In this session, Dr. Paul Franks (Harvard T.H. Chan) will give an overview of this initiative, and Dr. Ewan Pearson (University of Dundee) will review the current state of precision medicine in diabetes care. Dr. Mark Ibberson (Swiss Institute of Bioinformatics) will close the session discussing the integration of "-omics" data into precision medicine for diabetes.

(1:45 – 3:45 PM) Symposium: Nonalcoholic Steatohepatitis (NASH) – The Overlooked Complication of Type 2 Diabetes. With the NASH competitive landscape heating up, we're eager and excited to see a small but dedicated focus on NASH at ADA 2019. Dr. Zobair Younossi (Inova) will speak on imaging and biomarkers: better diagnostic tools remain a large need in the NASH field, as diagnosis currently requires an invasive liver biopsy, leading to very low rates of diagnosis and leading to a small pool of clinical trial participants (and, eventually, few patients who may be eligible for NASH therapies). To this end, we've heard in the past that the race toward developing innovative diagnostic technologies for NASH perhaps rivals the drug development side itself. Dr. Kenneth Cusi (UF Diabetes Institute) will also be featured in this session – we last heard from Dr. Cusi at ADA Postgrad 2019, where he took a bullish stance on pioglitazone treatment for NASH.

(2:45 – 3:45 PM) Current Issues: SGLT-Inhibitor Adjunctive Therapy in Type 1 Diabetes Mellitus – Is It Worth It? This debate will pit Sinai's Dr. Bruce Perkins (arguing that benefits of adjunct SGLTs outweigh risks) against Harvard's Dr. David Nathan (arguing that the risks outweigh the limited benefits). We've heard so much about this topic over the past year, and we're eager to see new additions to the discourse, especially in light of recent regulatory decisions (a CRL from FDA and two approvals from EMA) on adjunct SGLTs in type 1. We suspect that this conversation will continue to rage on, especially with so many hotly-debated questions related to the subject: What is the optimal patient population to use these agents in? How can ketones best be monitored to mitigate DKA risk? How do benefits seen in type 2 populations with SGLTs translate to type 1s, and how might this shift the risk/benefit profile of these agents in type 1 patients?

(3:00 – 3:45 PM) Product Theater: Innovations in Dexcom CGM Technology for the Patient and the Professional (Sponsored by Dexcom). This product theater features Dexcom's CTO Mr. Jake Leach, Henry Ford Health System's Ms. Davida Kruger, and Dexcom's Ms. Keri Leone. At ADA last year, Ms. Leone and Mr. Leach teamed up in a product theater introducing the Dexcom G6. We're hopeful that this year they will provide further details on Dexcom's 2H19 pipeline and more on G7 (the latter slated for launch in late 2020-early 2021. We'll also be listening for updates on the lower-cost G6 transmitter, expected to begin manufacturing in 3Q19 and commercialization in 4Q19. New G6 features are anticipated in the fall – many are eager for direct-to-Apple-Watch and we have to imagine that is close to ready. In the past, Ms. Kruger has shared actionable advice on implementing CGM in the clinic and will hopefully provide similar commentary as she did last ADA. She is a strong advocate for professional CGM – at JPM, Dexcom confirmed plans for a G6 Professional CGM launch in 2019, but no details have been shared since.  

(4:00 – 4:55 PM) What Are the Contributions of the Evolving Real-World Evidence? Drs. Mikhail Kosiborod (Saint Luke's Hospital) and Hertzel Gerstein (McMaster University) will debate the merits of real-world evidence, with Dr. Kosiborod asserting RWE are "very valuable," and Dr. Gerstein arguing RWE are "very questionable." At the ADA Symposium on use of such data in diabetes, we heard several compelling benefits of RWE, but also concerns on utility, signal vs. noise, and standardization. For regulatory decisions on the drug side, many believe RCTs will remain the gold standard; however, on the device side, more data is being shifted to the post-market setting. An ADA consensus statement on the use of RWD in diabetes is slated for publication in June-July 2019.

(4:00 – 6:00 PM) Oral Presentations: Interventions on Prediabetes/Nonalcoholic Fatty Liver Disease/Nonalcoholic Steatohepatitis. We can't wait for this one. A suite of results for novel therapies in NAFLD/NASH will be presented, including AZ's SGLT-2 dapagliflozin (by Dokkyo Medical University's Dr. Yoshimasa Aso), Lilly/BI's SGLT-2 empagliflozin (by German Diabetes Center's Dr. Sabine Kahl), Lilly's GLP-1/glucagon dual agonist tirzepatide (by Lilly's Dr. Mark Hartman), an unnamed, novel TZD (by University of Florida's Dr. Kenneth Cusi), and Allergan's cenicriviroc. Each of these classes of therapies has previously been touted for its potential in NASH: a phase 1 study of SGLT-2 inhibitor canagliflozin found reductions in hepatic fat content over 25 weeks, tirzepatide conferred an astonishing 25 lbs of weight loss in phase 2, TZD pioglitazone has demonstrated improvement in steatosis without worsening of fibrosis and is commonly used off-label for NASH, and cenicriviroc is one of the first few therapies to reach phase 3 for NASH. Also included are full results from the PRE-D trial investigating dapagliflozin, metformin, and physical activity in pre-diabetes, presented by Dr. Aso.

(4:00 – 6:00 PM) Symposia: PREVIEW Study Results – Prevention of Diabetes through Lifestyle Intervention and Population Studies Around the World. We're highly anticipating this readout from the PREVIEW study, which is to-date the largest multinational trial to address the prevention of type 2 diabetes in adults with prediabetes through diet and exercise interventions. The study was a three-year multi-center, 2 × 2 factorial, randomized controlled trial, looking at the impact of a high-protein, low-glycemic index (GI) vs. moderate protein, moderate-GI diets in combination with moderate-intensity vs. high-intensity physical activity on the incidence of type 2 diabetes and other endpoints.

(4:00 – 6:00 PM) Indication for Pancreas Transplantation in the Era of Glucose Sensor and Insulin Pump. Drs. Silke Niederhaus (University of Maryland) and Jessica Castle (Oregon Health & Science University) will debate whether there remains a need for pancreas transplantation given developing automated insulin delivery technology. Dr. Niederhaus will take a pro-transplantation stance, while Dr. Castle will take a pro-AID perspective. We believe AID is going to get good enough that the downsides of it (e.g., wearing devices) will be much smaller than the downsides of transplantation (e.g., surgery, immunosuppression, not enough organs). Near-term, pancreas transplantation seems like a niche option for those who cannot tolerate subcutaneous insulin delivery. Longer-term, pancreas transplantation could be more disruptive, assuming it can become scalable (e.g., work to custom 3-D "print" organs).

(4:00 – 6:00 PM) Symposium: Joint ADA/EASD Symposium – From Genome-Wide Association Studies (GWAS) to Functional Impact in the Beta Cell. This basic science symposium will feature four different talks, highlighting insights from genetic studies. Dr. Anna Gloyn (Oxford) will speak on GWAS data elucidating beta cell function and Dr. Guy Rutter (ICL) will talk about the link between three specific genes (STARD10, C2CD4B, and ZnT8) and beta cell function. Dr. Michael Stitzel (The Jackson Laboratory) will follow with a talk on genomic signatures in human beta cells, and Dr. Norann Zaghoul (University of Maryland) will close the session with "Lessons from Zebrafish—Insights from Models of Rare and Common Diabetes."

(5:00 – 6:00 PM) Current Issues: Choosing Evidence-Based Therapy for Type 2 Diabetes Mellitus with Cardiovascular Disease. This session will feature a debate on using SGLT-2 inhibitors and GLP-1 agonists as second-line medications (after metformin) in type 2 with established CVD. Yale's Dr. Silvio Inzucchi will argue for using SGLT-2s in this situation, and Steno's Dr. Tina Vilsbøll will counter by arguing for GLP-1 usage. This is going to be an awesome conversation – they are both brilliant. Updated ADA/EASD Consensus Guidelines notably advocate for use of either agent, depending on patient-specific pathophysiology, in those with established CVD. The guidelines stipulate that if atherosclerotic CVD predominates, then either a GLP-1 or SGLT-2 can be used; however, SGLT-2s are preferred for those where heart failure or CKD predominates. That makes a lot of sense. We're curious to see where discussion of renal outcomes further comes into play here, especially in light of crazily positive results from the landmark CREDENCE trial.

(6:15 – 8:45 PM) Corporate Symposium: Translating Evidence- and Technology-Based Innovations in Continuous Glucose Monitoring to the Front Lines of Diabetes Practice (Supported by Abbott). This session promises to provide actionable advice on leveraging CGM to improve insulin dosing, to minimize hypoglycemia and maximize time-in-range, and to optimize treatment interventions and drug titration/selection. Speakers have yet to be listed. Will we hear more about Abbott's decision support efforts in diabetes? It is partnered with Bigfoot on this front (launch of Unity is expected in 2020, offering decision support for smart pens); does Abbott have other efforts? Was does its CGM analytics pipeline look like?

(6:15 – 8:45 PM) Corporate Symposium: Clinical Issues—Multidimensional Issues in Type 2 Diabetes—Debates and Discussions Around Cardiovascular and Renal Outcomes (Supported by AstraZeneca). This AZ symposium will focus on SGLT-2 inhibitor Farxiga (dapagliflozin), and its benefits on CV disease, chronic kidney disease, and heart failure. We expect discussion to center around the DECLARE CVOT, which demonstrated a significant improvement in its heart failure/CV death composite endpoint, as well as its renal composite endpoint.

(6:15 – 8:45 PM) Corporate Symposium: Patient-Centered Approaches to Long-Term Success in Weight Loss—"The Time Has Come," the Walrus Said, "to Talk of Many Things" (Sponsored by The Endocrine Society and Novo Nordisk). Through role-playing scenarios, clinicians will deliver strategies to manage obesity and its comorbidities, start medication, and promote weight loss maintenance. Novo Nordisk's GLP-1 Saxenda (obesity-grade liraglutide) will likely play a central role. Notably, the company is one of very few actively promoting recognition of obesity as a chronic disease in the face of major reimbursement and access headwinds.
Sunday, June 9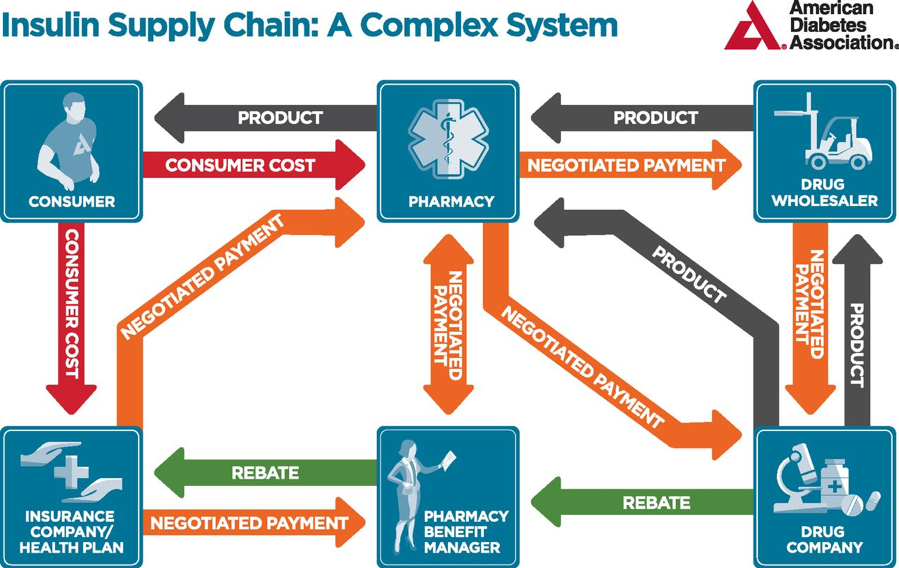 (8:00 – 10:00 AM) Symposium: TrialNet – New Therapeutic Approaches and Insights for Type 1 Diabetes. This session promises a deep dive into TrialNet's extensive type 1 diabetes prevention and cure programs, beginning with Dr. Susanne Cabrera on innate inflammation as a biomarker for disease progression and therapeutic responsiveness. For those interested, Dr. Des Schatz gave a comprehensive update on emerging biomarkers at ATTD 2019. Then, Drs. Peter Gottlieb and Liping Lu will review the data on oral insulin – most significant is the Oral Insulin trial, which found no overall effect with oral insulin on type 1 prevention in autoantibody-positive relatives of people with type 1. However, there was a benefit in the secondary stratum of participants with mIAA and ICA or both GAD65 and ICA512 antibodies, in which type 1 onset was delayed by an average of 31 months; GPPAD's POInT study will further investigate oral insulin. Two-year data on low-dose antithymocyte globulin and granulocyte colony stimulating factor (ATC/GCSF, i.e., "Brazil lite") will then be reviewed by Dr. Michael Haller – these results were initial presented at Levine-Riggs 2019 – and Dr. Kevan Herold will round out prepared presentations with highly-anticipated phase 2 results for anti-CD3 agent teplizumab in those with ≥2 islet autoantibodies.

(8:00 – 10:00 AM) Oral Presentations: Innovations in Insulin Therapy. Drs. Leslie Klaff (Rainier Clinical Research Center) and Thomas Blevins (Texas Diabetes and Endocrinology) will begin this session with results from the PRONTO-T1D and PRONTO-T2D studies for Lilly's ultra-rapid insulin lispro (URLi) vs. originator Humalog. Based on these results, URLi has been filed for approval in both the EU and Japan, and US submission is slated for 2019. We'll be looking for whether URLi achieved superiority on A1c lowering vs. Humalog, which was not addressed in Lilly's topline release. Then, Dr. Martin Haluzik (Institute for Clinical and Experimental Medicine) will present a subanalysis of the BRIGHT study stratifying next-gen basal insulins Toujeo and Tresiba by renal function. Full results from the DUAL VIII (Novo Nordisk's fixed-ratio GLP-1/basal combination Xultophy vs. Sanofi's basal insulin Lantus) and LixiLan-G (Sanofi's fixed-ratio combination Soliqua vs. five different GLP-1s, metformin, pioglitazone, and an SGLT-2 inhibitor) will follow. Talks wrap up with full phase 1 results for Adocia's BioChaperone Pramlintide Insulin co-formulation and a comparison of MannKind's Afrezza to another rapid-acting analog.

(10:15 – 11:45 AM) President, Medicine & Science Address. UChicago's Kovler Diabetes Center Director Dr. Louis Philipson will give his first address as a Principal Officer of ADA's National Board of Directors. He's a big deal. During his illustrious career, Dr. Philipson has been part of the team that discovered insulin gene mutations causing neonatal diabetes, now known as the second most common cause of permanent neonatal diabetes. Notably, he was given the 2018 Order of Lincoln Award for public service in Illinois.

(10:15 – 11:45 AM) Banting Medal for Scientific Achievement. Cambridge's Professor Stephen O'Rahilly will be awarded the prestigious Banting Medal for his elucidation of previously unrecognized genetic causes of obesity and type 2 diabetes, including congenital leptin deficiency. He is the Director of the MRC Metabolic Diseases Unit and co-director of the Wellcome Trust-MRC Institute of Metabolic Science.

(10:15 – 11:00 AM) Product Theater: The Next Generation in CGM – FreeStyle Libre 2 System (Sponsored by Abbott). Abbott's Regional Medical Director of Europe and Middle East Dr. Alexander Seibold will discuss the FreeStyle Libre 2 – its first presentation on US soil! As of April, the Bluetooth and alarm-enabled FreeStyle Libre 2 was under FDA review as an iCGM – will we see approval in the coming weeks before ADA? It seems like it has been under review for a long time and we do not know why since it was approved in the EU quickly and doesn't seem complicated. While some may think the mere existence of this product theater may indicate approval is likely close, we doubt there is any way the company would know this. Will Libre 2's features be different in the US? We'll also be interested to hear how the EU launch of Libre 2 is progressing – last we heard at ATTD in February, the second-gen was still only available in Germany, to be followed by a gradual European rollout. We've heard very good things so far.

(12:00 – 1:00 PM) Professional Interest Group Discussion: Why is Heart Failure Still an Underappreciated Complication of Diabetes? UT Southwestern's Dr. Darren McGuire will expound on heart failure in diabetes – an all too often overlooked diabetes complication, and one which respected cardiologist Dr. Mikhail Kosiborod recently called "cardiometabolic syndrome to the max" (specifically referring to heart failure with preserved ejection fracture). As an author of the CARMELINA (DPP-4 inhibitor linagliptin), SAVOR-TIMI (DPP-4 inhibitor saxagliptin), TECOS (DPP-4 inhibitor sitagliptin), and DECLARE (SGLT-2 inhibitor dapagliflozin) CVOT papers as well as a pronounced advocate against heart failure risk as a class effect of DPP-4s, Dr. McGuire is a veritable expert on the intersection of diabetes and cardiovascular disease. We'll be eager for his opinion on newer, cardioprotective therapies in heart failure – particularly SGLT-2 inhibitors, which have demonstrated pronounced benefit in heart failure and will likely lead the push for greater awareness of heart failure in diabetes, as we see it.

(12:00 – 1:00 PM) Mini-Symposium: Results and Comparisons from the RISE Clinical Trial – Adult Medication Study. In what is sure to be an impactful session, we'll hear highly-anticipated results from the RISE adult medication study (n=267), investigating whether aggressive glucose lowering with metformin, insulin, and/or GLP-1 agonists leads to sustained recovery of beta-cell function. Last year at ADA, RISE Peds sent a startling message to the diabetes community: No drugs were able to effectively address the pathophysiology of type 2 diabetes in youth. Further, we learned at Levine-Riggs 2019 that type 2 pathophysiology differs significantly in recently-diagnosed children vs. adults, with the former having lower insulin sensitivity, hyper-responsive beta cells, and reduced insulin clearance compared to adults. What will be RISE show in adults? Ms. Sharon Edelstein (George Washington University), Dr. Kieren Mather (Indiana University), Dr. David Ehrmann (UChicago), Dr. Steven Khan (University of Washington), Dr. Thomas Buchanan (USC), and Dr. Sonia Caprio (Yale) will present and discuss – what a brain trust. 

(2:15 – 4:15 PM) Symposium: DECLARE-TIMI 58 Trial. Study authors Drs. Itamar Raz (Hadassah), Stephen Wiviott (Brigham & Women's), John Wilding (University of Liverpool), Ofri Mosenzon (Hadassah), and Lawrence Leiter (St. Michael's) will present results from the DECLARE CVOT for AZ's SGLT-2 inhibitor Farxiga (dapagliflozin), originally presented at AHA 2018. As it stands, the lineup appears to be an exact replica of the original presentation, but we're hoping for new analyses and opinions.

(2:15 – 4:15 PM) Symposium: The Artificial Pancreas in 2019 – First Reports of New, Large Scale Trials and the Path Forward. This is one of the can't-miss diabetes technology sessions of ADA 2019!

UVA's Dr. Sue Brown will present results from the pivotal trial of Tandem's Control-IQ hybrid closed loop with Dexcom's G6 CGM. The six-month study randomized 2:1 – Control-IQ vs. t:slim X2 pump/G6/no automation (a tough comparator!). The primary endpoint is time-in-range (70-180 mg/dl) over 26 weeks. This is the first hybrid closed loop with automatic correction boluses and a no-calibration CGM – important leaps for the field, both on time-in-range and device burden. Dr. Boris Kovatchev shared at ATTD that mean A1c at enrollment was 7.6% (wide range of <7% to 10.5%), with 21% of participants at baseline on MDI and 30% previously not on CGM. We'd expect mid-to-high 70%'s time-in-range (based on previous data), with some meaningful A1c reductions in those starting at a high baseline. This is only the second hybrid closed loop pivotal trial for a commercial product – the first came three years ago at ADA 2016 for the MiniMed 670G. Relative to the 670G pivotal, this trial is more robust: Control-IQ is a longer study (six months vs. three months for 670G) and it's a true parallel group RCT design (vs. 670G's pivotal, which compared two weeks of open loop to three months of closed loop). Per Tandem's 1Q19 call, Control-IQ is slated for FDA submission in ~July followed by an expected US launch in 4Q19. An advantage for Tandem is that two of the three components – t:slim X2 ACE pump, Dexcom G6 iCGM – are already FDA cleared.

Other AID updates and data in this session include: Montpellier University Hospital's Dr. Eric Renard will present results from the Freelife Kid AP study, which compares time-in-range between nocturnal and 24-hour use of the same Control-IQ system in 120 prepubertal children. At DTM, Dr. Renard noted that this will be the largest AID study ever conducted in children. We'll also hear from Harvard's Dr. Frank Doyle on Protocol 4 of IDCL – at EASD, he shared that there has been a pilot for Protocol 4 testing the incremental benefits of a next-gen adaptive control algorithm (i.e., more personalization). Lastly, Yale's Dr. Eda Cengiz will discuss next-generation insulins for closed loop systems to improve post-meal glycemic control – likely sharing optimism for use of faster insulins (NN's Fiasp, Lilly's URLi, MannKind's Afrezza), adding SGLT-2 inhibitors on top of hybrid closed loop, and potential for pramlintide/insulin co-infusion.

(2:15 – 4:15 PM) Symposium: Which Benefit Design and Behavioral Economic Interventions Can Be Used to Facilitate Diabetes Prevention? Drs. Jeffrey Kullgren (University of Michigan Medical School) and Anne Thorndike (Harvard Medical School) will discuss how to leverage behavioral economics to improve patient engagement and promote healthy food choices, respectively. Because so much of diabetes is about habits and small choices, we're highly optimistic about the use of behavioral economics and "nudges" to encourage better choices (see Wharton's Dr. David Asch at ENDO 2018). Separately, Dr. Ronald Ackermann (Feinberg School of Medicine) will discuss how to make diabetes prevention programs (DPPs) more effective. This is a worthy goal, and we also hope to see more focus on increasing baseline DPP participation – according to a just-published study of 2,341 eligible adults with probable prediabetes and no self-reported diagnosis of diabetes, only 4% were referred to and 2% actually participated in a 12-month DPP. We'll also hear from Dr. Deneen Vojta (UnitedHealth Group) on innovations in insurance benefit design to prevent diabetes – will she discuss the ongoing Dexcom pilot using CGM and coaching in ~10,000 people with type 2 diabetes? This session nicely represents the variety of stakeholders that must be involved to make meaningful change in prevention.

(4:30 – 6:30 PM) Oral Presentations: From Risk to Complications of Type 1 Diabetes Youth – What's New? Stanford's Dr. Bruce Buckingham will present results from Insulet's Horizon hybrid closed loop system in young children ages 2-6 years. We've seen just a peek of the promising four-day results at DTM and are eager for the full findings. Insulet plans to begin a pivotal trial this year, ahead of a 2H20 launch. The ADA Presidents' Select Abstract will be presented by Washington University's Dr. Ana Maria Arbelaez, who will discuss findings from the DirecNet study – a longitudinal study of glycemic, cognitive, and neuroanatomical assessments in type 1s diagnosed at an early age (4-10 years-old). At ATTD, Yale's Dr. Stuart Weinzimer provided an update on the DirecNet program, explaining how long-term hyperglycemia was inversely correlated with IQ as well as learning and memory scores. University of Exeter's Dr. Lauric Ferrat will give an update on the TEDDY study, which aims to identify the environmental triggers for type 1 diabetes. The last update at ADA 2018 shared a list of factors that aren't predictive of type 1 onset, as well as data associating a second degree relative with type 2 diabetes helping to delay the progression from autoimmunity to type 1 diabetes.

(4:30 – 6:30 PM) Oral Presentations: Teens with Diabetes – Intervention, Assessment, and Understanding. This session features the ADA Presidents' Select Abstract presented by Children's Hospital Los Angeles' Dr. Jennifer Raymond on shared medical appointments to improve psychosocial outcomes in adolescents with type 1 diabetes – given the concerning T1D Exchange data, this is the most pressing type 1 age group in need of care innovation and better outcomes. UConn Health's Dr. Julie Wagner will present results from an RCT that aims to improve self-monitoring of blood glucose in youth with type 1 diabetes. We're also intrigued by orals on stress, anxiety, distress, and depression in teens; an abstract on "Which Diabetes Strengths Matter Most?"; and intentional insulin omission for weight loss. How will these factors be incorporated to better inform AID systems and decision support?

(4:30 PM – 6:30 PM) Symposium: Once-Weekly Dulaglutide and Major Cardiovascular Events – Results of the REWIND Trial. In one of the headline sessions of ADA 2019, full results from the REWIND CVOT for Lilly's GLP-1 agonist Trulicity (dulaglutide) will be presented by Drs. Gilles Dagenais (Laval University), Rafael Diaz (ECLA Academic Research Organization), Matthew Riddle (OHSU), Helen Colhoun (University of Edinburgh), Hertzel Gerstein (McMaster), Jeffrey Probstfield (University of Washington), Lars Rydén (Karolinska), and Sophia Zoungas (George Institute). Positive topline results were released in November 2018, though no numbers were given. Of high note, only 31% of participants in REWIND had baseline CVD, compared to 73% to 100% for all other GLP-1 CVOTs. Also with an average A1c of 7.3%, the REWIND population is substantially lower-risk than traditional CVOTs, making the results much more generalizable. Median follow-up was 5.4 years, also much longer than average. Will REWIND support a primary prevention indication for Trulicity? 

(4:30 – 5:25 PM) Symposium: On the Road to Automated Insulin Delivery (AID). UCSD's Dr. Tim Bailey will detail performance attributes of pumps, sensors, and decision support required for AID. We assume he will mention the FDA iCGM and ACE pump special controls, as well as nuances between different AID algorithms. Abbott has filed its FreeStyle Libre 2 with the FDA as an iCGM,  Senseonics plans to submit its 180-day Eversense XL to the FDA as an iCGM, and Medtronic may submit for iCGM too. We'll also hear from Duke's Dr. Jennifer Green on the current AID landscape.

(4:30 PM – 6:30 PM) Symposium: Language Matters – Improving Communication in Diabetes Care. Language oracle Dr. Jane Dickinson (Columbia) will begin this all-too-important session with an HCP's perspective on why language matters. While this much-needed linguistic revolution has been building since at least 2012 (when Diabetes Australia put forth the first publication of evidence-based recommendations and examples of implementation for person-first, non-stigmatizing language) there is still much progress to be made. For example, 50% of people with diabetes do not like the word diabetic, according to Dr. Dickinson: "If it bothers 50% of people, we should stop using it." Joe Solowiejczyk, a highly-respected person with diabetes, will then give his perspective on patient empowerment through language, followed by Dr. Kevin Joiner (University of Michigan) on dismantling diabetes stigma with language. Finally, Professor Jane Speight – who was the lead author of the aforementioned groundbreaking Australian position statement – will give her strategies to improve patient-provider communication. This promises to be fantastic – she and fellow Australian Renza Scibilia are very active in the #languagematters movement in diabetes.

(5:30 – 6:30 PM) Should Advanced Diabetes Technology Be Used in Older Adults? Dr. Richard Pratley (Florida Diabetes and Endocrine Center) headlines this session with primary results of the Helmsley- and JDRF-funded WISDM study (n=203) evaluating the effect of CGM in older adults ≥60 years with type 1 diabetes. At ENDO, we saw baseline blinded Dexcom G4 CGM data from WISDM collected up to three weeks prior to the real-time CGM intervention. There no question that CGM should be standard of care in older patients with type 1 diabetes in our view, given the higher presence of severe hypoglycemia – per the T1D Exchange data from earlier this year, 10% (!) of participants >50 years old reported a seizure/loss of consciousness due to hypoglycemia in the three months before questionnaire completion. Oddly, there is contention in this area: Dr. Medha Munshi (Joslin Diabetes Center) will argue that technology is important for older adults, while Dr. Grazia Aleppo (Feinberg School of Medicine) will assert that technology poses too many barriers for the elderly (this view is incredibly reductive in our view – there is no "one size fits all" for older Americans, and this question must be personalized per patient and the recent improvements deserve major consideration in our view). Given the move to no-calibration CGM and the hassle of taking fingersticks (and getting enough to identify patterns), Dr. Aleppo has the far harder argument there, no doubt. We expect a crushing loss for him (as much as debates are ever really won or lost in the US).  
Monday, June 10
(8:00 – 8:55 AM) Current Issues: Glycemic Goals and Overtreatment – What's Driving the Debate? Reprising a debate between Drs. Timothy Wilt and John Buse at ENDO 2019, ADA will host Dr. Wilt and Dr. David D'Alessio as representatives of the ACP and ADA and their respective guidelines on glycemic targets. Dr. Wilt will defend ACP's guideline to an A1c of 7%-8% in most patients (highly controversial throughout virtually the entire diabetes community except for particularly underserved adults), while Dr. D'Alessio – who recently gave a stellar defense of ADA guidelines at AACE 2019 – will argue in favor of a <7.0% target for many. It should be more and more so in our view, as insulin as other elements of care are automated.

(8:00 – 10:00 AM) Symposium: Little Kids with Diabetes – Approaches to Care Across Nutrition, Eating, and Technology. Cincinnati Children's Hospital's Dr. Nana-Hawa Yayah Jones will detail CGMs and pumps for young children. FDA approved standalone CGM options for children in the US are more limited than in Europe –  Dexcom's G6 is cleared down to age 2+ years, but Abbott's FreeStyle Libre (pediatric approval pending) and Senseonics' Eversense are both only indicated for 18+ years. AID options are currently limited to Medtronic's 670G for 7+ years (2-6 year old indication expected with one year), while Tandem's Basal-IQ is available to those age 6+ years and Control-IQ will initially be submitted for 14+ years (to be followed by a separate pediatric submission for 6+ years). Skin real estate is also a concern in the young – JDRF has made this gap a funding priority, supporting several efforts to develop miniaturized devices. Also in this session, Drs. Carmel Smart (University of Newcastle, Australia) and Mark Clements (Children's Mercy Hospital) will discuss nutritional challenges and eating as an intervention in young children with diabetes. We wonder if either speaker will mention the promising early data on low-carb diets in pediatric type 1 diabetes.

(8:00 – 10:00 AM) Oral Presentations: Expanding Horizons on SGLT Inhibition. The first results from the much-hyped real-world EMPRISE study for Lilly/BI's SGLT-2 inhibitor Jardiance (empagliflozin) headline this exciting session – topline results supported heart failure benefit with the agent. Yale's Dr. Silvio Inzucchi will also present a subanalysis of the EMPA-REG trial for empagliflozin in nonproteinuric kidney disease, while Dr. Itamar Raz (Hadassah Hebrew University Hospital) will give a predefined analysis of the DECLARE CVOT for AZ's SGLT-2 inhibitor Farxiga (dapagliflozin) by urinary albumin-to-creatinine ratio. After CREDENCE found renoprotection across the spectrum of eGFR and UACR with J&J's SGLT-2 inhibitor Invokana (canagliflozin), these stratified analyses may prove important in solidifying class-wide renoprotection at all levels of kidney function. Wrapping it all up will be Brigham and Women's Dr. Elisabetta Patorno comparing the real-world effectiveness of SGLT-2 inhibitors and GLP-1 agonists.

(8:00 – 10:00 AM) Oral Presentations: New Insights in Diabetic Kidney Disease—Clinical and Experimental Studies. A deep dive on the effects of AZ's Farxiga (dapagliflozin) on the progression of diabetic kidney disease (DKD) from the DECLARE CVOT steals the show in this session, especially considering mounting evidence of renoprotection with SGLT-2s. We'll also hear an analysis of AWARD-7 (benefit with GLP-1 agonist Trulicity over basal insulin in type 2 with chronic kidney disease) by moderate-to-severe CKD, and NIDDK's Dr. Robert Nelson will give a state-of-the-art lecture on the impact of the global diabetes epidemic on DKD. For context, a recent observational study by Janssen found that a shocking 49% of patients with type 2 diabetes and lab-confirmed chronic kidney disease did not have a CKD diagnosis from their doctor in a claims database.

(8:00 – 10:00 AM) Oral Presentations: Diabetes Management and Macrovascular Outcomes. Steno Diabetes Center's Dr. Peter Rossing will begin this session with the esteemed Edwin Bierman Award Lecture, focusing on the link between kidney and cardiovascular complications. As a member of the ADA/EASD 2018 consensus committee – the first to promote cardioprotective SGLT-2s/GLP-1s over insulin for people with CV disease – Dr. Rossing brings an expert eye to the field. Next, Slagelse Hospital's Dr. Peter Gæde will give an update on Novo Nordisk's long-term STENO-2 trial (last seen at ENDO 2017 – mortality + MACE benefit with intensive multifactorial treatment after 21 years), and Joslin's Dr. Osama Handy – a lifestyle intervention expert – will present results from a 10-year longitudinal study on the subject in the real-world. Concluding the session will be an interesting meta-analysis of the African-American populations in SGLT-2 and GLP-1 CVOTs by East Carolina University's Dr. Basem Mishriky. Non-white populations are significantly underrepresented in clinical trials, and while no studies have produced statistically significant concerns in these populations to our knowledge, effect sizes certainly vary across race.

(9:00 – 10:00 AM) Symposium: The Impact of Payment Models on Diabetes Care. This important session will cover several of the hottest topics in healthcare reimbursement today. Dr. David Aron (Case Western Reserve University) will discuss the concept of a single payer system. While Dr. Devan Kansagara (VA Medical Center) will be tasked with speaking specially on pay for performance models, we'll be interested to see if Dr. Aron might touch on this subject as well – at AADE 2011, he characterized this model as "de-professionalizing," and believed it to be driven by greed. We're also eager for an update from Dr. Hector Rodriguez (UC Berkeley School of Public Health) on the CMS State Innovation Model Initiative, which examines how state governments can drive change in health systems,. Finally, Dr. Jeroen Struijs (National Institute for Public Health and the Environment, Netherlands) will discuss bundled payments for diabetes care. We wonder if he will discuss Diabeter, a Netherlands-based clinic (acquired by Medtronic four years ago) that is often used as an example of bundling payments and leveraging technology.

(9:00 – 10:00 AM) Symposium: Update on Diabetes Management in the Hospital. Dr. Andjela Drincic (Nebraska Medicine) will discuss managing hyperglycemia during inpatient nutritional support. At DTM, we saw incredible results from a new Cambridge study testing automated insulin delivery study in patients on parenteral/enteral nutrition (n=40). Of course, inpatient diabetes management has a long way to go before it is even close to adopting AID on a larger scale – just getting CGM into the hospital would be amazing. To this end, Dexcom plans to enter the hospital market with G7 and anticipates starting hospital studies this year. As we understand it, one big challenge in the hospital market is purchasing inertia and staff training burden, making even switching to a new BGM a mighty task. The studies in this area are also hard to run, but we are optimistic – hypoglycemia and tight inpatient glucose management are so difficult with intermittent fingersticks.

(9:00 – 10:00 AM) Joint ADA/JDRF Symposium: Continuous Glucose Monitoring in Pediatric Diabetes – Ready for Prime Time? Joslin's Dr. Lori Laffel will present primary study results from the Helmsley- funded CITY study (n=153) of CGM in young type 1s (14-25 years-old) all either CGM-naïve or not active users in the past three months. Baseline glycemic data presented at ATTD were revealing and very disturbing: median time-in-range was just 35%, leaving a full 16 hours per day spent out-of-range (<70 or >180). We're hopeful that the real-time CGM intervention will yield meaningful improvement in this cohort, given the latest T1D Exchange Registry data. (Of course, improving outcomes is not as easy as just giving more people CGM – the data has to be used – CGM enables time in range, and then "best practice" Time in Range interventions must be used.) We'll also see data from the Jaeb-coordinated, Helmsley-funded SENCE trial (n=200) evaluating the impact of CGM alone vs. CGM combined with a family behavioral intervention in children <8 years-old. Stanford's Dr. David Maahs will introduce the session with an overview of CGM options for the pediatric population. His words are always gold and we look so forward to what we are sure will be an amazing session.

(12:00 – 1:00 PM) Professional Interest Group Discussion: New Insights and Remaining Challenges in Diabetes Management and Complications. Very notably, CDC's Dr. Ed Gregg will deliver a presentation on the "recent resurgence" of certain diabetes complication in young and middle-aged adults, which is sure to be an invaluable look, direct from the source, at the most recent data concerning micro- and macrovascular diabetes complications. Dr. Gregg recently left CDC for a post in the UK – we're not sure who is taking on his role. Additionally, Joslin's very insightful Dr. Medha Munshi will present on challenges to individualizing diabetes treatment in older adults – what will she have to say about recently-released Endocrine Society guidelines on the topic?

(12:30 – 1:30 PM) Product Theater: Beyond Omnipod DASH – The Future of Insulin Delivery Technology (Sponsored by Insulet). Following the launch of Omnipod Dash a few weeks ago, we expect Insulet's Medical Director Dr. Trang Ly and Barbara Davis Center's Dr. Gregory Forlenza to discuss the new PDM and hybrid closed loop progress. A pivotal trial of the Omnipod hybrid closed loop is expected in 4Q19, keeping it on track for a launch in 2H20. As of the company's 1Q19 call, the plan remains personal smartphone control, initially only on Samsung Galaxy phones. Data in 2-6 year-olds will be presented as an oral Sunday, June 9. We're also hopeful to hear more on Insulet's support of Tidepool Loop, the plan to build a commercial version of the DIY Loop app on Apple iOS and integrate with interoperable pumps and CGMs. So far, Insulet is the only publicly announced Tidepool Loop partner, though we fully expect many other pump and CGM companies to sign on.

(2:15 – 4:15 PM) Oral Presentations: Hypoglycemia and Technology. Dr. Thomas Pieber (Medical University of Graz, Austria) will present phase 3 results for Zealand's dasiglucagon, following the announcement this week that primary and secondary endpoints were met in a confirmatory phase 3 trial with the to-be-marketed HypoPal auto-injector (median time to blood glucose recovery was 10 minutes). On the tech side, IBM Watson's Dr. Yuan-Chi Chang will present on the Medtronic CGM data companion app, Sugar.IQ. The predictive hypoglycemia alert (IQcast) launched earlier this year (offering low CGM warnings 1-4 hours in advance), and we'll hope to see real-world data on  time <70 mg/dl and alert burden. Dr. Timothy Jones (Perth Children's Hospital and Telethon Kids Institute, Australia) will present findings on the impact of a hybrid closed loop system on hypoglycemia awareness in individuals with type 1 diabetes; following the highly positive SMILE study of Medtronic's MiniMed 640G at ATTD (just published in Lancet Diabetes & Endocrinology,) this will be key data to continue building the AID evidence base in a critical population. The session also includes a JDRF presentation on type 1 diabetes outcomes priorities, as well as US results from a global hypoglycemia survey, CRASH (initial results came at ATTD). We'll also hear more on the HypoDE study (first presented at ATTD 2018) testing CGM in MDIs with type 1 diabetes and impaired hypoglycemia awareness; this sub-analysis will evaluate the benefits of CGM over time, adding to the already published six-month data. Prof. Norbert Hermanns (Research Institute Diabetes, Germany), an investigator on HypoDE, will also discuss use of real-time CGM to predict severe hypoglycemia.

(2:15 – 4:15 PM) Oral Presentations: Making Sense of Glucose Monitoring. The session features three presentations on Abbott's FreeStyle Libre: (i) expanded real-world data from FreeStyle Libre users (we saw remarkable real-world data from nearly 500,000 users across 26 countries at ATTD); (ii) an evaluation of sensor performance during hypoglycemia and acute exercise; and (iii) an audit of FreeStyle Libre use in the UK. IDC's Dr. Rich Bergenstal will present on "individualized A1c" as a new glycemic marker using CGM – read our coverage of his AACE presentation on "GMI" (glucose management indicator; Diabetes Care 2018), the newly-agreed-upon-term that replaces "estimated A1c." In the same vein, we'll hear Joslin's Dr. Elena Toschi present on the usefulness of coefficient of variation (CV) to assess hypoglycemia in older adults with type 1 diabetes. Measurements of glycemic variability, including CV, were notably absent from the outcomes of the recent consensus meeting on time-in-range, as they were deemed to be unnecessary in informing clinical practice. (Still, there is general agreement that CV should be <36% (Monnier et al., 2017) or <33% (Dr. Irl Hirsch); the latter is simpler to remember for HCPs, since it means an SD that is <1/3 of the average glucose.) We're also eager to hear results from a study on the impact of CGM in type 1s aged 16-21 years-old, providing insight on the typically challenging adolescent population in addition to the CITY results also expected at ADA (CGM in 14-25 year-olds). Also, Skane University Hospital's Dr. Magnus Londahl will present findings from a user acceptance study of Senseonics' 90-day Eversense.

(2:15 – 4:15 PM) Symposium: Controversies in the Evaluation and Management of Dyslipidemia in Patients with Diabetes. Four physicians will cover specific lipid management cases relative to diabetes patients, including (i) treating dyslipidemia in young patients (<30 years old) with type 1 or type 2 diabetes, (ii) treating dyslipidemia in older patients (>75 years) without CV disease, (iii) what to do when LDL-C is at goal but triglycerides are elevated, and (iv) whether to treat lipids in diabetes and Stage 4 CKD. In the wake of new AHA/ACC ch0lesterol guidelines with diabetes-specific recommendations, having more granularity on common clinical scenarios will be valuable.

(2:15 – 4:15 PM) Joint ADA/ISPAD Symposium: Understanding Heterogeneity in Pediatric Diabetes – First Step to Improving Outcomes. This pediatric-focused symposium will delve into the spectrum of diabetes in youth, starting with a talk on classifying types of pediatric diabetes from Colorado's Dr. Dana Dabelea. Then, her colleague Dr. Andrea Steck will explore heterogeneity in type 1 diabetes (is it a single disease?), before Texas Children's Dr. Maria Redondo discusses factors on type 2 in the etiology of type 1 and how this impacts prevention, diagnosis, and treatment (fascinating!). Finally, CHoP's Dr. Silva Arslanian will close with a talk on the impact on type 2 diabetes on youth vs. adults.  

(2:15 – 4:15 PM) Symposium: Major Advances and Discoveries in Diabetes – The Year in Review. The great Dr. Dan Drucker will take the stage first, diving into clinical advancements in diabetes over the past year – we expect a big focus on both heart failure and chronic kidney disease, in light of landmark readouts (DECLARE, CREDENCE), and we'll also be interested for Dr. Drucker's take on the forward-thinking ADA/EASD consensus statement. Then, highly-regarded physiologist Dr. Juleen Zierath (Karolinska) will discuss major discoveries in diabetes over the past year, through a scientific lens – we're very excited for this one!

(4:30 – 6:30 PM) Symposium: The CAROLINA Trial – First Results of the Cardiovascular Outcomes Trial Comparing Linagliptin vs. Glimepiride. Lilly/BI released topline CAROLINA results in February, announcing non-inferiority of DPP-4 inhibitor Tradjenta to sulfonylurea glimepiride – in the longest-ever CVOT, and the only one with an active comparator. As noted by ADA, the cardiovascular safety of SUs is an issue of ongoing debate; at first glance, CAROLINA would seem to confirm the CV safety of glimepiride, but we'll certainly wait for full results to draw any conclusions. Dr. Julio Rosenstock (UT Southwestern) will present study background; Dr. Mark Espeland (Wake Forest) design and baseline characteristics; Dr. Steven Kahn (Washington) metabolic and weight outcomes; Dr. Nikolaus Marx (University Hospital Aachen) CV, mortality, and hospitalization outcomes; and Dr. Bernie Zinman (Toronto) adverse events and hypoglycemia analyses. Drs. Zinman and Darren McGuire (UT Southwestern) will discuss clinical implications for diabetologists and cardiologists – these will be very meaningful – and Dr. Matthew Riddle (OHSU) will give the independent commentary.

(4:30 – 6:30 PM) Symposium: Are Taxes the Solution to the Diabetes Epidemic? This session will include presentations explaining food policy levers for preventing diabetes and obesity and on progress made to date in the US and future measures, as well as city-specific perspectives from Berkeley, Philadelphia, and others. Rounding things out, we'll learn about methods for food policy impact evaluation – perhaps the most important aspect of this conversation, as demonstrating the effects of junk food taxes is essential to their wider implementation and acceptance. And while taxes are unlikely to become a singular solution to the diabetes epidemic, we're looking forward to learning more about how they can function as part of a comprehensive approach.

(6:00 – 8:30 PM) 13th Annual Diabetes Forum. Taking Control of Your Diabetes and The diaTribe Foundation will host their annual panel with highlights from ADA 2019, featuring candid thoughts from five esteemed key opinion leaders:

Dr. Anne Peters (USC)

Dr. Jennifer Sherr (Yale)

Dr. Jim Gavin III (Emory University/Healing Our Village)

Dr. David D'Alessio (Duke School of Medicine)

Dr. Roy Beck (Jaeb Center for Health Research).
The inimitable Dr. Steve Edelman and Kelly Close will moderate the discussion and we've heard Adam Brown will be on hand as well as we're lucky that he always is, to expand on learnings on the technology front in particular. He's on a roll as of late at Close Concerns – come to the reception early to catch him! Learn more here about the KOLs who will be presenting and buy tickets here.
Tuesday, June 11
(7:30 – 9:30 AM) Symposium: Hypoglycemia in Type 2 Diabetes. Kicking Tuesday off, Leicester's Dr. Kamlesh Khunti will answer the question, "Is hypoglycemia in type 2 diabetes an increasing problem in clinical practice?" We're interested to see how trends in prescribing practice (e.g., more GLP-1 agonists than prandial insulin) factor into his discussion. Of course, we'd imagine the answer is yes, just due to the sheer number of people being diagnosed with type 2. Johns Hopkins' Dr. Elizabeth Selvin will follow by addressing the epidemiology and clinical consequences of hypoglycemia in older adults, and we're looking forward to Dr. Sophia Zoungas (George Institute) on the use of adjunct therapies for improving hypoglycemia outcomes in type 2. Dr. Frans Pouwer (University of Southern Denmark) will also present, on the psychological impact of hypoglycemia in type 2 – we are very interested in this since we rarely hear about it except from our friends at dQ&A.

(7:30 – 9:30 AM) Symposium: CREDENCE and CARMELINA – Results from Two Major Clinical Trials in Kidney and Cardiovascular Disease in Diabetes. This renally-focused symposium will expound upon the initial results from two outcomes trials, Lilly/BI's CARMELINA CVOT for DPP-4 inhibitor Tradjenta and J&J's CREDENCE renal outcomes trial for SGLT-2 inhibitor Invokana. In the first half, Drs. Rejiv Agarwal (Indiana University) and Meg Jardine (George Institute) will review CREDENCE background/methods and renal results, respectively. Then, Dr. Bruce Neal (George Institute) will take a "deep dive" into the cardiovascular outcomes, Dr. Ken Mahaffey (Stanford) will detail CV and renal outcomes by baseline CVD status, and Dr. Bernie Zinman (Toronto) will offer a study interpretation. Moving to CARMELINA, Dr. Christoph Wanner (University Hospital of Wurzburg) will present new renal sub-analyses, and Dr. Mark Cooper (Monash) will discuss implications for type 2 management in CKD. Drs. Steven Kahn (Washington), Nikolaus Marx (University Hospital Aachen), Darren McGuire (UT Southwestern), and Robert Toto (UT Southwestern) will review study design, primary CV results, HF results, and initial renal outcomes.

(9:45 – 11:45 AM) Symposium: Oral Semaglutide – The PIONEER Program Trials. The sole event in this final timeslot, a symposium on Novo Nordisk's phase 3 PIONEER program for oral semaglutide, will doubtless draw a sizable crowd. First and foremost, this is a CVOT readout: We'll get the full rundown of PIONEER 6 results, including trial design and baseline characteristics (Swansea's Dr. Stephen Bain), cardiovascular outcomes (Toronto's Dr. Mansoor Husain), and metabolic and safety outcomes (Hadassah's Dr. Ofri Mosenzon). Very notably, UNC's Dr. John Buse will deliver the results summary and Tulane's Dr. Vivian Fonseca the independent commentary. Topline PIONEER 6 results showed remarkable ~50% risk reductions on both CV and all-cause death, but the trial missed superiority on the primary endpoint of three-point MACE (HR=0.79) – all eyes will be on measures of significance. The front end of this symposium also includes two greats, Drs. Vanita Aroda and Richard Pratley, on the clinical efficacy of oral semaglutide and how it compares to alternatives, respectively. For a full rundown on oral semaglutide's current status, see our Novo Nordisk 1Q19 report.
-- by Ann Carracher, Martin Kurian, Peter Rentzepis, Maeve Serino, Adam Brown, and Kelly Close