Executive Highlights
Sanofi held its Capital Markets Day meeting earlier this week – see slides, webcast, and press release. Overall, new CEO Paul Hudson made his view clear that diabetes was far too challenging, in terms of making new products "transformational enough" to continue to invest in diabetes R&D – he sounded disappointed to pull back on GLP-1 in particular, but noted he didn't think it was possible "to be appreciated by payers and physicians." We certainly appreciate investment in R&D is challenging given payer and uptake constraints and we're very eager to watch this constraint removed and to see how Sanofi can help patients in multiple other ways. 

Notably, Sanofi seems to be moving ahead on many other fronts in diabetes – along with being "best in class" on access, it also is committed to moving forward on using new endpoints. For example, a new large type 1 trial uses "time in range" as the primary endpoint! Presumably, some of the funds previously used in R&D could be used in driving physician awareness and education on subjects like TIR, CGM, hypoglcyemia, access, etc.   

So although the disappointing headline from the day was news that Sanofi will be discontinuing research in the diabetes and cardiovascular field, we believe the funds can be redeployed as long as management stays committed to helping the field. Ultimately, while fewer funds going into R&D is a fairly unintended consequence from the pressure on the diabetes industry, from a variety of perspectives, particularly regulatory and commercial, there may be silver linings.

That said, this is also a teachable moment. Indeed, why would a new CEO want to continue in diabetes R&D, when showing a positive ROI is so challenging?

As part of its announcement that it will optimize its commercial model, it will not pursue plans to further develop and launch its phase 3 once-weekly GLP-1 efpeglenatide (despite five ongoing CVOTs, which it says it has committed to finishing) and will instead look for an external partner to do so.

They were not specific beyond this but we see it as unlikely overall that they would find a partner – possibly it could be a forward-thinking SGLT-2 company that would like access to a GLP-1, or an CV company, but sharing profits in an arena where rebates have already driven profits down would be a concern.

Sanofi is also restructuring its collaborations with Regeneron over PCSK9 inhibitor Praluent and discontinue operational involvement in its virtual diabetes clinic venture, Onduo, though it will stay on as a financial backer. Verily already posted on its blog "Onduo and scaling the virtual care model" that this will make it easier to move forward with Onduo on various commiments and we are sure this is likely to be the case and we look forward to watching what happens there – Sanofi presumably would still benefit financially.

Capital designed for R&D was said to be planned to be funneled away from diabetes/CV toward R&D in immunology, vaccines, neurology, and oncology. Sanofi specifically hopes to prioritize blockbuster asthma drug Dupixent and its vaccines unit. Many would ask, why would a new CEO choose something different, since profits are higher in other divisions and perceived and actual "hassle factor" lower in diabetes.

Ultimately, though we believe Sanofi can continue to successful commercially in diabetes, this is nonetheless a landmark sad moment for the field since fewer funds will be going into producs that would have reduced burden for patients in the field. Sanofi revolutionized diabetes care over the past decades with the launch and commercialization of basal insulin Lantus. The company has been a mainstay in driving forward innovation in diabetes, and while commercial operations for products already on the market will continue for now (Lantus, Toujeo, Admelog, Soliqua, and others), diabetes will no longer be a priority and we imagine it will be very challenging to retain their strong team and to attract new members with no GLP-1, no SGLT-2, and no future R&D to discuss. We also do not know if they will have any presence with future clinical leaders at conferences or do any symposia or be involved in discussions on how to help patients. It is hard to say what next for their partnerships with Abbott on CGM and with JDRF on smart insulin and Alphabet on diabetes (presumably nothing beyond financial support for OnDuo) – we look back to 2014, when management said that Sanofi would still be present in the arena but when competitive pricing really began.   
Top Four Highlights
1. Sanofi Discontinues R&D in Diabetes/Cardiovascular Units and Prioritizes Immune Therapies and Vaccines
This decision represents the culmination of many factors that have led Sanofi to de-invest in diabetes and CV over time. Just this past July, Sanofi terminated its partnership with Lexicon to develop and commercialize SGLT-1/2 inhibitor Zynquista (sotagliflozin). Furthermore, in 3Q19, Sanofi announced the discontinuation of its preclinical GLP-1/GIP/glucagon tri-agonist SAR441255, leaving the company with only two diabetes-related candidates (efpeglenatide and rapid-acting insulin SAR341402). By comparison, Sanofi had five clinical diabetes pipeline candidates as of 3Q18, six candidates as of 3Q17, and eight in 3Q16 (just two years ago!). Elsewhere in the diabetes landscape, both Novo Nordisk and Lilly has 15 pipeline candidates as of 3Q19. De-investment is unfortunately a trend within diabetes, as other major pharma manufacturers, including J&J and Merck, have also dramatically de-prioritized diabetes R&D. Pharma has faced enormous challenges from intense pricing pressure and difficult regulatory requirements as well as marketing requirements that have disincentivized and further discouraged investment in the field. We certainly hope to see as Sanofi says, however, continued investment on the commercial side – they have incredible assets in Lantus, Toujeo, with a pediatric indication, to boot!
Many would say this pivot away from diabetes makes sense given market dynamics and Sanofi's position. The headwinds facing Sanofi's diabetes pipeline —once headlined by GLP-1 efpeglenatide and SGLT-1/2 inhibitor Zynquista and smart insulin candidates —were intense. Although Sanofi in the past had expressed confidence that both candidates might be best-in-class molecules, phase 3 data for Zynquista underwhelmed (which Sanofi cited as the reason for the cause of its termination) and regulatory conversations did not proceed as hoped, and phase 3 data for efpeglenatide is still being generated. On today's call, management explicitly cited the risk of launching potentially "undifferentiated" products into these competitive markets as a reason for its decision – while many patients need these products, they are easy targets for payers to negotiate down.

Sanofi's commercial diabetes franchise has been struggling for quite some time, with negative YOY growth numbers for >10 straight quarters and no worldwide growth since 4Q16. Lantus sales have continuously plunged since reaching peak quarterly revenue of $2.2 billion in 4Q14 due to competition, loss of patent exclusivity, and intense pricing pressures in the United States. The arena will definitely be associated with a higher profit without R&D pressures, and we assume it can use some of this toward better patient access in addition to other areas of R&D.



Sanofi Total Diabetes Sales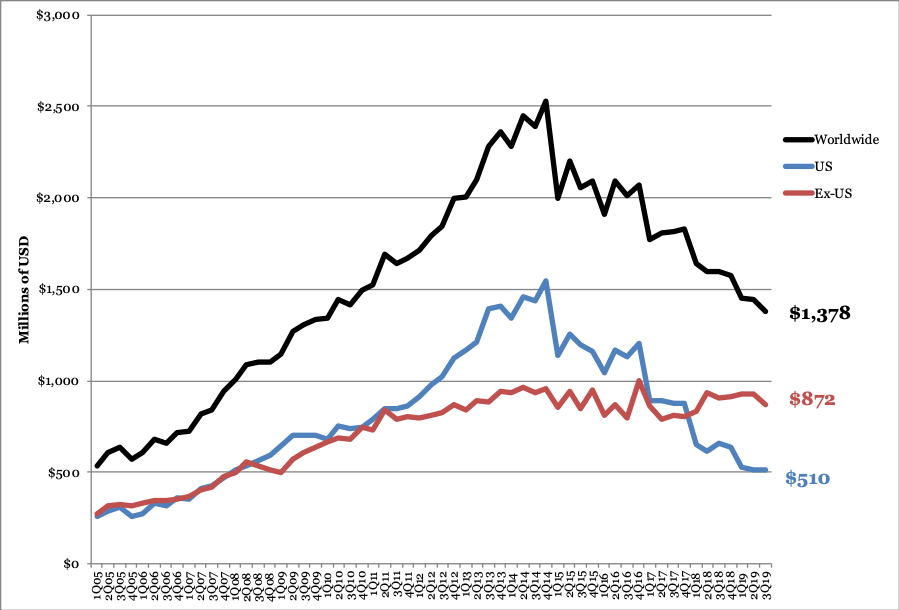 2. Sanofi Will No Longer Pursue Efpeglenatide Launch and Instead Will Look for External Partner
It's highly disappointing that Sanofi will not be leading the charge to commercialize efpeglenatide, given the company's past expertise. Just two years ago, at its 2017 Sustaining Innovation Analyst Day, Sanofi management expressed high hopes for and firm confidence in the candidate. At the time, Sanofi presented modeled data indicating that the once-weekly candidate would offer A1c lowering efficacy equivalent to Novo Nordisk's once-weekly injectable semaglutide (Ozempic). The company also debuted its MARS platform proprietary autoinjector for efpeglenatide during the meeting as well. Nevertheless, with the presence of two established once-weekly GLP-1 giants with Ozempic and Trulicity already on the market, along with once-daily Victoza becoming cheaper in the next few years (it's unclear if biosimilars will "go generic" but presumably they will become cheaper) and the ongoing launch of Rybelsus (oral semaglutide), it's possible that Sanofi saw too low an upside for efpeglenatide in the growing but competitive GLP-1 market. On the other hand, we still see plenty of room for whole class growth when it comes to GLP-1s, especially seeing as these agents continue to comprise only a tiny fraction of second-line type 2 diabetes prescriptions in the US and have enormous upside for better care.
We're curious as to how much enthusiasm will emerge for potential partners for efpeglenatide. After GSK discontinued its GLP-1 Tanzeum and had positive HARMONY CVOT results announced for the candidate as well, we expected further interest in the candidate would emerge—however, this never materialized, and the candidate remains off the market though it's also true we believe GSK did not pursue partners by its own choice. Of course, serious barriers were present for that candidate—including modest metabolic effects on A1c and weight, along with high production/manufacturing costs specific to the albiglutide molecule and no other diabetes products at the company—but the fact that a partner did not emerge for a GLP-1 already on the market with positive cardioprotection data is not wholly encouraging for the future of efpeglenatide. We imagine to "maximize cash flow," per the slide, this might be spun off once the phase 3 trial data emerges.

The phase 3 clinical program for efpeglenatide includes five ongoing trials. In December 2018, Sanofi added two additional phase 3 trials to its lineup for efpeglenatide, joining three already-recruiting studies. AMPLITUDE-L (n=400) has enrolled patients already on basal insulin and AMPLITUDE-S (n=640) patients on background metformin with or without SUs. Both investigate three efpeglenatide doses vs. placebo and are expected to complete October 2021. Those trials joined three other already-announced phase 3 studies: (i) AMPLITUDE-M, a three-dose study enrolling 400 treatment-naïve participants (expected completion September 2020), (ii) AMPLITUDE-D, a three-dose study vs. dulaglutide enrolling 900 participants on metformin (December 2020) and (iii) AMPLITUDE-O, a 4,000 participant superiority-powered CVOT (April 2021). Phase 3 for efpeglenatide was initiated in 4Q17. It's unclear how the timeline for these trials will be impacted by Sanofi's decision to discontinue investment in the candidate. See table below for a full rundown of the phase 3 program for efpeglenatide.
| | | | |
| --- | --- | --- | --- |
| Trial | Estimated Enrollment | Comparator/Design | Estimated Completion |
| AMPLITUDE-M (treatment naïve patients) | 400 | Placebo | August 2020 |
| AMPLITUDE-D (add-on to metformin) | 900 | Dulaglutide, metformin alone | December 2020 |
| AMPLITUDE-O (CVOT) | 4,000 | CVOT vs. placebo | April 2021 |
| AMPLITUDE-L (add-on to basal insulin) | 400 | Placebo | April 2021 |
| AMPLITUDE-S (add-on to metformin ± sulfonyl urea) | 640 | Placebo | April 2021 |
3. Toujeo and Soliqua China Launches Planned as Part of 25+ Launches by 2025 and Beyond

Management did mention that diabetes therapies Toujeo (next-gen basal insulin) and Soliqua (GLP-1/insulin fixed-ratio combo) are still planned to soon launch in China. Currently, Lantus and Amaryl (sulfonylurea glimepiride) are offered as part of Sanofi's diabetes products in China. We're glad to see this continued commitment to launching these efficacious therapies in the large Chinese market, where there continues to be an enormous unmet need for the country's large population of people with diabetes.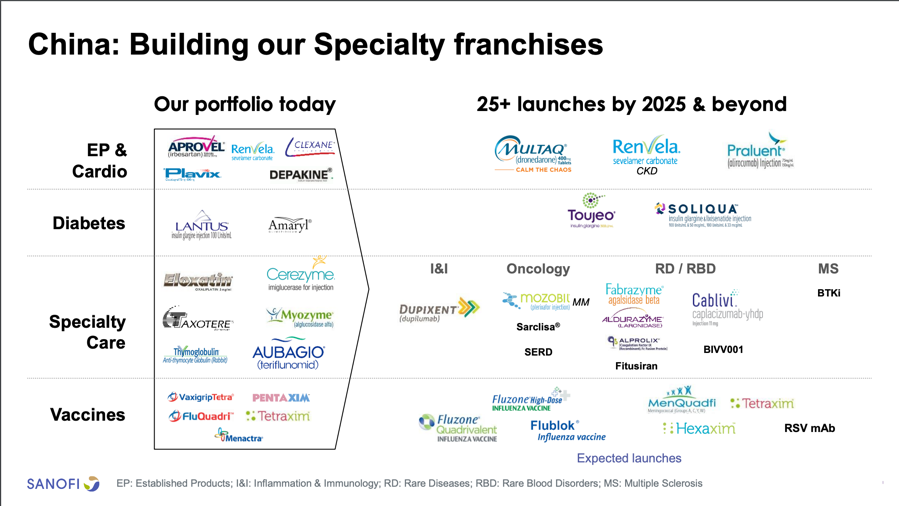 4. Sanofi Says It's "Over-Invested" in Onduo, Will Stay as Financial Backer, But Won't Be Involved in Operations

In another disappointing development, Sanofi CEO Paul Hudson said the company had "over-invested" in Onduo, its joint venture with Alphabet's life sciences division, Verily. Sanofi and Verily initially launched the $500 million project in 2016, which has developed into a virtual diabetes clinic that is licensed in 49 states. Since 2016, Onduo has seen multiple successes, including deals with John Hancock, Walgreens, and Dexcom - signing Dexcom as a preferred CGM partner netted Onduo $235 million in stock in 2018. Early outcomes data from Onduo has also been quite positive, with the most recent data showing an average A1c reduction from 10.7% to 8.3% (n=124 participants with initial A1c >9%) over a mean follow up of ~four months. Sanofi will continue to back Onduo financially, but will no longer be involved in Onduo's operations. It's unclear whether this will affect Sanofi and Verily's other venture to develop an "all-in-one" connected type 2 patch pump with Sensile Medical but presumably Sanofi would also be involved there only from an arms-length perspective.
Quotable Quotes, new Sanofi CEO Paul Hudson
"The pressure in the US has meant some complexity …"

"We have hard choices … we have global infrastructure burden …"

"We're proud of our past but it shouldn't dictate our future … we're incredibly grateful for breakthroughs but the investments will be made elsewhere …"

"Regeneron will own Praluent in the US – Sanofi will own it internationally – let's be efficient and effective with resource deployment …"

"We won't launch the GLP-1 – we'll finish [the trials] for patients and investigators – the cost of entry is too high and doesn't make a lot of sense. We haven't fully decided on the outcome … It's a tough choice … we want to maximize cash flow."

"Many of you won't know anything about Onduo. There's been a significant investment there over many years … we've made a big effort to get into the customer component – it's a much harder nut to crack. While we are excited about the work, we are overinvested. Great, we wish them well – we won't put any more operational expense there."

"As important as you are, we're not completely driven by you (investors) and your calendar …"

"I'm excited about joining the company, it's better than I thought. It's procrastinated on some of the tough decisions … we're getting speed and agility back …
Close Concerns Questions:
How will Sanofi's commercial team be restructured?

How many people are still employed in R&D on the diabetes side?

What is the message to Sanofi's very valuable team members working in diabetes? What are the steps toward "maximizing cash flow"?

In maximizing cash flow, where do funds for customer service go?

What is the status of multiple Sanofi partnerships go?

What can be learned from the last decade at Sanofi?

"This latest partnership not only demonstrates sanofi-aventis' commitment to diabetes, but also to collaboration as a core part of its R&D strategy. On the diabetes front, sanofi-aventis has engaged in multiple partnerships over the past year … company-wide, sanofi-aventis partook in 33 new partnerships and acquisitions in 2009 (including 18 R&D partnerships and licensing deals), indicating a strong commitment to collaboration as part of its core R&D strategy. With this latest move into type 1 diabetes, joining several eggs in the type 2 basket now including both device technology and pharma, sanofi-aventis is constructing a very broad diabetes pipeline—a few years down the line sanofi-aventis could very well be more than an insulin company. At present, it has the largest product in diabetes, Lantus, which brought in $4.3 billion in 2009, growing at 20% - this along with revenue from Apidra should continue to fund other partnerships and we look forward to seeing how they evolve."
--by Martin Kurian, Albert Cai, and Kelly Close