Executive Highlights
Merck reported Januvia franchise sales of $1.4 billion in 1Q18, reflecting 6% YOY growth and 6% sequential decline. This performance was driven entirely by international revenue (+21% YOY to $768 million), since US sales fell 6% YOY and 10% sequentially to $657 million under continued pricing pressure. Notably, the diaTribe Foundation recently named Merck among the very most generous of all the manufacturers in terms of patient access plans (see story here) and we now have a better understanding of how these investments translate into lower revenue. We applaud Merck for its strides to make it easier for patients to access the Januvia franchise. Regardless, Januvia still leads the DPP-4 inhibitor class in sales and is one of the highest-prescribed branded diabetes drugs. Januvia (sitagliptin) and Janumet (sitagliptin/metformin) together have net ~$6 billion in annual revenue for Merck since 2012. Yes, franchise sales have been fluctuating of late, but around a very high base.

We estimate Steglatro franchise sales of ~$8 million in 1Q18. Merck did not break out revenue for its newly-launched, Pfizer-partnered SGLT-2 inhibitor, nor did management mention Steglatro on the call. We calculated $8 million by subtracting Januvia + Janumet sales from Merck's "total diabetes sales" included in a footnote within the company's supplementary financials. Notably, the $8 million reflects combined sales of Steglatro (ertugliflozin) plus fixed-dose combos Steglujan (ertugliflozin/sitagliptin) and Segluromet (ertugliflozin/metformin). We're not surprised by this low revenue – after all, these products were launched in the US partway through 1Q18 and it will take time to build reimbursement – but we were surprised not to hear a single mention of SGLT-2 from Merck management during prepared remarks or Q&A.

In fact, when asked how Merck will fill the gap of Januvia's upcoming patent expiry, management emphasized strength in other business units instead of highlighting the opportunity for its new SGLT-2 inhibitor within diabetes care. We found this quite depressing although we can imagine that patient access investment will be quite high with this business as well You'll find a transcript of this Q&A below.
Merck reported 1Q18 financial results today in a call led by CEO Mr. Ken Frazier. There was minimal discussion of diabetes during the webcast (you can listen to a replay here), but in this report, we detail the major financial and pipeline highlights relevant to diabetes.
Top Five Highlights
1. Januvia Franchise Climbs 7% YOY to $1.4 Billion, Falling 6% YOY in US to $657 Million; Management Addresses Upcoming LOE for Sitagliptin by Emphasizing Strength in Other Areas Beyond Diabetes
Global sales of DPP-4 inhibitor Januvia (sitagliptin) and fixed-dose combination Janumet (sitagliptin/metformin) grew 7% YOY in 1Q18, totaling $1.4 billion. While positive, we note that this growth occurred against an easy comparison of 6% YOY decline in 1Q17, when sales fell to $1.3 billion. Sitagliptin franchise revenue also declined 7% sequentially in 1Q18, from $1.5 billion in 4Q17. In general, Januvia/Janumet sales have been fluctuating over the past ~seven years around a very high base (~$6 billion annually). This is readily apparent on the graph below – the steady sales climb ended around 1Q11, when revenue started to rise and dip from quarter to quarter. To be sure, most DPP-4 inhibitor franchises are affected by similar fluctuations due to (i) increasing competition from SGLT-2s and GLP-1s as well as (ii) pricing pressure around diabetes drugs in the US. But none are quite as successful as Merck's, which leads the ~$10 billion/year DPP-4 market by value (Januvia/Janumet captured ~60% of pooled class sales in 2017).
Looking at sales by geography reveals important granularity, showing how US pricing pressure persists for this DPP-4 inhibitor business. US Januvia/Janumet revenue fell 6% YOY to $657 million (from $702 million in 1Q17), also dropping 10% sequentially from $731 million in 4Q17; this was another easy comparison, since US sales fell 8% sequentially in 4Q17. The Januvia franchise posted sluggish US performance throughout 2017 (-9% YOY in 1Q17, -11% YOY in 2Q17, -2% YOY in 3Q17, -8% YOY in 4Q17), though again, we emphasize the high base (hovering around $3 billion annually since 2012). On today's call, management mentioned "consistent pricing pressure" in the US. They reiterated that prescription volume for Januvia and Janumet is actually rising (though no specifics were provided), and thus attributed falling US sales to lower net price per prescription, alluding to high rebates and patient discounts. As noted, Merck's Patient Assistance Program (PAP) scored quite well and was one of only two to receive a "stamp of approval" (the other being J&J, for SGLT-2 Invokana) in diaTribe's in-depth piece on PAPs (see the full story, "How to Get Diabetes Drugs for Free," at diaTribe.org). It's certainly meaningful that the company's PAP is among the most generous for patients – while some may think that would change given the challenge of pricing pressure, we suspect that it will not.

OUS Januvia/Janumet sales grew 21% YOY to $768 million in 1Q18 (from $634 million in 1Q17), marking the second quarter in many years with OUS franchise revenue greater than US franchise revenue (we take this as another sign of pricing pressure in the US market). Merck commented that demand for Januvia and Janumet is only increasing "in most markets around the world," again implying strong volume growth despite muted global sales growth and recent declines in the US.


When asked during Q&A how Merck plans to compensate for sitagliptin's patent expiry (anticipated in the next few years), management did not highlight the new Pfizer-partnered SGLT-2 ertugliflozin franchise, but instead drew attention to non-diabetes disease areas (cancer, animal health). Management characterized diabetes as a "relatively stable franchise moving forward," echoing past commentary about how Steglatro (ertugliflozin) will offset the Januvia LOE, but won't necessarily be a significant revenue driver otherwise. Since Steglatro wasn't mentioned at all on today's call, we imagine management's perspective hasn't changed drastically from Merck's 4Q17 update, meaning the company still views ertugliflozin as a diabetes stabilizer rather than as a growth driver. We wish we heard more enthusiasm on future growth prospects for ertugliflozin products, although we acknowledge that Steglatro, Steglujan (ertugliflozin/sitagliptin), and Segluromet (ertugliflozin/metformin) only just became available in the US (in late January/early February), and it will take time to build reimbursement. What does seem meaningful to us is that when asked explicitly about Januvia and diabetes – a perfect set-up to express optimism for Steglatro and the advanced SGLT-2 class – management ignored the SGLT-2 opportunity and emphasized how other disease areas will make up for any losses in diabetes. That said, 1Q18 was a relatively strong quarter for Januvia/Janumet, and Merck remains the third biggest player in the diabetes industry (after Novo Nordisk and Lilly). We're not questioning the company's commitment to diabetes, but we do think this particular Q&A exchange is worth noting because of what it may imply about confidence in Steglatro competing with other SGLT-2s that are already established commercially. More on this in the highlight immediately below.
Total Januvia Franchise Sales (1Q07-1Q18)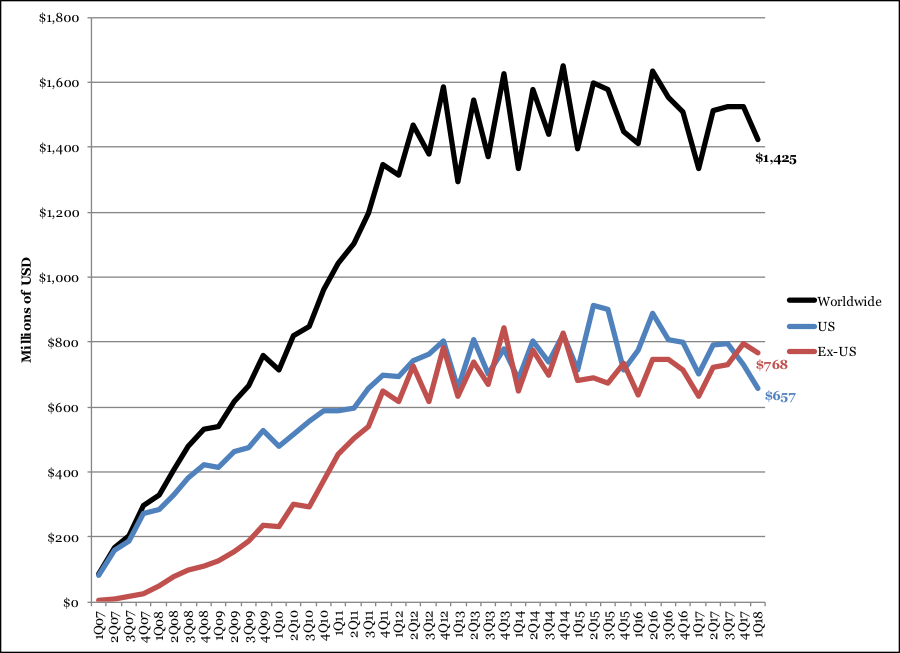 2. New SGLT-2 Steglatro Franchise Brings in ~$8 Million (Our Estimate); Low List Price Bodes Well for Early Uptake
Merck did not break out SGLT-2 inhibitor sales, but we estimate that Steglatro (ertugliflozin), Steglujan (ertugliflozin/sitagliptin), and Segluromet (ertugliflozin/metformin) generated ~$8 million revenue in their first couple months on the market. A footnote in the company's supplementary financials (page 5) lists total diabetes sales at $1.433 billion, while global Januvia and Janumet sales summed to $1.425 billion. Subtracting the two shows an ~$8 million difference, which must reflect early sales of the Pfizer-partnered SGLT-2 products. Steglatro and Steglujan were launched to US pharmacies in late January, while Segluromet became available in February (following FDA approval in December 2017). We confirmed with company reps that Merck will report total franchise sales going forward. Pfizer did not report any 1Q18 revenue from ertugliflozin or from diabetes; however, based on the original agreement between these two companies, Merck will receive 60% of total sales, which puts Pfizer's share at ~$3.2 million for the first quarter.
We were somewhat surprised that Steglatro did not come up at all during prepared remarks or Q&A, especially when one investor asked specifically about the Januvia LOE and diabetes. Instead of highlighting SGLT-2 as an opportunity within diabetes, management shifted focus to growth prospects in cancer and animal health. Indeed, it's been hard to gauge Merck/Pfizer's approach to commercializing their new SGLT-2 inhibitor franchise. The companies were slow to publish a press release announcing FDA approval, and thus far, the Steglatro marketing we've seen at diabetes conferences has been underwhelming (see our ENDO 2018 exhibit hall coverage for one example). On Merck's 4Q17 earnings call, management suggested that Steglatro would help stabilize the company's diabetes franchise without necessarily stimulating major growth in this business unit. For our part, we're optimistic that Steglatro, Steglujan, and Segluromet can be successful on the market: There's ample head room for growth in the SGLT-2 class, since only ~7% of second-line diabetes prescriptions in the US are currently written for an SGLT-2 agent (most still go to an SU), and far more patients could benefit from one of these therapies. As for why Merck has been tight-lipped on ertugliflozin since approval, we can think of a few possible reasons:

Due to timing of the payer contracting cycle and the late 2017 FDA approval of these drugs, ertugliflozin may not be well-reimbursed until 2019. We certainly didn't expect 1Q18 sales to be high, and we suspect that Merck didn't either. To be sure, ~$8 million is small revenue for three new products, but it's fitting in light of their launch ~one-third of the way through 1Q18 and low reimbursement currently.

Now that one SGLT-2 inhibitor has a CV indication on its label (Lilly/BI's Jardiance) and another is pending a CV label update (J&J's Invokana), it's imperative that ertugliflozin shows significant cardioprotection in order to compete commercially. ADA Chief Scientific, Medical, and Mission Officer Dr. Will Cefalu said as much in his keynote address at Keystone 2017. The VERTIS CV trial for ertugliflozin isn't expected to complete until October 2019, at which point Invokana may also be indicated for CV risk reduction and AZ's Farxiga (dapagliflozin) may have demonstrated CV efficacy in DECLARE (expected to read out in the second half of this year). We continue to believe that four SGLT-2 franchises can be commercially successful, especially since evidence is accumulating in support of a cardioprotective class effect, but it may take more time for Steglatro to gain traction. In this sense, perhaps management didn't mention ertugliflozin on today's call because there was no real update (and there was plenty for Merck to discuss across its vast pharmaceutical and animal health business).

We imagine Merck/Pfizer's pricing strategy for Steglatro could help build reimbursement despite the later market entry and lack of CVOT data, because a lower list price is surely appealing to payers. At our local CVS, Steglatro is listed at $319 for a 30-day supply (at both the 5 mg and 15 mg doses), which corresponds to ~$10.63/day. Merck/Pfizer previously announced a list price of $8.94/day, but we understand this can differ across pharmacies. The average list price for other standalone SGLT-2 inhibitors (Jardiance, Farxiga, and Invokana) is $17/day – significantly higher than $8.94/day or even $10.63/day, which we imagine would make Steglatro an attractive option for payers and for patients (though everything is negotiated and the list price probably doesn't matter that much). Saving between $6-$8 per day translates into monthly savings of between $180-$240, and that's not trivial. Steglujan costs $620/month or ~$20.67/day at our local CVS. Merck/Pfizer previously announced a list price of $17.45/day, but nevertheless, Steglujan is cheaper than its competitors: Lilly/BI's Glyxambi (empagliflozin + linagliptin) costs ~$22/day while AZ's Qtern (dapagliflozin + saxagliptin) costs $24/day. We'll be watching with keen interest as Merck/Pfizer expand payer coverage for ertugliflozin therapies in the near- and mid-term future.
3. Standalone Januvia Sales Rise 5% YOY to $881 Million, Falling 8% YOY in US to $465 Million
Sales of standalone Januvia (sitagliptin) mirrored overall franchise sales in 1Q18, growing 5% YOY globally (to $881 million) but diving 8% YOY in the US (to $465 million). In 1Q17, global revenue from standalone Januvia totaled $839 million, while US revenue totaled $508 million. OUS sales of this product grew 25% YOY to $416 million in 1Q18 (compared to $332 million in 1Q17), which speaks to "increasing demand" for this DPP-4 inhibitor therapy around the world, as management emphasized. Standalone Januvia revenue declined sequentially in all geographies, falling 6% globally (from $938 million in 4Q17), 3% in the US (from $508 million), and 3% OUS (from $430 million). These sales trends are illustrated in the graph below. Once again, note the fluctuations in quarterly revenue that began around 2011.
Standalone Januvia Sales (1Q07-1Q18)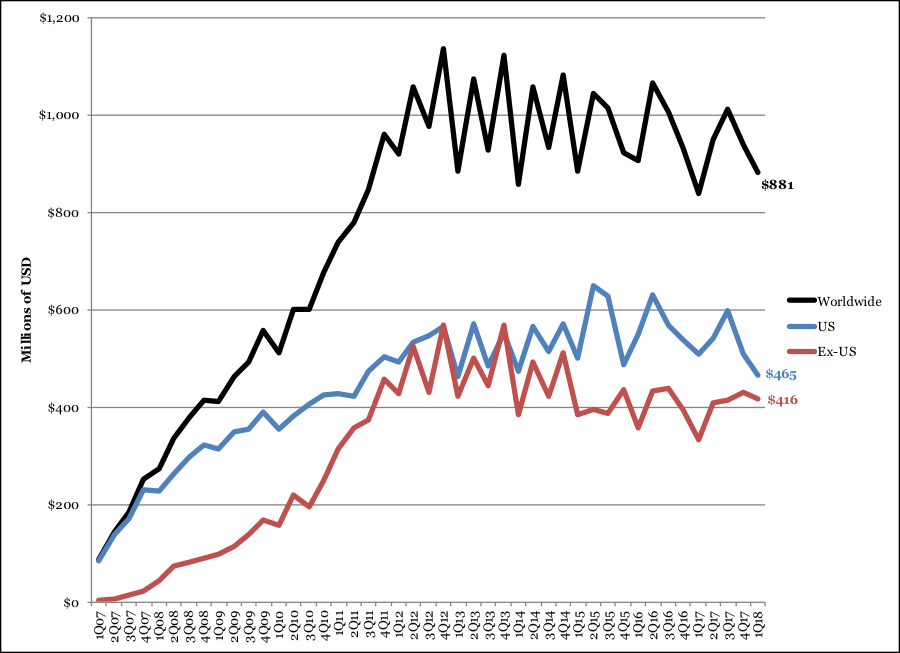 4. Janumet Revenue Rises 10% YOY to $544 Million, Falling 2% YOY in US to $192 Million
Janumet sales of $544 million grew 10% YOY from $496 million in 1Q17, but fell 7% sequentially from $586 million in 4Q17. Worldwide sales of this fixed-dose combination have been fluctuating in parallel with the overall sitagliptin franchise and with standalone Januvia, although strong international uptake of Janumet has buoyed financial performance. In 1Q18, US Janumet revenue dropped 2% YOY to $192 million (from $195 million in 1Q17). Meanwhile, OUS Janumet revenue rose 17% YOY to $352 million (from $302 million in 1Q17) – international sales of the product have grown with near consistency since launch (with 4Q15 and 1Q16 as the only exceptions, according to our model). Our sense is that combo products are becoming increasingly important to DPP-4 businesses; this includes DPP-4/metformin combinations as well as DPP-4/SGLT-2 combinations (which is why we're especially excited about Steglujan). DPP-4 inhibitors and DPP-4 combinations are especially popular among prescribers in Japan. Merck doesn't break out sales by geography beyond US vs. ex-US, but we're certainly curious to see how Janumet is faring in Japan vs. Europe vs. emerging markets.
Janumet Sales (2Q07-1Q18)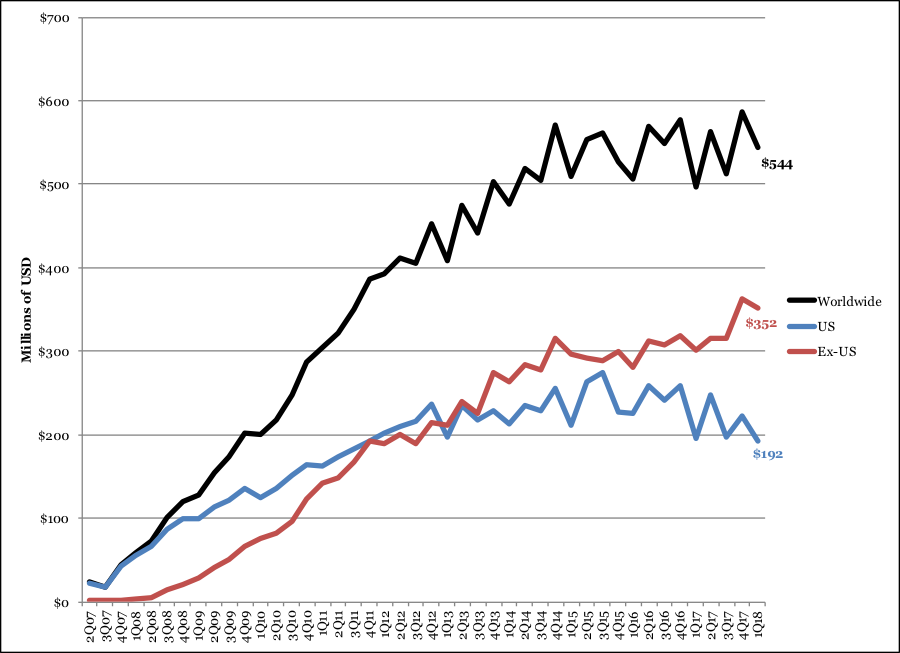 5. No Movement in Merck's Early-Stage Diabetes Pipeline
There were no major updates to Merck's diabetes pipeline in 1Q18. We summarize key details on each of these diabetes drug candidates in the table below. Interestingly, GLP-1/glucagon dual agonist MK-8521 still appears in phase 2 on Merck's pipeline page, even though a phase 2 study of this molecule was terminated in 4Q17 according to ClinicalTrials.gov. We've heard no recent updates on MK-8521, and we're uncertain on the status of this clinical program. We note that the competitive landscape for GLP-1/glucagon dual agonists is robust, with various companies investigating these agents in type 2 diabetes, obesity, and NASH.
Merck Diabetes Pipeline Summary
| | | | |
| --- | --- | --- | --- |
| Product | Product Details | Status | Timeline |
| Lusduna Nexvue (MK-1293) | Biosimilar insulin glargine (Sanofi's Lantus) | Received tentative FDA approval | Tentative FDA approval granted July 2017; Full approval contingent on resolution of Sanofi's patent infringement lawsuit, filed September 2016; Phase 3 data reported at ADA 2016 |
| MK-0431J | Sitagliptin/ipragliflozin | Phase 3 | One phase 3 trial in Japanese participants completed November 2016; Another completed March 2017 |
| MK-8521 | GLP-1/glucagon dual agonist | Phase 2 | Phase 2 trial terminated per ClinicalTrials.gov; Candidate still listed on Merck's pipeline page |
| Undisclosed | Glucose-responsive insulin | Phase 1 | Phase 1 studies underway and expected to report in 2018 according to Dr. J Hans DeVries talk at IDF; Preclinical data presented at ADA 2017; Earlier GRI candidate MK-2640 discontinued after insufficient efficacy in phase 1 trial |
| MK-2640 | Glucose-responsive insulin | Discontinued from phase 1 | Discontinued based on insufficient efficacy in phase 1 trial, completed August 2016 following several delays |
Select Questions and Answers
Q: Investors have long-been worried about the LOE from Januvia in diabetes. How much of a strategic priority is filling this gap over the long term?
Mr. Robert Davis (CFO, Merck): As Ken mentioned in his prepared comments, we are feeling very confident in the growth potential we have. We are focused on filling that gap, with some of the recent deals we've done – the Lenvima deal with Eisai, the Lynparza deal with AstraZeneca – and with our pipeline assets like PCV V114 for pneumococcal pneumonia. So, we are focused on it and we think we're making progress. There's more to do, and that's why business development continues to be a focus. And Animal Health is also an important part of that. It continues to perform extremely well; it's a diversification.
-- by Payal Marathe and Kelly Close