Non-exclusive distribution partnership with new sports tech startup, Supersapiens, founded by Team Novo Nordisk cyclist Phil Southerland; shipments to begin in "coming weeks"
Just this morning, Abbott announced its new Libre Sense Glucose Sport Biosensor, "the world's first glucose sport biosensor" and we learned about a brand new startup SuperSapiens.  The CGM, referred to as Libre Sense, is built upon FreeStyle Libre CGM technology and has already been CE-Marked for consumer, over-the-counter purchase. The biosensor is worn on the back of the upper arm for up to 14 days (exactly like Freestyle Libre). Notably, unlike FreeStyle Libre that enables "scanning" to grab glucose values and trends, the Libre Sense streams continuous, real-time glucose values via Bluetooth to a tracking app or wrist-worn reader every minute. Per our conversations with Abbott and Supersapiens CEO Phil Southerland, the Libre Sense hardware is nearly identical to the FreeStyle Libre 2 sensor, although there are plans to eventually tailor the sensor for athletes, e.g., underwater performance, sweat-proof adhesive etc.— while we are not sure what might be added, it will be fascinating to hear further from the elite athlete contingent. The same sensor technology is used for Libre Sense as Libre 2.  
Details on Libre Sense
Libre Sense is a consumer product indicated for ages 16+ and for "sports use only." Abbott's press announcement notes the device is "not intended for use in the diagnosis, treatment, or monitoring of a disease" (e.g., diabetes or pre-diabetes). Given the similarity of the device to FreeStyle Libre 2, which is CE-Marked as a non-adjunctive CGM, and give that Libre Sense uses the same technology, we'd imagine the warning against use for diabetes management was required to make the device available over-the-counter, rather than any concerns about the device's accuracy. To our knowledge, there are a number of countries where CGM is available over-the-counter (BGM is available without a prescription almost everywhere); however, Abbott's Libre Sense is the first device to be specifically marketed for use outside of diabetes. Other companies (e.g., Nemaura, LifePlus, Sano) have expressed intentions to take CGM beyond diabetes, but none have the experience of Abbott or the data associated with Libre (and beyond). From a marketing perspective, neither has the clout or name recognition though this is irrelent from a regulatory perspective. Of course, people with diabetes and prediabetes without coverage for CGM (i.e., those not on rapid-acting insulin) could benefit greatly from such technology and insight into their glucose levels. Regardless, though people with diabetes might not be using this technology directly, having more people wearing sensors is a positive step in expanding public health benefits around sensor wear. We expect stigma associated with diabetes broadly speaking will decline with more people wearing sensors and discussing values broadly speaking – this could be a very big boost to "glucose health," just as the ecosystem is seeing far more interesting in "heart health" and "kidney health" stemming from incretins, SGLT-2 inhibitors, etc. It's a sea change, using technology, data, and therapy to stay healthy and actively take strides to become healthier, and we applaud the vision of Abbott, Phil Southerland, and all the teams working on this.
With Libre Sense, Abbott is aiming to support athletes without diabetes in understanding the impact of nutritional choices on performance, avoiding low glucose fatigue, and knowing when and how much additional glucose is needed to maintain peak performance. In support of this, Abbott references a 2015 study in American College of Sports Medicine that shows that understanding the impact of one's nutritional intake and understanding real-time glucose makes an athlete more likely to improve their athletic performance. In particular, Abbott's press announcement endurance sports like cycling, swimming, and running. Importantly, the announcement also defines athletes broadly as "individuals who perform exercise with the purpose of improving wellness and performance" – clearly delineating that Libre Sense can be used by non-professional athletes. We are beyond excited on this front, as exercise can be such an incredible tool to help on glucose management, which is so related to long-term heart and kidney health. Notably, it has historically been challenging for many with pre-diabetes to exercise to avoid diabetes, and this is a specific mark in the direction of strengthening care, moving toward greater health, etc. In reality, we imagine that even weekend athletes or occasional athletes who spend time walking after meals to avoid glucose bumps will benefit from insights gleaned from Libre Sense. 
Abbott has developed and will distribute Libre Sense in (non-exclusive) collaboration with Supersapiens, a newly launched sports performance tech company founded by Team Novo Nordisk's Phil Southerland, a former professional athlete and CEO of Team Novo Nordisk and luminary in diabetes. Abbott intends to eventually distribute Libre Sense through multiple sports tech companies (unspecified) and will make the data compatible with distributors' apps and accessory devices. Libre Sense is already compatible with Supersapiens' platform (see pictures below) and will become available in the "coming weeks" on Supersapiens website; per our call with Mr. Southerland, pre-orders are actually available today through the Supersapiens website. Libre Sense will be first become available in Austria, France, Germany, Ireland, Italy, Luxembourg, Switzerland, and the UK, with shipments beginning shipments in November.
Getting FreeStyle Libre technology into new markets also opens new avenues for expansion into monitoring analytes beyond glucose – Abbott has referenced this in the past, calling FreeStyle Libre a "platform product." On the diabetes front, continuous ketone monitoring is an obvious analyte, particularly given Abbott's existing work on ketone monitoring and the growth of both SGLT-2s and ketogenic diets. We believe continuous ketone monitoring would also make possible SGLT-2 approval for type 1s in the US, which is of broad and expanding interest, given cardioprotective and kidney protective properties in people with type 2 and without type 2 (see one example here of multiple pieces on this front that convey potential massive positive changes in public health and system spending in and around diabetes and those at risk). On other analytes, on the athlete front, we'd imagine lactate monitoring could be a natural expansion. In today's press announcement, widely-admired Senior VP of Abbott Diabetes Care Jared Watkin makes a similar hint at multi-analyte monitoring: "This is just the beginning – our breakthrough sensing technology has the potential to go beyond glucose and provide a lens into what's happening in the human body that could provide meaningful insights into other conditions, treatments, and ultimately improve health."
Supersapiens - A Deep Dive
Officially launched today, Supersapiens is a sports tech company offering "real-time energy management system for athletes" and aims to "provide athletes with actionable and personalized insights on real-time biometric data, starting with glucose." During a wide-ranging interview with founder and CEO Phil Southerland, he shared that Supersapiens has just closed a seed funding round of $4.5 million. The company has an extremely impressive roster of executive leadership, scientific advisors, and team sports advisory groups. Led by Mr. Southerland, the executive leadership team includes co-founders President Todd Furneaux, CFO Jay Robbins, Chief Scientific Officer Dr. Juan Pablo Frias, CTO Gagan Chaudhari, Head of Marketing Fitzalan Crowe, Head of Brand Mert Erdir, and Head of Supply Chain Chris Belli. Supersapiens' scientific advisors include Canadian nephrologist Dr. Jason Fung,  Dr. Mike Riddell, Dr. Asker Jaukendrup, Dr. Roger Mazze, Dr. Sam Scott, and Dr. Kevin Sprouse. The company's star-studded sports advisors include Dr. Andy Walshe, Brian Cashman (GM of the Yankees), RC Burford (CEO of the Spurs), Chip Hawkins (CEO of Wahoo Fitness), Thomas Dimitroff (GM of the Falcons), Sir David Brailsford (Principal of Team INEOS), and Darren Eales (President of Atlanta United). Of course, Mr. Southerland himself is a former professional athlete with vast experience using CGM and relentless focus on data and the impact on his athletes on his professional team – as noted, he has been the long-time CEO of Team Novo Nordisk, the all-diabetes professional cycling team and before that Team Type 1. We spoke to Mr. Southerland last month after Novo Nordisk extended the team's sponsorship for another three years (the length of this contract is nearly unheard of today) – see below for our previous coverage.
With data from Libre Sense, the Supersapiens app displays a series of glucose insights for users: (i) average glucose; (ii) glucose control; (iii) glucose stability; and (iv) glucose exposure. For average glucose, "we advise most users to aim for 90 mg/dl." For Supersapiens' app, the glucose control metric is the time that users spend across seven ranges: <70 mg/dl, 70-80 mg/dl, 80-90 mg/dl, 90-100 mg/dl, 100-110 mg/dl, 110-140 mg/dl, and 140+ mg/dl. "Glucose stability" is a volatility metric that accounts for spikes and crashes – ironically, we believe this is similar to the measures of "glucose variability" (e.g., %CV) traditionally used by people with diabetes. Unlike normal CGM platforms, Supersapiens also gives users data on "glucose exposure", which "enables coaches and athletes to adequately prepare for particularly taxing events" – we're working to better understand how "glucose exposure" is determined, but imagine it's similar to the AUC measure used in diabetes management. As we understand it, a range of 55-200 is covered by the Libre Sense.
Available through Supersapiens, a one-month subscription (two sensors) for Libre Sense is €130 (~$153), and subscribers can add a third sensor to their first order for €50. A trial pack costs €160, and a training pack costs €420. For those using a reader instead of a phone app, the reader costs €159. Supersapiens' app is free, though it's unclear whether an active Libre Sense subscription is required to access the app's features. This is slightly more expensive than the $109/month global list pricing for Abbott Libre and Abbott Libre 2 – presumably, the technology associated with the slightly different technology costs more though this is speculation. We also assume this may leave room to cut the price as volume increases.

Supersapiens has partnered with two "top teams" at the Tour de France (currently running) to conduct an observational trial using Libre Sense. The two teams trained with Abbott's Libre Sense biosensor to track glucose levels to find correlations between glucose level and athletic performance. Per our conversation with Mr. Southerland, Supersapiens and Abbott intend to publish those results by ADA 2021. More on this to follow.
Abbott Libre Sense Glucose Sport Biosensor Product Images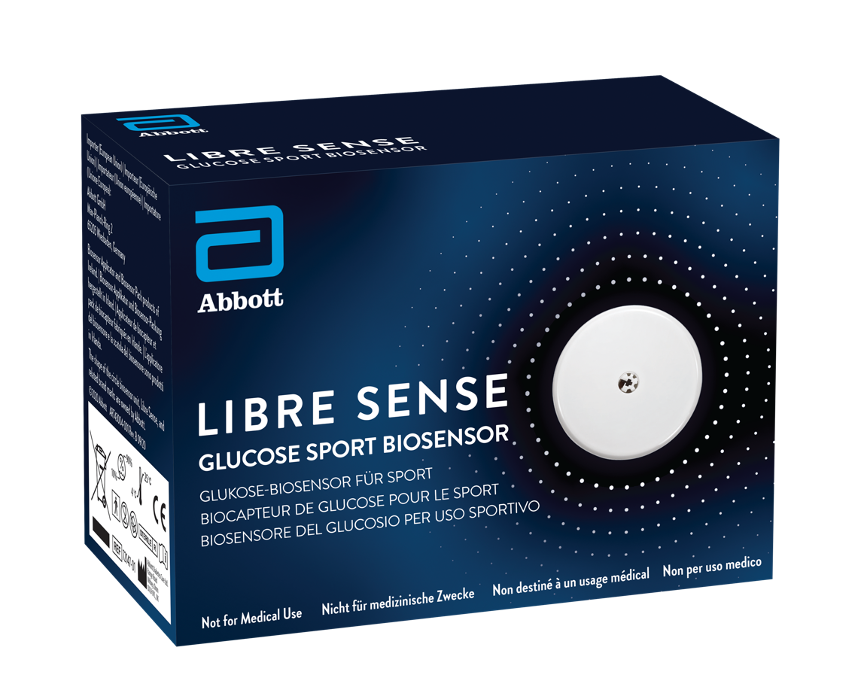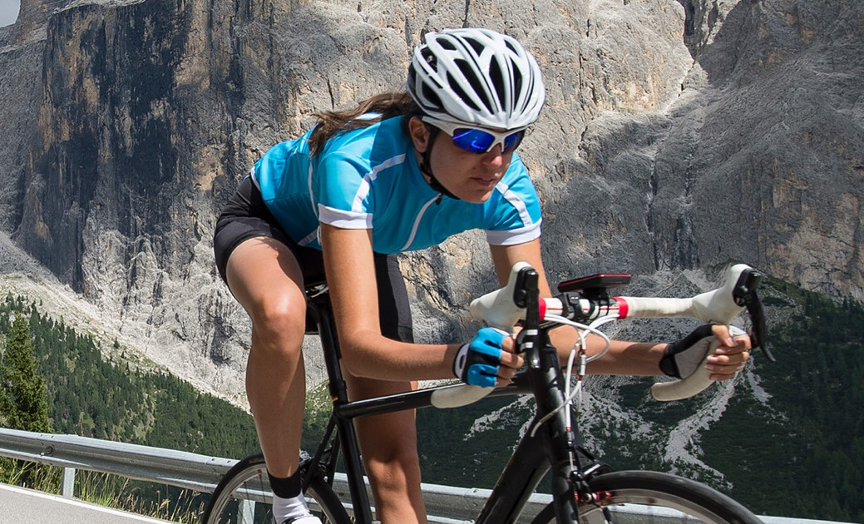 Supersapiens App Images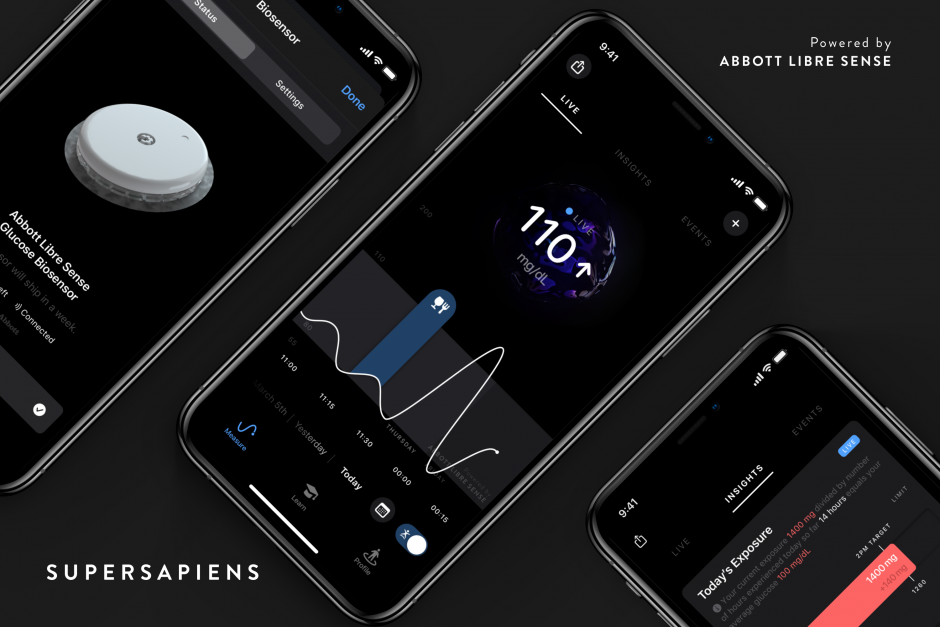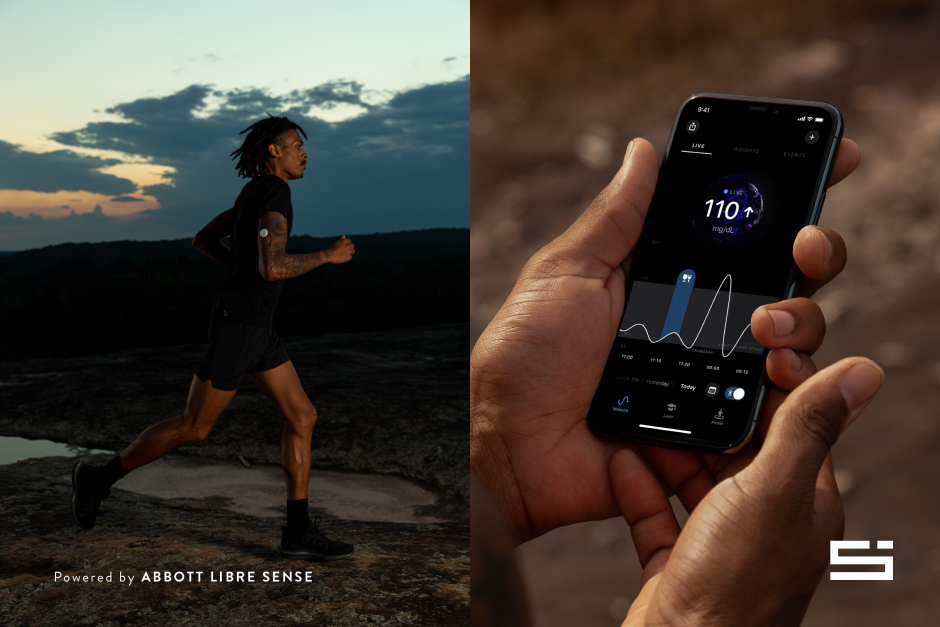 Interview with Supersapiens Founder Phil Southerland
On Supersapiens
Hanna Gutow: Hi Phil, thank you so much for taking the time to talk with us today – big congratulations on this Supersapiens. To start off, we'd love to hear everything meaningful you can tell us on Supersapiens, including how your idea emerged and how your work dovetailed with Abbott's work on this critical front.
Phil Southerland: Sure thing. Well, the mission of Supersapiens is it's a real time energy management system designed to help athletes sustain peak performance. It's an idea I've been working on for the past, call it 13 years after using the freestyle navigator in 2007. Immediately, I thought I need to have this on my bike computer. In 2009, I filed a conceptual patent on getting CGM data onto a bike computer and I just kept trying to make this happen. (Ed. note – we smile at this reference from Phil. Freestyle Navigator was the original CGM system stemming from TheraSense, which Abbott purchased for $1.2 billion in 2004. See our Abbott 3Q09 coverage for some early mentions of it when CGM was still a nascent technology, having been approved in the US in 2008. Phil obviously got his Navigator early in the EU … )
It became a goal we've been working on at Team Novo Nordisk and we had tried partnering with different companies to make that bridge happen. And lo and behold, it was a gentleman by the name of Chip Hawkins who is the CEO of Wahoo Fitness, and Chip got glucose data onto my bike computer through Wahoo.
Looking back to my first twenty days on CGM, I learned more about what everything does to my body in those twenty days than in the first 23 years of life of obsessively checking my glucose. Fast forward to 2018, when I got my first 15 bike rides with CGM data on my bike computer, and I learned more about optimizing nutrition while on the bike than in the previous 10 years of having CGM in my pocket. And I thought, this is the greatest technology I've ever had access to as a person living with diabetes. And I started showing it to others. As I started showing it to more and more athletes without diabetes, every endurance athlete, even those without diabetes, said they wanted access to this same type of insight into their body. They said they would definitely wear a CGM and use this feature it allowed them to improve their fueling, which would help with overall performance.
I started getting some advice from a young entrepreneurial endurance athlete group in Atlanta. They kept pushing me that a key facet to moving this from an idea into a real business was in our sensor partner. At this time, Jared Watkin, the Senior Vice President of Diabetes Care at Abbott, had just approved a four-year nearly $12 million donation to Rwanda that I was involved in. I went out to see Jared in May of 2019 to say thank you for what he did for Rwanda and I showed Jared the glucose on my bike computer. He said, "Phil, that's really interesting. Could you give us more of a business plan?" So, we came back a month later with Supersapiens and the entire brand identity and what we thought the partnership would look like with Abbott. The next week, Jared pitched it to Robert Ford, now President and CEO of Abbott (he was COO then), and Robert endorsed the concept. And we've been off to the races ever since. (Editor's note – this is particularly moving given these two leaders' extraordinarily long-term focus on diabetes at Abbott. Robert Ford joined Abbott in 1996 as a business unit manager in diabetes; Jared Watkin joined Abbott in 1998 when Abbott acquired blood glucose manufacturer MediSense. On Abbott's website, Mr. Watkin shares his proudest moment at Abbott as when he had the opportunity to lead the team that developed Abbott's Freestyle Libre Flash Glucose Monitoring System. Says the website: " … as he looks to the future, he's committed to keeping Abbott Diabetes Care at the forefront of innovation, allowing us to provide better health, and a fuller life, to people with diabetes.")
What's really exciting to me is the team I've built. We've got about 35 people now full-time at Supersapiens. We've raised a significant amount of money (Ed note - see above, $4.5 million seed round just closed). We've built out an advisory team that features some of the top names in mainstream US professional sports. Additionally, we've had athletes who are now racing in the Tour de France use Supersapiens powered by Abbott Libre Sense Glucose Sport Biosensor in training leading into what is the world's biggest annual sporting event. So, it's been a whirlwind.
One of the cool things for me is looking back – personally, this partnership is a big homecoming with Abbott. In 2006, I had a crazy idea to race across America (RAAM [Editor's note – see more here from Cycling News]) and Abbott was the company that supported us in that. And to think that now together we're launching Supersapiens powered by the Abbott Libre Sense Glucose Sport Biosensor together is a dream together. I'm so excited to bring this technology to the mainstream and to support all athletes.
I'm really excited to be able bring this technology to all athletes in the world. On a personal level, I'm eager to see the response from athletes without diabetes and watch them learn just how difficult it is to manage glucose even with a functional pancreas. We are hopeful this will create a deeper sense of empathy and connection between the non-diabetic population and those livings with diabetes in a way that has never existed before. And like everything I do, I do it through sport. And so here we are to focus on the athletes yet again.
Katie Mahoney: Phil, that's such an inspiring mission. The name Supersapiens is really exciting – what is the story behind how you came up with the name?
Phil: Thank you. So, the name I've got to give credit to these young kids, Mert Erdir and Daniel Botev from Temple Design. They are based in Italy and are incredibly talented. I gave them the concept and showed them the product, gave them some basic direction on what I thought it was going to look like, what we were going to do with athletes in the world.
I explained that in sports, especially at the very professional level, there's a lot of investment into athletes. And fueling is one of those black boxes that's never really been understood. The best teams in the world have the best sport scientists, the best nutritionists in the world, but they only know they made a mistake when they have an epic loss in performance due to poor fueling. For their title sponsor, it could be a $400 million mistake from a return on investment standpoint. We want to help athletes who are training for months to take two seconds off their personal records, to be the best version of themselves.
After our conversation, Mert came up with the name Supersapiens. He gave me one name. I said yes, and we were off to the races after that. Mert and Daniel are now full time with us and they've done a beautiful job on making glucose sexy.
On Marketing and Financing
Hanna: You have clearly put a lot of thought into the branding of Supersapiens. What is possible to tell us on funding and the funding and strategic trajectories of Supersapiens?
Phil: We've closed on a seed round of $4.5 million. I built a really solid group of scientific advisors which is very important to us because everything we're doing now and in the future with Supersapiens will be backed by science. Currently, it's a white space of opportunity around research and what happens to a non-diabetic body during exercise, particularly intense, endurance exercise. There's no data out there on the very elite level. And so we've have a big opportunity to get published and share what we learn and help people optimize nutrition. Ultimately, I think we're going to learn a lot that can be brought back to the diabetes community, which I'm really excited about.
The strength of the science group is important because it allowed me to recruit a very dynamic team sports advisory group. I've got Sir David Brailsford, who's the principal of Team INEOS-Grenadiers Professional Cycling team and he's won seven Tour de Frances. Thomas Dimitroff, the general manager of the Atlanta Falcons, Brian Cashman, the general manager of the New York Yankees, Darren Eales, the president of Atlanta United, and RC Buford, who is the CEO of the San Antonio Spurs are all investors in and advisors for Supersapiens.
It's been great to see how the head trainers of NBA, NFL, Major League Baseball, and soccer have all embraced what we're bringing to the table and the way we present our data. They have come on as both investors and advisors to ensure that we can bring this to mainstream sports.
Also, if we can have the best athletes in the world wearing these biosensors, even if they don't have diabetes, I think it's going to empower a whole generation of kids and people with diabetes to really embrace the technology, which will help them be the best they can be with their  diabetes management. There are plenty of kids out there who still don't wear a sensor because they don't want to be different, but if they see their sports heroes wearing a biosensor, it'll help them embrace the technology.
Hanna: That's exciting. What are you going to be focusing on in terms of marketing the Abbott Libre Sense Glucose Sport Biosensor through Supersapiens? What aspects of the sensor are you trying to highlight in that campaign?
Fitzalan Crowe (head of marketing and partnership sponsorship at Supersapiens): We're really looking at it in a multifaceted way to begin with the splash on these professional sports teams and through these athletes to start introducing the technology. Abbott is such a globally recognized brand for their devices, especially in the diabetes world. By partnering with professional sports teams, we will start having the Abbott Libre Sense technology recognized and accepted beyond the diabetes community. We are also developing what we feel will be a best-in-class Ambassador Program working with amateur and other elite athletes. We want to get this technology on every athlete, not just professional athletes. We want everyday athletes to feel connected to the company and grow together for years and years to come.
Kelly: Phil, thank you so much. I think of everyone as an athlete, especially everyone with diabetes – even if they don't yet know it. You agree with that, right? You've been so much of our inspiration for that vision for so long here at Close Concerns, and at diatribe, and I know that's true at dQ&A as well.
Phil: Without a doubt. Without one doubt. 
Katie: Given that Libre Sense is marketed to all types of athletes, are there any changes to the design of Libre Sense compared to the FreeStyle Libre franchise such as a stronger adhesive to handle more sweat or increased waterproofing for swimmers?
Phil: Right now, we're investigating some of those ideas. We will enter into some trials about swimming and more time under water, but for now it's the same technology. Abbott has done a phenomenal job with the Libre brand and now Libre 2 and the Libre Sense Glucose Sport Biosensor. And we're just fortunate, really fortunate to be able to piggyback off that and bring that same technology to the world without diabetes. (Editor's note – as discussed in the story above, there is a different range with the Libre Sense Glucose Sport Biosensor, it is not a scanning device, nor does it have alarms.)
On the Supersapiens App and Glucose Data
Hanna: For someone who doesn't have diabetes and hasn't been tracking their glucose their whole lives, how usable will their glucose data be? Is there anything that you're doing at Supersapiens with your app to make sure all the data will be accessible for users new to tracking glucose?
Phil: Good question. To go from no glucose data to continuous data, it's a big wow. What we've seen through our limited participants in our observational trial is we have to focus a lot on education. And if people see spikes, well, we need to help them understand why did that happen? Is that normal? We don't want them to get worried about those changes. People without diabetes, especially endurance athletes, spend a lot of time in what would be the hypoglycemic range for people with diabetes. There have been studies that show endurance athletes frequently enter severe hypo – glucose below 50. And so we have to help people understand that they're normal. We have to tell them not to change their whole life just because of a single data point. Instead, we want them to learn how and where they could make small interventions.
In the Supersapiens app, we'll have the typical metrics such as average glucose. But then we focus heavily on glucose zones allowing athletes to overlay those zones with training data. We're working to integrate our data with a company called Training Peaks, which is the world's leader in endurance sports training so users can make the most of all the data they're collecting. Moving forward, we'll look to integrate with other companies because glucose impacts everything.
Editor's note: This product is not compatible with any diabetes readers/apps and the app is not compatible with any other sensor.
Katie: For athletes who are new to glucose monitoring, what do you think the most important information for them will be?
Phil: I think the trend arrows are what's going to be most important. And that's what I saw when I first had CGM on my bike computer. Before using CGM while biking, I used to see a glucose of 150mg/dl and with an arrow flat and think, I'm fine and I wouldn't check for 30 minutes. And then 30 minutes later, you see a blood glucose of 105mg/dl with a double arrow down. And at that point, you have to eat 80 grams of carbohydrates to stabilize and get back up.
But once I had the CGM data in front of me, I'd see 150 and then 147 and then 142 with an arrow pointing down and that's when I would eat. For athletes without diabetes, they're going to get to use these trend arrows, which will be one of the most valuable tools. I entirely believe it's that trend that is going to be the reason someone wins the Tour de France and it also can be the reason someone else loses the Tour de France.
Hanna: Building off of that last question, how do you plan to present data to users? What will the Supersapiens' app interface include?
Phil: We will be focused on a few different metrics. One is your average glucose. That's going to be probably the most important from a retrospective standpoint. We will also show data on glucose stability, with user's spikes and crashes. Helping people to learn more about how to keep glucose stable and avoid the spikes and the crashes is going to be important. For our insights – it's all about helping each person find out where they perform best and then how to optimize fuel to those levels.
And, the metric I'm probably most excited about is what we're calling glucose exposure. If you look at average glucose, just say, for example, 100 milligrams per deciliter, then your exposure target would be 2400 milligrams per deciliter over 24 hours. So, each hour multiplied by the average, that's your daily exposure. For a person sitting down going to dinner, if they're overexposed at that point, due to many factors as not being as active that day or eating too much junk food, they could be overexposed. They'll see that and get to say, maybe I need to eat a lighter dinner today. Or, perhaps at that time they're underexposed, and they know they can have a larger dinner. The glucose exposure metric is going to be like your own personalized 10,000 steps based on exactly where your metabolism is that day. And I think that's going to help us not just be a game-changer for athletes as they're in competition, but for athletes as they prepare to be the best version of themselves leading up the competition.
Katie: With all this valuable data you'll be collecting, can you look ahead a couple of years and share with us all what some of your long-term goals are for the company?
Phil: Yes. For us, it's putting more and more people without diabetes on the Abbott Libre Sense Glucose Sport Biosensor. If you look at the market size, there's seven billion people in the world today and if seven billion people wore the Libre Sense biosensors, they would be healthier versions of themselves. So, that's my target – let's get the world using a biosensor. Let's get the world obsessed about glucose, because the obsession about glucose is what keeps us all healthy and helps us make smart decisions. And it's just really exciting that we get to do this from the pinnacle of sport, start at the very top and then have everyone else follow. I would love for glucose to be the new dinnertime conversation of how high did you go, how low did you go, what's your exposure target and what have you learned?
As I said earlier, I'm excited about the understanding this will also bring for the diabetes community. Everyone will see these massive spikes in glucose those people without diabetes are going to realizing how difficult it is to manage glucose, much less having to manage diabetes. Unfortunately, there's always been this disconnect between people who have diabetes and those who don't, just because they cannot truly understand how challenging diabetes management can be. So, I think as more people learn about glucose management, we're going to have a much more unified world around helping people with diabetes.
On Supersapiens' Observational Study and Publication Timelines
Hanna: We understand that you have been running observational trials with Libre Sense – for athletes participating in these trials are they getting to see their glucose data in real-time or retrospectively?
Phil: Right now, they're seeing things retrospectively. And they've been really excited with the data. They think it's cool. They like the app and how we present everything to them. And they've been learning what does what to their body – lots of information that they never knew before.
Kelly: This is fantastic to hear. The value will be profound for the field. What a way, in addition to helping top athletes, to simultaneously start to reduce stigma, start to normalize diabetes.
Hanna: You know what we'll ask next: what is your timeline or plans for publishing this data? It will be great to see and translate and share.  
Phil: As far as timelines for study and publication, I'm not exactly sure because we have athletes in different sports, in different parts of the world. But there is a plan – we intend to publish although it isn't yet clear when. And as soon as we have something that can be published with authority, we'll share that with you and make that public. I hope that by the ADA 2021 we can have something. ATTD 2021 might be a stretch, but you never know.
Kelly: This has been terrific to listen to you Phil, and take in. What else can you tell us about the launch? We know there will be so many people that will want to make orders. As we understand it, there are no alarms with this version and this is approved roughly 55-200 mg/dL – what else should we know?
Phil: We have begun our launch and people can start preordering the Abbott Libre Sense biosensors right away (www.supersapiens.com). We have a limited supply in Europe to begin and we'll start shipping product in early December to customers.
I want to conclude that for my entire adult life, my personal mission has always been to change the world for people with diabetes and that hasn't changed. This is all about driving more value back to the diabetes community, about driving that empathy from people without diabetes to people with diabetes. A connection that's never existed before.
I'm also so excited because I think this will help inform and motivate people around exercise.  I know people are motivated to improve their health, they just don't always have the knowledge or tools. By adding the glucose data mentioned above (glucose stability, glucose exposure, etc), they'll now have a tool that can help validate all their hard work beyond the scale. If you begin to exercise, it only takes a matter of days until your metabolism speeds up and you are able to see improvements in glucose management. So, while we're starting at the top with elite athletes, Supersapiens and the Abbott Libre Sense are just as much for the person who doesn't have a nutritionist, who doesn't have a team doctor, who doesn't have a scientist telling them what to do. It's about helping empower each person to become their own scientist. They're going to have a window inside their body that they've never had before. And for the first time ever, the invisible is going to become visible. And with that data and with those insights, behavior changes will come. We are motivated to help everyone out there become better versions of themselves by having access to their very first Libre Sense biosensor.
Hanna: Phil, huge thanks so much from everyone at Close Concerns for taking the time to talk with us today. It is always so inspiring to learn about your work – the implications for public health are massive here, and we cannot wait to watch Supersapiens and Libre Sense.
Close Concerns' Questions
What sorts of data were needed to receive CE-Marking? What does the accuracy data show?

What was the accuracy data during high-intensity exercise?

Are there any differences on general use, reliability, ease of use, etc?

What is the timeline for news on the US regulatory front? Are any details available on the what would be necessary for that approval and regulatory appetite, particularly given emerging risk factors around COVID-19 and growing attention on prevention of conditions such as diabetes, pre-diabetes, and obesity?

What do the financial aspects of the partnership look like (e.g., revenue split, royalties, etc.)?

Outside of glucose, where do Abbott and Supersapiens see the partnership moving in the future as far as different kinds of athletes go and as athlete is defined?

Will we see widespread adoption of CGM technology as a general "fitness" product (e.g., step counters) or will it be a smaller market of primarily high-performance athletes?

How soon will there be active competition for Abbott in the space?

Will this be shown in the Abbott booth at virtual EASD 2020?
Appendix - Roundup of Close Concerns' Past Coverage of Phil Southerland and Multiple Organizations
| | |
| --- | --- |
| Date | Title |
| August 19, 2020 | Novo Nordisk and Team Novo Nordisk sign a 3-year deal to extend team's largest sponsorship; extensive interview with Team Novo Nordisk's CEO Phil Southerland |
| June 14, 2020 | Introduction of the Diabetes Exercise Perception (DEEP-1) Questionnaire for Assessing Perceived Attitudes and Challenges in Athletes with Type 1 Diabetes – LB #45, American Diabetes Association Scientific Affairs |
| March 12, 2019 | |
| June 18, 2018 | Dexcom becomes an official sponsor of Team Novo Nordisk – a big visibility win for CGM on the world-class cycling team |
| March 10-14, 2018 | EADSG 2018 - East African Diabetes Study Group Annual Congress |
| August 24, 2015 | "In the front seat with all-diabetes, pro cycling Team Novo Nordisk at the US Pro Challenge …" |
| August 19, 2014  | All-diabetes Team Novo Nordisk aims for big finish at USA Pro Cycling Challenge |
| August 27, 2014 | Team Novo Nordisk's Javier Megias takes 33rd in USA Pro Challenge; interview with Phil Southerland |
| August 21, 2013 | |
| August 21, 2013 | |
| March 12, 2013 | Expert panel calls for standardized reporting of glucose monitoring data, supported by IDC and Helmsley Charitable Trust; joint publication in JDST/DT&T |
| August 10, 2013 | |
| March 29, 2011 | IDC/Helmsley Charitable Trust - Expert Panel Presentation on Optimizing Glucose Reporting, Analysis, and Clinical Decision Making in Type 1 Diabetes |
| Dec 12, 2011 | |
| September 2 – 5, 2009 | International Society of Pediatric and Adolescent Diabetes (ISPAD) 35th Annual Meeting - Ljubljana, Slovenia (note that this report references Time in Range but at 70-144 mg/dL) |
| August 5-9, 2009 | |
-- by Katie Mahoney, Hanna Gutow, Albert Cai, and Kelly Close