Glytec and Smart Meter announced a partnership last week to integrate Glytec's FDA-cleared Glucommander Outpatient insulin dose titration platform (provider-facing decision support for basal, basal-bolus, and basal combinations) with Smart Meter's cellular-enabled iGlucose BGM. Blood glucose data sent from iGlucose will stream to the cloud, where it can be leveraged by Glucommander Outpatient to calculate personalized insulin dose recommendations – what Glytec is now branding a "virtual insulin titration service."
The iGlucose BGM obtained FDA 510(k) clearance and a CE Mark in May 2017. At the time, we were concerned that the meter barely made it past the ±15% threshold for >75 mg/dl (95.2%); however, we've since learned that the meter did pass the more rigorous  October 2016 FDA BGM accuracy criteria. While the company initially submitted only six YSI data points in hypoglycemia, following an FDA request for additional data, Smart Meter submitted 50 supplemental data points <75 mg/dl. iGlucose was not included in the DTS' BGM Surveillance study, as the meter was not yet on the market, but given its accuracy performance under the 2016 FDA BGM guidelines, it likely would have passed the trial's rigorous evaluation. The inclusion of cellular is clearly valuable for passive upload and no Bluetooth hassle, though the iGlucose hardware itself is rather clunky. The meter is ~$50-$60 direct-to-consumer cash price in the iGlucose online store, with 150 strips going for $55 ($0.37 per strip); B2B pricing varies.
As a reminder, Glytec also has integrations with Livongo's cellular-enabled BGM andAgaMatrix'sBluetooth BGM. Glytec is also part of Onduo's pilot with Telcare's cellular-enabled BGM.
We're glad to see Glytec expanding its BGM compatibility and remain optimistic about the software's potential. One-year data (n=74) presented at EASDfound that use of Glucommander drove a 2.5% A1c drop from a high baseline of 10.3%, as well as a robust decline in mean blood glucose from 214 mg/dl to 162 mg/dl. It's particularly impressive that Glucommander achieves these results using BGM data only – how would improvements change if CGM data were used?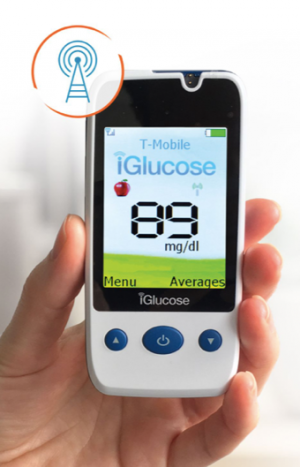 -- by Maeve Serino, Adam Brown, and Kelly Close