Executive Highlights
Orexigen recently provided its 3Q17 financial update, reporting $19 million in global sales of obesity drug Contrave. This marks a near-doubling YOY but a 19% sequential decline, which management attributed to autumn being a "seasonally weak period" for weight loss drugs (we think it may also just have to do with lumpy sales – 2Q17 was particularly strong). US sales comprised 94% of Contrave's total revenue ($18 million). Management re-affirmed Contrave's patent exclusivity through 2030.
Notably, Orexigen simultaneously announced a deal with Merck KGaA to market Contrave in Latin America. Merck will shoulder all commercialization and regulatory activities, and will own marketing authorization for the region, while Orexigen will receive an upfront payment and subsequent regulatory and sales milestone payments (specific amounts not disclosed). This is a big deal to see this partnership after the entire commercial market has been so weak commercially even in the midst of strong science (Novo Nordisk's Saxenda continues to be the exception).  
On a pooled basis, the obesity drug class grew 51% YOY to $139 million in 3Q17 (from $92 million in 3Q16), which also marks 4% sequential decline (from $146 million in 2Q17). Novo Nordisk's Saxenda captured 73% of the market by value, followed by Orexigen's Contrave with 14%, Vivus' Qsymia with 7%, and Belviq with 6%. Excluding Saxenda, the class posted $38 million in quarterly sales, still a strong financial performance with sales rising 31% YOY and flat sequentially. That said, we see enormous room for more rapid growth of this market, given how few patients receive medical care for obesity (if they are diagnosed at all).
Orexigen recently provided its 3Q17 update in a call led by CEO Mr. Mike Narachi. Quarterly revenue for obesity drug Contrave (naltrexone/bupropion extended-release) nearly doubled YOY but fell 19% sequentially to $19 million. This sequential drop came against the difficult comparison of an impressive series of sequential gains: +23% in 2Q17, +38% in 1Q17, and +44% in 4Q16. Total volume (TRx) for Contrave grew 26% YOY in 3Q17 to ~208,000 total filled prescriptions, though this represents a decline from ~234,00o prescriptions in 2Q17. US sales in 3Q17 comprised the lion's share of Contrave revenue at 94%, up from 78% in 1Q17 and 86% in 2Q17, rising 85% YOY but falling 14% sequentially to $18 million. Outside the US, sales fell 59% sequentially to $1 million, comprising 6% of franchise revenue. With double-digit YOY growth for three consecutive quarters now (+36% in 1Q17, +90% in 2Q17, and +97% in 3Q17), Contrave represents a bright spot in the obesity market (joining Saxenda), and we hope the product continues to do better commercially, after several quarters of YOY decline in 2016. In explaining the relatively subdued sequential performance for the Contrave business, management noted that fall is a seasonally weak period for weight management drugs – we aren't really sure about this and are guessing (this is speculation) that a stronger 2Q17 resulted from a bit "lumpy" sales rather than quite as much strength as we had thought. Overall, however, we were glad to hear management maintain quite an optimistic outlook for Contrave's sales trajectory and we hope this was apt. Additionally, Orexigen's slides highlighted a recent patent decision reaffirming exclusivity for Contrave through 2030, following an Abbreviated New Drug Application (ANDA) filing by Actavis Pharmaceuticals to market a generic version of the product.
Figure 1: Total Obesity Market Sales (1Q13-3Q17)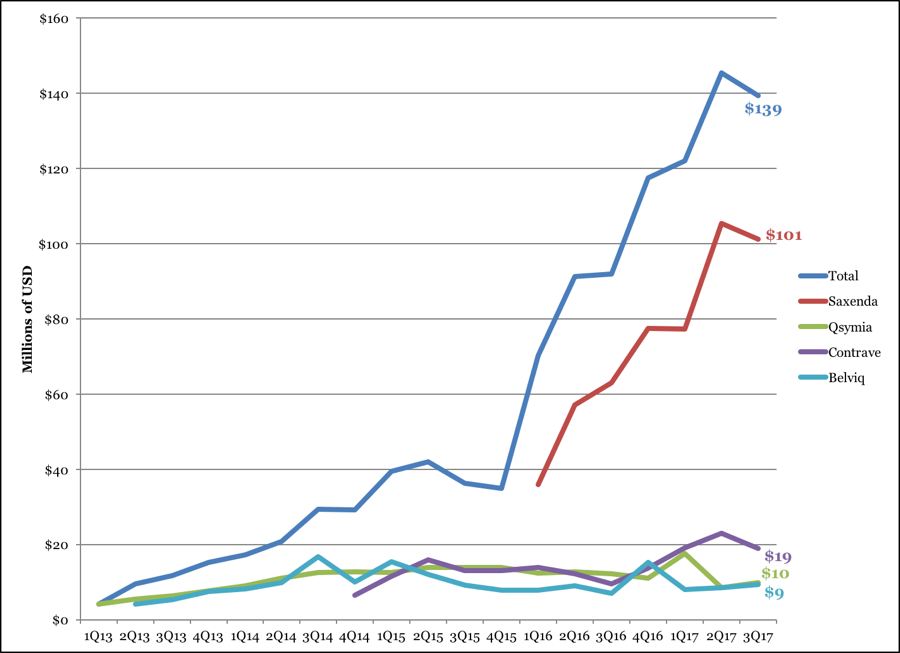 Questions and Answers
Q: Do you have any theories as to why the number of new writers hasn't rebounded as much as the number of prescriptions?
A: When you're looking at the new writer data, you're only looking at unique doctors who have prescribed for the first time. So, the 100,000 doctors that I mentioned that have already written a prescription for Contrave are no longer available: they're not in the denominator. So, over the life cycle of a product, you'd expect that to continue to decline. The prescription base is written by the entire universe of doctors who are prescribing Contrave.
Q: What drove the net revenue per unit decline to $92 from $96?
A: I think both of those are pretty consistent. The slight decline may have been driven by some of the mix we've seen in terms of the proportion of our business that are using savings cards versus not, but all-in-all we're very pleased with the general trends that we've driven in terms of driving revenue per unit. In fact, as I mentioned in my prepared remarks, it's above our guided range, so we're continuing to monitor that and we're really pleased with how that's playing out.
-- by Ann Carracher, Abigail Dove, Payal Marathe, and Kelly Close