Executive Highlights
Dexcom's worldwide 2Q18 sales hit a record-high $243 million, accelerating to 42% YOY growth on a challenging comparison (+24% in 2Q17). This represents three record sales quarters out of the last four, clobbering the previous $221 million record in 4Q17. Worldwide sales grew 32% sequentially, the largest Q2 sequential gain Dexcom has seen since 2010. Notably, the acceleration came from G5, as G6's full US launch was only ~three weeks long in Q2 (it started in early June) – this bodes extremely well for 2H18. Both geographies saw record-highs: (i) US sales of $190 million grew 35% YOY and 30% sequentially, Dexcom's strongest US growth in two years and driving 68% of 2Q18 growth; and (ii) international revenue of $53 million grew a robust 78% YOY as reported (+71% operationally) and 36% sequentially, hitting a record 22% of Dexcom's total sales and driving 32% of growth.

In a massive guidance raise, 2018 revenue is now expected at "approximately $925 million," reflecting 29% YOY growth from 2017. This is up a remarkable ~$70 million from 1Q18's guidance range for $850-$860 million (+19%) in full-year sales. It also marks two straight guidance raises following the initial $830-$850 million, which we did feel was on the more conservative side.

Dexcom reported GAAP net income of $30 million, a 10x improvement from $2.9 million in 2Q17. This reflected $43 million of investment income; notably Dexcom invested $5M in Tandem at $2/share; it's now at $28/share. Gross margin declined to 63%, down from 65% in 1Q18 and 69% in 2Q17, reflecting G6 manufacturing expenses. In 1Q18, management said to expect 65% to 68% for the year on average; this was reduced to 64% today.

Executive Board Chairman Terry Gregg is retiring, and CEO Kevin Sayer will now serve as both CEO and Chairman. This completes one of the best leadership teams and transitions we've ever seen in diabetes, going back to their work together at MiniMed back in the day (when Sayer was controller under CEO Al Mann and President Terry Gregg) to the Dexcom CEO transition in 2015. Until recently, Sayer worked on "today" while Gregg worked on "tomorrow." Gregg's retirement from Dexcom's Board and role as Chairman is a definite loss.

Dexcom's factory-calibrated, 10-day-wear G6 is now in its full US launch. The call was absent of metrics, though there is "strong demand and "unambiguously positive" feedback so far – we can certainly second this. Management noted there's been a "strain on the organization to keep up with demand," and the team is working "around the clock," "24/7 all the time right now as far as manufacturing" to get product out the door. Still, order delays have consistently been in the ballpark of "3-5 days." Read a complete G6 test drive here. An OUS launch is still 2H18. There is some controversy around the restart; the accuracy clearly would deteriorate from the 10-day mark, though we do not believe this is a major safety question – it does create a cheaper G6, which makes it more competitive with Abbott from a pricing perspective (though still is not as cheap).

Payer discussions are underway for G6. Dexcom has been "very creative and aggressive" in proposing different payment structures – including pharmacy channel and subscription/bundling. Mr. Sayer was candid in saying, "Pricing pressures are not an "if" – they are a 'when.'" Dexcom remains willing to give up G6 sensor pricing to expand access to the pharmacy. So far, G6 is using G5's reimbursement structure.

Pipeline updates all reflected delays: (i) a lower-cost G6 transmitter is expected to launch "sometime next year" (back from "late 2018 or early 2019"); (ii) Verily gen one sensor remains in validation and verification (no change), but with "no update or timeline right now" for a 14-day wear G6 sensor trial (back from "2H18"); and (iii) the lower-cost, Verily Gen 2 CGM is now slated for launch in "late 2020, early 2021" (back from "2020").
Dexcom reported record 2Q18 financial results this afternoon in a call led by CEO Kevin Sayer, CFO Quentin Blackford, and EVP Steve Pacelli. Noted CEO Kevin Sayer in concluding remarks, "G6 is not a product launch for us; it's a generational platform shift. We have the technological foundations to take CGM all across healthcare … This ride isn't slowing down any time soon." See the top financial and pipeline highlights below!
Financial and Business Highlights
1. Record sales of $243 million grow 42% YOY and 32% sequentially, actually driven by G5! Record US sales of $190 million (+35%) drive 68% of Q2 growth; OUS sales of $53 million rise 78% YOY
Dexcom Quarterly Sales (1Q12-2Q18) – Global, US, OUS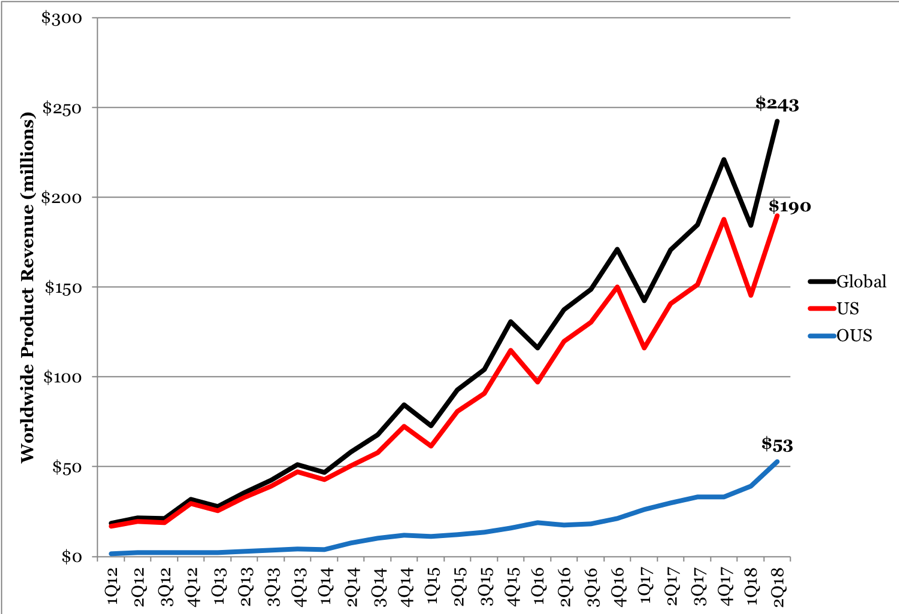 2. Massive guidance raise: 2018 sales of "approximately $925 million" (+29%), up ~$70 million from previous guidance for $850-$860 million
3. GAAP net income of $30 million; gross margin of 63% down from 69% in 2Q17, reflecting "natural inefficiencies" as G6 manufacturing ramps
4. Board Chairman Terry Gregg retires, CEO Kevin Sayer becomes Chairman; completes a tremendous leadership transition
G6 Launch Highlights
1. US launch of G6 underway, "Strong Demand" and "Working Around the Clock" to get product out; broader patient mix
2. G6 payer discussions underway, with potential shift on pricing, pharmacy channel, subscription bundling ("we've been very creative and aggressive"); comments on competition
3. G6 International Launch in 2H18, following CE Mark in June
4. No G6 Medicare timing update, but big win in allowing smartphone communication with G5
5. Will anyone else get iCGM indication? FreeStyle Libre 14-Day still falls well short on hypoglycemia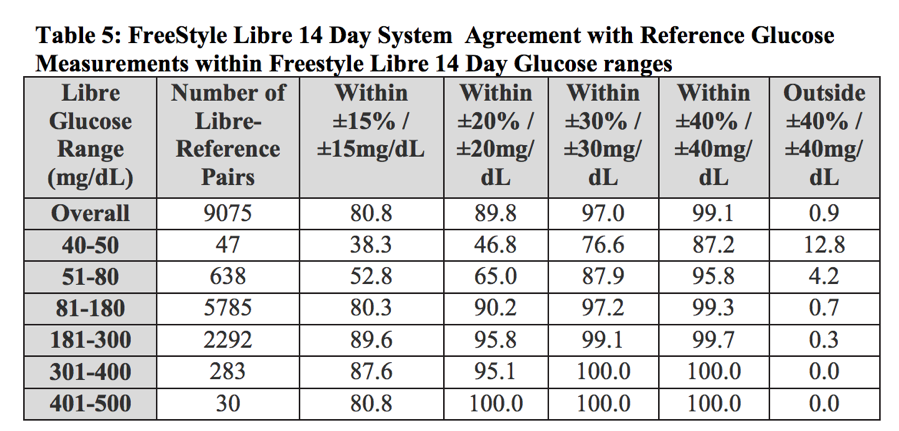 Pipeline Highlights
1. Lower-cost G6 transmitter to launch "sometime next year", "working really hard" on validation and verification
2. Verily gen one remains in validation/verification, no launch timing; no timing on 14-day wear clinical trial, given iCGM standards
3. Verily Gen 2 now slated for "late 2020, early 2021" launch, delayed from previous "2020" launch goal
4. No update on G6 receiver-optional FDA filing; as of 1Q18, Dexcom was "putting plans in place"
--by Adam Brown and Kelly Close