November 10-12, 2016 – Bethesda North Marriot Hotel – Bethesda, MD
From Thursday November 10 to Saturday November 12, the diabetes tech world will descend on Bethesda's North Marriott Hotel for the 16th annual Diabetes Technology Meeting. Wow! We remember the very first one, back in the day! Sessions we're most looking forward to include (i) patient-generated health data and precision medicine (Verily, IBM Watson, Tidepool, and Glooko – none of these companies would've been here even five years ago!); (ii) a powerhouse CGM industry update session (Abbott, Dexcom, Medtronic, Roche, Arkray – this has been a highlight at this conference for the past several years); (iii) regulatory initiatives in diabetes technology, including FDA's Dr. Courtney Lias on BGM; (iv) artificial pancreas algorithm innovations (including Drs. Moshe Phillip, Claudio Cobelli, and Bill Tamborlane); and (v) sessions on social media, diabetes apps, and insulin delivery (including OpenAPS user Rachel Sandlain, the masterful Dr. Joyce Lee, and DiabetesMine's Amy Tenderich).
The Thursday pre-conference workshops will include a rapid-fire session on implanted CGM sensors (including Senseonics, GlySens, Profusa, Biorasis, Capillary Biomedical, and investor perspectives); a slew of talks on reimbursement and competitive bidding; discussion of diabetes metrics for glycemic control and glucose monitors; and a session on biomarkers.
Keep scrolling for a chronological, session-by-session overview of what is sure to be an insight-packed gathering, and check out our report from DTM 2015 for a reminder of how impactful and update-rich this meeting can be!
Thursday, November 10 (Pre Conference)
Friday, November 11
Saturday, November 12
(8:00 am – 10:00 am) Session 5: New Drugs. Dr. Jessica Castle (Oregon Health and Science University, Portland, Oregon) will begin by presenting on glucagon. Glucagon is, of course, particularly relevant today as groups in Boston (Beta Bionics) and Montreal push toward dual hormone closed loop systems. The rest of the session will be on insulins, as Drs. David Kerr, Tim Heise, and Lutz Heinemann elaborate on optimizing basal insulin, novel rapid acting insulins, and biosimilar insulin, respectively. We're particularly interested to hear about the rapid acting insulins – new developments in this department could shoot hopes for future 100% closed loop systems through the roof.
(10:20 am – 12:00 pm) Session 6: New Insulins and Delivery Systems. Former AADE Educator of the year Dr. Deborah Greenwood will moderate this powerhouse session, which will begin with Dr. Lutz Heinemann's talk on infusion set advances. The highly regarded Dr. John Pickup (King's College, London, UK) will then delve into the land of patch pumps, where Insulet is currently the leader, but many other companies are trying to scale (Cellnovo, Kaleido) or bring something to market (Roche). We're also excited to hear from young OpenAPS user Ms. Rachel Sandlain – the DIY automated insulin delivery system has received increasing airtime at conferences, and most recently, substantially reduced the form factor burden with the iOS app Loop (see picture below; it now requires just one additional device (a RileyLink) that turns Medtronic pump RF into Bluetooth; the G5 data goes straight into the app from the transmitter). We'll be interested to hear what Dr. Heinemann discusses on the infusion set front, where the competitive pressure has risen now that BD/Medtronic just began a limited launch of MiniMed Pro-set with FlowSmart technology (including a new Quik-serter). Medtronic has five other infusion set projects slated to launch over the next three years, included an extended wear set and two different combo CGM-insulin delivery sets.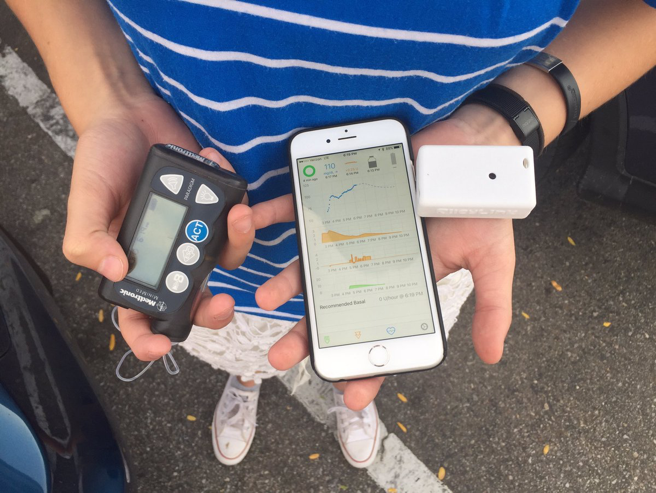 (1:00 pm – 2:35 pm) Session 7: New Developments in Needle Sensor CGMs. Abbott, Dexcom, Medtronic, and Roche will all show their latest and greatest in a session that has become a highlight of DTM. Abbott's Scott Harper will share new FreeStyle Libre data, though we're not sure from what study (the recently completed accuracy study in pregnant women?). Libre has of course taken flight in the EU, where there are over 200,000 users as of the 3Q16 earnings call. Dexcom's Peter Simpson will talk about "pushing the boundaries in CGM performance," perhaps related to the 10-day wear G6 sensor (one calibration per day after startup; pivotal starting ASAP as of 2Q16). Meanwhile, Medtronic's Mr. Brian Kannard will talk about new developments in sensor technology (see its packed CGM pipeline as of the June Analyst Meeting), and Roche's Dr. Guenther Schmelzeisen-Redeker will provide new data on the Accu-Chek Insight CGM system. Preliminary data from the ongoing Roche pivotal trial presented at EASD (n=36 patients) suggested an MARD of 10.5% over seven-day wear. Arkray's Mr. Shinjiro Sekimoto also returns this year to provide accuracy data on his company's novel CGM with direct electron transfer technology. Arkray emerged on the scene at DTM 2014 and we heard more details last year at DTM 2015; we're still not sure how far this is from market.
(2:55 pm – 4:20 pm) Session 8: Social Media. Who better to give talks about social media than experts Dr. Joyce Lee (University of Michigan, Ann Arbor, MI) and DiabetesMine founder Ms. Amy Tenderich? Dr. Lee has a long history with the Nightscout community and will reference this to speak about DIY innovation, including a compelling survey shared last fall and a subsequent April publication in JAMA. Ms. Tenderich will then discuss how social media affects adoption and use of technology; we wonder what takeaways she'll leave for industry. A positive online sentiment from influencers clearly gives a new product tailwind, though it is not all that matters (e.g., Afrezza) – how should companies engage on this front? How should they develop products, leveraging lead users (e.g., Nightscout, OpenAPS), but designing for the masses? Abbott's FreeStyle Libre has arguably done the best job of navigating the online community in recent memory – EU bloggers helped drive early adoption of the product. Last but not least, Sansum's Dr. David Kerr will talk about the "Diabetes Village" and why people with diabetes need to be heard.
(4:30 pm – 4:50 pm) Session 9: Live Demonstration. Continuing with the tradition of DTM closing with live product demonstrations, the meeting will be capped off by a demo of Neurometrix's Quell. The well-designed pain relief product has seen very encouraging uptake to date, driving 65% YOY growth in 3Q16. Perhaps the demo will bring an early look at the company's upcoming pipeline – a new product could launch at CES in January.
-- by Brian Levine, Adam Brown, and Kelly Close