Executive Highlights
This report contains pooled 1Q19 sales for major diabetes drug and device classes. The data are based on disclosed financial results from the nearly 30 public companies that we regularly track. In many cases, our analysis reflects best estimates, since a number of companies don't disclose financial information in great detail (or at all). We've made the basis of our assumptions clear in the text below, and we recognize that a number of the estimates may be meaningfully different from the "actual" that is not possible to calculate since so many technology companies do not report results publicly. If you have opinions on how an estimate could be improved, please don't hesitate to let us know.

The diabetes drug and device aggregate market totaled $13.3 billion in 1Q19, up 2% YoY from $13.0 billion in 1Q18 and down 2% sequentially from $13.6 billion in 4Q18. US sales totaled $6.3 billion (-3% YOY, attributed to pricing pressures) while international sales were $6.7 billion (+6% YOY). The market for diabetes drugs was $10.8 billion and devices was $2.4 billion. See below for further breakdowns by category within the drug and device markets.
Diabetes Technology
CGM
Total estimated CGM sales of ~$887 million grew 53% YOY on a very tough comparison to 61% growth in 1Q18. US sales increased 55% YOY to ~$413 million, accelerating meaningfully from $267 million in 1Q18, reflecting 39% YOY growth in 1Q18. OUS sales rose 51% YOY, a bit below the blowout 86% growth in 1Q18, reflecting sales of $313 million in 1Q18. We estimate the category saw a slight 4% sequential decline from record revenue of ~$923 million in 4Q18, driven by a $70 million drop between Dexcom's US sales in 4Q18 ($281 million) and 1Q19 ($211 million). Notably, international CGM revenue again exceeds US revenue, this time by ~$60 million, though the geography's share of growth were almost identical in 1Q19 (52% OUS /48% US). We estimate Abbott's FreeStyle Libre contributed the majority of 1Q19 CGM growth (~54% share) followed by 31% for Dexcom and 14% for Medtronic. For the first time in our model, we estimate Abbott and Dexcom carried equal proportions of US growth (each contributing 45%), followed by 10% for Medtronic. Per usual, Abbott drove most of the category's OUS growth, contributing 63%. On the product front, 2H19 awaits the US entry of Abbott's FreeStyle Libre 2, which remains under FDA review as an iCGM. Quarterly Reports: Abbott 1Q19; Dexcom 1Q19; Medtronic 1Q19; Senseonics 1Q19.
CGM Sales by Geography, Estimated (1Q12-1Q19)
Abbott (estimated), Dexcom, Medtronic (estimated), Senseonics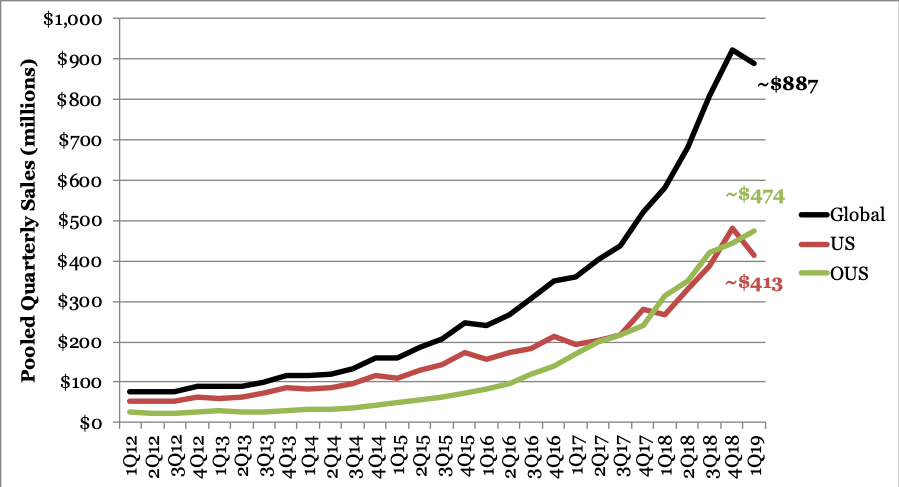 CGM Sales by Company, Estimated (1Q12-1Q19)
Abbott (estimated), Dexcom, Medtronic (estimated), Senseonics; assumptions below chart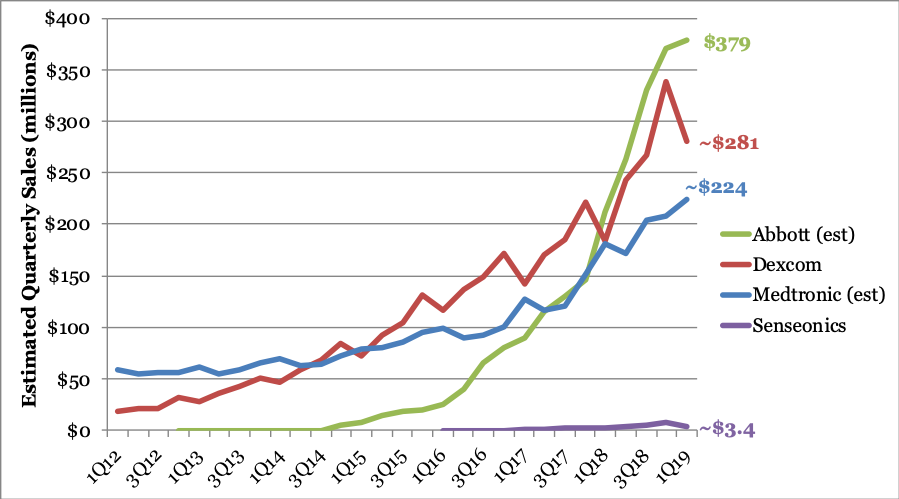 Abbott FreeStyle Libre sales assumptions: Abbott shared in 1Q19 that FreeStyle Libre sales were $379 million, the first time they have been broken out specifically. To calculate the 1Q19 geographical split: (i) FreeStyle Libre contributed 67% of Abbott's worldwide diabetes revenue; (ii) in the US, where FreeStyle Libre is newer, we estimated it likely contributed closer to ~50% of total US sales; and (iii) the remaining FreeStyle Libre revenue went to OUS, which left Libre at ~70% of total international revenue.
Medtronic reported in 1Q19 that worldwide CGM sales grew "over 20%", which we estimated at just under ~$225 million and comprising ~36% of sales. This could be an over- or under-estimate, depending on how Medtronic "counts" the various components of its revenue.
BGM
With J&J LifeScan officially out of the picture, BGM's "big three" has dwindled to two public companies: Roche and Abbott. Overall, estimated BGM sales from Roche and Abbott totaled ~$603 million, declining 39% YOY – no surprise given LifeScan's ~$350 million quarterly BGM business is no longer being counted. If we assume LifeScan continued to achieve revenue of $350 million, the category would be just under $1.0 billion. This category is now almost entirely Roche – its BGM sales totaled an estimated ~$416 million in 1Q19, down 5% YOY on a tough comparison to 11% growth in 1Q18. Roche's US BGM revenue (~$68 million) saw strong 19% YOY growth on a tough comparison to 18% growth in 1Q18, while OUS sales (~$348 million) declined 9% YOY on a more moderate comparison to 9% growth in 1Q18. Abbott's BGM revenue totaled $187 million worldwide in 1Q19 (FreeStyle Libre is now twice as big at $379 million), declining 10% YOY. Quarterly Reports: Abbott 1Q19; Roche 1Q19
BGM Sales by Geography, Estimated (1Q12-1Q19)
Abbott (estimated), J&J LifeScan (estimated), Roche (estimated)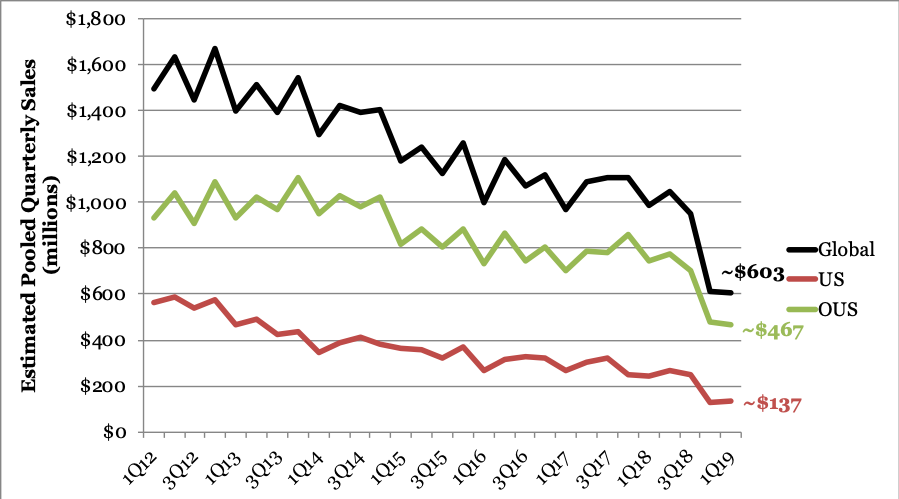 BGM Sales by Company, Estimated (1Q12-1Q19)
Abbott (estimated, BGM-only), J&J LifeScan (estimated), Roche (estimated, BGM-only)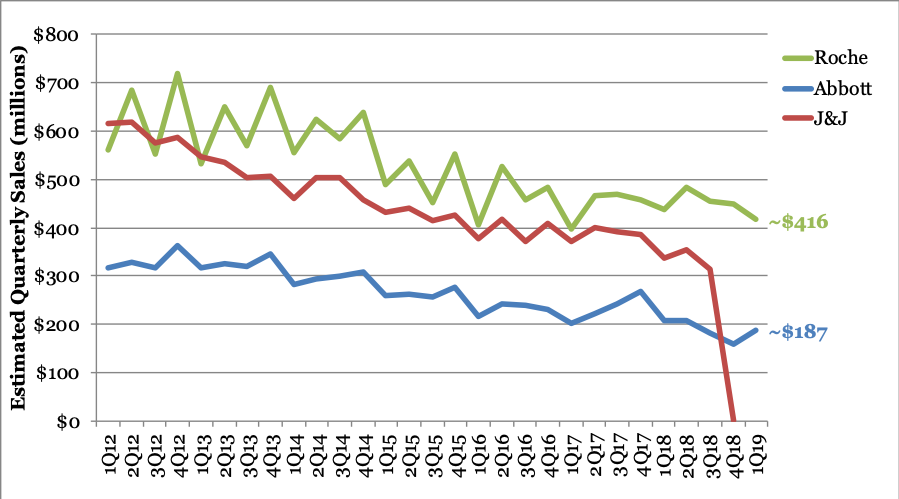 Insulin Pumps and Delivery Devices
Estimated pump sales totaled ~$668 million, rising 1% YOY on a tough comparison to 16% growth in 1Q18. International sales hit a record ~$308 million in 1Q19, climbing 7% YOY on a tough comparison to 18% growth in 1Q18. The US had a weak 1Q19 performance, declining 3% YOY to sales of ~$359 million (breaking five consecutive quarters of positive YOY growth). Medtronic had a rough 1Q19, pulling the pump category down with estimated sales of ~$402 million declining 13% YOY. Medtronic's US business was especially hard hit, where estimated sales of ~$212 million declined 20% YOY. Similar to 4Q18, Tandem and Insulet drove the pump category with strong performances: Tandem contributed 53% of the category's growth (sales of $66 million more than doubled YOY), while Insulet contributed 47% (sales of $143 million grew 32% YOY). Medtronic has some tough YOY comparisons ahead, so we don't expect huge growth for the entire category – even as Insulet and Tandem have strong outlooks for the rest of 2019. And in another sign of the challenges in this market, Cellnovo decided in April to cease commercial operations and manufacturing. Quarterly Reports: Medtronic 1Q19; Insulet 1Q19; Tandem 1Q19; Roche 1Q19; Valeritas 1Q19
Insulin Pump & Delivery Device Sales by Geography, Estimated (1Q12-1Q19)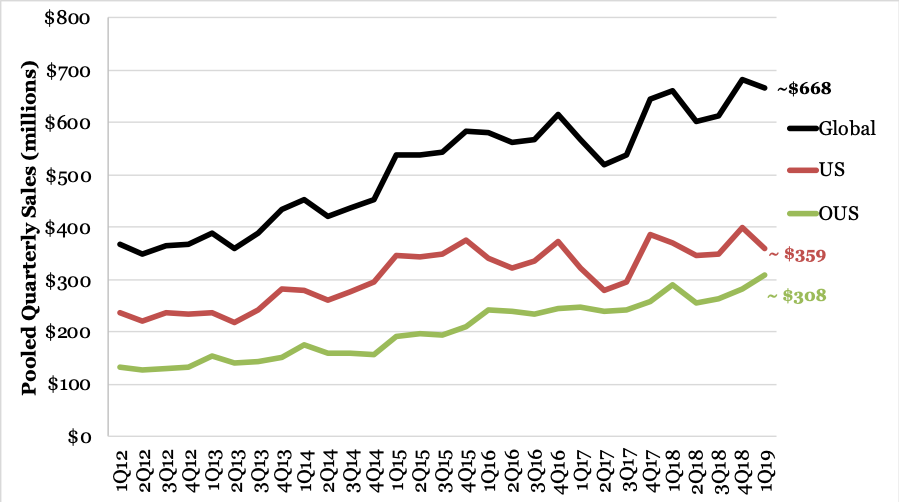 Insulin Pump & Delivery Device Sales by Company, Estimated (1Q12-1Q19)
Medtronic pump-only sales (estimated); excludes Medtronic CGM sales estimates (see above)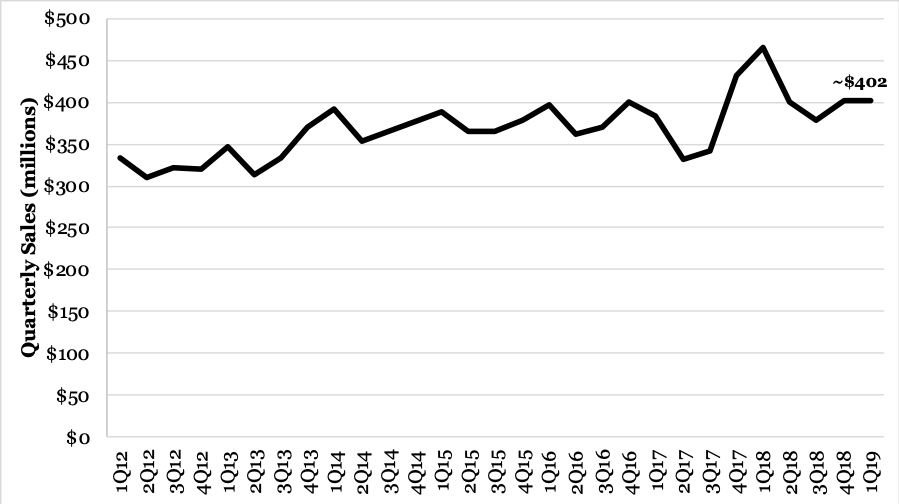 Insulet, Tandem, Roche (estimated), Valeritas, Cellnovo, Animas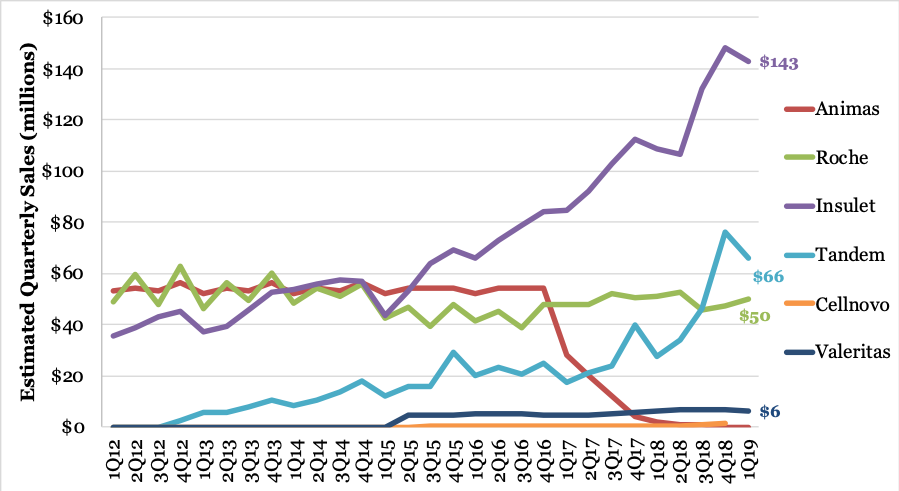 Diabetes Therapy
GLP-1 Agonists
The GLP-1 market was slightly bigger than the basal insulin market, and only just, with $2.1 billion in revenue (+14% YOY)! By our calculation, this is the second quarter GLP-1s have surpassed basal insulin, by a margin of $23 million in 4Q18 and now $58 million. Intriguingly, although both Lilly and Novo Nordisk showed strong US volume growth (~29% through April), falling 1Q revenue for both Trulicity (-9% sequentially) and Victoza (-20% sequentially) seems to have led to an overall quarterly decline of 5% for the class. Partially offsetting these sharp US 1Q declines, OUS sales for both products rose sequentially, +10% and +11%, respectively. Both manufacturers attributed their product's US declines to a similarly diverse list of factors: inventory reductions, changes in payer and channel mix favoring managed care, lower realized price from rebates and discounts, and competition (with each other, and implicitly Ozempic, which posted strong +44% sequential growth). With pricing pressure across multiple diabetes classes, Lilly President of Diabetes Mr. Enrique Conterno noted that Trulicity's price in 1Q19 was comparable to that of 4Q18. We are inclined to see this quarterly fluctuation as a blip, and thus expect a rebound in 2Q19.
By revenue share, Trulicity overcame previous market leader Victoza to claim 41% of total GLP-1 sales. Victoza was just behind at 40%, followed by Ozempic with 10%, Bydureon with 7%, and Byetta with 1%. GSK stopped reporting the discontinued Tanzeum in 1Q19, for the first time since 2Q17 discontinuation.

From Novo Nordisk's 1Q presentation (slide 9), Trulicity collected 46% of total US prescriptions in April, followed by Victoza (32%), Ozempic (12%), and Bydureon/Byetta (10%). This represents a slight shift from 4Q18, with Trulicity and Ozempic trending up, and Victoza and Bydureon/Byetta trending down. In NBRx as of April, Trulicity was at 41%, Ozempic 31%, Victoza 20%, and Bydureon/Byetta 9%.
1Q19 GLP-1 Agonist Sales
| | | | | |
| --- | --- | --- | --- | --- |
|   | Revenue (millions) | YOY Growth (as reported) | Sequential Growth | Share of Market |
| Victoza | $859 | -5% | -12% | 40% |
| Byetta | $30 | -3% | -6% | 1% |
| Bydureon | $142 | +2% | +3% | 7% |
| Tanzeum | $0 | -100% | -100% | 0% |
| Trulicity | $880 | +30% | -5% | 41% |
| Lyxumia (est) | $6 | +20% | 0% | 0.2% |
| Ozempic | $214 | +1,965% | +44% | 10% |
| Total | $2,131 | +14% | -5% | -- |
Pooled GLP-1 Agonist Sales (1Q06-1Q19)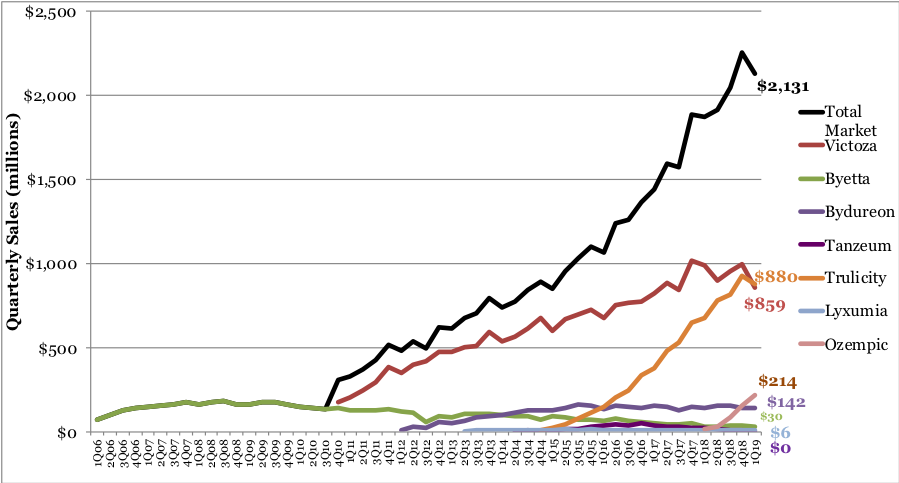 SGLT-2 Inhibitors
The SGLT-2 inhibitor market totaled $1.2 billion in 1Q19, up 17% YOY from $1.0 billion in 1Q18 and down 3% sequentially from $1.2 billion in 4Q18. These numbers do not include our very rough estimate of $80 million in Steglatro revenue for 1Q19 (neither Merck nor Pfizer have released revenue for their SGLT-2), so these numbers underestimate true sales – see the table below for a full analysis. Lilly/BI's Jardiance experienced the strongest YOY growth within the class and was the only reported product to grow sequentially, also from the highest base. To this end, the company highlighted improved TRx (total prescriptions) and NBRx (new prescriptions) market share in the US, to 50% and 64% respectively, on its 1Q19 call. However, J&J and AZ also have reasons for optimism moving forward. The former underscored just-reported, highly positive (what we call "once a decade") CREDENCE results in diabetic kidney disease (DKD), marking the first therapeutic advance in treating the disease in nearly two decades. Although "translation" of this stands as a major question, there is no doubt these results could "bend the curve" if they result in more uptake. We do have extensive questions on what patients currently know about kidney disease and whether or not most even know what eGFR means, much less know their numbers or much else about kidney health.
Additionally, AZ emphasized Farxiga's US and EU CV indication submissions, label expansion to Stage 3A CKD, and imminent Dapa-HF results in heart failure with reduced ejection fraction in its 1Q19 update. In the longer-term, the DELIVER (dapagliflozin in HF with preserved ejection fraction) and Dapa-CKD (dapagliflozin in chronic kidney disease) trials for Farxiga, and the EMPA-KIDNEY (empagliflozin in chronic kidney disease), EMPEROR-Reduced (empagliflozin in HF with reduced ejection fraction), and EMPEROR-Preserved (empagliflozin in HF with preserved ejection fraction) trials for BI/Lilly's Jardiance, are also potential major tailwinds for the products and class. With this in mind, we expect the underlying class growth depicted in Lilly's 1Q19 update to continue for the foreseeable future and we'd anticipate a sharp uptake by end of the year.
In type 1 diabetes, Forxiga was approved in the EU and Japan, Sanofi/Lexicon's dual SGLT-1/2 inhibitor Zynquista (sotagliflozin) was approved in the EU but received a CRL from FDA, and FDA refused to file Jardiance for type 1 due to "technical reasons" – all this was announced in 1Q19. While this collectively marks a breakout quarter for SGLT inhibition in type 1 in the EU and Japan, there is still much progress to be made particularly in the US. Following a contentious FDA Advisory Committee meeting for Zynquista (where DKA risk and risk mitigation dominated the conversation and underpinned an 8-8 vote), it's possible that the agency will require further evidence demonstrating that DKA risk mitigation strategies work before approving Zynquista, Farxiga, Jardiance, or any other SGLT inhibitor for type 1 in the US. We are not certain (at all) that this could be "proven" in a clinical trial. Lilly/BI plan to resubmit Jardiance fo1r this indication in 2019.
1Q19 SGLT-2 Inhibitor Sales
| | | | | |
| --- | --- | --- | --- | --- |
|   | Revenue (millions) | YOY Growth (as reported) | Sequential Growth | Share of Market (w/o Steglatro est.) |
| Invokana | $202 | -18% | -11% | 16% (17%) |
| Farxiga | $349 | +17% | -12% | 30% (30%) |
| Jardiance (est. Lilly+BI) | $618 | +35% | +5% | 49% (53%) |
| Steglatro (estimated) | $80 | 700% | +33% | 6% (--) |
| Total (w/o Steglatro est.) | $1,249 ($1,169) | 23% (17%) | -2% (-3%) | -- |
Pooled SGLT-2 Inhibitor Sales (1Q13-1Q19)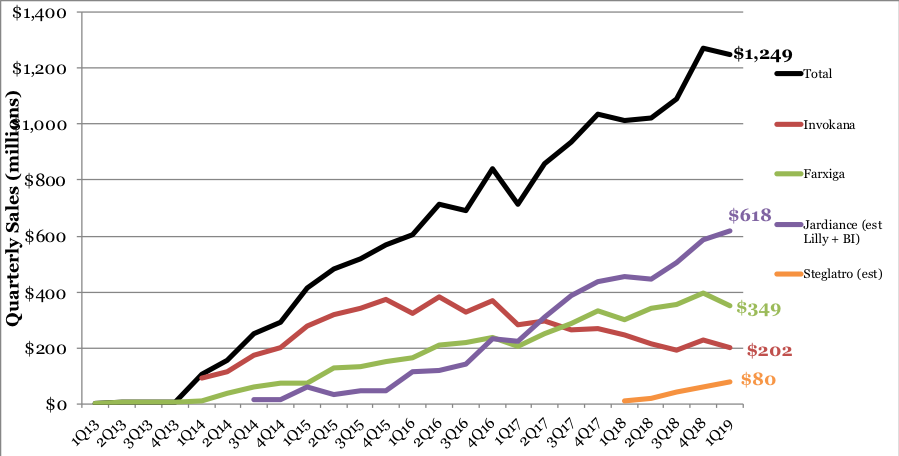 Basal Insulin
Despite its steep downward trajectory, Lantus will 'lead' in revenue share for some time to come; its 42% 1Q market share albeit down 7% from last year, remains well in front of Levemir (19%), Tresiba (16%), Basaglar (12%), and Toujeo (11%). Not surprisingly, Tresiba (up 3%) and Basaglar (up 5%) are the beneficiaries. Novo Nordisk has made a blockbuster out of Tresiba through strong access, including on Part D – reflecting how first-generation basal analogues are struggling to compete with next-gen basals (offering a clinical advantage) and biosimilars (offering a pricing advantage). While Lilly highlighted increased demand and higher realized prices for Basaglar in the US,  Toujeo's US sales were held back by coverage gap increases and pricing pressure, offset by OUS revenue.  Levemir has similarly declined alongside Lantus.
Unfortunately, we could not find the US prescription volume breakdown that we've come to expect from Novo Nordisk's quarterly report, see 4Q18 (slide 9).
1Q19 Basal Insulin Sales
| | | | | |
| --- | --- | --- | --- | --- |
|   | Revenue (millions) | YOY Growth (as reported) | Sequential Growth | Share of Market |
| Lantus | $868 | -15% | -11% | 42% |
| Toujeo | $237 | +7% | 0% | 11% |
| Levemir | $394 | -6% | -8% | 19% |
| Tresiba | $322 | +22% | -1% | 16% |
| Basaglar | $251 | +51% | +8% | 12% |
| Total | $2,072 | -9% | -7% | -- |
Pooled Basal Insulin Sales (1Q05-1Q19)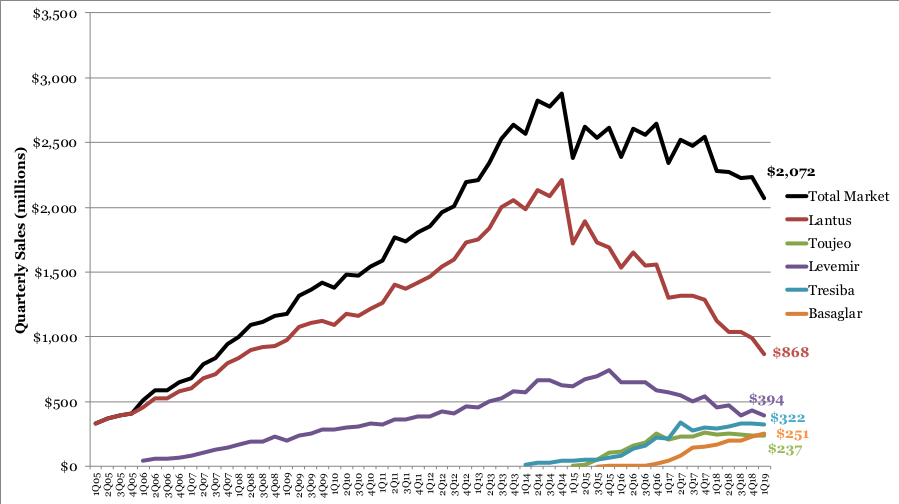 Rapid-Acting Insulin
The rapid-acting insulin market fell slightly YOY (-2%) and sequentially (-3%) at $1.7 billion in 1Q19. Lilly's Humalog again led by value share (44%), followed by Novo Nordisk's NovoLog (43%), Sanofi's Apidra (6%), Sanofi's biosimilar Admelog (4%), Novo Nordisk's Fiasp (2%), and MannKind's inhalable Afrezza (0.3%). By volume, Lilly marked Humalog at ~46% US TRx share, but declining in a slowly growing market (slide 33), while Novo Nordisk pegged NovoLog stable at just over 40% volume share worldwide (slide 53).
There was a noticeable uptick in insulin affordability efforts in 1Q19:

Sanofi again expanded its Valyou Savings Program, which now caps out-of-pocket expenses for all Sanofi insulins at a flat rate of $99/month for up to ten vials/boxed of pens for those who are uninsured or commercially insured. We applaud Sanofi for prioritizing volume and access across its portfolio of insulins, including next-generation Toujeo.

Lilly announced a half-priced version of Humalog, called Insulin Lispro, meant to provide lower cost access to those in the Medicare "Donut Hole" or those who are uninsured or underinsured (i.e., on high-deductible plans). It was just excluded from Express Scripts' 2019 formulary, which we saw as very negative for patients, though it's not necessarily negative for Lilly in terms of commercial implications (though the negativity of "sort of available" is not a positive from various patient perspectives).
1Q19 Rapid-Acting Insulin Sales
| | | | | |
| --- | --- | --- | --- | --- |
|   | Revenue (millions) | YOY Growth (as reported) | Sequential Growth | Share of Market |
| Humalog | $731 | -8% | -5% | 44% |
| NovoLog | $713 | +1% | -2% | 43% |
| Apidra | $100 | -2% | 0% | 6% |
| Admelog | $74 | -- | +16% | 4% |
| Fiasp | $35 | +178% | +12% | 2% |
| Afrezza | $5 | +50% | -11% | 0.3% |
| Total | $1,658 | -2% | -3% | -- |
Pooled Rapid-Acting Insulin Sales (1Q06-1Q19)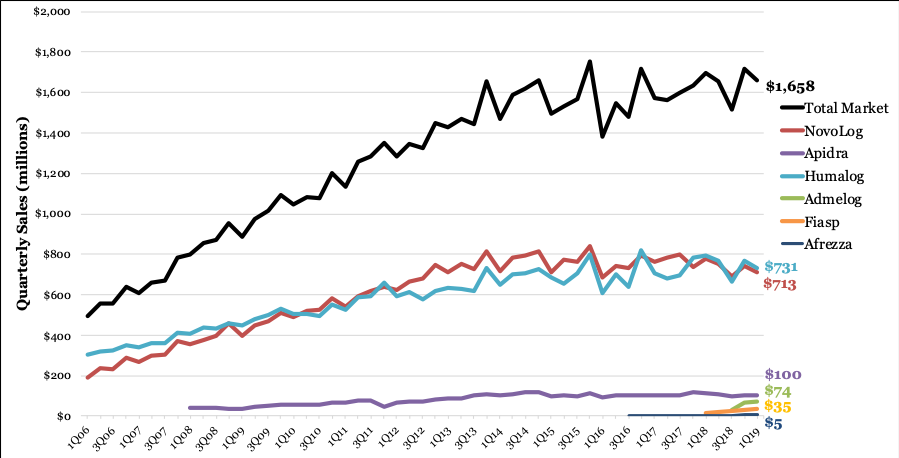 GLP-1 Agonist/Basal Insulin Fixed-Ratio Combinations
Fixed-ratio basal/GLP-1 combinations – Novo Nordisk's Xultophy and Sanofi's Soliqua – experienced their first sequential decline as a class (-3% from $100 million in 4Q18) since launching in 1Q17 but retained strong 45% YOY to $97 million, from $67 million in 1Q18. We certainly hope the recent removal of label restrictions for both Xultophy and Soliqua – now indicated as first-line injectables in the US – could turn the tide on what we see as a potential breakout year for the class. However, neither company mentioned the important update in its earnings call. In previous roundups (4Q18), we've noted this requirement alongside poor reimbursement and a lack of established place in treatment algorithms or everyday clinical practice as the major barriers to this highly efficacious class (glucose-lowering, milder side-effect profiles, and greater patient convenience). Hopefully, the removal of the first serves as a catalyst for the falling of the others. All in all, we see the benefits and clinical profiles of these two agents as very impressive though hurdles associated with HCP comfort levels ("I like titrating drugs separately …") have stymied early launch-cycle growth. Patient benefits can be many, ranging from a single daily dose and a single monthly co-pay to compounds that patients can start earlier and stay on longer. It's hard to cover this "class" (that does not even have a real name – from our view, "combination GLP-1/basal" does not really count) as there is not always detailed reporting – we hope this improves in the future.  
1Q19 Basal/GLP-1 Combination Sales
| | | | | |
| --- | --- | --- | --- | --- |
|   | Revenue (millions) | YOY Growth (as reported) | Sequential Growth | Share of Market |
| Soliqua | $25 | +144% | -19% | 26% |
| Xultophy | $72 | +41% | +6% | 74% |
| Total | $97 | +45% | -3% | -- |
Pooled Basal Insulin/GLP-1 Combination Sales (1Q17-1Q19)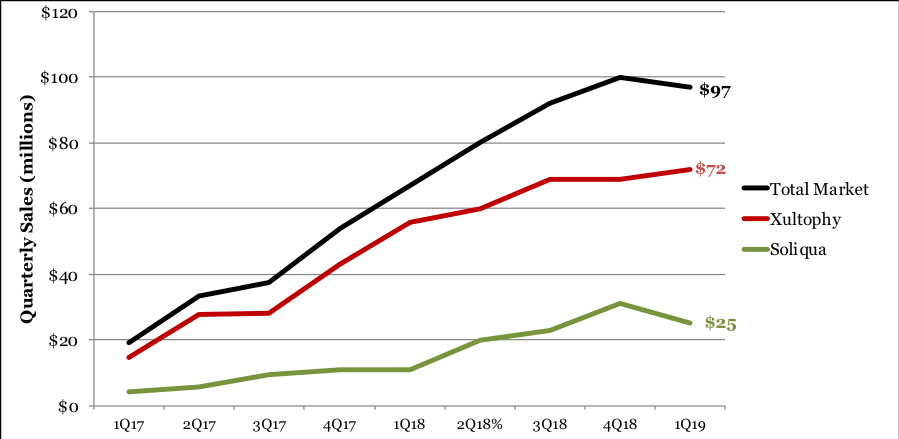 DPP-4 Inhibitors
The DPP-4 inhibitor class inched upwards 2% YOY to $2.3 billion in 1Q19, bouncing back from its first YOY decline last quarter since 2Q17. By product, Merck's Januvia continues to hold the lion's share of market value share (59%), followed by Lilly/BI's Tradjenta (16%), Novartis' Galvus (14%), AZ's Onglyza (7%), and Takeda's Nesina (5%). Looking ahead, the class will have major news come out soon with full results from the CAROLINA CVOT to be presented at ADA 2019. Topline results from this trial indicated that Tradjenta did not achieve superiority to sulfonylurea on a primary endpoint of three-point MACE. Lilly management has noted in the past that positive CAROLINA results could have accelerated attrition away from sulfonylureas and toward more efficacious diabetes therapy classes.
1Q19 DPP-4 Inhibitor Sales
| | | | | |
| --- | --- | --- | --- | --- |
|   | Revenue (millions) | YOY Growth | Sequential Growth | Share of Market |
| Januvia | $1,354 | -5% | -8% | 59% |
| Tradjenta | $367 | -7% | -16% | 16% |
| Galvus | $315 | -1% | -4% | 14% |
| Onglyza | $153 | +19% | +3% | 7% |
| Nesina | $112 | -7% | -23% | 5% |
| Total | $2,301 | -3% | -9% | -- |
Pooled DPP-4 Inhibitor Sales (1Q07-1Q19)

PCSK9 Inhibitors
Pooled revenue for the PCSK9 inhibitor class (Sanofi/Regeneron's Praluent and Amgen's Repatha) grew 11% YOY to $204 million in 1Q19. Sequentially, the class fell 19%, albeit against a tough comparison of 27% sequential growth to $253 million in 4Q18. This is the second quarter of negative sequential growth for the class in its last three quarters (-10% in 3Q18, +27% in 4Q18, and -19% in 1Q19). By market share, Amgen's Repatha maintained its leading position and increased its value share in 1Q19 to 69%, up from 63% in 4Q18. 
Positively, both Praluent and Repatha are experiencing significant increases in demand driven by recent list price cuts (Repatha, Praluent). Amgen noted that Repatha prescription volume grew 90% YOY in 1Q19, while Sanofi said that Praluent prescription volume grew 53% YOY. Of course, revenue increases are not aligning with these dramatic increases in demand because of lower realized prices following 60% list price reductions on both products.

We see two other growth drivers for the class moving forward: recent changes to cholesterol guidelines from AHA/ACC (though these have been criticized for limiting PCSK9 use) and Praluent's recently-granted CV indication.
Pooled PCSK9 Worldwide Financial Results – Past Five Quarters
| | | | | | |
| --- | --- | --- | --- | --- | --- |
| Pooled PCSK9 Sales | 1Q18 | 2Q18 | 3Q18 | 4Q18 | 1Q19 |
| Revenue – USD millions | $183 | $220 | $199 | $253 | $204 |
| YOY Growth | +115% | +71% | +44% | +57% | +11% |
| Sequential Growth | +14% | +20% | -10% | +27% | -19% |
PCSK9 Inhibitor Sales (1Q16-1Q19)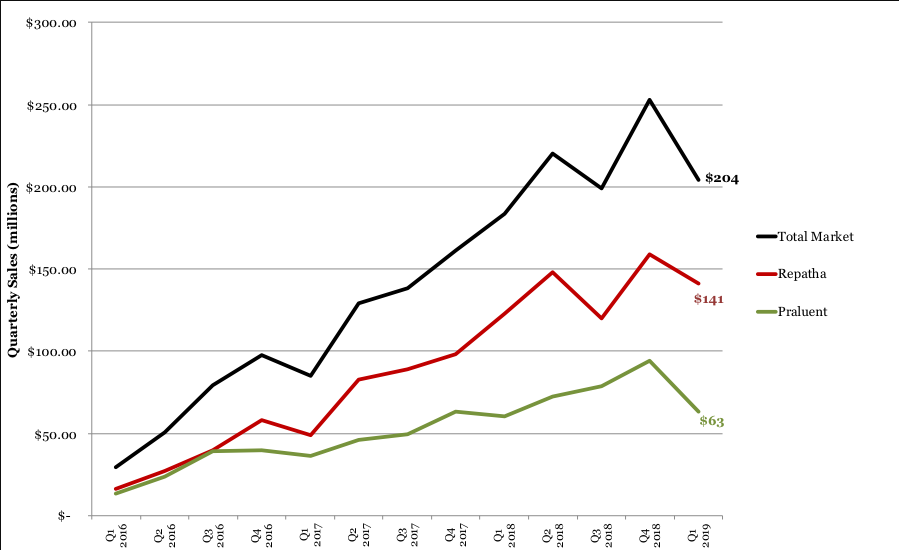 --by Martin Kurian, Peter Rentzepis, Ann Carracher, Maeve Serino, Adam Brown, and Kelly Close