Executive Highlights
During a great panel featuring leaders from BCG, Onduo, Fitbit, Verily, and Samsung, we learned that Onduo intends to bring its pilot phase to a close and launch broadly in 2019. Pilots have enrolled ~2,000 people to date, and anecdotally, results have been very positive, with reported ~2% A1c drops regularly seen in users with baselines >9%. That's fantastic! Onduo has also used intermittent real-time CGM "sprints" to drive further behavior change – those with A1c >9% who were given CGM often reportedly saw A1c drops of 3%!

We thoroughly enjoyed six product demos headlined by Klue, a very cool Apple Watch gesture-sensing app for automatic meal detection – it could be a big enabler of full closed loop, particularly given Stanford's Dr. Bruce Buckingham's enthusiasm. We also saw demos of Diabeloop's hybrid closed loop (launching "very soon" in France), Dance Biopharm's inhaled insulin (phase 3 trials to start at end of 2019, new CEO), and CGM companion/enhancement products from DiaBits, SugarMate, and bgAWARE.

Tidepool CEO Mr. Howard Look echoed Insulet's 3Q18 call announcement that Omnipod is the first official pump partner for Tidepool Loop. Notably,  Tidepool is in conversations with "many, many more" potential partners.

FDA's Mr. Bakul Patel participated in a highly interactive and transparent discussion with digital health PreCert pilot participants. He highlighted that the "test phase" of the pilot program will take part in 2019; panelists underscored the potential and noted the need to overcome inertia tied to "old school" regulation.

In the first keynote of the meeting, BCG's Mr. Chris Bergstrom gave his perspective on the state of consumerization in diabetes care. As he pointed out, the field has made strides in understanding patient needs and developing services and experiences "beyond the widget" since 2002, when diabetes companies began spending large sums of money on direct-to-consumer advertising.
Greetings from UCSF's Mission Bay Conference Center, home of the 2018 university themed DiabetesMine Innovation Summit and #DData ExChange. As always, DiabetesMine founder Ms. Amy Tenderich compiled a killer agenda, bringing together high-level market perspectives, a handful of exciting startups, and big diabetes players for annual updates.
Many of the slide decks are posted here. Read on for our highlights!
Top Six Highlights
1. Excellent Panel with Leaders from BCG, Onduo, Verily, Fitbit, Samsung; Onduo Launching Broadly in 2019; ~2% A1c Drops often seen in People with Baseline >9% (some -3% A1c drops in those using on CGM "sprints")
Representatives from Onduo, Verily, Fitbit, and Samsung sat on a fascinating panel led by BCG and shared company updates and interesting tidbits. The major news is that Onduo intends to scale broadly next year (closing the "pilot" chapter), but we also heard that Verily's retinopathy workflow experimentation in India continues, got some insight into why Twine Health sought to be acquired by a company like Fitbit, and Samsung's Mr. Kevin Jones positioned diabetes as the "tip of the spear" of the company's digital health initiatives.
2. D-Data Demos Headlined by Klue, Apple Watch gesture-sensing for automatic meal detection – big win for full closed loop?; Diabeloop, Dance Biopharm, DiaBits, SugarMate, bgAWARE
Once again, DiabetesMine's D-Data demos did not disappoint, offering a slew of interesting data approaches for Apple Watch, automated insulin delivery, novel CGM displays and alarms, and a new inhaled insulin. See highlights from each company below! Klue was probably the biggest highlight, especially given Dr. Bruce Buckingham's enthusiasm.
Klue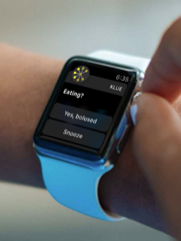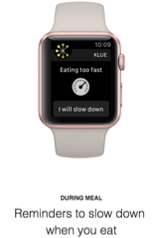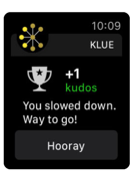 Diabeloop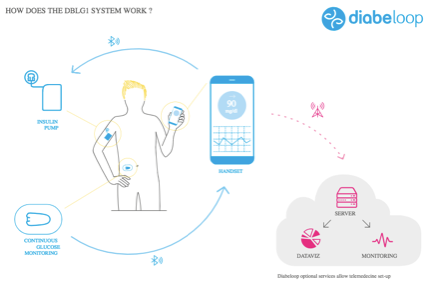 Dance Biopharm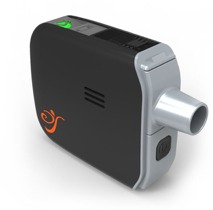 SugarMate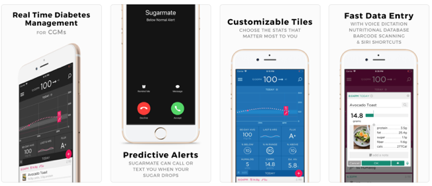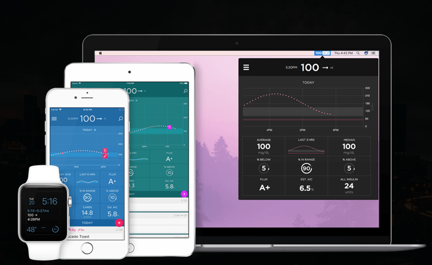 DiaBits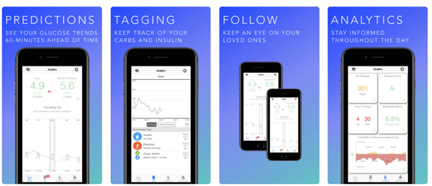 bgAWARE
3. Insulet First Pump Partner for Tidepool's Loop, with "Many, Many More" Potential Partners in Talks; Mr. Look's Definition of Success for Launching Loop
Less than a day after it was announced on Insulet's 3Q18 call, Tidepool CEO Mr. Howard Look reiterated that Omnipod is the first pump company that plans to integrate with Tidepool Loop. Read our coverage from last week. Mr. Look added that his organization is working with "many, many more" pump manufacturers and he hopes to have more exciting announcements; we'd guess Tandem is the next obvious candidate, and hopefully  any company that aims to automate insulin delivery will plan to integrate! Tidepool and FDA have been using Loop as a way to pressure test the Pre-Cert working model. "During four straight days of audits, we used Loop as an example for almost everything – how will that work, and how will we show safety and efficacy under the Pre-Cert program?" An app that automates the delivery of a potentially lethal drug is without a doubt a pressure test for a novel firm-based regulatory paradigm, and we wonder what was learned. Mr. Look also previously told us the team is "considering" an iAlgorithm/iController de novo application for Loop. In the brief Q&A, Dexcom's Mr. Chris Hanneman asked Mr. Look to define success for Tidepool in terms of Loop adoption. Mr. Look replied: "Our definition of success is Tidepool Loop in an app store – initially in the US and international not long after that – and working with multiple partners' CGMs and pumps, and demonstrating that Loop is a safe and effective way of delivering therapy with a vibrant ecosystem of devices. As for hurdles, the biggest one is getting all of the control and data protocols and business relationships done with the device companies in order to enable this."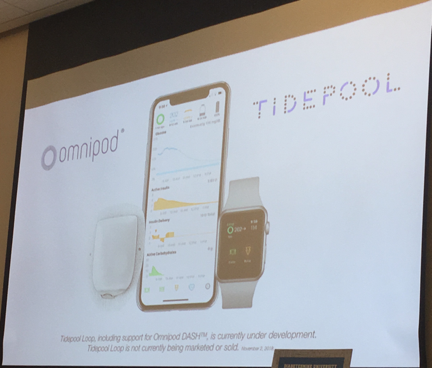 4. FDA's Bakul Patel, Pilot Reps (Verily, Fitbit, Tidepool) Provide Positive Update/Commentary on Pre-Cert; 2019 Test Phase of Pre-Cert V1.0; How to Overcome Inertia of "Old School" Regulation and Fear of Regulators?
Prior to an excellent panel on FDA's digital health Pre-Cert program, Mr. Bakul Patel reiterated plans to release a working model (V1.0) of Pre-Cert by the end of 2018, leading to an important 2019 where the program will be piloted and iterated upon. Mr. Patel said this 2019 "test phase" will seek to find out if the firm-based Pre-Cert program can give the same or better assurance of safety and effectiveness as the current product-focused regulatory model. He didn't say exactly how this would look, as we don't imagine that FDA will have two groups working in parallel – one on firms and the other on products – to compare the strategies. In explaining the Pre-Cert program, Mr. Patel switched his metaphor this time around, going for an E-ZPass toll booth rather than TSA PreCheck – you still have to pay to get through a toll, but the transaction becomes "extremely smooth." We appreciated another of Mr. Patel's metaphors, which portrayed FDA before Pre-Cert as holding a finger in the dike, preventing the flood of digital health regulatory questions, but they hadn't answered the question of what should be done when the flood surge becomes too strong. The underlying intent of this program, he said, is to have quality baked into every step of every organization (rather than maintained solely by one quality assurance manager) and to shift conversations from processes to outcomes in addition to processes. He added that he'd rather talk directly with the people who are building a product in an interactive way, rather than solely examining the paper submission documentation – to gain confidence in a product, it helps to have confidence in the manufacturer's validation, processes, and organizational structure, on top of the product itself. Notably, FDA is starting small with software since "if you tackle the problem of the fastest moving object, you can scale it to other areas down the road." We loved Mr. Patel's response to a question about the consequences of not maintaining organizational excellence: "We haven't built that yet. We're focused on building this extremely easy path for people to follow… If I say follow the easy path and you intentionally don't or have a malicious reason, then a Form 483 or paper letter doesn't cut it for me…I refer back to patients. What should it be? 483? Something like a parking ticket for not parking in the right spot or driving too fast?" We also loved that when FitScript CEO Mr. Charlie O'Connell asked how he could get involved in Pre-Cert, Mr. Patel simply said "you're already enrolled to help us…engage with us. Help us build it."
5. BCG's Chris Bergstrom Keynote: Diabetes Care is Not Consumer Friendly Enough…Where Have We Been and How Do We Advance? Ethnography, Moving "Beyond the Widget," and Asking for Help Embracing Agile Culture
BCG's Mr. Chris Bergstrom kicked off DiabetesMine University with his take on the evolution of consumerization in diabetes care: Consumer-friendliness is not where it needs to be, but companies are investing in scale, partnerships, and the requisite "fail fast" mentality to move in the right direction. In the engaging keynote, he tapped into interesting stories from his past to explain the value of observing people "in the wild" to inform R&D agenda, discussed the commoditization overload in diabetes (and how that is good for patients from the perspectives of pricing and driving services and experiences "beyond the widget"), and some neat examples of BCG clients and other organizations (Allianz, John Hancock, Oscar Health, Qantas) and how they are differentiating themselves in insurance.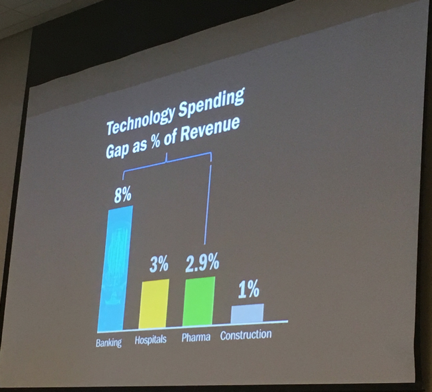 6. Bigfoot's Lane Desborough On Machine Learning: 20 assertions, value of virtual clinic/modeling approach to AID Development
Bigfoot's Chief Engineer Lane Desborough shared 20 assertions related to machine learning and the company's virtual clinic approach to AID algorithm development. They are listed in order below and reflect the company's commitment to extensive modeling and simulation, rather than running a series of pre-pivotal clinical trials. We caught a glimpse of this at DTM 2017. To date, Bigfoot has done just one clinical trial prior to its planned 2019 pivotal. Mr. Desborough made a very strong case for the benefits of simulation: complete control of conditions, testing scenarios which would be dangerous with human, avoidance of recruitment bias, low cost, and speed. He also noted FDA is increasingly embracing simulation; simulation and clinical trials play complementary roles in the design and characterization of AID systems.
Bigfoot is a "Machine Learning" (and "Data Science") company. Lane's favorite diagram explaining this (source):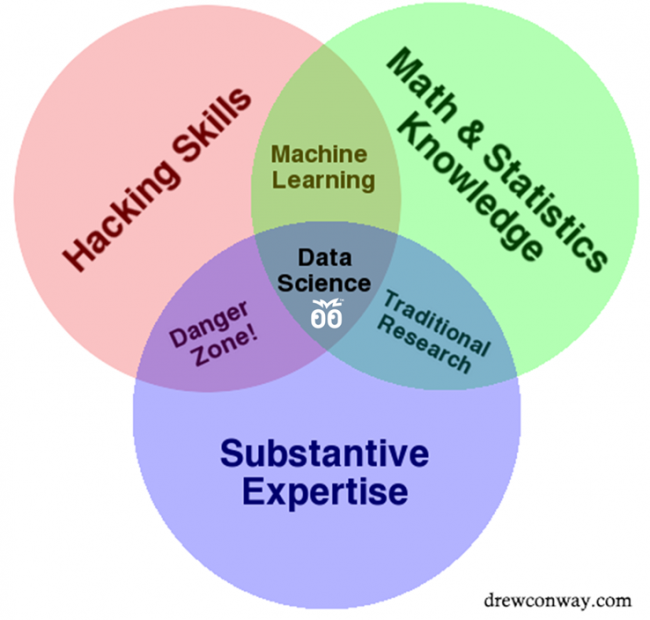 Diabetes is a Data Disease

Living with diabetes would be easy if glucose never varied

~42 things contribute to glucose variation – see Adam's article here.

Experimenting with humans is dangerous, expensive, time consuming, and not very informative. To a chorus of laughter, Mr. Desborough showed a plot of messy glucose traces, documenting his son's highly-varied blood glucose responses (n=304!) to the same juice box (16-grams of carbs).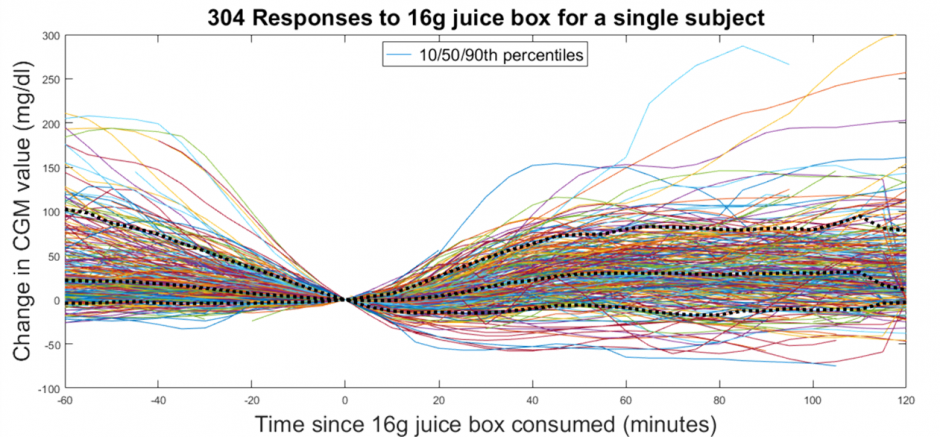 Automation transfers variation from a place where it hurts to a place where it doesn't hurt as much, in order to make a human's job easier. In the case of AID, it's about transferring variation from glucose to variation in insulin.

You can't transfer variability if you don't know the nature of the variability

The best way to build an automated insulin delivery system is to first build a simulation. "If you're going to build a safe, effective system, you must build a simulator first."

Simulators may be new to medical device development, but they are not new to other complex safety critical industries – e.g., chemical plants, aircraft development

Simulations contain models, which contain data, which contain variation

Diabetes Data is not Normally distributed – Mr. Desborough jokingly noted this fact is rediscovered every 5-10 years, citing publications from 1976, 1988, 2002, 2008, 2012. "If you are ever tackling a model of diabetes data, lognormal is the best assumption to start with."

Models go through a lifecycle on their way to providing value.

vClinic is Bigfoot's simulator, which we first learned about at DTM 2017. vClinic allows Bigfoot to run very large simulations very quickly. "Rather than run a clinical trial that takes months to understand a scenario such as inconsistent bolusing behavior, we can run a simulation that takes five seconds."

Simulation complements traditional methods of system characterization (source)

Simulations predict outcomes – see DTM 2017

Simulation is hard – "It's taken us a tremendous investment in excellent people to build models and not make the common mistakes, such as overfitting and over parametrizing." One of the big challenges, noted Mr. Desborough, is verification and validation – "how do you know the simulator is accurate and high fidelity?"

FDA is a strong supporter of Modeling and Simulation – "The disadvantages of human trials are complemented by modeling/simulation." Mr. Desborough cited this guidance document as one example and several FDA conference presentations (here and here). "There will be an increasing role for digital evidence, which could accelerate approval of medical devices. Over time, the role of clinical trials will shift from exploration to confirmation that the models are correct.

Simulation enables simpler, safer designs – Mr. Desborough cited the graphic from T1D community member Ben Kamens (source), which provides a skiing analogy. It is really easy to add another feature to a device (green circle); it is quite hard to decide not to add features (blue square); hitting an MLB fastball is harder (black diamond); and removing features that have been shipped is next to impossible (double black diamond). Data science plays a key role in the minimization of complexity/prevention of the addition of features (which would be nearly impossible to remove once they are in). We also liked Mr. Desborough's stereo analogy, which put the simplicity differently: stereos used to come with tons of audio knobs to tweak the sound; now, it's just a volume dial on an iPhone. "It's almost like the audio engineers didn't know how to make good sound, so they gave it to the user to figure out. What data science allows us to do is to twiddle the knobs automatically, lock those buttons down, and remove them from the face of the device."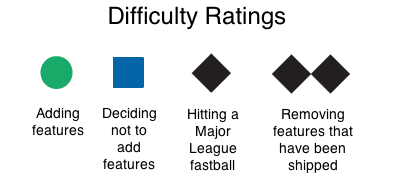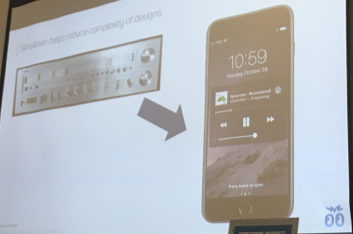 Simulation is the only practical approach to developing a scalable automated insulin delivery system to reduce the burden of living with insulin-requiring diabetes. "We can predict outcomes over months or years, including the economic benefits, or our system, reduction of hospitalizations, etc." Simulation has allowed Bigfoot to engage with investors and even payers in a data-based way. "You can do things to virtual humans that you cannot do to real humans." Mr. Desborough also pointed out simulators can test a system in the actual intended user and real-world use conditions, rather than the highly engaged trial population that often comes to AID studies. "Plus, simulations are 4,000,000 times faster and less expensive than real-time clinical trials – 1 cent per simulated contact-day vs. $1,500 per contact-hour."

#WeAreNotWaiting to use simulation to hasten the development of our systems

Bonus Assertion: Bigfoot is hiring for the most mission-driven (and data-driven!) team in diabetes
-- Brian Levine, Adam Brown, Sarah Kolk, and Kelly Close