Outside of diabetes, Abbott continues to be very involved with the COVID-19 response, headlined by $615 million in COVID-19 diagnostic testing related sales in the quarter. During the call, Mr. Ford shared that the company has sold "about 40 million" tests across the globe to-date. Read more about Abbott's COVID-19 response here.
FreeStyle Libre Franchise Highlights
1. CEO Robert Ford "Bullish" on FreeStyle Libre 2: "15 million, 20 million" person market opportunity in the US alone; US Launch "in the Next Few Weeks"
Securing its long-awaited FDA clearance as an iCGM for ages 4+ in June, FreeStyle Libre 2 was a major highlight of the call, infographic, and press release. Within the first minutes of prepared remarks, Mr. Ford brought up FreeStyle Libre 2, noting the device "maintains all the market-leading features that the Libre brand is known for. It is smaller, easier to use, and longer-lasting that other glucose monitors." On several moments throughout the call, Mr. Ford expressed his optimism about the opportunity for FreeStyle Libre 2, claiming that the device has "got everything it needs to be able to kind of accelerate [mass-market] penetration." For a rundown on FreeStyle Libre 2's product features and indications, see our report here.
2. Worldwide FreeStyle Libre revenue of ~$592 million, up 37% YOY (+40% operationally), and declining 2% sequentially (the first ever CGM decline – the global business was flat – see below)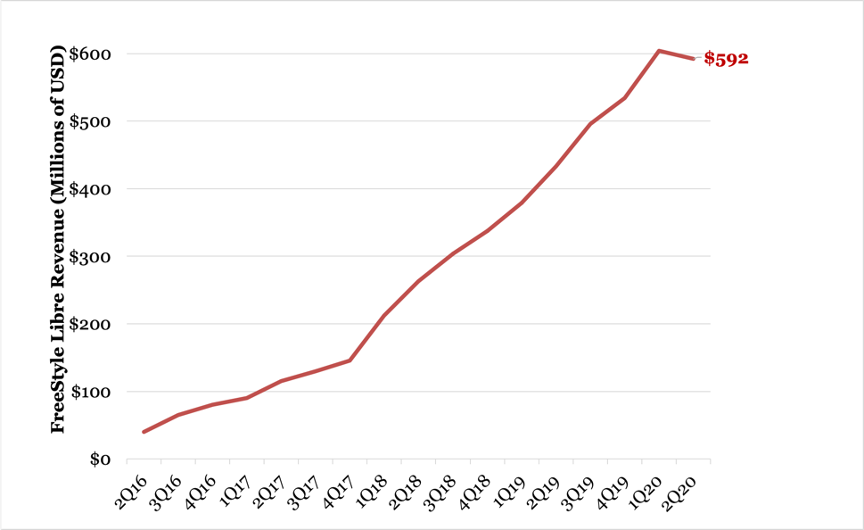 Once again, FreeStyle Libre was the image used to represent the Abbott's Medical Device business on Abbott's 2Q20 infographic, showcasing FreeStyle Libre's continued significance to the company. The infographic also emphasizes several key updates about the FreeStyle Libre franchise, including the FDA clearance of FreeStyle Libre 2 as iCGM, the "40%" rise in FreeStyle Libre operational sales, and the finalization of a Tandem partnership to integrate FreeStyle Libre technology with Tandem pumps.
Financial Highlights
1. Worldwide Diabetes Care revenue of $755 million, rising 25% YOY, flat sequentially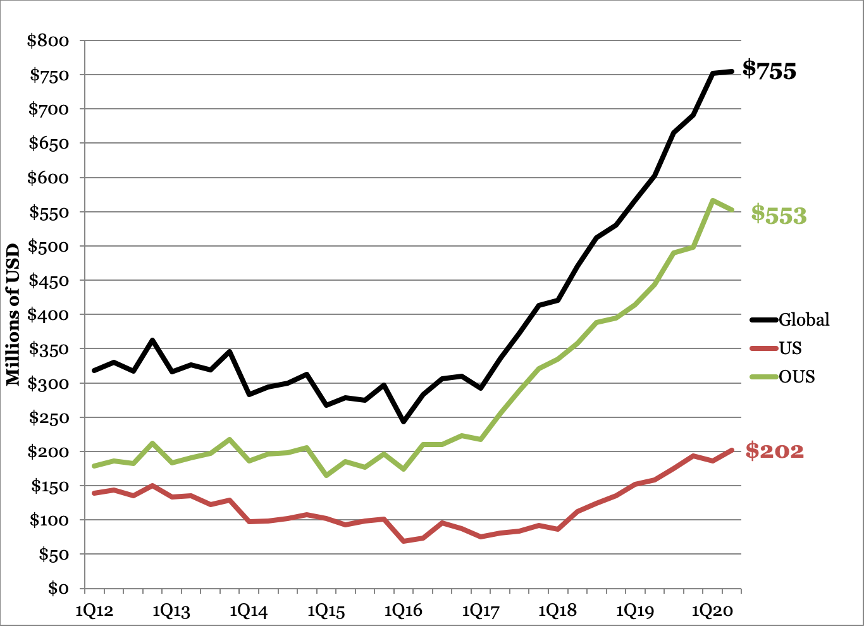 Abbott Diabetes Care reported total worldwide revenue of $755 million in 2Q20, rising 25% YOY as reported (+28% operationally). Diabetes continues to lead all divisions in Abbott's Medical device category (Rhythm Management, Electrophysiology, Heart Failure, Vascular, Structural Heart, Neuromodulation, and Diabetes Care) and, in 2Q20, was the only division to see positive YOY growth. (Total Medical Device revenue was down 21% YOY as reported and 20% operationally.) Despite concerns surrounding COVID-19 and expectations that 2Q20 would be the "most challenging" quarter of the year, the Diabetes division saw continued growth and 2Q20 now marks twelve straight quarters of record revenue – see graph above. While sales rose slightly from 1Q20 (+0.4%), Diabetes Care has recorded fourteen consecutive quarters of ≥25% YOY growth since 4Q17. However, the business was not totally immune to the effects of COVID: the 25% YOY growth rate is actually the lowest in over three years.
Abbott Diabetes Care 2Q20 Financial Metrics
| | | | |
| --- | --- | --- | --- |
|   | Quarterly Revenue | YOY Change | Sequential Change |
| US FreeStyle Libre* | $162 million | +57% | +8% |
| US BGM* | $40 million | -27% | +8% |
| OUS FreeStyle Libre* | $431 million | +30% | -5% |
| OUS BGM* | $122 million | +8% | +10% |
| | | | |
| --- | --- | --- | --- |
|   | Quarterly Revenue | YOY Change | Sequential Change |
| Total FreeStyle Libre | $592 million | +39% | -2% |
| Total BGM | $163 million | -4% | +9% |
| Total US Diabetes | $202 million | +28% | +9% |
| Total OUS Diabetes | $553 million | +25% | -2% |
| Worldwide Diabetes | $755 million | +25% | +0% |
*our estimates
2. International sales of $553 million, rising 25% YOY, declining 2% sequentially
For the first time since 1Q17, international Diabetes Care sales declined sequentially, undoubtedly affected by the COVID-19 pandemic. Though CGM initiation is likely easier pump initiation (and more easily transitioned to telehealth), we've heard pump manufacturers anticipate larger headwinds from COVID-19 due to more diabetes care occurring in hospitals rather than smaller clinics. Still, international sales drove 71% share of growth in the quarter from a much larger base than the US business. We still haven't heard any meaningful commentary on performance of FreeStyle Libre 2 in European markets (we know the device is available in Germany and Norway, and multiple other countries), but we'd imagine the FreeStyle Libre 2 may be providing an extra benefit overseas, especially at the same price as FreeStyle Libre "1."
3. Record US sales of $202 million, rising 28% YOY, 9% sequentially
As usual, Abbott did not break down US revenue, but by our estimate, FreeStyle Libre grew >50% YOY, offsetting a ~27% YOY decline in BGM sales. During the call, Mr. Ford also noted that COVID-19 create a "little bit of an impact on our new user acquisition growth rate," especially in May, but picked up again in June. Looking ahead, especially with the recent clearance of FreeStyle Libre 2 in the US, Mr. Ford expressed quite a bit of optimism around momentum for FreeStyle Libre both worldwide and in the US.
Pipeline Highlights
1. FreeStyle Libre 3 has been in development "for some time"; no timelines or product details shared
During Q&A, analyst Joanne Wuensch (Citibank) asked about any potential timing for the next-gen FreeStyle Libre 3. Mr. Ford declined to provide any specifics on timing or product features, noting his focus was on "maximizing the Libre 2 launch." On today's call, Mr. Ford noted that FreeStyle Libre is a "platform product," again perhaps hinting at expansion beyond glucose. Ketone monitoring could be an obvious expansion, given existing work in ketone monitoring strips, the rapidly growing SGLT-2 market, and interest in ketogenic diets. Over the last few years, we've also seen interest in lactate monitoring, particularly in the context of automated insulin delivery systems as a way to monitor physical activity. Measuring insulin or cortisol might also be informative for AID systems. Though not an analyte, we also heard some speculation (that was later tempered) at JPM that Dexcom/Verily were working on potentially integrating an accelerometer into the G7 CGM to track physical activity, in addition to glucose. Of course, with so few details, this is all speculation, but given the huge number of factors that affect blood glucose, it's certainly exciting to think about the potential for more sensors allowing more personalization and fine-tuning of AID to ultimately deliver easier-to-use systems and better outcomes.
2. "We're very confident that we'll be connected to the full assortment of pumps and pens"; Tandem integration highlighted
During Q&A, Mr. Ford was asked about the AID "warning/limitation" that came along with FreeStyle Libre 2 clearance, responding that while we has "very confident that [FreeStyle Libre] will be connected to the full assortment of pumps and pens," ultimately, FreeStyle Libre is a mass market opportunity that goes well beyond pump users and even insulin users. See more of that commentary above. Though not mentioned on the call, Abbott's infographic for the quarter highlights the recent finalization of Abbott's partnership to integrate FreeStyle Libre devices with Tandem pumps. Given Dexcom's ownership of TypeZero and the inControl/Control-IQ algorithm, it's hard to imagine we'd see Control-IQ integration with FreeStyle Libre anytime soon, but just getting sensor readings and trend arrows available on the t:slim X2 pump would be a win for patients.
Diabetes-Related Analyst Q&A
Q (Vijay Kumar, Evercore): I think you made some bullish comments on Libre. There's been some confusion on the Street on the on the iCGM label but lack of AID compatibility, if you will. Maybe parse this out and explain how we see this Libre franchise in the back half heading into next year. And in your perspective, do you think this labeling is an issue, or is this more of a sell-side issue?
Robert Ford, CEO: Sure. Let me just start off, then, with kind of the trajectory here. If you looked at our first quarter trajectory in terms of sales growth, new user additions as measured by prescription data here in the US and other data sources outside internationally, and we were on a real strong kind of trend as we were going into Q1. And then obviously COVID had a little bit of an impact on our new user acquisition growth rate. I mean, we were definitely growing new users through Q2, but I think you could see in the data that we all kind of felt a little bit of an impact in May, and that's probably just impact of shelter-in-place where patients weren't going to their physicians either to get their prescription or just weren't going to the physician's office. But, if you look at the data, you see the pickup in the month of June and you if look at the exit of June, we're probably very close to the rate that we were before we came into COVID. As I said, that was a rate that was growing really nicely in terms of new users, so I'm encouraged by that recovery there.
I would say the biggest encouragement I have here for the second part of the year is not only that recovery but obviously the approval of Libre 2 here in the US. I think it's a product that's been long-awaited from physicians, payers, consumers, the diabetes community. We had launched it in Europe about a year or so ago. I think I look at this and it's not really a catch-up for me. It's really setting a new standard, as I said in my comments regarding accuracy and performance. It's got the best accuracy across the board, and, again, this is a 14-day sensor versus our closest competitor being a 10-day sensor. Even with that longer range of use, better accuracy overall, better accuracy in the low range and high range, better accuracy with kids and adults. So, I think that's very important.
One thing that we wanted to make sure we got right here, Vijay, was kind of regarding alarms. We had heard a lot about from consumers when we were developing Libre the frustration with alarms. We really put that feedback, really put the consumer really at the core, at the heart of what we were trying to try and build the alarm. Not only does the accuracy have better alarm performance, whether it's fewer missed or fewer false, but we added a feature there which is optional alarms. It's the only CGM that will have that where you can actually toggle between deciding when you want alarms and when you don't want alarms. I think that's an important mindset of how we brought that consumer into it.
I look at the combination of all this, Vijay, and I look at the base core of the Libre brand which I described, and I think the overall value proposition is really second to none here. It's simple, easy to use, it's a connected consumer-friendly device. It's been like that from day one once we started the design process back in 2011. I think one of the things that gets lost a little bit in the feature battle sometimes that happens is the outcomes. Outcomes are really important for the payers and for the physician community, and we showed some really powerful outcomes data at the ADA this year regarding A1c improvements for type 2 patients that aren't on insulin –  type 2 patients on oral meds – I think that's very important.
Also, we priced this for mass adoption. We don't measure success here, at least not for this product, which we've always talked about it being a mass market opportunity, we don't measure success as how high of a reimbursement we got. We measure success about broad access.
So, with that as a framework to answer your question on the AID, it was interesting to see the reaction regarding that aspect of our approval. I think it provided a lot of insight to some of the mindset here from the people that follow this space. Listen, pumps are going to be important. They're going to be an important segment of the market. The fully automated pumps are pretty amazing technologies. They're great technologies. But for context, these types of pumps, they really just comprise about 1% of the insulin users here in the US. So, we're very confident that we'll be connected to the full assortment of all the pumps and pens, and we've got everything we need here. But, our vision and our strategy was much bigger and has always been much bigger than that. We see this as a mass market opportunity that includes both type 1s, type 2s, whether you're on insulin, non-insulin, and when you look at the world like that, you're talking tens and tens of millions of people. So, we're excited about Libre 2 approval in the US. I think it sets a new standard, and I've got high expectations for it here in the US.
Q (Joanne Wuensch, Citibank): Can you give us an update on Libre 3 and when you're thinking of the timing of that?
Mr. Ford: Sure. I guess I would take your first question on Libre 3. We've gone through a long journey here, so I think I want to prioritize a little bit on Libre 2. But, what I will say is the following. We've always said that Libre was a platform product. We've always said that we would have different iterations. Libre 3 has been in development for some time, but I'm not going to provide any details on product capabilities or timelines as it relates to this point. My focus here is going to be really to maximize kind of Libre 2 launch. But we do have a team that's been working on it, and we're excited about it, and when we have more details to kind of share, we will share.
Q (Matt Taylor, UBS): You talked about Libre 2 and all the aspects of it. I was wondering if you could at least qualitatively talk about the kind of acceleration or pickup or additional opportunity that you see for that in the second half of the year. And, are you going to immediately be able to blast that out, or is there some kind of conversion time for you to get up to full speed on the manufacturing of the new product?
Mr. Ford: Well, the manufacturing side, I'll just answer that quickly. I mean, you know that we've been investing in manufacturing and manufacturing capacity and scale. We knew that was going to be an important aspect to our strategy when we look at it as a mass market. So, from a manufacturing standpoint, we don't have that issue. We've got teams that are already kind of building product, putting them in boxes, ready to start shipping them to wholesalers and retailers here in the US.
Regarding qualitative assessment of the opportunity, I mean, you could look at the penetration of CGM in the US here, and again, it depends on the kind of lens you want to look at. If you want to look at it through the lens of AID systems and connected pumps, you're going to have a market. If you're going to look at it through the lens of at least how we're looking at, which is mass market type 1s, type 2s, whether you're on insulin or whether you're not on insulin, you're looking at a large – you're looking at 15 million, 20 million people here in the US. And you can look at the amount of users we have. You can look at the amount of users that the other systems in the market have, and you can add that up, and you can say, okay, there's a lot of opportunity here for that kind of growth.
The question is what is the product that best suits that kind of penetration, that more mass-market penetration? I'll make the case not because I've been with this product for a while, but I'll make the case based on what I've heard from payers, what I've heard from the system that ultimately has to pay for it, that Libre has got everything – Libre 2's got everything it needs to be able to kind of accelerate that penetration. And I'll point to the study that we published at the ADA with a type 2 non-insulin user. I mean, that is a significant A1c reduction for people on oral medication that you probably don't see in terms of other studies with other drugs. So, I think Libre has shown that it is just as effective at providing outcomes for type 2 patients that are on oral medication versus those that are on pumps. I'm very bullish about the opportunity that we have for Libre 2 in the US as I am for Libre as a whole in around the globe.
--by Hanna Gutow, Katie Mahoney, Albert Cai, and Kelly Close