Executive Highlights
Merck reported 2Q18 financial results this morning, revealing 3% YOY and 10% sequential growth to $1.6 billion for its diabetes portfolio, largely on the addition of SGLT-2 inhibitor Steglatro. Listen to the webcast, read the transcript, and check out the news release, financial highlights, and pipeline slides.

Merck reported Januvia franchise sales of $1.5 billion in 2Q18. This represents 1% YOY and 8% sequential growth, but against easy comparisons of a 7% YOY loss in 2Q17 and a 7% QOQ drop in 1Q18. Strong performance OUS continues to offset declining US revenue. Stateside, the Januvia franchise fell 10% YOY to $712 million (from $789 million in 2Q17), while OUS sales rose 14% YOY to $822 million (from a base of $722 million in 2Q17). Management attributed this difference to pricing pressure in the US vs. strong international demand, especially as Januvia launches in China.

Our estimates put total SGLT-2 inhibitor Steglatro franchise sales at ~$37 million in 2Q18. Merck did not explicitly list sales for the Pfizer-partnered product, but our estimation is based off total diabetes sales and Januvia franchise revenue. In 1Q18, we calculated ~$8 million for Steglatro, but this was notably only ~half a quarter of sales. No mention was made of Steglatro during the call (or in 1Q18), continuing the lowkey approach Merck and Pfizer have taken toward Steglatro so far; we're wondering how the SGLT-2's lower list price might be affecting sales and formulary access, particularly as negotiations for 2019 wrap up.

On a pooled basis, the SGLT-2 inhibitor class climbed 21% YOY to a little over $1 billion, also rising a modest 3% sequentially against a 2% sequential decline in 1Q18. By value, Lilly/BI's Jardiance continues to lead with ~43% of sales, followed by AZ's Farxiga at ~33%, J&J's Invokana at ~21%, and now Steglatro at ~4%. This represents a pretty striking shift from 2Q17, when Jardiance held 36%, Farxiga 29%, and Invokana 34% – wow. Of note, this is based on estimated total revenue for Lilly/BI's Jardiance, as BI does not report revenue publicly.

In pipeline news, the Januvia/SGLT-2 combination candidate MK-0431J (sitagliptin/ipragliflozin) was approved in Japan as Sujanu. Merck partnered with Astellas on this fixed-dose combo, and this news follows two phase 3 trials in Japanese participants in 2016 and 2017. No other updates were given on diabetes pipeline candidates.
Merck reported 2Q18 financial results today in a call led by CEO Mr. Ken Frazier. Listen to the webcast, read the transcript, and check out the news release, financial highlights, and pipeline slides. There was a near dearth of commentary on Merck's diabetes portfolio during prepared remarks and Q&A, but we picked out five financial and pipeline highlights, alongside our pooled analysis of the SGLT-2 inhibitor market for 2Q18, below. Largely on the strength of Steglatro's first full quarter on the market, Merck Diabetes grew 3% YOY and 10% sequentially to $1.6 billion, from $1.5 billion in 2Q17 and $1.4 billion in 1Q18.
Overall, we gathered that Merck is very optimistic about the strength of its business and long-term outlook. This is certainly being driven by its cancer pipeline and we hope and expect to see it drive greater investment in diabetes and other global health problems disproportionately affecting the poorest in the world. Faster expansion of access to diabetes therapy is needed across the industry and the world; Merck is at the top of the list in patient access programs in the US, per diaTribe – we hope other manufacturers begin to approach patient access in many of the ways that Merck does and that more collaborative work on this front can be done. 
Pooled Market Highlights
1. SGLT-2 Inhibitors Class Climbs 21% YOY to >$1 Billion, +3% Sequentially; Jardiance Claims 43% Total Revenue, Farxiga 41% of Global Volume; Invokana Decline Continues
The SGLT-2 inhibitor market climbed 21% YOY and 3% sequentially to a little over $1 billion in 2Q18, up from $857 million in 2Q17 and +$26 million over 1Q18. The SGLT-2 class continues to grow on a yearly basis; YOY growth of 21% is certainly quite strong, building on a more sizable 41% YOY jump in 1Q18 and 24% overall growth in 2017. That said, underlying class growth seems to have slowed in recent quarters: In 1Q18, the class fell 2% sequentially before rebounding 3% in 2Q18. Indeed, slowed underlying class growth was widely referenced across the calls of SGLT-2 manufacturers; from this base, a variety of factors are affecting individual product performances. For example, J&J cited increased discounts, higher rebates, and share loss in Invokana's US-driven 27% YOY decline, while AZ pointed to contract gains in the US (perhaps at Invokana's expense?) and volume growth OUS; on the other hand, Lilly attributed Jardiance's "flat-ish" quarter to changes in rebate estimates and discount normalization. Of note, this pooled analysis is based on our estimate for total Jardiance revenue, between Lilly and BI, of $445 million.
Pooled SGLT-2 Inhibitor Sales (1Q13-2Q18)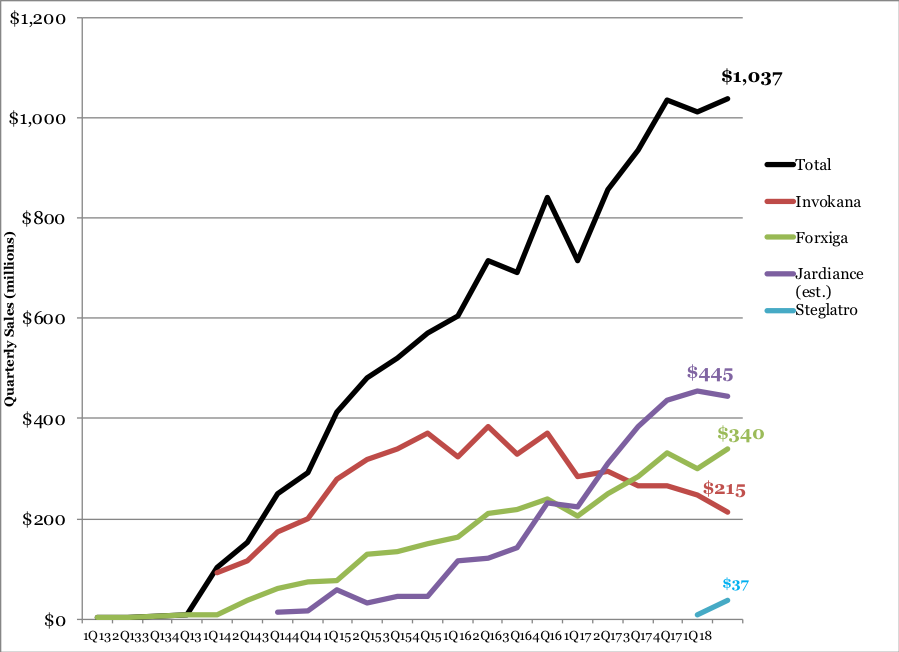 Financial Highlights
2. Januvia Franchise Sells $1.5 Billion (+1% YOY), Falling 10% YOY in US to $712 Million and Rising 14% YOY OUS to $822 Million
Global sales of DPP-4 inhibitor Januvia (sitagliptin) and fixed-dose combination Janumet (sitagliptin/metformin) were essentially flat YOY (+1%) at $1.5 billion. Notably, this very marginal gain occurred against an easy comparison of 7% YOY loss in 2Q17. Sequentially, the Januvia franchise grew 8% in 2Q18, but this also occurred against an easy comparison of a 7% sequential decline in 1Q18 (to $1.4 billion). Taking a broader look at Januvia (see the graph below), the consistent and paradoxically stable fluctuation of revenue over the past ~seven years around a very high base of ~$6 billion annually is evident. YOY margins over the past six quarters have been -6%, -7%, -2%, +1%, +7%, and +1%. Januvia is not alone in this trend; the DPP-4 class as a whole follows this ebb and flow, a trend that is actually driven by Januvia since Merck's product captures ~60% market share by value. All this said, Januvia continues to be an absolute blockbuster in the diabetes market – let's not forget that this franchise alone made Merck the second-largest diabetes company until Lilly overtook it last year (Novo Nordisk remains solidly in first place).
Total Januvia Franchise Sales (1Q17-2Q18)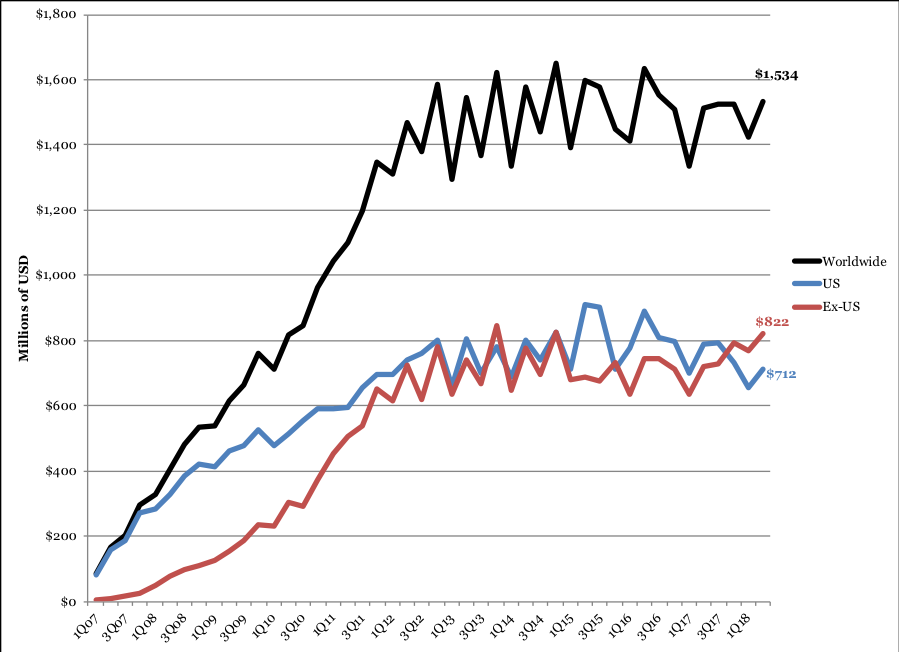 3. SGLT-2 Steglatro Franchise Posts an Estimated $37 Million in First Full Quarter on the Market
Merck did not break out sales for the Pfizer-partnered SGLT-2 inhibitor Steglatro franchise, but we estimate that ertugliflozin products generated ~$37 million in revenue for 2Q18. This estimate is based on total diabetes sales of $1.57 billion for 2Q18 (located in a footnote), minus Januvia sales of $949 million and Janumet sales of $585 million, and it includes revenue for Steglatro (ertugliflozin), Steglujan (ertugliflozin/sitagliptin), and Segluromet (ertugliflozin/metformin). Sales of $37 million would represent more than a quadrupling in revenue from 1Q18, when we estimated ~$8 million via the same methodology. It's important to note that the launch of the Steglatro franchise only occurred about one-third of the way through 1Q18 (late January for Steglatro + Steglujan, February for Segluromet), so $8 million represents more like a half quarter of revenue. That being said, Steglatro was the major growth driver in Merck's overall diabetes portfolio in 2Q18, contributing a 62% share of growth, though Steglatro obviously has much more headroom than the company's blockbuster DPP-4 inhibitor. We consider this second quarter performance a respectable showing for Steglatro, given that it's a new product entering a class with slowed underlying growth and three established products (J&J's Invokana, Lilly/BI's Jardiance, and AZ's Farxiga). Moreover, Merck reps have acknowledged that reimbursement is currently low and will have to be built up slowly and steadily over the course of the year; hopefully (and in all likelihood), Steglatro will secure a spot on major US formularies for 2019, when volume/sales will really take off. As we understand it, all three ertugliflozin products were FDA-approved so late in 2018 that Merck/Pfizer missed the contracting cycle for 2018. We would have loved any comment from Merck today on what's allowing for Steglatro gains, and we wonder if the product's lower list price has anything to do with it – at this point, we can only speculate. Merck/Pfizer issued a joint statement when Steglatro was approved establishing the list price as $8.94/day, which is meaningfully lower than the ~$17/day for existing SGLT-2 inhibitors. In 1Q18, we confirmed with a company rep that Merck would report total global franchise sales going forward, but per the original agreement for this partnership, Merck and Pfizer will split revenues 60/40, which suggests that Pfizer collected ~$15 of this $37 million in 2Q18.
4. Standalone Januvia Sales Hold Steady at $949 Million; Revenue Falls 7% YOY in US ($503 Million) and Rises 10% OUS ($446 Million)
Global revenue from standalone Januvia (sitagliptin) was stagnant at $949 million in 1Q18, as performances US vs. OUS offset one another. Sequentially, revenue rose 8% against an easy comparison of 6% QOQ decline to $881 million in 1Q18. There was, as usual, a clear disparity between US and OUS sales: OUS revenue grew 10% YOY and 7% sequentially to $446 million, while US sales fell 7% YOY to $503 million (from $541 million in 2Q17), rebounding 8% QOQ from an equivalent loss in 1Q18. Management continues to cite pricing pressure in the US as driving down realized price for Januvia, while expansion of DPP-4 inhibitors overall in emerging markets like China buoy losses in more established geographies.
Standalone Januvia Sales (1Q07-2Q18)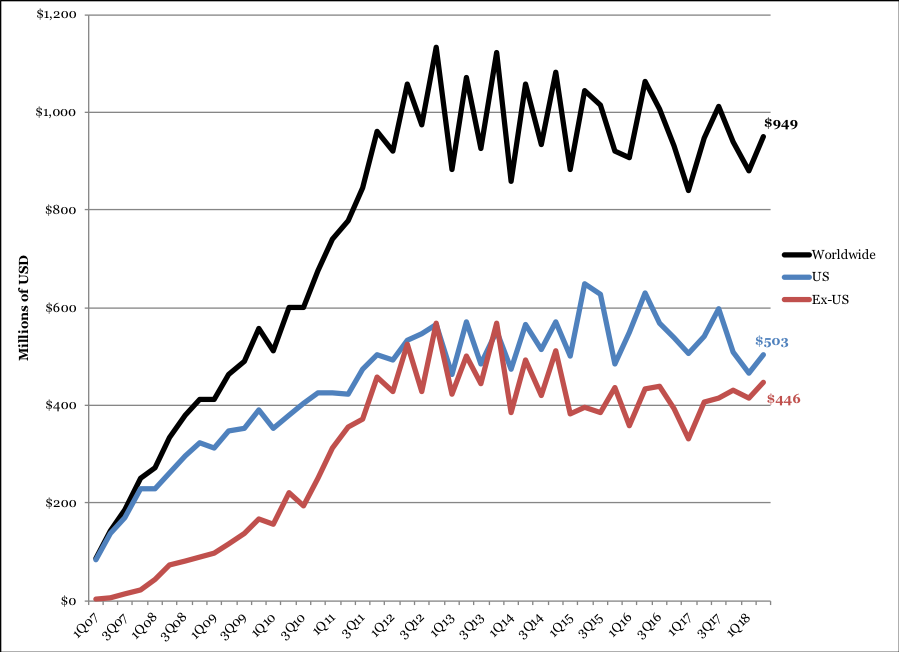 5. Janumet Climbs 4% YOY to $585 Million; Falls 16% YOY in US to $209 Million But Rises 19% YOY OUS to $376 Million
Janumet sales of $585 million grew 4% YOY from a base of $563 million in 2Q17, also rising 8% sequentially from $544 million in 1Q18. The fixed-dose combination (sitagliptin + metformin) drove 37% of growth in Merck's diabetes portfolio in 2Q18. International uptake of Janumet continues to far outpace sales in US markets ($376 million vs. $209 million); growth OUS was impressive at 19% YOY, but that was offset by a 16% YOY decline in the US. Sequentially, Janumet sales in US markets grew 9% against an easy comparison of 14% decline between 4Q18 and 1Q18 ($192 million). Meanwhile, OUS sales climbed 7% sequentially from $352 million in 1Q18, when revenue fell 3% sequentially. Management emphasized "demand-driven growth" around their DPP-4 inhibitor business ex-US, offset by drops is US revenue in the face of pricing pressure. We suspect that this strong international performance is especially driven by high uptake in Asian countries, including and especially Japan, where the class is particularly popular. Moreover, as more advanced branded diabetes products enter the market (DPP-4s are certainly facing tough competition from GLP-1s and SGLT-2s), our sense is that combination products (with both metformin and SGLT-2 inhibitor) are becoming more important for DPP-4 inhibitor franchises, offering an edge on convenience and/or efficacy.
Janumet Sales (2Q07-2Q18)
Pipeline Highlights
6. Sitagliptin/Ipragliflozin Fixed-Dose Combination (MK-0431J) Approved in Japan as Sujanu
MK-0431J (sitagliptin + ipragliflozin) was approved (slide 4) in Japan, following successful phase 3 trials in Japanese participants in 2016 and 2017. This joins an emerging class of DPP-4/SGLT-2 fixed-dose combinations. The candidate's market entry could offer a small boost to Merck's diabetes revenue (it was developed in collaboration with Astellas), and we'll be interested in any future comments on uptake from Merck. We've noted continued resistance to fixed-dose and fixed-ratio combination therapies for a variety of reasons (reimbursement and cost, rigidity, unfamiliarity) in the US; we wonder how the situation might be different or the same in Japan. No other updates were given on Merck's diabetes pipeline candidates, but we did notice that MK-8251, a GLP-1/glucagon dual agonist, has been removed from Merck's pipeline page following the termination of a phase 2 trial last year. The table below summarizes key details on current diabetes drug candidates being developed by Merck.
Merck Diabetes Pipeline Summary
| | | | |
| --- | --- | --- | --- |
| Product | Product Details | Status | Timeline |
| Lusduna Nexvue (MK-1293) | Biosimilar insulin glargine (Sanofi's Lantus) | Received tentative FDA approval | Tentative FDA approval granted July 2017; Full approval contingent on resolution of Sanofi's patent infringement lawsuit, filed September 2016; Phase 3 data reported at ADA 2016 |
| MK-0431J | Sitagliptin/ipragliflozin | Approved in Japan | Approved in Japan as of May 2018 (commercial name Sujana); One phase 3 trial in Japanese participants completed November 2016; Another completed March 2017 |
| MK-8521 | GLP-1/glucagon dual agonist | Phase 2 | Phase 2 trial terminated in 1Q18 per ClinicalTrials.gov; Candidate no longer listed on Merck's pipeline page |
| Undisclosed | Glucose-responsive insulin | Phase 1 | Phase 1 studies underway and expected to report in 2018 according to Dr. J Hans DeVries talk at IDF; Preclinical data presented at ADA 2017; Earlier GRI candidate MK-2640 discontinued after insufficient efficacy in phase 1 trial |
| MK-2640 | Glucose-responsive insulin | Discontinued from phase 1 | Discontinued based on insufficient efficacy in phase 1 trial, completed August 2016 following several delays |
Select Questions and Answers
Q: On Januvia and Janumet, revenue is a little bit higher than we were expecting for the quarter. Can you talk a little bit about the pricing environment? It seemed as though, in oral antidiabetic drugs, we're continuing to see a gross-to-net adjustment spike and the pricing pressure, but has it stabilized a little bit? Or are you guys just including your SGLT-2 combo in that line?
Mr. Kenneth Frazier (CEO): As I said before, outside the U.S., we continue to see strong growth, and most of that is offset by the pricing pressure that we see in the US. And as I said for the last couple of years, each year is tougher than the last year. This year, there's more pricing pressure than there was last year, and I believe, next year, there'll be more pricing pressure than there is this year. The good news is we are seeing growth outside of the US, and we're in the middle of launching in China, for example, where we think there's still growth opportunity. So what's happening is the growth outside the US is offset by the US pricing pressure, albeit that we still continue to see good volume in the US.
--by Martin Kurian, Ann Carracher, Payal Marathe, and Kelly Close