Executive Highlights
Senseonics reported record revenue of $7.2 million in 4Q18, climbing 38% sequentially from the previous record of $5.2 million in 3Q18. Sales more than doubled (+148%) YOY from $2.9 million in 4Q17. Full-year 2018 sales totaled $18.9 million, nearly tripling YOY (+196%) from $6.4 million in 2017. Senseonics was just shy of its February projection for $8.0 million in Q4 revenue and $19.7 million in 2018 revenue.

Management reduced 2019 revenue guidance by $2-$4 million – down to $25-$30 million (+32%-59% YOY) – to adjust for the impact of the new Eversense Patient Access Bridge Program. The program was likened to a copay card and will be offered throughout the US starting "next month" to support Eversense access for patients without coverage. The program will impact revenue in 2019, but pay dividends in "2020 and beyond." Senseonics will continue to prioritize expanding US reimbursement for Eversense alongside the program; the company is currently at ~25% of US covered lives. Kelly recently got Senseonics and loves it; Aetna covered it fully. She continues to feel lucky that Aetna covers multiple systems for her.

FDA approval for a non-adjunctive indication for the 90-day Eversense is expected "mid-year" with a launch to follow "shortly thereafter." (This should enable Medicare coverage.) An additional PMA supplement for a reduced once-daily calibration is expected to be submitted after the dosing claim is approved.

The ongoing 180-day US clinical trial for Eversense XL will be used to support iCGM classification and a non-adjunctive claim; the trial is expected to wrap up in 3Q19, potentially implying (our speculation) a 2020 launch of an Eversense 180-day iCGM.

Newly-hired Chief Medical Officer Dr. Fran Kaufman is already informing both product development and payer efforts, and she has already kicked off a gestational diabetes program! She will also help push the pediatric indication forward. What a coup!
Senseonics reported 4Q18 financial results in a call this afternoon led by CEO Dr. Tim Goodnow. See below for our top financial, business, and pipeline highlights from the call.
Financial and Business Highlights
1. Record Revenue of $7.2 Million Up 38% Sequentially; Full-Year 2018 Sales of $18.9 Nearly Triple (+196%) YOY
Senseonics reported record revenue of $7.2 million in 4Q18, rising 38% sequentially from the previous record of $5.2 million in 3Q18. Sales more than doubled (+148%) YOY from $2.9 million in 4Q17. US revenue was again not provided, despite Eversense having launched in the US in July; presumably it is still not at a material level. Full-year 2018 sales totaled $18.9 million, almost tripling YOY (+196%) from sales of $6.4 million in 2017. Senseonics just missed its February projection for $8.0 million in Q4 revenue and $19.7 million in 2018 revenue. We wonder if weaker-than-anticipated US performance was responsible, perhaps gated by reimbursement. 2018 sales also fell just short of the original $19-$21 million guidance range provided in 2Q18. We had thought that guidance was very ambitious – this reflects CEO Tim Goodnow's approach well and certainly Senseonics ended the year very successfully as shown by the chart below.
Senseonics ended the quarter with $137 million in cash, reflecting a quarterly cash burn of $26 million. At the current burn rate, the company has roughly five quarters of cash on hand, adding pressure to show a nice ramp in sales and user base in 2019. Its pipeline and business efforts certainly require investment: ramping US marketing and payer access, multiple PMA supplements for the 90-day Eversense, and the 180-day US clinical trial.
Senseonics Quarterly Sales (1Q16-4Q18)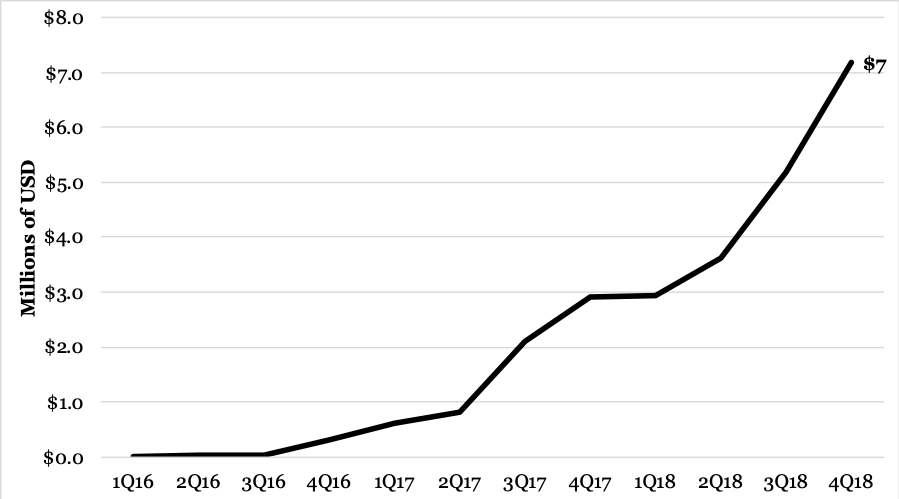 Senseonics Annual Sales (2016-2018)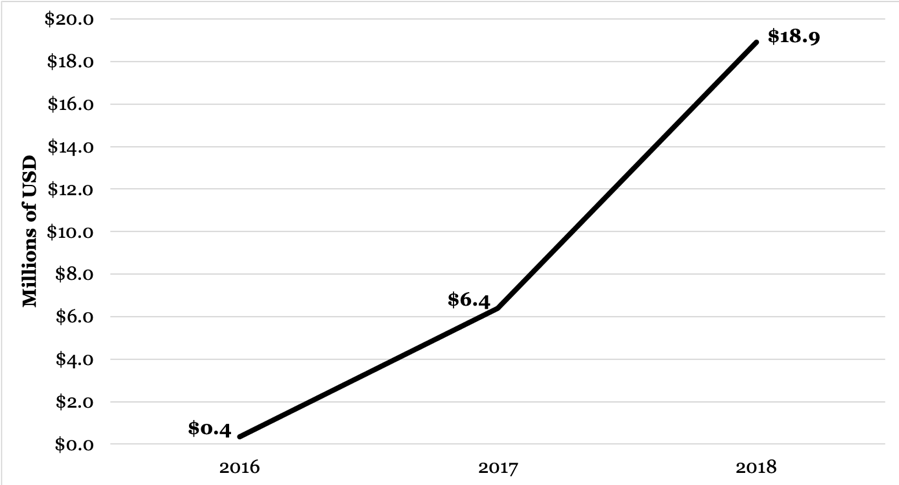 2. 2019 Guidance Lowered to $25-$30 Million Due to New US Eversense Patient Access Bridge Program; Projected Sequential Decline for 1Q19 Sales from International "Purchase Agreements"
Management lowered 2019 revenue guidance to $25-$30 million (+32%-59% YOY) to adjust for the anticipated impact of the new Eversense Patient Access Bridge Program. The adjusted revenue guidance reflects a $2-$4 million decline from the $29-$32 range provided in February. Few specifics were provided on the Bridge Program, but it is expected to roll out over the next month and aims to combat limited Eversense access resulting from delayed insurance coverage in the US. During Q&A, Dr. Goodnow explained that following a reimbursement review with Senseonics' partner organization, if a patient is determined to lack coverage, the Bridge Program "would be an opportunity to facilitate or support [acquiring Eversense] to make it more achievable and reasonable at a patient cost perspective." US VP Mr. Mike Gill likened the program to copay cards, citing market research revealing that physicians would "think of Eversense more often" if a copay assistance program existed. This makes sense, given that physicians are unlikely to recommend a product lacking reimbursement – especially one that requires the physician's time to insert (though it's pretty fast!). Dr. Goodnow acknowledged that the program will "impact revenue recognition and cause some uncertainty in timing," but he believes it to be an "appropriate and important investment in building the value of Senseonics' business." Moreover, he expects to the program to pay dividends "in 2020 and beyond … by establishing an important foundation for the growth of the product." We were excited to hear Dr. Goodnow characterize the program as indicative of Senseonics' focus on "doing what is right for patients" and salute Senseonics for prioritizing access – a challenge for every CGM company, especially those new to the field. The bridge program will be in addition to Senseonics' continued efforts to expand reimbursement and is intended to "push" the installed base "as quickly as we can early in the year." Hopefully, strong patient participation in the Bridge Program will serve to convince payers of Eversense's value.
Chief Financial Officer Mr. Jon Isaacson predicted a sequential decline in 1Q19 revenue primarily due to international "purchase agreements" – presumably referring to Senseonics' extended distribution agreement with Roche. Indeed, Mr. Isaacson expects just ~30% of 2019 OUS sales to be realized in 1H19, leaving the remaining ~70% for the back half of the year.
3. Senseonics "On Track" for Expanded US Reimbursement in 2019; Continued Goal for 100 Million Covered Lives by End of 2019, 250 million Covered Lives by End of 2020
Dr. Goodnow maintained Senseonics' previously stated goal of reaching 100 million covered lives by the end of 2019 and 250 million covered lives by the end of 2020 (this seems ambitious). Following US payer coverage from Tricare and the VA announced in February, Eversense is currently reimbursed for 60 million people in the US. Dr. Goodnow expects that Senseonics' continued efforts will "result in positive coverage decisions by the vast majority of payers." In addition to the new Bridge Program, these efforts include engagement with diabetes KOLs and professional organizations like JDRF to advocate for implantable CGM and expanded patient choice. Obtaining a non-adjunctive label in the US should theoretically open up Medicare coverage for Eversense, assuming Senseonics can get the CMS coverage and fingerstick calibration supplies sorted out (this took Dexcom a long time initially with G5).
Dr. Goodnow shared that by the end of 2018, "more than 250" physicians had begun referring patients to Senseonics' sales management system. Senseonics has begun to call on offices outside the initial targeted top 300 prescribers and is certifying nurse practitioners and physician assistants, who were authorized by the FDA in November to perform the Eversense insertions and removals. This is a big deal for them and patients.

A userbase update was not provided today, but Dr. Goodnow's comments reflected optimism about the number of patients entering "the funnel." He noted that "the interest on both the patient level and the professional level … is very high and certainly meets or exceeds our expectations." As of 3Q18, the EU installed base was expected to reach 5,500 users; we're not sure if that was achieved. Dr. Goodnow admitted in February to "feeling very good" about the previous goal to reach 10,000 US users by the end of 2019. Last we heard on the 3Q18 call in November, over 600 patients in the US had been added to the Eversense Ordering System.  

Senseonics announced in February a partnership with Geo-Med to provide access to Eversense to over nine million covered veterans and US government personnel. This was not mentioned today. Geo-Med is a verified Service-Disabled Veteran-Owned Small Business (SDVOSB).

We are surprised to hear that UHC and other plans continue to list Senseonics as Experimental and Investigational.  After two pivotal studies, a FDA panel and over 6,000 patients on sensors throughout the world, it's anything but experimental! But, it's just a matter of time before these payer barriers come down, particularly in the US.
4. EU Reimbursement Wins in Sweden, Norway, and Germany; New Users Increase by 167%, Sensor Insertions Rise 266%
Dr. Goodnow touted recent reimbursement wins in Sweden, Norway, and Germany, which should help expand access to Eversense. Over 2018, new EU users more than doubled (+167%) and sensor insertions increased by a whopping 266%. The 3Q18 expectation – 5,500 EU users by the end of 2018 – was not mentioned today. All the percentages are from relatively lower base numbers, so thinking in percentages is always a bit challenging and it would be easier to understand the actual numbers. Access should further increase thanks to a recent CE amendment allowing "eligible healthcare providers," including nurses, to perform Eversense insertions and removals, similar to the FDA approval in November.
Following the extension of Senseonics' distribution agreement with Roche announced in February, the partnership is "continuing forward seamlessly." The renewed distribution agreement provides Roche with distribution in an additional 17 countries, including Brazil, Russia, India, China, and other select markets in Asia Pacific and Latin America. N0 updates on launch timing in these new markets were provided on today's call. Roche looks smart to have partnered so early with Senseonics.
5. Dr. Fran Kaufman as New CMO: A "Champion" of a Pediatric Indication and "Already Spearheaded" a Gestational Diabetes Indication
During prepared remarks, Dr. Goodnow welcomed Dr. Fran Kaufman as Senseonics' new Chief Medical Officer, announced last week. This is a major win, both in terms of Dr. Kaufman's experience (research and clinical) and also in just how beloved she is in the field – the teams always love her and it's amazing to watch her impact. In Q&A, Dr. Goodnow specified that Dr. Kaufman will be working with medical directors at insurance companies "to help them get comfortable" with Eversense. He noted that in looking for a CMO, it was "really, really important" to find a "seasoned diabetologist" to help bring an understanding of the "decisions and trade-offs" from product development and product characterization perspectives. Dr. Kaufman is a world-class choice! She is already informing Eversense product development, championing a pediatric indication and "already spearheading" a gestational diabetes indication. We love the idea of expanding CGM to pregnant women – absolutely every woman with gestational diabetes or type 1 diabetes who is pregnant should have CGM - and we wonder what kind of adoption Eversense would see in children. Certainly, the reduced hassle of ordering sensor supplies and inserting new sensors every 7-14 days would be attractive to some, though the in-office procedure will not be a fit for everyone in this age group and their parents (although it is quite simple). Hiring Dr. Kaufman was an absolute coup for Senseonics and we're excited to see how she drives the company and the CGM category forward.
Pipeline Highlights
1. FDA Approval for Non-Adjunctive Claim Expected "Mid-Year" with Launch "Shortly Thereafter"; 1x/day Calibration PMA Supplement to Follow
FDA approval of a non-adjunctive (insulin dosing) label claim is expected "mid-year," followed by a launch "shortly thereafter." Importantly, the indication for the 90-day Eversense would categorize it as a therapeutic CGM, opening up access to the Medicare population. Obviously Senseonics will have to do some distributor work, just as Dexcom had to do with G5 – getting fingerstick calibration supplies to beneficiaries, etc. We'd expect this to take some time, as Eversense is at an earlier stage of reimbursement relative to where Dexcom was. 
An additional PMA supplement for one calibration per day will be submitted once the dosing claim is approved (i.e. ~mid-year). Dr. Goodnow predicted the calibration reduction could launch "in the first quarter," implying one year from now in 1Q20. Senseonics is obviously well behind Abbott and Dexcom on factory calibration, though getting to once-daily will be a big jump from the current twice-daily.
2. 180-Day US Clinical Trial to Support iCGM and Non-Adjunctive Claim; Enrollment to Complete in 3Q19
Senseonics' 180-day US clinical trial for Eversense XL will support an iCGM classification and non-adjunctive claim. Dr. Goodnow anticipates enrollment to wrap up in 3Q19. On clinicaltrials.gov, the study is estimated for completion in December 2019. We're excited to hear that Senseonics is continuing with its previously stated interest in pursuing iCGM indication – a smart move, especially as Medtronic may submit for iCGM too. When the 180-day multi-center PROMISE trial first began in January, we noted that the sample size increased by ~50% from the previously expected 125 participants to 180. On today's call, Dr. Goodnow said that the expansion stemmed from FDA discussions to meet iCGM standards and obtain a non-adjunctive claim. As a reminder, the iCGM standards focus on the lower-bound of the 95% confidence interval, requiring a large study and a very accurate sensor.
This could imply a Senseonics 180-day iCGM available sometime in 2020 at the earliest, depending on how long the FDA review goes. G6's FDA review was ~6 months, and we assume Senseonics would submit with a 510(k) application using G6 as the predicate iCGM device.
3. Preliminary Data from Beta Bionics Feasibility Study with 90-Day Eversense to be Presented at ADA; No Update on iDCL Pivotal Trial with Roche/Senseonics/TypeZero
Dr. Goodnow confirmed that Beta Bionics' multi-center feasibility study investigating the insulin-only iLet with the 90-day Eversense is complete. 18 participants were monitored in three separate seven-day algorithm control sessions. Dr. Goodnow expects to see preliminary data at ADA in June to be followed by a publication in the fall. Last we heard, the iLet insulin-only pivotal trial was slated to begin in 2H19. Assuming that Senseonics secures iCGM indication for the 180-day Eversense XL, Beta Bionics would theoretically only have to test iLet with Dexcom's G6 iCGM and then could integrate the Eversense XL as an alternative iCGM option without an additional clinical trial – expanding choice and showing the huge advantages of integrating an AID (automated insulin delivery) system with multiple iCGMs.
No updates were provided regarding the iDCL pivotal trial of the Roche-Senseonics-TypeZero 180-day hybrid closed loop system on today's call. Last we heard on the 3Q18 call in November, the trial was under review by ethics committees in France and Italy and was expected to begin by the end of 2018; we're not sure if it has started as of this writing.
Selected Questions and Answers
Q: Can you provide a bit more detail on the bridge program? How does this work from a patient perspective? Any more color on how that impacted the guidance?
Dr. Tim Goodnow (CEO, Senseonics): We are very happy with the number of patients that are coming into the funnel. The interest on both the patient level and the professional level to do the insertion and removal is very high and certainly meets or exceeds our expectations. In the cases where someone is very straightforward from insurance coverage perspective, like Aetna, it's a pretty straightforward process. The patient's status will be determined whether it meets the basic criteria. And if so, they move forward quite quickly and we can get them scheduled for the insertion. In the case where there is no coverage and there is an E&I, for example, like with UnitedHealthcare today, that's where it gets a little bit more complicated. What would happen in a situation like that is the patient would do a determination of coverage and would get the notification that they're not covered. They're given the opportunity to continue to move forward but outside of their insurance, which naturally very few take. What happened today is they would be given a go-ahead to do that insurance coverage check with our partner organization, and we'll determine what their exact coverage level is. The bridge program would be an opportunity to facilitate or support that so it would make it more achievable and reasonable at a patient cost perspective, and we do anticipate it will be much more effective in moving folks through at that point.
Mr. Jon Isaacson (CFO, Senseonics): The program is what we consider to be an investment in patient acquisition and will be a net to revenue. We believe this will put us in a much better position to have patient count at its highest possible level in 2019 and get us to that installed base, that recurring base, that predictable revenue stream, which we're all looking for in 2020 and beyond.
Mr. Mike Gill (US VP, Senseonics): Copay cards are pretty standard. And if you think about it the way that Tim just explained, it's a program very similar to those, whether in pharmaceuticals and also in CGM currently. And that's the way we've approached it. We did do some market research and asked some physicians about this. They overwhelmingly believe that with programs like this, the access in terms of how they think about referring patients, to us, opens up significantly. A physician is also someone who is measured on time. And if they refer a patient that doesn't have coverage, then it's really a waste of time for them. As we did our market research and talked to physicians about this opportunity, they said: "Hey, if there was a program like copay cards and assistance, I would then think of Eversense more often." So, it's really a dual opportunity here for the patient and physician, so there's not time wasted in talking to a patient who doesn't have coverage.
Q: When you're working with these agencies to help people through the reimbursement process, is this something that you view as a one-time investment for this year and then this will come out of the cost structure? Or is this something that you have to continue to use to help support you for several years?
Dr. Goodnow: It's certainly an investment that makes sense for us to do in the early years as we're at 60 million covered lives out of, let's call it, 250 million that we'd like to get to. So, we're at approximately 25% of covered lives. We've got another 75% to go. Once you get closer to that 250 million range, you're less and less subject to these dynamics. Sometimes though, you will see in the space people use it in Q1 to facilitate early co-pays. Now that's not something that we've anticipated today. We'll address that in the future. We're bringing it in essentially in our Q2, but our expectation is that we're going to do this for a number of quarters here and really push patients on the system and really push the payers to recognize the products out there. So, we don't anticipate it as a long-term program. But that's not to say that like many in the space, you wouldn't bring it back once in a while.
Q: Dr. Kaufman joining was a big win for you guys. Can you talk about how you think she's going to fit into the current strategy? What do you think Dr. Kaufman's primary role will be and what will she bring to Senseonics?
Dr. Goodnow: We are obviously very excited to have the opportunity to attract Dr. Kaufman to work with us. She's actually been on board for just one week. But we did have an opportunity to do some introductory consulting with her for a couple of weeks prior to that. First and foremost, what Fran really brings is the recognition and the reality that keeping the patient in the center of our bullseye is the most important thing. And as a practicing diabetologist, she understands firsthand what the decisions and trade-offs and needs are to be as effective as possible. Having access to her both from a new product development perspective as well as from a product characterization perspective is going to be key. As we were looking for a CMO, it was really, really important that we got a seasoned diabetologist to be able to do that. Her helping us with this journey around payers is going to be very, very key as well. She's already challenging us in the clinical domain, what additional testing do we need to get going on? Obviously, the pediatric indication is one that she's a champion of – we've got to get the resources to get in front of that. Gestational diabetes is another one that she's already spearheaded. It's already clear that she's going to be one of the most influential and most important players for all of us to learn from. Her role is very broad but that's because of the nature of who she is and her capability and the influence she'll have on us.
--by Maeve Serino, Adam Brown, and Kelly Close