Reach out to FDA if interested in helping shape Pre-Cert program; Traditional reviews in parallel with Pre-Cert-style reviews for 2019! (1.5-hour call with extended Q&A)
FDA recently held a 1.5-hour User Session webinar on the Pre-Cert program for digital health, providing the latest update on the program to expedite reviews of digital health software. Download the slides and check this page soon to see the webinar, a transcript, and an audio recording. FDA Digital Health leader Mr. Bakul Patel's brief remarks centered on the latest working model and test plan (rolled out last month), as well as the subsequent Q&A.
The biggest news from the call is that FDA is seeking additional organizations to discuss aspects of Pre-Cert this year. 2019 is nominally Pre-Cert's test phase with the nine pilot participants – including Tidepool, Apple, Fitbit, Roche, Samsung, and Verily – but FDA's Digital Health leader Mr. Bakul Patel specified that additional input is welcomed. Other organizations' involvement doesn't need to be end-to-end (i.e., going through the whole Pre-Cert process); rather, if a manufacturer wants to share documentation practices, software development "excellence principles," or metrics that they already collect, then FDA is open to engaging and learning.
In addition, Mr. Patel emphasized that: (i) the Agency will perform traditional reviews in parallel with Pre-Cert companies' excellence appraisals/streamlined reviews in order to pressure test the new paradigm (i.e., "Does Pre-Cert give us the same assurance that a product will be safe and effective?") and (ii) the program will be implemented under the De Novo pathway (initially) to circumvent potential complexities of considering risks for products with predicates.
FDA will provide updates on the 2019 test phase throughout the year, including quantifying the number of sponsors involved and test cases evaluated.
Near term, Pre-Cert has implications for the commercialization of Tidepool Loop, currently in its observational study. Could Loop be the first FDA submission for a smartphone-controlled automated insulin delivery system? How much easier will Pre-Cert be vs. the traditional PMA process?
Important Slides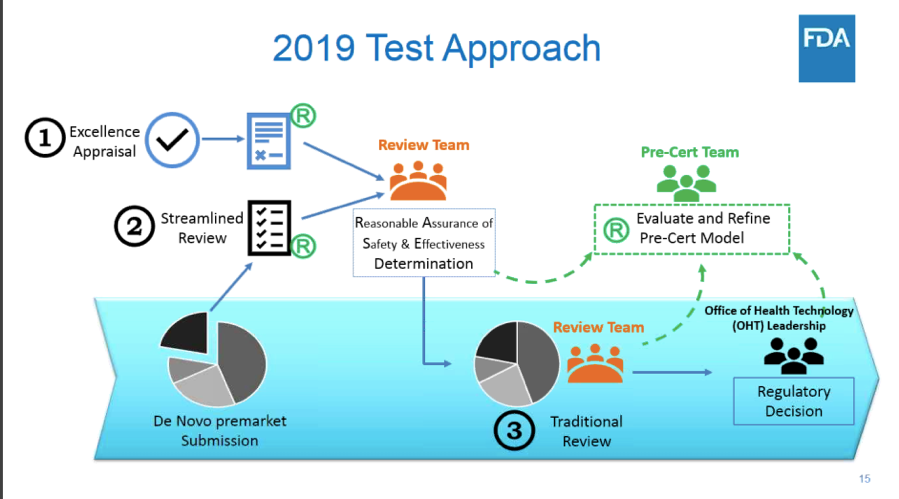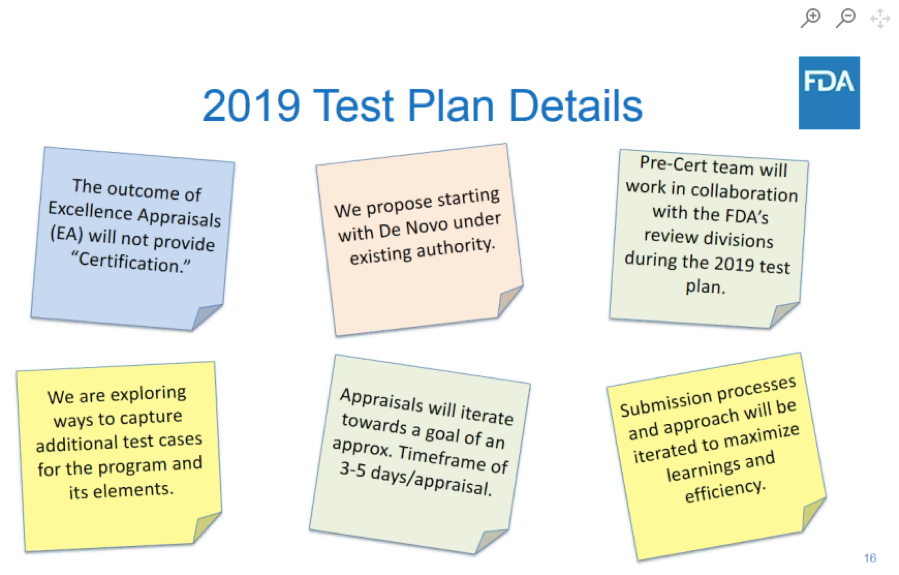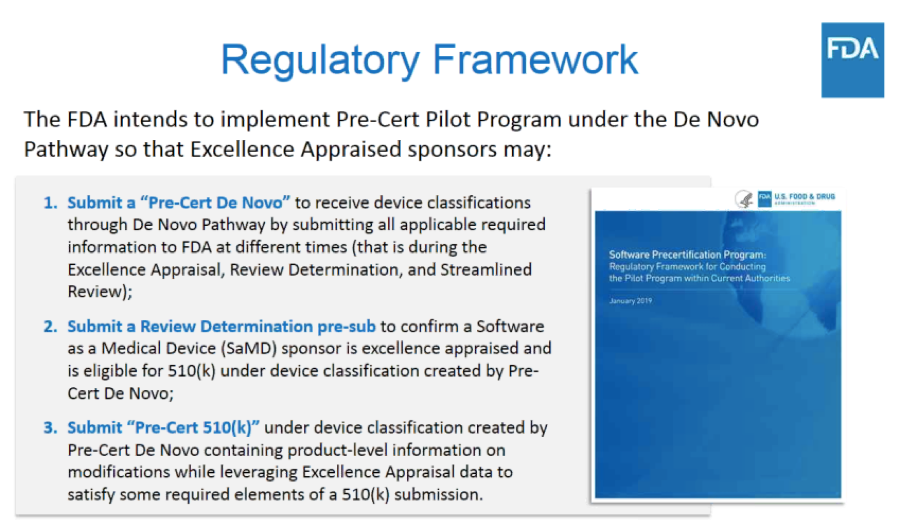 -- by Brian Levine, Adam Brown, and Kelly Close