Executive Highlights
Medtronic Diabetes' global sales hit a record-high $645 million in F4Q18 (1Q18), increasing 26% YOY as reported and 21% operationally. Sales grew 10% sequentially from the previous record high in 4Q17. This is easily the biggest YOY reported gain in our model, which goes back to 2005 – the next highest was 22% growth in 1Q08! US sales of $370 million rose 22% YOY, hitting an all-time high – this was Medtronic's strongest US growth since at least 2005, per our model. Outside the US, record sales of $229 million increased a robust 32% YOY as reported, including 17% operational growth in developed markets ($218 million) and 34% growth in emerging markets ($57 million). Management conservatively guided for "low double digit" YOY growth for all of FY19 – relative to easy YOY comparisons for the next two quarters, we'd guess Medtronic will achieve at least mid-teens diabetes growth and perhaps higher.

As anticipated, Medtronic now has CGM sensor manufacturing capacity to meet expected global demand. Notably, there were no sensor back orders at the end of the quarter. The Guardian Sensor 3 sensor gets high marks compared to the old one, and though the CGM has saw drawbacks compared to Dexcom's G6, the automated insulin delivery with 670G, especially at night, is a big advantage for now.

The standalone, Bluetooth-enabled, Guardian Connect mobile CGM is expected to start a "broad launch" in the first quarter of Medtronic's fiscal year (~May-July). The sensor was FDA-approved in March after a ~two-year review. This could possibly be in reference to the limited launch (previously guided for ~May-July), or it could mean a broader rollout is now happening earlier than anticipated. We are likely in for a large Guardian Connect presence at ADA. For those of us that remember the Medtronic Gold – this is a whole new product and it looked and sounded pretty good when we heard about it at the great "Innovators'" meeting last weekend at Stanford, organized by Divya Gopisetty and Urvi Patel.

70,000+ patients have been trained and are actively using the MiniMed 670G in the US. Overall, 100,000+ systems have been shipped, a five-fold increase over the figure shared in 3Q17. The slides say "moving towards … launching 670G in new geographies," leaving CE Mark status ambiguous. Per last quarter's call, upon approval, the hybrid closed loop will launch in "select OUS geographies." 640G received approval and has launched in Japan. Medtronic has a lot of runway outside the US with these products, and will again beat other systems to market OUS.

Per ATTD, 670G pediatric data (7-13 years old) has been submitted to the FDA. This was not mentioned today, so there is no launch timing to report. A 2-6 year old study was expected to wrap up soon, per ATTD.

According to Mr. Ishrak, Medtronic now holds a 70% share of the pump market (presumably by pumper, not revenue, though who knows how they are counting stats like this – it's always a bit vague). Ultimately, it is probably under-appreciated the extent to which Medtronic is seeing a greater revenue contribution from CGM as customers move from standalone to far more profitable sensor-enabled pumps with accurate sensors that are now being purchased and used.

Encouraging news - Medtronic is leveraging the Diabeter model to type 2 clinics in the US. There were no additional details provided, but we love the idea of bringing the tech-integrated care model from Diabeter to the US and to type 2s – how ready are US payers to jump on board? The care is said to be stellar, though expansion progress has been very, very slow since the clinic was acquired three years ago.

Medtronic's 2018 Institutional Investor and Analyst Meeting will be held on June 5 from 8 am-2 pm EDT. We expect to hear plentiful updates on the diabetes portfolio, and we'll be tuning into the webcast for all the updates.
Medtronic reported record-high 1Q18 (F4Q18) financial results this morning in a call led by CEO Omar Ishrak. It was the second consecutive quarter of record diabetes sales on the back of the broadening MiniMed 670G launch, an expected change from the prior two quarters. Diabetes is page 12 in the presentation slides (see below), and the call's major highlights are summarized below.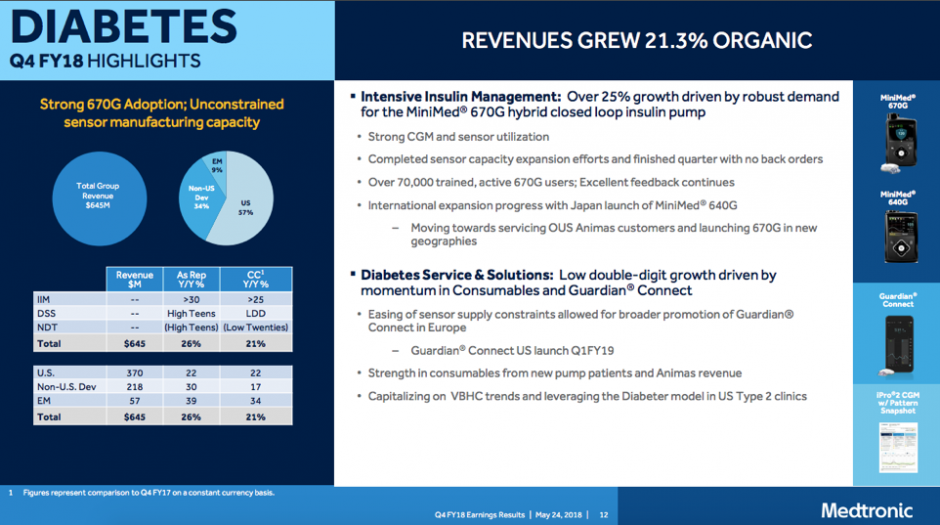 Financial Highlights
1. Record-High Global Sales of $645 Million Rise 26% YOY; US rises 22% YOY to $370 million; OUS rises 32% YOY to $275 million
Worldwide Medtronic Diabetes sales hit a record-high for the second consecutive quarter, totaling $645 million, reflecting 26% YOY growth as reported and 21% operationally. This is easily the biggest YOY reported gain in our model, which goes back to 2005 – the next highest was 22% growth in 1Q08! Such robust growth is not all that surprising given (i) the company's expanding 670G/640G sales; (ii) OUS Guardian Connect CGM distribution; and (iii) an easy comparison to 3% reported and 4% operational growth in 1Q17. Sales grew 10% sequentially following a record 26% quarter-to-quarter gain in 4Q17. The graph below certainly tells a tale of accelerated Medtronic growth in the past two quarters. The record-high sales tally beats last-quarter's previous record of $584 million – the previous record was $512 million in 1Q17. The execution, both on the financial and sensor manufacturing fronts, is on par with 4Q17 commentary. For the second consecutive quarter, the US and OUS businesses provided near-identical shares of quarterly performance – both saw absolute growth of $66-$67 million, contributing equally to overall Medtronic YOY growth. The graph below, however, suggests the OUS business is on quite an uptick, while the US business leveled off a bit from 4Q17. Mr. Mike Weinstein – on his first call wearing the industry hat as Medtronic SVP of Strategy after over two decades at JP Morgan (freshly announced on May 7) – commentated that Diabetes "obviously had a fantastic quarter," outperforming the Street's models, "and Guardian standalone hasn't launched yet in the US." Wow, is Medtronic lucky to get him.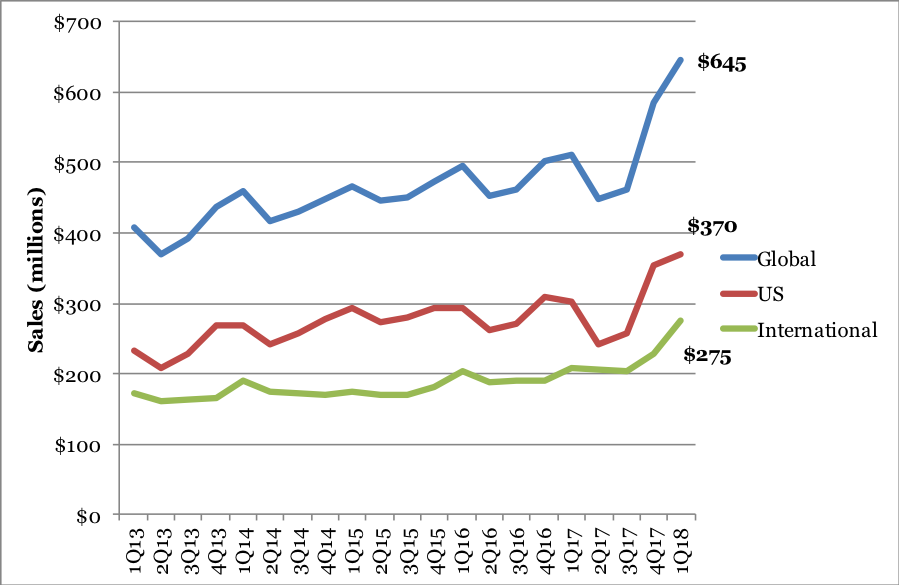 2. Intensive Insulin – "High Twenties" Growth; Service/Solutions – Low-Double Digit Growth; Non-Intensive – Declines in the Low Twenties
3. Low Double-Digit Diabetes Growth Expected in FY19; Robust Growth Expected in F1Q19 on 670G
Management now guides for the Diabetes segment to grow in the low-double digits for the 2019 fiscal year (April 28, 2018-April 27, 2019), slightly tempering expectations shared at JPM for "double digit" growth. In the upcoming quarter (2Q18), "robust sales" are expected from Diabetes on continued 670G strength. This is very doable given this quarter's performance, the impending US launch of Guardian Connect, and two very easy comparisons up ahead (-1% YOY in 2Q17; -2% YOY in 3Q17). With that in mind, this tempering of guidance feels extremely conservative – we again expect Medtronic to show 20%+ YOY growth. For instance, even if sales decline 10% sequentially from this quarter, Medtronic would post 29% YOY growth in the upcoming quarter 2Q18. Here are a few factors we'll be looking at:
670G: US Launch, Pediatric Submission, and OUS Timing
1. 70,000+ Trained & Using 670G in the US; 100,000 670Gs Shipped; Capacity to Meet Global Demand for Sensors (No Back Orders at Quarter's End)
Over 70,000 patients have been trained on and are actively using the MiniMed 670G in the US, though we've confirmed that the company has shipped over 100,000 systems. This is up five-fold from the last two updates: "over 20,000" patients, shared on both the November (3Q17) and February (4Q17) calls (though there was a January update suggesting ~35,000 Priority Access Program orders had been fulfilled). That so many systems have been shipped is a sure sign that CGM manufacturing constraints seem to be fixed, and Mr. Ishrak's comments today confirmed that the company has "capacity to meet expected global demand going forward" – the slide deck adds that sensor capacity expansion efforts are complete and there were no sensor back orders at the end of 1Q18. Notably, Medtronic's 670G installed base alone (once all these 100,000 patients are trained) is now larger than both Tandem's active installed base (63,000+, per 1Q18) and Insulet's US installed base (~77,000-80,000 users, per 4Q17). We're not sure how many of these 100,000 systems are from Medtronic's existing user base, pumpers from other countries, and market expansion from MDIs.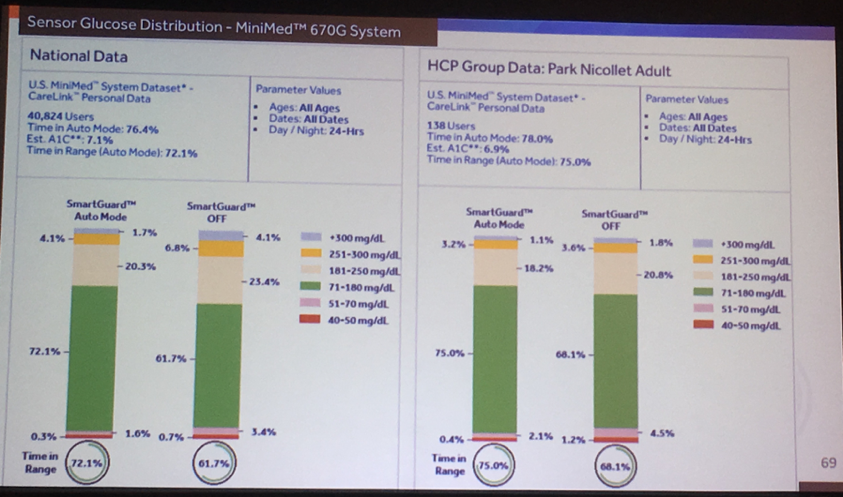 2. Moving Toward Servicing OUS Animas Customers + Launching 670G in New Geographies (No CE Mark Update); 640G Launches in Japan
Per the slide deck, Medtronic is currently "moving towards servicing OUS Animas customers and launching 670G in new geographies." The slide deck accompanying the previous February call said Medtronic is currently "working to obtain CE mark for 670G" and that upon approval, the hybrid closed loop will launch in "select OUS geographies." CE Marking wasn't mentioned at all on the call or in any of the supplementary materials – this could mean it is still in progress, or that it has been obtained but the product hasn't launched. Now that sensor supply constraints have eased, regulatory and reimbursement are presumably the gating factors. JPM timing in January suggested a 670G OUS launch would come by April 2019 ("FY18/FY19") – a pushback well beyond the initial plan for a "summer 2017" approval. At this point, the delay between US approval and OUS market entry is >1.5 years, a testament to the forward-thinking FDA device division.
3. 670G Pediatric (7-13 years) Indication Submitted to FDA; 2-6 Year-Old study wrapping up soon
Though not mentioned on today's call, we learned at ATTD that Medtronic has submitted 670G pediatric data (7-13 years old) to the FDA. Compared to a two-week open-loop run-in period in the 7-13 pivotal trial, 670G drove a 0.4% reduction in A1c in the pediatric population (baseline: 7.9%); time-in-range (71-180 mg/dl) improved from 56% to 65% (a strong +2 hours/day); time <70 mg/dl declined from 4.7% to 3.0% (-24 mins/day); and time >180 mg/dl improved from 39% to 32% (-1.7 hours/day). We'd guess a pediatric launch this year is possible, depending on how long the FDA review goes. Dr. Fran Kaufman said in February that a seven-site, n=50, three-month study in 2-6 year olds is also in the process of wrapping up. Overall, this likely means Medtronic will be out with a pediatric indication before other companies are out with a competitive commercial hybrid closed loop for adults – a big advantage and one we think parents may be quick to jump on. Interestingly, the real-world 670G data mentioned also presented at ATTD (~14,000 patients) included nearly 500 7-13 year old users that are already using the system as part of the US commercial launch – presumably off label. This age group's real-world Auto Mode time-in-range (~65%) was identical to the pivotal, and still a clear area for improvement. (These off-label prescriptions are likely for those close to the age cutoff and on more than eight units of insulin/day.)
CGM, Infusion Set, and Other Pipeline Highlights
1. Guardian Connect Standalone Mobile CGM Approved in March, US Broad Launch to Start in F1Q19 (by July 28, 2018); Broader Guardian Connect Promotion in EU
Following FDA approval of the standalone, Bluetooth-enabled, Guardian Connect mobile CGM and Sugar.IQ pattern recognition app in March, Mr. Ishrak said that the company intends to start a broad launch "in the first quarter" (F1Q19, i.e., April 28-July 28). This actually made it sound like the full launch will begin in early/mid-summer, whereas previous guidance dictated a limited launch in May-July would precede broader availability in August-October. We wonder if Medtronic has moved up the launch, or if the commentary was simply less specific. It's also possible availability has been accelerated in light of Dexcom's June 4 G6 launch shipping target and Senseonics' optimism that it'll have a big presence at ADA – it's one thing to be able to say at ADA that "we have a sensor FDA approved," and it's another thing to say "we have an FDA-approved sensor that's now in XX thousand people's hands." It could also be that the qualifier "start" before "broad launch" actually signifies a limited launch.
2. Mio Advance Not Mentioned; Hidden-Needle, Auto-Inserter Launched in UK, Italy, Netherlands; Launch Previously Expected in Canada, Hong Kong in 1Q18
The call did not mention Unomedical's Mio Advance insertion set. At ATTD in February, the set debuted in Medtronic's booth and workshop, touting a limited launch in the UK, Italy and the Netherlands in F3Q18 (4Q17). Canada, Hong Kong and certain Europe/Middle East/Africa launches were expected in this quarter (F4Q18; 1Q18), with availability in other countries expected later in 2018. No timing was shared in the call, and there is no US timing to report;  we'd hope to see a stateside launch fall in the countries slated for later this year. The all-in-one, hidden-needle, fully disposable inserter is a big upgrade in our view – see a video demo here. The Unomedical rep told us it's been the "best feedback ever" about an infusion set, a major win and certainly strong competition to BD's FlowSmart set. The initial Mio Advance launch with Medtronic does not appear to be an exclusive partnership (like BD's FlowSmart set), though Unomedical has not developed a version for Tandem's t:lock at this point. However, the set's website does indicate a luer lock version is available, meaning Roche pumpers could theoretically use it.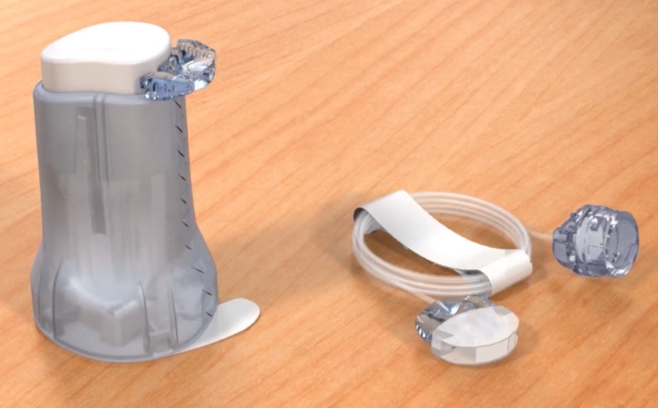 Value-Based Healthcare Highlights
1. "Capitalizing on VBHC Trends" and Bringing Diabeter Model to US T2D Clinics
The Diabetes slide alluded to "capitalizing on VBHC (value-based healthcare) trends and intriguingly, bringing the Diabeter model to US type 2 diabetes clinics. The call did not share timing or further details, but the type 2 Diabeter mention is exciting – Diabeter's integrated, tech-enabled care has been specialized in type 1 diabetes thus far. Following Medtronic's acquisition of the clinic three years ago, this is the first time we can recall a mention to expand it to type 2 diabetes – this is obviously much higher potential and much higher need, given the fragmented care many patients receive.
Pipeline Summary
Pump, Automated Insulin Delivery, and Infusion Sets
Pump/Infusion Set Pipeline Product

 

Latest Timeline

MiniMed 670G with Guardian Sensor 3

Hybrid closed loop

US: >70,000 US users on hybrid closed loop. 100,000 systems shipped in total (AACE 2018).

Pediatric (7-13 years) submitted to FDA in January 2018, 2-6 year old study wrapping up as of February 2018

OUS: Moving toward launching 670G in new geographies; CE Mark process underway as of February 2018, unclear if it has been obtained

1,500-patient Outcomes RCT currently recruiting.

Mio Advance infusion set (Unomedical)

Launched in UK, Italy and the Netherlands as of ATTD 2018; Canada, Hong Kong and certain EMEA launches were expected in 1Q18, but not commented on today

US timing unknown

MiniMed Pro-set Infusion Set with BD's FlowSmart technology

No update on BD's 1Q18 call; Per the last update in August, the set was slated to launch by September 2018.

Future Bluetooth-enabled pumps incorporating Roche Accu-Chek Guide Link BGM

No official timing shared by Medtronic. A prior Roche webinar suggested that this could launch in mid-2018, but Medtronic has never confirmed this.

Advanced/Enhanced Hybrid Closed Loop and New Insulin Delivery System (formerly called "690G")

Incorporating DreaMed MD-Logic algorithm to add automatic correction boluses

Launch after April 2019. NIH funded IDC/Schneider Children's Hospital study to start later in 2018, per ATTD 2018 update. Feasibility study shared at ATTD 2017.
CGM Sensor Pipeline (Personal and Professional)
CGM Pipeline Product

Latest Timeline

Guardian Connect standalone mobile CGM

Bluetooth-enabled transmitter, Enlite 2 (OUS) or Guardian Sensor 3 (US).

FDA approved in March 2018 with Sugar.IQ app; Launch expected in ~May-July 2018 (F1Q19).

Available outside the US (EMEA, APAC).

iPro 3 Professional CGM
"Single-use," blinded, MARD of ~11%.

Launch in FY19 (May 2018-April 2019), per JPM 2018

Next-gen sensor (flat square-patch design)

After April 2019, per JPM 2018
Data Analytics and Connectivity Pipeline
Data/Connectivity Pipeline Product

Latest Timeline

IBM Watson app, Sugar.IQ Gen 1 ("Personal Diabetes Assistant")

Analyzes retrospective data: "How have I been doing?"

Approved in tandem with Guardian Connect CGM, to launch in the US with Connect (see above). First data from "limited learning launch" presented at ADA and subsequently at DTM.

Next-gen CareLink

After April 2019, per JPM 2018

Fitbit partnership for professional CGM

myLog mobile app launched in December 2016 to capture exercise, food, fingerstick data while wearing iPro2.

Turning Point Program with IBM Watson

Bluetooth-enabled BGM, a patient mobile app, a one-on-one health coach, clinical decision support for PCPs, and optional iPro2 to help patients with uncontrolled diabetes.

Went live in F3Q17. Initial pilot data reported at ATTD demonstrated 2.0% A1c reduction from a 10.1% baseline in n=35 completers (view the poster here).

mySugr-CareLink integration for pump/CGM data management

Partnership announced in a mySugr industry update in November, but no launch timing shared.
Selected Q&A
Q: Just to give us confidence in your guidance for fiscal year 2019, what are the product launches that you're most excited about for fiscal 2019?
Mr. Omar Ishrak (CEO): … Diabetes is the other one. I mean, we're just starting there to get the full benefit of the 670G in the US, and we're extremely excited about what we see. But equally, we've got penetration of the 670G into global markets on the back of a 640G which is already very successful. And then the Guardian Connect is a whole big opportunity which I mentioned, which also is a big area for us.
Q: Two of the businesses that stood out were Diabetes and Spinal Cord Stem. And, Omar, you touched on this just briefly in the last question, but you have new product launches there. Maybe you could give a little more color into what you're seeing and the dynamics with the product launches? And how you think that's impacting the market?
Mr. Hooman Hakami: I think the quarter was really strong. We had some great balanced performance across businesses, across geographies. I'd say there were really two main drivers. The first is strong global pump growth, and Omar just touched on this a second ago. We had continued strong uptake of the 640G in markets outside the United States, but in particular Europe, and then we have seen continued strong performance out of the 670G in the US. And this is really encouraging because in many ways we are just getting started here. So you look at those dynamics. All of those things lead to six points of share gain for us across both consumable and durable pumps this past quarter, which we're obviously really excited about.
The second big driver for us was the pull-through of sensors. This is as we sell more integrated systems, we're seeing more sensor pull-through. So both the 640G, the 670G are driven by sophisticated algorithms where the pump and the sensor work together to keep a patient in control. As we sell more of these systems, the more sensors we pull-through. So those two dynamics were really the catalyst for us this quarter, and then looking forward we expect both of these things to continue and for us starting to capitalize on a stand-alone CGM market that we're just starting to get into.
-- by Brian Levine, Adam Brown, and Kelly Close