Executive Highlights
Onduo and the Blue Cross Blue Shield Association have announced plans to pilot a type 2 diabetes management program in 1Q18 in Arkansas, Georgia, and South Carolina. The pilot will include connected CGM, apps, and continuous lifestyle and medication support through Onduo's healthcare experts. Outcomes include clinical improvement, cost, and member experience (time period and "n" not specified).
We assume the connected CGM will be Dexcom – a Verily partner and the only connected standalone CGM currently on the US market. A Forbes article hinted (possibly incorrectly) that the first-gen Dexcom-Verily sensor might be used in this pilot, suggesting that the device would be "similar to a Band-Aid." We unpack this below.
This is the first major update since Onduo was announced last September, confirming the plans to build a "platform" (hardware, software, services) that pulls many solutions together. The ~$496 million joint venture between Sanofi and Alphabet's Verily has been quite silent in the past year, but is now becoming more public.
The updated Onduo website positions the company as offering a "virtual diabetes clinic" – in some ways, it resembles the offerings we're increasingly seeing from One Drop, mySugr, Livongo, and Virta Health. The 12-person team looks strong.
The announcement raised many questions: Will payment be outcomes-based? And if so, what specific outcomes over what time period? Which devices and apps will be curated and how did they get selected? How will they be matched to different patients? Will insulin dose titration and dose capture play a role? What guidance will be given? Who are the Onduo experts and what coaching/support functions will they take on?
On Thursday, the Blue Cross Blue Shield Association (BCBSA) announced a partnership with Onduo (the ~$496 million joint venture between Sanofi and Alphabet's Verily) to initiate a type 2 diabetes management pilot program in Arkansas, Georgia, and South Carolina, beginning in 1Q18. Eligible BCBS members in the pilot will get "personalized and convenient diabetes care" (emphasized) and be "matched" with connected CGM (we assume Dexcom), mobile apps, lifestyle support, medication review, and a team of Onduo health care experts.
Financial terms were not disclosed, though we'd guess Onduo is being paid for outcomes, given CEO Dr. Josh Riff's previous comments on traditional "dinosaur" pricing models. The pilot will measure clinical improvement (hopefully time-in-range, since CGM is given to members!), cost, and member experience; no time period for outcomes, patient selection, or 'n' is specified.
The program seems to have two main aims: (i) to curate appropriate clinical interventions for individual patients, be it devices, apps, lifestyle, medication, remote care, etc.; and (ii) provide guidance and support to patients between visits. We're not sure what the curation is based on, but we're excited to see a company pulling together disparate components (connected CGM, guidance apps, human care, medication optimization), driving connected CGM into type 2, and engaging with payers early. As for providing care "when and where [members] want it," we might guess there will be some aspect of telehealth, perhaps either video- or text-enabled.
The updated Onduo website now positions the company as offering a "virtual diabetes clinic" – combining more personalized solutions, frequent HCP contact/support, medication optimization, a smartphone app focus, connected CGM/BGM, and diabetes supplies offered at no cost and delivered straight to a member's door. Onduo's vision resembles aspects of what Virta Health, One Drop, mySugr, and Livongo are trying to do – but potentially at bigger scale and with use of CGM, more medication optimization, and integration with payers/HCPs. We like the multidisciplinary, all-in-one vision and look forward to hearing more specifics.
An upbeat Forbes article touted the pilot's use of a "wireless device similar to a Band-Aid on their stomach that monitors glucose levels," though the press release only says "wirelessly-connected continuous glucose monitoring devices." As Dexcom frequently describes the Verily sensors as "Band-Aid-like," the Forbes article might hint that the pilot will use the first-gen Dexcom/Verily sensor. Indeed, we last heard on Dexcom's 3Q17 call the first-gen sensor would complete development in "1H18." This could imply the first-gen Verily product will be ready for this "1Q18" pilot, or maybe a prototype will be used, or perhaps it will stick with G5 or G6.
It is great to finally see movement from Onduo, as the company has been in almost complete stealth mode since debuting to big headlines in September 2016. We assume Sanofi and Verily have been working to define the platform and understand where the company can add big value in diabetes by combining hardware, software, data, and clinical support. Moving to a "population health" "virtual diabetes clinic" is an excellent vision, though showing outcomes, clearly definining the product, building the wide-ranging expertise to make it a reality, and scaling it up will be among Onduo's key challenges. More below, especially what we learned from the company's website!
What We Learned from Onduo's Newly Updated Website
"Introducing Onduo, a virtual diabetes clinic that sets a new standard for diabetes care anywhere, anytime."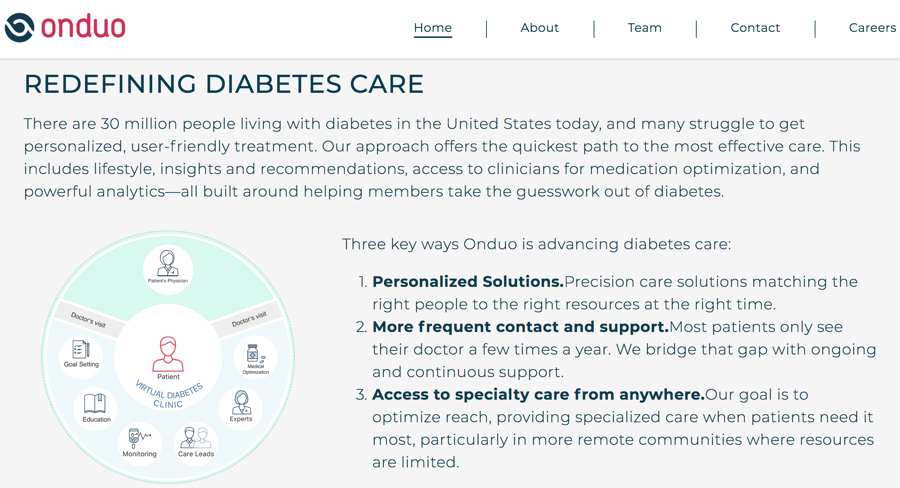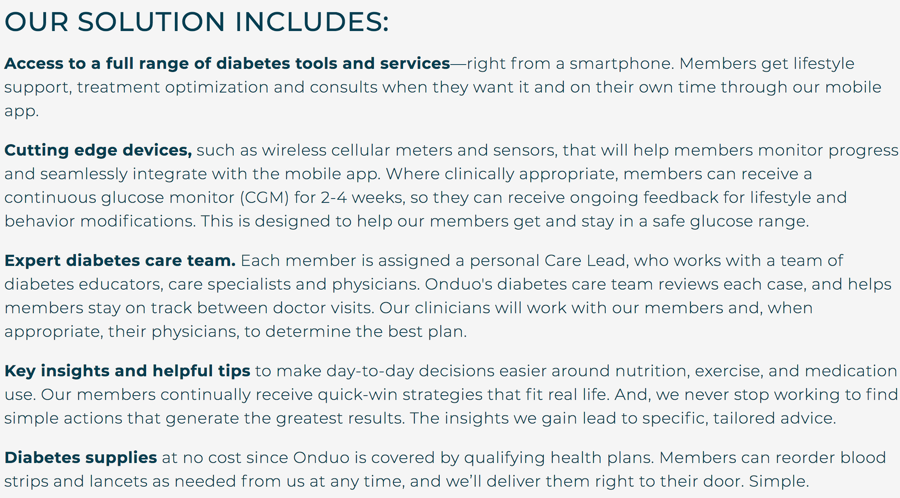 Onduo's team page now lists 12 team members, spanning an impressively wide breadth of diabetes, healthcare, and consumer tech experience. Beyond these 12, we're not sure how many others at Sanofi/Verily are working at Onduo or on various components of the offering.


Dr. Josh Riff, CEO– see our interview with him from September 2016 and his keynote at the Digital Diabetes Congress in March.
Sonia Chung, Head of Marketing – Former SVP Strategy and Analytics at Digitas and

Head of Insights at Google and YouTube programs

.
Patrick Cunningham, VP of Commercial Development – Previously Sanofi's Director of Integrated Care.
Anne G. DiGangi, Director of Implementation –

Previously from Livongo, J&J

, and a college professor at Emerson College.
Andrew DiMichele, Head of Product & Technology –

Previously from Omada

and Lattice Engines.
Steve Gemmell, Head of Device – More than 20 years of experience in medical product design, 15 specific to the diabetes market.
Gino Korolev, Director of Product – Enterprise and healthcare software

experience from Google,

Medullan and EMC.
Paula LeClair, Head of Operations –

Previously CEO at Telcare and Senior Director at Insulet

.
Kristen J. Lynch, Director of Clinical Operations – Previously

interoperability leadership at Athenahealth

, running a merger of nine group practices, and strategy roles in the community health center space.
Amit R. Majithia, Medical Director –

Endocrinologist specializing in diabetes, data, and precision medicine. Instructor at Harvard Medical School and Scientist at the Broad Institute, led a team of scientists to create genomic medicine tools for type 2 diabetes.

Susanna Visuri Monacelli, Head of Payor Relations – Previously an executive Director/Development Principal at

BlueCross BlueShield Association

, a consultant at McKinsey, and a Sr. Product Manager at Medsite.
Heather S. Zeitz, Head of Coach Programs & Services – Previously built digital products at

UnitedHealth Group, Alere Health

and Matria Healthcare.
Onduo, Sanofi, and Dexcom – Recent Coverage Relevant to This News
The last public Onduo appearance was in a keynote from CEO Dr. Josh Riff at the

Digital Diabetes Congress

in March.

In his speech, he generally spelled out the formula for this pilot: "A management platform that brings together the right solution at the right time for the right patient. We don't have to own all of it, and we are looking for partnerships. Niche one-off solutions will fatigue payers, annoy providers, and add burden to the consumer." He later added: "The key here, is to really be a population health company. We need many solutions for many people, no one size fits all…We need a stepwise approach of bringing solutions to market, partnering with companies that will help calculate insulin doses and eliminate finger pricks, all the way to helping deliver insulin

."
What else might be in the pilot? One strong bet is on medication titration, particularly insulin, and possibly pen dose capture. Titrating basal insulin doses is a low-hanging fruit in type 2 diabetes, and it should be much easier since the participants in this program will be wearing connected CGM. Sanofi has a couple of potential paths:


Sanofi has invested in Common Sensing – maker of the GoCap dose capture device – and along with Dexcom, participated in a Joslin pilot using the device (see the ADA poster). We wouldn't be surprised if Verily or Sanofi were also working on dose capture internally.
Sanofi also has a global alliance with Voluntis, maker of the Insulia basal titration app. We wonder if Insulia might be leveraged in this pilot too.

The Verily website notes that Sutter Health of Northern California and Allegheny Health Network of western Pennsylvania are "among the first healthcare networks to collaborate with Verily and Onduo to test the Onduo platform with healthcare professionals and people with Type 2 diabetes in a clinical care setting" – we haven't heard anything from either of these programs, and wonder (i) if they are active, and (ii) what has been learned. The same language was used more than a year ago when Onduo launched, but presumably something has been deployed since that time.
Sanofi clearly now believes that future diabetes innovation should leverage more technology, passive therapeutic data collection, and potentially new business/service models. The company is engaged in at least two additional pilots, one with Voluntis, and one with Innovation Health (Aetna+Inova), Common Sensing, and One Drop. It will be interesting to see where "beyond the pill" the drug manufacturing juggernaut decides to invest, particularly as Novo Nordisk and Lilly also ramp their efforts in this area. Which insulin player will nail the right combination of diabetes drugs, hardware, software, and clinical support?
Dexcom management has talked vaguely about type 2 diabetes programs, with more details to come in future calls. Perhaps this is one of those programs and we'll hear more at JPM in January or in the 4Q17 call. Assuming outcomes are positive, this does seem like a great way to move CGM into type 2 diabetes, especially for those not on insulin.


Onduo's website actually puts the focus on intermittent CGM: "Where clinically appropriate, members can receive a continuous glucose monitor (CGM) for 2-4 weeks…" – we're not sure how CGM vs. BGM will be deployed in this pilot.

BCBS has also shown an openness to pilots and diabetes innovation: In Michigan, BCBS has a reimbursement study for Hygieia's D-Nav insulin titration service – outcomes have not come in yet, but were previously expected in September. BCBS' Executive Director of Clinical Evaluation, Innovation, and Policy Dr. Naomi Aronson spoke at length at the MDIC Annual Public Forum about her initiatives to have manufactures come to payer working groups early to improve their chances of receiving positive coverage decisions upon regulatory approval.
Close Concerns Questions
Q: How will CGM be deployed? What device will be used (i.e., Dexcom G5, G6, Verily gen one …)? How will BGM be used, per mentions on Onduo's website?
Q: What are the financial terms of the agreement? Is Onduo being paid for outcomes? If so, what will they be – A1c? Time in range? Cost reduction?
Q: How many people are involved in the pilot? What is the eligibility criteria? Is the focus on both insulin and non-insulin users?
Q: For how long is the pilot slated to run? Assuming outcomes are positive, then what happens?
Q: What is the full scope of the program and devices? What does the automated vs. human-based guidance look like? What are the data sources besides glucose? Will people in the pilot be provided with any other devices - e.g. insulin pen dose capture? Activity wearables?
Q: How big is the team of health care experts Onduo will provide in this pilot? Who is leading the team? How will they interface with patients' current healthcare providers? How many patients can one expert take on? How will the coaching compare to Virta, One Drop, Livongo, mySugr?
Q: How are members matched to the appropriate interventions? Using behavioral data? Clinical profile? Iteration/trial and error? 
Q: How will Onduo's program compare to other population health/coaching /virtual clinic efforts in diabetes? Where will Onduo differentiate? How quickly can it scale?
Q: What are the unique features of the Onduo mobile app or platform? How automated will the medication titration be? What will the patient guidance look like?
Q: What would be considered a success in this pilot?
Q: What has been learned from the initial pilots with Sutter Health and Allegheny Health Network? Did these pilots inform this BCBS deal?
Q: How will Onduo and BCBS network doctors interact? Moving forward, how will "diabetes management" companies like Onduo balance taking on patient care with augmenting existing care? Is Onduo's pitch to payers – "Give us your patient population and we'll deploy technology and services to deliver better outcomes?" If so, will Onduo build a fully integrated internal team of healthcare providers, taking on more patient care responsibilities and bringing diabetes care into industry?
-- by Brian Levine, Adam Brown, and Kelly Close