Executive Highlights
Obesity drug Contrave posted $13.8 million in sales for 4Q16, which represents a 6% YOY increase from $13 million in 4Q15. This modest growth stemmed largely due to expansion into ex-US markets – US sales totaled $12 million in 4Q16, down 8% YOY. Full-year sales totaled $50 million, down 7% YOY from $53 million in 2015.
Pooled sales of all major obesity drugs totaled $118 million in 4Q16, up 2% YOY and 28% sequentially. In 2016, the market for obesity drugs totaled $371, more than doubling YOY from $153 million in 2015. Without question, this growth was due to the market entry of Novo Nordisk's Saxenda (liraglutide 3.0 mg).
Orexigen recently reported its 4Q16 and year-end earnings update in a call led by CEO Mr. Mike Narachi. Obesity drug Contrave (naltrexone/bupropion extended-release) posted $13.8 million in sales for the quarter: US sales of $12 million and ex-US sales, reported for the first time, of $1.8 million. Though Contrave's total 4Q16 revenue increased 6% YOY from the (then US-only) sales of $13 million in 4Q15, US sales actually fell 8% YOY from this base. This also represents a 25% sequential increase from Orexigen's challenging 3Q16. Turning to the full year, Contrave posted $50 million in total revenue, down 7% YOY from $53 million in 2015, an acute reminder of the uphill battle obesity drugs face due to barriers such as societal stigma, clinical inertia, patient/provider reluctance to consider pharmacological interventions for weight management, and poor reimbursement.
Pooled revenue from all major obesity drugs totaled $118 million in 4Q16, up 2% YOY and 28% sequentially. In 2016, the market for obesity drugs was worth $371 million, more than doubling YOY from $153 million in 2015. Without question, this growth was due to the market entry of Novo Nordisk's Saxenda (liraglutide 3.0 mg). Saxenda remains the indisputable frontrunner of the class, capturing 66% of the market by value and more than tripling YOY in 4Q16. Sans Saxenda, the 4Q16 obesity market totaled just $40 million, down 23% from 4Q16; for the year, without Saxenda, the total market for the year would have reached $137 million, down 10% from 2015.
Nonetheless, quite impressively, sales of Arena/Eisai's Belviq (lorcaserin) nearly doubled YOY in 4Q16 (an encouraging recovery from several consecutive quarters of decline) and accounted for 13% of the market. Sales of Orexigen's Contrave grew 6% YOY and accounted for 12% of the market. Sales of Vivus' Qsymia (phentermine/topiramate extended-release) fell 21% YOY and accounted for 9% of the market. For the most part, 4Q16 follows trends from 3Q16 and the first half of 2016, reflecting widespread commercial challenges plaguing the obesity market.  Saxenda is clearly differentiated from the rest of the market due to its mechanism (particularly not crossing the blood brain barrier) as well, of course, as being a product manufactured by the powerhouse Novo Nordisk, which understands patients and providers so well. There is also the relative impact of liraglutide's potency vs. the marketing that's gone into Saxenda since it's relatively recent US launch in 2Q15 to consider. Although the high cost of Saxenda contributes in part to remarkable franchise revenue for liraglutide, it's still only a very small part of GLP-1 sales – and could be much larger. The graph below displays obesity market trends since 1Q13.
Figure 1: Total Obesity Market Sales (1Q13-4Q16)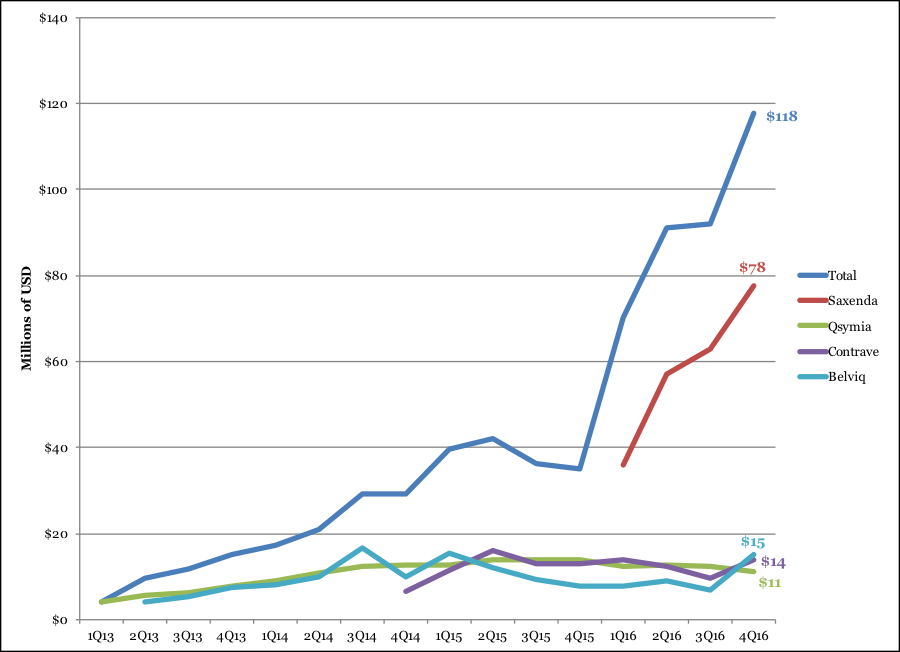 Much of Orexigen's recent earnings call focused on the company's updated US marketing strategy to combat commercial challenges. The new campaign features direct-to-consumer (DTC) advertising aimed at tackling the stigma surrounding the medical treatment of obesity. Titled "The Brains Behind Weight Loss," Orexigen's messaging is uniquely science-intensive for a DTC campaign, emphasizing the drug's dual action on the innate neural mechanisms that make losing weight so difficult: the hypothalamic circuitry mediating hunger and the mesolimbic reward circuitry mediating food cravings. The DTC campaign – which management pointed out is the only existing one for an obesity drug – is accompanied by a telemedicine program that allows patients to consult a provider online and receive Contrave directly by mail, thereby allowing both convenience and anonymity (an important consideration given the stigma that still surrounds pharmaceutical treatment of obesity). The company has been building anticipation around this campaign since the acquisition of Contrave from Takeda in August 2016, particularly during Orexigen's presentation at JPM 2017. We maintain that many of the challenges currently affecting the obesity market can be traced to a failure to "lay the groundwork" so to speak in terms of enhancing patient/provider acceptance of obesity as a diagnosis and of pharmacotherapy as a treatment. We're glad to see Orexigen investing in public and patient education about obesity – Mr. Narachi even positioned the DTC campaign as the "key that will unlock more and higher quality conversations" between providers and patients. We also learned recently at Diabetes UK 2017 that part of Novo Nordisk's R&D budget for obesity is dedicated to education, so that more providers and payers come to understand obesity as a biological, treatable, not-to-be stigmatized disease. Such efforts by Orexigen and Novo Nordisk will be key to spur growth in the obesity market, in our opinion.
Orexigen ended 2016 with ~74,000 new US prescribers of Contrave and ~700,000 US prescriptions. Management expressed optimism that 2017 will be a "value inflection year" from this base if the new marketing strategy is successful. Launched December 26, 2016, Orexigen's DTC campaign had already produced an uptick in Contrave's TRx share (up to 6.5%) and NBRx share (up to 45%) as of JPM 2017. Since the campaign's launch, Contrave also experienced an uptick in share of overall market prescription switches, now at 20%. With a market potential of 110 million patients, only 3% of whom are currently prescribed a weight loss therapy, obesity remains grossly undertreated – we thus have our fingers crossed that management's outlook for continued volume growth proves to be true in 2017.
Consistent with the global scope of the obesity epidemic, expansion into ex-US markets is a key part of Orexigen's strategy. Contrave was approved and launched in Korea in 2Q16, and commercialization agreements for Spain and Canada were established in 3Q16. In 4Q16, the product was launched in Central/Eastern Europe (under trade name Mysimba), and commercialization agreements are currently ongoing in the UK/Ireland, Australia/New Zealand, and the Middle East. Orexigen's ex-US partnerships now span 37 countries – up dramatically from only one, South Korea, at this time last year. Ex-US sales comprised 13% of total Contrave revenue in 4Q16, and we expect this proportion to steadily increase as Orexigen's many partnerships solidify. Expanding beyond the US could well be quite a viable strategy to increase Contrave sales, though it is our understanding that the majority of international markets present the same challenges for obesity drugs as the US.
Questions and Answers
Q: Are you planning any modifications to your marketing strategy to maintain more sustained script level growth throughout the year, rather than going from peak to trough during the off-weight loss cycles?
A: The fastest growth in the weight loss drug category will always be during the January to May season, but there are several things that we believe can drive share and volume growth outside of that. First, we have a very skilled sales force and there is still tremendous opportunity to get physicians in the off-season to initiate therapy with Contrave, particularly if we emphasize the benefit of the drug in treating cardiovascular and metabolic risks and managing the comorbidities of obesity. We additionally have a digital strategy. As we establish our online presence there is a chance to activate patients more consistently year-round. Finally, we are working very hard on our patient adherence strategies – the longer we can keep patients on therapy, the more we can show sustainable growth year-round.
-- by Abigail Dove, Payal Marathe, and Kelly Close