Roche reported its 2Q18 financial update in a call led by CEO Dr. Severin Schwan yesterday morning. There were a few diabetes mentions, mainly surrounding Monday's CE Mark announcement of Roche's Solo patch pump and subsequent launch plans (controlled EU launch in 2018, followed by broader commercialization in 2019 and FDA filing "in the future"). Get the full investor update and slide deck here. Below, we bring you top financial, pipeline, and therapy highlights from the call, as well as pooled "Big Three" (Abbott, J&J, Roche) analysis and selected Q&A.  
Financial Highlights
1. Global Diabetes Care Revenue Flat YOY on Easy Comparison; Positive Growth in North America Only; 1H18 BGM-Only Sales up 1% YOY
Global Diabetes Care revenue of 513 million CHF (~$537 million) was flat YOY on an easy comparison to a 7% decline in 2Q17. This performance comes on the very low end of 1Q expectations for <5% growth for the remainder of 2018. Sales increased a solid 7% sequentially, albeit from a low base of 478 million CHF (~$490 million), breaking three straight quarters of sequential declines. As noted in the investor update and by Roche Diagnostics CEO Mr. Roland Diggelmann during his prepared remarks, Diabetes Care growth was driven by the new Accu-Chek Guide and Accu-Chek Instant BGM systems, as well as increasing testing volumes. The Accu-Chek Guide and Simple Pay Savings Program launched in the US last May with very strong cash pricing for accurate strips. Since then, the launch has expanded to at least five other countries. We also wonder if the traction has been helped by the mySugr unlimited strips bundle in the US. The pared down Accu-Chek Instant bG system was listed as a key 2017 launch in the 4Q17 slide deck, and the Accu-Chek Instant S launched in India in March. Despite the continued pricing and reimbursement pressures referenced in the slide deck (presumably a reference to CMS' competitive bidding and other pricing and competitive pressures in BGM), Diabetes Care contributed 16% of total 1H18 diagnostic division sales.
Figure 1. Global, North America, International Quarterly Sales (1Q11-2Q18)
Figure 2. 1H18 BGM and "Other" (Mostly Pumps) Sales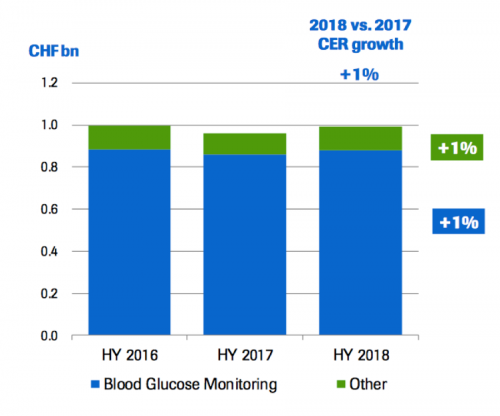 2. North America Revenue up 1% YOY on Very Easy Comparison; 25% Sequential Increase
North America Diabetes Care sales of 70 million CHF (~$73 million) rose 1% YOY on a very easy comparison to a staggering 27% YOY decline in 2Q17. North America was the only geography in 2Q18 to see positive YOY growth, marking two consecutive quarters of YOY increases and potentially a slight recovery in the tough US market. Sequentially, sales rose a strong 25% on a fairly easy comparison to 1Q18. We wonder if Accu-Chek Guide sales were particularly meaningful here, either standalone or as part of the mySugr unlimited strips Bundle. To date, no metrics have ever been shared on uptake of the unlimited strips, Accu-Chek Guide BGM, and coaching model, though we imagine for high-frequency testers, it's attractive and much less hassle than ordering prescriptions and running them through insurance. As a reminder, Roche discontinued new pump sales in the US as of the beginning of 2017, meaning this growth came from BGM.
3. International Sales Down 1% YOY; 5% Sequential Increase
International Diabetes Care revenue of 443 million CHF (~$464 million) declined 1% YOY on an easy comparison to 3% YOY declines in 2Q17. This performance breaks three consecutive quarters of positive YOY growth for OUS sales. Sequentially, revenue increased 5%, aligning with Roche's typical seasonal trend of 2Q and 4Q sequential growth interspersed with 1Q and 3Q declines (dating back to 2007). We assume the upcoming controlled EU launch of Roche's Solo patch pump won't have a material impact on sales until at least 2019. If high European demand for Insulet's Omnipod is any indication, Solo could be a big product for Roche over time, especially if manufacturing can scale and Roche delivers on simple training and use.
Pooled Financial Highlights
1. Pooled Global Sales for Roche, Abbott, J&J Rise 7% YOY to $1.4 Billion, Driven by Strong FreeStyle Libre Performance
Pooled global sales for Roche, Abbott (including FreeStyle Libre), and J&J totaled $1.36 billion, up a robust 7% YOY on an easy comparison to a 4% decline in 2Q17. Pooled revenue increased 9% sequentially, albeit from a low base of $1.25 billion in 1Q18. This performance marks four consecutive quarters of YOY growth for these three companies, largely reflecting accelerating FreeStyle Libre sales. Indeed, we estimated that global 2Q18 FreeStyle Libre sales of ~$260 million accounted for more than half of Abbott's total Diabetes Care revenue (56%). Abbott drove pooled growth on the heels of a remarkable 40% YOY gain (+34% operationally) in 2Q18. Meanwhile, J&J LifeScan/Animas dragged down pooled performance, with global revenue declining 16% YOY (-18% operationally) in 2Q18. (Of course, J&J no longer has any benefit from Animas revenue since it exited the market in October, although some sales remain internationally (excluding Canada).) Roche was in the middle of these two companies, with sales flat YOY. Excluding Abbott sales, pooled J&J and Roche revenue of $893 million declined 5% YOY on a very easy comparison (-10% in 2Q17), obviously driven by J&J and tempered by Roche. Estimating BGM-only revenue alone (excluding our guess at FreeStyle Libre CGM and Roche pumps), pooled sales of ~$1 billion declined a significant ~18% YOY. Longtime watchers of the traditional BGM market would hardly be able to believe that the "big 3" were down to $4 billion globally annually.
Figure 3. Worldwide Pooled Roche, Abbott, and J&J Quarterly Diabetes Device Sales (1Q12-2Q18)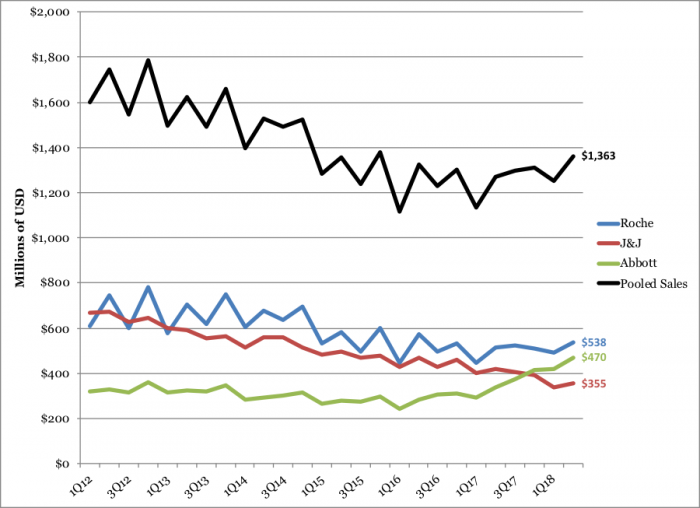 Device Pipeline Highlights
1. Controlled EU Launch of Solo Patch Pump "For Remainder of the Year," Broader 2019 Launch, FDA Filing "in the Future"
Following the Solo tubeless patch pump's CE Mark announced on Monday, Mr. Diggelmann confirmed a controlled EU launch "for the remainder of the year," followed by further launches in 2019 and filing for FDA approval "in the future." The company was more specific on Monday, noting the pilot launch would start "in the coming weeks" in Austria, Poland, Switzerland, and the UK, to be followed by a "second commercialization phase" in 2019. Solo was once again listed in the slide deck under key 2018 launches – this time, with an accompanying check next to CE Mark. We'll be eager to see if the pilot launch expands to full commercial scale and how quickly – as a reminder, Roche launched its own Insight CGM in several EU countries (the Netherlands, Norway, Denmark, and Sweden) but ultimately opted to shelve the product and distribute Senseonics' Eversense instead. In prepared remarks, Mr. Diggelmann referred to Solo as "a new approach in taking discrete and tube-free insulin pump therapy" that "really enables [patients] to manage the disease" and will "continue to help [Roche] move into the digital and entire management of the disease." The product has had so many delays since the acquisition from Medingo in 2010 that we weren't sure what to expect.  We're glad to see stronger signals that Roche will invest seriously in this product. As a reminder, the company paid $160 million for the product in 2010 plus up to $40 million in milestones.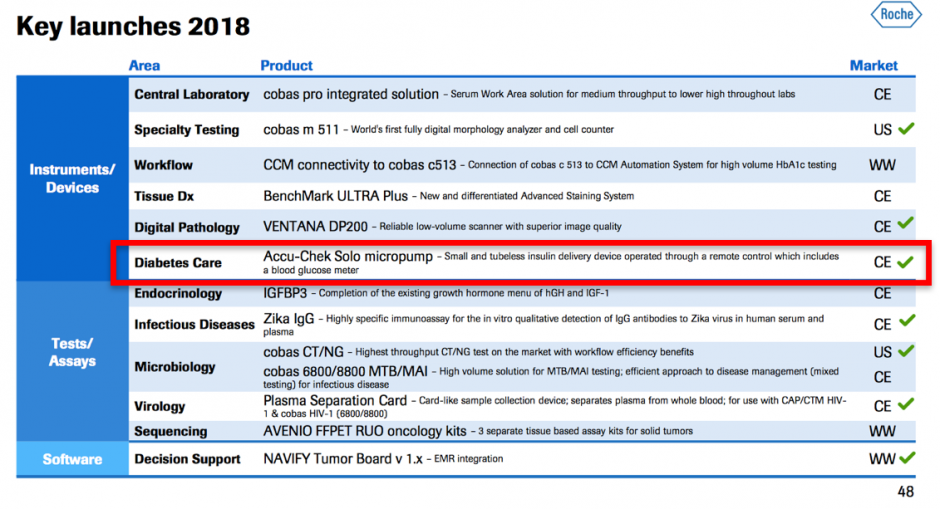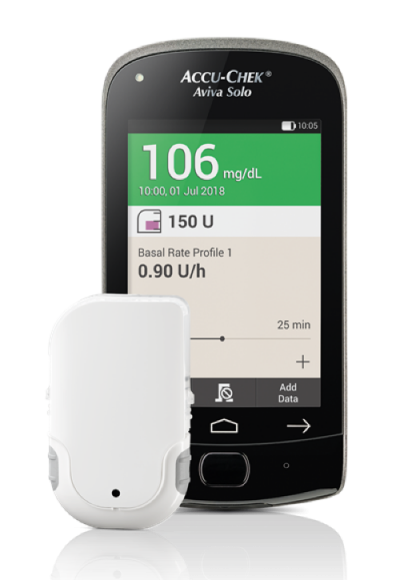 2. mySugr Partnership with Care Innovations Highlighted in Press Announcement; 1.4 million mySugr Users Worldwide
The press release highlighted mySugr's expanded access in the US and Canada by way of Roche's recent partnership with telehealth platform Care Innovations. Care Innovations uses telehealth offerings (e.g., live video chat, remote monitoring) to connect people with chronic diseases with care teams, and will offer mySugr to payers, health networks, and clinics through its platform. This seems like an important step on mySugr's path to become more of a virtual diabetes clinic that manages broader populations, leveraging its mobile app, connected BGM, coaching, and now telemedicine. mySugr CEO Frank Westermann shared that "Care Innovations' payer customer base covers 67 million lives" and the integration is slated to go live "very soon," at least in 2H18. Ultimately, the partnership aims to combine mySugr's diabetes population health management expertise with Care Innovations' chronic care management expertise. It's a bit difficult to understand what the "product" looks like here, though we've heard some payers want a one-stop-shop to manage diabetes and comorbidities – mySugr's inclusion in Care Innovations' panel could be appealing. We're glad to see Roche continuing to invest in mySugr – at ATTD, Roche Global Head of Diabetes Care Mr. Marcel Gmünder called the app "our main interface and basis for interaction with patient," while Roche VP Mr. Tim Jürgens called it the "leading management platform."
3. No Updates on Senseonics/Roche/TypeZero iDCL Pivotal Trial, Set to Begin in 3Q18 in EU
There were no updates regarding the EU pivotal trial for the Roche-Senseonics-TypeZero 180-day hybrid closed loop system. At ADA, we learned that the NIH-funded iDCL Protocol 2 pivotal trial is slated to begin testing patients in Europe in 3Q18, in line with expectations (Senseonics 4Q17) to initiate the study in 2H18. We were unable to find the trial on ClinicalTrials.gov.
Drug Pipeline Highlights
1. Lucentis Sales Up 27% YOY on Easy Comparison to 4% Declines; 8% Sequential Increase
Lucentis sales of 425 million CHF (~$445 million) increased an impressive 27% YOY on an easy comparison to (-4% in 2Q17). Revenue rose 8% sequentially from a base of 393 million CHF (~$403 million) in 1Q18. Roche Pharmaceuticals CEO Mr. Daniel O'Day cited the launch of the Lucentis prefilled syringe at the beginning of 2018 as "a competitive advantage," noting market share gains "in every line of therapy for Lucentis." He remarked that similar momentum is expected into 2H18. Still, Mr. O'Day remained a bit cautious when asked about the future of Lucentis during Q&A; he acknowledged that Lucentis will "clearly be a growth product for us in 2018," but referenced "very clear competition in this field" as preventing guidance for 2019. To this end, he mentioned in the same response that he expects the competition to have a prefilled syringe "in the beginning of next year." Lucentis was once again included in a slide of top 20 pharmaceutical division products for 1H18 and was featured in a slide of "new products off to a very good start." Lucentis was also included on a slide listing major granted and pending 2018 approvals.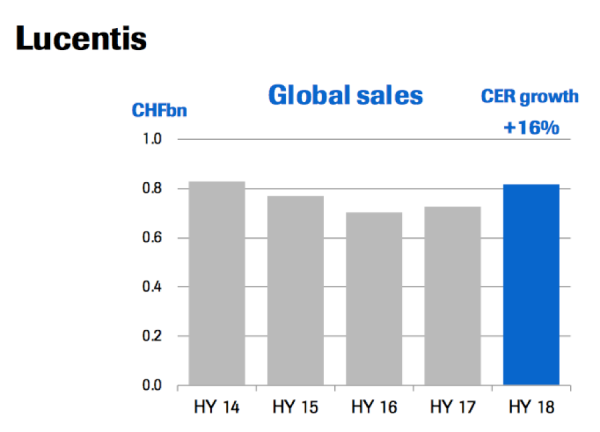 2. Positive Phase II LADDER Results; New Port Delivery System as "Real Game Changer"
Mr. O'Day expressed excitement regarding the positive Phase II LADDER study (n=220) results announced earlier today investigating the new port delivery system with Lucentis in age-related macular degeneration. A slide was dedicated to the results (see below) which were presented at the 36th Annual Meeting of the American Society of Retina Specialists (ASRS), in line with 1Q's expected 2H18 readout. Mr. O'Day described the device as "about the size of a piece of rice" and boasted that more than 80% of patients had a greater-than-six-month time to visit refill. He characterized the device as "a real game changer in this field." Vision outcomes in the high dose port delivery system group were similar to monthly ranibizumab eye injections and were maintained throughout the study period. More information regarding the new port delivery system will be shared at the company's virtual pipeline event on September 13.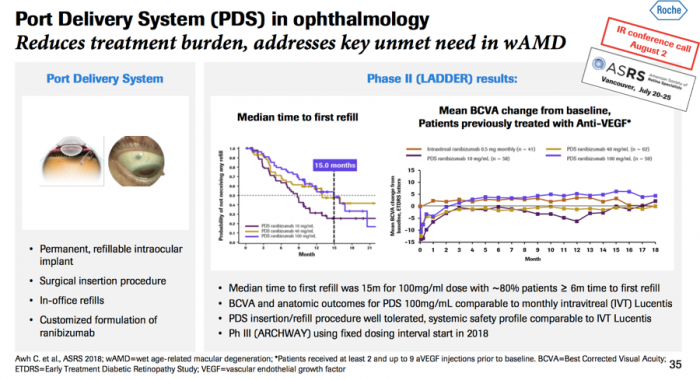 3. Two Studies Investigating Roche's FGF21 Candidate; Phase Ib Study Adds NASH Participants
The slide deck noted two studies investigating Roche's FGF21 candidate RG7992: One Phase Ia study in obesity (n=79 adults with overweight/obesity and no type 2 diabetes, but suspected insulin resistance) was completed in March 2017, while another (Phase Ib) is still recruiting in type 2 diabetes (n=140) and is expected to complete in June, 2019. Just today, the Phase Ib study was updated on ClinicalTrials.gov to also include patients with NASH. It's unclear whether Roche will pursue a diabetes indication, an obesity indication, a NASH indication, or some combination of the three for this candidate (RG7992). Given that Lilly and Pfizer both discontinued FGF21 analogs in development for type 2 diabetes due to lackluster glucose-lowering results, we're inclined to have more confidence in the weight loss prospects of this therapeutic target for now. Novo Nordisk also has an FGF21 analog in phase 1 for obesity.
Selected Q&A
Q: So just on Lucentis, should we be looking at this as a growth product going forward? You previously tempered our expectations for the product and now it's outperforming, so should we actually look at Lucentis as a growth product for you?
Mr. Daniel O'Day (CEO, Roche Pharmaceuticals): Clearly Lucentis was a growth product in the first half of the year. And you're right, I think we kind of underestimated the competitive dynamics of the prefilled syringe and a few other things that are going on out there in the market. To be candid with you, we do expect the competition to also have a prefilled syringe in the beginning of next year. And as we've seen in this market, you can have an advantage for a period of time and then you can move back to equilibrium. I don't think I'm ready yet to guide on 2019 with Lucentis. Clearly, it will be a growth product for us in 2018. And you know, because of the very clear competition in this field, our desire is to really move the entire field. And this is where the two shots on goal, both the port delivery, and the biospecific antibody, we think we'll be able to get out of this tit for tat over time, and that's with a what we're looking forward to.
-- by Maeve Serino, Adam Brown, and Kelly Close