Executive Highlights
In this annual "Reflections" piece, we assess the state of the diabetes field going into 2019. We look back on 2018 in diabetes therapy, diabetes technology, big picture topics, and obesity to note scientific strides and surprises, to celebrate progress and take stock of remaining challenges, and to identify pressing questions for the year ahead. We also for the first time take a closer look at NASH and NAFLD, given the activity of much of the field in looking at these conditions. Within each section, you'll find themes, a list of highly-read reports, what we did not expect or got wrong in 2018, key questions for 2019, and company-by-company updates for the most meaningful players on what's coming in 2019.
This Reflections piece is our favorite to write all year – and that's up against the 999 other reports we've published since January 1, 2018!
Indeed, the field of diabetes seems to move faster with each passing year, and positivity surrounding scientific and technological advances is balanced by the ever-growing burden of diabetes on patients and the healthcare system. We also perceive the field as harder and harder to work in, from an industry perspective, both for small companies as well as larger ones. We were very happy to see individualized and patient-centered care become the expectation over the last year; that said, the degree to which those expectations are closer to reality for the average patient is still very far away. While there are many things people "know" to be true without a doubt, making these things "true" for patients are far from standard of care – we discuss throughout the report and particularly in the conclusion about what we'd like to see change.
Although medicine (therapy and technology) has improved at an unprecedented rate, healthcare systems throughout the world have evolved on the slower side. While there is reason to be optimistic about the future of diabetes care, in terms of what is possible, it has become harder and harder to work in the field and there's a growing gap between what is possible and what the status quo is for patients all over the world. At the same time, 14% of adults in the US are living with diabetes and 40% are living with obesity – and as people live longer with these diseases, the cost diabetes leverages on the economy will continue to grow.
Here are some "quick takes" on therapy, technology, obesity, NASH, and "big picture" and some themes to get you started!
Leaving the year, we were struck by this Farnam Street blog post: "What's Staying the Same?" It notes that the usual question – "What's going to change in the next 5-10 years" – is not nearly as useful as its opposite – "What's going to stay the same in the next 5-10 years?" Focusing on the latter, as Amazon's Jeff Bezos has noted, is where lasting businesses are built. From our view, the quadruple aim is what will unquestionably stay the same – the need to enhance the patient experience, improve population health, reduce costs, and improve the work life of healthcare providers. In 2019, we look for tangible progress in access and affordability, improvements in healthcare delivery and patient support, and sustained innovation in both therapeutics and technology.
Diabetes Therapy
Themes
1. GLP-1s Continue to Impress with Positive CVOT Readouts, Coming Innovation (Oral, Implantable), and Sustained Commercial Growth
The GLP-1 agonist class continued to impress both commercially and scientifically, sustaining an impressive ~25% annual growth rate and posting numerous exciting clinical trial results. From a year of groundbreaking CVOT readouts, compelling innovations reaching the finish line, and growing consensus around a cardioprotective class effect, we have a number of top highlights for this thrilling class:
2. Consensus on Cardiovascular, Heart Failure, and Renal Benefits – Plus New Evidence in Primary Prevention – for SGLT-2 Class
The year saw slowed SGLT-2 inhibitor class growth following safety concerns (amputations in 2017, Fournier's gangrene in 2018), but recent and coming developments should bring significant tailwinds. These include the recent ADA/EASD Consensus Statement explicitly recommending SGLT-2 inhibitors (along with GLP-1 agonists) for people with diabetes and ASCVD, the updated ADA Standards of Care, a third positive CVOT in DECLARE, US and EU MACE indications for J&J's Invokana (canagliflozin), and the stopping of CREDENCE (renal outcomes trial for Invokana) ~one year early due to a clear showing of efficacy (meaning it was no longer ethical to keep people on placebo). Each event contributed to clinical optimism for the SGLT-2 class in the latter half of 2018. But given lingering safety concerns – furthered by new analyses – our optimism is measured for whether the class will return to more than single-digit annual class growth in the near future. (Longer-term, SGLT-2s could tap into an entirely new market with heart failure and/or renal indications separate from diabetes.) More than any other class this year, SGLT-2 inhibitors offered a tale of conflicting forces.
3. Regulatory Submissions Bring SGLTs for Type 1 to Decision Day as New Data Solidifies Spectrum of Patient Benefits
4. Market Entries and Withdrawal Make for A Mixed Year for Biosimilars: Action from Merck, Sanofi, Mylan/Biocon, and Novartis
5. Scrutiny of Low CVOT Generalizability Leads to Sharp Criticism but Few Solutions as FDA Reconsiders Draft Guidance for Diabetes Drugs
6. Next-Generation Glucagon Imminent: Regulatory Submissions from Lilly and Xeris Hold Promising Market Potential, with Further Innovation on the Horizon
Company

Candidate

Status

Data

Zealand

Dasiglucagon

Final registration study (phase 3 in pediatrics) underway, expected to complete August 2019

Pivotal Phase 3 Results: 99% of patients using dasiglucagon experienced a ≥20 mg/dl blood sugar increase within 15 minutes of glucagon administration (median=10).

Phase 2 PK/PD Results: Normoglycemia (>70 mg/dl) was restored in a median time of 14, 10, 6, and 6 minutes for respective dasiglucagon doses of 0.03 mg, 0.08 mg, 0.2 mg, and 0.6 mg.

Xeris

Submitted to FDA, PDUFA date June 10, 2019

Phase 3 PK/PD Results: Xeris' autoinjector was 97% successful in getting patients to >70 mg/dl or giving a ≥20 mg/dl blood sugar increase within 30 minutes of glucagon administration. Mean time to resolution of autonomic symptoms was 15 minutes with Xeris' autoinjector vs. 14 minutes with Lilly's glucagon reconstitution kit (p>0.05); mean time to resolution of neuroglycopenic symptoms was 16 minutes vs. 14 minutes (p>0.05).

Human Factors Study: 99% of patients using Xeris' autoinjector were successful in administering the full glucagon dose.

Lilly

Submitted to FDA and EMA

Real-world Phase 3 Results: Lilly's nasal glucagon was 96% successful in "awakening or returning patients to normal status" following severe hypoglycemia within 30 minutes of glucagon administration. 98% of caregivers were able to deliver nasal glucagon to a patient experiencing hypoglycemia within two minutes.

Clinical Phase 3 Results: Nasal glucagon demonstrates non-inferiority to intramuscular glucagon injection on its primary endpoint (an increase in blood glucose to >70 mg/dl or an increase >20 mg/dl within 30 minutes post-administration)
7. Dual Agonists Emerge with Unprecedented Weight Loss and A1c Lowering in Phase 2, Led by Lilly's Newly Phase 3 Tirzepatide
8. Fixed-Ratio GLP-1/Basal Insulin Combinations Continue Steady but Underwhelming Growth as Manufacturers Approach Seems to Shift
Benefits

Barriers

Glucose-lowering: Non-inferior A1c reduction of 1.5% with Xultophy compared to basal-bolus therapy with Lantus and NovoLog.

 

Milder side-effect profiles: 89% reduction in severe or blood-glucose confirmed hypoglycemic episodes compared to basal bolus therapy; weight loss or weight neutrality; less GI discomfort.

 

Greater patient convenience/lower injection burden: One injection per day vs. 2-5 with basal-bolus therapy, no added bolus adjustments, fewer units of insulin.

US label requirements: Both Soliqua and Xultophy US labels currently require patients to already be on basal insulin or the specific GLP-1 included in the combo before starting the fixed-ratio injection. Encouragingly, at ADA 2018, Tulane's Dr. Vivian Fonseca advocated that FDA change product labels to elevate fixed-ratio combinations to a first injectable therapy in diabetes care. 

 

Reimbursement: ADA-EASD Consensus notes very high cost of class.

 

No established place in everyday clinical practice: Newcastle's Professor Philip Home has previously relayed to our team that some prescribers continue to view GLP-1 agonists as a "pre-insulin" therapy, making fixed dose combinations of the two seem illogical.
9. Renewed Excitement for Glucose-Responsive Insulins with New Investment from JDRF, Novo Nordisk
10. Type 1 Cures: Little Movement in Disease Delay/Prevention Balanced by Increased Investment in Beta Cell Replacement Therapy
11. NAFLD/NASH: Promising Phase 3 and Phase 2 Readouts In Several Classes of Drugs; GLP-1s Particularly Promising (?)
NASH/NAFLD Partnerships

Implications

Genentech (Roche) and Jecure Therapeutics (Nov 29, 2018)

Roche subsidiary Genentech acquired Jecure, a company focused on NASH and liver fibrosis, for an undisclosed amount. This marks Roche's first venture into the increasingly robust NAFLD/NASH competitive landscape. Genentech plans to develop and advance Jecure's preclinical NLRP3 inhibitor portfolio.

Novartis and Pfizer (Oct 29, 2018)

This is a partnership aimed at developing combination pharmacotherapies for NASH. Most notably, this collaboration will include a trial evaluating the combination of Novartis' tropifexor (LJN452, an FXR agonist) and one or more of Pfizer's three NASH candidates: ACC inhibitor PF-05221304, DGAT2 inhibitor PF-06835919, and KHK inhibitor PF-06835919. 

Novo Nordisk and Evotec (Sept 4, 2018)

This is an alliance to discover and develop an early-stage pipeline of small molecule therapies for the treatment of diabetes, obesity, NASH, CV disease, and DKD. Per the company announcement, Evotec will first leverage its drug discovery platform especially in ligand-based design to build a preclinical pipeline of small molecules. Novo Nordisk will then use Evotec's INDiGO platform to accelerate preclinical studies and investigational new drug (IND) application submission for suitable candidates.

Notably, Novo Nordisk and Kallyope also entered into a collaboration to discover peptides targeting the gut-brain axis for diabetes and obesity. While NASH was not directly referenced in the announcement, NASH has also been linked to dysfunction in gut-brain axis signaling, creating the potential for any drugs developed from this partnership to be investigated across multiple indications.

Lynkogen and Alteogen (July 6, 2018)

This is a partnership focused on the development and commercialization of GLP-1/A1AT (alpha-1 antitrypsin) fusion therapies for NASH and other metabolic diseases. This partnership brings together Lynkogen's preclinical focus on metabolic disease and Alteogen's NexP fusion technology, which allows the fusion of drugs to A1AT. 

AZ and Ionis (April 18, 2018)

This partnership announced AZ licensing phase-1-ready candidate IONIS-AZ6-2.5-LRx for $30 million; the candidate has not yet been moved into clinical trials, to our knowledge. Ionis has not disclosed the therapeutic target of the out-licensed candidate but shared that it is an inhibitor. AZ will be entirely responsible for clinical development and commercialization (should the drug reach the market). Ionis is eligible to receive an additional $300 million in development and regulatory milestones, plus tiered royalties.

Regeneron and Alnylam (March 27, 2018)

This late spring 2018 deal pairs a high-potential dynamic duo – Regeneron identified a variant in the HSD17B13 gene that corresponds to 30% lower risk for chronic liver diseases, while Alnylam is focused on using RNAi to alter the expression of this gene to reduce risk of NASH. The companies will co-develop and co-commercialize any clinical-stage candidate that emerges from this early scientific work, each contributing 50% of the necessary funds.
12. Increased Cooperation and Collaboration Between Endocrinology and Cardiology, Driven by New Options for CVD Risk Reduction
Most Highly-Read Closer Look Reports in Therapy
Most Highly Read diaTribe.org Articles in Therapy
Most Unexpected News/Things We Got Wrong
Key Questions for 2019
What's Coming in 2019?
The list below covers expected 2019 milestones for phase 3 and approved products. We acknowledge that this list may not be 100% complete, though we've tried to be as comprehensive as possible based on the most recent public updates. If you notice anything missing, please write us.
Insulin
GLP-1 Agonists
SGLT-2 Inhibitors
Glucagon
DPP-4 Inhibitors
PCSK9 Inhibitors
Competitive Landscapes
Peruse our collection of therapy-related competitive landscapes. On each page, you'll find a table of all candidates in development for that category, to the best of our knowledge. We frequently update these competitive landscapes as timelines change and as new developments arise.
Diabetes Technology
Themes
1. CGM Milestones: ~1.5 Million Global Users, Nearing $3 Billion in Global Sales; Innovation/Competition Are Higher Than Ever, With Plenty of Runway
If 2017 was a year for CGM "momentum," 2018 was unquestionably a year for CGM "milestones." We estimate CGM may now be used by roughly ~1.5 million people globally, with global sales nearing $3 billion in 2018 and accelerating to over 70% YOY growth. The field seems to be reaching a real inflection point in sales and user base growth – see below. The global CGM user base has nearly doubled from the midpoint of our estimate one year ago (0.7-1 million), led by a remarkable >1 million FreeStyle Libre users globally on >$1 billion in expected sales. Libre alone has more than doubled its global user base from >450,000 users in late 2017. Dexcom is also growing fast, propelled by G6's earlier-than-expected launch with factory calibration – we estimate roughly 375,000 global Dexcom users on expected 2018 sales of ~$975 million (+36% YOY). Dexcom held its first Investor Day in December, laying out a five-year vision to at least double sales within its existing target markets – to say nothing of the huge promise in non-intensive type 2 diabetes with the Verily low-cost, disposable CGM (initial launch by end of 2020). A big Medtronic milestone came in 3Q18, when management announced that CGM sales are now larger than its pump sales – this puts Medtronic's estimated CGM sales in 2018 at roughly ~$700-$800 million and possibly more, driven by >135,000 active/trained users on the MiniMed 670G/Guardian Sensor 3 and June's US launch of its standalone CGM, Guardian Connect. The sales milestone signals Medtronic's shift to a CGM company that happens to sell pumps, rather than the other way around. And though it's still early in Senseonics' commercial history, the company had a strong 2018, moving quickly from a positive FDA advisory committee in March to FDA approval in June to its first US Eversense insertions (90-day wear) in late July and launch of the 180-day Eversense CGM outside the US. It was notable to see for the first time in our model that international CGM sales now slightly exceed US CGM sales (both estimated), though both geographies saw clear acceleration in 2018.
Global CGM Sales (Abbott, Dexcom, Medtronic, Senseonics) – 2014-2018E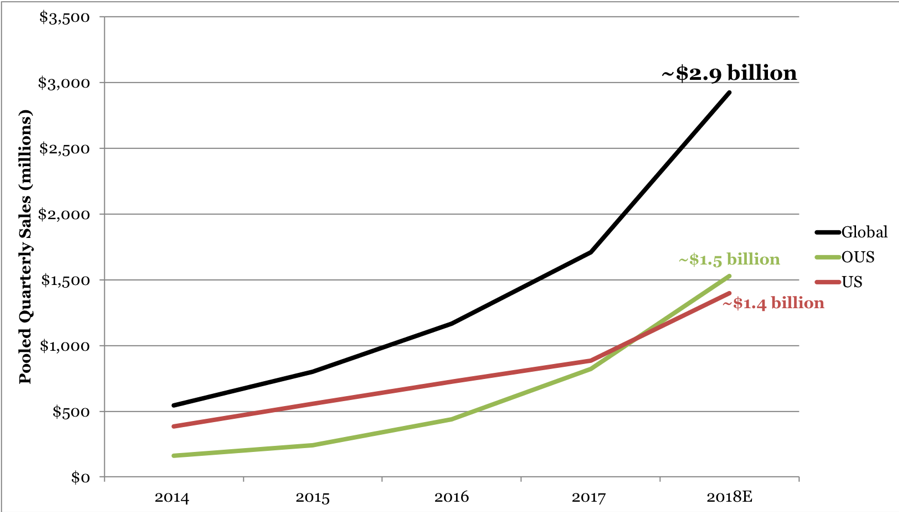 Chart assumptions: includes 4Q18 estimated sales for Abbott, Dexcom, Medtronic, and Senseonics based on either 3Q18 guidance or conservative growth projections. Sales for Medtronic and Abbott are estimated for all five years shown, based on conservative assumptions and management commentary. Dexcom and Senseonics sales are based on quarterly calls from 1Q14-3Q18 and the most recent full-year 2018 guidance.
The category's acceleration signals that CGM may finally be moving from an early adopter technology to a broader user base, especially with four excellent sensors on the market (all four with smartphone apps), two factory calibrated sensors, balanced US and OUS momentum (especially OUS sales for FreeStyle Libre), two AID systems in the US (Medtronic and Tandem), rising clinician enthusiasm for the value of CGM and financial feasibility of incorporating it in their practices, more calls for outcomes Beyond A1c, and a move to interoperability (see next theme).

In the US, the standalone CGM product landscape doubled from the start of the year to the end (two to four products). Notably, all four current CGMs on the US market were not even available at the start of 2018 – Abbott FreeStyle Libre 14-Day version, Dexcom G6, Medtronic Guardian Connect, and Senseonics Eversense. While the chart above shows OUS sales overtaking the US in 2018, the US still saw an acceleration in CGM sales in 2018. The market is unquestionably more competitive than ever, which will drive faster innovation in 2019 and beyond – especially as CGM data becomes better integrated into the device and clinical ecosystem. Hopefully the competition can drive better access too, since the field needs as much innovation in hardware/software as it does in paying for technology – particularly for type 2 diabetes, where CGM penetration is close to zero.

More than prior years, 2018 had plenty of unexpected CGM news, including: G6's interoperable/integrated CGM 510(k) clearance with factory calibration in March (iCGM was very unexpected, and factory calibration was originally expected by the end of 2018); FDA approval for FreeStyle Libre 14-day/1-hour warmup in July; and a CE Mark for FreeStyle Libre 2 in Europe in October (neither 14-Day nor Libre 2 was pre-announced as under regulatory review). There was long-expected regulatory news too, including Medtronic's Guardian Connect/Sugar.IQ approval in March and Senseonics' Eversense approval in June. All four of these standalone CGMs have smartphone apps too, laying a foundation for a thriving ecosystem around continuous glucose data.
Abbott and Dexcom CGM User Bases – 2014-2018E
In a remarkable 2018, Abbott added more new FreeStyle Libre users than Dexcom's entire estimated global installed base. The charts below show the companies' respective user base cadence over the past five years, with two important caveats: (i) Abbott and Dexcom don't share how they characterize a "user," which means these are only loosely comparable – e.g., it's possible that Abbott is more generous in counting a "user" than Dexcom; and (ii) Dexcom has not given an installed base update in nearly a year, so our estimate of roughly ~375,000 global users could be too low (it's estimated from December's Investor Day). It's interesting that Dexcom and Abbott global CGM sales are nearly comparable (roughly ~$1 billion each, though we estimated Abbott's as the company does not break it out) – that means Dexcom could be generating more than double the revenue per-user globally. Can Dexcom sustain this pricing and for how long? (Dexcom has been clear that per-user revenue will go down as it moves to the pharmacy channel with G6; see its Investor Day.) On the user base front, Abbott has had much more time to market a factory-calibrated sensor (five years vs. 0.5 years for Dexcom), and in Europe, Abbott has the huge advantage of online direct-to-consumer ordering without a prescription. Will Dexcom pick up steam on the user base front in 2019, or will the real acceleration occur down the line as the company moves more intentionally toward providing CGM for non-intensive patients?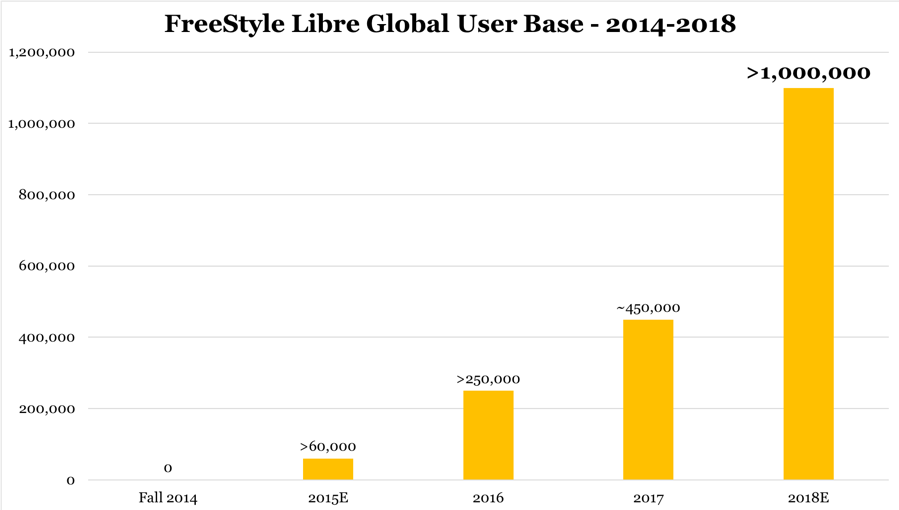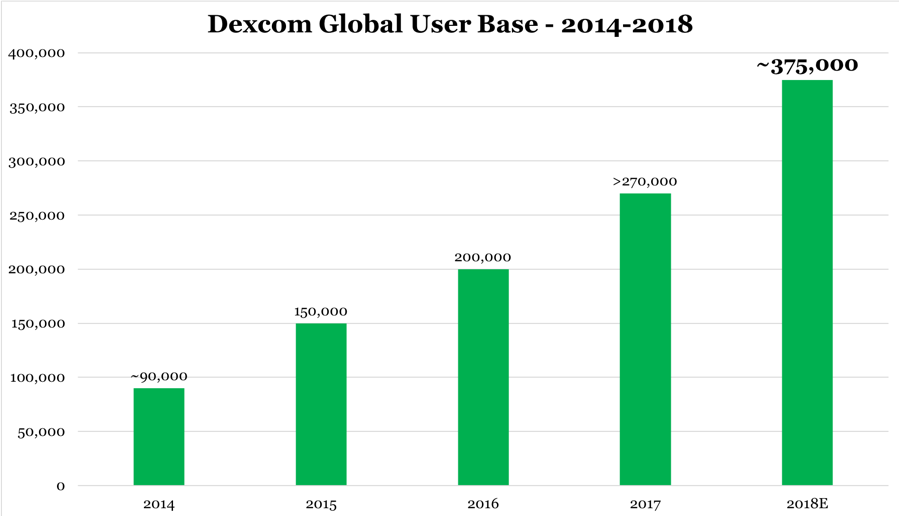 Where does the CGM category need to go?
More general awareness – amongst type 1 and type 2 insulin users, healthcare providers, and payers; many still have perceptions that the technology is not accurate/reliable

More access and lower out-of-pocket costs (both upfront and ongoing); simpler, lower-hassle reordering (e.g., pharmacy channel, no prior authorizations, online ordering without a prescription?)

More studies in type 2 diabetes and prediabetes, especially integrating food photos, passive exercise and sleep tracking, wearables, human/automated coaching

More interoperability (more use of iCGM 510(k) pathway?) and an ecosystem of CGM-driven automated insulin delivery products (for pump and injection users)

More clinical decision support, seamless workflow integration, and remote monitoring for HCPs – electronic medical record (EMR) integration of CGM data could have huge upside, though how scalable/usable it will be remains to be seen (e.g., if every health system requires a custom integration, it's going to take forever)

More incentive programs tied to time-in-range goals? – e.g., Medtronic Inner Circle, UHC Motion Program, Evidation's Achievement app

More real-world CGM data on the "state of diabetes," similar to T1D Exchange data on A1c – what is average time-in-range in type 1 and type 2 diabetes in these massive global CGM data sets? What is average time-in-hypoglycemia and time-in-hyperglycemia? How do these "time-in-ranges" metrics correlate with meaningful long-term outcomes?  The field needs to identify benchmarks, which will help define what is a clinical meaningful improvement in time-in-range.

New business models and pilots deploying CGM in type 2 diabetes, especially for non-insulin users

More studies around use of real-time CGM vs. professional CGM – who will benefit from one vs. another? In the case of real-time, what is the right cadence in type 2 diabetes? What are the right levels of decision support, human coaching, and other interventions for various types of patients?

More "Bright Spots" analysis – products should also alert CGM users when they are doing well ("Nice – your time-in-range today is the highest in the past week!") expanding on the current focus on when things go wrong.

More real-time decision support that drives meaningful action – e.g., Dexcom/TypeZero MDI guidance, potentially Medtronic's Sugar.IQ forward-looking hypoglycemia prediction, Bigfoot Inject, Lilly Integrated Insulin Management

More n=1 modeling and insulin dose personalization driven by CGM – e.g., similar to Dr. Eric Topol's description in JAMA on jet engine monitoring
2. Ecosystem of Component AID Parts Coming to Fruition, Thanks to Work of FDA (iCGM!), JDRF, Helmsley, Tidepool, and the DIY Community
One of our "Key Questions for 2018" at this time last year was: "Will we see FDA progress on interoperability, as Dr. Courtney Lias has been promising?" The answer is an unequivocal yes, with Dr. Lias and the CDRH team leading the way. The most significant – and unexpected – step this year toward an interoperable ecosystem of  component parts was the clearance of Dexcom's G6 under a new, lower-risk 510(k) path for "integrated CGM" (iCGM) in March; this path was designed to propel faster innovation, greater interoperability, and less regulatory burden. The special controls attached to the De Novo clearance were released shortly after Dexcom was authorized to market G6, and we learned at DTM just how snugly G6's 95% lower confidence intervals for accuracy within glucose ranges fit the controls. FDA has set a very high bar for accuracy – can other companies meet it and how quickly? The first major demonstration of the power of iCGM came in June, when FDA approved Tandem's Basal-IQ system with Dexcom G6, despite the fact that the pivotal trial used G5. Previously, this would have required multiple PMA submissions, creating more hassle for everyone. If and when a new iCGM is cleared by FDA, Tandem will be able to update its labeling and integrate the sensor, but won't have to submit to FDA or run a clinical trial. Dexcom further demonstrated how the iCGM pathway can deliver on the promised speed in the fall, when it obtained subsequent G6 clearances for professional CGM and a non-intensive app. Will Abbott or Medtronic move towards iCGM in 2019? (Both companies fall a bit short on the benchmarks right now, and Senseonics is aiming for 180-day wear first.) In April, JDRF and the Helmsley Charitable Trust co-hosted a phenomenal meeting on AID systems compatibility and interoperability with ~100 influencers. It quickly became clear at this gathering that it was a question of "when," not "if" the field would be pushing toward interoperability, though some questions remain (see below). This meeting is where we heard the concept of "iPump" discussed in depth for the first time, and sure enough, Tandem submitted its t:slim X2 to FDA in October as the first integrated/interoperable pump. (SOOIL said at ADA it planned to submit, but we assume it hasn't yet.) We look forward to learning about the special controls for iPump, as well as the potential for an "iAlgorithm"/"iController."

A number of logistical questions about an interoperable ecosystem remain: Should AID algorithms remain class III devices that talk to class II iCGMs and pumps? What device modifications will manufacturers need to share with each other, and when? What product liability challenges come up with interoperable automated insulin delivery? Who is responsible if something goes wrong, and how are these events handled?

At the same time, JDRF, Tidepool, Helmsley, and Insulet are leading the charge to bring algorithms developed by the DIY community to a larger audience under FDA oversight, leveraging in-warranty devices and plug-and-play interoperability. The vision could be a true paradigm shift for the field and unlock faster innovation than we've seen to date. The big interoperability news of the year came from Tidepool in October, when it announced plans to take the DIY Loop app through FDA and to market. Tidepool Loop has big implications for the future of AID, opening up a new regulatory and commercialization pathway comprised of three individual, interoperable components, rather than one complete "system" under a PMA. For pump and CGM companies, Tidepool Loop brings another option to launch with automation (once approved): make your individual pump or CGM device compatible with Loop, instead of (or in addition to) internally building/submitting your own three-component AID system. Thus far, these efforts will be supported by JDRF and Helmsley ($6 million in funding), Helmsley ($1.5 million in additional funding to conduct a Jaeb-coordinated observational study of Loop starting in early 2019), and Insulet (the first pump partner). Tidepool is in talks with other pump manufacturers about joining forces, but Insulet deserves huge credit for being the first to commit, even positioning this launch "potentially" before its own 2H20 launch of Horizon. It has not yet been announced, but Dexcom seems to be the obvious (first) CGM partner for Tidepool Loop. Tidepool is also uniquely positioned to take on this project, given that it has so many employees on DIY insulin delivery and since it's a pilot participant in the FDA's Digital Health Precertification program. The interoperable vision is certainly compelling: allow patients to pick from a variety of compatible CGMs and pumps, go onto the App Store to download a prescribed algorithm like Loop, and then seamlessly connect the components like a consumer device. Six years ago, the thought of getting CGM data direct-to-smartphone was still uncertain; now, the vision is an interoperable device ecosystem with smartphone hybrid closed loop apps at the center. Kudos to the visionaries in FDA, industry, nonprofit, and of course the DIY community!

JDRF's call for "open protocol" pump development, announced toward the end of 2017, was answered in a big way in 2018: Roche, SOOIL, SFC Fluidics, and Ypsomed all signed on this year. All of these manufacturers (and we'd throw Insulet in too) are designing pumps for seamless connectivity with other devices and smartphone apps. Will more pump companies sign on in 2019?

JDRF's Dr. Aaron Kowalski, Helmsley's David Panzirer, and Tidepool's Howard Look have all underscored industry's buy-in on the concept of interoperability. At the JDRF/Helmsley meeting in April, Mr. Panzirer challenged the audience to consider if there is really a benefit to having a closed-off, proprietary system: "Ask yourself, is it a competitive advantage or just something leftover? If you ask me, in the future that may come back to bite you." Dr. Kowalski added, "I can virtually guarantee someone will come along with a cheap pump, and they will plop algorithms in, and that's what I'd be thinking about if I were in your shoes." Indeed, a mix-and-match system would change financial and service models, but all in the name of patient choice, faster innovation, and regulatory flexibility. It will be interesting to see if interoperable/plug-and-play, distributed component systems (open) offer a better experience than closed systems with end-to-end development – both approaches have pros and cons. Open systems (e.g., Tidepool Loop) maximize patient choice and should enable faster innovation, but may require more partner coordination and put more onus on the consumer to navigate stitching together different products. Closed systems (e.g., MiniMed 670G) might enable easier business models and simpler customer experiences (one supply order), but are likely to innovate slower. Less tech-savvy consumers may also be intimidated at the prospect of a system that was not designed and tested specifically to work as a unit. If will be fascinating to see where companies fall on the spectrum, and what the market and payers prefer.

What other bigger questions are on our minds regarding interoperability?

Where will the field be at this time next year? Will there be any additional iCGMs? How many iPumps will there be? What will be the regulatory perspective on iControllers?

How would an iController be evaluated? Could a software sponsor run a trial with any iCGM and iPump for regulatory approval? What will be the role of simulation?

How many manufacturers will continue to study and develop their own closed AID systems (e.g., proprietary/partnered algorithm, pump, and CGM) vs. providing individual components to an interoperable system? Will more companies follow Insulet and take both routes?

Will there be a more robust interoperability discussion around smart pens and open loop insulin dosing support ("iPen")?

What proportion of patients would prefer to pick and choose their components rather than a system that has been studied as a whole and is supported by a single manufacturer?

How many device partners will Tidepool Loop have?
3. Automated Insulin Delivery: Two Systems Launched (670G, Basal-IQ); First OUS and Pediatric Hybrid Closed Loop Availability; Drive to Next-Gen with Phone Control, Auto Boluses; 2020 Set to Be the Big Year
For the first time ever, our Automated Insulin Delivery Competitive Landscape was the year's #1 most-read Closer Look report. The field saw many moves in 2018, including more commercial scale with the MiniMed 670G (>135,000 active users, OUS and pediatric launches); US launch of the first no-fingersticks, remote-software-updateable AID system, Tandem's Basal-IQ; OUS regulatory progress, with CE Marks for both 670G and Diabeloop; progress on next-gen advances, including smartphone control (Insulet, Bigfoot, Tidepool Loop) and automatic boluses (Tandem Control-IQ pivotal, Medtronic Advanced HCL); an inklings of new business models for the field (670G Performance Guarantee, Tidepool Loop). We expect 2019 will mostly be a transition year for the field, with the biggest launch expected early in the year for Diabeloop (starting in France) and in summer 2019 in the US for Tandem's Control-IQ/Dexcom G6 hybrid closed loop. Beyond commercialization, 2019 should see several systems advance towards/into pivotal studies, including Tidepool Loop's observational study (start early 2019), Bigfoot Biomedical/Abbott (2Q19 pivotal start), Insulet's Horizon (pivotal seems likely in 2019), Beta Bionics' insulin-only iLet (2H19 pivotal start), and possibly Lilly's hybrid closed loop. For now, 2020 is still when a flurry of systems plan to come to market, leaving 2019 mostly up for grabs between Medtronic and Tandem. See below for a company-by-company recap, followed by some perspective on where the AID field needs to go. See our recently updated AID competitive landscape here.
Medtronic
Following a challenging 2017, Medtronic scaled the MiniMed 670G nicely in 2018 – a six-fold increase in users, pediatric indication (ages 7+), European launch, and a bold payer guarantee. The MiniMed 670G user base has risen from 20,000+ US users this time last year to 135,000+ worldwide users as of November 2018. This year, the first-to-market hybrid closed loop secured a CE Mark (June), FDA approval for pediatrics (7-13 years; June), Health Canada approval (October), and a European launch in select countries (October-November). A 2-6-year-old US study of 670G recently wrapped up, paving the way for further age expansion. Big news on the business model side was the $25,000 670G Performance Guarantee, which launched in June – the program promises that if there is a diabetes-related hospitalization or ER visit for a patient on the 670G, Medtronic will reimburse a payer up to a cap of $25,000 over a four-year period. No other company has promised this kind of guarantee (and may not have the means to do so at this point) – will it prove to be a significant advantage? On the pipeline, 3Q18 moved up timing on Medtronic's advanced hybrid closed loop with automatic boluses (>80% time-in-range goal) and possibly Bluetooth connectivity, now expected to launch by April 2020. Closing out 2018, Dr. Fran Kaufman's retirement is a huge loss for Medtronic's closed-loop efforts, though a strong foundation has certainly been built.

Relative to one year ago, Medtronic: (i) fixed the Guardian Sensor 3 manufacturing shortage on time and quickly scaled; (ii) launched the 670G outside the US ~6 months later than expected; and (iii) launched the pediatric indication in the US quickly (no launch plan had been shared this time last year).
Tandem
Tandem had an impressive year on the AID pipeline front, submitting Basal-IQ in 1Q18 with Dexcom's G5, receiving approval in June with G6/iCGM compatibility, and launching in August with a free remote software update for t:slim X2 users. Quickly after its first-ever Analyst Meeting (September), Tandem submitted the t:slim X2 as the first integrated/interoperable iPump to FDA, which would fit nicely with the Dexcom G6 iCGM, help with potential Tidepool Loop integration (assuming Tandem decides to integrate; we think it should), and simplify the next-gen miniaturized t:sport regulatory path. The Control-IQ hybrid closed loop pivotal trial is fully enrolled, and the system is expected to come to market in Summer 2019 with automatic boluses for hyperglycemia and the factory calibrated G6. 3Q18 saw record sales for Tandem, momentum we expect to continue into 4Q18 and 2019 – reviews of Basal-IQ/G6 continue to be quite positive, Control-IQ will offer some clear advantages over 670G in the US (no calibration, auto boluses, remote monitoring), and users getting on t:slim X2 now have the assurance of a software update once Control-IQ is ready. Direct smartphone control for t:slim X2 is expected before the miniaturized t:sport pump launches in 2H20, slightly ahead of Insulet's Omnipod Horizon (see below).

Relative to one year ago, Tandem: (i) launched Basal-IQ right on time for summer 2018, with the added bonus of G6 integration; (ii) started the Control-IQ pivotal on time (1H18); and (iii) stretched out timing for Control-IQ, which has moved back from "1H19" to "Summer 2019." Tandem definitely wins "most improved" award from the start to the end of 2018.
Diabeloop
Diabeloop announced a CE Mark for its hybrid closed loop system in November, with a launch in France targeted for early 2019 ahead of broader European scaling in 2Q19. The "DBLG1" system will launch with Diabeloop's locked-down Android controller, Dexcom's G6 CGM (once CE Mark is updated), and the very new and unproven Kaleido patch pump. Giving users the option to use a Cellnovo patch pump in the system is also on the "roadmap." We'll be interested to see how quickly Diabeloop scales in Europe, as the company is still small (~55 employees) and needs a successful fundraising round (ongoing) to drive penetration in the diverse EU market. That said, the system has advantages over 670G, especially the no-calibration G6. Depending on launch cadence, Diabeloop is likely to be the second hybrid closed loop system to market in Europe – in France it could be first, depending on when the MiniMed 670G launches there. (According to Medtronic's France site, the PLGS 640G is what's available now.)

Relative to one year ago, Diabeloop is about one year behind its plan for an "early 2018" launch.
Tidepool
In October, Tidepool announced bold plans to submit the DIY Loop app to FDA, paving a new regulatory path for automated insulin delivery (AID). Loop will be made available as an officially supported, FDA-regulated mobile app on the iOS App store, rather than the current unregulated DIY version that only works with out-of-warranty Medtronic pumps. Tidepool Loop aims to be compatible with commercially available interoperable insulin pumps and CGMs, with Insulet's Omnipod on board so far. (Dexcom and Tandem seem the most likely next in line, if we had to guess.) A virtual, Jaeb-coordinated observational study will begin in "early 2019," aiming to collect real-world safety and efficacy data from ~150-300 current Loop users. Loop's regulatory path, speed to market, customer support, and number of integrated devices are still question marks, though this platform has an outstanding user experience foundation and more current users (1,000+) than any commercial product at a similar stage. The $6 million vote of confidence from JDRF and Helmsley earlier this month provides great tailwind – will other companies sign on in 2019?

One year ago, Loop was a DIY-only solution without a commercial path to market! This has easily been the most unexpected change in the AID landscape since late 2017.
Insulet
Insulet's own Horizon closed loop is slated for a 2H20 launch with direct smartphone control – i.e., the algorithm will be on the tubeless pod, a Dexcom G6 sensor will talk to the pod, a user will remain in closed loop when the phone is out of range, and system interaction (including bolusing) will take place from Insulet's app on his/her own smartphone. Notably, Horizon was recently granted FDA breakthrough device designation, enabling an expedited development path and "accelerated review and approval." Additional integration with Tidepool's Loop (see above) gives Omnipod users choice of automated system (Loop or Horizon) and gives Insulet two AID irons in the fire. A fourth IDE study (pre-pivotal) of Horizon will test real-world, challenging scenarios with missed/large meals, exercise, etc. (n=20-30). We'd guess a Horizon pivotal would start sometime in 2019, though specific timing has not been shared. Insulet is leaving the year in a strong competitive position on the AID front.

Relative to one year ago, Insulet has: (i) added Tidepool Loop integration (see above); and (ii) pushed back Horizon's launch timing by ~6-12 months, from the previous "end of 2019/early 2020" plan to the new 2H20 timing. On the plus side, Horizon has added direct smartphone control.
Bigfoot
Bigfoot laid a solid foundation in 2019, headlined by completion of a Series B round of financing ($55 million) and a strong product vision shared in CEO Jeffrey Brewer's FFL 2018 presentation. As of the last update, a pivotal of the Loop system was expected to start in 2Q19 (14 years old and up), using a next-gen Abbott FreeStyle Libre CGM with continuous communication via Bluetooth (we've been internally calling this FreeStyle Libre 3, as the new Libre 2 in Europe is still not continuous real-time transmission). Bigfoot's Inject system (MDI auto-titration) is also expected to launch in 2020. At Friends for Life, we were impressed with the first glimpse of Bigfoot's monthly supplies packaging, as well as its truly ambitious plan for a portfolio of device offerings ranging from type 2 basal-only (BGM/smart pen cap/app) to full AID. The central product vision remains the same: a smartphone app that serves as the window to the system and complete user interface, a no-screen pump with an embedded control algorithm, and direct CGM-to-pump communication (i.e., users will remain in closed loop even when the phone is out of range). Prefilled insulin cartridges are another huge plus of the design. Bigfoot continues to focus on extensive simulation and modeling, with plans to jump straight to a pivotal trial after one small in-clinic feasibility study presented over a year ago – can it successfully execute on that plan? We remain optimistic about Bigfoot's vision to shake-up the business and service models of pumps and AID with a single-prescription, monthly subscription model, and reimbursement based on outcomes.

Relative to one year ago, Bigfoot's US pivotal trial for Loop is ~6-12 months delayed – from "2018" to the now-planned "2Q19" start. However, the anticipated "2020" launch timing remains intact, and Bigfoot's portfolio vision has expanded considerably in scope.
Beta Bionics
Beta Bionics also put key building blocks in place this year, raising $50 million in Series B financing, working to finalize its dual-chambered iLet Gen 4 pump, and adding Senseonics Eversense CGM to its compatible devices. An insulin-only pivotal study is expected to begin in 2H19, with FDA approval expected in 2H20 (pediatrics and adults). Home-use bridging studies have been completed at Stanford (Dexcom CGM) and MGH (Eversense 90-day CGM). We first saw the much-improved Gen 4 iLet device at Friends for Life, which was followed by an NIDDK grant in October (up to $2 million) to further design and develop the device. The Gen 4 iLet will be compatible with Novo Nordisk's Fiasp insulin in the prefilled PumpCart, prefilled Zealand dasiglucagon, and a manual-fill glass insulin cartridge (1.6 mL, Humalog, Novolog). In adding Senseonics, Beta Bionics became the first AID player working with two commercial CGMs. The bihormonal pivotal study with Zealand's dasiglucagon is now expected to start in late 2019/early 2020, with approval targeted for 2022 (depending on FDA CDER progress). The simple system startup, optional meal announcement (and qualitative entry), potential for insulin-only or insulin/glucagon, and prefilled reservoirs remain very attractive features of this system.

Relative to one year ago, Beta Bionics pivotal studies are now ~6-12 months later than expected. These were previously both targeted for the beginning of 2019. However, the team did a great job of improving its device design in 2018, raising funds, and adding Senseonics Eversense CGM.
Lilly
At its Cambridge Innovation Center in May, Lilly showed off its in-development hybrid closed loop: a tiny disc-shaped tubed pump with no screen, an app/wireless controller with the user interface, and Dexcom's G6 CGM. At its financial analyst meeting this month, a slide positioned Connected Care launches in a cadence over the 2019-2021 three-year period – it was not specified where the hybrid closed loop launch would fall in that window. In our first in-person look, Lilly's pump was smaller and slimmer than we expected – about ~two inches in diameter and a ~half-inch thick. The pump holds 100-300 units of insulin in a disposable reservoir that fits into a reusable, rechargeable-battery-powered pumping mechanism. Similar to Bigfoot, Lilly has gone with no screen on the pump – it has just one button for manual on-demand boluses, and will otherwise be controlled by a wireless handheld and/or a smartphone app (depending on regulatory progress). The control algorithm was licensed from Montreal-based Class AP. Lilly is also building smart pen dose capture devices that fit onto the disposable KwikPen, talk to an app, and give dose recommendations based on CGM/BGM; these are also targeted for the 2019-2021 launch window, with the connected pen to be submitted to FDA in 2019. Lilly has a special setup with the Cambridge center and the leadership of Ms. Marie Schiller and Dr. Howard Wolpert will ensure a lot of patient- and HCP-driven design – will we hear more public updates in 2019?

Relative to one year ago, Lilly's connected care launch timeline has broadened by one year – now a 2019-2021 launch window, back from the initial late 2019-late 2020 plan. The company has not shared any feasibility data so far (at least one study complete), nor given any pivotal study plans for the hybrid closed loop. The summit in May and comments this month emphasized that Lilly's efforts are meaningful, consumer-grade, and quite far along.
Roche
As of November, the Roche/Senseonics/TypeZero AID pivotal study was expected to begin by the end of 2018. This will use the Roche Accu-Chek Insight pump with Senseonics Eversense XL CGM (180 day implantable) and TypeZero's inControl algorithm (now owned by Dexcom). Roche was the first to join JDRF's Open Protocol Initiative in 2018 – might it integrate with Tidepool Loop?

Relative to one year ago, this pivotal trial is about ~9-12 months behind schedule – from an expected "early 2018" start to the currently planned "end of 2018" start.
Others
More companies are covered in our AID Competitive Landscape, including Cellnovo, EOFlow, Ypsomed, SOOIL, WaveForm (AgaMatrix), and SFC Fluidics.
Where Does the AID Field Need to Go?
Lower upfront and ongoing costs; more studies of cost-effectiveness to show payers the clear value of automation; more ability to "test drive" a system before committing

More AID studies in new populations – pediatrics, elderly, newly diagnosed, people with recurrent severe hypoglycemia, people with complications, pregnancy, type 2 diabetes, hospital, etc.

More aggressive algorithms, driving 80%+ time-in-range with less user input and smarter adaptation

More interoperability, especially with smartphone apps and multiple CGMs and pumps

More use of remote software updates/upgrades, without need for brand-new hardware; more Bluetooth-enabled pumps, enabling remote monitoring and passive upload

Pushing more innovation to apps, with less focus on the pump hardware itself

Simplified user experiences – around system startup, meal entry and adaptation, ongoing n=1 personalization, prefilled insulin, etc.

Lower-hassle prescribing and reordering, more automatic subscription approaches similar to consumer products

Slimmer on-body pump form factors

Better infusion sets with higher reliability and longer wear

More head-to-head studies – of different companies' systems against each other, of systems with different components, of traditional AID with a pump vs. MDI/decision support.

More alternative business models – e.g., subscription, performance guarantees, rebates, etc.
4. Smart Pens Ready for Major Launches in 2019-2020, with NN and Lilly Entries; Companion, Common Sensing Forge Ahead In Exciting, Nascent Field
The smart insulin pen/pen cap landscape saw much more R&D and commercial movement this year, including a full-year for Companion Medical's InPen, a limited launch for Common Sensing, and planned ~2019-2020 entries for Novo Nordisk and Lilly. Following a successful ~700 patient pilot of the NFC-enabled Novo Pen 5 Plus in Sweden, Novo Nordisk announced in October that it is set to launch two CE-marked, connected reusable pens (NovoPen 6 and Echo Plus) in Europe in early 2019. US timing for these reusable pens is unclear, though they could presumably launch in 2019 too. Later in 2019, Novo Nordisk intends to launch a reusable, Bluetooth pen attachment (cap, clip, sleeve?) for disposable, pre-filled FlexTouch pens. With this development, Novo Nordisk joined Lilly as a major insulin company developing its own smart pen hardware. Lilly has not given specific launch timing on its smart pens, though its Investor Day this month said that the pen would be filed with FDA in 2019 and its connected care products will launch in a cadence over 2019-2021 – this will include the "Integrated Insulin Management" system, comprised of a smart pen(s), G6 CGM, and an app providing dosing advice. Sanofi is working with Common Sensing's Gocap in a pilot and we wouldn't be surprised to hear of dose capture developments with Onduo (the Verily/Sanofi JV); however, Sanofi has not officially committed to a launch like Novo Nordisk or Lilly. We're excited to see insulin manufacturers dive into smart pens, as these large companies can help build the category very quickly. For insulin manufacturers, connected products bring obvious benefits: faster and smarter titration (and therefore better outcomes), better information for HCPs, and better real-world data on how products are used. Ultimately, there may be more upside from innovation in insulin dosing data/decision support than in the molecules themselves. Plus, better use of data could drive more compelling payer contracts.

We hope to hear more in 2019 from first-to-market Companion Medical (Lilly is an investor), along with news from Common Sensing (Sanofi is an investor/partner). Both Companion Medical – having received a CE Mark this year – and Common Sensing could be acquisition targets for their respective pharma investors; Lilly has not said whether it's developing its own connected durable pen (which could be a boon in the European market), and Sanofi hasn't spoken to any internal smart injection device development. These smaller companies will be critical for building the field alongside larger players, just as we've seen with CGM.

Bigfoot now expects to launch its auto-titration injection system ("Inject") in 2020, though has not shared pivotal trial timing. Like Lilly's system, it will include a dose capture cap for disposable pens, a decision support app, and CGM data (in Bigfoot's case, a next-gen FreeStyle Libre). According to CEO Mr. Jeffrey Brewer's FFL 2018 presentation, the system will ultimately support use with (i) basal insulin-only and BGM; (ii) MDI and BGM; and (iii) MDI and CGM. That said, we'd guess all of those won't launch in 2020, since they are different use cases. We are very excited about Bigfoot's ability to drive significant software and user experience simplicity in injection titration, leveraging a lot of its algorithm learning on the hybrid closed loop front.

A number of other players hope to soon be on the market, though a revolving door of potential entrants seems to come and go every year. Players on our radar include: Biocorp (expected 1Q19 EU launch and 3Q19 US launch), Insulclock (available in EU), Pendiq (distributed by Roche in Germany), Emperra (available in EU), and Diabnext (expected launch in November). At this stage, we do not have high confidence in any of these players.

Novo Nordisk and Lilly stepped up in 2018 in terms of investing in the category, including building their own connected devices. This was huge progress relative to 2017 and is absolutely the right strategic move in our view – the upside from investing in adherence-boosting technology seems greater near-term than that of further improving insulin kinetics (short of glucose-responsive insulin). Plus, technology enables faster iteration and less expensive development cycles, relative to taking a drug all the way from preclinical testing to regulatory submission. However, the companies are taking slightly different approaches on the software side: Novo Nordisk is taking a partnership approach to connectivity, announcing a first batch of smart pen data partnerships with Dexcom, Glooko, and Roche; Meanwhile, Lilly is, to our knowledge, mostly building its software solo, though with the help of Dexcom on the CGM side and Rimidi on the HCP-facing side; finally, though Sanofi is not publicly approaching the market with its own hardware, it does have the My Dose Coach basal titration app FDA-cleared. (The US launch has been very limited, as indicated by download/review metrics on Apple and Android.) With these companies building out technology around their insulins, one has to wonder when we will start seeing more alternative payment schema on the table – how much technological investment, and in what form, will it take for an insulin manufacturer to feel more comfortable selling its insulin products with guaranteed outcomes or cost savings?
5. Remote, Connected Care Expands to Target Diabetes, BP, Weight, Behavior Change: Livongo, Omada, Welldoc, mySugr, One Drop, Virta, etc.
A clear 2018 theme in diabetes coaching and remote care was horizontal integration, as numerous companies moved to offer services in areas beyond their original domains of expertise. Livongo acquired now-CDC-recognized DPP and weight management provider Retrofit (+ connected scale), and expanded its offering to support hypertension (including a voice-enabled blood pressure monitor); Omada expanded on its DPP to support diabetes and hypertension management; mySugr partnered with telehealth platform Care Innovations to expand access in the US and Canada; One Drop expanded into gestational diabetes and DPP; Virta presented positive prediabetes data at ADA (though its focus remains on reversing established type 2 diabetes); and WellDoc moved into hypertension and weight management. We have heard that payers are seeking a "one-stop shop" to manage diabetes and its many comorbidities. From an administrative perspective, managing one contract with one provider is clearly simpler for the plans/employers, and in conversations with leaders from these remote care companies, the core competencies for addressing different stages of diabetes (e.g., prediabetes and diabetes) and other metabolic conditions such as hypertension are similar. Indeed, lateral expansion doesn't require drastic changes to the foundation of remote/connected care, and it opens up new segments of the market and makes feature sets more appealing to potential clients. Finally, we'd imagine users would prefer to interact with a single provider for diabetes and weight and hypertension, rather than a slew of different siloed apps and services.

Remote diabetes care/coaching is gaining steam, as user bases from all of these companies are expanding. Roche's mySugr claimed >1.4 million users as of February, One Drop boasts ~860,000 as of June; Omada has enrolled >150,000 in its DPP as of June; Livongo is over 100,000 users as of October; Canary has had 65,000 people go through its DPP and diabetes management programs as of August; and Onduo is in the low thousands in its pilot phase, but preparing to scale more broadly in 2019. We caution that the definition of "users/active users" is not standardized across all of these companies – though, ideally, it would be – so accurate head-to-head comparisons of scale are not possible. Moreover, all of these companies deploy "coaching" in different ways, and in cases like One Drop and mySugr, only subsets of the global user base are using paid coaching offerings.

This year saw more diabetes technology integration with remote care – most excitingly, the introduction of CGM. Livongo partnered with Abbott to offer select patients Abbott's FreeStyle Libre Pro, and Onduo is running select type 2 enrollees through real-time intermittent CGM "sprints" to help them learn the impacts of behaviors on their glucose levels. According to Onduo's Head of Payer Relations Ms. Susanna Visuri Monacelli, participants across the board who had baseline A1c >9% regularly saw 2%+ drops by participating in Onduo's program (the average was not shared), while those with baseline levels >9% and given real-time CGM often saw 3%+ A1c drops! The incorporation of intermittent CGM in remote care could result in step-function improvements in patient outcomes. Onduo has built a portfolio of curated technologies for its population: BGM (Telcare), CGM (Dexcom), insulin titration (Voluntis, Glytec), telemedicine (Amwell), education (Mytonomy), and foot care (Orpyx smart shoe insoles). We see great potential in this approach of partnering widely and then using continually-learning algorithms to determine which type of patient is most likely to benefit from specific interventions.

Building on the randomized study of Welldoc's Bluestar back in 2011 (Diabetes Care), we're excited to see new RCTs to evaluate remote diabetes care programs: Omada (PREDICTS; DPP) and Livongo (SUGAR; Livongo for Diabetes). SUGAR is expected to read out in December 2019, with PREDICTS to follow in January 2020. We wonder: (i) Assuming strong outcomes are observed, will these be interpreted as class effects ("a rising tide lifts all boats") or would Omada and Livongo get a leg up on the competition?; (ii) How will the results compare to pharmacotherapy alone (specifically regarding Livongo), and if they are more powerful, then what impact will this have on the pharmaceutical sector? In the best case, medications, devices, and remote care would be personalized and curated to drive the best results.
6. Active FDA Approves/Clears Slew of New Diabetes Devices (Including 3 De Novos!); Pushes Interoperability, Pre-Cert (Digital Health), Real-World Evidence
In addition to interoperability (see theme #2 above), FDA approved/cleared a slew of new diabetes devices in 2018, including three without any predicates: Dexcom G6 ("integrated CGM"), IDx-DR (retinal diagnostic software device), and DreaMed Advisor Pro (insulin therapy adjustment device). If our memory serves us correctly, the last time diabetes tech saw a De Novo was for Dexcom Share secondary display – wow! That really puts into context the amount of new technology flying at CDRH from all angles – their hard-working team deserves a lot of credit for pushing the field forward. The most impressive single day of the year came on the eve of ADA, when our team was in transit, and we first received word that Senseonics' 90-day implantable Eversense CGM was approved, then that Tandem's Basal-IQ was approved for use with G6 less than an hour later, and finally that Medtronic's MiniMed 670G was approved for children down to age 7. In other major regulatory wins in 2018, FDA cleared Insulet's Omnipod Dash PDM  approved Medtronic's Guardian Connect with Sugar.IQ and Abbott's 14-day wear, one-hour warmup sensor, and cleared Dexcom's G6 Pro Q (professional CGM) and non-intensive app.

Under the leadership of new Commissioner Dr. Scott Gottlieb, FDA was active this year in the areas of digital health and real-world evidence. The Digital Health Pre-Cert program – essentially TSA PreCheck for companies developing medical apps – began in earnest as an open-ended venture seeking public feedback at a workshop in January. Now, with nine pilot companies enrolled (most of which have connections to diabetes), FDA intends to release a working model by the end of 2018 (clock is ticking!) prior to a 2019 "test phase," in which the program will be piloted and iterated accordingly. We're excited to see the form that Pre-Cert takes in 2019 and beyond – a common sentiment expressed regarding digital health regulation is that "something's gotta give," as ther